Home Donate New Search Gallery How-To Books Links Workshops About Contact
Nikon P7000
28-200mm VR, 10MP, 3" LCD, $500
© 2010 KenRockwell.com. All rights reserved.
Intro Specs Performance Compared Recommendations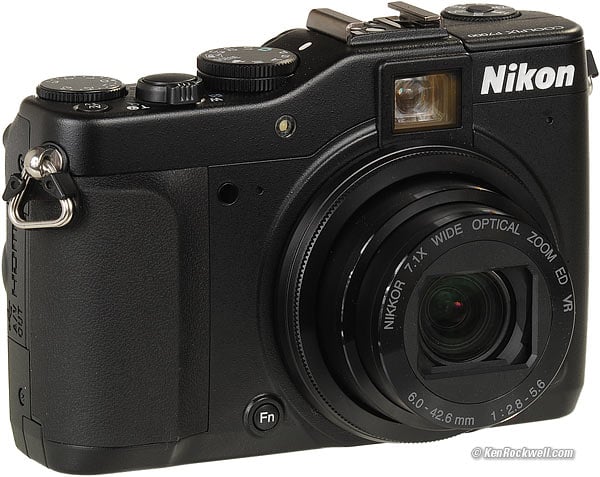 Nikon Coolpix P7000 (12.6 oz/356g with battery and card, about $500). enlarge. The biggest source of support for this free website is when you use these links, especially these directly to it at Adorama or at Amazon, when you get anything. Thank you! Ken.
October 2010 More Nikon Reviews Canon LEICA Pentax
Introduction top
Intro Specs Performance Compared Recommendations
The Nikon P7000 is a copy of Canon's G11 from 2009, with the addition of a 28-200mm VR (equivalent) lens over the G11.
Good
Much to my surprise, the P7000 is a very good camera, better in some ways than the G12, in more than just zoom range.
Action Shots and Optical Finder
Unlike most compacts, I was actually able to get decent shots of my kids playing at the park using the optical finder! Don't expect wonders, but I was able to get some shots that were more than just luck.
Clean LCD for Composition
Tap the |O| (monitor) button, and all the hieroglyphics vanish to give you a completely clean and undistracting LCD on which to compose. Hooray!
Canon doesn't get this, and on most Powershots, you never can get a perfectly clean screen on which to compose.
Excellent Fill-Flash Control
The most amazing thing about the P7000 is that it has the best flash exposure of any compact (non-SLR) I've ever used. Fill-flash, with an SB-400 on top, works great! On top of great flash control, the electronic shutter of the P7000 also easily syncs at up to 1/2,000 of a second with the SB-400 — ten times as good as most SLRs.
Excellent Image Detail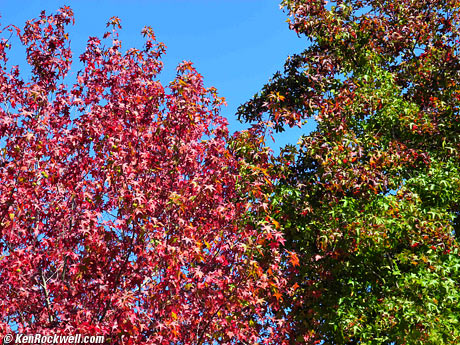 Trees. Camera-original © file (1.2MB)
Unlike my Canon DSLRs and Powershots, the P7000 doesn't smudge over everything with too much noise reduction when shot as JPGs. Nikon's DSLRs are like this, too.
Canon's cameras often smooth over subject textures and fine details too much in their attempts to make noise less visible.
Nikon's cameras, this P7000 included, leave the images sharper and more natural, and this is as shot in Nikon's standard sharpness and noise reduction settings. I could have turned off Noise Reduction in the P7000, but didn't have to.
Numerous White Balance Settings
Better than Canon's Powershots, the P7000 offers:
1.) Direct setting in degrees Kelvin.
2.) Three manual preset memories.
3.) Dual-axis (amber-blue and green-magenta) trims for each and every setting.
You can add some green to the fluorescent 1 setting, pull some blue out of the second manual preset setting, and add amber to the AUTO WB setting, and each of these color trims added to each setting stay set for that setting!
Unlike Canon S95, the P7000 offers no fast way to use a front control to add amber or blue to the white balance as shooting. The S90 and S95 are quite good at this.
Bad
Buggy Firmware
The bad news about the P7000, at least the one I bought with version 1.0 firmware, is that it's the buggiest camera I've used this side of the LEICA M9.
The P7000 sometimes ignores the rear command dial (used for setting or shifting shutter and aperture settings), necessitating a power on/off to rectify, and playback zoom is slow to respond.
Weirder still, in A and S exposure modes, the LCD gets a stop or two lighter as you compose, even though the actual recorded images are fine.
The biggest bug is that even though everything works great with a shoe-mounted flash, my P7000 ignores the FLASH control button (bolt icon) with the built-in flash, so forget using flash well with the built-in flash, at least until Nikon fixes this. I can't get the bolt button to respond in P shooting mode, although it works in the AUTO mode. Nikon's user manual (FX0I02(11), 6MM83111-02 2010) disagrees with itself as to whether or not flash control is locked-out in P, S, A, M and U123 modes (see pages 32, bottom and page 108, while page 60 says it should work.)
Useless Settings: U1, U2 and U3
The biggest bad news beyond the outright bugs is that Nikon botched the three User Setting modes: U1, U2 and U3, on the top dial.
Unlike Canon, whose C1, C2 and C3 modes easily save and recall everything about everything set on the camera, Nikons useless (thus the U1, U2 and U3 designations) modes only remember a couple of things, and each has to have each of its limited memory options set by hand! Don't worry, the Useless 1, 2, and 3 modes of the Nikon P7000 don't recall Picture Control settings or the setting of the Distortion Correction, or pretty much anything, so we can forget about them. Oh well, thank you Nikon for screwing up what could have been a very good thing.
Other readers have had better results with these, and you may, too, but I have to call it as I saw it. They didn't work well for me, as do Canon's C1, C2 and C3 settings do.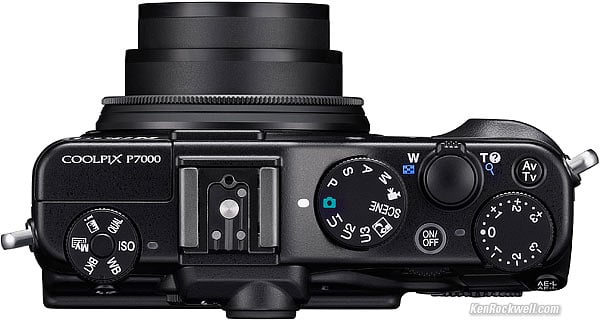 Top, Nikon Coolpix P7000. enlarge.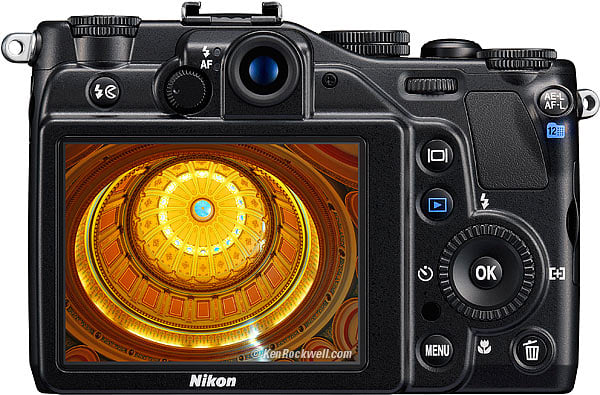 Back, Nikon Coolpix P7000. enlarge.
Specifications top
Intro Specs Performance Compared Recommendations

Sensor
Resolution
10.1 megapixels.
3,648 x 2,736 pixels.
You may select lower resolutions.
You may also select crops in 3:2, 16:9 and 1:1 aspect ratios, but only at full resolution.
Size
1/1.7."
Type
CCD.
ISO
ISO 100 to ISO 6400.
Auto ISO: your choice of ISO 100 to ISO 800, ISO 100 to ISO 200, or ISO 100 to ISO 400.
Auto ISO 400 to ISO 12,800 in the "Low Noise Night Mode," which means it's going to be soft and noisy!
Lens top
6.0 - 42.6mm f/2.8-5.6 VR, which sees an angle of view with the tiny sensor roughly similar to what a 28-200m lens sees on a full-frame DSLR.
6-blade diaphragm, a travesty on a Nikon, as Nikon updated to 7-blade diaphragms back in the 1960s. A six-blade diaphragm is simply a mistake copied from Canon — oops!
A "Zoom Memory" lets you get quickly to preferred zoom settings.
Macro to 0.8 inches (2cm).
Flash top
Built-in pop-up flash, shown popped-up at the top.
Hot shoe for the SB-400 and other current i-TTL Nikon flashes.
Remote Control top
With the wonderful $16 ML-L3 wireless transmitter, which also works on many other Nikon SLRs.
LCD top
3."
High-resolution 921,000-dot.
Video top
720p/23.976, and 640x480 and 320x240.
Zoom and focus while rolling.
Audio top
Stereo microphone!
Stereo mic input, but you have to provide the microphones.
Even the audio notes added to stills are stereo.
They are sampled at 48kbps at 16 bits.
Formats top
JPG.
Raw (NRW).
NO ABILITY TO SHOOT IN NEF. It makes NRW, but not NEF files.
Storage top
79 MB internal.
SD, SDHC and SDXC cards.
Outputs top
USB.
HDMI.
More Features top
Optical neutral-density (ND) filter to allow the use of larger apertures in bright light for more selective focus. Requires fiddling in menus to activate and deactivate.
Optical finder with dioptometric control, easy to use and set.
Electronic level (Virtual Horizon).
In-camera editing tricks: exposure compensation, Picture Control (COOLPIX, not SLR style Picture Control), noise reduction, Quick Retouch, D-Lighting and Active D-Lighting.
5-Way Vibration Reduction (VR) Image Stabilization System.
Best Shot Selector (BSS) automatically takes up to 10 shots while the user presses the shutter and saves the sharpest image, if you can figure out how to activate it.
Bracketing.
Tracking autofocus.
"Scene Auto Selector" claims to recognize the shooting situation and adjust the camera's settings accordingly.

"Smart Portrait System" claims this helps make better portraits:
In-Camera Red-Eye Fix
Enhanced Face-Priority AF can detect up to 12 faces from a variety of angles.
Skin Softening
Smile Timer takes the picture when the subject smiles
Blink Warning if a subject blinked.
Power top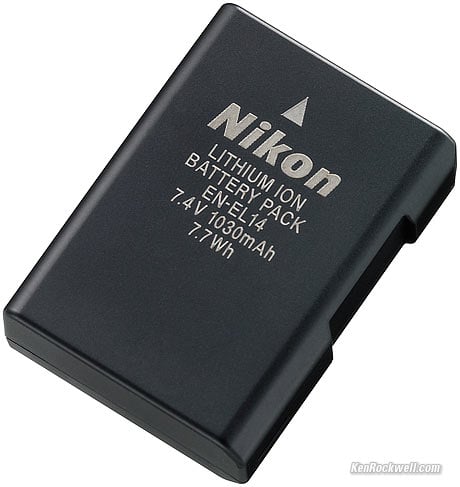 EN-EL14 Battery.
The EN-EL14 Rechargeable Li-ion Battery is rated 350 shots or 2h45 of video.
At least as of October 2010, the EN-EL14 is unique to the D3100 and the P7000. Cells made in Japan, assembled into a battery in Indonesia.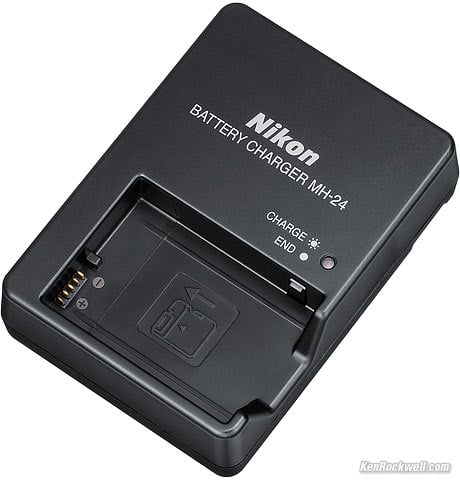 Nikon MH-24 charger. enlarge.
MH-24 folding-plug, universal 100-240V 50-60 cps battery charger, made in Communist China. Just bring the right passive plug adapter and you're good to go anywhere, without any cords!
Optional EH-5a AC adapter.
Size top
4.5 x 3.0 x 1.8 inches.
114.2 X 77 X 44.8 mm
Weight top
12.570 oz (356.4g) with battery and card, measured.
Nikon specifies 12.7 oz. (360g) with battery and card.
Included top
EN-EL14 Rechargeable Li-ion Battery.
MH-24 Battery Charger.
Strap.
UC-E6 USB Cable.
EG-CP17 Audio Video Cable.
CD with Nikon ViewNX 2 software.
Optional top
AC Adapter EH-5a, which needs an additional EP-5A power connector to work with the P7000.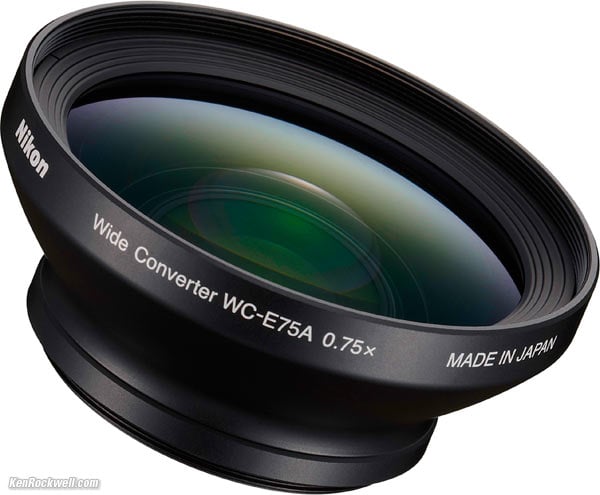 Nikon WC-E75A 0.75x wide-angle converter.
The WC-E75A 0.75x wide-angle converter makes the wide end similar to a 21mm lens on a 35mm camera. I'm unsure if one may zoom the lens with a converter attached.
Announced top
08 September 2010.
Shipping top
Since early October 2010.
Price top
$499.95, USA, September 2010.
Performance top
Intro Specs Performance Compared Recommendations
Picture Quality
Metering and Exposure
Metering is great! Exposures are usually right-on, so I never got to use the great top-mounted compensation dial.
Professional (P) exposure mode defaults to large apertures. Unlike DSLRs, the sharpest photos with tiny cameras usually happen at the largest apertures due to the effects of diffraction.
In Face Priority autofocus, if it finds a face,the P7000 often overexposes.
Autofocus
AF works swell.
Face priority AF really is: if it finds a face, it focuses on it, and if not, looks for anything else relevant in the frame.
Color Rendition
I don't like the P7000's color rendition as much as my Canon Powershots. Next to exposure, color is the most important technical thing about an image, so if I don't like the colors as much, the camera is inferior, regardless of everything else it does.
Color rendition is a delicate, personal thing that makes the difference between an OK photo, and WOW! I'm just not getting wow! out of the P7000. By comparison, I love what I get out of my Powershots in their VIVID modes. This Nikon just doesn't measure up.
My P7000 seemed a bit yellow-green, which ought to be easy to fix in the WB trims.
The P7000 has Picture Controls, but they aren't the same as Nikon's excellent DSLR Picture Controls.
The P7000's Picture Controls are named and are set the same way as DSLR Picture Controls, but Nikon calls the P7000's Picture Controls "COOLPIX Picture Controls," which seem to be watered-down versions of the DSLR Picture COntrols.
When the P7000 is cranked to VIVID and +3 saturation as I insanely love to shoot my Nikon DSLRs, the P7000 doesn't have anywhere near the vivid "pop" that I get from my DSLRs.
This is most likely because boosting saturation boosts noise, and the tiny sensors of these little cameras do everything they can to reduce it. Therefore I suspect this ix why the P7000 just can't be set to slather vivid, rich color all over everything.
Distortion
The lens has plenty of barrel distortion at wide, and pincushion at tele. The optical finder has separate, unrelated optics with much more distortion, so don't let that scare you.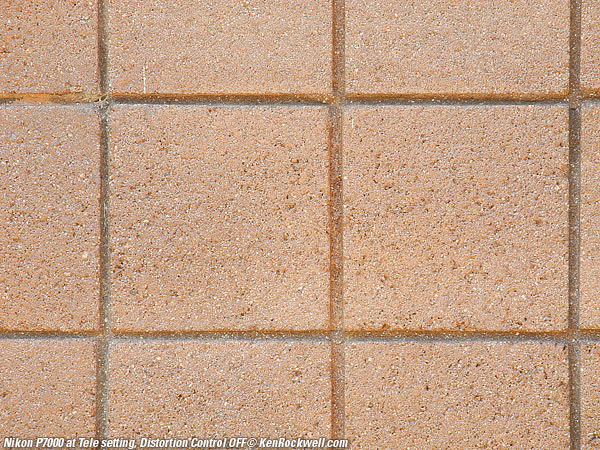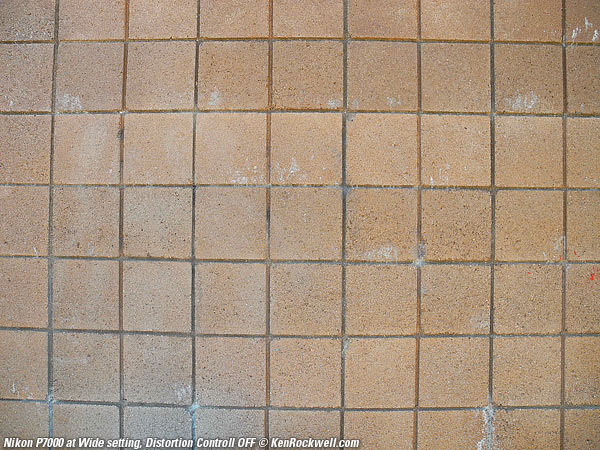 Distortion Control works, if you activate it in the menus. These snaps are without Distortion Control active. The only disadvantage to using Distortion Control is that the images are cropped-in a little, and you could potentially loose just a tiny bit of corner sharpness.
Here's a snap with it ON: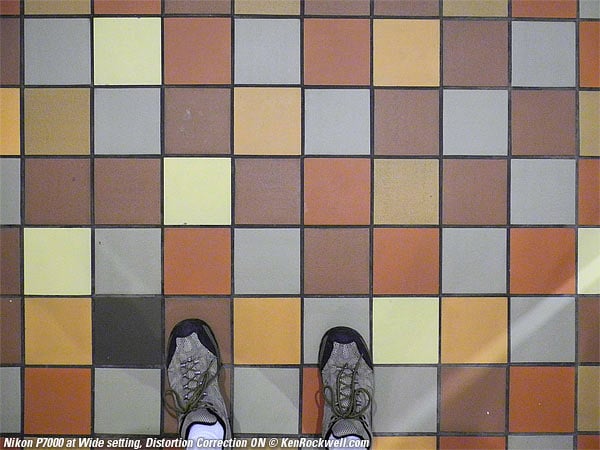 High ISOs
High ISOs look much better than earlier cameras.
Here's a snap at ISO 800: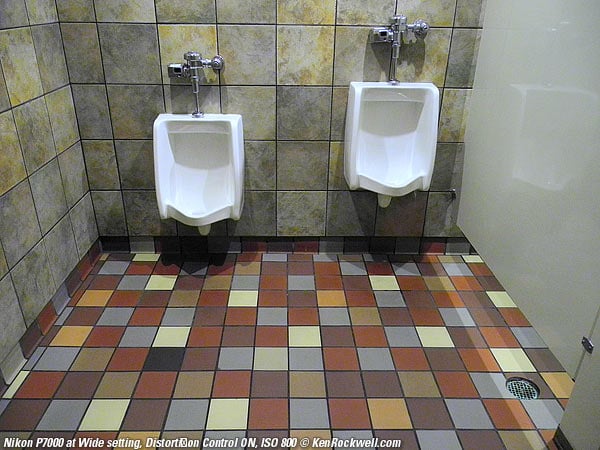 Men's Conference Room, La Jolla. original file.
Rotation
Auto image rotation is occasionally wrong. Other Nikon SLRs and Canon Powershots are usually better.
Because of this, about 1% of my images require I identify this error, and rotate them manually later.
Unlike most recent Powershots, the playback image doesn't rotate if you rotate the camera to try to get vertical images to fill the screen. You may of course choose not to have any playback images rotated at all, but hey, this isn't a Powershot or iPod Touch which does playback so much more intelligently.
Sharpness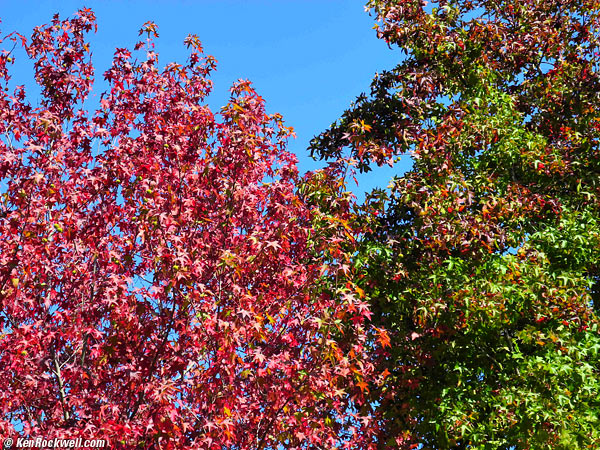 Trees, 22.5mm setting. Camera-original © file (1.2MB)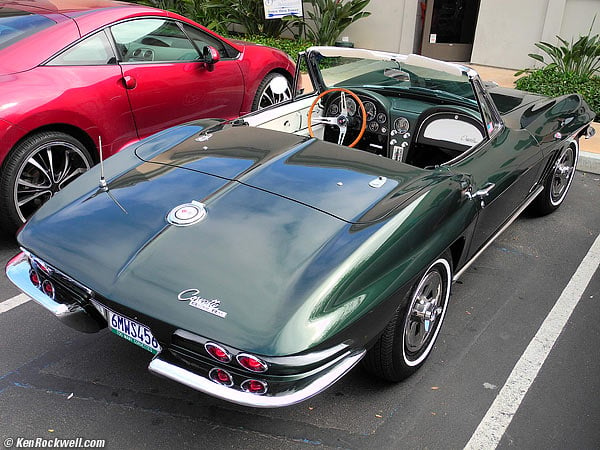 Vette. Camera-original © file, 1.2MB (warning: limited depth-of-field.)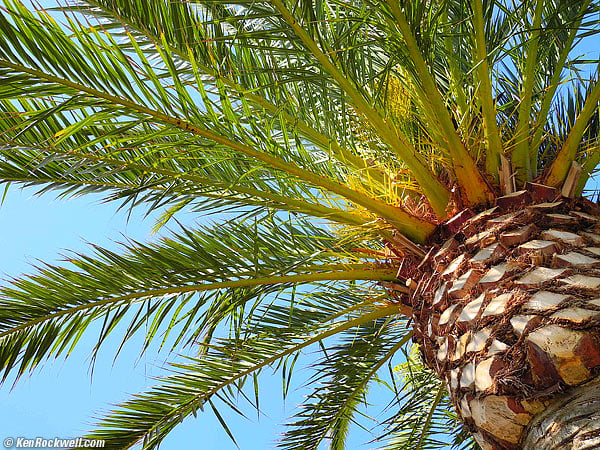 Palm, 8.8mm setting. Camera-original © file, 1.2MB
As expected, sharpness is great. The lens is more than up to the 10MP resolution; it's always sharp if you hold still and get everything in focus.
The lens is designed to shoot wide-open, where it is super-sharp at every focal length.
JPG Coding
See the skies in two of the samples above? There is visible banding, not only in the original files to which I link, but even in the screen-sized versions shown on this page.
The banding in the sky is caused by Nikon's crappy JPG coding engine that isn't smart enough to use a lot ore bits when it needs to. The P7000 is getting freaked-out by all the details in the trees, and throwing all the available JPG bits at the details, with not enough left to code all the colors in the sky.
This is another reason Canon Powershots outsell Nikon: they have never had this problem because they allocate bits dynamically to match the details in the image, so they never get starved for bits as I did to the P7000 in these detailed image samples.
Video
Video is pretty bad. My Apple Ipod Touch does a better job, both for image and sound.
Video from the P7000 is jumpy because the frame rates are low and the shutter angle is too small (shutter speeds are too high). P7000 video looks even worse than its 29.97 fps specification implies.
The P7000 records in stereo through its internal microphone, but it doesn't sound very good. The P7000 doesn't sound clean, it's a bit bandlimited, its microphone only gets wind noise in stereo, and everything else sounds almost like mono. My iPod Touch's audio is mono, but much cleaner and better.
Look and listen to this sample file (© 14MB .MOV). (Ryan at the park, 11 October 2010.)
Flash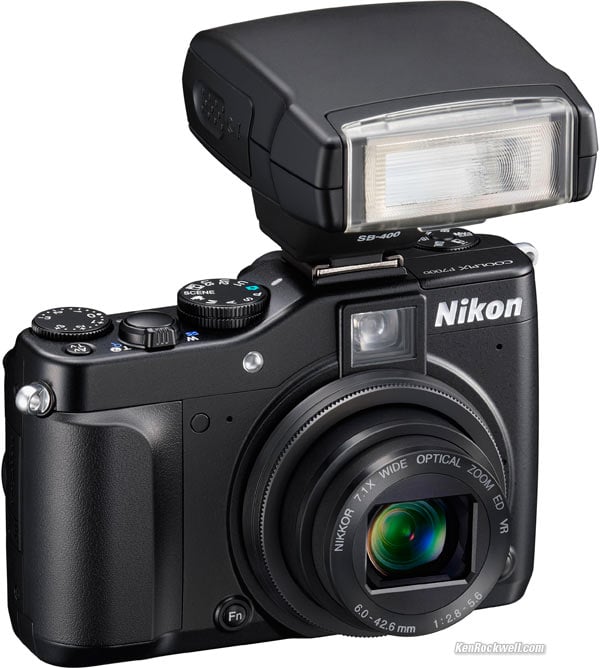 Nikon Coolpix P7000 with SB-400. enlarge.
The most astounding thing about the P7000 is how well fill-flash works with the SB-400 on top of the camera. Exposure is great, much better than any other digital point-and-shoot I've ever used.
The P7000's electronic shutter cheerfully and automatically syncs at up to 1/2,000 with no funny business, ten times faster than most DSLRs.
Not only is this so much better than anything from Canon's Powershots, also better is that the whole thing with the SB-400 balances just fine. Unlike Canons, the P7000/SB-400 combo doesn't try to flip over when worn around your shoulder.
The P7000 is smart enough to turn off the shoe-mounted flash automatically when its in Playback mode.
When leaving the shutter half-presses after one shot and awaiting the next action shot, the P7000 is very responsive, but the red and green LEDs next to the optical finder don't turn back on to let you know if the flash is recharged.
Oddly, I never got the P7000 to fire the SB-400 at anywhere near full-power for fill. I have no idea why the P7000 won't use the power that's there.
As covered at the top, I never got the built-in flash to work properly. Tapping the flash mode (bolt) button ignored me in P, S, A, M and U123 modes! It only responds in the AUTO mode.
The users manual is confused as to whether or not this is deliberately locked out, r just another random firmware flaw.
Better than the better Powershots, just push it down when done. No menu is required.
Ergonomics
What's Good
Just about everything for shooting can be controlled in one hand, especially playback. Whoo hoo! You only need a second hand to pop up the flash or use the quick menu selector dial.
The grip is well shaped, and covered in grippy material. It's not as fantastic as an F5 or F6, but it is much, much better than anything from Canon.
The Exposure Compensation and Menu dial index LEDs only light when that control is active. This is better than the Canon G11 which has bright, annoying lights that stay on all the time. It would be
The P7000's power light is off most of the time. It blinks if the LCD went to sleep. The power light is only ON if the LCD is turned off deliberately while shooting, better than Canon's power LED which is on al the time.
The P7000 has shoulder strap lugs and triangular strap rings, just like like Nikon's DSLRs.
The P7000 wakes or turns on in the same AF mode. This is good for me, but bad if you choose the MACRO mode for a snap, and then a week later your P7000 will wake up in MACRO mode and not focus for normal distances.
The wonderful and ubiquitous $16 ML-L3 wireless transmitter works for remote control with the P7000, yay!
Optical FInder
The optical viewfinder has a lot of distortion of its own. The pictures don't show this, of course.
More gets into the final image than shown in the finder. This is typical for optical finders, especially like the optical finder of the LEICA M9.
What's Ugly
Nikon let the engineers design the typefaces used in the menu system, so they are both ugly and barely legible.
Next time, have an intelligent artist like Giorgetto Giugiaro design more than just the exteriors.
What's Completely Retarded
Nikon went out of its way to offer too many ways to do too many things. Nikon tried to put too many features in this camera, but never bothered to spend the time and effort required to put all these features into this camera in a way that we could find, use and understand them.
There are too many different ways to do to many different things, nothing is organized from a user's point of view, so nothing is easy or clear. Ooops!
Worse, the buggy firmware, means some things, like the rear control dial or flash control options, don't even work as planned, further adding to the frustration.
The retarded design of the user interface, and the buggy firmware, are the P7000's biggest shortcomings. Retarded means that the design is delayed; it's just not yet complete right now.
You must go thorough menus for the ND filter.
Data
Auto-set ISOs read correctly in iView, when files are copied straight from the card.
LCD and Playback
There is no diagonal scrolling.
There are a lot of blinking screens, but very little playback data actually shared.
The LCD monitor is smooth and has high resolution, but it is dim outdoors and its colors are not accurate. The P7000's LCD exaggerates color saturation, looking better than the images themselves as seen later on a calibrated computer, print, or online.
The fixed LCD cover is anti-reflection coated.
Simply hold the PLAY button to wake the camera in the play mode, without the lens needing to extend.
The response to the zoom control is way too slow, and response to the first zoom-increment is even slower.
I'll be darned that I was never able to figure out how to select different images while I was zoomed-in.
This is easy on Canon, Nikon DSLRs and das LEICA M9, and mandatory to be able to compare which of several shots is sharp, or has the smile. On the P7000, spinning the big rear or top rear control dials changed the zoom, and tapping up-down-left-right merely scrolled around the zoomed image. I'd hope that this feature is in there somewhere, but I couldn't find it, and with the high lever of retardation (delayed development) of the firmware, don't have much confidence that it's in there.
Battery and Power
As cover in Specs, the charger is a little big, but the folding plug and world-wide automatic voltage selection are great.
I only got 320 shots, none with flash, on my first charge before the LO BAT icon appeared.
Compared top
Intro Specs Performance Compared Recommendations
P7000

Dates

2010-

2009-

2010-

2009-2010

Lens Equiv.

28-200mm VR

28-135mm
IS 5x

28-105mm
IS 3.8x

28-105mm
IS 3.8x

Maximum aperture

f/2.8-5.6

f/2.8-4.5

f/2 - 4.9

f/2 - 4.9

Raw?

YES

YES

YES

YES

LCD

3"

2.8" swivel

3"

3"

Exp. Comp. Dial?

YES

YES

YES (around lens)

YES (around lens)

Lens Control Ring?

No

No

YES

YES

WB Trims

YES

YES

YES

YES

WB Trim with control ring?

No

No

YES

YES

MWB settings

3

2

1

1

Noise (all ISOs)
Lower

Lower

Lower

Lower

Hot Shoe?

YES

YES

NO

NO

Built-in Mic

S-t-e-r-e-o

mono

S-t-e-r-e-o

mono

Weight, deployed

360g

400g

193g

197g

Price (10/2010)
Recommendations top
Intro Specs Performance Compared Recommendations
The Nikon P7000 is much nicer than expected. I like the lens, the great fill-flash control and the sharp images, but am not excited by its LCD, ergonomics, playback logic and buggy firmware.
When I want a compact camera, it needs to be compact so that it drops forgotten in my pocket. Canon's SD880, at 179g, was perfect. Canon's S95, the camera I carry today at 193g, is too heavy to want to carry in my pocket everywhere, so I carry it in the PSC-900 belt case.
The Nikon P7000, at 360g, is a shoulder-carry camera, and if I'm shoulder-carrying, I'll take a real SLR like the far more competent D3100 instead.
Therefore I'm not that excited about the P7000, or the Canon G12, but that's my preference. I prefer the images from my S95, because they look better due to the much better color, but color is personal preference.
If the P7000 seems like something you want, it's the best Nikon Coolpix I've ever used, and I hope that the buggy firmware will be resolved in the future.
More Information
Help me help you top
I support my growing family through this website, as crazy as it might seem.
The biggest help is when you use any of these links to Adorama, Amazon, B&H, eBay, Ritz, Calumet and J&R and when you get your goodies. It costs you nothing, and is this site's, and thus my family's, biggest source of support. eBay is always a gamble, but all the other places always have the best prices and service, which is why I've used them since before this website existed. I recommend them all personally.
If you find this page as helpful as a book you might have had to buy or a workshop you may have had to take, feel free to help me continue helping everyone.
If you've gotten your gear through one of my links or helped otherwise, you're family. It's great people like you who allow me to keep adding to this site full-time. Thanks!
If you haven't helped yet, please do, and consider helping me with a gift of $5.00.
As this page is copyrighted and formally registered, it is unlawful to make copies, especially in the form of printouts for personal use. If you wish to make a printout for personal use, you are granted one-time permission only if you PayPal me $5.00 per printout or part thereof. Thank you!
Thanks for reading!
Mr. & Mrs. Ken Rockwell, Ryan and Katie.
Home Donate New Search Gallery How-To Books Links Workshops About Contact