Home Donate New Search Gallery How-To Books Links Workshops About Contact
Canon G11
28mm 5x IS zoom, 10 MP, ISO 3,200 2.8" Swivel LCD (2009-)
© 2009 KenRockwell.com. All rights reserved.
Intro Specs Performance Usage Compared Recommendations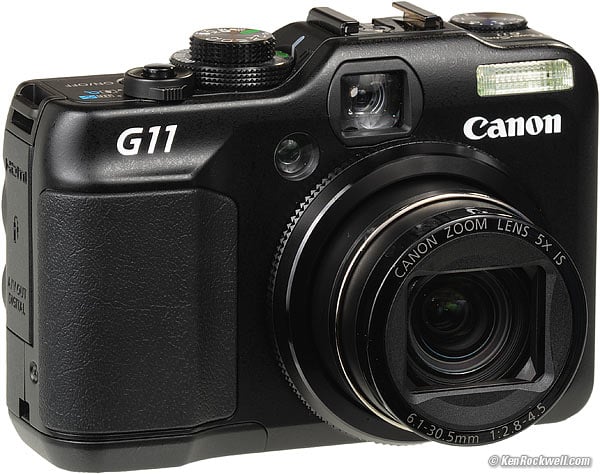 Canon G11 (14.1 oz./400g with battery and card). enlarge. I'd get mine at Adorama or Amazon. It helps me keep adding to this site when you get yours through these links, thanks! Ken.
December 2009 More Canon Reviews
Excellent for: Landscape, nature and travel photos.
Bad for: Kids, action or sports. For this, any SLR, like the Nikon D40 or Canon Digital Rebel XTi, is far better for the same price.
Intro Specs Performance Usage Compared Recommendations
The Canon G11 is a fantastic camera for photographing anything that doesn't move. For landscape and nature photography, it replaces bulky DSLRs and extra lenses.
Two huge advantages over last year's G10 are extraordinarily better high-ISO performance and the ability to fine-tune white balance in both warm-cool and green-magenta axes. Even the $11,000 LEICA M9 can't do these WB adjustments, which are often critical to getting perfect results.
Like most Canons, the colors look fantastic, far better than I've been able to coax from the LEICA M9.
What little noise there is at high ISOs also has a far nicer, filmlike character. This means it's mostly just fine grain, not the nasty colored blotches we expect from digital. The noise and noise reduction at high ISOs is really nice: it does the best job I've seen so far, with just the right balance of sharpening, smoothing and making things look their best.
The G11 has low-light performance way ahead of other compact cameras due to its genuinely improved sensor system. I can shoot the G11 at ISO 1,600 and get great results, something I couldn't get at ISO 400 on my Canon SD700. Unlike a lot of the junk features thrown around today, the high ISO performance of the G11 is significantly better than we used to get out of this class of camera.
The Canon G11 is for the sort of man who feels more comfortable with a little more meat in his hands. I prefer the much smaller, pocketable, Canon S90, which has exactly the same new sensor and WB trims, identical or better image quality in low light due to a faster lens, a bigger LCD, a new control ring around the lens not found in the G11, and —oops — costs less! I prefer smaller cameras, but to each their own.
The G11 is an extraordinary camera. More than its specifications, it's a camera that just keeps churning out great images if you know what you're doing. As always, Canon keeps slipping in clever little firmware extras to do more, and do it more easily.
For instance, fill-flash finally seems to work in a compact digital camera. (The S90 does exactly these same things, with half the weight.)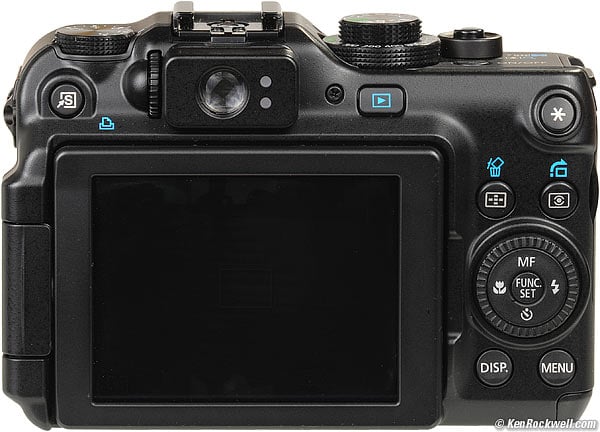 Canon G11. enlarge.
A step backwards is the smaller LCD, but some people prefer the new swivel mount.
The buttons are a step backyards. They are flat and flush with the back of the camera, and thus difficult to find and operate by feel. The G9 and SD880 are far better as buttons go.
The "*" button on the top right of the G11 is an exposure lock button. It's nice, but too easy to hit by accident, and once hit, nearly impossible to cancel except by hitting again to lock it someplace else, swapping in and out of exposure or playback modes.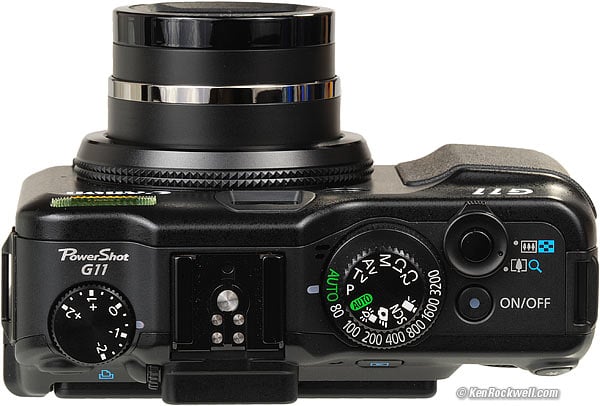 Top, Canon G11. enlarge.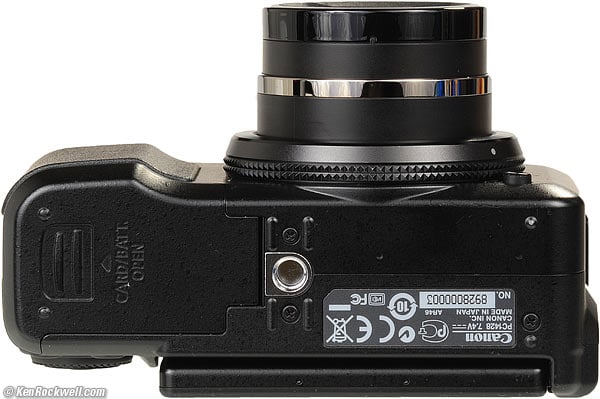 Bottom, Canon G11. enlarge.
Specifications top
Intro Specs Performance Usage Compared Recommendations
Lens
6.1~30.5mm f/2.8-4.5.
On the G11's tiny 1/1.7" sensor, this lens sees angles of view roughly similar to what a 28-135mm lens would see on a 35mm film or full-frame digital camera.
Canon's spec says "28-140mm," but I've never seen a 140mm lens; in photography we call that a 135mm lens.
Image Stabilization
Yes!
Why Image Stabilization is important.
Close Focus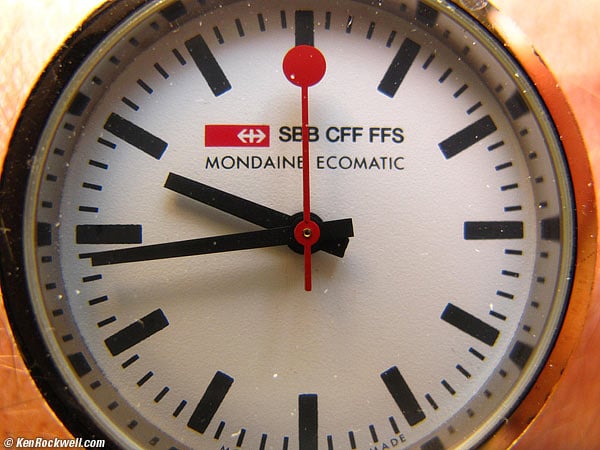 Close enough for you in Macro mode? Next time I'll dust off my watch.
1.6 feet (0.5m) in normal mode.
It can focus as close as 0.4" (1cm) in a dedicated macro mode, however in this macro mode it can't focus beyond 1.6 feet (0.5m) and if you forget to set it back to the normal mode, you could accidentally make a lot of out-of-focus pictures
Viewfinder
Zoom peephole with dioptometric adjustment.
Color YRGB Histograms
No; black-and-white histogram only, which is useless for color photos.
Shutter
1/4,000 - 15 seconds.
Program and Av modes only go to 1 second, you have to go to Manual mode to hit 15 seconds.
There is no Bulb or TIme mode for longer exposures; 15 seconds is it.
Sensor
10MP CCD.
3,648 x 2,736 pixels native.
Also:
3,648 x 2,048 (cropped)
2,816 x 2112 (M1)
2,272 x 1,704 (M2)
1,600 x 1,200 (M3)
640 x 480 (S)
also:
1,824 x 1,368 (in Amnesty International (candle) stupid-high-ISO mode )
ISO
AUTO, 80, 100, 200, 400, 800, 1,600 and 3,200.
If you select the Amnesty International (candle) mode, the G11 reduces its image size to 1,824 x 1,368 and goes to stupid-high ISOs, with bland color.
Formats
JPG, CR2 (raw) and MOV movies.
Movies
640x480 or 320x240 @ 30FPS.
LCD
2.8"
Swivels.
Anti-reflection coated.
It is impossible to compose pictures with no junk on the LCD; there is always at least an annoying exposure compensation (even if set to zero) and meter mode icon superimposed on your image as you compose.
Storage
SD and SDHC cards, one slot.
Power
Fat NB-7L battery, 7.4V, 1,050 mAh lithium-ion (same as G10).
Measures 1.782 x 1.272 x 0.6915" (45.28 x 32.30 x 17.57mm).
CB-2LZ folding plug charger included.
Size
Canon specifies 4.41 x 3.00 x 1.90 inches (112.1 x 76.2 x 48.3mm)
The G10 was specified at 4.3 x 3.1 x 1.8" (109 x 78 x 46mm).
Weight
14.105 oz. (399.8g) with battery and card.
14.900 oz. (422.4g), adding Canon's strap.
Canon specifies 12.5 oz. (355g), stripped naked.
(The G10 was 14.150 oz. (401.2g), measured with card and battery, but no strap.)
Announced
19 August 2009.
Available since
October 2009.
Price
$480, March 2010.
$450, December 2009.
$500, October 2009.
Performance top
Intro Specs Performance Usage Compared Recommendations
Overall
The G11 works great. It's no speed demon, but if you can wait as long as you have to with every other compact camera, it belts out great results.
It works better at high ISOs than any other tiny-sensor camera, other than the similar Canon S90.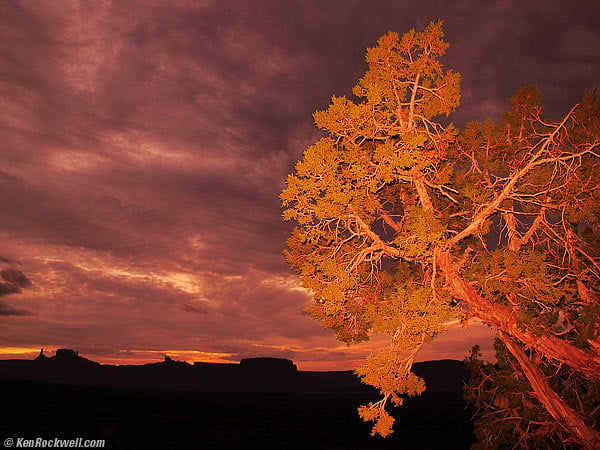 Near Fisher Towers, Utah. Taken with built-in flash. original © JPG, 1.2MB.
Speed and Ergonomics
The G11 is like all other Canon point-and-shoots. It's extremely well thought out, but still maddeningly slow if you're trying to shoot action, like a wedding.
This is why the G11 is great for landscapes, since it's fast enough for things that don't move, but abysmal for weddings or action.
Playback isn't exciting. It only scrolls left-right and up-down. There is no diagonal scroll when zoomed, and worse, if you try to press the dial at a 45º point, it simply ignores you. At least on the S90 you always get motion in one of the four cardinal directions, even if it also lacks diagonal scrolling.
The G11 has a lot of lights on the top. You might want to black these out for security if you shoot at night. They only serve to give away your position; they don't light any of the adjustments, which are still illegible in the dark unless you look at the LCD as you turn them.
If you set it to create new folders each day, they are courteously named with the month and day. This is a huge help to me sorting out what I shot when.
After shooting the S90, having no front control ring on the G11 is a huge mistake. All the nice metal front ring does on the G11 is come off to allow you to attach goofy accessories. It doesn't actually do anything as it does on the S90.
The rear control buttons are mostly flat, making them hard to find by feel, but still a little better than the S90.
Just like the S90, there is no way to program the function of the rear dial. It does what it wants to, depending on the G11's mode.
The "*" AEL button is a nice touch, but its too easy to hit it by accident, and then it can't be cleared except by going back and fourth into Play or another exposure mode. You have to practice avoiding it as you grab the camera for each shot, since it sticks right out on the corner.
When you hit AEL, then you can shift and compensate from there. To cancel the lock, shift the exposure mode dial to another position and back.
The rear control ring is the best yet on a Canon compact, far better than the wimpy one on the S90.
The G11 remembers your preferred advance mode when you turn it back on. I prefer the Continuous mode, which used to clear every time I turned off earlier Canons.
The G11 is slow to respond to the program [S] custom function button. Worse, it's on the wrong side, requiring a second hand to press it.
I have no tolerance for any delay in response to control inputs. I mean criminy, why is it that no matter how much computing power we put in a product, we have to wait a second for the screen to update when we turn a dial? This is annoying; the SD880 is faster. Specifically, as you turn the exposure mode dial, the LCD repeats what you're doing, but with a slight delay.
Auto ISO is fantastic. It always chooses the same ISO I would have chosen.
Thank you sweet Jesus, AUTO ISO cancels itself in Manual exposure mode, a far cry better than any Nikon DSLR.
The tough-looking knurled solid aluminum knobs for compensation, mode and ISO should be better finished. As they are, the edges are too sharp for comfortable extended use.
White Balance
Thank goodness, there is fine-tuning, in both warm-cool and green-magenta axes.
The G11 also offers two manual white-card WB settings.
I love this; I can set one in shade, and another for indoors, and never have to erase one each time I change conditions. The G10 also had two, but most simpler Canons, like the S90, only have one MWB setting.
Exposure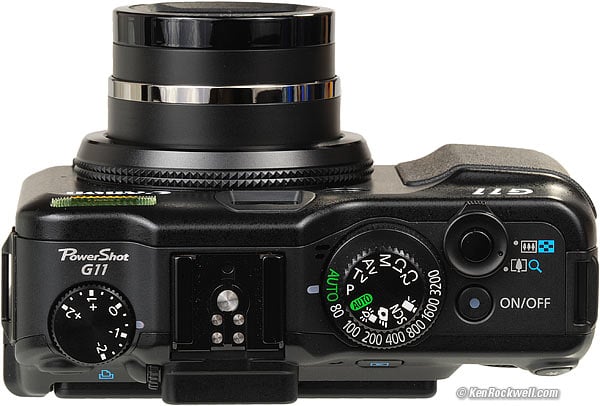 Top, Canon G11. enlarge.
Hallelujah! See that knob on the left? That's the most important knob on the G11. Turn it to + or - to change the brightness of the picture you're about to take.
I love having direct control. I change compensation (brightness) more often than I change the zoom setting.
Just like all my other Canons, I usually shoot it at zero indoors, and at -2/3 outdoors.
Aperture Range
Like all compacts, you don't want to shoot it any smaller than about f/5.6. Diffraction leads to softer photos from f/5.6 onwards.
The G11 usually gets everything in focus. If you want a tight selective focus, zoom to the longest setting and get close. No compact camera has much ability to blur backgrounds; you need an interchangeable-lens SLR for that due to their much larger lenses and sensors.
The sensor is so tiny in compact cameras that even the slightest loss of sharpness is obvious. That's why you can't set apertures smaller than f/8.
LCD
The LCD is sharp, bright and colorful.
I would prefer a bigger one without the swivel, but tough, the G11's LCD is great.
High ISOs
High ISOs look great, unlike any other compact camera save for the S90.
High ISOs looked awful on the G10 and G9, for instance.
I use up to ISO 1,600 all the time, as selected in Auto ISO, and it looks about as good as a small DSLR.
At high ISOs, the G11 secretly blurs the image. It does this cleverly enough that JPG file size doesn't grow, as it usually does on other cameras that leave in more noise.
Flash
The built-in flash works fine.
It takes a while to recycle between shots.
External Hot-Shoe-Mounted Flash
I didn't try this.
Why would I? By the time you put a big flash on the G11, you'd get far better results from a real DSLR like a Nikon D40.
Sharpness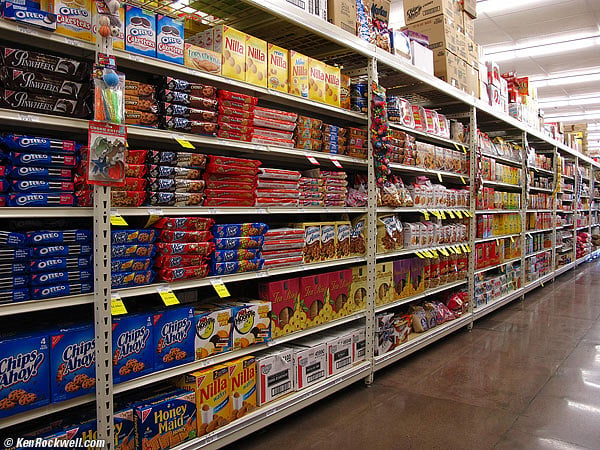 Groceries. 1/60 at f/2.8, ISO 160, hand held. Camera-original © JPG, 1.7MB.
Yes, it's sharp. The lens is excellent as expected. The example above of course has limited depth of field.
There are some lateral color fringes if you look hard enough, so don't look.
Distortion
As expected, there is some barrel (bulging) distortion at the widest end.
+4.0 in Photoshop's Lens Distortion Filter clears it up at 6.1mm, although some residual waviness remains.
Much better than expected, there is no distortion in the middle and long end of the zoom range.
The S90 is much worse. It's ultra-speed (f/2) zoom has so much distortion at the wide end the the S90 has to correct it electronically. The slower lens of the G11 needs no such internal correction.
Sunstars
The Canon G10 has a six-bladed diaphragm, and makes six-pointed sunstars.
Battery and Power
The Canon G11 works as expected: the charger is fast and efficient, and I never wore the battery down in the week or two I borrowed a G11 for this review.
I love the Canon chargers: their plugs flip into the housing, so there's no need for a cord, at least with USA models. The charger was travel-rated: it worked from 100~240V and 50~60 cps. This may vary by country.
Survivability
The Canon G11 has the same 2 weak points as most other compacts: the lens erection system, and the little plastic blades at the front of the lens which form a dust barrier.
Many compact cameras suffer from erectile dysfunction as they age.
I had no problems with unintended erection while carried in my pocket; the power switch is well designed. When other cameras turn on accidentally while in my pocket, and harm themselves trying to extend their lenses while confined.
The little plastic lens barrier blades on many compact cameras get stuck partially open, or partially closed, over time. When this happens, you either get black bars over your pictures (barrier stuck partially closed), or have an unprotected lens when put away (blades stuck partially open).
I doubt the G11 is any better than other cameras here.
Usage back to top
Intro Specs Performance Usage Compared Recommendations
I use the G11 like every other Canon compact. The only difference is that you have a real knob for exposure compensation instead of having to jerk it around in the menus.
Exposure Compensation
You set this on the big knob on the top left.
I set it to taste, which is usually -2/3 in bright light outdoors, and 0 indoors.
Exposure Mode
This is the little knob on top of the bigger knob.
I usually shoot on P, program.
If I'm on a tripod at night, I'll use M, manual mode, to let me zero-in on a long exposure.
ISO
I shoot in AUTO for snapshots. I lock it on ISO 80 if I'm shooting anything serious in decent light.
WB
You set this by tapping the FUNC button.
I usually use AWB.
I prefer warmer (more amber) colors, which I set by pressing DISP and selecting A3, for three clicks of extra amber.
In weird light, I set the manual adjustment (the two ramps and the dot) to a white object sitting in blue shade, and often use the resulting very warm (orange) setting for effect.
Color
I prefer vivid colors.
To get these, press FUNC and drop down one below the WB settings. You'll see OFF on a new camera. Tap one to the left to V, and that gets you VIVID colors.
Compression
I shoot at NORMAL. You set this with FUNC. It's the setting one up from the bottom.
NORMAL is a stair-step icon.
Canon cameras default to FINE, which is the quarter-circle icon. The images look the same, but take up twice as much file space.
Forget the Super Fine mode (an "S" in a quarter-circle). It wastes even more file space, and still looks the same as NORMAL.
Think I'm kidding? Shoot the same picture at the different settings, and you won't see any difference. The G11, like all compacts, has so much image noise, even at ISO 80, that the compression level makes no difference.
Ditto for wasting your time with raw. Compact cameras have so much noise and grit in the images to begin with, unlike SLRs, that there isn't anything to be gained wasting time, money and the environment processing raw files.
Compared top
Intro Specs Performance Usage Compared Recommendations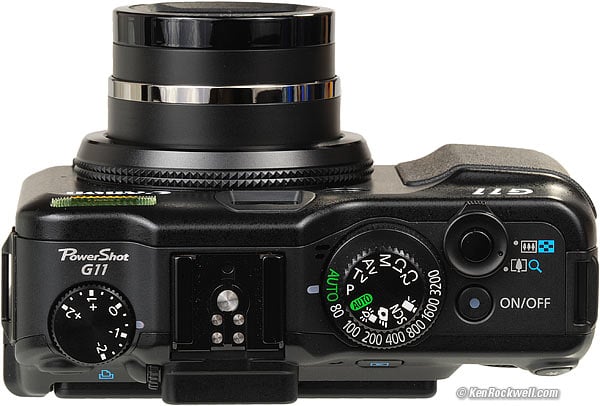 Top, Canon G11. enlarge.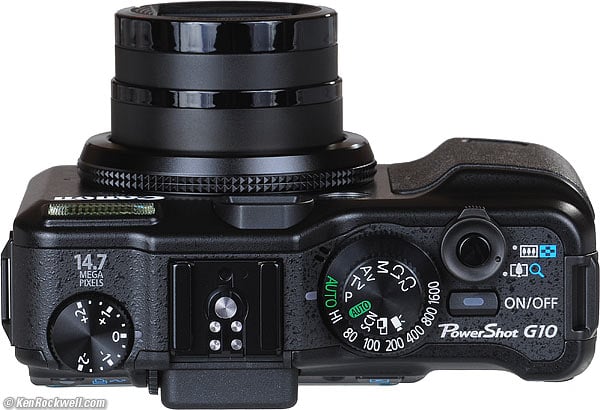 Top, Canon G10. enlarge.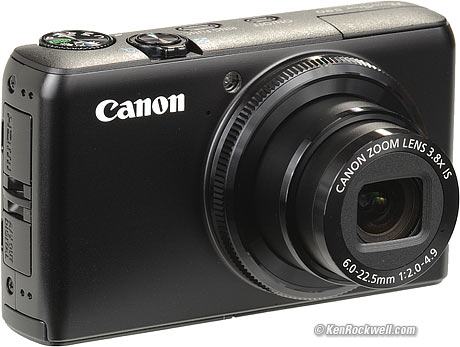 The Canon G9, G10 and G11 are very similar.
The G10 was a G9 with a dedicated compensation dial, a different, wider lens and very slightly different LCD.
The G11 is the G10 with a lower-resolution sensor that gives superior results, a smaller swiveling LCD, and white-balance trims.
The S90 is the G11 in a much smaller package with a faster lens for better results in low light, a bigger LCD, and a lens control ring for setting just about anything, especially compensation and making white balance fine-tuning adjustments.
I've shot the S90 and G11 alongside each other. They each handle as fast as each other, and the image quality is indistinguishable — except in low-light, where the faster lens of the S90 lets it shoot in the same light at the same shutter speed at half the ISO for cleaner images. What the G11 needs ISO 1,600 to so at f/2.8, the S90 can do at only ISO 800 at f/2.
The dedicated exposure compensation button of the G11 always responds, while one often has to wait a second for the lens control ring to wake back up in the S90. Then again, the G11 has no easy way to tweak white balance trims without resorting to menus, while you can do this with the control ring of the S90 as you shoot. I prefer the S90.
Both the S90 and G11 have a programmable [ S ] function button, except that it's on the wrong side of the G11, requiring a second hand to operate.
The G11 has a superior detented rear dial. The rear scroll dial is the weakest point of the S90: Canon forgot to give it detents, so it often spins and changes settings, like ISO, when you aren't looking. With the S90, I constantly get the ISO changed by accident, while this is never a problem with the dedicated knob of the G11.
The G11 feels like it has cheaper plastic buttons than the other G-series cameras. Even the flat and lifeless buttons of the S90 feel more like metal than the G11.
Both the G11 and S90 have flat. flush rear buttons which vanish when you try to find them by feel. The G10, and especially the G9, were much better.
The S90 has a flat shutter button easy to confuse with its mode dial, while the bigger top controls of the G11 make this obvious in the dark.
The top of the G11 lights up several meaningless LEDs like a Christmas tree for no reason, while the S90 top stays dark to preserve your cover and power.
All these cameras shoot Canon's CR2 raw format.
The S90 is unique in using a specially-designed f/2 ultra-speed lens, and then correcting this lens' extra distortion in-camera when the S90 makes JPGs. Opening the S90's CR2 files in most software, like Adobe's, will have a load of barrel distortion at the wider settings which will require additional correction if your raw software doesn't do this automatically. The G11 lens has little enough distortion that you won't need to worry about this.
G9

G11

Dates

2007-2008

2008-2009

2009-

2009-

Lens Equiv.

35-200mm
IS 6x

28-135mm
IS 5x

28-135mm
IS 5x

28-105mm
IS 3.8x

Maximum aperture

f/2.8-4.8

f/2.8-4.5

f/2.8-4.5

f/2 - 4.9

Raw CR2?

YES

YES

YES

YES

LCD

3"

3"

2.8" swivel

3"

Exp. Comp. Dial?

No

YES

YES

YES (around lens)

Lens Control Ring?

No

No

No

YES

WB Trims

No

No

YES

YES

WB Trim with control ring?

No

No

No

YES

MWB settings

2

2

1

Body Color

some silver on black

black on black

black on black

black on black

Rear Buttons

Perfect

Mushy

Flat

Flat

Noise (all ISOs)

High

High

Lower

Lower

Hot Shoe?

YES

YES

YES

NO

Weight, deployed

401g

400g

197g

Price (11/09)
Recommendations back to top
Intro Specs Performance Usage Compared Recommendations
Everyone who owns a G-series Canon loves it. I loved the G11 I borrowed so much that I didn't even bother with an SLR.
I prefer the Canon S90, which does the same thing, or better, for half the size and weight, and a lower price, but that's just me. The G11 is a fantastic camera, and you people know who you are.
I wouldn't use a G11 for people, sports or action, I'd use an SLR for that, like the Nikon D40 or Canon Digital Rebel XS. If you're going to carry it around your neck, the Nikon D40 feels like it weighs about the same, but it performs much better.
PLUG top
I support my growing family through this website, as crazy as it might seem.
If you find this as helpful as a book you might have had to buy or a workshop you may have had to take, feel free to help me continue helping everyone.
If you've gotten your gear through one of my links or helped otherwise, you're family. It's great people like you who allow me to keep adding to this site full-time. Thanks!
If you haven't helped yet, please do, and consider helping me with a gift of $5.00.
The biggest help is to use the links to Adorama when you get your goodies. It costs you nothing and is a huge help. Adorama has the best prices and service, which is why I've used and recommended Adorama since the 1970s!
Thanks for reading!
Ken
Home Donate New Search Gallery How-To Books Links Workshops About Contact