Canon Rebel XS
(EOS 1000D, Kiss F, 2008-)
10 MP, 3 FPS, 2.5" LCD, $699 with lens.

© 2008 KenRockwell.com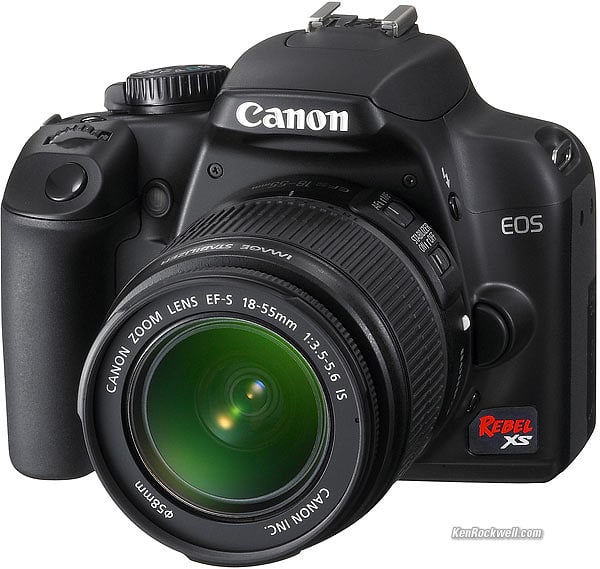 Canon Rebel XS. enlarge. I'd get it at Ritz, Amazon or Adorama. It helps me keep adding to this site when you get yours from those links, too.
July 2008 More Canon Reviews
Introduction
The Canon Rebel XS is the lightest DSLR even made by Canon.
The Canon Rebel XS is a $699, 10 MP, 2.5" LCD DSLR which should ship in August 2008. It comes packaged with the 18-55mm IS lens for $699. It competes directly against the Nikon D60.
What's new and interesting is Canon's Auto Lighting Optimizer, which if it works as well as Nikon's Automatic Dynamic Range Adjustement, will be a huge help in making significantly better pictures.
The new Canon Rebel XS is also called the EOS 1000D in Europe and Korea, and the Kiss F in Japan.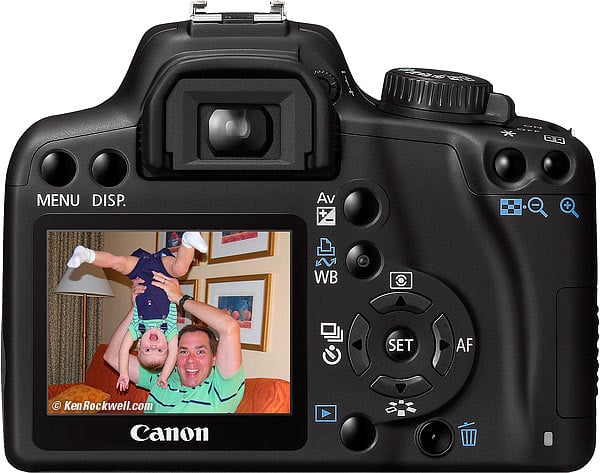 Back. enlarge.
Specifications
Camera
Type: Canon DSLR. Uses all Canon EF and EF-S lenses. Menus and most settings are the same as all the other excellent Canon DSLRs.
Flash: Pop-up, ISO 100 GN 43' (13m).
Depth-of-Field Preview: Yes.
Size: 5.0 x 3.8 x 2.4" (126.1 x 97.5 x 61.9 mm).
Weight: 15.9 oz. (450g).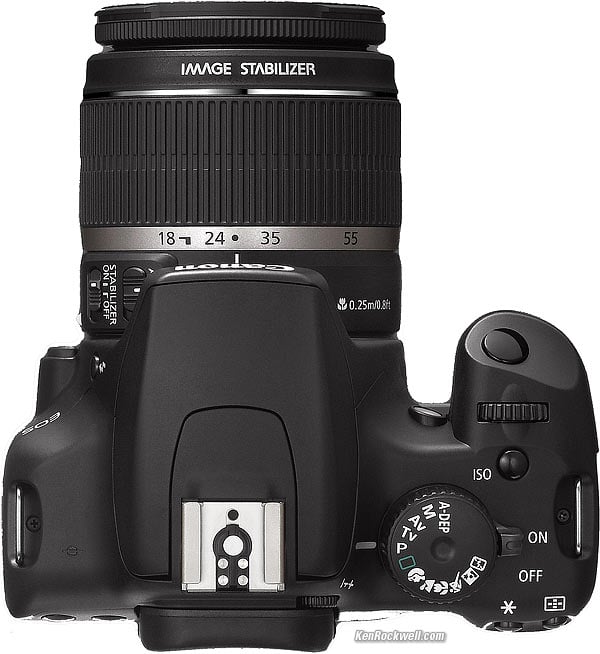 Top. enlarge.
AF, Finder, LCD and Live View
AF: 7 sensors.
Finder: Lightweight Pentamirror. 21mm eyepoint, which sounds too good to be true. 95% coverage, -3 to +1 diopters.
LCD: 2.5," 230,000 dots.
Live View: Yes, and also on a remote computer with EOS Utility software.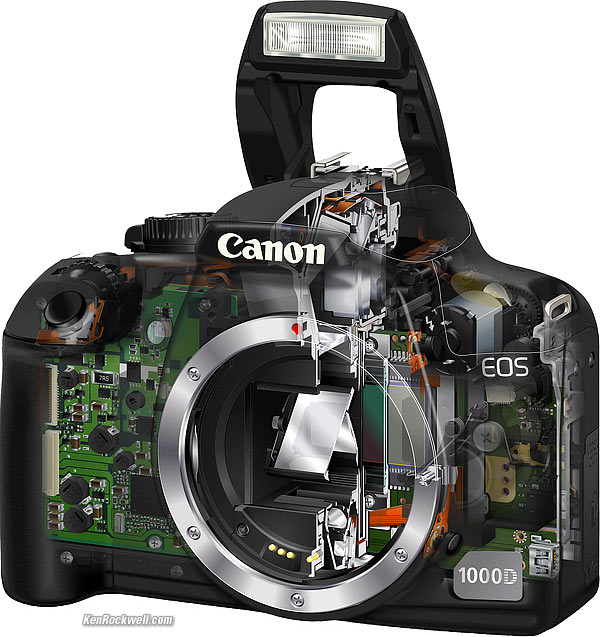 Front Cutaway (Rebel XS is called EOS 1000D in Europe). enlarge or enrapture.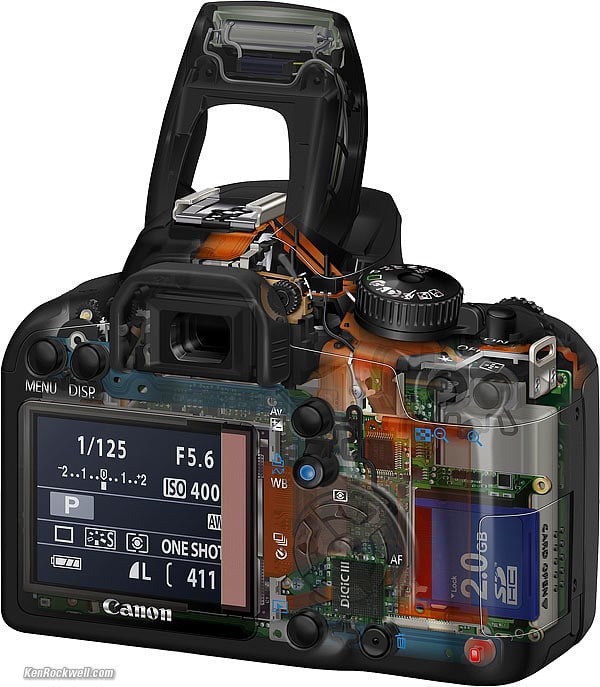 Rear Cutaway (Rebel XS is called EOS 1000D in Europe). enlarge or enrapture.
Sensor, Frame Rate and Shutter
Sensor: 10 MP CMOS, 22.2 x 14.8mm (1.6x), 3,888 x 2,592 pixels native. Self-cleaning.
ISO: 100 - 1,600.
Frame Rate: 3 FPS (only 1.5 FPS in raw).
Buffer Depth: Unlimited. The Rebel XS writes to the card faster than it can shoot.
Shutter: 1/4,000 - 30s and Bulb.
Maximum speed with flash (sync speed): 1/200.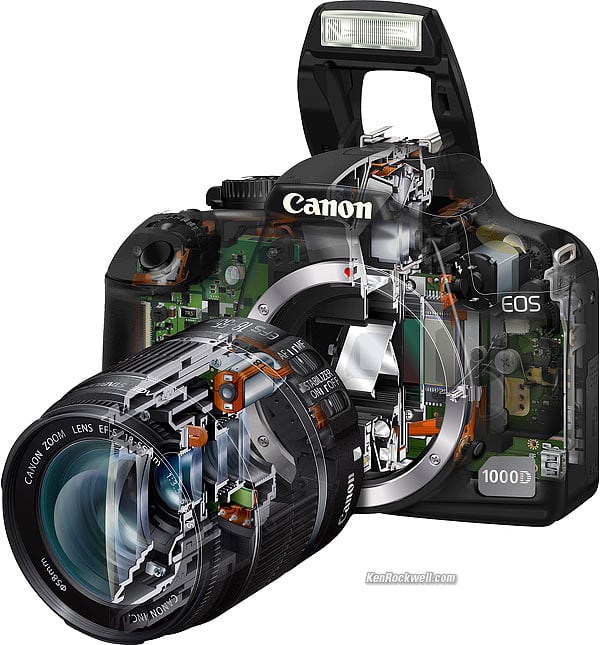 Front Cutaway with lens (Rebel XS is 1000D in Europe). enlarge or enrapture.
Data
Buffer Depth: 514 shots (only 4 or 5 in raw).
Memory: SD and SDHC cards.
Formats: JPG and raw, also simultaneous raw + JPG.
Color Spaces: sRGB and Adobe RGB.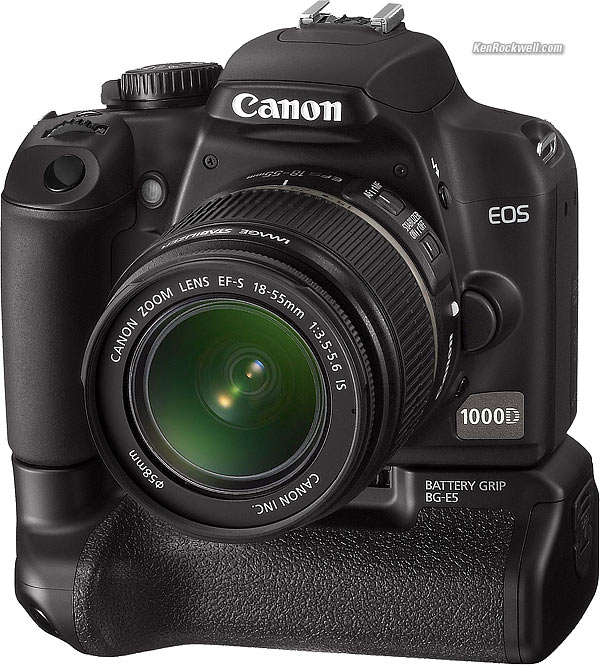 Canon EOS 1000D with BG-E5 Grip. (Rebel XS is 1000D in Europe). enlarge.
Practicalities
Included: EF-S18-55mm f/3.5-5.6 IS zoom lens, rechargeable battery and charger, USB and video cables, neckstrap, software CD, and a 1-year warranty.
Announced: 08 July 2008 in USA, 16 June 2008 rest-of-world.
Price: $699 with 18-55mm IS lens.
Available: August 2008.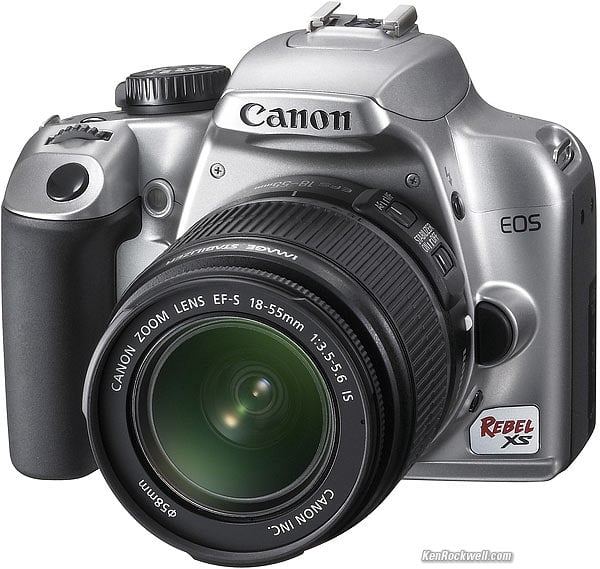 Ugly Silver-Painted Plastic Version. (Black plastic is beautiful.)
Recommendations
I'm all for inexpensive, light and small, which is this camera. Personally I own a Nikon D40, which I find much easier to use than my Canon DSLRs.
Canon's Rebels are the world's largest selling DSLRs, as was the Canon AE-1 of the 1980s. Canon only makes winners, and I'm sure this new camera will be very popular.
I love the fact that there is no old-fashioned LCD on top of the camera. Those date from film cameras, and I prefer to have my information on the rear of the camera where I can see it.
There is a dedicated WB button on the back, which is very important for getting great color.
More information: Canon USA press release.
More Information from Europe: General Marketing Poof and Specifications.
PLUG
I support my growing family through this website.
If you find this as helpful as a book you might have had to buy or a workshop you may have had to take, feel free to help me continue helping everyone.
If you've gotten your gear through one of my links or helped otherwise, you're family. It's great people like you who allow me to keep adding to this site full-time. Thanks!
If you haven't helped yet, please do, and consider helping me with a gift of $5.00.
It also helps me keep adding to this site when you get your goodies through these links to Adorama, Amazon, B&H, Ritz, and J&R. I use them and recommend them all personally.
Thanks for reading!
Ken