Home Donate New Search Gallery How-To Books Links Workshops About Contact
Canon 18-55mm IS
© 2009 KenRockwell.com
Introduction Specs Performance Recommendations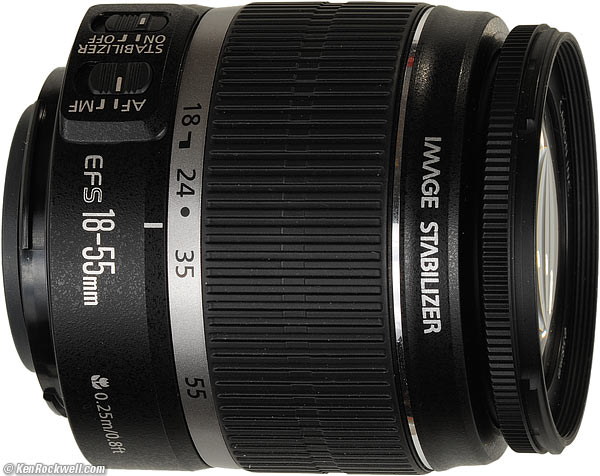 Canon EF-s 18-55mm f/3.5-5.6 ($150, plastic mount, 58mm filters, 7.1oz/200g) enlarge. I'd get mine at Adorama or Amazon. It helps me keep adding this site when you get yours from these links, thanks! Ken.
July 2009 More Canon Reviews
Introduction top
Intro Specs Performance Recommendations
Canon announced this lightweight lens along with the Canon 40D in August, 2007.
It's an inexpensive ($150) basic lens which adds image stabilization (IS) to the previous 18-55mm EF-S II lens.
As an EF-S lens, it works only on the 2003 and newer 1.6x digital cameras. It will not work on full-frame, film, 1.3x professional or the old 10D, D60, or D30 cameras.
I'm an IS addict, but IS is only useful if you like to shoot still subjects hand-held in dim light. It's not useful if you shoot flash or moving subjects, and with a normal-range lens, not that big a deal in any case.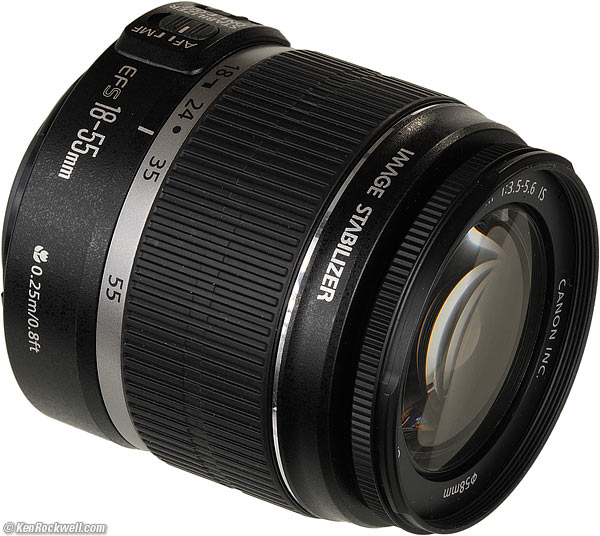 Canon 18-55mm IS. enlarge.
Specifications top
Intro Specs Performance Recommendations
Name
Canon calls this the EF-S 18-55mm f/3.5-5.6 IS.
EF: Electronic Focus. All modern Canon lenses focus with a motor in the lens.
-S: Only works on newer, small (1.6x factor) DSLRs, which are the 40D, 30D, 20D, 20Da (astronomical), Digital Rebel XTi, Digital Rebel XT and the original Canon Digital Rebel.
IS: Image Stabilization, which means no tripod needed except at night. See Why IS Matters. Canon claims 4 stops improvement.
Focal Length
18-55mm.
On a 1.6x camera it gives angles of view similar to what a 29-89mm lens would give on a 35mm film camera. See also Crop Factor.
Optics
11 elemnts in 9 groups.
An aspherical element.
Lead-free glass.
Diaphragm
6 blades.
Canon claims circular, which it is wide-open and one-stop down.
It's hexagonal from 2-stops down.
Filter Thread
58mm.
Plastic.
Rotates with focus.
Pumps in and out with zoom.
Close Focus
10" (0.25m) at all focal lengths.
Lens Mount
Plastic.
Included Accessories
Just caps.
Optional Accessories
EW-60C hood.
LP814 pouch.
Size
2.7" (68.5mm) diameter x 2.7" (68.5mm) extension from flange, at middle focal length and infinity focus.
3.65" (92.5mm) maximum overall length with zoom at either end and focus at closest distance.
Weight
7.060 oz. (200.04g), measured.
Introduced
August 20, 2007.
Available Since
Since October 2007.
Price
$199.99 MSRP, USA.
$160 USA in 2008.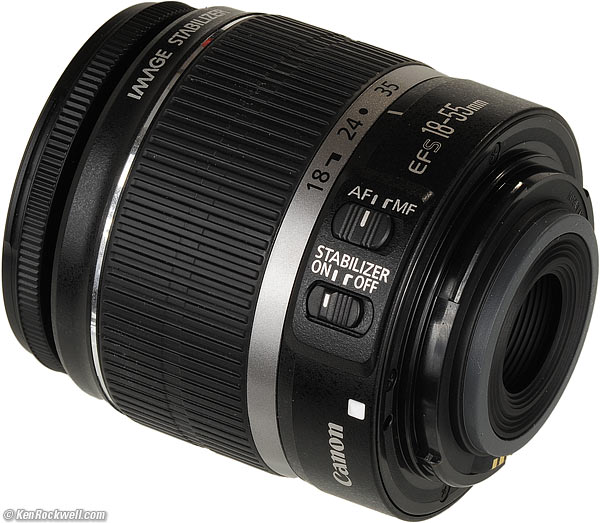 Canon 18-55mm IS. enlarge.
Performance top
Intro Specs Performance Recommendations
Focus
AF is instantaneous.
As common in Canon, it sometimes misses, even though all the AF OK confirmation lights come on. This can lead to shots which occasionally are out-of-focus when you blow them up. If you ever see it, it is most prevalent at 18mm and at f/3.5.
Keep your hands off the front of the lens, which rotates during AF.
Manual Focus
MF is easy, but you have to slide a switch to do it.
It is geared very fast; if you're in manual focus, it will probably not be as precise as you'd like at the tele end.
AF/MF Switching
You have to move a switch.
There is no instant override as on better Canon lenses.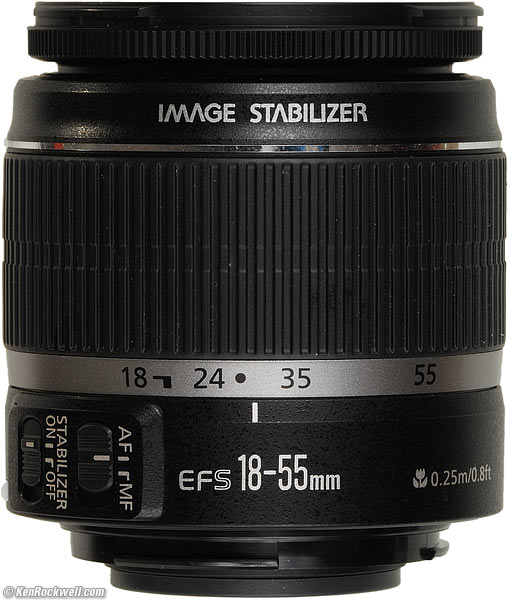 Canon 18-55mm IS. enlarge.
Distortion
As expected, there is moderate barrel distortion at the wide end, and it goes away throughout the rest of the range.
If you worry, use these values in Photoshop CS2 and newer's Lens Distortion Correction tool.
| | |
| --- | --- |
| EXIF Data | at 10' (3m) |
| 18mm | +4.0 |
| 28mm | +0.5 |
| 35mm | -0.1 |
| 55mm | -0.1 |
© 2009 KenRockwell.com. All rights reserved.
Focal length Encoding
18, 35mm and 55mm read perfectly in the EXIF data.
24mm set on the lens reads as 28mm in the EXIF data.
Lateral Color Fringes
There are always lateral color fringes if you're looking for them.
Normal people won't see them, but if you worry about this, try a different lens, or a newer Gen II Nikon which corrects these automatically.
Macro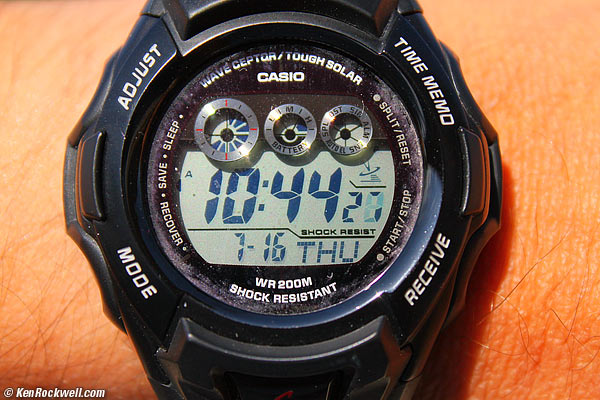 At close focus distance at 55mm. (Rebel T1i)
This 18-55mm IS gets so close you won't need a separate macro lens.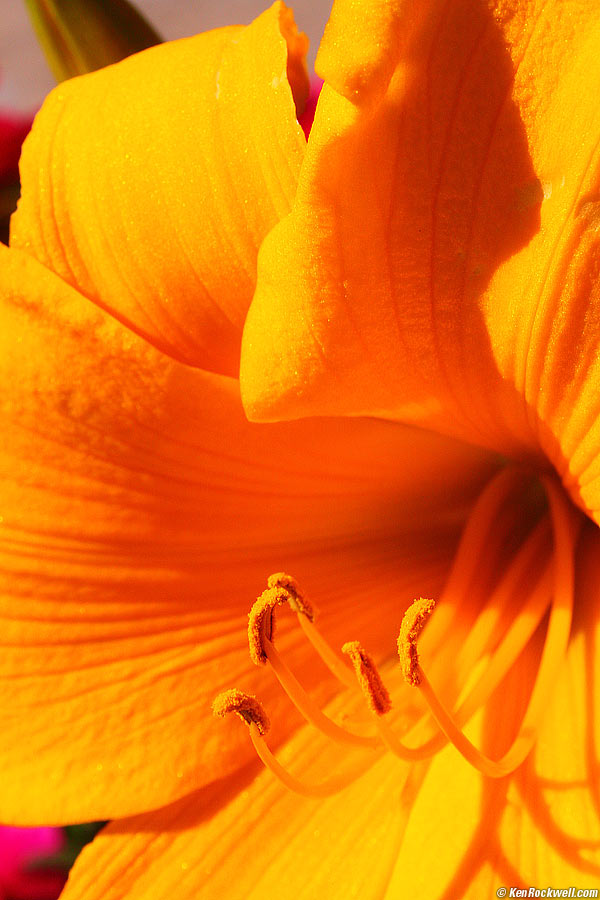 At close focus distance at 55mm. (Rebel T1i at +4 saturation.)
Sharpness
Sharpness is fine, but if you split pixels, not remarkable if you peer at your files at 100%.
The occasional autofocus miss is a far greater enemy of sharpness with this lens than the lens' own lack of sharpness.
I prefer the non-IS 18-55mm as being sharper, especially when considering the non-IS 18-55mm's lack of lateral color.
Zooming
Zooming is easy.
The range is a bit cramped at the wide end, and a bit sparse at the long end. Note the need for Canon to use index lines because otherwise the numbers wouldn't fit the wide end of the zoom ring.
Recommendations top
Intro Specs Performance Recommendations
I prefer the optics of the non-IS 18-55mm. I'd get that instead, for less money, or shoot Nikon with their optically superior 18-55mm and 18-55mm VR lenses.
For more money, the larger and heavier 18-200mm IS is also better.
All said and done, the 18-55mm IS is a light, easy-to use lens that can make great photos. I'd buy something else given the choice, but if I got one of these included with my camera, I'd use it.
I love plastic mounts because they are lighter and easier to carry. I also know never to grab the camera by the lens, since it could break off if you do this with a heavy camera.
Deployment
I'd leave a 58mm Hoya Super HMC UV on the lens at all times. I would leave the hood at home.
I'd pitch the flat Canon cap that came with this lens new, and get a superior "pinch" type Nikon cap in 58mm. I'm not kidding: I really do use Nikon caps on my Canon lenses because they are much easier to use in the field.
If I was working in nasty, dirty areas, I'd forget the cap, and use an uncoated 58mm Tiffen UV filter instead. Uncoated filters are much easier to clean, but more prone to ghosting.
Help me help you top
I support my growing family through this website, as crazy as it might seem.
If you find this as helpful as a book you might have had to buy or a workshop you may have had to take, feel free to help me continue helping everyone.
If you've gotten your gear through one of my links or helped otherwise, you're family. It's great people like you who allow me to keep adding to this site full-time. Thanks!
If you haven't helped yet, please do, and consider helping me with a gift of $5.00.
The biggest help is to use these links to Adorama, Amazon, Calumet, Ritz and J&R when you get your goodies. It costs you nothing and is a huge help. These places have the best prices and service, which is why I've used them since before this website existed. I recommend them all personally.
Thanks for reading!
Ken
Home Donate New Search Gallery How-To Books Links Workshops About Contact