Home Donate New Search Gallery How-To Books Links Workshops About Contact
Nikon 300mm f/2.8 VR II
FX, $5,700 (2009-)
© 2011 KenRockwell.com. All rights reserved.
Intro Specs Performance Recommendations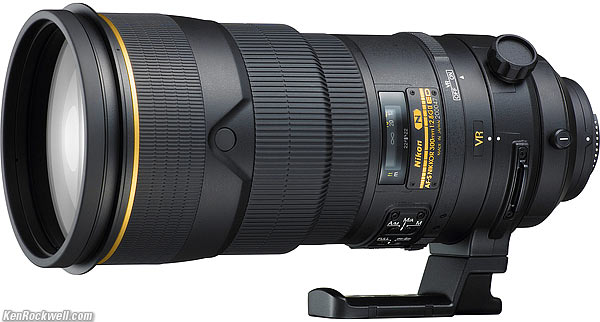 Nikon AF-S NIKKOR 300mm f/2.8 VR II (52mm filters, 2,900g, about $5,700). enlarge. I'd order it at these links to Adorama or Amazon. It helps me keep adding this site when you get yours from these links to get anything, thanks! Ken.
Adorama pays top dollar for your used gear, especially your earlier 300mm f/2.8 lenses and other Nikon cameras and lenses.
November 2011, December 2009 Nikon Reviews Nikon Lenses All Reviews
Nikon 300mm f/2.8 Comparisons and History
Introduction top
Intro Specs Performance Recommendations
The 300mm f/2.8 is the normal lens of professional sports and paparazzi shooters. It is also one of the most popular portrait and fashion lenses, used to get great facial modeling and completely throw any background out of focus.
As one of the most important lenses in the professional's quiver, Nikon updates it about every five years with a new, improved model to stay current.
This one isn't much of an upgrade over 2004's model, adding only an "M/a" AF mode and claiming an extra stop (four versus three) of VR improvement.
To quote Nikon: "The lens optics and Nano Crystal Coat so well received with previous lenses have been adopted without modification," which is marketing-speak saying "it's 99.9% the same lens as before, but we raised the price $600."
The old 2004 VR model also had Nano Crystal coat. The only way to tell them apart is look for the tiny "II" between G and ED on the identity plate, or note that the old model has a gold identity plate with VR in red, while the new ID plate is in black with VR in gold.
For weekend shooters, don't run out and buy this if you already have the old one. Heck, for nature, portraits and landscapes, the original 1977 manual-focus version is also awesome, and sells used for one-tenth the price of this new one at this link to them at eBay. If you need autofocus, but don't need it fast, even the first 300mm f/2.8 AF lenses sell for a fifth the price of this VR lens at this link to the AF versions at eBay, and they are also awesome.
If you're a full-time pro shooter, I have no idea what the M/a mode is, but I have a sneaking suspicion that if it saves you one time out of 20, then of course you'll want this new version.
See Is It Worth It.
Short History Full 300mm f/2.8 History
Nikon invented the world's first 300mm f/2.8 lens in 1971. It was a hog and no one bought it.
Nikon's first popular 300mm f/2.8 ED-IF came out in 1977. It added internal focusing, so a single fingertip could flick the focus. It was adopted immediately as standard issue for every news and sports photographer. These were extremely popular, but you had to have the skill of a pro to follow-focus manually on sports.
Nikon's first autofocus 300mm lenses from 1986 through 1996 had such horribly slow autofocus that pro sports shooters all moved to Canon, whose AF system and EF 300/2.8 cranked.
Nikon considered autofocus just a gimmick for amateurs, and didn't bother to develop it for professional use in the 1980s. Canon thought otherwise in the 1980s, and today we know who guessed right.
Nikon's 300/2.8s have had super-fast AF ever since the first AF-S version of 1996, but few pro sports shooters have had any reason to care or move back to Nikon.
Everything works perfectly on every digital Nikon, both FX and DX, and even on Nikon's cheapest digitals like the D40, D40x, D60, D3000 and D5000.
It's also perfect on decent or recent AF film cameras like the F6, F100, F5, N80 and N75.
The incompatibilities for older or cheaper film cameras are that:
1.) It won't autofocus with the cheapest new AF film cameras like the N55, but if you focus manually, everything else works great. Even if you lose autofocus, these cameras have in-finder focus confirmation dots to help you.
2.) Late 1980s ~ early 1990s AF cameras like the N90s, N70 and F4 will focus just fine, but you'll lose VR. You'll have Program and Shutter-priority modes, but lose Manual and Aperture-priority since you have no way to set the aperture on the camera or on the lens.
3.) You're really pushing it with the oldest AF cameras like the N2020, N6006 and N8008. You'll have no AF, confused exposure modes, and no VR. Manual focus is fine, along with electronic focus indications.
4.) Since it has no aperture ring, it's just about useless with manual focus film cameras.
See Nikon Lens Compatibility for details with your camera. Read down the "AF-S, AF-I," "G" and "VR" columns for this lens. You'll get the least of all the features displayed in all columns, since "G" (gelding) is a handicap which removes features.
Specifications top
Intro Specs Performance Recommendations
I compare specifications of this new VR II to every other Nikon 300mm f/2.8 at 300mm History.
Name
Nikon calls this the Nikon N AF-S NIKKOR 300mm f/2.8G ED VR II.
N means nano-crystal coating, a better kind of anti-reflection coating.
AF-S means Auto Focus - Silent, meaning that the AF motor us the same sort of ultrasonic motor Canon uses. It also means that you can grab the focus ring any time for instant manual-focus override.
ED: Extra-low Dispersion glass; magic glass to reduce secondary green-magenta color fringing.
VR: Vibration Reduction, used to steady the image when shooting off the back of a Vespa. This lens uses what Nikon calls version II VR, or VR II. The old version also used VR II.
II: Means version II, which means this lens costs $600 more than the mostly identical 2004 300mm f/2.8 VR of 2004.
Optics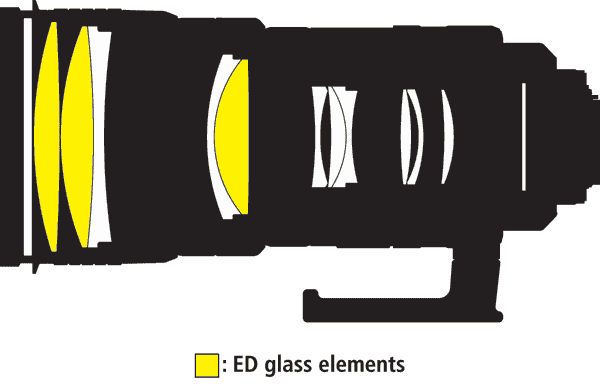 11 elements in 8 groups.
3 are made of magic ED glass.
One has a nano crystal coat, as a marketing feature.
The front has a protective glass plate, easier and less expensive to replace than an actual element.
Diaphragm
9 rounded blades.
Stops down to f/22.
Close Focus
2.3m (2.2m in manual-focus mode).
Maximum Reproduction Ratio
1:6.4.
Included
Slip-on front lens cap
Rear Lens Cap LF-1
Lens Hood HK-30
Semi-soft Case CL-L1
Dedicated filter holder
52mm Screw-on NC Filter
Strap LN-1
Size
4.9" (124mm) diameter x 10.5" (267.5mm) extension from flange.
Weight
102.3 oz., or 6.4 pounds of 2.9kg.
Announced
10 December 2009.
Available
January 2010.
Price
$5,700, USA, November 2011.
$5,900, USA, December 2009.
Performance top
Intro Specs Performance Recommendations
The 300/2.8 is a professional staple. It is the lens, along with the 70-200mm f/2.8 VR II, by which professionals gauge the entire Nikon system.
As all of Nikon's 300mm f/2.8 EDs have been, performance is exceptional, even shot wide-open. Anything that's not sharp is your fault, not the lens.'
MTF chart. explanation.
This says that this 300mm, like Nikon's and Canon's other 300/2.8s, has extraordinary performance.
Recommendations top
Intro Specs Performance Recommendations
Now will be a great time to find bargains on closeouts and used samples of the identical old model 300mm f/2.8 VR.
Unless you push VR, this new lens is the same thing.
If you already own the old 2004-2009 model, I'd keep it.
I would dump anything before the 1996 AF-S version. The older AF-I and AF versions autofocused so poorly that they are why pro sports photographers went to Canon in the early 1990s, and have never come back.
This is a superb lens.
More Information
Help me help you top
I support my growing family through this website, as crazy as it might seem.
If you find this as helpful as a book you might have had to buy or a workshop you may have had to take, feel free to help me continue helping everyone.
If you've gotten your gear through one of my links or helped otherwise, you're family. It's great people like you who allow me to keep adding to this site full-time. Thanks!
If you haven't helped yet, please do, and consider helping me with a gift of $5.00.
The biggest help is to use these links to Adorama, Amazon, Calumet, Ritz, J&R and when you get your goodies. It costs you nothing and is a huge help to me. eBay is always a gamble, but all the other places have the best prices and service, which is why I've used them since before this website existed. I recommend them all personally.
Thanks for reading!
Ken
Home Donate New Search Gallery How-To Books Links Workshops About Contact