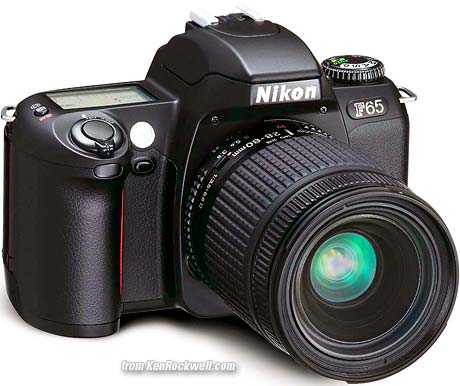 INTRODUCTION
As of December 2004 the N75 is a little bit better and newer camera which sells for a little less, so the rest of this page should be considered as historic. Get an N75 instead.
---
This is called the N65 in the US and the F65 in the rest of the world. It was announced in August 2000.
Nikon's specifications are here.
I show a black N65 since I prefer black to silver. The standard N65 is silver and I think you have to get the date imprinting N65QD version to get black.
It is a great lightweight, inexpensive (about $300 US complete with a swell lens) plastic camera capable of fantastic results. It has the same technology as every other Nikon and gives the same quality images. That's right, if you are new to photography then you may not realize that the images made with this camera will be identical to those made with a $2,000 F5 that weighs a ton and sucks through mountains of batteries.
If you have some need to mess with every setting and adjustment you may get frustrated and want the N80 instead, but if it's great results you want and don't care about fiddling with settings then this is the way to go. I've learned that fiddling with settings actually leads to missing many great photos, so I always use the AF and program exposure modes. All the latest Nikon AF and exposure technology is in this camera. You have full manual control and control of most important things with this camera; you just can't always fiddle with the really complex things that no one understands anyway like dynamic autofocus tracking.
The only potential drawback is slow flash sync speed, however the N80 isn't much better so don't worry about it unless shooting action with fill flash in daylight is important to you. If this is important you have to go to the F100 or cheaper but obsolete N90s.
It is very light, just 14 ounces, thanks to the almost entirely plastic construction.
It has a significantly smaller and fuzzier viewfinder than any other Nikon SLR, which of course helps keep the weight and cost down and has no effect on your photos.
If you care enough to read on about piddly features then you may want a fancier camera. If you just want great photos and don't want to waste your creative time worrying about features then this camera should give you everything you need. Features have nothing to do with great photos and worrying about settings actually leads to worse photos.
Features common to N65, N80 and F100
Dioptometric adjustment for viewfinder
Cheap plastic back
No mirror lockup; needed for landscape photos with telephoto lenses on tripods
Great matrix metering. Forget how many segments it has, all you need is five or more.
Compatible with AF-S lenses (I've tried it, the N65 works great with my 17-35 AF-S)
Real depth-of-field control that stops down to the camera-selected aperture in automatic modes
Features the N65 has that improve on the F100 and F5
Dedicated knob to select P, S, A, or M exposure modes (but no viewfinder indication)
Tiny pop-up flash (useless with ultra-wide-angle and wide zoom lenses because of the shadow)
Built-in focus assist light. Then again, the AF may be less sensitive on the N65 and need this annoying light that the F100 and F5 don't.
Weighs nothing: 14 ounces. I bet the lenscap for my 400mm lens weighs more.
It has an IR remote control ability, instead of the nasty screw-in ones the F100 and F5 have to use.
TIME setting for long exposures instead of obsolete BULB setting on most other cameras (does not require a special cord to use for long night exposures)
Features the N65 lacks that the N80, F100 and F5 have
No ability to select AF modes (but you can select AF sensors) This could be a pain; the camera decides if it will track a moving subject or lock to a still one.
Clumsy AF sensor selector button you have to hold while spinning a dial
No top LCD panel illuminator (look through the finder at night instead)
No indication of selected AF area on the viewfinder screen. It is only shown on the bottom of the viewfinder as an icon.
No viewfinder indication of P, S, A, or M exposure modes
No spotmeter. I never use this anyway.
The viewfinder is smaller and fuzzier than every other Nikon SLR camera. Even the N80 is much, much nicer. (OK, the $5,400 D1x has a smaller finder.)
Only one command dial; you have to press a second button to switch the command dial from one function to another in manual exposure mode. This isn't very important.
The N65, like the N80, can't meter or make auto exposures with manual focus lenses. Manual lenses are almost useless on it except if you have a separate meter. You may be able to do TTL macro flash with it, in which case this is not a downfall.
No direct ability to select Matrix or center-weighted metering modes (selected automatically based on other camera modes)
Durability. The plastic knobs fall off Canon's A2 camera, I suspect the external command dials will fall off the N65 if you beat on it. This is the cheapest camera ever made by Nikon (The FM10 and FE10 are made by Cosina), so don't complain if it falls apart.
Black finish comes only with the date imprinting model. The standard model is foolish looking chrome-painted plastic.
Only 1/90 flash sync speed. This is more important than you think for daylight photos, for which you usually ought to be using a fill-flash. This is the fastest shutter speed you can use when the flash is on, and is very limiting for important daylight fill-flash.
Top speed is a blistering 1/2000. I never use any speed this fast. 1/500 stops action, and so if you have enough light you ought to be using slower film instead of speeds this fast anyway. 1/4000 and 1/8000 speeds on the fancier cameras are useless.
SUMMARY
For just a few hundred dollars you can get most all of the important metering and AF performance of the fancier Nikon cameras, in a tiny package perfect for hauling along for when the plastic rewind spindle on your F100 breaks.
Except for the slow sync speed, there honestly is no reason the N65 can't be used to make tons of stunning images under most conditions.
The N65 takes two CR2 lithium batteries that cost about $4 each. One also can use 4-AA batteries in the MB-17 grip that sells for about $55. I've never seen this grip, it could be really slick. I have no idea what the battery life is. A reader suggests that it's a big help to have an MB17 unit attached to F65/N65, pocket friendly - considering that CR2 Battery is more expensive than NiCd or Ni-Mh. It also add weight to the camera unit which gives more stability and the grip is also extended. They said they can almost feel that they are holding a lighter version of an FM2 with MD12.
This camera is for use as a backup, or for your mom. It's for you if you never want to fool with any settings and still want killer images.
It isn't for you if you do want to fool with settings or appreciate how important fill-flash is in daylight. It does allow manual exposure setting, although there's no real reason to want to do that anymore unless you're taking a photo class taught by a Cro-Magnon.
As of 2005 the N65 is getting dated. For what seems like the same price the newer N75 is probably a better bet.