Home Donate New Search Gallery Reviews How-To Books Links Workshops About Contact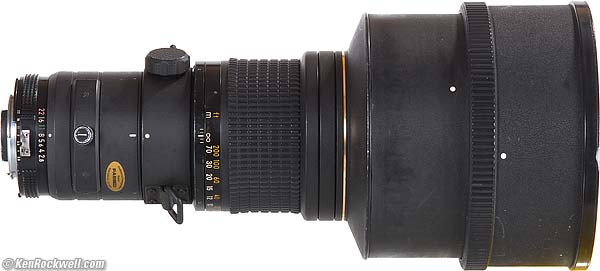 Original 1977 Nikon 300mm f/2/8 ED-IF with hood extended. enlarge.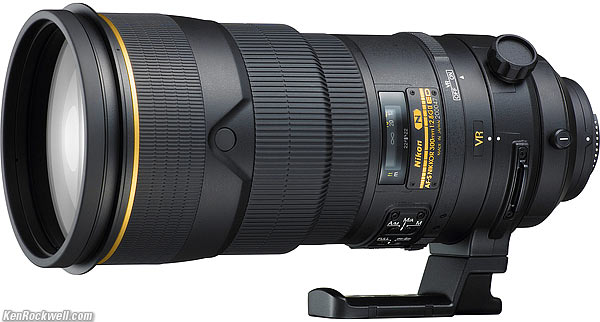 Nikon's newest 2009 300mm f/2.8 VR II, without hood. enlarge.
Christmas 2015 Nikon Reviews Nikon Lenses All Reviews
Canon 300mm History and Comparison
Manual Focus (links take you to full reviews)
| | | | | | | | |
| --- | --- | --- | --- | --- | --- | --- | --- |
| Years | Model | Optics | Focus | Close Focus | Filter | Hood | Weight |
| 1971-1976 | ED | 6/5 | Unit | 4m | 122mm | Screw-in | 2.6kg |
| | | 8/6 | IF | 4m | 122 & 39mm | Built-in | 2.5kg |
| 1982-1986 | ED-IF AI-s | 8/6 | IF | 4m | 122 & 39mm | Built-in | 2.5kg |
| 1986-2005 | newer AI-s | 8/6 | IF | 3m | 39mm | Built-in; HE-4 | 2.4g |
Auto Focus (links take you to full reviews)
| | | | | | | | |
| --- | --- | --- | --- | --- | --- | --- | --- |
| Years | Model | Optics | Focus | Close Focus | Filter | Hood | Weight |
| 1986-1988 | AF | 8/6 | AF (slow) | 3m | 39mm | Built-in; HE-6 | 2.7kg |
| 1988-1992 | AF-n | 8/6 | AF (slow) | 3m | 39mm | Built-in; HE-6 | 2.7kg |
| | | 11/9 | AF-I (slow) | 2.5m | 39mm | HK-19 | 2.95kg |
| 1996-2001 | AF-S | 11/8 | AF-S (fast) | 2.5m | 52mm | HK-22 | 3.1kg |
| | | 11/8 | AF-S (fast) | 2.3m | 52mm | HK-26 | 2.56kg |
| | | 11/8 | AF-S (fast) | 2.3m | 52mm | HK-30 | 2.85kg |
| | | 11/8 | AF-S (fast) | 2.3m | 52mm | HK-30 | 2.9kg |
Manual Focus
1971 - 1976: ED
Nikon's first primitive 300mm f/2.8 ED super tele was impractical because it had klunky, slow traditional unit focusing and a manual diaphragm. As you focused, the entire lens had to rack in and out, not exactly the thing for sports, which is the whole point of this lens.
Because the whole lens had to rack in and out, it has to move a lot to focus closely. To make a reasonably-sized lens, the close focus distance is limited by how much mechanics the maker wants to provide to allow the lens to rack out far enough.
The manual diaphragm means you had to flick a ring to stop down the lens to the taking aperture after focusing each shot. After the shot, you had to flick it the other way to open the diaphragm to focus for the next shot! Preset manual diaphragms went away form most lenses back in the 1960s, but no one had made an automatic diaphragm for a lens this big yet.
Since the whole point of a fast tele is sports and action, the klunky focusing and manual diaphragm defeats the purpose of a 300mm f/2.8. People bought these to shoot at f/2.8, but the focus is still a pain.
These pre-AI lenses won't mount on most modern Nikons. Don't worry, this version was never very popular so it's unlikely you'd come across one for sale.
I will ignore this lens for the rest of this article. It's a non-player and very rare because it was so awful for actual photography that no one bought them.
1977 - 1982: ED IF
Nikon 300mm f/2.8 ED-IF AI. This was the world's first practical super-speed super-tele, and very popular.
1982 - 1986L ED-IF AI-s
Almost identical AI-s version.
1986 - 2005: AI-s (new)
New version of AI-s. Same optics, but now focuses to 10' (3m) instead of 13' (4m) and has a permanently installed protective front plate instead of a 122mm filter thread. It weighs 3.5 oz. (100g) less than the previous two versions and is 1/2" (14mm) longer than the earlier 2 versions.
Autofocus
1986 - 1988: AF
First AF version, which was the manual focus Nikon 300mm f/2.8 ED-IF with a hole drilled up the side for the screw-type autofocus. AF was so slow that it was one of the reasons sports photographers changed to Canon, and have never had a reason to come back. Whoops! Slow AF is what lost Nikon the pro market. This first AF version is identified by a milled (fine-ribbed) glossy black AF/MF ring. The first AF versions focus as closely as their contemporary manual versions, 10' (3m).
1988 - 1992: AF-n
AF-n version, still the same optics as the 1977 original and same slow AF as before. This version is identified by the coarse, crinkle-finish ribbing on the AF/MF ring; its ribs have about the same pitch as the focus ring ribs.
1992 - 1996: AF-I
For the first time since 1986, Nikon put a focus motor into the lens, and for the first time since 1977, Nikon updated the optics. Nikon calls these lenses AF-I, for internal-motor autofocus. The 300mm f/2.8 AF-I focuses more closely than the previous AF versions, down to 8' (2.5m).
The AF-I were the forerunner of AF-S lenses, which use a different kind of motor. The AF-I should work and focus perfectly even on the D40.
Sadly, the Nikon AF-I 300mm f/2.8 was also a slow focuser, confirming to all the pros who moved to Canon that they made the right choice. The good thing about the AF-I version is that it adds extremely helpful focus lock buttons on the front of the lens.
The Nikon 600mm f/4 AF-I, also introduced in 1992, is as slow as the 300mm AF-I. In 1994 Nikon introduced the Nikon 400mm f/2.8 AF-I which has a much better AF-I system and is very fast. (The 300mm AF-I was unchanged.)
1996 - 2001: AF-S
First AF-S 300mm f/2.8, which finally is the first Nikon 300mm f/2.8 which auto focuses quickly. It has newer optics than the AF-I version. This first AF-s version focuses as closely as the AF-I. It is the heaviest 300mm f/2.8 ever made by Nikon at 3.1 kg. It now takes a 52mm filter in a rear drawer, compared to every previous version which took a 39mm filter in a drawer.
2001 - 2004: AF-S II
AF-S II, which focuses a little more closely: 7.2' (2.2m) vs. 8' (2.5m) for the previous AF-S version. It also weighs less, 2.95 vs 3.1 kg.
2004 - 2009: VR
The Nikon 300mm f/2.8 VR adds vibration reduction for great results hand-held. This version focuses to 7.2' or 2.2m.
This model has a gold identity plate and VR is marked elsewhere in red.
2009 - Today: VR II
It's the same as the old 2004-2009 VR model, adding one more stop of VR performance and an "M/a" autofocus mode.
To quote Nikon: "The lens optics and Nano Crystal Coat so well received with previous lenses have been adopted without modification," meaning this is the same lens, with better VR and a new focus mode.
This current model has a black identity plate with a "II" between G and ED, and VR is marked elsewhere in gold.
Filters
1971 - 1986 manual lenses take 122mm screw-in filters.
1977 - 2005 manual lenses take a 39mm filter in a rear drawer. They also came with a gel filter holder that can be used instead of the 39mm holder.
1986 - 1996 AF lenses also take 39mm filters in a rear drawer, and also came with a gel filter holder that can be used instead of the 39mm holder.
1996 - current day (2007) AF lenses take a 52mm filter in a rear drawer.
Weights
The manual lenses weigh less than the AF lenses.
The 1977 - 1986 manual lenses weigh 2.5 kg and the 1986 - 2005 manual lens weighs 2.4 kg.
Only the heaviest 1971-1976 pre-AI dinosaur weighs just a tiny bit more (2.6 kg) than the very lightest AF-S II version (2.56 kg).
Both original AF versions weigh 2.7 kg. The original AF-I and AF-S weigh 3.0 kg. The the VR weighs 2.85 kg.
More Details
For more details of dimensions and weights and hoods etc., see Roland Vink's Nikon Lens page.
Recommendations
If you're a cheapskate shooting landscapes on a tripod, get an ancient used manual focus version and save some money. That's what I did.
For sports, get an AF-S version, and for hand-held use, get the latest VR version.
Optical Performance
Even the first 300mm f/2.8 ED of 1977 is one of the sharpest lenses ever made, and the same has been true for every other Nikon 300mm f/2.8 since then. (I've never seen one of the old non-AI versions.)
I have not shot with many of these, but considering their heritage and the fact that every f/2.8 super telephoto ever made by Nikon (and Canon) has been spectacular (and spectacularly expensive), I see no optical reason to pick one lens over another except for minimum focus distance. The newest versions focus almost twice as closely as the oldest.
These superteles have always been Nikon's forté. Chose among them based on autofocus speed (or not), VR, and close focus distance.
Manual Focus Suggestions
Pass on the ancient 1971 - 1976 , non-AI, manual aperture, not mountable on most modern cameras versions. These are rare because no one bought them back when they were new, so it's unlikely you'll run across one.
Everything from 1977 - 2005 is about the same. All the ED-IF from 1977 - 2005 have the same excellent optics.
The versions from 1986 - 2005 focus more closely, 10' (3m) vs. 13' (4m), have a permanently installed protective filter on front instead of a 122mm filter thread, weigh 3.5 oz (100g) less but are 1/2" (14mm) longer then the earlier versions.
If I had a choice, I'd get the closer focusing (1986 and newer) version, but you take what you can find. I found and bought the 1977 - 1982 version.
Autofocus Suggestions
For landscapes and portraits, the pre-AF-S versions sell cheaper, so go get one if you can handle slow AF.
For sports and action, pass on any of the original AF and AF-I lenses from 1986 - 1996. They focus much too slowly!
For action and sports, the whole idea behind the 300mm f/2.8, get the AF-S version of 1996 or newer.
I work hand-held, and would prefer of course the newest and current 300mm f/2.8 VR version introduced in 2004, but I'm too cheap to buy one.
Help me help you top
I support my growing family through this website, as crazy as it might seem.
The biggest help is when you use any of these links to approved sources when you get anything, regardless of the country in which you live. It costs you nothing, and is this site's, and thus my family's, biggest source of support. These places have the best prices and service, which is why I've used them since before this website existed. I recommend them all personally.
If you find this page as helpful as a book you might have had to buy or a workshop you may have had to take, feel free to help me continue helping everyone.
If you've gotten your gear through one of my links or helped otherwise, you're family. It's great people like you who allow me to keep adding to this site full-time. Thanks!
If you haven't helped yet, please do, and consider helping me with a gift of $5.00.
As this page is copyrighted and formally registered, it is unlawful to make copies, especially in the form of printouts for personal use. If you wish to make a printout for personal use, you are granted one-time permission only if you PayPal me $5.00 per printout or part thereof. Thank you!
Thanks for reading!
Mr. & Mrs. Ken Rockwell, Ryan and Katie.
Home Donate New Search Gallery Reviews How-To Books Links Workshops About Contact