Home Donate New Search Gallery Reviews How-To Books Links Workshops About Contact
Nikon 80-400mm AF-S
FX VR G ED N NIKKOR (2013-)
© 2013 KenRockwell.com. All rights reserved.
Intro Specs Performance Usage Compared Recommendations More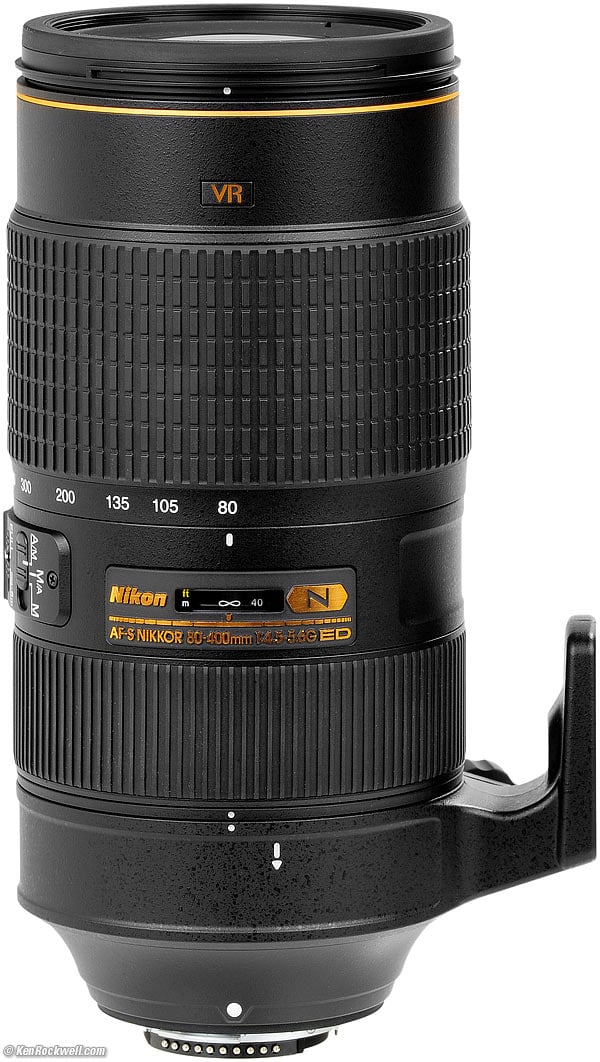 Nikon 80-400mm f/4.5-5.6 AF-S and included removable tripod collar (77mm filters, 55.1 oz./1,563g, 51.9 oz./1,470g without collar, 5.7'/1.75m close focus, about $2,297). I got mine at Adorama, I'd also get it at Amazon, at B&H or at Crutchfield.
This ad-free website's biggest source of support is when you use those or any of these links to my personally-approved sources when you get anything, regardless of the country in which you live. xx does not seal its boxes in any way, so never buy at retail or any other source not on my personally approved list since you'll have no way of knowing if you're missing accessories, getting a defective, damaged, returned, non-USA, store demo or used xx. Get yours only from the approved sources I use myself for the best prices, service, return policies and selection. Thanks for helping me help you! Ken.
August 2017 Nikon Reviews Nikon Lens Reviews All Reviews
Original 80-400mm AF-D VR review (2000-)
Introduction top
Intro Specs Performance Usage Compared Recommendations More
This Nikon 80-400mm AF-S lens is super-sharp, focuses super-fast and has amazing vibration reduction to allow hand-holding in any light.
This new 80-400mm lens is an update to Nikon's very first VR SLR lens of all time, the original 80-400mm AF-D VR of January 2000.
This new lens now has instant manual-focus override and super-fast autofocusing, all lacking on the original 80-400 VR.
This new lens focuses closer than the original 80-400 VR (5.7'/1.75m feet versus 7.5'/2.3m), however the older lens makes what seems to be closer close-ups (1:4.8 macro vs. 1:5.5). How is this? The old lens really was 400mm at close distances, while this new lens cheats and reduces its effective focal length at close distances so it can focus so closely. At infinity where you need it, both are really 400mm, while at the closest distances, this new lens bends its effective focal to allow focus at distances that would otherwise be impossible at 400mm.
Not only is this new lens super-sharp, Vibration reduction works so well I had no problems shooting it at 400mm and 1/8 of a second hand-held! What's next — X-ray vision?
This new 80-400 is more expensive, bigger and heavier than the original 80-400 VR, and it's all worth it. The old lens took forever to focus, and never focused close enough. This new AF-S version significantly expands our performance envelope with closer focusing and incredible VR.
As a full-frame lens, I am testing this on full-frame. Feel free to make the usual extrapolations if shot on DX, on which it also works great.
This 80-400mm VR works on all Nikon digital cameras, FX and DX, as well as most 35mm Nikons.
Everything works perfectly on every digital Nikon ever made, both FX and DX, from the best D4, D800, D800E and D600 to Nikon's cheapest digitals like the D40, D40x, D60, D3000, D3100, D3200, D5000, D5100 and D5200.
It's also perfect on decent or recent 35mm autofocus cameras like the F6, F100, F5, N80 and N75.
The incompatibilities for older or cheaper 35mm cameras are that:
1.) It won't autofocus with the cheapest new AF 35mm cameras like the N55, but if you focus manually, everything else works great. Even if you lose autofocus, these cameras have in-finder focus confirmation dots to help you.
2.) Late 1980s ~ early 1990s AF cameras like the N90s, N70 and F4 will focus just fine, but you'll lose VR. You'll have Program and Shutter-priority modes, but lose Manual and Aperture-priority since you have no way to set the aperture on the camera or on the lens.
3.) You're really pushing it with the oldest AF cameras like the N2020, N6006 and N8008. You'll have no AF, confused exposure modes, and no VR. Manual focus is fine, along with electronic focus indications.
4.) Since it has no aperture ring, it's just about useless with manual focus film cameras. It will shoot every shot at its minimum aperture. For manual focus cameras, use the original 80-400mm AF-D VR instead.
See Nikon Lens Compatibility for details with your camera. Read down the "AF-S, AF-I," "G" and "VR" columns for this lens. You'll get the least of all the features displayed in all columns, since "G" (gelding) is a deliberate handicap which removes features.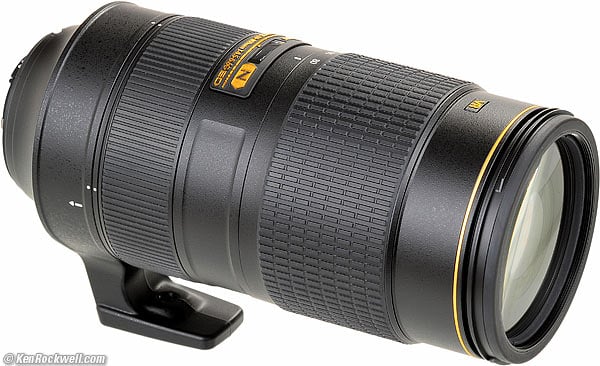 Nikon 80-400 AF-S. enlarge.
Specifications top
Intro Specs Performance Usage Compared Recommendations More
Name top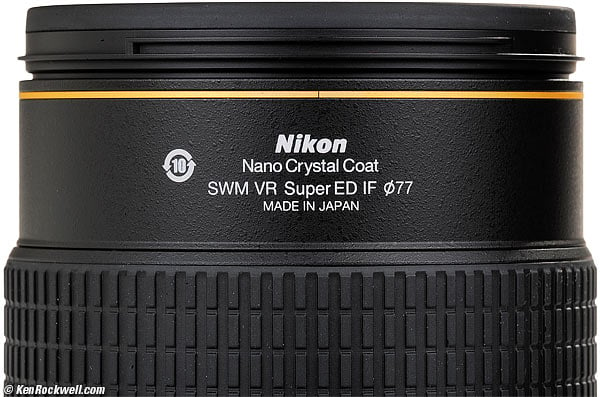 Nikon AF-S NIKKOR 80-400mm f/4.5-5.6G ED N SWM AF-S VR IF.
Nikon calls this the Nikon AF-S NIKKOR 80-400mm f/4.5-5.6G SWM VR Super ED IF N.
AF-S and SWM: Silent Wave Autofocus Motor and instant manual-focus override.
NIKKOR: Nikon's brand name for all their lenses.
G: Gelded for cost-reduction and removing compatibility with older cameras.
ED: Magic Extra-low Dispersion glass for reduced secondary chromatic aberration.
IF: Internal focusing; nothing moves externally as focused.
N: Magic Nano-crystal coating, meaning a coating which varies its index of refraction continuously to achieve even greater reflection reduction. It's probably only on one surface, and is used mostly for marketing purposes.
It also has:
D: Couples distance information to the Matrix Meter.
Optics top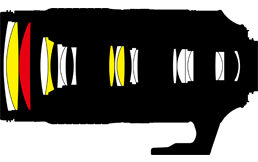 Internal diagram. ED Glass. Super ED Glass.
20 elements in 12 groups.
4 are of ED glass and one is of Super ED glass.
It's multicoated, which Nikon calls Nikon Integrated Coating.
It's a "pumper" zoom which moves the front section out as zoomed to longer focal lengths: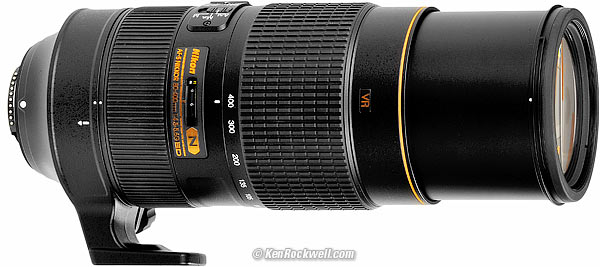 Nikon 80-400mm AF-S at 400mm. enlarge.
Diaphragm top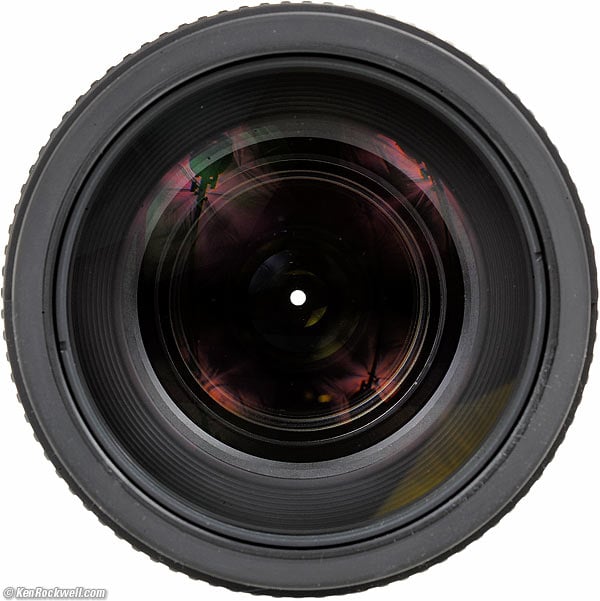 Nikon 80-400mm AF-S at 80mm and f/32.
9 rounded blades.
Stops down to f/32-40.
Coverage top
Focal Length top
80-400mm at infinity.
When used on a DX camera, it gives angles of view similar to what a 120-600mm lens gives when used on an FX or 35mm camera.
Effective focal lengths shorten at closer distances.
Angle of View top
30.2° ~ 6.2° diagonally on FX digital and 35mm.
20° ~ 4° on small-format DX.
Teleconverters top
Don't try it; the finder will be too dark and you'll probably lose good autofocus with any teleconverter. The whole point of the 80-400mm is that it gets you out to a very high quality 400mm without needing converters; so don't push your luck.
If you're the adventurous type and if you're using one of the very newest Nikons rated to focus even at f/8 (the cameras that are rated to focus with f/8 lenses still only can do this with only one central sensor), than you may use the TC-14E or TC-14E II, which makes this a 110-560mm f/6.3-8 lens.
When used on a DX camera with a 1.4x teleconverter, it sees angles of view similar to what a 170-850mm lens sees when used on an FX or 35mm camera.
Close Focus top
5.75 feet (1.74 meters) from the image plane.
There is a focus limiter to limit close-focus to 6 meters for faster autofocus if the lens has to hunt.
In manual focus, you can get a little closer, to 5 feet (1.5 meters).
Maximum Reproduction Ratio top
1:5.7 (1:5.1 in manual focus).
Hard Infinity Focus Stop? top
No.
You have to let the AF system focus at infinity.
Focus Scale top
Yes, but its almost invisible.
Depth-of-Field Scale top
No.
Infra-Red Focus Index top
No.
Aperture Ring top
No.
Tripod Collar top
Included.
Removable.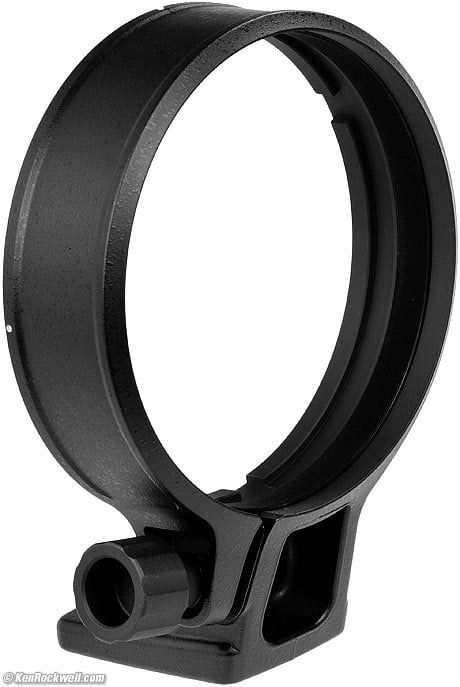 Nikon 80-400mm AF-S Tripod Collar.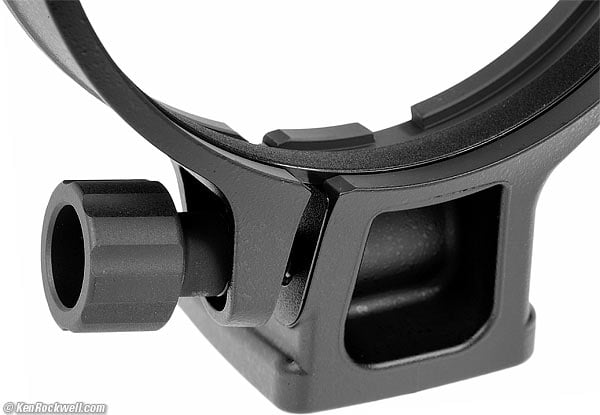 Detail, Nikon 80-400mm AF-S Tripod Collar.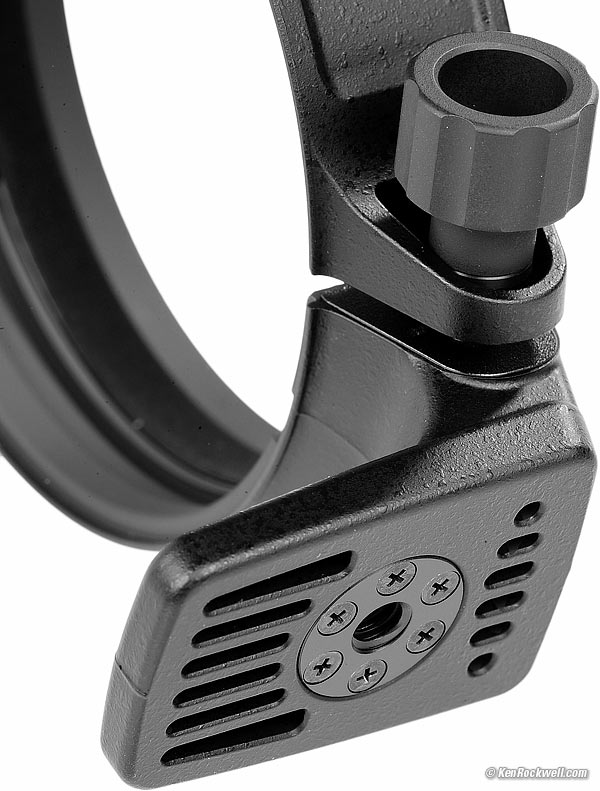 Bottom detail, Nikon 80-400mm AF-S Tripod Collar.
Filter Thread top
77 mm.
Does not rotate, but does pump in and out as zoomed.
Vibration Reduction (VR) top
Claims 4 stops improvement at 400mm.
Size top
Nikon specifies 3.8" (95.5 mm) diameter by 8" (203mm) extension from flange.
Weight top
55.125 oz. (1,562.8g) actual measured weight with included collar.
51.852 oz. (1,470.0 g) without collar.
Nikon specifies 56 oz. (1,570 g) or 52.8 oz. (1,480 g) without the tripod collar.
The collar alone measures 3.275 oz. (92.8g). Nikon specifies 3.2 oz. (90g).
Hood top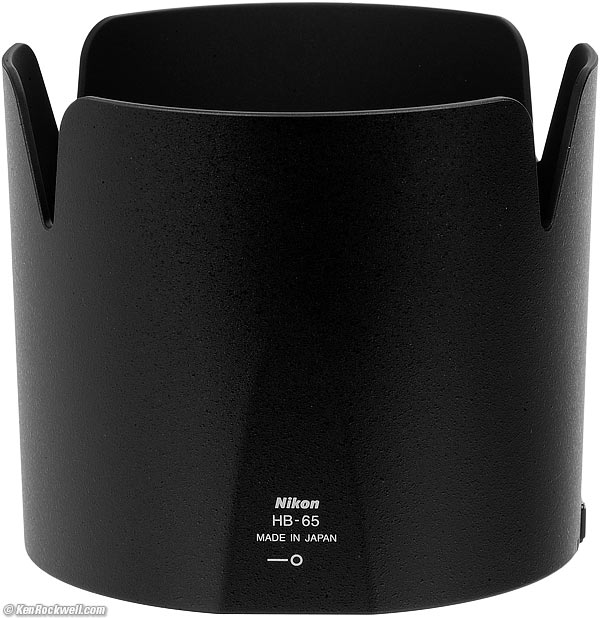 Nikon HB-65 hood.
Plastic bayonet HB-65 hood, included.
The hood has a metal latch pin: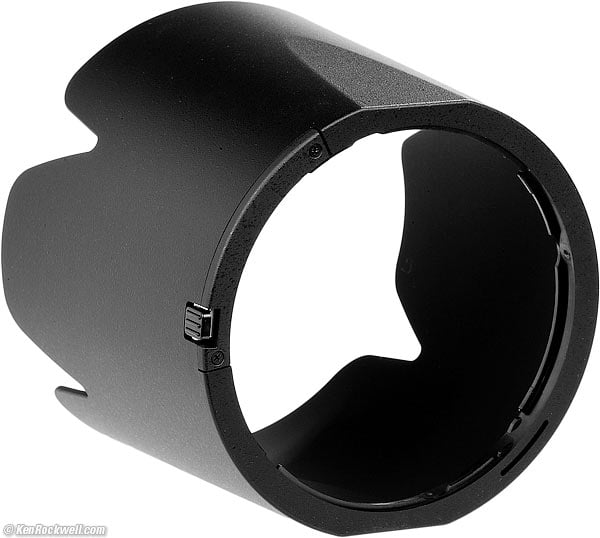 Rear, Nikon HB-65 hood.
Caps top
77mm front pinch-type cap and LF-4 rear cap included.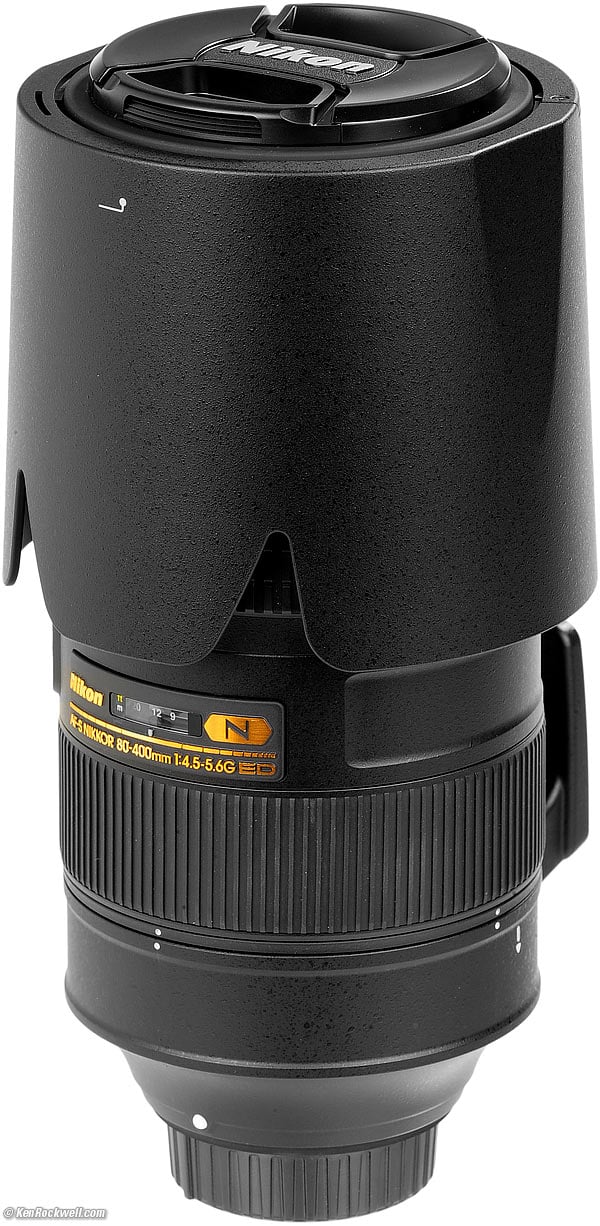 Capped Nikon 80-400 AF-S G with reversed hood.
Case top
CL-M2 padded nylon case, included.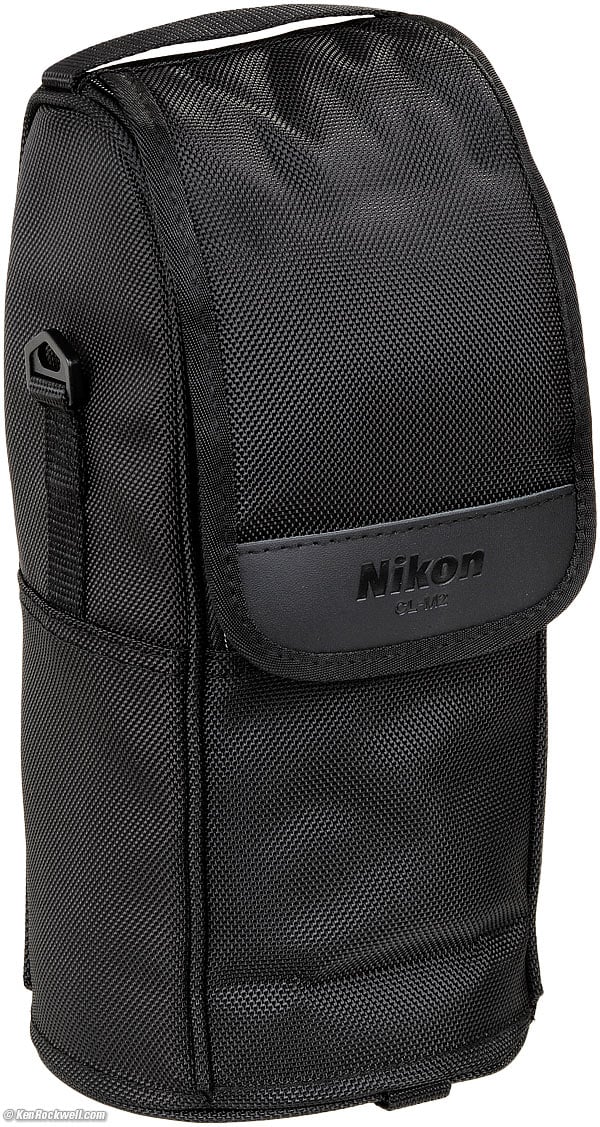 CL-M2 case.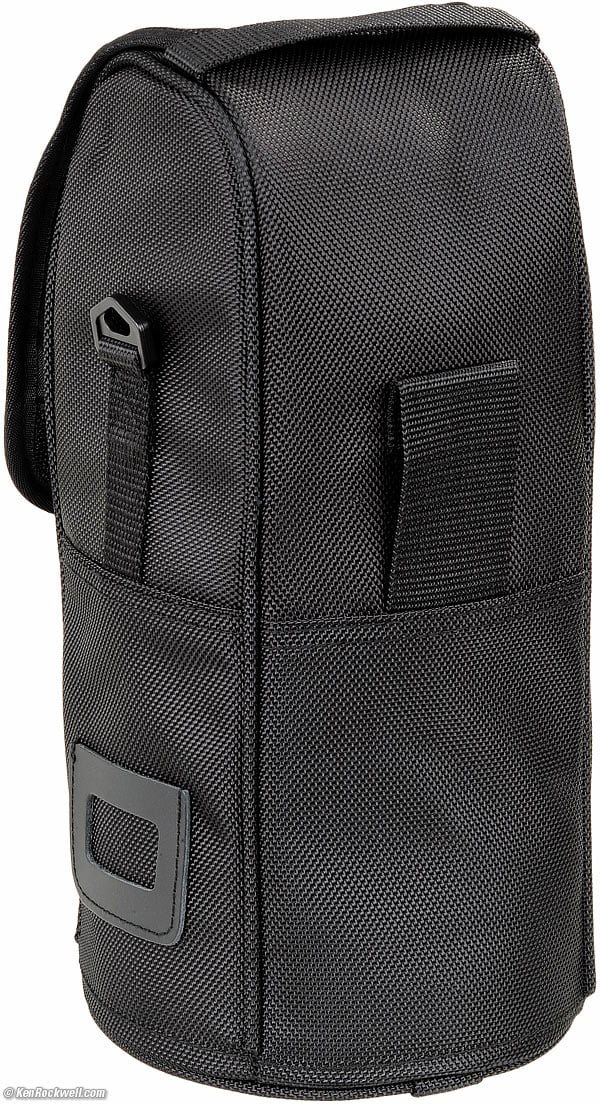 Rear, CL-M2 case.
The CL-M2 is the same case shipped with the 70-200/2.8 VR II. It's a little longer than the 80-400, so there is a small white foam spacer shipped above the lens to keep it from banging around in shipping.
Quality top
Lens, hood and instructions made in Japan.
Front and rear caps made in Thailand.
Included top
LC-77 snap-on front lens cap
LF-4 rear cap.
HB-65 plastic hood.
CL-M2 lens case.
Tripod collar.
Paperwork, including two sets of folded instructions, each of which includes English.
Warranty top
5 years, USA.
Announced top
05 March 2013.
Promised for top
April 2013.
Nikon Product Number top
2208.
Price, USA top
$2,297, August 2017.
$2,700, March-September 2013.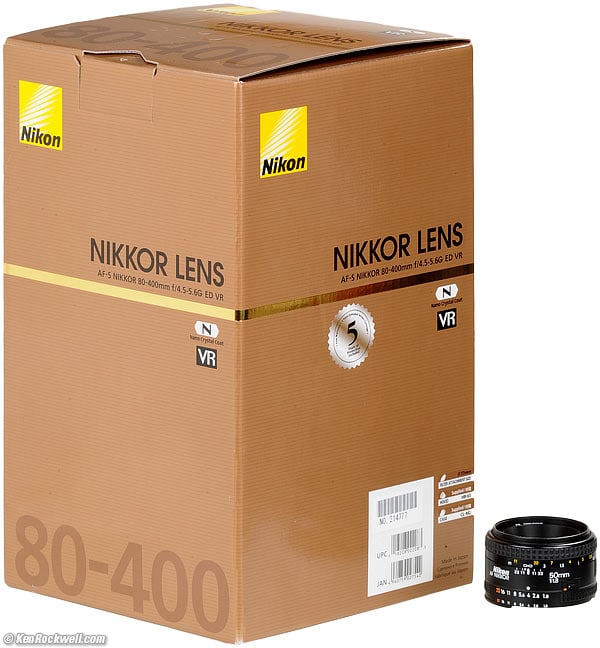 Huge box, Nikon 80-400 AF-S.
The box is huge. The little black speck to the right is a 50mm f/1.8 AF-n lens.
Performance top
Intro Specs Performance Usage Compared Recommendations More
Overall Autofocus Bokeh Distortion Ergonomics
Eyeblow Falloff Filters Focal Lengths, effective
Focus Breathing Ghosts Lateral Color Fringes
Maximum Apertures Mechanics Sharpness
Sunstars Survivability VR Zooming
Overall performance top
The Nikon 80-400mm VR AF-S is big fat semi-plasticy zoom, and it works extremely well. It is exceptionally sharp, has relatively little distortion, focuses super fast and its vibration reduction is miraculous, allowing shots at ridiculously slow hand held speeds at 400mm.
Autofocus performance top
Overall
Autofocus is fast and sure. This is the main reason for this lens compared to the original 80-400mm AF-D VR (introduced in January, 2000) whose AF was very slow.
AF Speed
AF is fast.
Better than just fast, it never chokes or stutters when something is far out of focus. On my D800E, I can autofocus back and forth between objects at 5 feet and infinity at 400mm and it just goes there. Other lenses confronted with these huge changes in focus often just get stuck when the camera can't figure it out.
AF Accuracy
AF is always dead-on on my D800E.
Manual Focus
Manual focus is great; just move the ring at any time with a fingertip for instant manual-focus override.
Bokeh performance top
Bokeh, the character of out of focus backgrounds, not simply how far out of focus they are, is usually quite good.
There is so little depth-of-field with any 400mm lens that your backgrounds will usually be way out of focus with any of them.
Distortion performance top
The Nikon 80-400mm AF-S has relatively little distortion for a zoom. There's moderate pincushion distortion around 200-300mm, and very little at the ends of the zoom range.
Recent digital cameras like the D90, D3100, D3200, D5000, D5100, D7000, D4, D600, D800 and D800E can be set to correct the distortion automatically in-camera, so long as you have the latest firmware.
This lens is newer than my firmware, so I had no automatic corrections.
These aren't facts or specifications, they are the results of my research that requires hours of photography and calculations on the resulting data.
| | |
| --- | --- |
| | Correction factor with uncorrected images |
| 80mm | -0.25 |
| 105mm | -1.0 |
| 135mm | -1.20 |
| 200mm | -2.00 |
| 300mm | -2.00 |
| 400mm | -1.50 |
© 2013 KenRockwell.com. All rights reserved.
Ergonomics (handling and ease-of-use) performance top
Ergonomics are swell, unlike the clunky original 80-400mm.
My biggest whine about this new 80-400mm is that the distance scale is so small and hidden behind such a small window that it's usually impossible to read.
There are no clicks at 90º intervals on the collar, so it takes a while to square it up manually anytime one swaps between vertical and horizontal on a tripod.
There are protruding nubs over which the removable tripod collar rides. These nubs make it less pleasant to hand-hold without the collar.
Hold this big fish in your left hand. If you hold and turn the zoom ring with your thumb and forefinger, you can flick the focus ring with your middle or ring finger.
Zooming is relatively stiff, demanding two fingers to rotate and move all this lens' junk in and out, while the focus ring flicks with a fingertip.
Eyeblow performance top
As the 80-400mm AF-S is zoomed in and out, air has to pump in and out, and you may have some air blow out of the eyepiece into your eye.
You won't usually care, but the design of the 80-400 VR G is such that air, and thus dirt, are pumped in and out all the time into both your lens and your camera. This is what happens when the big front section moves in and out.
Falloff (darkened corners) performance top
Falloff on FX and 35mm is invisible, except a little wide-open at 400mm.
It won't be an issue at all on DX (see crop factor), and it will all go away if you have the latest lens data in your digital camera and it autocorrects.
I've greatly exaggerated the uncorrected falloff by shooting a gray field and placing these on a gray background:
Nikon 80-400mm AF-S G falloff on FX and 35mm at infinity, no correction.
| | | | |
| --- | --- | --- | --- |
| | | f/5.6 | f/8 |
| 80mm | | | |
| 105mm | | | |
| 135mm | | | |
| 200mm | | | |
| 300mm | wide-open is f/5.6 > > | | |
| 400mm | wide-open is f/5.6 > > | | |
© 2013 KenRockwell.com. All rights reserved.
Filters, use with performance top
Typical for long lenses, there is no problem with vignetting, even with combinations of thick filters.
The filter ring never rotates, but moves in and out with zooming.
Focal Lengths, actual performance top
The effective maximum focal length shortens at distances closer than infinity in order to allow this lens to focus as close as it does.
Even if you're at 50 feet, there is some shortening compared to a fixed 400mm lens, or the 400mm end of the older 80-400mm AF-D.
Yes, this is not really a 400mm lens when focused at 5 feet or 1.5 meters — that would be an impossibility. It really does go to 400mm at infinity, but even though it's marked this way, at close distances it doesn't really hold 400mm. This is good, because this is the optical trick played to allow such insanely close focusing for a 400mm lens.
Focus Breathing performance top
Of interest mostly to cinematographers focusing back and forth between two subjects, the image from the Nikon 80-400mm AF-S gets smaller as focused more closely.
Ghosts performance top
There's no problem with ghosts.
If I go out of my way and point it directly into the daytime summer sun and put palm fronds to cover the rest of the sky so I can look for anything that might be amiss, and add about a stop of exposure compensation to lighten it further, this is the worst I could make it look: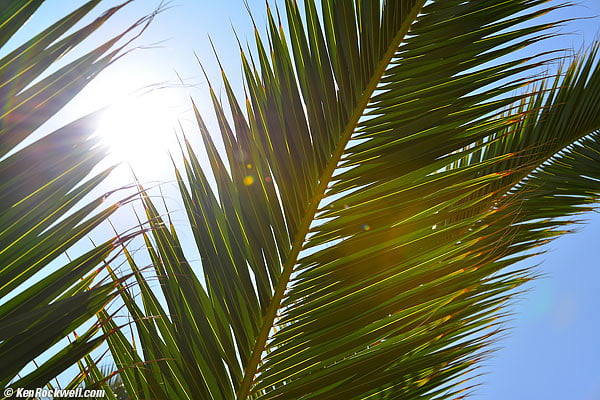 Ghosts at 80mm and f/11, sun shining directly into lens, +1 stop compensation.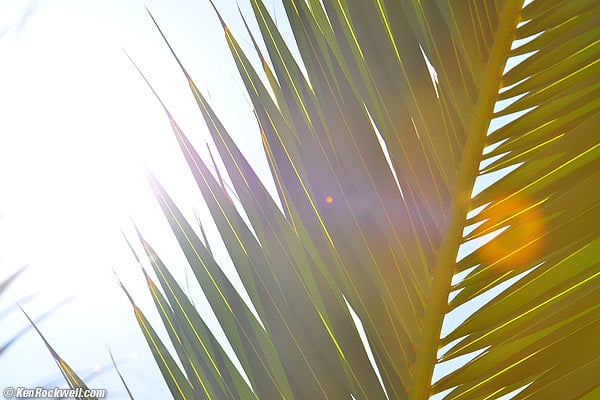 Ghosts at 200mm and f/8, sun shining directly into lens, +1 stop compensation.
Remember that when I shot these images I was pointed directly at the disc of the sun. I would have gone blind if I actually looked through the finder.
You won't ever see any ghosts in normal use. Shot into sunsets or with strong backlight, your subjects will still be black if that's the way you want them.
Lateral Color Fringes performance top
There are no lateral color fringes on the D800E, which corrects them automatically, even without a profile.
Maximum and Minimum Apertures performance top
Maximum
Aperture

Minimum
Aperture

80mm

f/4.5

f/32

105mm

f/4.8

f/36

135mm

f/4.5

f/36

200mm

f/5

f/40

300mm

f/5.6

f/40

400mm

f/5.6

f/40
Mechanics and Construction performance top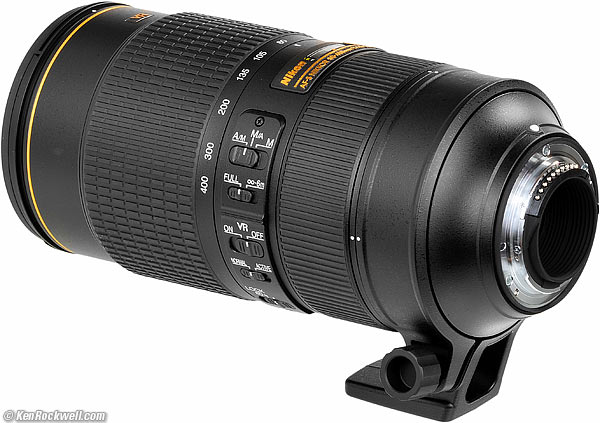 Rear, Nikon 80-400mm AF-S. enlarge.
The Nikon 80-400mm AF-S is built as well as a modern consumer lens. It's mostly plastic, with a metal collar.
Front bumper
Rubber.
Filter Threads
Plastic.
Hood
Plastic bayonet with metal catch.
Hood Mount
Plastic.
Forebarrel (pumps in and out as zoomed)
Plastic.
Front barrel (in front of zoom ring)
Metal.
Zoom Ring
Plastic; rubber covered.
Mid barrel (between zoom and focus rings)
Plastic.
Depth-of-Field Scale
None.
Identity Plate
Debossed metal.
Focus Ring
Plastic; rubber covered.
Switches
Plastic.
Tripod Collar
Metal.
Internals
Metal and plastic.
Aperture Ring
None.
Mount
Dull-chromed brass.
Markings
Paint.
Mounting Index Dot
White plastic ball.
Serial Number
Laser engraved onto bottom of mid barrel (almost invisible matte black on semi-matte black).
US Model Signified by
"US" prefix to serial number.
Moisture seal at mount
Yes.
Noises When Shaken
Mild clunking and a little clicking.
Made in
Japan.
Weaknesses
I see a lot of plastic; drop this and I expect you'll see it break into two pieces.
Sharpness performance top
Warning 1: Image sharpness depends more on you than your lens.
Warning 2: Lens sharpness doesn't mean much to good photographers.
While amateurs waste time worrying about lens sharpness, pros know that lens sharpness has little to do with making sharp pictures. This said, the Nikon 80-400mm AF-S is super sharp, especially at 400mm where it matters.
As tested on the 36MP full-frame Nikon D800E:
At 80mm
It's sharp all over, although wide-open it's just a tiny bit blurry in the sides on full-frame — but it's still way sharp out there.
At 135mm
Again it's just about perfect, although a tiny bit softer in the full-frame corners wide-open. It's great by f/8, but I'd still shoot wide open without worries.
At 200mm
Sharpness is nuts all the way out to the sides, even wide-open.
At 300mm
It's just about perfect edge-to-edge, even wide open.
At 400mm
Most impressively, it's still sharp all over, even wide-open, at 400mm.
Since most of us photograph in the Earth's atmosphere, thermal shimmer and visibility are the biggest obstacles to sharp photos at 400mm, not this lens.
The rated MTF confirms my observations of this being an extraordinarily sharp lens:
| | |
| --- | --- |
| | |
| | |
Sunstars performance top
With its rounded 9-bladed diaphragm, there aren't any significant sunstars on brilliant points of light.
Try f/22-f/40 if you need them. Good luck!
Survivability performance top
This 80-400mm feels like an overgrown 70-300mm VR, with a metal collar. Since this lens is mostly plastic, try not to drop it or I fear it will fall apart.
If the VR mechanism or AF motors aren't available as repair parts in the decades to come, these features may not be able to be repaired.
Vibration Reduction performance top
VR is crazy good. Even at 400mm, the image locks down tight.
I was able to shoot at 1/8 of a second hand-held at 400mm and get sharp shots. In fact, since I had to stop down to f/32 in daylight to do this, diffraction was more of a limitation to sharpness than any hand motion blur.
Zooming performance top
The zoom ring is relatively stiff, taking two fingers to zoom.
The focal lengths are well spaced at a uniform 2.7 cm/octave.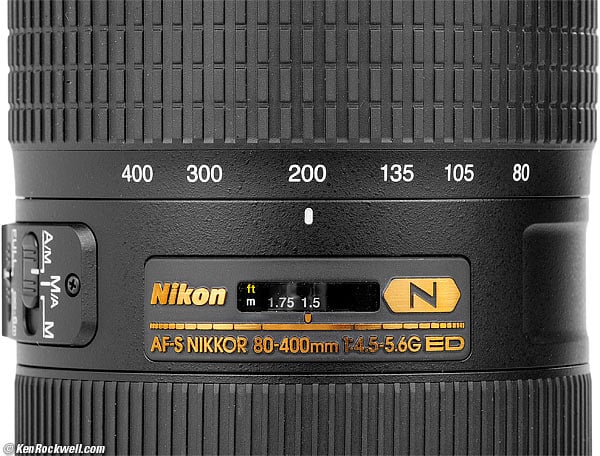 Nikon 80-400mm AF-S.
Usage top
Intro Specs Performance Usage Compared Recommendations More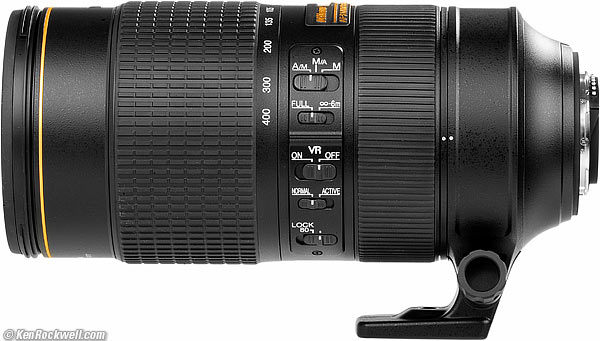 Nikon 80-400mm AF-S. enlarge.
A/m - M/a - M Switch
Nikon really knows how to name these clearly, doesn't it? Here's what this switch does:
A/m - M/a - M
This means AUTOFOCUS.
You may turn the focus ring at anytime for instant manual override.
In this A/m setting, the focus ring will tend to ignore accidental touches.
A/m - M/a - M
This also means AUTOFOCUS, and even a tiny turn of the focus ring will get instant manual override.
In actual use, the A/m and M/a settings are about the same. I use A/m.
A/m - M/a - M
This is MANUAL focus.
There is no AF in this setting.
Focus Limiter (FULL ∞-6m) Switch
FULL is the usual setting.
The ∞-6m setting prevents the lens from focusing closer than 6 meters (20 feet). You might want to use this if you're only shooting things farther away than 20 feet and are having a problem with the lens trying to refocus on closer subjects.
I never use the ∞-6m setting; it's only useful if your AF system is banging back and forth unnecessarily from near to far.
VR Switches
I leave this ON.
You might want to turn it OFF only if you're on a very sturdy professional camera support system.
NORMAL is for most uses.
ACTIVE is for if you're shooting from a moving platform like an aircraft or moving car.
LOCK Switch
This will lock the zoom at 80mm if you like.
I never use zoom locks.
Compared top
Intro Specs Performance Usage Compared Recommendations More
See also Compared to Sony and Canon.
The new 80-400's optics are better than the original 80-400mm AF-D VR, but that's the least of the differences.
The only real complaints about the original 80-400mm VR were its very slow autofocus, and poor close-focus distance. Those were big pains, and these have been fixed in the new 80-400.
Compared to the original 80-400 AF-D, this new lens is heavier and much more expensive. It has much faster and more convenient autofocusing.
The optics of this new lens cheat to focus as close as it does. In other words, this new lens reduces its actual focal length as focused more closely, so this new lens actually can't make macro shots as tight as can the older 80-400 VR or the Canon 100-400mm, which still are at a real 400mm at their closest-focus distances. This new lens will focus as you get closer to your moving subject, while the other lenses will allow photos with slightly more magnification from a farther distance.
Anni

2013-

2000-

2009-

1998-

2006-

2010-

VR/IS?

yes

yes

yes

yes

yes

yes

Filter

77mm

77mm

77mm

77mm

67mm

77mm

Maximum Aperture

f/4.5-5.6

f/4.5-5.6

f/2.8

f/4.5-5.6

f/4.5-5.6

f/3.5-5.6

Zoom control

Ring

Ring

Ring

Push-pull

Ring

Ring

Zoom motion

Pumper

Pumper

Internal

Pumper

Pumper

Pumper

Optics

20/12
4 ED
1 Super ED

17/11
3 ED

21/16
7 ED


17/14
Fluorite
UD

17/12
2 ED


19/14
2 ED
3 ASPH


AF Speed

fast

slow

fast

fast

fast

fast

Instant manual override?

Yes

NO

Yes

Yes

Yes

Yes

Close Focus

5.75'
1.75m

7.5'
2.3m

4.6'
1.4m

5.9'
1.8m

5'
1.4m

1.6'
0.5m

Max Repro Ratio

1:5.7

1:4.8

1:8.3

1:5

1:4

1:3.2

Build quality

consumer

consumer

pro

pro

consumer

consumer

Length

8"
203mm

6.7"
170mm

8.2"
206mm

7.4"
189mm

5.6"
144mm

4.5"
114mm

Weight, no collar

52.8 oz.
1,480 g.

42.7 oz.
1,210 g.


54.3 oz.
1,540 g.

49.6 oz.
1,380 g.

26.3 oz.
744 g.

28.1 oz.
796 g.

Price, 3/2013
Price, 6/2013
Comparing this new lens (80-400G) to the original 80-400 AF-D, the rated MTF is clearly superior in the new lens, which agrees with what I saw on my test range:
Rated MTF at 80mm (80-400G)

Rated MTF at 400mm

(80-400G)
This new 80-400 is the same size and weight as Nikon's fully professional flagship 70-200 f/2.8 II, but costs $300 more. Both are extremely sharp, with the 70-200 slightly better in the lab. The f/2.8 lens is built to professional standards, while there is a lot more plastic on this 80-400mm. Personally, I'd rather have the faster, tougher, closer-focusing 70-200/2.8 lens that goes to 70mm instead of this slower, plasticier lens whose only benefit over the 70-200 is that it goes to 400mm at f/5.6 - but I'm not stuck on 400mm, either. People buy this 80-400mm precisely because they need 400mm.
Recommendations top
Intro Specs Performance Usage Compared Recommendations More
This new Nikon 80-400mm f/4.5-5.6 AF-S VR is a big, expensive lens that's super sharp, focusses fast and has a great image stabilization for hand-held shots at foolishly long exposure times. It focuses as close as most 80-200mm f/2.8 zooms!
If you don't mind the expense and size and weight, there's no reason not to use this as your general-purpose tele zoom. Personally I prefer the size and weight of the 70-300mm VR, and honestly, prefer the convenience of the 28-300mm VR. I rarely need 400mm, but would always have to carry the extra weight of this lens even if I never zoom to 400mm.
I haven't used my original 80-400mm AF-D VR since I got my newer, smaller and handier 70-300mm VR, and my 70-300mm has sat unused ever since I got my 28-300 VR, which pretty much benched my entire FX lens line-up. My 28-300 VR replaces every FX lens for me except my ultrawides.
Personally, I need to zoom-out to 70mm far more often than I need to use 400mm, so again, if I didn't prefer my 28-300mm VR, I'd always carry my 70-300mm VR instead of any 80-400mm lens.
I'd never get the 200-400mm f/4 VR, which for two-and-one-half times the price and over twice the weight has a far more restricted zoom range.
If you regularly need to get to 400mm, this is the sharpest lens other than Nikon's dedicated 400mm lenses.
As mentioned above, for the same size and weight, I'd get the fully professional 70-200 f/2.8 II for a little less money than this slower consumer lens. I prefer the build quality, speed, close-focus and 70mm end of the 70-200/2.8 over trading all that for the sole benefit of getting to 400mm at f/5.6 on this new 80-400. Since the 70-200 f/2.8 II costs $300 less, I could get the 70-200 f/2.8 II and the TC-20E II to give me the same 400mm f/5.6 range.
People who can't easily crop, like those shooting 35mm slides for projection or very low-resolution DX cameras like the original Nikon D1 (only 2.7 MP) might actually need 400mm versus 300mm, but 99% of us easily can crop from 300mm to get the same thing, without having to carry a 400mm lens. This is the huge advantage we now have with today's extreme-resolution cameras.
Is this new lens worth $1,000 more than the original 80-400mm AF-D VR that does the same thing just to get fast autofocus? Only you can tell if it's worth it — to you.
This is a marvelous lens, and marvelously sharp. If you want one for snapping sunsets and green flashes, far-away animals and your kids on the very far end of the field, by all means get and enjoy this new 80-400 AFS G lens; it's a big step up from the previous model.
For those of you looking for the ultimate long Nikon zoom, this new 80-400 VR is it.
If you've found the time, effort and expenses I incur researching and sharing all this for free, this website's biggest source of support is when you use these links, especially this link directly to this lens at Adorama and at Amazon, when you get anything, regardless of the country in which you live. This is what supports my efforts and is how I support my family today. I receive nothing if you don't use these links.
Thank you!
Ken.
Deployment
I'd leave either a 77mm Nikon Clear (NC - UV) filter, or a 77mm Hoya Super HMC UV on the lens at all times.
I would leave the hood at home.
If I was working in nasty, dirty areas, I'd forget the cap, and use an uncoated 77mm Tiffen UV filter instead. Uncoated filters are much easier to clean, but more prone to ghosting.
For color slides like Velvia 50, I use a 77mm Hoya HMC 81A or 77mm Nikon A2 filter outdoors.
For B&W film outdoors, I'd use a 77mm Hoya HMC Yellow K2 or 77mm Hoya HMC Orange.
More Information top
Intro Specs Performance Usage Compared Recommendations More
Help me help you top
I support my growing family through this website, as crazy as it might seem.
The biggest help is when you use any of these links when you get anything, regardless of the country in which you live. It costs you nothing, and is this site's, and thus my family's, biggest source of support. These places have the best prices and service, which is why I've used them since before this website existed. I recommend them all personally.
If you find this page as helpful as a book you might have had to buy or a workshop you may have had to take, feel free to help me continue helping everyone.
If you've gotten your gear through one of my links or helped otherwise, you're family. It's great people like you who allow me to keep adding to this site full-time. Thanks!
If you haven't helped yet, please do, and consider helping me with a gift of $5.00.
As this page is copyrighted and formally registered, it is unlawful to make copies, especially in the form of printouts for personal use. If you wish to make a printout for personal use, you are granted one-time permission only if you PayPal me $5.00 per printout or part thereof. Thank you!
Thanks for reading!
Mr. & Mrs. Ken Rockwell, Ryan and Katie.
Home Donate New Search Gallery Reviews How-To Books Links Workshops About Contact