Nikon 400mm f/2.8 VR
© 2007 KenRockwell.com

CONSTRUCTION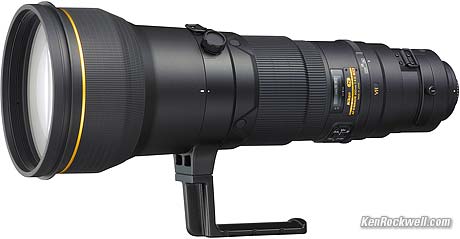 Nikon AF-S Nikkor 600mm f/4G ED VR. enlarge.
I'd get mine at Adorama or Ritz for a mere $9,500. It helps me keep adding to this site when you get yours from those links, too
September 2007
OK for 400/2.8:
Nikon Product Number: 2171, in catalog as of spring 2008.
Tripod detection mode.
Nano Crystal COat
3 ED.
Introduction back to top back to Intro
Performance History Recommendations
This is Nikon's new standard lens for shooting surfing from shore. It adds Vibration Reduction (VR) to the previous 600mm f/4 AF-S II lens.
VR doesn't mean much for sports except if slow pans are your thing, but VR is crucial for wildlife photographers who are always working without enough light, or working with teleconverters. (No, I've not tried it with VR and a teleconverter.)
In addition to VR, another reason to drop almost ten Gs on this puppy is that it focuses more closely than the earlier models. This 600mm f/4 VR focuses to 16.4 feet or 5m, and even a little closer in manual focus.
Personally I use 600mm lenses for nature and landscape photography. I've always loved how I can crop a tight image from reality. For instance, point a 600mm lens at the reflection of the setting sun in any mirrored office building or at the wet sand at the beach, and your image explodes with light and color.
Compatibility back to top back to Intro
Performance History Recommendations
This 600mm f/4 VR works splendidly on every Nikon DX SLR, every Nikon FX SLR, most film SLRs since the 1980s, and works especially well on the newest D3 and D300.
See Nikon Lens Compatibility for details about your camera. This is an AF-S, VR and G lens.
Features back to top back to Intro
Performance History Recommendations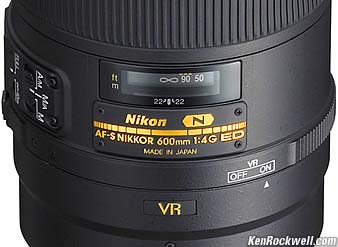 Nikon 600mm f/4 VR controls.
Nikon claims an unsubstantiated 4 stops of improvement for its VR-II system. Regardless of how well it works, nature photographers love this. Canon's been doing this for years on their 600mm lenses.
Preset focus point: you can set and recall a preset focus point, like home base or an animal's favorite haunt.
AF-LOCK and AF-ON buttons on the front of the lens, extremely handy. I wish all AF lenses had them.
Magnesium die-cast barrel.
Dust and moisture resistant.
Tripod VR mode to stop tripod vibration, nice if it works. I suspect it does.
Special anti-reflection coating ("Nano Crystal Coat," the N on the nameplate) on one surface, no big deal.
Focus Limit switch - no big deal.
Specifications with commentary back to top or Intro
Performance History Recommendations
Other old stuff
Name: Nikon calls this the Nikon AF-S Nikkor 600mm f/4G ED VR.
AF-S: Quiet focusing and instant manual focus override.
D: Sends focus distance information to the metering system.
ED: Magic glass for sharper images and less lateral secondary chromatic aberration (color fringing).
G: No aperture ring. Only works on pro cameras newer than about 1988. See more.
IF: Internal Focusing. Nothing moves on the outside of the lens when it focuses.
SWM: Silent Wave Motor for fast, quiet focusing.
Optics: 15 elements in 12 groups. Three of these elements are of ED glass. Additional concave front protective element.
Diaphragm: 9 blades, rounded. Stops down to f/22.
Close Focus: 16.4 feet (5m) in auto focus, 15.7 feet (4.8m) in manual focus.
Maximum Reproduction Ratio: 1:7.4.
Drop-in Filter: 52mm.
Size: 6.5" diameter by 17.5" long (166 x 445 mm), specified.
Weight: 11.2 pounds (5.06 kg), specified. This is a lightweight: my 1996 400mm f/2.8 AF-I weights a few pounds more!
Included: CT-607 trunk (coffin) case, HK-35 hood, LN-1 strap, 52mm NC (clear) filter, 52mm slip-in filter holder, front lens cover (I don't know if real leather or not), LF-1 rear lens cap (how generous) and detachable tripod/monopod collar.
Performance back to top back to Intro
Performance History Recommendations
Every Nikon ED super-tele I've ever used has been optically spectacular. All the AF-S lenses have focused so fast they'll make your head spin.
Optically and focus speed-wise these lenses have nothing in common with ordinary lenses. When you drop ten big ones on a Nikon supertele, you've always gotten something spectacular.
I only own an old 400mm f/2.8 AF-I, and its optical performance is insane, as is its focus speed even with old technology.
Nol, I've not tried this 600mm yet, and I'm fully confident that it's a winner.
Nikon's MTF curve for this 600mm f/4 is just about perfect, better than any of their normal or other lenses.
Nikon 600mm History back to top back to Intro
Performance History Recommendations
f/5.6
Nikon has been making 600mm f/5.6 lenses since 1964. The first ones were a pain and had kludgey and slow focusing.
Internal Focusing (IF) made them easy and fast to focus in 1976.
In 1977 Nikon introduced the 600mm f/5.6 AI ED-IS, followed in 1982 by the similar 600mm f/5.6 AI-s that I owned. Nikon made several more minor variations of this manual focus lens through 2005.
All the 600mm f/5.6 lenses are as big around as a 300mm f/2.8, or over 105mm (4") of solid glass surrounded by barrel and hood.
There have never been any autofocus 600mm f/5.6 lenses from Nikon.
f/4
These 600mm f/4 lenses have a front element diameter of over 150mm (6") of ED glass.
Nikon's first 600mm f/4 lens came out in 1977 as the manual focus Nikon 600mm f/4 ED-IF AI. Nikon updated this to AI-s in 1982 and restyled the outside again in 1986.
The first autofocus 600mm was the 600mm f/4 AF-I of 1992. AF was so slow and pokey that it was one of the reasons pro sports photographers fled to Canon and have never come back.
The first 600mm f/4 AF-s with fast focusing came out in 1996, but it was too late for the pros who left 4 years ago. The 600mm f/4 AF-S II version appeared in 2001.
This lens, Nikon's first ever 600mm with VR, was announced 23 August 2007.
Recommendations back to top back to Intro
Performance History Recommendations
You people know who you are.
Personally I own a 400mm f/2.8 because I can use a TC-14e to make it into a 600mm f/4 but there's no way to turn a 600mm f/4 back into a 400mm f/2.8.
Either the 400mm 2.8 or 600mm f/4 can be converted to an 800mm f/5.6. Use the TC-20e on the 400mm and the TC-14e on the 600mm.
Nikon doesn't suggest using the TC-20e or TC-17e on the 600mm because they make the combination slower than f/5.6, which isn't optimum for autofocus. It usually works, just not that great.
The Canon 600mm f/4 IS costs $2,500 less, weighs a half-pound more and close-focuses two feet less closely. Otherwise, it does the same thing on Canon cameras.
I would get this new VR lens instead of last year's 600mm f/4 AF-S II for not much difference in price.
More Information and MTF Curves: Nikon, Japan.
PLUG
If you find this as helpful as a book you might have had to buy or a workshop you may have had to take, feel free to help me continue helping everyone.
Thanks for reading!
Ken
Caveat: The ads below come from a third party and I don't see or approve them. They are sent to your screen directly from a third party. They don't come from me or my site. See more at my Buying Advice page. Personally I get my goodies at Ritz, Amazon and Adorama.