Home Donate New Search Gallery Reviews How-To Books Links Workshops About Contact
Nikon 400mm f/2.8 FL VR
AF-S G NIKKOR (2014-)
© 2014 KenRockwell.com. All rights reserved.
Intro Specifications Performance Recommendations More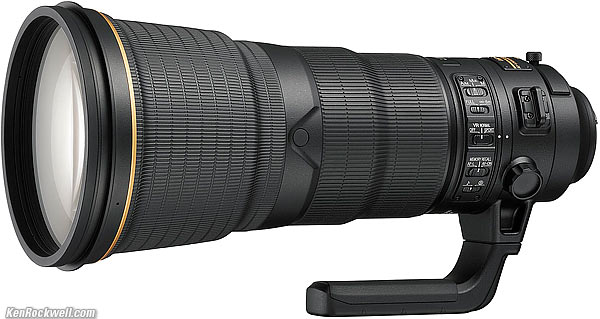 Nikon 400mm f/2.8E FL AF-S (FX, DX and 35mm coverage, 40.5mm filters, 134 oz./8.4 pounds/3,800g, 8.5'/2.6m close focus, about $12,000). enlarge.
This free website's biggest source of support is when you use these links to approved sources, especially this link directly to this lens at Adorama or this link to it at Amazon, when you get anything, regardless of the country in which you live. It helps me keep reviewing these lenses when you get yours through these links — but I receive nothing for my efforts if you take your chances and buy elsewhere. Never, ever buy this lens at retail. Unlike a bottle of milk or a DVD, Nikon doesn't seal its boxes so you'd have no idea if you were getting a used lens. Thanks for your support! Ken.
Adorama pays top dollar for your used gear, especially your older Nikon lenses.
July 2014 Nikon Reviews Nikon Lens Reviews All Reviews
NEW: Nikon 400mm f/2.8 Lenses Compared
Lens or Camera: Where the smart money goes
Introduction top
Intro Specifications Performance Recommendations More
A breakthrough for everyone who actually uses these lenses, this new 400/2.8 is almost two pounds (816g) lighter than the previous 400/2.8 VR, and 6.2 pounds(2,800g) lighter than the 400/2.8 I own, which is the original 400mm f/2.8 AF-I!
This new lens is a Godsend for those of us who actually shoot this lens, since shooting it means having to carry it around all day. I haven't used my 400/2.8 AF-I ever since I got my 80-400 VR back in 1999 simply because of the weight. Now this new lens is actually light enough to take it out and use it.
Nikon also has a new VR Sport Mode. This supposedly recognizes panning, like Canon's IS mode 2, and works accordingly. Why the Japanese refuse simply to mark these as NORMAL and PANNING is beyond me.
There's a protective front meniscus with a crud resistant fluorine coating.
There's a rotating tripod collar and buttons for some AF functions of the Nikon D4S.

Nikon claims improved AF, exposure accuracy and speed, but let's get real. The autofocus of my 1990s 400/2.8 AF-I is also ultra fast, and I've never had any exposure problems before. Is Nikon saying it knowingly sold us defective lenses previously?

There's an electronic diaphragm, which Nikon claims allows for stable exposures at 11 FPS. Again this isn't significant; all Canon's lenses have has electronic diaphragms since 1987, and back I think in the 1970s Nikon's advertisements pointed out that Nikon's lenses were all tested to run at 10 FPS back then as well.
The important thing here is that this lens is almost half the weight of the beast I now own. If you're shooting or renting this, you want this newest model. I don't know about you, but when I shoot my 400/2.8, it's with me all day. I won't leave it back in my car!
Just about everything works perfectly on every digital Nikon ever made, both FX and DX, from the best Df, D4s, D4, D800, D800E, D610 and D600 to Nikon's cheapest digitals like the D40, D40x, D60, D3000, D3100, D3200, D5000, D5100 and D5200 and D5300 — except that the diaphragm is electronic and may or may not work on cameras older than about 2007.
It also should be fine on decent or recent AF film cameras like the F6, F100, F5, N80 and N75, excepting the potential for problems with the electronic diaphragm.
The incompatibilities for older or cheaper 35mm cameras are that:
1.) It won't autofocus with the cheapest new AF 35mm cameras like the N55, but if you focus manually, everything else works great. Even if you lose autofocus, these cameras have in-finder focus confirmation dots to help you.
2.) Late 1980s ~ early 1990s AF cameras like the N90s, N70 and F4 will focus just fine, but you'll lose VR. You'll have Program and Shutter-priority modes, but lose Manual and Aperture-priority since you have no way to set the aperture on the camera or on the lens.
3.) You're really pushing it with the oldest AF cameras like the N2020, N6006 and N8008. You'll have no AF, confused exposure modes, and no VR. Manual focus is fine, along with electronic focus indications.
4.) Since it has no aperture ring, it's just about useless with manual focus film cameras. It will shoot every shot at its minimum aperture.
See Nikon Lens Compatibility for details with your camera. Read down the "AF-S, AF-I," "G" and "VR" columns for this lens. You'll get the least of all the features displayed in all columns, since "G" (gelding) is a deliberate handicap which removes features.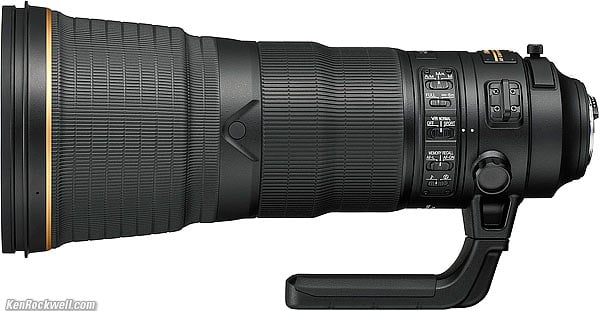 Nikon 400mm f/2.8 Flourite. enlarge.
Specifications top
Intro Specifications Performance Recommendations More
Name top
Nikon calls this the AF-S NIKKOR 400mm f/2.8E FL ED VR.
AF-S and SWM: Silent Wave Autofocus Motor.
NIKKOR: Nikon's brand name for all their lenses.
E: Electronic diaphragm control.
FL: Fluorite elements for better pictures.
ED: Magic Extra-low Dispersion glass for reduced secondary chromatic aberration.
VR: Vibration Reduction.
Also has:
D: Couples distance information to the Matrix Meter.
G: Gelded for cost-reduction and removing compatibility with older cameras.
IF: Internal focusing; nothing moves externally as focused.
N: Magic Nano-crystal coating, meaning a coating which varies its index of refraction continuously to achieve even greater reflection reduction. It's probably only on one surface, and is used mostly for marketing purposes.
Optics top
Nikon 400/2.8 construction. Fluorite and ED elements.
16 elements in 12 groups.
Contains two fluorite elements, two Extra-Low Dispersion (ED) glass elements and Nano Crystal Coat
Nikon calls the floating element system "CRC," for close-range correction. This means this lens optimizes its design for perfect performance as you focus at any distance.
It's multicoated, which Nikon calls Nikon Integrated Coating.
Diaphragm top
9 rounded blades.
Stops down to f/22.
Coverage top
Focal Length top
400mm.
When used on a DX camera, it sees angles of view similar to what a 600mm lens sees when used on an FX or 35mm camera.
Angle of View top
6.1° on FX digital and 35mm.
4° on small-format DX.
Close Focus top
8.5 feet (2.6 meters) from the image plane.
Maximum Reproduction Ratio top
1:6. (0.17x)
Hard Infinity Focus Stop? top
No.
You have to let the AF system focus at infinity.
Focus Scale top
Yes.
Aperture Ring top
No.
Filters top
40.5 mm, drop in holder.
Vibration Reduction (VR) top
Claims 4 stops improvement.
Size top
Nikon specifies 6.3" (159.5 mm) diameter by 14.1" (358 mm) extension from flange.
Weight top
Nikon specifies 134 oz. or 8.4 pounds or 3,800g.
Included top
Slip-on Front Lens Cap
Rear Lens Cap LF-4
Lens Hood HK-38
40.5 mm screw-in NC filter
Lens Case CT-405
Strap LN-2
Monopod collar
Teleconverters top
1.4x converters make this about a 600mm f/4, and 2x converters make it an 800mm f/5.6.
TC-14E III newly announced with this lens.
Also uses TC-14E, TC-17E and TC-20E teleconverters.
TC-200/201 and TC-14A.
Announced top
14 May 2014
Promised for top
August 2014.
Price, USA top
Performance top
Intro Specifications Performance Recommendations More
Optically, Nikon's f/2.8 teles have always been almost perfect since their introduction in 1977 with the 300/2.8 ED-IF.
The 400/2.8 AF-I is optically perfect, and so is this latest 400/2.8 Fluorite, as you can see by its claimed MTF curve: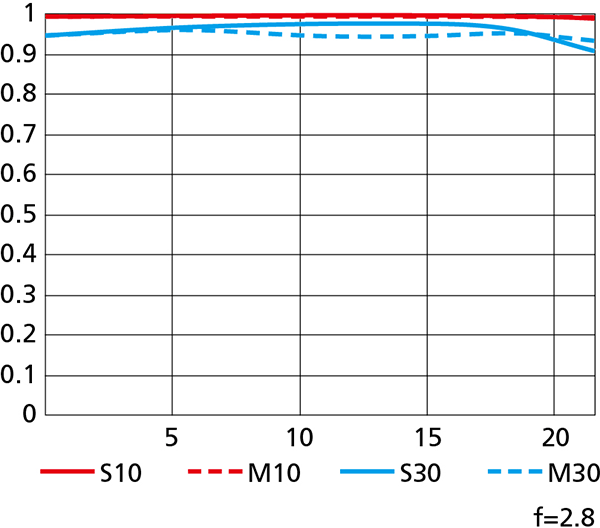 Nikon 400 2.8 E FL VR MTF.
Recommendations top
Intro Specifications Performance Recommendations More
For those who actually shoot these, as opposed to just talk about it, the new Nikon 400mm f/2.8 is a must-have simply because it weighs so much less than the previous 400mm f/2.8 lenses.
I own a 400/2.8 instead of a 600/4 because my teleconverters make my 400/2.8 into a 600/4 or 800/5.6, but if I actually owned a 600mm or 800mm lens, I can't convert it back down to make it shorter or faster.
400/2.8s are also superb professional portrait lenses. Portraits should be shot from about 15 feet away or more, so for head shots, this 400 will give fantastic rendering of facial features and completely lose the background.
If you actually want a lens like this, your wife says it's OK. As you can read in Lens or Camera: Where the Smart Money Goes, investing in a great lens like this usually pays off because these lenses hold or increase in value over time. See also How to Afford Anything and Is It Worth It.
If you find my work here helpful, this free website's biggest source of support is when you use these links to approved sources, especially this link directly to this lens at Adorama or this link to it at Amazon, when you get anything, regardless of the country in which you live. Never, ever buy this lens at retail since Nikon doesn't seal its boxes.
Thanks for your support!
Ken.
More Information top
Intro Specifications Performance Recommendations More
Help me help you top
I support my growing family through this website, as crazy as it might seem.
The biggest help is when you use any of these links when you get anything, regardless of the country in which you live. It costs you nothing, and is this site's, and thus my family's, biggest source of support. These places have the best prices and service, which is why I've used them since before this website existed. I recommend them all personally.
If you find this page as helpful as a book you might have had to buy or a workshop you may have had to take, feel free to help me continue helping everyone.
If you've gotten your gear through one of my links or helped otherwise, you're family. It's great people like you who allow me to keep adding to this site full-time. Thanks!
If you haven't helped yet, please do, and consider helping me with a gift of $5.00.
As this page is copyrighted and formally registered, it is unlawful to make copies, especially in the form of printouts for personal use. If you wish to make a printout for personal use, you are granted one-time permission only if you PayPal me $5.00 per printout or part thereof. Thank you!
Thanks for reading!
Mr. & Mrs. Ken Rockwell, Ryan and Katie.
Home Donate New Search Gallery Reviews How-To Books Links Workshops About Contact