Home Donate New Search Gallery Reviews How-To Books Links Workshops About Contact
Nikon Cheapskate Lenses
© 2012 KenRockwell.com. All rights reserved.
Intro Normal & Low Light Wide Wider Tele Zoom Summary

This free website's biggest source of support is when you use these links, especially this link directly to it at Adorama, directly to it at Amazon, or at Ritz when you get anything, regardless of the country in which you live. Thank you! Ken.
March 2012 More Nikon Reviews Nikon Lenses All Reviews
Suggested Lenses for FX and Film SLRs
Normal & Low Light Wide Wider Tele Zoom Summary
The photo world changes fast. What used to be Nikon's, and the world's, very best lenses have all but been forgotten today. These older lenses just happen to work great on most Nikon digital cameras, and they work especially well on Nikon's full-frame FX D800, D800E, D700, D3X and D3.
If you've just spent all your cash on a new FX camera, don't worry: you can get lenses whose optics are as good, if not better, than new lenses that cost more than ten times as much.
For just a couple of hundred dollars you can get a complete set of lenses whose performance is as good, or better than, spending $10,000 on Nikon's latest. The set I suggest below will get you the optical quality you deserve for your FX camera, while some newer zooms like Nikon's 24-120mm VR won't.
Paramount to this list below is low price. Each of these lenses is chosen for its bottom-dollar price. Many of Nikon's similar lenses of similar age are as good, but more popular by dumb luck, and therefore more expensive — but not better.
I'm talking about optical quality. The reason most people have forgotten about these lenses is that they often are fixed (not zooms), and most are manual focus. All these lenses started to fall into the sidelight in 1982, when Nikon first sold more zooms than fixed lenses.
Autofocus took off in the late 1980s, and these lenses became less popular.
Nikon's first digital cameras used only DX-sized sensors, and amateurs completely forgot about these FX lenses, paying top dollar for plastic (but good) DX zooms.
With all Nikon's FX cameras, as well as the better digital DX cameras, if you enter a manual focus lens' data in the Non-CPU Lens Data menu (towards the bottom of the wrench menu), you'll get full Color Matrix metering, Auto exposure and EXIF data.
For details of which, if any, features will or won't work on your camera, see Nikon Lens Compatibility.
I explain the nomenclature here for AI, AI-s, Series E and AF.
Click the pictures as well as links to get to reviews of each lens.
Since the best place to get these is eBay, be sure to read How to Win at eBay before bidding.
It's much smarter to spend money on lenses instead of digital camera bodies. Most people get snookered into spending a lot on a digital body, which will be worth very little in 2 years, instead of great lenses, whose value will probably appreciate in the coming years, but if you're out of cash after getting your FX body, here goes:
Normal and Low-Light back to top
Cheap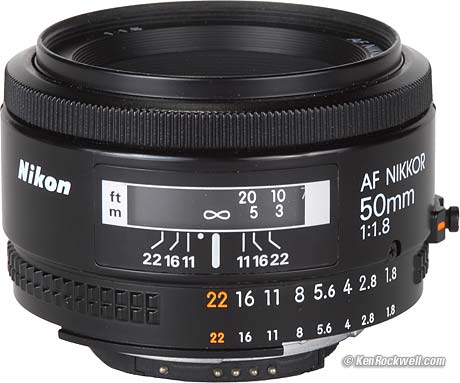 Nikon 50mm f/1.8 AF: 1986-today. get it used for about $85.
This was Nikon's first common AF normal lens along with the 50mm f/1.4. Its optics are among the very best, fastest, distortion-free and sharpest ever made by Nikon, and you can buy them for well under $100 used.
As an AF lens, everything works perfectly on Nikon's AF and FX digital cameras. You won't be missing any automation, so for a normal lens, I'm suggesting you splurge for more than $50 and treat yourself to at least an AF normal lens. (It also works great on DX digital, but won't autofocus on the cheapest D40, D40x or D60.)
If you want to get the sharpness and low-light abilities for which you bought your FX camera, this lens will give you far better results than any zoom made today.
If you don't want to go used, a new one only costs $130!
Cheaper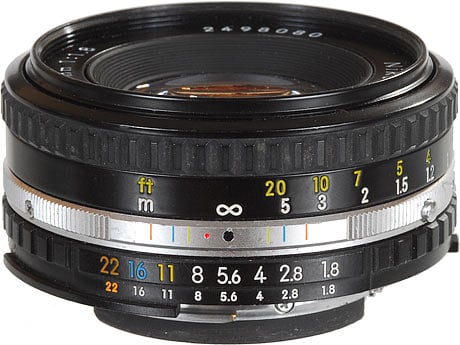 Nikon 50mm f/1.8 Series E: 1979-1985. get it used for about $50.
If you can forgo autofocus, any of Nikon's manual focus 50mm f/1.8 lenses have exactly the same extraordinary optics as today's 50/1.8 AF-D! It's common to find used 50mm f/1.8 manual focus lenses used as lens caps for shipping bodies; you can get one for about $25 at any garage sale. You'll pay more at a dealer or online.
The Series E are the very least expensive, and have fantastic optics. When you're scavenging for used items, the Nikkor versions are much better and heavier mechanically, and the Nikkor versions cost about the same used.
The black Series E 50mm lens is the lightest SLR lens ever made by Nikon, and yes, it's faster (more sensitive to low light) than any Nikon zoom. So there.
Wide back to top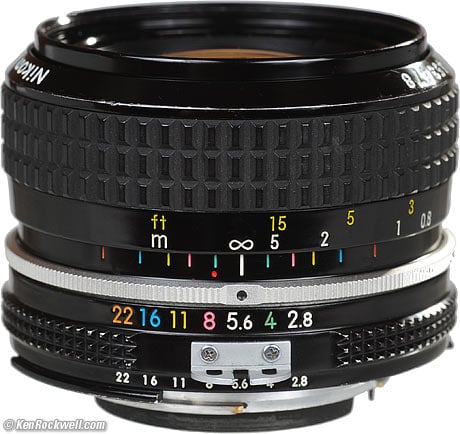 Nikon 28mm f/2.8 AI: 1974-1981. enlarge. get it used for about $150.
Nikon's manual focus Nikkor 28mm f/2.8 lenses have always been spectacular, better in fact than any of the newer fixed 28mm f/2.8 autofocus lenses!
This 1970s AI version outperforms most other lenses, although the current 28mm f/2.8 AI-s is even better.
The one you see here I got for $50 from a dumpster-diver over eBay, and even with an undisclosed scratched front element and dented filter ring, still works great.
The AI version excels in sharpness and contrast, and has no distortion unlike zooms or the AF versions. The AI-s version is even a little bit better, but costs a little more. You can still buy the AI-s version brand new, but it costs $500.
The AI-s version has 8 elements. This AI version has 7. Today's newest AF-D version has only 6 elements and inferior optics, and the first AF and Series E versions had horrible 5 element designs.
Wider back to top
While far from free, Nikon's autofocus 20mm f/2.8 (1989-today), Nikon's manual-focus 20mm f/2.8 AI-s (1984-today), 20mm f/3.5 (1977-1984), 20mm f/4 (1974-1978) and original 20mm f/3.5 UD (1967-1974) are all about as good as most Nikon ultrawide zooms like the 17-35mm f/2.8 ED.
The Nikon 16-35mm VR is better than any of them, but none of these really qualifies as "cheapskate."
Tele back to top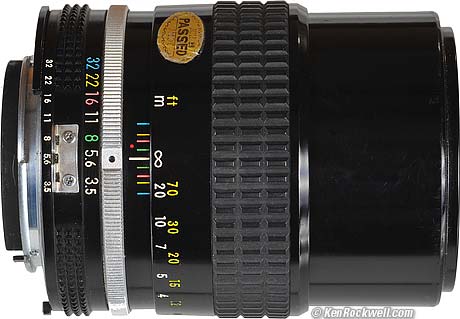 Nikon Nikkor 135mm f/3.5 AI: 1977-1986. enlarge. get it used.
While people blindly spend a lot more money on the 85mm and 105mm focal lengths, even used, the relatively unloved 135mm lenses are as good or better.
Oddly, and to our cheapskate advantage, the slowest f/3.5 version is the sharpest as well as the least expensive. This f/3.5 lens is scary-sharp even wide open, and is faster than all but the most expensive pro zooms. It also has no distortion, again better than any pro zoom.
The AI and AI-s lenses are the same, although the AI-s version will kick in the high-speed program of the Nikon FA.
The f/2.8 is far more common, and also an excellent lens even if it will cost a little bit more. The f/2.8 sells for about $200 used at dealers, or about $60 at garage sales.
Nikon also made a Series E 135mm f/2.8 which sells for even less. It is also superb.
When you want a longer lens, all of the 200mm f/4 lenses, even the first 200mm f/4 Nikkor-Q of the 1960s, are all excellent. The newest is the 200mm f/4 AI-s.
Zoom back to top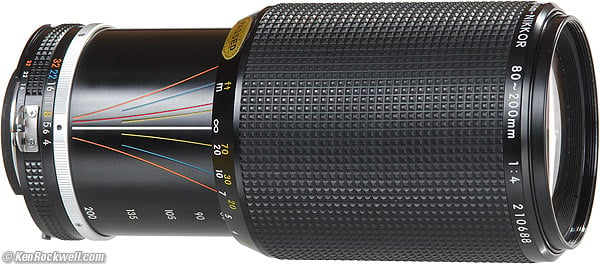 Nikon 80-200mm f/4 AI-s: 1981-1998. enlarge. get it used.
Here's the biggest bargain. Even at dealer prices, you'll probably not pay more than $100 for one of these, and less than $50 at garage sales. In the mid 1990s, this lens sold new for $940 even at New York City's lowest wholesale prices.
All of Nikon's manual-focus 80-200mm lenses are excellent. This newest manual focus f/4 version excels for having a 9-bladed diaphragm and super-close focusing to 4 feet (1.2m) at all focal lengths.
The older f/4.5 versions are also excellent, but don't focus as close. I describe them all in the review for the 80-200mm f/4.
If you want the most insanely sharp of all tele zooms, my favorite is the lens just before this one, the very last f/4.5 AI version, which is identified by the black rectangular blind at its rear.
Summary back to top
I'm not kidding: any of these lenses, even found in an attic or at a garage sale, has optics as good or better than any of Nikon's newest professional zooms, and each can be bought for next to nothing.
The reason these are so inexpensive is because they lack the convenience features, like zoom and AF, for which people are willing to pay.
If you want the sharpest possible images and are working slowly, there are no better lenses made today.
Help me help you top
I support my growing family through this website, as crazy as it might seem.
The biggest help is when you use any of these links to Adorama, Amazon, eBay, Ritz, Calumet, J&R and ScanCafe when you get anything, regardless of the country in which you live. It costs you nothing, and is this site's, and thus my family's, biggest source of support. These places have the best prices and service, which is why I've used them since before this website existed. I recommend them all personally.
If you find this page as helpful as a book you might have had to buy or a workshop you may have had to take, feel free to help me continue helping everyone.
If you've gotten your gear through one of my links or helped otherwise, you're family. It's great people like you who allow me to keep adding to this site full-time. Thanks!
If you haven't helped yet, please do, and consider helping me with a gift of $5.00.
As this page is copyrighted and formally registered, it is unlawful to make copies, especially in the form of printouts for personal use. If you wish to make a printout for personal use, you are granted one-time permission only if you PayPal me $5.00 per printout or part thereof. Thank you!
Thanks for reading!
Mr. & Mrs. Ken Rockwell, Ryan and Katie.
Home Donate New Search Gallery Reviews How-To Books Links Workshops About Contact