Home Donate New Search Gallery Reviews How-To Books Links Workshops About Contact
Nikon 50mm f/1.8
Nikon Series E (1979-1985)
© 2004-2012 KenRockwell.com. All rights reserved.
Intro Specs Performance Recommendations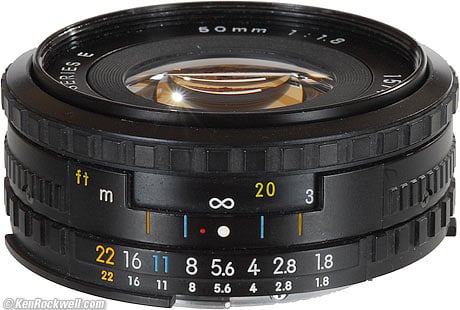 Nikon 50mm f/1.8 Series E, first black version (4.8 oz./135g, 1979-1981). enlarge.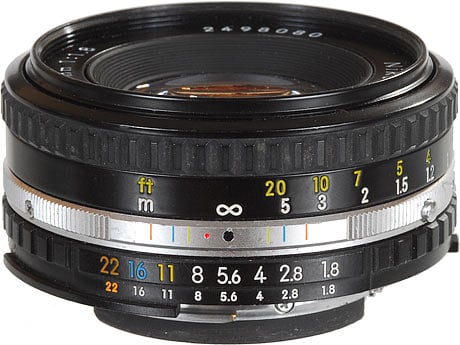 Nikon 50mm f/1.8 Series E, later silver version (5.5 oz./155g, 1981-1985). enlarge.
Both lenses: FX, DX and 35mm coverage, 52mm filters, 2'/0.6m close focus, about $50 used). This free website's biggest source of support is when you use these links, especially this link directly to them at eBay (see How to Win at eBay) or to them at Amazon, when you get anything, regardless of the country in which you live. Thanks! Ken.
June 2012 More Nikon Reviews Nikon Lenses All Reviews
Introduction top
Intro Specs Performance Recommendations
This great little lens is a refugee from the 70s. No one wants them today, which allows you to get great performance for next to free.
With this lens and almost any 35mm or digital Nikon, it could be the only lens you'll ever need: sharp, light, fast, and devoid of distortion. Most of Nikon's most expensive zooms today are softer, slower, more distorted, and far more expensive.
Specifications top
Intro Specs Performance Recommendations
It may be the lightest lens made by Nikon at only 4-3/4 oz (135g).
It is 2.5" (63.3mm) in diameter by a mere 1.3" (33mm) long.
It takes standard 52mm filters it's threaded metal front.
It has six single-coated elements in five groups.
It has a seven-bladed diaphragm that stops down to f/22.
It takes the Nikon HR-4 folding rubber hood.
It focuses as close as two feet (0.6m).
Performance top
Intro Specs Performance Recommendations
It performs very, very well and is one of the sharpest lenses you can get for your Nikon.
It has no distortion, unlike the f/1.4 Nikkor.
It has only a few ghosts. It is only single-coated, but being such a simple design does not need multicoating.
By aperture:
f/2.0: Great in center. Some falloff and coma, but still pretty sharp all over. Better than the f/1.4 Nikkor wide-open.
f/2.8: very good all the way out to the edges
f/4.0: wonderful performance all over
As you can see, the optics of this lens are superb.
It is better made mechanically than many of today's more expensive lenses, with tighter tolerances and better materials.
It has a solid metal filter thread, unlike the $1,700 80-200mm AFS lens, or any of the under-$1,000 mid range zooms most people use instead today.
I have heard that it may have a plastic focus helicoid, which means please try to avoid dropping your camera on this lens with the lens mounted.
Recommendations top
Intro Specs Performance Recommendations
Since the even better made Nikkor 50mm f/1.8 AI can be had for about the same price, go for the Nikkor AI version if you have the luxury. The Nikkor version is multicoated, much better mechanically, and just as optically superb.
If you don't have the luxury, don't worry about the Series E lens. For what little you pay for it you get a lens with better optical performance than most other zooms, and it's more than twice as fast as the $1,500 28-70mm AF-S.
Help me help you top
I support my growing family through this website, as crazy as it might seem.
The biggest help is when you use any of these links to Adorama, Amazon, eBay, Ritz, Calumet, J&R and ScanCafe when you get anything, regardless of the country in which you live. It costs you nothing, and is this site's, and thus my family's, biggest source of support. These places have the best prices and service, which is why I've used them since before this website existed. I recommend them all personally.
If you find this page as helpful as a book you might have had to buy or a workshop you may have had to take, feel free to help me continue helping everyone.
If you've gotten your gear through one of my links or helped otherwise, you're family. It's great people like you who allow me to keep adding to this site full-time. Thanks!
If you haven't helped yet, please do, and consider helping me with a gift of $5.00.
As this page is copyrighted and formally registered, it is unlawful to make copies, especially in the form of printouts for personal use. If you wish to make a printout for personal use, you are granted one-time permission only if you PayPal me $5.00 per printout or part thereof. Thank you!
Thanks for reading!
Mr. & Mrs. Ken Rockwell, Ryan and Katie.
Home Donate New Search Gallery Reviews How-To Books Links Workshops About Contact