Home Donate New Search Gallery Reviews How-To Books Links Workshops About Contact
Nikon 50mm f/1.4 G
AF-S NIKKOR (2008-)
© 2013 KenRockwell.com. All rights reserved.
Intro Specifications Performance Recommendations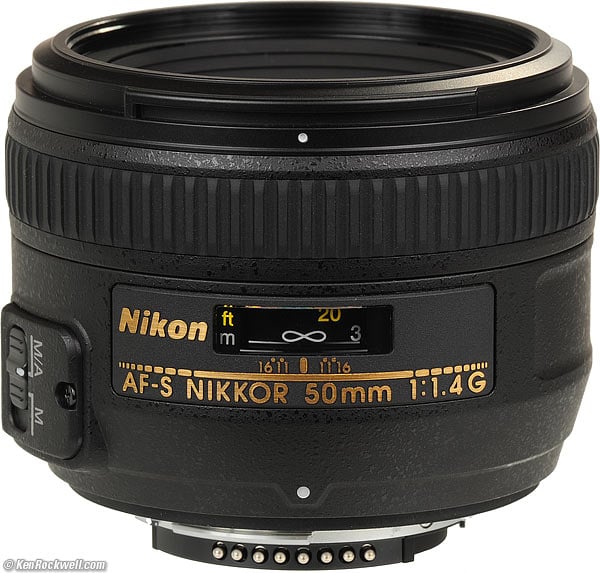 Nikon 50mm f/1.4 AF-S (58mm filters, 9.8 oz./278g, about $440). enlarge. I bought mine at Adorama. You also can get it at Amazon and at J&R.
My biggest source of support for this free website is when you use those or any of these links when you get anything, regardless of the country in which you live. It helps me keep adding to this free website when you get your things through these links — but I receive nothing for my efforts if you buy elsewhere. Thanks for your support! Ken.
Nikon High-Speed 50mm Lens Sharpness Comparison 09 Sep 2010
May 2013 Nikon Reviews Nikon Lenses All Reviews
| | |
| --- | --- |
| Optics: | |
| Ergonomics: | |
| Usefulness: | |
| Availability: | |
| Overall: | |
Ideal Uses: Perfect for use on FX digital, DX digital and 35mm for just about anything and everything, daylight or moonlight. It's Nikon's fastest lens that will autofocus on the D40, D40x or D60.
The new 50mm f/1.4 AF-S is a far better choice than any zoom for use in low light, and effectively quadruples your ISO, with no increase in noise, compared to any exotic f/2.8 zoom. The 50mm f/1.4 increases your ISO by ten times compared to any f/4.5 zoom, again with no change in noise.
Not for: It won't work on old manual focus cameras; see Nikon Lens Compatibility for details. Otherwise, immortal photographers like Henri Cartier-Bresson have never needed anything else than a single fixed 50mm lens.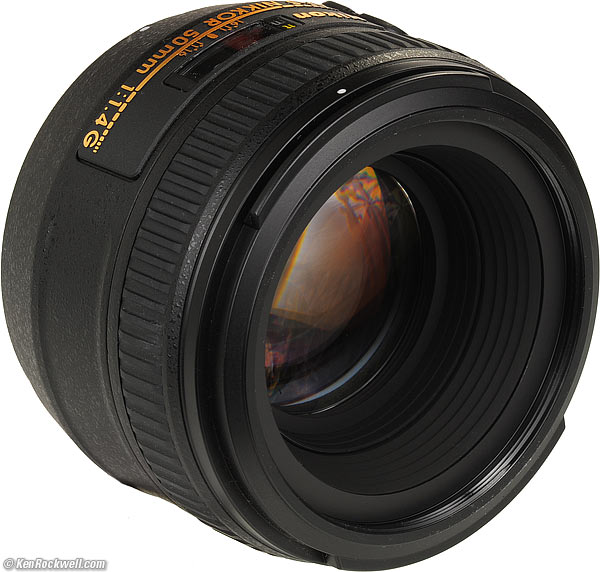 Nikon 50mm f/1.4G. enlarge.
Introduction top
Intro Specifications Performance Recommendations
Nikon invented the world's first 50mm f/1.4 lens in 1950. This is Nikon's latest innovation for 2008, and their first new 50mm optical design in over 30 years.
My 50mm f/1.4 is the lens I use most often for photographing family and friends.
The reason you want this new 50mm f/1.4G AF-S instead of the perfectly good 50mm f/1.4 AF-D that Nikon has been making unchanged since 1993 is that you can tweak manual focus simply by touching the ring. With the older AF-D lens, you have to move a switch on the camera to get between manual and auto focus.
When this AF-S lens autofocuses, nothing moves except the glass inside the solid barrel. The focus ring and filter ring don't move. It you get hit with a thrown bottle or rock, you won't likely mess up the delicate internal focus mechanics.
By comparison, you have to keep your fingers away from the focus ring of the old AF-D lens, since it has to be left alone to spin freely while the lens autofocuses. When you bang the front of the AF-D lens on a rock, you can screw up the alignment because the entire front of the old lens moves in and out on a helicoid.
The only gotchas are that this new lens has more barrel distortion than the old 50mm f/1.4 AF-D, it has a weird 58mm (not standard 52mm) filter size, and that this new lens is useless on Nikons made before about 1990.
This new Nikon lens uses an 8 element design, while every other 50mm f/1.4 SLR lens from Nikon, Canon and Zeiss has only had 7 elements for decades. The close-focus distance is the same, at 1.5 feet (0.45meters).
In formal, controlled tests this new lens isn't any sharper than all the other very sharp 50mm f/1.4 lenses Nikon has made these past decades, but in real photos where autofocus accuracy and hit rate matter, the results at f/1.4 are even better than older lenses. I'm getting sharp, haze-free shots dead-on in-focus at f/1.4 on all of my cameras, where at f/1.4 my old 50/1.4 AF-D often had more veil, bloom or glow (what scientists call spherical aberration) in real shots.
This new 50 wins on subtlety for real things you shoot with a fast 50mm, but doesn't do anything different in tests for flat subjects at infinity.
This new AF-S 50 has more linear distortion than any other fixed Nikon 50mm ever made. Most people don't care, but if you do, get something else like the 60mm Micro-NIKKOR or 50mm f/1.8.
Get this 50mm f/1.4 AF-S if you have a D40, D40x or D60, or any other modern Nikon, film or digital. On DX cameras, it makes a superb close portrait lens.
If you need f/1.4 at a lower price, get the older and perfectly great 50mm f/1.4 AF-D instead.
If you're a tripod guy and want the most perfect optics for use with a D3X, get the 60mm Micro-NIKKOR.
Besides being Nikon's first fast AF lens that actually can autofocus on the D40, D40x or D60, what makes this new 50 1.4 stand out is how well it works in actual shooting, as opposed to lab tests. In chasing around moving targets, even at f/1.4 I consistently get fantastic, sharp, in-focus results.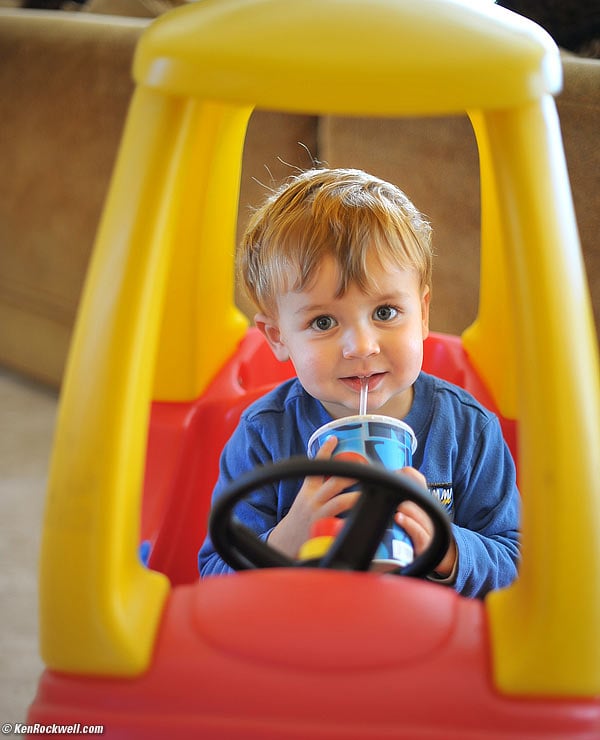 Ryan drinking and driving. (Nikon D3, 50mm f/1.4G AF-S, f/1.4 at 1/125, NEUTRAL with +1 saturation picture control, normal ADR, auto A3 WB, Program auto, Auto ISO chose ISO 280.)
Trying to make what seem like simple shots like this with the Canon 5D Mark II and Canon's 50/1.4 USM just don't do this, because I can't get an AF sensor where I want it, and the Canon system can't nail every shot like this Nikon combo does. What you don't want to see is that almost all of the 100 other snaps were also in focus at f/1.4, even if Ryan wasn't smiling. At f/1.4, the depth-of-field is only about an inch, and remember, this kid was moving, not waiting for dad to snap his photo.
Complain about kid pictures all you want, but unlike shooting Formula One racing or American hero Lance Armstrong, you don't know where the kid is going next. Just try getting an in-focus shot without AF.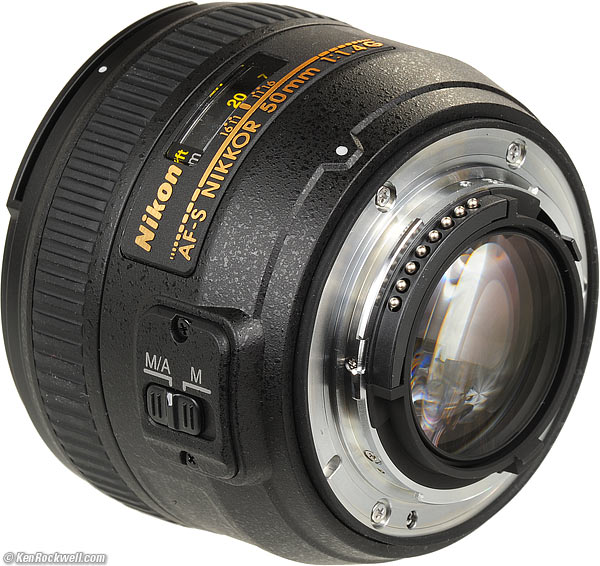 Rear, Nikon 50 1.4. enlarge.
Compatibility back to intro back to top
Everything works perfectly on every digital Nikon, both FX and DX. Autofocus works perfectly even on Nikon's cheapest digital D40, D40x and D60.
It's also perfect on decent or recent AF film cameras like the F6, F100, F5, N80 and N75.
The incompatibilities for older or cheaper film cameras are that:
1.) It won't autofocus with the cheapest new AF film cameras like the N55, but if you focus manually, everything else works great. Even if you lose autofocus, these cameras have in-finder focus confirmation dots to help you.
2.) Late 1980s ~ early 1990s AF cameras like the N90s, N70 and F4 will focus just fine. You'll have Program and Shutter-priority modes, but lose Manual and Aperture-priority since you have no way to set the aperture on the camera or on the lens.
3.) You're really pushing it with the oldest AF cameras like the N2020, N6006 and N8008. You'll have no AF, confused exposure modes and confused metering. Manual focus is fine, along with electronic focus indications.
4.) Since it has no aperture ring, it's just about useless with manual focus film cameras.
See Nikon Lens Compatibility for details with your camera. Read down the "AF-S, AF-I," and "G"columns for this lens. You'll get the least of all the features displayed in all columns, since "G" (gelding) is a handicap which removes features.
50mm f/1.4 History back to intro back to top
1933: Nikon, formed in 1917 out of three other companies around since the 1800s, makes the first Nikkor lens. This new 50mm lens commemorates the 75th anniversary of Nikkor lenses.
1935: Canon's very first camera, the Hansa Kwanon, used a Nikkor lens. Canon didn't make lenses in the 1930s and 1940s, and instead got them from Nikon. Nikon didn't make cameras until the late 1940s, so no problem.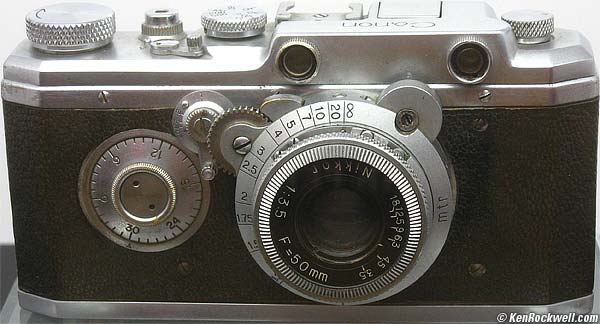 1945 Canon S Rangefinder with 50mm f/3.5 Nikkor lens, as shown in Canon's historical display in their booth at PMA 2007.
1950-1962
The world's fastest lens ever in 35mm photography, the Nikon Nikkor-S 5cm f/1.4 trumped the Zeiss 5cm f/1.5 for use on rangefinder cameras. This Nikkor has 7 elements condensed into only 3 groups to reduce flare and ghosts. Its performance is OK, but not as good as modern 50mm lenses. I suspect the f/2 version of this rangefinder lens was better, but have never tried it.
1959-1962
Nikon's first f/1.4 SLR lens was the 7 element, 6 group, Nikon 58mm f/1.4. If you have it converted in a machine shop, it still works fine on the D700 and D3. It has low contrast and a dreamy, hazy effect shot at f/1.4, and is super-sharp stopped down.
1962-1976
Nikon's first 50mm f/1.4 has 7 elements in 5 groups. It is extremely popular, and if updated to AI, works great on the newest FX DSLRs.
1976-2008
Nikon updates the design of the popular 50mm f/1.4 to 7 elements and 6 groups, and the mechanics to AI. This same design is sold today as the 50mm f/1.4 AF-D and the still-in-production manual focus 50mm f/1.4 AI-s, which you still can buy brand-new at B&H Photo-Video for about $300.
2008-
The first new optical design since 1976, this 50mm f/1.4 AF-S is the first 50mm f/1.4 lens from Nikon to use an 8 element design. (Leica's 50mm f/1.4 ASPH also uses 8 elements, as well as aspherics and floating elements, far beyond Nikon, but ten times as expensive, too.)
Pricing, USA back to intro back to top
$450, August 2012.
$440, August 2011.
$440, March 2010.
$500, March 2009.
$440 at introduction, Fall 2008.
Specifications with commentary top
Intro Specifications Performance Recommendations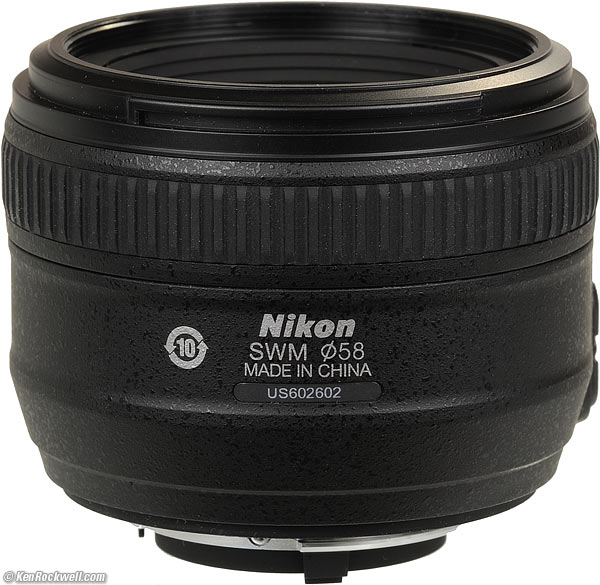 Bottom, Nikon 50/1.4G. enlarge.
Name
Nikon calls this the Nikon AF-S Nikkor 50mm f/1.4G.
AF-S and SWM: Silent Wave (focus) Motor.
G: Gelded for cost-reduction and eliminating compatibility with older cameras.
Optics
8 elements in 7 groups.
It's a spherical design without ED glass, without nano-crystal coating and without aspherical elements.
It's multicoated, which Nikon calls Nikon Super Integrated Coating.
Coverage
Film, FX and DX.
Focal Length
50mm.
When used on a DX camera, it gives angles of view similar to what a 75mm lens gives when used on an FX or 35mm camera.
Close Focus
1.5 feet (0.45m).
Maximum Reproduction Ratio
1:6.7
Focus Scale
Yes.
Depth-of-Field Scale
Yes, but so crowded as to be almost useless, and only marked for f/11 and f/16.
Infra-Red Focus Index
No.
Diaphragm
9 rounded blades.
Stops down to f/16.
Aperture Ring
None.
Filter Thread
58mm, plastic, does not rotate.
What? Not 52mm, as it's been since 1959? Oh well, it was 43mm back in 1950.
Size
Nikon specifies 2.1" (54.2mm) extension from flange by 2.9 " (73.5mm) diameter.
Weight
9.807 oz. (278.05 g), measured, naked.
Nikon specifies 10.2 oz. (290g).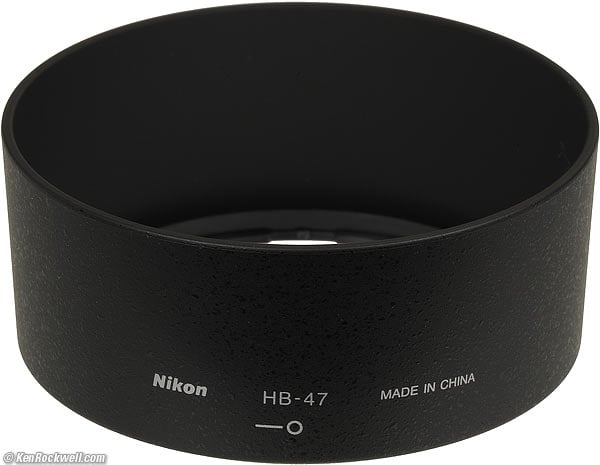 Nikon HB-47 Dinky Plastic Bayonet Hood.
Hood
HB-47 plastic bayonet, included.
Case
CL-1013 soft case, included.
Made in
Front and rear caps come from Thailand.
Teleconverters
Probably not compatible with any Nikon teleconverter.
Announced
22 September 2008 at Photokina.
Available Since
December 2008.
Nikon Product Number
2180.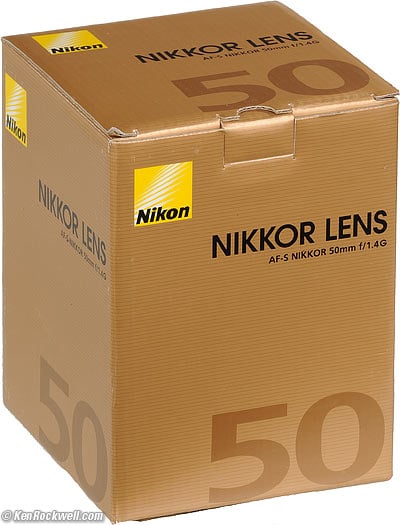 Box, Nikon 50mm f1.4 AFS
Performance top
Intro Specifications Performance Recommendations
Overall Focus Bokeh Color Coma Distortion Ergonomics
Falloff Filters Ghosts Hood Lateral Color Fringes Mechanics
Sharpness Spherochromatism Sunstars Comparisons
Overall back to Performance back to top
Optical performance oddly is the same as older designs, but with more distortion. Oh well.
AF performance and ergonomics are finally up to date over all the other old mechanical focusing 50mm Nikon lenses.
What makes this new lens stand out are its superior ergonomics, and its superb ability to get every shot in perfect focus, so long a you're using your camera properly.
Focus back to Performance back to top
Nothing moves externally when focused, except of course the focus ring, but only if you touch it.
Autofocus
AF is fast and sure. So is AF on the older 50mm f/1.4 AF-D and today's $110 50mm f/1.8 AF-D, too.
AF tracks moving subjects just fine.
AF is very accurate and repeatable, much better than Canon. Even on a D40, I can shoot at f/1.4 and get every shot in perfect focus. Just try this with a manual focus camera; I never could get results this good.
Look at the bokeh sample below: with a Nikon D3 set to it's fully automatic AF mode and handed to a freind, it nailed focus on my eye perfecty.
Manual Focus
Manual focus is easy: just grab the ring at any time.
M/A - M Switch
Nikon goofed. This switch is supposed to be labeled "A - M."
The "M/A" position means autofocus. It's called "M/A" because back in the old days, when Nikon had almost caught up to Canon who had been doing this for ten years before, Nikon was trying to show off that you could focus manually while in the AF position.
Paint over the extra M if you're easily confused.
Bokeh back to Performance back to top
At f/1.4 on FX, Nikon 50/1.4G. enlarge.
Bokeh, the character of out of focus backgrounds, not simply how far out of focus they are, is better than average. It's pretty good.
It's also very good for foregrounds, but you should never have out of focus foregrounds unless you have a very good reason; our eyes and brains freak out when there's something fuzzy between us and the subject.
The 9-bladed diaphragm gives essentially round circles at every aperture, unlike previous Nikon 50mm f/1.4 SLR lenses whose 7-bladed diaphragms could give septagonal blur circles.
Color Rendition back to Performance back to top
I can't see any difference in color rendition between this 50 1.4 AFS and my other multicoated AF lenses.
Coma back to Performance back to top
Coma (saggital coma flare) is weird smeared blobs that appear around bright points of light in the corners. They happen with fast and wide lenses at large apertures. Coma goes away as stopped down, and tends not to be seen in slower and tele lenses.
The 50mm AFS has coma at f/1.4, which becomes weaker as stopped down, but isn't completely gone until f/4.
Distortion back to performance back to top
The 50mm f/1.4 AF-S has relatively strong and visible barrel (bulging) distortion.
It's plainly visible, so if straight lines and architectural items are your thing, pass on this lens and get the 50mm f/1.4 AF-D instead , or get the 50mm f/1.8 AF-D which has no distortion at all and sells new for only $110.
The distortion of this 50/1.4G easily can be corrected for critical use by plugging these figures into Photoshop CS2's lens distortion filter. These aren't facts or specifications, they are the results of my research that requires hours of photography and calculations on the resulting data.
| | | |
| --- | --- | --- |
| | | |
| ∞ | +2.2 | +1.0 |
| 10' (3m) | +2.0 | +1.4 |
| 3' (1m) | +3.0 | tbd |
| 1.6' (0.5m) | +3.5 | tbd |
© 2008 KenRockwell.com. All rights reserved.
Ergonomics (handling and ease-of-use) back to performance back to top
Ergonomics are superb. Ergonomics are the reason to get this 50/1.4G instead of the earlier ones.
The focus ring doesn't move during AF; it only moves when you turn it for instant manual focus override.
It seems silly, but you can just hold the outside of this lens and shoot. With every other NIkon AF 50mm made to date, you have to avoid touching the focus ring, because it moves as the lens autofocuses. If you touch the ring of the other lenses, you bung up the focus, with this 50/1.4, no problem: hold on tight anywhere you want.
Falloff (darkened corners) back to performance back to top
Falloff on FX is as expected: visible at f/1.4, barely visible at f/2, and gone by f/2.8. If you're shooting tests and looking for it explicitly by comparison to other apertures, it's completely gone by f/4.
It shouldn't be much of an issue on DX (see crop factor).
I've exaggerated this by shooting a gray field and placing these on a gray background.
Nikon 50mm f/1.4 AF-S falloff on FX and film at infinity.
© 2008 KenRockwell.com. All rights reserved.
Filters, Use with back to Performance back to top
There is no problem with vignetting, even with combinations of thick filters.
The filter ring never rotates. It never moves in and out, either.
Ghosts back to Performance back to top
You'll probably go blind trying to see any ghosts. Good luck, I can't make any happen under any reasonable set of conditions.
Hood back to Performance back to top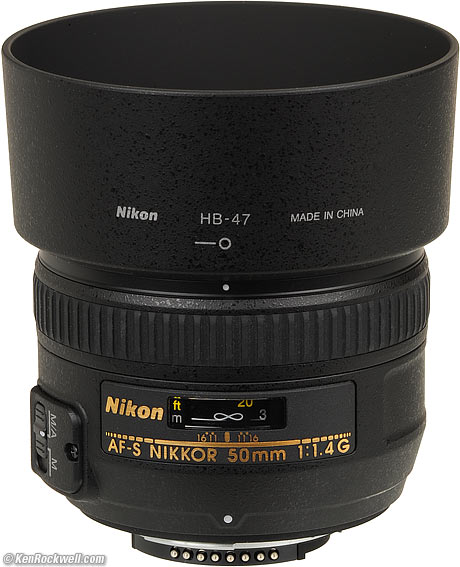 Nikon 50/1.4G with included BH-47 Hood. enlarge.
(It's more than just the hood that comes from China!)
The plastic bayonet hood is dinky.
I wouldn't use it; I'd rather just shield the lens with my hand if I need it so I don't have to worry about breaking the hood the first time I use it.
Lateral Color Fringes back to Performance back to top
I can't see any lateral color fringes on the D3 or D40. The D3 would correct them if the lens had any.
Mechanics back to Performance back to top
The 50G feels just like the 18-200mm VR and similar lenses.
Hood: Dinky plastic bayonet, included.
Barrel Exterior: Plastic.
Filter Threads: Plastic.
Hood Mount: Plastic.
Focus Ring: Plastic; rubber covered.
Focus Helicoids: Beats me. Feels like semi-gritty plastic.
Depth-of-Field Scale: Barely.
Internals: Who knows, probably some metal and lots of plastic. Diaphragm blades seem like metal.
Aperture Ring: None.
Mount: Seems like the usual dull-chromed brass.
Markings: Paint.
Identity Plate: Raise gold letters, looks like metal and feels like plastic.
Serial Number: Printed sticker on bottom of barrel.
Ass-Gasket (dust seal at mount): Yes.
Noises When Shaken: Clicking and klunking.
Made in: Red China. Get over it, both AF-D 50mm lenses are made there, too.
Sharpness back to Performance back to top
Warning 1: Image sharpness depends more on you than your lens.
Warning 2: Lens sharpness doesn't mean much to good photographers.
With those caveats, the 50mm f/1.4 AF-S is at least as sharp as every other 50/1.4.
On a D3 (12MP FX) at infinity:
At f/1.4: The 50mm f/1.4G AF-S is sharp all over, but has lower contrast in the corners of FX due to coma (slight radial blurring of highlights). The spherical aberration in the center isn't much of a problem, so most of the image is sharp and contrasty without much veiling, fog or haze, also called glow or bloom by Leicaphiles.
At f/2: Contrast picks up from the lessening of spherical aberration in the center. Far corners on FX are a little better than at f/1.4.
At f/2.8: Much better in the corners of FX.
At f/4: Better still, and still getting better in the corners of FX.
At f/5.6: The only improvement is the very far corners of FX. f/5.6 is optimum.
At f/8: Same as f/5.6.
At f/11: Almost as good as f/8.
At f/16: Softer due to Diffraction.
Spherochromatism back to Performance back to top
Spherochromatism is the variation of spherical aberration with color. This is what causes out-of focus highlights to have slight color fringes, typically green and magenta, with fast normal and long lenses.
This 50/1.4G has some, meaning that at f/1.4 your background highlights might have a bit of green or bluish-green around them. Well-composed photos shouldn't have out-of-focus foreground elements, but of you do at f/1.4, they may have slight magenta to reddish-magenta fringes.
You won't notice this unless you look for it, and like many artifacts, once you notice it, you'll always see it, so don't look for it!
Sunstars back to Performance back to top
It's hard to get sunstars because the diaphragm is so round.
If you can, they tend to be asymmetrical, mostly due to whatever slight out-of-roundness you get in the 9-bladed diaphragm.
I'd prefer a straight 9-bladed diaphragm instead of the rounded blades, which would give stronger, more precise sunstars.
Compared to other Nikon 50mm lenses
back to Performance back to top
Want easy switching to manual focus? This is Nikon's best lens by far; just grab the ring at any time.
Oddly, optical quality is the same as other 50/1.4s, but distortion is worse.
Sharpness is as good as the 50mm f/1.4 AI-s and 50mm f/1.4 AF and AF-D, but distortion is worse. The original 5cm f/1.4 NIKKOR-S from 1950 was awful by comparison to any of these.
Want to use it on a manual-focus camera? Forget it; you can't control the aperture. Use any manual focus lens for best feel and results.
Recommendations top
Intro Specifications Performance Recommendations
A 50mm f/1.4 is mandatory for anyone shooting in available light. The older AF-D works great on all the cameras likely to be used by serious photographers, but you were out of luck with the D40, D40x or D60.
This new 50mm gives even clearer results for real-world available-light portraiture at f/1.4 than the older lenses, and it doesn't chatter away in AF-C mode as do the older mechanically focused (AF and AF-D) 50mm and 85mm lenses. All these lenses are equally sharp by f/2.8.
Another reason to get this newest AF-S is to have autofocus on the crappiest digital D40, D40x and D60 cameras, or just to get better handing than the older AF-D lenses.
If price matters, the old 50/1.4 AF-D is still excellent. The biggest disadvantage is having to keep your hands away from the old 50mm's focus ring as it moves by itself in AF mode.
If you worry about straight lines or distortion, this is the worse 50mm lens ever made by Nikon since at least 1950, and I've tried them all, even for their rangefinder cameras. For low distortion, any of the f/1.8 lenses are nearly perfect. The 50mm f/2 and other f/1.4 lenses are all better than this 50/1.4G. The 50mm f/1.2 (only made for pros, so it's manual-focus only) is about the same, but still has a a hair less distortion than this 50/1.4 AF-S.
Enough of my bellyaching. This AF-S lens rules for real shooting. Shoot it in the dark, and the images are sharp, and dead-on in-focus with any of the cameras I've tried. With an f/1.4 lens, being in focus is critical, and this new lens excels at real-world performance.
I love mine, and I will be making most of my Christmas and family pictures with it from now on.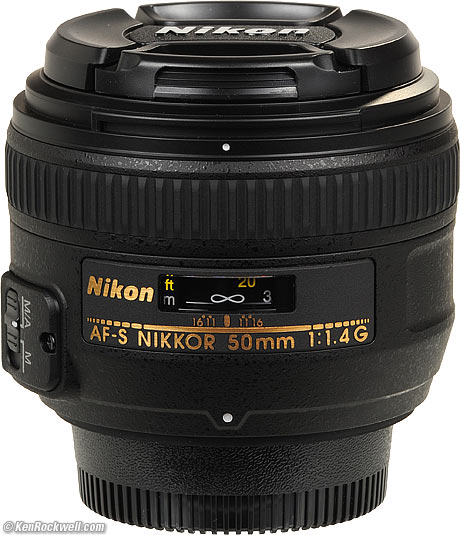 Capped Nikon 50/1.4 AFS. enlarge.
Deployment
I never use hoods. I'd leave it in the box.
I'd leave a 58mm Nikon Clear (NC - UV) filter, or a 58mm Hoya Super HMC UV on the lens at all times. I would leave the dinky hood at home.
If I was going to use this as part of a larger pro system, I'd consider attaching a 58->77mm step-up-ring to convert this to today's pro standard of 77mm, and use a 77mm Nikon UV or Hoya UV filter for protection. This is what I really do; I just put on a step-up ring when I get a lens like this and treat it as if it's a 77mm filter thread len as long as I have it. I'd get a new "pinch" type cap in 77mm too.
If I was working in nasty, dirty areas, I'd forget the cap, and use an uncoated 58mm Tiffen UV filter instead (or in 77mm). Uncoated filters are much easier to clean, but more prone to ghosting.
Help me help you top
I support my growing family through this website, as crazy as it might seem.
The biggest help is when you use any of these links to Adorama, Amazon, eBay, B&H, Ritz, Calumet, J&R and ScanCafe when you get anything, regardless of the country in which you live. It costs you nothing, and is this site's, and thus my family's, biggest source of support. These places have the best prices and service, which is why I've used them since before this website existed. I recommend them all personally.
If you find this page as helpful as a book you might have had to buy or a workshop you may have had to take, feel free to help me continue helping everyone.
If you've gotten your gear through one of my links or helped otherwise, you're family. It's great people like you who allow me to keep adding to this site full-time. Thanks!
If you haven't helped yet, please do, and consider helping me with a gift of $5.00.
As this page is copyrighted and formally registered, it is unlawful to make copies, especially in the form of printouts for personal use. If you wish to make a printout for personal use, you are granted one-time permission only if you PayPal me $5.00 per printout or part thereof. Thank you!
Thanks for reading!
Mr. & Mrs. Ken Rockwell, Ryan and Katie.
Home Donate New Search Gallery Reviews How-To Books Links Workshops About Contact