Home Donate New Search Gallery How-To Books Links Workshops About Contact
Nikon 50mm f/2
© 2009 KenRockwell.com. All rights reserved.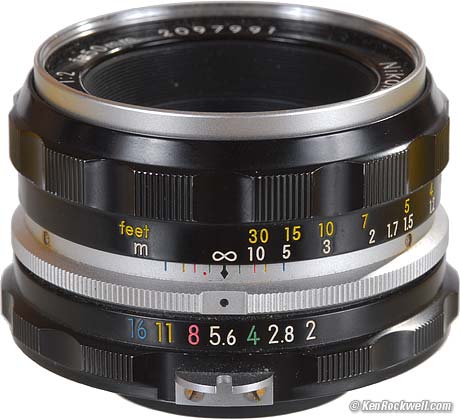 Nikon Nikkor-H Auto 50mm f/2. enlarge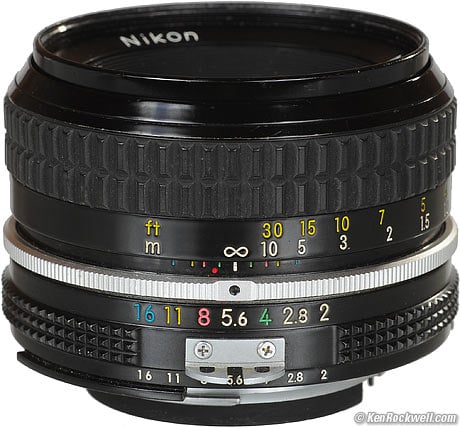 Nikkor 50mm f/2 AI. enlarge.
I get my goodies at Ritz, Amazon and Adorama. It helps me keep adding to this site when you get yours from those links, too. I found this lens in the local classifieds; you can buy them online from Adorama's used inventory for about $40 - 60.
September 2007, June 2008 More Nikon Reviews
Top Specs Performance Recommendations
This 6-element Nikon 50mm f/2 started out as the NIKKOR-S Auto 5cm f/2 in 1959, later called the NIKKOR-H in 1964. Its optics were unchanged through the AI version which was made until 1979. Multicoating was added in 1972.
I got this along with my Nikon F body for $75 in July 2007.
I put this page here so I can reference and link to it in my other articles, and as you'll see, this page is still under construction.
Top Introduction Performance Recommendations
Name: Nikon calls this the Nikon NIKKOR-H Auto 50mm f/2. Auto means automatic diaphragm, which means the diaphragm opens and closes automatically as you snap the shutter. This was hot stuff back in the 1960s. The H in Nikkor-H means Hex, or six elements; the fact all Nikon 50mm f/2 lenses have 6-blade diaphragms is coincidental.
Optics: 6 elements in 4 groups.
Close Focus: 2' or 0.6m for earlier models, 1.5' (0.45m) for later ones.
Filter: 52mm.
Coating: Single-coated mostly in blue, later multicoated.
Diaphragm: 6 straight blades.
Construction: All metal: metal mount, metal focus ring, metal filter threads, metal aperture ring. Engraved and filled lens name and serial number, engraved and filled aperture ring, engraved and filled colored depth-of-field markings.
Size: NIKKOR-H: 2.538" diameter, 1.520" extension from flange (64.46 x 38.59mm), measured. Note: Unlike AI lenses, the aperture rings of these pre-AI lenses extend a bit past the mounting flange. I made a differential measurement from the flange mounting surface, not the overhanging aperture ring.
Weight: NIKKOR-H: 7.265 oz. (205.9g), measured.
Introduced: March 1967. (Nikon made a similar 50mm f/2 since January of 1964.)
Discontinued: September 1972. Mine appears to be from July of 1972. (Other 50mm f/2s were made until March 1979 in both non-AI and AI versions.)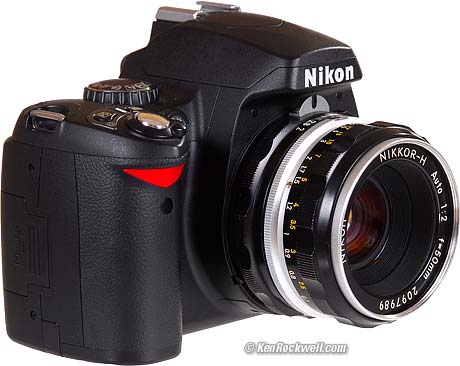 Nikon D40 and 50mm Nikkor-H. enlarge.
Top Introduction Specs Recommendations
Sharpness: Excellent! On a D3, the 50mm f/2 AI is always sharp edge-to-edge. The images are sharp at f/2. however there's veiling from spherical aberration which lowers contrast. This is greatly improved by f/2.8, and contrast is perfect at f/4 and smaller.
Distortion: Minor barrel (bulging). If it bothers you, it cleans right up from film scans or FX digital with a value of +1.4 in PhotoShop CS2's Lens Distortion Correction Filter.
Ease of Focus: Extraordinary. The focus ring flicks with one finger, without play, slop, grittiness or any need for damping. Lenses like these make modern lenses, even off-brands like the Zeiss-branded Cosina-made lenses, feel like poop by comparison.
AI Conversion Successful! As shown, I bought the 50mm Nikkor-H in its original non-AI form.
I bought an AI conversion kit, which is simply a modern AI aperture ring. It was trivial to unscrew the mount (using specialized screwdrivers), swap the old ring for new, and now my 50mm f/2 Nikkor-H from 1972 is fully compatible with matrix metering, auto exposure and full EXIF data on my D3. How's that for Nikon preserving long-term investment value in its lenses?
I found an old, unused conversion kit; I don't think Nikon sells them any more. Nikon did these conversions for only about $25 each until the 1980s, when everyone who was paying attention should have had their old lenses converted.
THe AI version came as AI.
Top Introduction Specs Performance
The pre-AI lenses don't mount to all modern Nikons. Get the AI version so it will mount to everything. You need either the AI version, of have an older one AI converted to work on a D300 or D3.
This is an extremely high performance, fast lens at a bargain price used.
Help me help you top
I support my growing family through this website, as crazy as it might seem.
If you find this as helpful as a book you might have had to buy or a workshop you may have had to take, feel free to help me continue helping everyone.
If you've gotten your gear through one of my links or helped otherwise, you're family. It's great people like you who allow me to keep adding to this site full-time. Thanks!
If you haven't helped yet, please do, and consider helping me with a gift of $5.00.
The biggest help is to use these links to Adorama, Amazon, Calumet, Ritz, J&R and when you get your goodies. It costs you nothing and is a huge help to me. eBay is always a gamble, but all the other places have the best prices and service, which is why I've used them since before this website existed. I recommend them all personally.
Thanks for reading!
Ken
Home Donate New Search Gallery How-To Books Links Workshops About Contact