Home Donate New Search Gallery Reviews How-To Books Links Workshops About Contact
Nikon 17-55mm f/2.8 DX
AF-S G NIKKOR (2003-)
© KenRockwell.com. All rights reserved.
Intro Specifications Performance Recommendations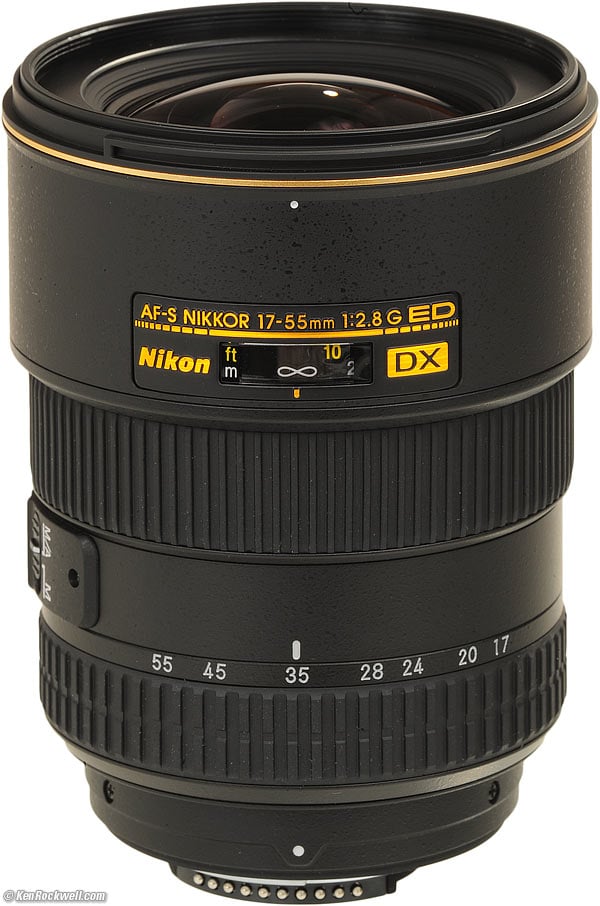 Nikon 17-55mm f/2.8 AF-S (77mm filters, 26.5 oz./751g, 1.25'/0.36m close focus, about $1,425). enlarge. This free website's biggest source of support is when you use these links, especially this link directly to this lens at Adorama, at Amazon, at B&H or used at eBay (see How to Win at eBay). when you get anything, regardless of the country in which you live. Thank you! Ken.
July 2015 Nikon Reviews Nikon Lens Reviews Other Reviews
| | |
| --- | --- |
| Optics: | |
| Mechanics: | |
| Ergonomics: | |
| Usefulness: | |
| Availability: | |
| Overall: | |
Ideal for: Perfect for use on DX digital and film as a fast midrange zoom.
Not for: Won't work on 35mm or FX cameras, except at longer focal lengths.
Introduction top
Intro Specifications Performance Recommendations
Introduced on 22 July 2003, this heavy professional lens was too good to be appreciated on the DX DSLRs of the time, which had no more than 6 megapixels.
Today, the much higher resolution of current DX cameras makes this lens much more relevant today than when it was new.
This is a excellent professional lens for DX cameras, and priced accordingly.
Nikon has made about 185,000 of these 17-55mm lenses as of 2011.
It has a fast f/2.8 aperture instead of Vibration Reduction (VR). It's better for moving subjects, because VR can't do anything to stop subject motion.
Flick the manual-focus ring at any time for instant manual-focus override. Moving the switch to MF is merely an optional autofocus lock-out.
Everything works perfectly on every DX Nikon, and even on Nikon's cheapest digitals like the D40, D40x, D60, D3000, D3100, D5000 and D5100.
Use on FX and 35mm
On FX and 35mm cameras, at most zoom settings the corners turn black. Don't bother with this lens on full-frame cameras.
At the longest focal lengths it illuminates the entire FX field, but is never as super-sharp at the corners as you'd want from a $1,400 lens.
On DX as designed, of course it's always super-sharp.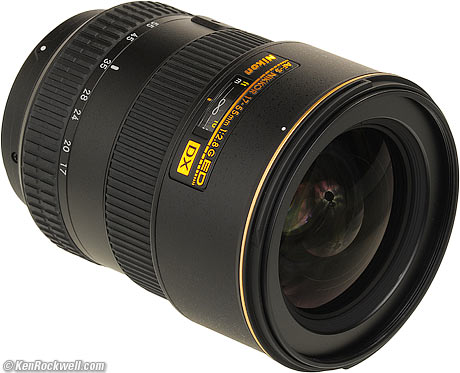 Nikon 17-55mm f/2.8 AF-S. enlarge.
Specifications top
Intro Specifications Performance Recommendations
Name top
Nikon calls this the Nikon AF-S NIKKOR 17-55mm f/2.8G ED DX.
AF-S and SWM: Silent Wave Autofocus Motor.
G: Gelded for cost-reduction and removing compatibility with older cameras.
ED: Magic Extra-low Dispersion Glass.
DX: Won't work well on film or FX cameras.
IF: Internal focusing; nothing moves externally as focused.
Aspherical: Specially curved glass to give even sharper pictures.
∅77: 77mm filter thread.
Optics top
14 elements in 10 groups.
Three of these are ED glass and three are aspherical.
Diaphragm top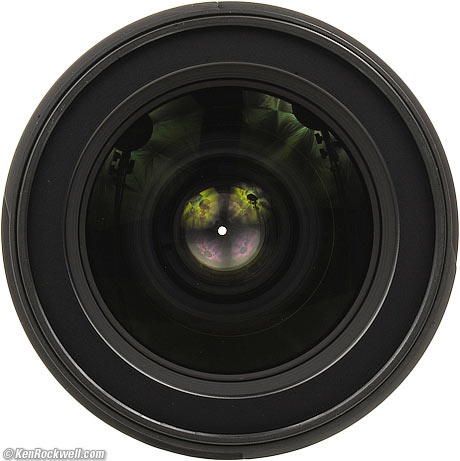 Nikon 17-55mm f/2.8 AF-S at f/22. enlarge.
9 rounded blades.
Stops down to f/22.
Coverage top
DX cameras only.
Focal Length top
17-55mm.
Shot on DX, it gives angles of view similar to what a 26-85 mm lens gives on an FX or 35mm camera.
Angle of View top
79° ~ 28° 50' on DX.
Close Focus top
1.25 feet
0.36 meters.
Maximum Reproduction Ratio top
1:5
Hard Infinity Focus Stop? top
No.
You have to let the AF system focus at infinity.
Focus Scale top
Yes.
Depth-of-Field Scale top
No.
Infra-Red Focus Index top
No.
Aperture Ring top
No.
Filter Thread top
77mm, plastic.
Does not rotate.
Moves in and out with zoom.
Size top
Nikon specifies 3.4" (85.5mm) diameter by 4.4 " (110.5mm) extension from flange when zoomed to 40mm. It gets longer at other focal lengths.
Weight top
26.505 oz. (751.45g), measured in 2011.
Nikon specified 26.6 oz. (755g) in 2003.
Hood top
Plastic bayonet HB-31 hood, included. ($27 to buy separately.)
Case top
Soft folding CL-1120 case included. ($15 to buy separately.)
A tube sock is about as useful, and easier to find in a dark bag.
Included top
Snap-on 77mm front cap.
LF-4 rear cap, the newest one with the fatter lip to keep dust off the mount.
Quality top
Lens made in Japan.
LR-4 rear cap: Made in Thailand.
LC-77 front cap: Made in Thailand.
Packaging top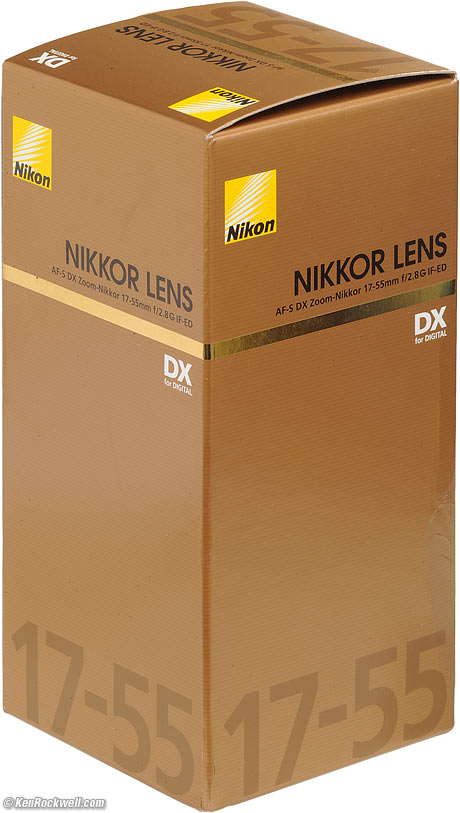 Box, Nikon 17-55mm f/2.8 AF-S.
Microcorrugated cardboard box.
Floppy case on top.
Hood in white cardboard sub-box below.
Lens held by two pieces of gray pulp-formed cardboard at top and bottom.
Lens in semi-translucent semi-clear polyethylene bag.
Paperwork slipped-in on the side of the lens.
Announced top
22 July 2003.
Nikon Product Number top
2147.
Price, USA top
July 2015: $1,540 USA, $1,540 gray (see gray vs. USA), $450-850 used.
August 2011: $1,425 USA, $1,400 gray (see gray vs. USA), $600-1,300 used.
July 2003: $1,250, USA new.
Performance top
Intro Specifications Performance Recommendations
Overall Autofocus Bokeh Coma Distortion Ergonomics
Falloff Filters Focus Breathing Lateral Color Fringes
Macro Mechanics Sharpness Sunstars Zooming
Overall performance top
The Nikon 17-55mm f/2.8 AF-S is sharp, handy and tough. Distortion is ordinary.
Autofocus performance top
AF Speed
AF speed is normal, not particularly fast or slow.
AF Accuracy
AF on my D7000 was always perfect at every distance and every focal length, yay!
Manual Focus
Manual focus is great.
Just flick the focus ring with your middle finger at any time for instant manual focus.
You don't have to move any switches unless you want to.
M/A - M Switch
Nikon goofed. This switch is supposed to be labeled "A - M."
The "M/A" position means autofocus. It's called "M/A" because you also can focus manually simply by grabbing the focus ring in this position.
The "M/A" position means autofocus. It's called "M/A" because back in the old days, when Nikon had almost caught up to Canon who had been doing this for ten years before, Nikon was trying to show off that you could focus manually while in the AF position.
Paint over the extra M if you're easily confused.
Bokeh performance top
Bokeh, the character of out of focus backgrounds, not simply how far out of focus they are, isn't important at the short end because depth-of-field is so deep, and bokeh is very nice at the 55mm end.
If you look very closely to see it, bokeh isn't that good at the middle and wide end, but so what, very little is out of focus at those settings. If you want great bokeh, shoot at 55mm.
Coma performance top
I can't see any coma (saggital coma flare).
Distortion performance top
The Nikon 17-55mm f/2.8 AF-S has the usual distortion as we expect in a zoom: strong barrel at 17mm, little to none around 20-24mm, and pincushion at longer than 24mm.
This can be corrected for critical use by plugging these figures into Photoshop's lens distortion filter. These aren't facts or specifications, they are the results of my research that requires hours of photography and calculations on the resulting data.
| | |
| --- | --- |
| | |
| 17mm | +3.5* |
| 20mm | +0.4 |
| 24mm | -1.2 |
| 28mm | -2.0 |
| 35mm | -2.4 |
| 45mm | -2.2 |
| 55mm | -2.0 |
© 2011 KenRockwell.com. All rights reserved.
*Some waviness remains.
Ergonomics (handling and ease-of-use) performance top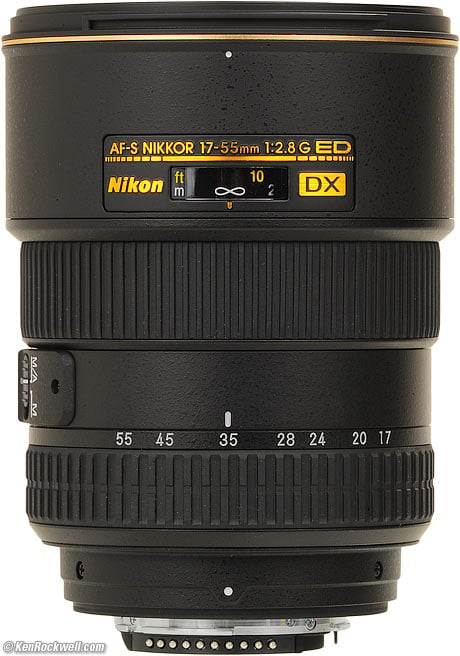 Nikon 17-55mm f/2.8 AF-S. enlarge.
Ergonomics are easy. This is a smooth, heavy lens that feels great.
Zooming is very well spread out logarithmically along the zoom ring. The zoom ring is appropriately stiff for the amount of glass that's pumping in and out.
Focus is smooth, dry and undamped. It flicks with a fingertip.
Falloff (darkened corners) performance top
Falloff on DX is invisible at every setting.
I've exaggerated this by shooting a gray field and placing these on a gray background. There is so little falloff at middle apertures at 24mm and longer that it's not even visible with gray fields!
Nikon 17-55mm f/2.8 G falloff on DX at infinity, no correction.
| | | | |
| --- | --- | --- | --- |
| | f/2.8 | f/4 | f/5.6 |
| 17mm | | | |
| 24mm | | | |
| 35mm | | | |
| 55mm | | | |
© 2011 KenRockwell.com. All rights reserved.
Falloff on FX
Don't use this lens on 35mm or FX, but if you do, here's what happens:
Nikon 17-55mm f/2.8 G falloff on FX at infinity, no correction.
| | | | |
| --- | --- | --- | --- |
| | f/2.8 | f/4 | f/5.6 |
| 17mm | | | |
| 24mm | | | |
| 35mm | | | |
| 55mm | | | |
© 2011 KenRockwell.com. All rights reserved.
Filters, use with performance top
There is no problem with vignetting, even with combinations of thick 77mm filters.
The filter ring never rotates, with does move in and out with zooming.
Focus Breathing performance top
Of interest mostly to cinematographers focusing back and forth between two subjects, the image from the Nikon 17-55mm f/2.8 AF-S gets slightly smaller as focused more closely at the 17mm end, and has no change in size at the longer settings.
Lateral Color Fringes performance top
There are no lateral color fringes on the D3 or D7000, which corrects them automatically.
Macro performance top
Close-focus is pretty good.
Here's what you get at the closest focus distance at 55mm: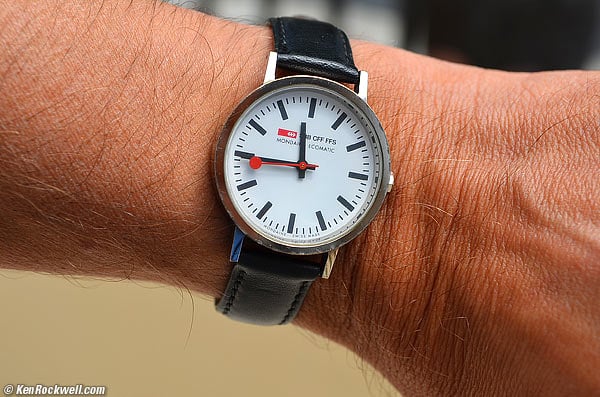 Nikon 17-55mm at closest focus distance on DX.
It's sharp, too, even at f/2.8.
Mechanics and Construction performance top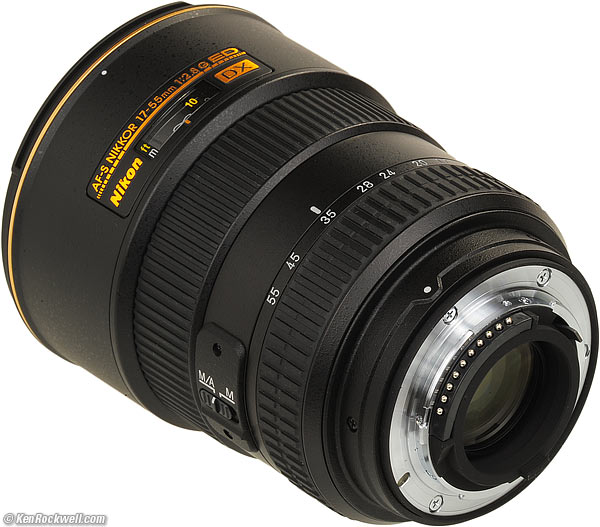 Rear, Nikon 17-55mm f/2.8 AF-S. enlarge.
The Nikon 17-55mm f/2.8 AF-S is built well for 2011. It's mostly metal, with plenty of plastic.
Filter Threads
Plastic.
Hood
Plastic bayonet.
Hood Mount
Metal.
Barrel Exterior
Metal.
Focus Ring
Metal; rubber covered.
Zoom Ring
Metal; rubber covered.
Depth-of-Field Scale
None.
Internals
Metal.
Aperture Ring
None.
Mount
Dull-chromed brass.
Markings
Paint.
Zoom-ring settings are engraved and filled with paint.
Mounting Index Dot
Engraved white dot.
Identity Plate
Debossed metal, 18k gold filled.
Serial Number
Laser engraved onto bottom rear of barrel, near mount.
US Model Signified by
"US" prefix to serial number.
Rain seal at mount
Yes.
Noises When Shaken
Moderately loud clunking.
Made in
Japan.
Weaknesses
The front pumps in and out for zooming, so a hit to the front of the lens could jam or damage the zoom mechanism.
Sharpness performance top
Warning 1: Image sharpness depends more on you than your lens.
Warning 2: Lens sharpness doesn't mean much to good photographers.
With those caveats, the Nikon 17-55mm f/2.8 AF-S is very, very sharp on a 16 MP DX camera.
It's super-sharp and contrasty at all apertures everywhere in the DX image, and only slightly less contrasty in the far corners at f/2.8.
The 17-55/2.8 DX is a very sharp lens on DX.
Sunstars performance top
With its rounded 9-bladed diaphragm, I doubt that the 17-55 will ever make any sunstars on bright points of light.
Zooming performance top
Zooming is firm, and very well spaced.
It takes two fingers to move the ring, and it's very easy to set a precise focal length. It's less easy to whack it quickly from one end to the other.
Recommendations top
Intro Specifications Performance Recommendations
The Nikon 17-55mm f/2.8 AF-S is a tough f/2.8 pro lens.
If you need a fast midrange zoom, it's the only lens I'd consider for DX cameras. I'd never use a Sigma or Tamron; they always feel so junky in my hands.
Personally, I shoot the 35/1.8 DX in low light, and pass on zooms in good light. If I do use a zoom, it's a lighter-weight 18-55mm, or longer-range 18-200mm VR.
I wouldn't bother with the hood. I'd leave it at home in the box for resale later.
We're all different, which is why Nikon makes so many different lenses. This 17-55/2.8 is a superb lens for anyone who needs a big, fast, tough midrange zoom for DX. For most uses, the all-plastic 18-55mm VR does the same thing for much less money.
Don't even consider the full-frame FX 16-35mm f/4 VR for use on DX; this 17-55mm lens is a much better idea on DX. You're wasting most of the performance of the 16-35 if you're only using it on DX; leave the 16-35mm for FX shooters.
Deployment
I'd leave either a 77mm Nikon Clear (NC - UV) filter, or a 77mm Hoya Super HMC UV on the lens at all times. I would leave the hood at home.
If I was working in nasty, dirty areas, I'd forget the cap, and use an uncoated 77mm Tiffen UV filter instead. Uncoated filters are much easier to clean, but more prone to ghosting.
Help me help you top
I support my growing family through this website, as crazy as it might seem.
The biggest help is when you use any of these links to Adorama, Amazon, eBay, B&H, Ritz, Calumet, J&R and ScanCafe when you get anything, regardless of the country in which you live. It costs you nothing, and is this site's, and thus my family's, biggest source of support. These places have the best prices and service, which is why I've used them since before this website existed. I recommend them all personally.
If you find this page as helpful as a book you might have had to buy or a workshop you may have had to take, feel free to help me continue helping everyone.
If you've gotten your gear through one of my links or helped otherwise, you're family. It's great people like you who allow me to keep adding to this site full-time. Thanks!
If you haven't helped yet, please do, and consider helping me with a gift of $5.00.
As this page is copyrighted and formally registered, it is unlawful to make copies, especially in the form of printouts for personal use. If you wish to make a printout for personal use, you are granted one-time permission only if you PayPal me $5.00 per printout or part thereof. Thank you!
Thanks for reading!
Mr. & Mrs. Ken Rockwell, Ryan and Katie.
Home Donate New Search Gallery Reviews How-To Books Links Workshops About Contact