Home Donate New Search Gallery Reviews How-To Books Links Workshops About Contact
Nikon 16-85mm VR DX
© 2014 KenRockwell.com. All rights reserved.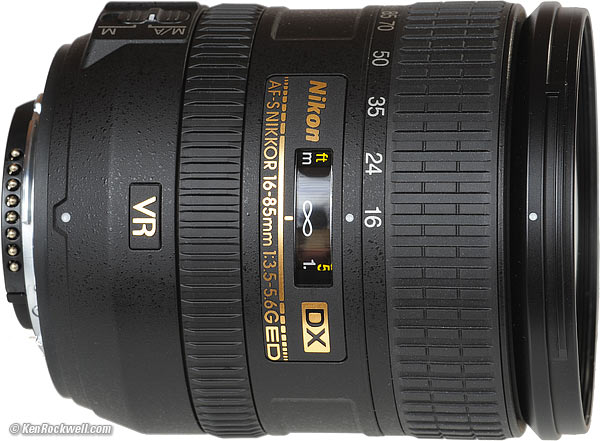 Nikon 16-85mm VR DX (DX coverage only, 67mm filters, 17.2 oz./487 g, 1.3'/0.38m close focus, about $530). enlarge. I got mine at this link directly to it at Adorama, this link directly to it at Amazon is also a great place to get it. My biggest source of support is when you use those or any of these links to approved sources when you get anything, regardless of the country in which you live. It helps me keep adding to this free website when you get anything through these links — but I receive nothing for my efforts if you take the chance of buying elsewhere. Thanks for your support! Ken.
April 2014 Nikon Reviews Nikon Lenses All Reviews
Introduction top
Intro Specs Performance Usage Recommendations
The Nikon 16-85mm VR is an excellent all-purpose lens for every Nikon DX digital camera, like the D300, D80, D60, D40, and every older camera like the D70, D1x, D100 and and D2Xs.
The 16-85mm is also very expensive: about $650. For $650 you're buying great optical performance, but mostly paying for convenience. Honestly, Nikon's 18-55mm kit lens ($120) has the same quality optics, but without most of the convenience features of the 16-85mm. I'm not kidding: I've compared them directly against each other.
Unlike the similarly priced 18-200mm VR, which replaces almost every lens, a 16-85mm is still going to leave you wanting a telephoto. The 16-85mm does not replace wide lenses like the 12-24mm.
The advantage of this 16-85mm VR over the similarly priced 18-200mm VR is that this 16-85mm VR has a slightly wider wide end, has less distortion, has somewhat more effective VR and can be sharper at the wide end. Other than that, I'd still buy the 18-200mm VR if I was doing it again. See also my explicit shoot-out against the 18-200mm VR.
The D3 automatically switches to DX mode with this lens so it works fine, however it makes no sense to use any DX lens on the D3 except in an emergency.
I have a huge page comparing the 16-85mm directly against the 18-200mm.
Specifications top
Intro Specs Performance Usage Recommendations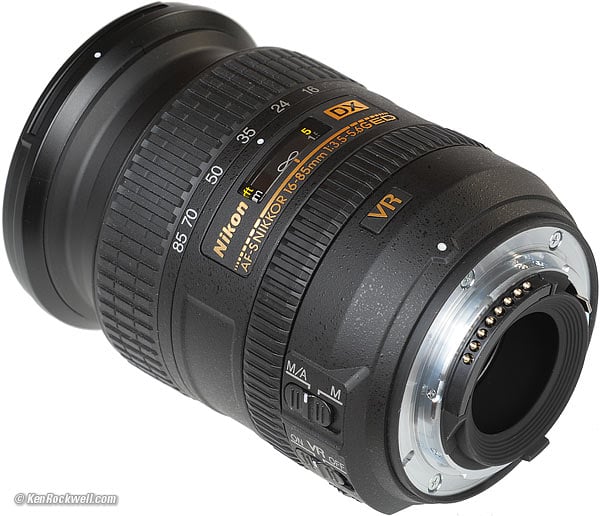 Nikon 16-85mm.
Name
Nikon calls this the AF-S DX NIKKOR 16-85mm f/3.5-5.6G ED VR.
Optics
17 elements in 11 groups. Two of these are of ED glass, and three of these are aspherical. Nikon's SIC super integrated multi coating.
Focal Length
16-85mm.
Used on a DX camera it gives angles of view similar to what a 24-125mm lens would give on an FX or 35mm film camera. See also Crop Factor.
Vibration Reduction
Yes, VR II, for which Nikon claims a four-stop potential improvement.
Diaphragm
7 blades, rounded. Stops down to f/22-36.
Instant Manual Focus Override?
YES, just turn the ring.
Close Focus
1.3 feet (0.38m).
Maximum Reproduction Ratio
1:4.6.
Focus Scale?
YES.
Depth of Field Scale?
no.
Infra Red Focus Index?
no.
Filter Thread
67mm, plastic.
Never rotates, but does move forward and back with zooming.
Size
3.368" (85.53mm) extension from flange by 2.847" (72.32mm), when set to 16mm.
Set to 85mm, it extends 5.055" (128.40mm) from the flange, all as measured by me.
Nikon specifies 3.35" long by 2.83" diameter (85 x 72mm).
Weight
17.165 oz (486.6g), actual measured.
Nikon specifies 17.1 oz. (485 g).
Hood
HB-39 plastic bayonet.
Nikon Product Number
2178, in catalog as of spring 2008.
Announced
28 January 2008.
Available
Since March 2008 in the USA.
Price, USA
April 2014: $530.
March 2008: $650. The 18-200mm VR sold about for the same price.
Performance top
Intro Specs Performance Usage Recommendations
AF Distortion Color Fringes Falloff Filters FX Cameras
Maximum Aperture Mechanics Sharpness VR Zooming
Overall
Performance is excellent. It's sharp, zooms and handles well, and VR works great. It never gets in the way of a great photo. My only reservation about this lens is what I could buy instead with the same money.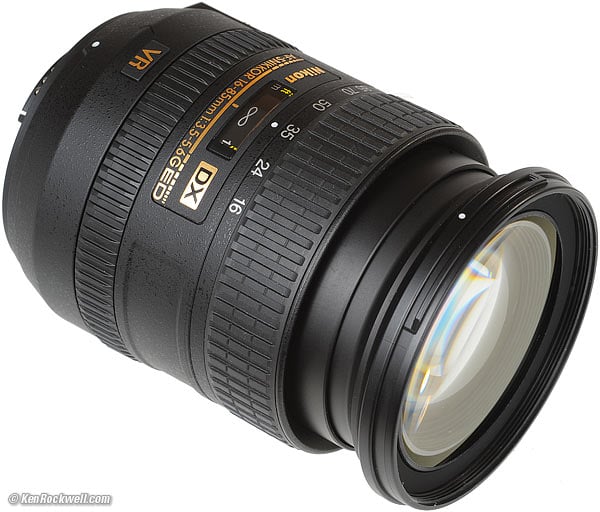 Nikon 16-85mm set to 35mm.
Autofocus back to performance back to top
Speed
Speed is the same as my 18-200mm VR. No big deal; fast enough for anything I shot.
Accuracy
Seems AOK, no errors.
Manual Focus
Excellent: just grab the ring at any time for instant override.
Distortion back to performance back to top
You can see barrel distortion at the wide end, and pincushion distortion almost everywhere else.
Distortion is about half of the 18-200mm VR. If you're troubled by the distortion of the 18-200mm, then this could be a good reason to get this 16-85mm, however this 16-85mm still has enough distortion to require correction for critical shots.
Plug these figures into Photoshop CS2's lens distortion filter to correct the distortion. These aren't facts or specifications, they are the results of my research that requires hours of photography and calculations on the resulting data.
| | | |
| --- | --- | --- |
| | | |
| 16mm | +1.5* | +1.5* |
| 18mm | | -0.2* |
| 24mm | -2.0* | -2.0* |
| 35mm | -2.3 | -2.5 |
| 50mm | -2.1 | -2.0 |
| 70mm | -2.0 | -1.5 |
| 85mm | -2.1 | -1.5 |
© 2008 KenRockwell.com
*Waviness remains.
Corner Color Fringes (Secondary Lateral Chromatic Aberration)
back to performance back to top
There are no color fringes when shot on the D300 and D3, which successfully correct for this automatically.
Shot on an old camera like the D200 or D2xs, you may see some at 16mm, but none at the long end.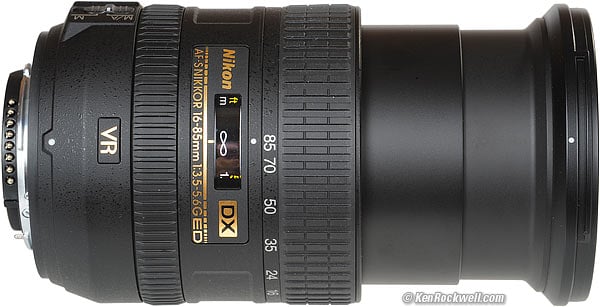 Nikon 16-85mm set to 85mm.
Falloff (darkened corners) back to performance back to top
I've never seen any falloff with real pictures.
I've made it far more obvious by shooting a gray field and then placing these on the same gray background.
Filters, Use With back to performance back to top
The front 67mm thread doesn't rotate with either focus or zooming. It does move forward and back with zooming, and the hood rides along with it.
There is no need for expensive thin0-mount filters. Even with a double-stack of filters 11mm thick (excluding rear threads) I have no vignetting. 11mm is the limit; any more than that and you'll get vignetting at 16mm.
Any old rotating polarizer or grad will work fine; they are usually no more than 8mm thick.
FX Cameras, use on back to performance back to top
Forget it. It doesn't cover the full film or FX frame at any zoom setting.
Maximum Aperture back to performance back to top
| | |
| --- | --- |
| Zoom Setting | Maximum Aperture |
| 18mm | f/3.8 |
| 24mm | f/4 |
| 35mm | f/4.5 |
| 50mm | f/5 |
| 70mm | f/5.6 |
| 85mm | f/5.6 |
© 2008 KenRockwell.com
Mechanics back to performance back to top
Outer Body, zoom and focus rings, filter and bayonet mounts
All very good plastic.
Markings
Paint.
ID plate seems like raised and planed metal.
Lens Mount
Looks like Nikon standard dull chromed brass.
Rear Dust Seal at Mount
Yes.
Quality
Made in Thailand.
Serial Number
Sticker on bottom of barrel.
USA Version shown by
"US" prefix to serial number.
Sharpness back to performance back to top
Sharpness is great. It can be a little better than my 2-year-old 18-200mm VR at the wide end, and can be a little worse at 85mm.
I only see these differences by 1.) shooting special test subjects (flat at infinity), 2.) at full aperture, and then 3.) blowing up the images to the equivalent of 40" (1m) wide, and looking at them too closely.
Used under normal conditions and/or printed small, like only 12 x 18" (30 x 45cm), I can't see any meaningful differences.
Sharpness is even across the frame.
Here are Nikon's rated MTF curves: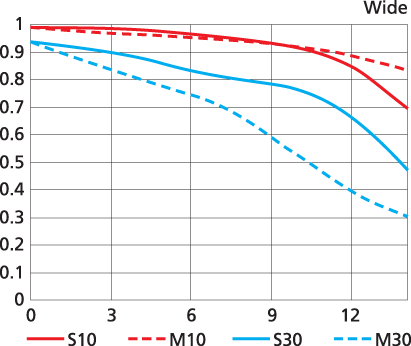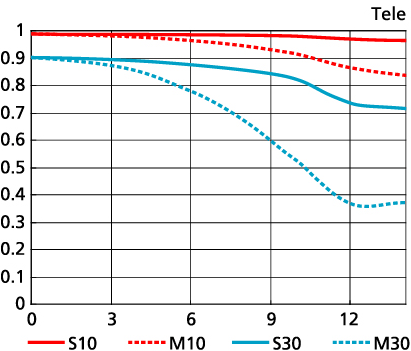 VR Measurements at 85mm back to performance back to top
By "sharp shots" I mean perfect tripod-equivalent sharpness when viewed at 100%, as shot on a D300 by me. For most uses, one can use much slower speeds. See Why VR Matters for more.
| | | | | | | | | |
| --- | --- | --- | --- | --- | --- | --- | --- | --- |
| % Sharp Shots | 1 | 1/2 | 1/4 | 1/8 | 1/15 | 1/30 | 1/60 | 1/125 |
| 85mm | | 17 | 50 | 50 | 75 | 100 | 100 | 100 |
Zooming back to performance back to top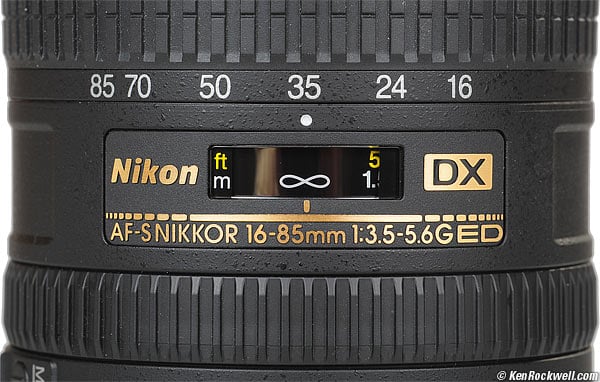 Nikon 16-85mm zoom and focus rings.
Zooming, on the prototype I used, is firm. There's no creep as some people see with their 18-200mm lenses.
Zooming is also wonderfully well spaced, making precise framing easy at every focal length.
EXIF Focal Length Coding Accuracy
The focal lengths agree exactly, except for reading 68mm at 70mm, which is no big deal.
Usage top
Intro Specs Performance Usage Recommendations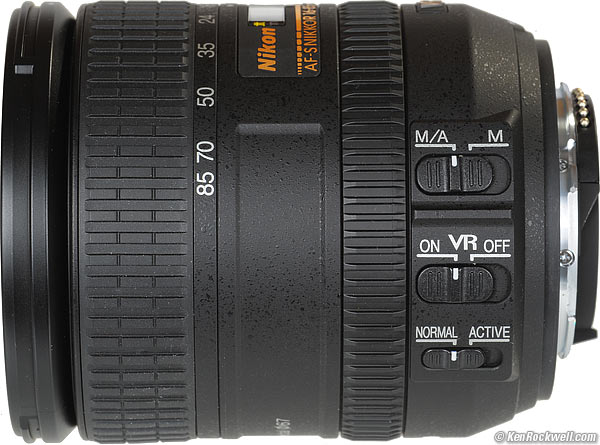 Nikon 16-85mm focus and VR switches.
Focus: M/A - M
"M/A M" really should be labeled "AF - M."
"M/A" means autofocus, but when you grab the ring, you instantly are in manual focus until you tap the shutter button again.
In "M" you are always in manual focus. Just move the ring.
VR
I always leave VR ON, unless I'm on a tripod.
I always set the VR to NORMAL. ACTIVE is for shooting from a moving vehicle.
Recommendations top
Intro Specs Performance Usage Recommendations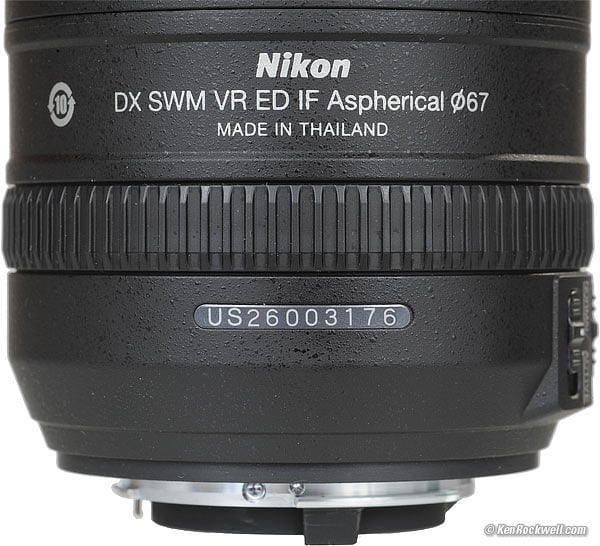 Nikon 16-85mm underside - quite a lot to read!
The price is the same as the very similar 18-200mm VR. For most people, the 18-200mm is more flexible.
I wouldn't buy this lens: I prefer the higher zoom ratio of the 18-200mm VR, which for the same price, replaces two lenses, not just one.
I think there are better ways to spend $650 on mid-range lenses, but we all have different needs.
For instance, if on a budget, I'd get the 18-55mm non-VR for $120 and the 55-200mm VR for about $220, and for half the price of this lens, have a more functional pair of lenses. The optics of these less expensive lenses are as good, but they aren't built as tough.
I suspect the price of this 16-85mm lens will drop by the fall of 2008.
I love wides, so I use the dedicated 12-24mm DX for wide angles. 16mm doesn't do anything significantly different for me than the 18mm of the 18-200mm, however running all the way to 200mm save me from carrying and changing lenses, which 85mm does not.
See also my direct comparison of the Nikon 16-85mm VR to the 18-200mm VR.
More Information: Nikon, Japan.
Help me help you top
I support my growing family through this website, as crazy as it might seem.
The biggest help is when you use any of these links when you get anything, regardless of the country in which you live. It costs you nothing, and is this site's, and thus my family's, biggest source of support. These places have the best prices and service, which is why I've used them since before this website existed. I recommend them all personally.
If you find this page as helpful as a book you might have had to buy or a workshop you may have had to take, feel free to help me continue helping everyone.
If you've gotten your gear through one of my links or helped otherwise, you're family. It's great people like you who allow me to keep adding to this site full-time. Thanks!
If you haven't helped yet, please do, and consider helping me with a gift of $5.00.
As this page is copyrighted and formally registered, it is unlawful to make copies, especially in the form of printouts for personal use. If you wish to make a printout for personal use, you are granted one-time permission only if you PayPal me $5.00 per printout or part thereof. Thank you!
Thanks for reading!
Mr. & Mrs. Ken Rockwell, Ryan and Katie.
Home Donate New Search Gallery Reviews How-To Books Links Workshops About Contact