Home Donate New Search Gallery Reviews How-To Books Links Workshops About Contact
Nikon SB-700
© KenRockwell.com. All rights reserved.
Intro Specs Performance Compared Usage Recommendations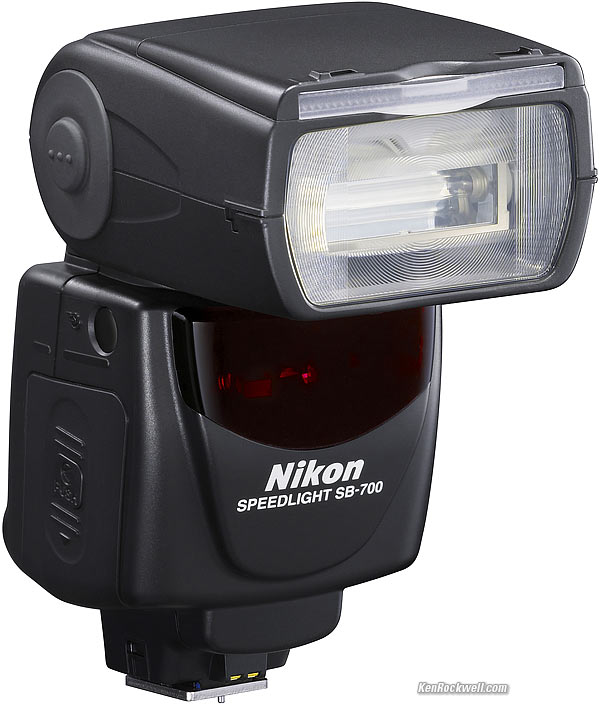 Nikon SB-700 (16.2 oz./459g with 4-Ni-MH cells, measured GN 85'/26m at ISO 100, measured 2.3s recycling time, about $327). enlarge. I got mine at Adorama; I'd also get it at Amazon or at B&H.
This ad-free website's biggest source of support is when you use those any of these links to approved sources when you get anything, regardless of the country in which you live. Nikon does not seal its boxes, so never buy at retail or any source not on my personally approved list since you'll have no way of knowing if you're missing accessories, getting a defective, dropped, damaged or used flash, a customer return or if the warranty has already been registered to someone else online! The approved sources I use ship from secure, remote automated warehouses where salespeople or other customers never, ever get to touch your camera, and they have the best prices, selection, service and return policies.
April 2015 More Nikon Reviews Nikon Lens Reviews
How to Use Wireless Flash Control.
Introduction top
Intro Specs Performance Compared Usage Recommendations
The Nikon SB-700 is a superb medium-sized flash for use on all modern Nikon i-TTL DSLRs.
Unlike other flashes, the SB-700 is only designed for current, not older cameras. Nikon calls these the cameras compatible with Nikon's Creative Lighting System (CLS). These cameras are all DSLRs except the D1 series and the D100. The F6 is also CLS compatible and works with the SB-700. With any other 35mm camera, you won't get much to work with the SB-700.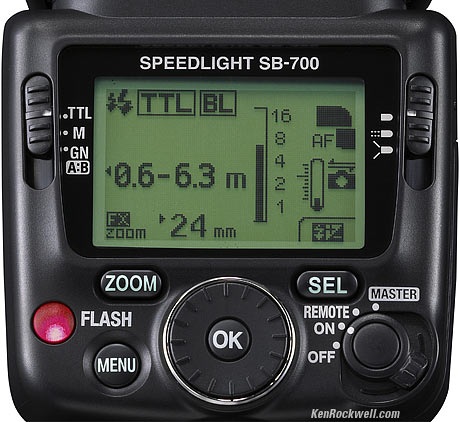 Dot-matrix LCD. bigger.
The SB-700 offers these features over the SB-600 (the SB-900 already has most of these):
Bounce Card top
This is important: I usually bounce the flash indoors, and this little kicker card adds catchlights to people's eyes.
With my SB-600, I use a white post-it-note to do the same thing.
The SB-700 also includes a Tupperware diffuser; I never use those.
Reads Filter Types and Sends Data to Camera top
As I hope you all know, flash needs to be filtered to have its color match the ambient lighting.
Flashes match daylight by default, but indoors under tungsten or fluorescent, you must match the flash color to the ambient light, otherwise people turn blue or purple and backgrounds turn orange or green.
I use gels velcroed to my flashes and set my camera's white balance manually to match everything.
Now with the SB-700, it includes hard plastic tungsten and fluorescent filters that pop over the flash.
When you pop on these filters, the flash reads the tabs, and sends that data to the camera to shift WB automatically.
Yay!
Faster Recycling top
The SB-700 has slightly less maximum power than the SB-600, and is also rated to recycle a little faster: 2.5s for the SB-700 versus 3.5s for the SB-600 at maximum power.
Commander Mode top
Most built-in flashes do this for free, but if you're using either an extremely cheap Nikon whose built-in flash can't work as the Commander, or using a camera lacking a built-in flash like the D3, the SB-700 can be the Commander.
The Commander is the on-camera flash that can control many other remote flashes wirelessly.
Better Button Feel
But a crummier, less legible LCD.
Exposure compensation might be more complex; on the SB-600, all you do it tap the + or - buttons.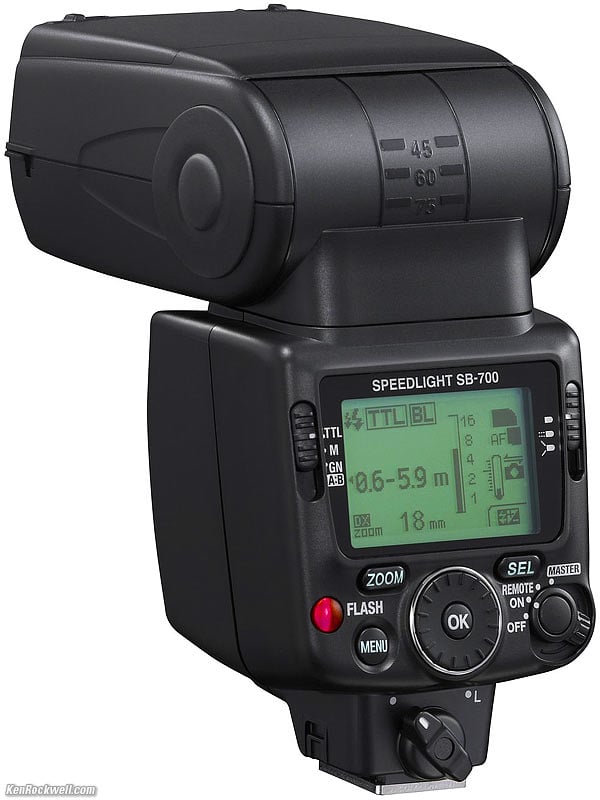 SB-700. bigger.
Fluff top
Most of the things about the SB-700 are just fluff. Among the fluffiest things in the SB-700 are:
Illumination Patterns and Focal Length Ranges
The SB-700 has about the same range of light patterns (focal length settings) as does every other flash.
Someone at Nikon had the clever idea of making a new feature out of relabeling the settings in many different ways, and then claiming this as a way to modify light concentrations and settings for FX and DX lenses.
It's all baloney.
With a normal flash set to the 50mm setting, you get what the SB-700 also calls the "concentrated" setting at 35mm, and the "even" setting for 70mm. You also get the same things repeated as the 28mm setting for DX, and the concentrated setting for 20mm and the even setting for 45mm.
All these "different settings" are actually the same setting, called many different things in the firmware's User Interface.
This is firmware foolishness; you can do all these tricks with any other flash with a zoom head if you're paying attention.
Firmware Updates top
You can update the firmware of the SB-700 by yourself. So?
Do you really want to buy a flash for which Nikon hasn't finished writing the firmware?
Do I really have nothing more productive to do than update flash firmware?
Give me a break; I prefer real flashes that just light, thank you.
Specifications top
Intro Specs Performance Compared Usage Recommendations
Power
Flash Output
Guide Number rated at 28 meters, 92 feet, at ISO 100 at normal 35mm FX setting.
(SB-600 is GN 30 meters, 98 feet, in same conditions.)
Power Source
4 AA cells.
Alkaline, lithium or Ni-MH.
I use Sanyo Eneloop rechargables They last a long time, and never discharge when I'm not using them.
Recycle Time
2.5s with Ni-MH or Alkalines.
3.5s with lithium.
(SB-600 is 3.5s, and rated for 200 full-power pops per set.)
In the old days, flashes said that batteries were still good until the recycling time was 30 seconds. Today, the SB-700 says give up if it takes any more than 10 seconds.
Shots per set
Alkaline: 160.
Panasonic eVolta: 230.
Lithium: 330.
2,000 mAh Eneloop: 230.
2,600 mAh Ni-MH: 260.
Flash Burst Duration
1/1,000 ~ 1/40,000 s.
Modes top
iTTL
iTTL is the usual mode for DSLRs and the incomparable Nikon F6.
Manual
1-1/128 in 1/3 stops, except no steps between full and 1/2 power.
If you want 1/3 stops between full and half, set it at MENU > [M].
GN (Guide-number)
In this mode, if you tell the SB-700 how far away is your subject, it will calculate and use the correct manual power level for you.
Wireless Slave ("REMOTE" on power switch)
This flash has a sensor to work wirelessly with other flashes.
Remote Commander ("MASTER" on power switch)
Use on a D3 or other cameras lacking a built-in commander flash to control other flashes wirelessly.
FP Sync
Special sync mode for high shutter speeds.
NO REGULAR TTL MODE
The SB-700 won't work except in manual for use with most 35mm cameras.
NO A MODE
There is no built-in sensor for an Auto mode with older manual camera.
Size top
71 x 126 x 104.5mm.
(SB-600 is 68 x 123.5 x 90mm (2.7 x 4.9 x 3.5 in.))
Weight top
12.545 oz. (355.6g) empty.
16.175 oz. (458.6g) with 4-Ni-MH cells.
Nikon specifies 450g with four 1.5V alkaline AA cells, 360g empty.
(the SB-600 is 13.75 oz (390g) loaded, or 300g (10.6 oz.) empty.)
Included top
Nikon throws-in more toys with the SB-700 than with the SB-600.
This SB-700 also includes: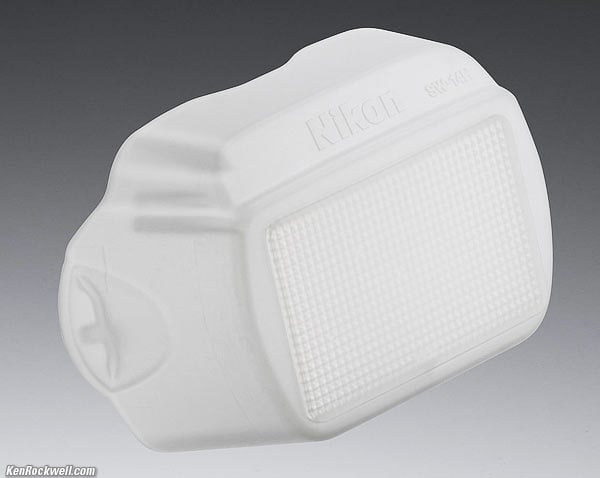 Nikon Diffusion Dome SW-14H.
This lets you use fisheyes and other crazy lenses without any hot spots.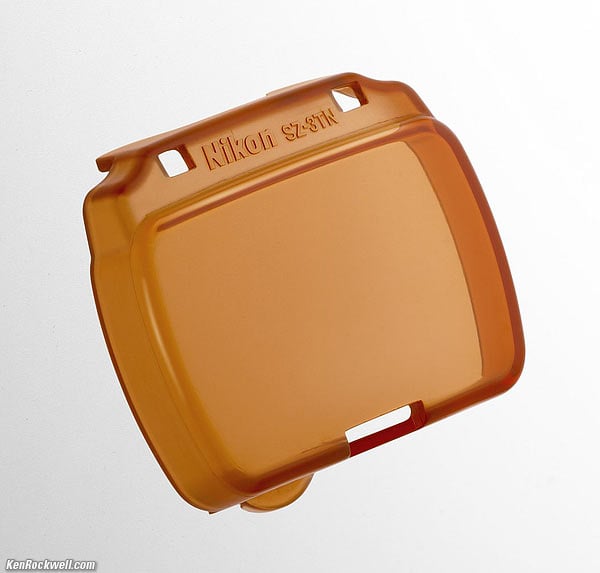 Incandescent Filter SZ-3TN.
You use this when shooting indoors. This even keys the camera to tungsten white balance, so now what's lit by the flash, and the background all match.
Pros have been doing this with gels for decades, and setting WB manually.
This is brilliant, since it's more automated.
When you use this indoors, it looks great, instead of having bluish people against an orange background.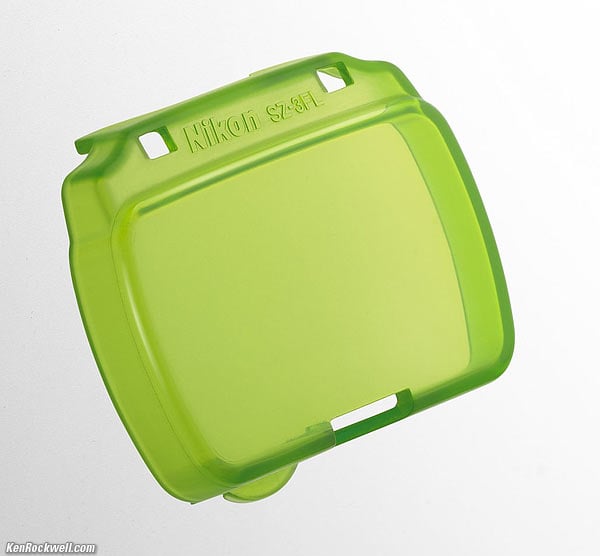 Fluorescent Filter SZ-3FL.
Ditto for this fluorescent filter.
Use it when shooting in parking garages and offices with fluorescent lighting. It keys the camera to set the appropriate white balance, so everything should look great, instead of the subjects looking a little magenta and the background looking all green.
If should also help if you stay in really nasty motels that use those awful mercury and lead-laced corkscrew fluorescent bulbs instead of real incandescent bulbs.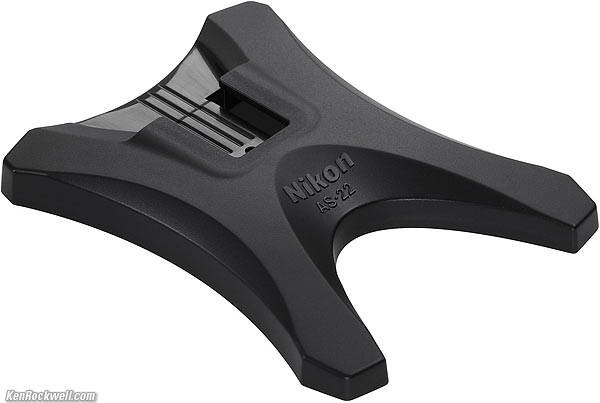 Speedlight Stand AS-22.
I've never used one of these.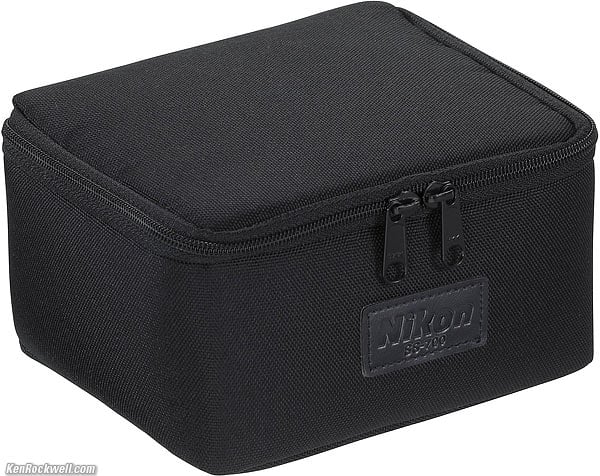 Soft Case SS-700.
Likewise, who has room for these? I jam my flash into my bag and bail.
Made in
China.
Announced top
15 September 2010
Available top
Since October 2010.
Price, USA top
2015 April $327.
2011 September: $325.
2010 September: $330.
Performance top
Intro Specs Performance Compared Usage Recommendations
All Nikon's flashes are controlled by the smarts in the camera. All the flash does is turn on and off when the camera commands it.
Therefore, picture quality depends on you and your camera, not what kind of flash you buy.
Power and Output
Measured Guide Number (GN) in feet, ISO 100:
| | | |
| --- | --- | --- |
| Zoom Setting | GN, feet | SB-600 GN |
| 14 mm | 56 | 45 |
| 24mm | 80 | |
| 35mm | 85 (80 + 1/6) | 80 |
| 85mm | 95 (80 + 1/2) | |
Ergonomics
Recycling time is the fastest I've ever experienced.
With a half-discharged set of Sanyo Eneloops, it takes only 2.3 seconds to relight the READY light after a full-power dump. The SB-600 takes 3.3 seconds to do the same thing.
The only bad thing about the SB-700 is the tiny rear LCD. Yes, the LCD is big, but the icons an text are all too small. Nikon tries to cram too much information onto the LCD, so everything is too small. I prefer the big, clean, simple LCD of the SB-600.
I LOVE the rotary power switch, a big step up from any flash with a push-push power button. Flick the switch, and the SB-700 is ON or OFF. I don't have a half-second to wait holding the SB-600's power switch.
Zooming
Unlike a lens, when a flash "zooms," all it's doing is changing its reflector to spread or concentrate the light a little more or less.
Nikon makes up all sort of marketing fluff (and programs the flash's firmware to make this even less clear), but the zoom head of the SB-700 works just like any other flash with a motorized zoom head made since 1986. It's really sad that Nikon wasted a real switch on the right side for this foolishness when that switch could have been something useful, like an exposure compensation switch as on the SB-30.
Compared top
Intro Specs Performance Compared Usage Recommendations
Compared to the older Nikon SB-600, it all comes down to whether you prefer simpler, more intuitive operation and a legible LCD (the SB-600), or if you prefer a built-in bounce card and a better power switch, at the price of an illegible LCD and fluff features getting in the way of what you need (the SB-700).
SB-700

Years

2004-2010

2010-

Works with

35mm cameras and DSLRs
(TTL and iTTL)

current DSLRs and the

F6


(iTTL only)

Power (measured, feet, 35mm, ASA 100)

80

85

Power Switch
Hold a button for a second.
Instant, direct rotary control.
Bounce Card
No, I use a white post-it note.
Built-in.
LCD
Big and bold icons, numbers and text.
Tiny dot-matrix icons, number and text. Slightly bigger overall, but tries to squeeze three times as much onto the screen.
LCD backlight
Green LED.
Cyan electro-luminescent panel.
Head swivel

270º

360º

Case
SS-600 sack.
Padded, zipered square case that holds flash, filters, and stand.
What matters
Simpler, more intuitive operation for the features you actually will use, and a big, legible LCD
A lot of extra features, like faster recycling, remote commander, built-in bounce card, handy tungsten and fluorescent light-balancing filters and a nice case, however all these extras obscure getting to the more important basic controls you really need, like exposure compensation.
Verdict
The flash I'd be most likely to grab to go shoot something serious. The SB-600 is all business and no BS.
The SB-700 seems more awesome sitting on my desk reviewing it, but all the fluff will probably get in the way for actual shooting. The best feature of the SB-700 are its much improved power switch and built-in bounce card over the SB-600.
See also Nikon Flashes Compared.
Usage top
Intro Specs Performance Compared Usage Recommendations
Exposure Compensation
To change the SB-700's exposure compensation, you have to press SEL, rotate the ring, hit OK, and hope your subject is still there.
With the SB-600, all you had to do was press the dedicated + and - buttons.
Ideally, you'd have a slide switch to add or subtract exposure directly, like on the SB-30. This is what the right-side switch should do, not be a second zoom control.
Slave (REMOTE)
The SB-700 works as a slave, controlled by other flashes without wires.
See How to Use Free Wireless Strobes.
It's easy to set Groups and Channels: press SEL until Group or Channel is highlighted, spin the dial, and press OK.
It can operate as a dumb slave, similar to the SU-4, if you set it at MENU > REMOTE > SU-4.
Commander (MASTER)
The SB-700 works as a commander, or master controller, on your camera to control other slave flashes.
This is the MASTER setting on the power switch.
Set the channel and other flash's brightnesses by pressing SEL to select the various qualities, and spin the dial to change them.
Filters
Pop on the filters, and the flash has little pins to detect and identify which or if a filter is attached. On newer cameras like the D7000, even in Auto White Balance the camera will read the attached filter and select the appropriate white balance automatically. See page E-22 in the 2011 US TT1A04(11) 8MSA3811-04 manual for details with your camera.
The SZ-3TN and SZ-3FL filters are unique to the SB-700. They won't stick well over other models.
Nikon's optional SJ-4 gel filter set includes a SZ-3 filter holder. If you use this, you may tell the flash in a menu what color you're using. Personally, I use Velcro with Rosco gels instead.
Thermometer
The little thermometer icon on the right side of the LCD tells you if the flash is getting hot from shooting too fast and hard.
If it rises towards the larger division at the top, chill out.
You won't have any problems in normal shooting, but just like automatic rifles, if you're shooting rapidly at full power at a fast rate for an extended period, it gets hot.
Blinking Ready Light
If the ready light blinks for 3 seconds after you took a shot, that means that the flash had to fire at full power and there still may not have been enough light.
Move closer, open the aperture, or use a higher ISO.
Recommendations top
Intro Specs Performance Compared Usage Recommendations
I use the tiny SB-400 for fill-flash all the time in all of my DSLRs, from my D40 to my D3. I don't need or want to carry anything bigger.
I use an SB-600 in the very, very few occasions I need more power, or if I'm shooting a 35mm camera or any vintage.
When I need more than one flash for serious lighting, I don't bother with these battery-powered things and use real studio strobes, which cost less and work so much better.
This new SB-700 is the new replacement for the SB-600. It adds even faster recycling, a better power switch and a built-in bounce card, but won't work with older 35mm cameras, has a less legible LCD and hides exposure compensation behind several button clicks.
Since the SB-600 is only available used today, by all means I'd get the SB-700 before I got an SB-900. The SB-700 is the flash to get if you need more power than an SB-400 for longer-distance rapid shooting.
More Information
Nikon's SB-700 Product Information
Help me help you top
I support my growing family through this website, as crazy as it might seem.
The biggest help is when you use any of these links to approved sources when you get anything, regardless of the country in which you live. It costs you nothing, and is this site's, and thus my family's, biggest source of support. These places have the best prices and service, which is why I've used them since before this website existed. I recommend them all personally.
If you find this page as helpful as a book you might have had to buy or a workshop you may have had to take, feel free to help me continue helping everyone.
If you've gotten your gear through one of my links or helped otherwise, you're family. It's great people like you who allow me to keep adding to this site full-time. Thanks!
If you haven't helped yet, please do, and consider helping me with a gift of $5.00.
As this page is copyrighted and formally registered, it is unlawful to make copies, especially in the form of printouts for personal use. If you wish to make a printout for personal use, you are granted one-time permission only if you PayPal me $5.00 per printout or part thereof. Thank you!
Thanks for reading!
Mr. & Mrs. Ken Rockwell, Ryan and Katie.
Home Donate New Search Gallery Reviews How-To Books Links Workshops About Contact