Film vs. Digital About these reviews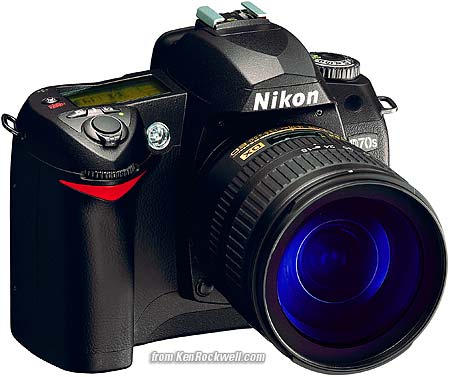 Nikon D70s and 18 - 70 mm lens enlarge
I'd get it here in any configuration. I'd also get it here or here (body only), here or here with 18 - 70 lens and here or here with both 18 - 70 and 55 - 200 lenses.
NEW: How to use the D70s in explicit detail!
NEW: Nikon D80 / D200 / D70 / Canon 20D / 30D Noise and Resolution Shootout
Compared to D200, D80, D70, D50, D40 and Canon 5D and XTi.
INTRODUCTION
In 2006 the D80 completely obsoletes the D70s. The D70s costs less and is available from stock, however if you can wait, the D80 is years newer and better.
The D70s is a very slightly improved version of the wonderful D70 which I own and have reviewed extensively here. Everything I say there applies to the almost identical D70s. I'd suggest you read that for all the details. This review page primarily addresses the slight differences between the D70 and the D70s.
I recommend the D70s for advanced photographers who don't want to spend almost double for the D200. The D200 also has a one to two month waiting list, weighs more, and has much poorer batery life. The D70s is a better camera for travel and leisure.
As of May 2006 the D70s sells for about $750, or $950 with an 18 - 70 lens. For less than the price of a D200 body you can get a D70s and spectacular 18 - 200 VR lens. If price is a concern you'll always get better pictures with the D70s and the right lens than a D200 and the wrong lens.
I compare the D70s to the Canon 20D in detail here.
A less expensive version with a few less features is the perfectly good D50 which I review here.
The D70s was announced on April 20th, 2005, along with the new, less expensive and very similar D50 and new inexpensive 18 - 55 mm and 55 - 200 mm lenses.
Used D70 or new D70s? The only significant differences between the Nikon D70 and D70s is a bigger LCD (2.0" vs. 1.8") and that Nikon no longer includes the handy MS-D70 disposable CR2 battery holder for free. This is great news, since the D70 is a stellar camera and the D70s retains all the world-leading features like 1/500 flash sync that the D2 series gave up from the D1. I will admit I've had very little stick time and do need to investigate the D70s more deeply to be able to discern any other of Nikon's other minor claimed improvements, like a slight improvement to the AF system and flash. I'll get to these further down. The original D70 is excellent for AF and flash as it is, so kudos to Nikon for wanting to make it better. Resolution and every other aspect of everything, even the menu system, appears identical. OK, they added a new connector for a wired remote control, whoop-dee-do. Personally if this means you can get a discount on the D70 then I'd skip the D70s and look for a deal on the D70. Either is excellent.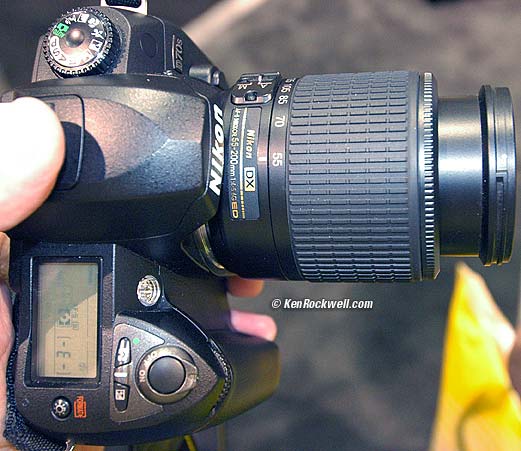 D70s Top View. Same buttons as D70, minor cosmetic changes. I didn't bother with a rear view; even with the bigger screen it looks the same as a D70 unless you compare the two right next to each other.
SPECIFICATIONS back to top
skip to comparison with Canon 20D
Resolution: 6MP, same as D70. 3,008 x 2,000, also 2,240 x 1,488 and 1,504 x 1,000 pixel settings.
Lens mount: Metal, just like most Nikons.
Pentamirror finder. D70 had either this or a glass prism depending on where you read it.
AF modes: Same as D70. You still have to use the menus to select between AF-S and AF-C; the front switch only selects between AF and MF. Same CAM-900 module and -1 EV rating as D70 and D50.
Metering and exposure modes: 1,005 segment RGB color 3D matrix rated down to LV 0, identical to D70.
Flash: Built-in, i-TTL, GN 15/49 (m/ft @ ISO 200; 11/36 @ ISO 100). Same modes as D70. Also works as commander for remote flash, same as D70.
Shutter: Mechanical and electronic like the D70. B, 30 - 1/8,000 like the D70. Manual says 1/2 and 1/3 stops, I forget if the D70 can go in half stops or just thirds. No big deal. Time mode with EN-L3 remote up to 30 minutes, again same as D70.
Flash Sync: 1/500, same as D70 and better than just about every other DSLR regardless of price. This is a critically important feature to me. This is twice as fast as my new D200.
Frame Rate: 3 FPS, identical to the D70 and $3,300 Canon 5D.
Buffer: 12 frames JPG large normal, same as D70. Nikon also specifies it as 12 MB internal. The number of frames varies with image size and JPG quality settings, same as D70. Those numbers are from a pre-production leaked users manual. Others say that the D70s has a deeper buffer; I'll see. Honestly I've never filled up the D70's buffer anyway. If you use a fast card the D70s, like the D50 and D70, can write to the card almost as fast as it can shoot thus you can make a continuous run of 144 shots at 3 FPS before you run out of steam. The D70 is the same and the D50 is very similar. This is excellent!
Remote: Optional remote cord MC-DC1 is new and has a lock for long exposures. The cord plugs into a new socket on the left side of the camera. Optional ML-L3 wireless infrared remote also, same as D70. I got my ML-L3 here for $16.95.
CCD Sensor: Standard DX size (23.7 x 15.6 mm) and 1.5x mag factor.
ISO: 200 - 1,600, same as D70
White Balance: Identical to D70, which is excellent.
Color Modes: Three; same as D70.
Saturation Control: Three settings, same as D70.
Histogram: Still the same useless one-channel display (not RGB). Even the Casio credit-card cameras have live four-channel YRGB histograms which are far more useful. The D2 series and D200 have useful multi-channel histograms.
Custom Functions: 25, same as D70 and the identical ones, too, as far as I can see. Possibly production versions have some changes.
Formats: same as D70: JPEG FINE, NORMAL and BASIC; RAW and RAW + JPEG. Files sizes in the D70s manual are identical to the file sizes I get from my D70.
Memory: CF type I and II, same as D70. Nikon prints an extensive list of recommended cards, which include specific models of Sandisk, Lexar, Hitachi and microdrives. Nikon extensively tests every function of the D70s with each of the cards they suggest and guarantee the camera's performance with them. Nikon does not recommend using any other cards and doesn't guarantee anything if you use them. This is great; most camera makers just leave you out on your own here. Nikon only claims it will operate with cards up to 4GB; I don't know if that means you're dead with an 8GB card or simply if they haven't tried it yet. Since the technology to use an 8GB or 16GB card is the same that you need to get to 4GB you ought to be OK. Older cameras needed a different technology to get above 1GB, and the D70s certainly does that. I see what looks like a typo on Nikon Japan's specs here: they spec CF cards everywhere however at the bottom I see SD instead of CF card listed under "Storage Media."
Battery: EN-EL3a, 1500 mAh, very slightly better than D70's EN-EL3 (no "a") rated 1,400 mAh. The D70s is rated for 2,500 shots no flash, 500 shots with full power flash every other shot. This is a little better than the D70's 2000 and 400 shot rating under the same conditions. I'm unsure if this small difference is due just to the slightly larger capacity battery or improved camera design. In any case either has so much battery life I've never been able to run down my D70 in a single day. The D70s can use the same brilliant MS-D70 holder that uses three CR2 disposable batteries, however that holder is an extra cost accessory for the D70s and not included for free as it is with the D70. That's too bad, since by putting $10 worth of CR2 batteries in this holder and dropping it in my bag I have a backup battery that will last for at least ten years, saving me from having to buy another $50 EN-EL3 that would need to be charged every couple of months to keep it fresh. Disposable lithium batteries stay fresh for at least a decade unlike lithium rechargeables. Thus I'd suggest you buy the MS-D70 if you get a D70s. The D70s demo I used had an old EN-EL3 battery in it, which is good because it tells us that it's compatible with any D70 and D100 batteries you already have. The new battery charger is smaller than the already small charger of the D70.
Unlike the primitive D1X, the D70s and all the current Nikon DSLR cameras use rechargeable lithium-ion batteries. These batteries love being charged after or before every time you use the camera. They have no memory and no need to be discharged before recharging like the crappy Ni-MH batteries in the D1X. Lithium batteries give the best service when charged frequently, which is completely opposite from the old Ni-MH. More at my Batteries page.
Size: 5.5 x 4.4 x 3.1" (140 x 111 x 78 mm), same as D70.
Weight: 21 oz. ( 600 g) stripped with no battery, lens, CF card, strap, body cover or LCD cover. Same as D70, or actually D70 is rated at 595 g to split hairs.
PERFORMANCE back to top
skip to comparison with Canon 20D
Same as D70, which is excellent. Sorry, no surprises. This is great, since I love how my D70 operates. See my huge D70 review and operating guide for far more information here. I used a proto so I didn't look at any final images in detail. I find little to no real technical quality differences among similar classes of cameras so I doubt laboratory image quality will vary at all from the D70 either.
Buttons and Controls: I see no differences. Everything looks the same in the same place. I'm presuming the D70s is simply a newer set of internal hardware to address the usual sustaining engineering issues. Thus to keep making it when electronic components become unavailable the entire insides of many electronic products are redesigned every couple of years with no change to the outside or model number. I'll field the guess that Nikon turned this typical internal redesign to their advantage by adding a bigger LCD and turning a new model number to keep up with the Joneses (Canon).
AF: I haven't been able to confirm any of the claimed AF improvements, since Nikon made the same firmware with the same improvements avaialbe, free, for my D70. Nikon claims AF is "improved to deliver greater precision with fast, more consistent subject acquisition and improved focus tracking" and that "a refined 5-area autofocus system now has an all-area search priority to go along with the camera's single area, dynamic area, and close subject priorities, improving the camera's ability to acquire focus on fast moving subjects within the frame." The D70 is excellent already, so this is nice but it will be hard to improve noticeably. We'll see. These improvements are available free for the original D70 here.
Finder: Same as D70. Sharp, clear and swell with everything you need to know. Smaller of course than any film SLR, and similar to all the Nikon DSLRs.
Metering: it has the same system as the D70, which is the best meter I've ever used, except for my D200, in my 30-plus years of photography.
Flash: Nikon claims it has a wider angle than the D70 flash; no big deal since my D70 flash works great even with my 12 - 24mm lens at 12mm with the exception of the huge shadow at the bottom of the image. The D70s still has the same shadow, so I see no possible real improvement from the D70, which is very, very good.
Menus: Nikon claims "newly designed menus are presented clearly and in plain language" and "a new easier-to-read menu design in the D70s uses color-coded menus, and a larger type-face." I didn't notice; the menus on the D70 are already excellent as it is. Contrast this to Canon DSLRs, like the 20D, whose teeny gray letters cannot be read outdoors without shielding the camera under a jacket while the D70 can easily be set in direct sunlight. These improvements are available free for the original D70 here.
Manufacturing: The prototype I used was marked "Made in Thailand," just like my D70.
Image: I haven't done a frame-by-frame comparison to see if anything changes image wise. I doubt it, and will let you know. All the image tweak (optimization) settings seem identical to the D70.
COMPARED TO CANON 20D back to top
I have an article here on that. The D70s is the same as the D70, so it all still applies.
I prefer the D70s personally for it's ability to create more vivid colors (the D70 has more flexible saturation and color mode control than the 20D which allows it to be turned up further), faster flash sync, lighter weight, lower price and smaller size for travel.
Sports shooters, or people who like tough, heavier metal cameras, will prefer the 20D.
It's that simple.
SUMMARY back to top
As far as I'm concerned it's the same camera as my beloved D70 just with a bigger LCD and a remote socket but no MS-D70 disposable CR-2 battery holder. I suggest you go buy one of those holders as I explained at "battery" above.
I have many lens suggestions here.
I personally always order from Amazon or Adorama. Beware of the many scams claiming to offer the D70s and other hot cameras at great prices, but are just scams who take your money order and run. Asking for money orders or Western Union is almost always a red light alerting you to a scam. Read here for much more and don't ever send anyone you don't know personally a money order.
Bigger LCDs are more impressive and fun to use, but actually smaller LCDs make you work harder to make better, stronger images. That's right: if you can make the image look good on a tiny screen it always looks even better bigger. Since you can zoom on any screen to see sharpness I don't find bigger LCDs better as far as the final image goes. Bigger LCDs just make the camera more fun while you're in the field.
For more details see Nikon Japan's English press release here.
Also consider the D50 if price is a concern. The D50 is almost the same camera only missing features that only fairly experienced photographers like me would miss. For most people a D50 is a great camera as well.
Warning: The ads below come from a third party and I don't see them before they appear on your screen. See more at my Buying Advice page. Personally I get my goodies at Ritz, Amazon and Adorama.