Casio EX-S100 Test Review and User Guide
© 2006 KenRockwell.com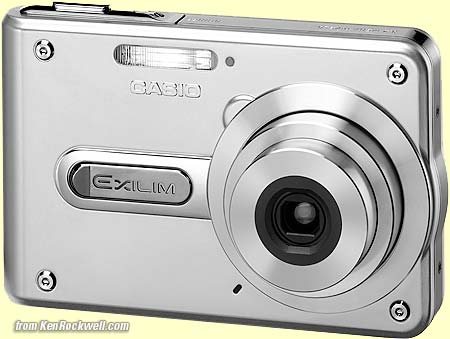 INTRODUCTION back to top of page
skip to specifications
skip to ergonomics and usability
skip to power and battery performance
skip to lens performance, image settings and quality
skip to sound and movie modes
skip to files, memory and computational tricks
skip to summary
This cute little $250 (as of May 2005) Casio credit-card style camera is among the best thought out, fastest and easiest to use compact digital cameras with more salient features critical to serious photography than any other compact digital cameras I've ever used. I used the S100 for a month, and then bought the slightly bigger and higher resolution and more expensive Casio EX-Z750, which is very similar.
As of July, 2005 it has been superceded by the newer EX-S500 for about $400. I have made great 12 x 18" prints from the EX-S100, so don't worry; at $250 the EX-S100 is a bargain.
Unlike the big brands more familiar to us photographers, it seems Casio actually had someone who knew about photography design the camera. It amazes me with its fast and fluid operation so critical for serious photography. Contrast this with Nikon point-and-shoots on which I can't sometimes find even the most basic controls. This Casio is so well thought out and works so well it now makes me much less tolerant of the sloppy menus and operation of other brands of cameras. Too bad Casio makes no DSLRs.
I'm astounded that no one has taken these Casios seriously before. You must go try one for yourself. Maybe all the magazines and commercial websites only review cameras from companies that buy ad space.
At its introduction, and possibly still today, it's the world's smallest optical zoom camera which is just icing on the performance cake. When I finally picked one up I was immediately in love: unlike many other more serious looking cameras this Casio has the controls a serious photographer needs. This Casio has important settings and controls lacking on more serious cameras that cost many times more. I'm impressed! It's also so tiny and cute that every two days someone asks "what's that?" and "WOW!"
Also unlike many of my Canon and Nikon cameras this gem really is made in Japan and is cased in stainless steel. It's not made in China of painted plastic like almost everything else today. Keep a solid grip on it so it doesn't slip out of your hand. (This is why metal cameras used to be covered in leather.) Honest, even the newest Contax digital cameras I've seen in February 2005 are made in China! The battery, AC adapter and cradle is made in China.
It was introduced August 25th, 2004.
The EX-S100 is a 3MP model. The newer and more expensive Casio EX-Z750, introduced February, 2005, is a little bigger, has 7MP and adds another button to make it even easier to make some settings.
Here are just a few reasons why this Casio is so superior for use by serious photographers:
1.) It has a SHADE white balance setting critical as a professional secret to getting great color outdoors. Most compact cameras lack this, so unless you dedicate a manual setting on other compact cameras you simply can't get the warm, delicious colors I and most people prefer for many kinds of outdoor photography.
2.) 999 user presets to recall camera settings! Each preset stores your settings of ISO, AF mode, White Balance, exposure compensation, flash mode, flash exposure compensation, flash underexposure correction, contrast, saturation, sharpening and the presence or absence of various viewfinder grids. You usually have to spend at least $5,000 to get this on a DSLR which then only stores four sets, each less complete. This Casio also stores a reference image with each preset for easy recall, while an $8,000 DSLR only knows them as presets A, B and C. I'll get to the user presets later here.
3.) To recall these presets just press the SET button and click left or right; no menus needed!
4 .) Ability to assign the left/right navigation keys for immediate alteration of your choice of white balance, ISO, exposure compensation, recording mode or the self timer. That's right, ONE PRESS ability to change these critical shot-to-shot adjustments. DSLRS at best require two hands: one on a button and one on a dial.
5.) Your choice of two different compositional grids, or none.
6.) Best Manual White Balance ability I've ever used for gray cards. It balances fast, easily and accurately under any weird light, even orange high-pressure sodium streetlights.
7.) Cloudy WB really works, similar to cloudy - 3 on Nikon. Most other "cloudy" positions are almost the same as the daylight setting and therefore useless.
8.) Instant response to menu inputs; no waiting for response as on most Canon compacts.
9.) You never need the manual. All the menus are obvious and easy to find.
10.) Easy to configure the camera any way you want it. No need for confusing "custom functions." Huge flexibility to adjust what you need, and then easy to save as a preset as explained above in #2.
11 .) Ample and easy to adjust contrast, color and sharpness settings. DSLRs hide this deep in menus. I'll cover these later here.
12.) 9.3 MB of permanent built-in memory instead of including a throwaway card. This allows all sorts of tricks like the 999 user presets and making photos even when forces of evil have confiscated all your memory cards.
13.) Autofocus is generally the same as other fixed-lens cameras, however it's smart enough to revert instantly to hyperfocal distance to get usually perfect focus anyway if you press the shutter too quickly. Other cameras just lock up and make you miss fast shots. I cover more later about this "pan focus" mode here.
14.) Live four-channel YRGB histograms. This is much better than the useless single color histograms of most digital cameras. Being live you see it in real time before making an exposure. I'll get to this later here.
15.) Playback speed. You can scroll through your images at ten per second, and they all come up sharp, not blurry at first as on Canon.
How did Casio come up with this and not one of the camera companies we all think of first? Beats me, but for all I know it's just like 25 years ago when typewriters were slowly replaced by computers. Typewriter companies thought people still wanted typewriters, so typewriter companies like Brother and Smith-Corona invented typewriters with floppy drives to record keystrokes. They called these contraptions "word processors." Needless to say those companies and contraptions have long since been forgotten in favor of today's computers, email and printers. Back in the days of the typewriter we had never heard of brands like Apple and Dell which today have long replaced typewriter companies like Royal and Underwood. Thus I wonder if companies like Casio will eclipse the film camera companies we think of today. Let's face it, we want photos, not cameras or typewriters.
To give Casio their due I'll admit in the face of all the expensive Swiss watches I own that my Casios have always been the most accurate, durable and functional of all. I have a 25 year old Casio watch that's running perfectly today and I've only replaced the battery once. My $12 analog Casio went all over Russia and Guatemala with me for a decade, while a fancy watch I bought at a Mercedes dealer had to have its movement replaced several times. My dad had a watch collection and we chose to bury him with his Casio, since we knew it would be the one most durable to take with him to his greater reward.
Not only is it the best compact camera I've used, true to Casio it offers three alarms, a world time clock, perpetual monthly calendars and many, many hours of audio-only recording! Sorry, no calculator or astronomical calculations, but you can use the internal memory to store files from your computer. I explain these all later.
SPECIFICATIONS back to introduction back to top of page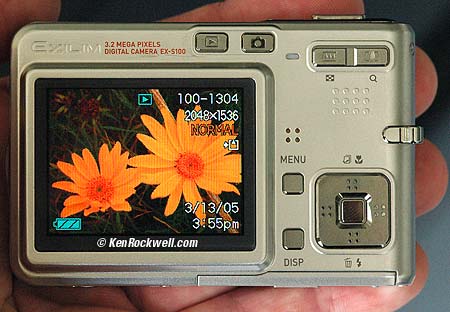 Live shot of the LCD displaying a photo I made on it! Contrast this to press images, like the one here, which simply Photoshop in a photo made on another camera.
Casio lists all this here.
PHYSICAL: Tiny and dense. I measure 3.5" (90 mm) wide by 2.4" (60 mm) tall by 0.7" (18 mm) thick. This includes the protrusions most camera makers and Casio exclude from their measurements which is why these numbers are larger than published elsewhere. It's as wide as a business card and just a tad taller. With the lens retracted it's a flat package almost as thin as an AA cell. Casio specifies the volume as 79cc.
I measure 4 - 1/2 oz. (130 g) with battery and SD card. Casio and most camera makers exclude batteries and cards from the published weight which is why you read 113 g elsewhere.
Body made of stainless steel with metal buttons and screws. This feels like a magnificently tough and precise instrument.
RESOLUTION: 3MP: 2,048 x 1,536 pixels. Also 2,048 x 1,360 (same 3:2 aspect ratio as full-frame 35mm film), 1,600 x 1,200, 1,280 x 960 and 640 x 480 pixel settings.
FILE FORMATS: JPG only, three compression (quality) settings.
Movies: 320 x 240, 15 FPS, 300 kB/s .AVI, time limited only by battery and memory.
Sound: 4kB/s .WAV. I turned off the LCD and the battery lasted for 12 hours of continuous audio recording resulting in a 170 MB file!
LCD Screen: 2.0," a BIG screen on a tiny camera
CCD Sensor: small 1/3.2" CCD sensor. The weird fractions date from the days of tube TV cameras. My Canon A70 has a bigger 1/2.7" CCD sensor (5.27 x 3.96 mm) for comparison.
Lens: 3x zoom similar to 36 - 102 mm on 35mm camera. (OK, really only a 2.8x zoom but I round everything to the nearest digit, for instance, resolution is really 3.2MP.) Actually 4.8 - 13.5 mm f/4.0 - 6.6. Single Waterhouse stop for f/8 - 13.3.
ISO: 50, 100, 200, 400 and Auto.
Shutter: 1/8 to 1/2,000; as slow as 4 seconds in the night modes. Flash sync to 1/2,000, almost ten times better than the $8,000 Canon 1Ds-MkII. Casio automatically applies dark-frame-subtraction noise reduction at slow speeds. This means long exposures take twice as long to complete.
Exposure Modes: Program or preset scene exposure modes only, no manual or aperture or shutter priority modes. This is no problem unless you want to stitch together panoramas.
Flash: Tiny built-in.
White Balance: EIGHT White Balance settings including Shade and Manual gray card as well as Auto, Daylight, Cloudy, Incandescent and two Fluorescent settings. These are all very important to getting good color and are much better than the paltry offerings of most other compacts.
Memory: SD memory cards, none included. I use a 1GB 32x Lexar card I got here and it works great, capable of storing something crazy like 1,000 images at a normal setting. You can get as few as 550 at the FINE 2048 setting, or 10,000 at the economy 640 x 480 setting. The 640 x 480 setting is all you need for the internet and email, so you could store a lifetime of snaps on one postage stamp sized card if you never intended to print them.
The EX-S100 includes an additional 9.3 MB of permanent built-in memory instead of a throwaway SD card. Therefore the S100 can record images, movies or sound without a card and also plays some neat tricks with all this memory. This is great for spy use since you can hand all your memory cards to the guard when entering a sensitive facility and shoot away with this little camera that fits undetected in a pocket.
Battery: Tiny NP-20 lithium ion rechargeable good for hundreds of shots.
Operating Temperature: rated 32º - 104ºF (0º - 40º C). As you can read here, mine works fine even after being left at 0ºF (-20º C) for hours.
Cases: It comes with no case. You can get different kinds of cute little Casio brand cases here, here and here for about $15 to 20. Personally I just drop the camera into my pocket; it's smaller than my cell phone.
Next page: Ergonomics and Usability