PMA 2005 Report
© 2005 KenRockwell.com
About these reviews


SHOW OVERVIEW: WHAT IT'S REALLY LIKE
PMA, the Photo Marketing Association's annual trade show, was held in Orlando, Florida at the end of February 2005. The PMA show is the US photo industry's largest where many cameras, like the D1X, D100 D70, Digital Rebel XT etc. have been introduced each year. The only bigger show is Photokina, held in Germany every other fall. PMA is attended primarily by camera store owners and employees. It's closed to the public and closed to photographers. I flew out to cover it. This is a summary while awaiting items for in-depth reviews.
Don't fret that it's to the trade only since most exhibits are $50,000 one-hour-lab photofinishing machines, chemicals, envelopes, photo store kiosks, picture frames and coffee mug photo imprinting machines.
Canon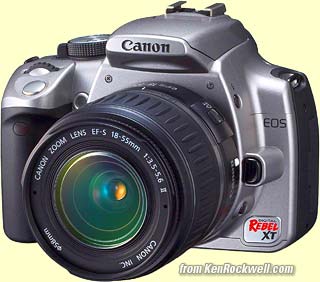 I'd get it here or here (here or here in black)
A new and improved Digital Rebel XT, the XT 350D was introduced at the same price as the old Rebel. Yeah! It's 8MP up from 6MP, similar 22 x 15 mm sensor size and same ISO 100 - 1,600 range, 3 FPS up from 2.5 FPS and a 14 frame buffer up from 4 frames. More good news is the RAW/JPG function has been fixed so one really gets separate RAW and JPG files on the card. The RAW files are marked ".CR2" just like the 20D. Built-in black-and-white mode. WB is similar to the 20D and adds a green/ -magenta trim to the existing cool-warm one, although there is only one master trim and not individual ones for each setting as Nikon has. The XT starts up right away without the two second delay of the first Rebel. The XT draws less power and uses the smaller NB-2LH battery from the S60 and not the larger BP-511A battery from the first Digital Rebel. The flash sync is still too slow at 1/200, more than twice as slow as the Nikon D70. A new optional BG-E3 vertical grip takes up to two NB-2LH battery packs or six AA cells. The latest flash system (called E-TTL II) works great even for macro shots with the built-in flash. Many cameras overexpose when used too close, but not the XT. It comes with ($999) or without ($899) a swell EF-S 18-55 mm f/3.5-5.6 lens. More great news is that you can get the XT in black as well as silver painted plastic as shown above. The XT is smaller and lighter than the first Rebel, which is pretty small!
The better news is the very similar ground-breaking original Digital Rebel 300D introduced in August 2003 has dropped to $799 with a lens. Yeah! (There is little to no difference between 8MP and 6MP as you may read here.) Personally the advancements of the new Digital Rebel XT 350D are nice, but for my dollars I'll take the old rebel at the lower price. I don't see anything revolutionary about the XT 350D except for the black color; personally I'd get the old Rebel based on price or the 20D for it's far more solid feel.
The A-series point-and-shoots, of which I've owned an A70 for a year or two and taken all over the world and with which I've been featured on KCBS TV, of course has been updated. Before the show the line, from bottom to top, was the A75, A85 and A95. Today the A75 and A85 are replaced by the new A510 and A520. The A95 remains at the top. The A510 and A520 are a little smaller, take SD instead of CF cards, and run on two, not four, AA cells.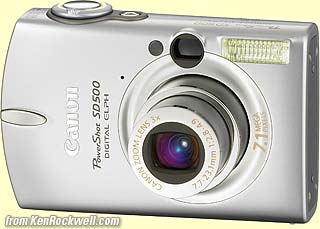 I'd get it here or here (or with fancy leather case here)
The teeny and always popular ELPH series adds the SD500 (7MP, 1/1.8" CCD sensor, $499) and SD400 (5MP, 1/2.5" CCD sensor, $399). Both have 3x zooms, take SD cards and have 2" LCD screens.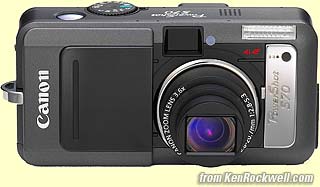 Looking around the show for exciting cameras the $450, 7MP Canon S70, introduced in August 2004, stood out because it has a zoom lens which zooms as wide as a 28mm lens on a 35mm camera. I know of no other pocketable digicam that goes wider than the equivalent of a 35mm lens. (The Nikon 8400 goes as wide as 24mm but is twice the size, weight and price and confusing to operate.) I usually shoot as wide as I can. The S70 has 7MP, a great 28 - 100mm equivalent lens, a big 1/1.8" CCD sensor, all the trimmings and settings a serious photographer needs (like a RAW mode I wouldn't use) and a little less noise than other digicams making it a winner that stood out, for me anyway, among hundreds of newer cameras. I intend to review it in depth. If you really want depth there's even an optional WP-DC40 underwater housing. No longer distributed in the USA, I hear Ricoh has a 4MP R1 and a 5MP R1V that zoom out to an equivalent of 28mm.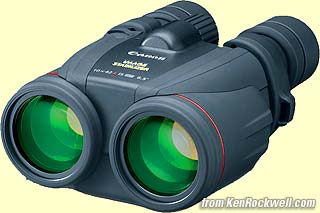 I'd get them here or here (but I'd suggest the Fujinons instead)
10X42 L Image Stabilized Waterproof binoculars. These are the first waterproof binoculars in Canon's IS series, also their first "L" series IS binoculars. This is great if all you know is Canon, however I find either of Fujinon's Techno-Stabi 12 x 32 or 14 x 40 stabilized binoculars both better and less expensive. This new Canon goes for $1,200 - $1,600 and the superior Fujinon 14 x 40 goes for about $1,100 and the Fujinon 12 x 32 for about $800. More on the Fujinons here.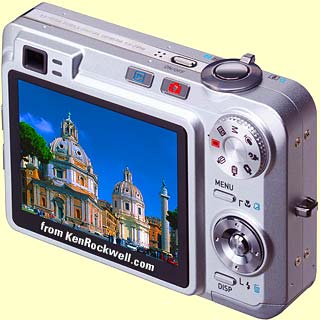 Casio makes some very seriously good and tiny cameras. The brand new Exilim EX-Z750 micro-mini flat digicam (7MP, $449) stood out. It's extraordinarily good at being easy and fast to use for the pro photographer who wants a teeny camera to do what he needs done, FAST! See new review here.
DxO
Software to correct optical lens errors. This should let you eliminate distortion from your images and sharpen them a little, too, by correcting lens aberrations. I've been waiting for this since the 1970s!
EPSON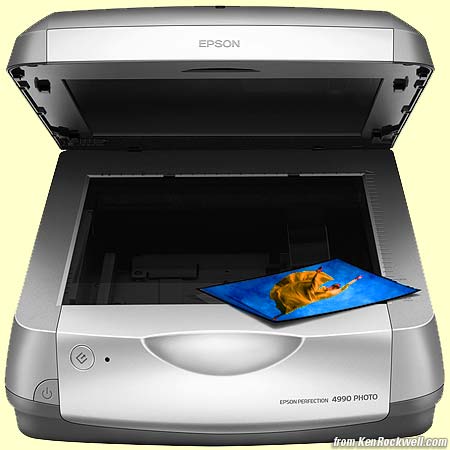 I'd get it here or here (regular) or here (Pro)
New Epson Perfection 4990 Photo and 4990 PRO flatbed film scanner. 4800 DPI with ICE for every size film up to 8 x 10." It even has 4 x 5" and medium format film holders for up to three strips of 6 x 12 cm panoramic film at the same time. Of course it takes 35 mm slides and film strips and even plastic file pages. See my developing review here.
Niche $3,000 rangefinder digital camera that takes Leica manual focus lenses.
Extensis
I'm such a bonehead; I thought Mac OS 10.3's FontBook program replaced Suitcase to manage my many fonts. NO!!! I had 800 fonts in my font folder and my new Mac ran pretty slow, even though I thought FontBook handled it. I moved those fonts elsewhere manually and now my Mac is twice as fast and has more battery life since less processor power has to juggle the fonts. Extensis' Font Suitcase 11 will allow me both to use all my fonts and not have them clog up the operating system. Sorry, I'm unsure if it's available for windows users, however windows users rarely have 800 fonts.
Here's their PDF guide to good practices for using your fonts.
Fuji
S3 Digital SLR: update of S2, still based on the Nikon N80/D100. Shipping this year, was previewed last year. The S3 promises a big improvement over other cameras for it's unique film like overload characteristic. For people shooting in harsh light, or just nice, strong evening sunlight this deserves a more detailed look. I need to get my hands on one for a real review. It's best for slow landscape and studio and portrait shooting and less for journalism and sports, since I find it slower than the Nikon D70 and the image quality probably higher.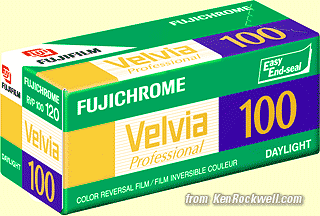 (coming summer 2005)
Velvia 100 for the US market. Pretty similar look to classic RVP50 with twice the speed, less grain and without the reciprocity problems. My review is here.
Reversal paper for printing from slides and Velvia and other transparencies was discontinued a year ago.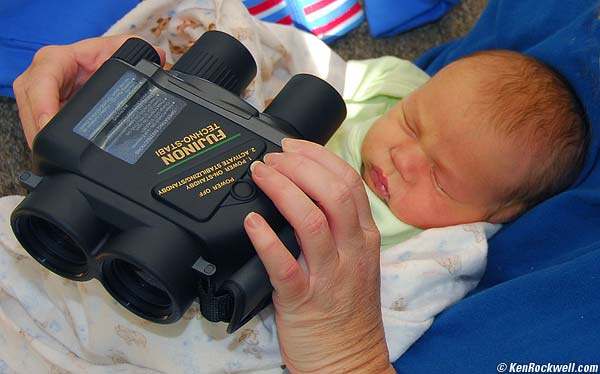 Fujinon's Techno-Stabi 12 x 32 and 14 x 40 stabilized binoculars aren't new, but still spectacular. They make Canon's IS binoculars, even the new L series, look soft and mushy by comparison.
Canon uses flexible wet-bag prisms to stabilize the image. Fujinon moves hard glass prisms mounted in gimbals to do the same thing. The Fujinons can compensate for a huge amount of motion for use in moving vehicles; the Canons can only compensate a smaller range for hand tremor in a fixed location. I haven't yet had both in for a formal review, however since Canon has so many more distributors than Fujinon few people will get to try these. I found them much better than any of the Canons.
The Fujinon 14 x 40 is the senior model taking 4 - AA cells. The 12 x 32 is the junior model taking 2 - AA cells. The 14 x 40 costs more and has more impressive specs, however I found both were spectacular and I preferred either to any of the Canons.
The 14 x 40 goes for about $1,100 here, here or here and the 12 x 32 for $750 here or here. I tried them both and they both are spectacular. I also see a 10 x 40 version shown here for about $1,000 which seems to be an identical, but lower magnification (brighter) version of the 14 x 40.
Nikon sells something called StabilEyes which looks suspiciously like the same thing as these Fujnons. In 14 x 40 it sells for about $1,200 here, here or here , $850 in 16 x 32 here or here and $800 in 12 x 32 here or here.
I didn't try, but Fujinon also make a 12 x 40 that runs about $5,000 here or here and a 16 x 40 that runs about $5,550 here or here. I have no idea why these cost five times as much. Their specs say their close focus is 100 feet or more, which is much worse than the less expensive ones. I have a sneaking suspicion that these are the old ones (called "Stabiscope) from which the new ones above, called "Techno-Stabi," evolved. Since NASA flies these older ones on the space shuttle I have a sneaking suspicion that the new ones may be better overall, but that NASA may have designed the shuttle around these old ones and it's not worth it for NASA to replace them. Since being used by NASA has a lot of caché, I'll bet (but really have no idea) that Fujinon keeps these in the catalog for rich guys and foolish government organizations who just order them because they always have. I once sold military hardware to the US Government, and I was astounded that they preferred to order older, familiar $1,000 parts for new designs because they were on their "approved" list while the newer ones, which were better and cost only $25, weren't.
Google's Picasa software (free download here)
The biggest innovation at the show was Google's free Picasa software. Everyone with a windows PC needs this free software. (Mac users have had iPhoto which does the same thing included on all Macs free for years.) It's a landslide because for the first time it gives regular people the free tools they need to le sort, organize, share and print photos more easily than ever. Most importantly, it has automated resizing ability to allow everyone to email photos correctly, which is something I wish the boneheads who clog my in box with huge camera-original JPGs would learn to do. One fun sidenote is that it also searches your computer for every image file to help you catalog it all. That means it will uncover files that other users of the computer don't want you to see. Ladies, have a look around your man's computer to see what you can find. Caution: all because you find contraband doesn't mean that he put it there, but I suspect it certainly could lead to many lively discussions.
So what's the catch? None: Google pays for it through the links to it's Froogle shopping service and the integration with it's gmail service. Picasa works great all by itself, it doesn't time out or disable itself and you can use it to print your own photos at home and email using your own program. As I've learned myself working in the internet these past years is that everyone does everything to help everyone out, since the more happy internet users there are the better everyone does. Other websites I thought might look at this site as competition to their commercial interests have actually helped me out, and likewise, I see Picasa as a good will offering to help everyone make better use of their computer and their photos. You're still much better off just making the ultimate windows upgrade and buying a any Mac, even the $499 Apple Mac Mini, but if you insist on sticking to the windows platform and don't want to buy the fancy tools I use then Picassa just opened the doors of the photo world to everyone.
Leica
The digital back for the R8 and R9, called the "LEICA DIGITAL-MODUL-R" previewed for years, is about to ship. Then again, that's what they said last year. The R8 and R9 take all Leica's R series lenses made since 1965. The images look great; they had a couple 20 x 30" prints on display. The Leica prints weren't as crisp as the three by four foot prints Nikon had from their D2X, but then again the
The LEICA DIGITAL-MODUL-R is 10 MP with a 1.37 crop factor and takes SD cards. The press info says they left out the anti-aliasing filter and claims you can remove the artifacts in software. Alias artifacts, erroneously called Moiré by hobbyists, cannot be removed with software unless you do major reconstruction by hand. This should be interesting to see.
Sensor size is 26.4 x 17.6 mm, ISO 100 - 1,600 and price $5,495, which for Leica sounds like a bargain. If you're new to Leica you should realize that they're about 20 years behind the times: their cameras today, like Nikon and Canon in the 1970s, are all manual focus and they have none of the lenses that we take for granted as standard lenses. They have no 17 - 35 mm or 80 - 200mm f/2.8 lenses.
Build-to-order M series cameras. You can pick and choose color combinations for your rangefinder camera. You even can pay extra to travel to Germany and help in the final assembly.
MediaGear
A $10 (retail) card reader is intended to let you reuse old memory cards as USB drives. These also work as compact single-format card readers.
Microtek
New film holder stretches film for great flatness for improved sharpness while scanning.
Minolta
Minolta Dimage X50: flat point-and-shoot that works fast and easy. This is an outstanding camera for ease and speed of use. The zoom lens doesn't have to extend for use; just slide the barrier open and the camera is ready to shoot immediately! All the controls are fast, easy and obvious to use. It doesn't have all the flexibility a serious photographer like me would want, for instance, no manual exposure or shade white balance setting, but for normal people this little camera is worth a look.
Maxxum 7 DSLR (Dynax 7 outside of USA): Previewed last year, shipping this year. Allows using all Minolta AF lenses, which are inexpensive to find used, with image stabilization. From the little I used it I was unimpressed with it's feel. It reminded me of cameras from the 1980s. The good news is that many adjustments are knobs just like the 1970s, but the bad news is they feel a bit sloppy. Also things like the viewfinder LCDs just don't look as advanced as Nikon and Canon. Nikon and Canon displays just appear out of the darkness while you can see the dark corners of Minolta's viewfinder LCD. It has a huge read LCD. Menus weren't that clear on first use, I'm sure they'd make more sense with a little stick time. It's also a heavy camera and sort of cheap feeling compared to Canon and Nikon.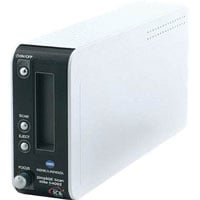 New $599 5400 II 35mm film scanner. Quite likely the best 35 mm film scanner for less that $50,000 and likely even better than the more expensive and lower resolution Nikon 5000. Improves on the Minolta 5400 that used to cost $1,200. The older model can be identified by its flat silver face. The 5400-II is 5,400 DPI, USB 1.1/2.0, 4.8 DMax and ICE dirt removal.
Multi PRO scanner just out of production, very little call for it since people like myself who need one have bought one already. Next best thing out there for film larger than 35mm is the Epson flatbed below.
Nikon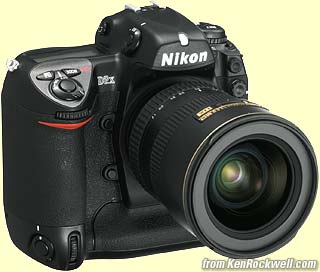 Of course the biggest news is that the D2X, announced at Photokina in September 2004, is starting to ship. See my full report as it developing here.
Great news for old-timers: the F6, D2H, D2Hs and D2X give matrix metering with manual focus lenses if you enter the focal length and maximum aperture manually each time!
The D2H now has new innards with a deeper frame buffer renamed the D2Hs.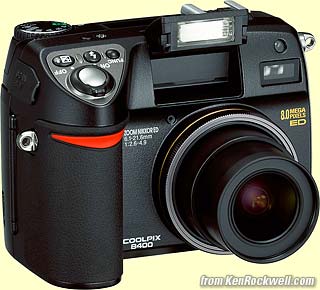 I was intrigued by the previously introduced $760 model 8400 because its built-in lens covers the 35mm equivalent of 24 - 85mm. Getting as wide as 24mm directly in a fixed-lens zoom camera is unique. The 8400 is built like a magnesium alloy tank and is too big for your pocket. It's 8MP, 4.4 x 3.2 x 3.0" and weighs about 15 oz. Unfortunately it's very difficult and pokey to operate; the Nikon technical rep at the PMA show couldn't figure out how to set the image size. The camera locks up after every shot while the image writes to the card. This would be a frustrating camera to use, it's almost as big as my D70 which I'd suggest instead. The D70 body costs less, but of course you'd need to spend more to get a lens that wide. It's still the smallest way to get this wide an angle from anyone and a very solid professionally built camera.
Panasonic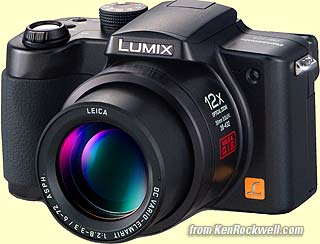 Two new minute Lumix 12x optical stabilized zoom cameras. Each is much smaller than last year's model 20. The DMC-FZ5 is 5MP and the DMC-FZ4 is 4MP. The zoom is similar to a 35 - 400 mm on an 35mm camera! The lens is branded LEICA DC VARIO-ELMARIT. For only $500 this is a ton of camera. I have not gotten any stick time so I can't vouch if it's easy to use and has the features a photographer needs like the Casios do or if it just looks good on paper. We'll see. It comes in professional black and amateur silver for same price. Please get black. Release is scheduled for April 2005.
Also Panasonic have a 6x optical stabilized zoom pocket point-and-shoot camera.
Sigma
New 10 - 20 mm ultrawide for digital SLRs. This could be fun, it's wider than the Nikon 12 -24mm lens. It's small and seems very practical with screw in filters, unlike the ahead-of-its-time Sigma 12-24 that covers full frame sensors and 35mm film but pays the price in size and weight. The 10 - 20 is reasonably sturdily made; much better than the new Tamron below.
Also a new 18 - 200mm lens for digital SLRs which also seems to be pretty free of distortion for such a huge zoom range. Lens designers are doing incredible things today at reasonable prices. It's fairly plasticy as you'd expect for a do-everything lens for general photography.
I hope to get hold of each of these to test formally since they seem like a perfect pair of lightweight lenses that cover the entire range you'd need for general photography, and likewise, look what comes from:
Tamron
18 - 200 mm do-everything lens for digital SLRs. This is similar to a 28 - 300 mm lens on a 35mm film camera. It's handy, but has boatloads of distortion as typical for these hyper-range 11:1 zoom lenses. It ought to be out around April. I like the fact that it has a very linear zoom control that allows perfect adjustment of focal length regardless of your setting. My Nikon 24 - 85 AFS for instance bunches all the wide settings together making it a little more difficult to set wide angles precisely. It focuses down to a foot and a half! Here's my review.
11 - 18 mm ultra wide lens for DSLRs. Cost aside I'd opt for the Nikon 12 - 24 and Canon 10 - 22 mm lenses which are faster. The Tamron is as slow as f/5.6; I'd look at it only if it were much cheaper or if you shoot a brand of DLSR with no available short lens. It has the standard 77mm filter size and ought to be out around March 2005. It feels cheap.
I hope to get hold of each of these to test formally since they seem like a perfect pair of lightweight lenses that cover the entire range you'd need for general photography.
Tokina
12-24mm f/4 lens for digital SLRs. It's made of metal and in Japan, unlike my Nikkor 12 - 24mm made of plastic. The Tokina lens seems to have little distortion. It seems to be a traditional mechanical focus AF lens with a push-pull AF/MF switch. Of the three off-brand ultrawide lenses for DSLRs the Tokina feels the most solid and it seems fairly free from distortion. Again I look forward to getting one for review.
Zeiss
Zeiss Ikon 35mm rangefinder made by Japanese Cosina. Uses Zeiss-branded Cosina-made 21m f/2.8, 25mm f/2.8, 28mm f/2.8, 35mm f/2 and 50mm f/2 lenses and Zeiss-made 15mm f/2.8 and 85mm f/2 lenses in M mount. See ZeissIkon.com for more info. Distributed by Hasselblad in the USA.