get it used here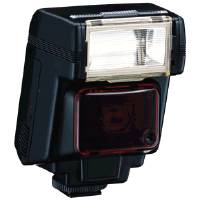 Introduction
My old SB-22 from about 1985 works great on all modern film cameras, especially my F100. It has to be used in the M or A modes on digital SLRS like the D1 series, D70 and D100. The SB-22s was introduced in 1998 and seems to be the same thing.
It has twice the power of the tiny SB-23 and half the power of the blinding SB-28.
I got mine used for $70 and it does everything the other flashes do that are important in real photography on film cameras. Skip it for digital cameras, it will not work in any TTL mode.
It gives all the wild TTL matrix metering modes with today's film cameras.
SB-22 vs. SB-22s
My SB-22 is from the 1980s. The SB-22s is a newer model from the 1990s. It seems to have been discontinued about 2003, even though Nikon Japan updated the data sheet in September 2004 here to include operation with the F6.
The old SB-22 has a silly MD, or motor drive, mode. The new SB-22s does not. Ignore it. This mode is a very low power, very fast recycle time manual mode for use with manual exposure settings that were popular with the old manual focus cameras. I never use it, just use the TTL mode and open up your lens aperture and you get a better effect with either flash.
The old SB-22 has two aperture settings for use with old non-TTL cameras, the new SB-22s has four. You won't be using these unless you put the flash on an old non-dedicated or medium format camera. You will have to use these settings with a digital SLR.
They both have a socket for an external battery pack for faster recycling and more flashes. I don't use this feature. The four AAs provide loads of flashes and fast recycling without having to haul around another external battery pack.
The old SB-22 claims a manual Guide Number of 82 (feet at ISO 100), the new SB-22s claims GN 92 (feet at ISO 100)
Rated Specifications (SB-22s)
ISO 100 GN: 92 feet (28 meters); 66 feet (20 meters) with wide panel
Covers 35mm lens, 28mm with wide adaptor
5 second recycle, 230 flashes per set of four AA alkalines at full power
AF Illuminator
Runs on Alkaline, Ni-Cd, Ni-MH or lithium cells
2.7 x 4.1 x 3.1" (68 x 105 x 80mm) excluding foot
7.4 oz ( 210 g)
Power
I measured the manual guide numbers in feet at EI 100 for my old SB-22:
56 +1/3 normal manual mode.
40 +1/3 with the wide diffuser
16 at MD setting
11 at MD setting with wide diffuser
These are about one stop less than Nikon specifies, which is typical for flash makers.
Current Consumption
It draws at least 4A peak while charging.
It draws 27mA when on and idling (pilot lights on)
It draws 1.25 uA in standby mode, lights off. I'm unsure how much it has to draw now and then to keep the flash charged for instant use, but it does keep the flash ready to fire instantly even if it's been sleeping in this mode for a day.
It draws 0.55 uA in OFF mode.
It ran for at least 4 days in STBY mode before I got tired of watching it. All this time the flash fired the instant I pressed the shutter even if the flash's ready lights had turned off in STBY mode. This is great for journalists or anyone who needs to have instant flash power and doesn't want to have to keep turning the flash on and off manually. Just leave it on while you're shooting and don't worry about it.
Flash Coverage
The wide diffuser, rated for 28mm in my SB-22, actually gives great results with a 20mm lens on a film camera (13mm on digital). I don't even bother with the diffuser at the 28mm end of a zoom. Remember that I'm using flash for fill, not key light, so I'm not that concerned with uniformity.
Recommendations
Replaced by today's seemingly identical SB-22s, the old SB-22 is an excellent flash for any film camera if you run across one used.
It is flexible, supports all useful flash modes and the use of a diffuser and bounce flash and has a built-in wide adapter.
I find the direct slide switches more straightforward then the SB-28's mushy pushbuttons. Yes, it's faster to operate than today's flashes.
For what more could you ask?