Rocky at the Wild Animal Park.
If you've found a typo, if you're responding to a request (especially for The Rockwell Retirement Ranch), if you're an old friend, if you're inviting me to something or if you have a rumor to spread, I need to hear from you. These are the things which help me develop this site for everyone's benefit.
I need to know what you find most useful, what you like, and what you don't. I need to know about what you would like me to write.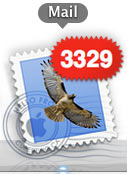 A slow day: 3,329 new personal messages.
I wish I could reply personally to your technical questions, but with all the mail I get, I couldn't possibly reply personally and have the time to write anything new for everyone's benefit. Questions you are kind enough to send will be answered in the form of new articles. Thank you!
I'm able to write so much precisely because I don't waste time watching TV or reading email. I only glance at my eMail briefly about once a month, otherwise, I couldn't accomplish anything.
THANK YOU!
Kenny.
Technical Question? Click here first

Ken Rockwell
130 7th Ave #1307
New York, NY 10011
United States of America