Home Donate New Search Gallery Reviews How-To Books Links Workshops About Contact
The Rockwell Retirement Ranch
for Unused Photo Gear
© 2007 KenRockwell.com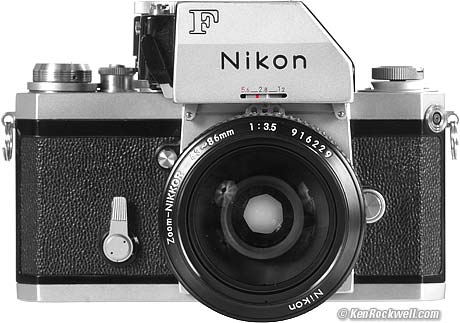 1969 Nikon F and 1980 43-86mm f/3.5 AI.
My biggest source of support is when you use any of these links when you get anything, regardless of the country in which you live. Thank you! Ken.
September 2007
Introduction skip straight to to The Ranch
Got unused gear sitting around? Send it to me to play with, review and archive for everyone's benefit!
I've always been a cheapskate, buying most of my film gear used.
Only with digital have I had to buy new.
Recently I started looking at how cheap used film gear has become after I had such fun shooting 35mm film again when a fan in Sedona sent me his Nikonos IV-A as a gift, since he couldn't give it away. My pal Tedd in Florida just bagged an F100 at a garage sale for $100, and if he didn't buy it, it was probably going in the dumpster that evening. Another reader just handed me his Nikon N2020 because he couldn't get rid of it.
Criminy; I paid full price, about $1,400 after sales tax, for my F100 in 1999 and it's one of the projects about which I wrote starting the tech section of this website.
My pal Bill asked me to list some of his used gear on our photo club website, and after a few days of it not moving, I realized I had to buy it just because it was so cheap. I got a 28mm f/3.5 AI for $35, a 43-86mm AI for $35 and an exotic 20mm f/3.5 AI for $50, all in just about unused condition. I paid $400 for the same 20mm lens in worse condition used 10 years ago!
Poking around the used section at Adorama you can get your choice of Nikon F3 or F4s for a couple of hundred dollars, or an F5 for not much more. I ordered some for my own fun and testing.
I got my 50mm f/1.4 AI as a donation for when I wrote my 50mm lens comparison in 2006.
These folks realize, as I have myself, that they're never going to use this older stuff, especially manual focus, again, so they have wanted to get it to a good cause and/or not bother with selling and shipping things so inexpensive online.
I'm not going to use it much either, and sold much of my manual focus stuff a few years ago when it was still worth something, but today I realize I ought to review and archive it before it all goes away.
I remember 10 years ago when a pal at A&M Records in Hollywood brought home an 8-track 1" recorder when he saw it sitting by the dumpster. Herb Alpert had recorded on it, but since it no longer served any commercial purpose, it was chucked.
Print shops have long tossed their stat cameras, light tables and carbon-arc platemakers, since everything has been digital for a decade or more. Once these items, like old camera gear, are passed on by history, the prices drop, and with the bigger stuff, you have to pay people to haul it away.
Here's my idea: before sending your old gear, especially film cameras and lenses, to the dumpster or eBaying it for less than the shipping cost, why not send it to me so I can review and immortalize it here for everyone's benefit? Not only did I review the 50mm f/1.4 I was given, but it stays here so I can use it in evaluating other things as they come in. Even if I don't photograph with it, I certainly use it as a prop when photographing camera bodies and to see what plugs and plays with what as new cameras come out.
Even in the first few weeks of my crazy idea, these donations have allowed me to add illustrations to my Nikon Lens History and Technology page, create my Nikon System Compatibility page and write my Mother of All Nikon Lens Compatibility Charts.
Let me know what you've got, what, if anything you want for it (I'll pay shipping if you'd like, even if the gear is a gift), and how you'd like me to credit you in my eventual review.
Please ask before shipping me a box full, since I may already have the common items. Rare items of course are needed; I have always wanted to borrow a Nikon 6mm 220 degree fisheye lens.
If you want to sell your gear for a fair price or know another great cause, like a student, school or photographer who will use this gear, then forget about me and give it to them. No, I'm not a tax deduction, I'm just a guy who loves to use old cameras.
If it's sitting idle and you'd like to help out others like ourselves who are curious about it, let me know what you've got, and I thank you! My apologies if I'm slow on email; I'm always very backed up and do want to hear from you.
This is a working ranch, not a place where the old go to die. The gear gets out and exercises every time I need to run some experiment to illustrate an article.
Your donations are helping everyone. THANK YOU!!!!!
Home Donate New Search Gallery Reviews How-To Books Links Workshops About Contact