Nikon 28mm f/3.5 AI
© 2007 KenRockwell.com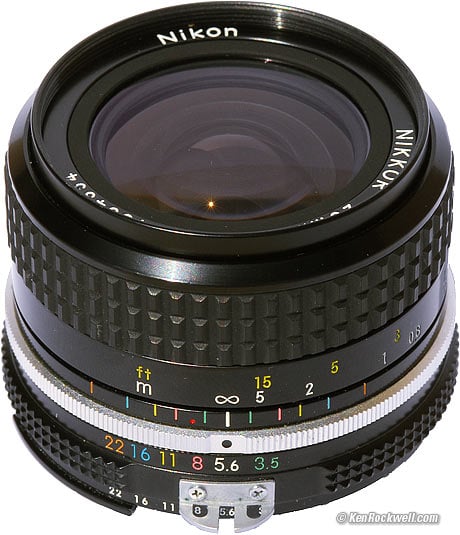 Nikon 28mm f/3.5 AI enlarge
you can get them used here (scroll as needed).
June 2007
Top Specs Performance Recommendations
This was Nikon's least expensive professional 28mm lens in the 1970s. This particular AI version was made from 1977-1981. This lens is from the days before Nikon made anything except very expensive professional equipment. It offers the same optical quality as the more expensive and heavier f/2.8 and f/2 28mm AI lenses. The newer 28mm f/2.8 AI-s offers less distortion and the f/2 offers more speed for use in dim light, but for daylight use, this f/3.5 lens is wonderful.
Focus is manual with all cameras. On digital cameras there is a single dot in the finder that lights to let you know you're in perfect focus. On AF film cameras like the the F100 and most others there are three electronic indicators.
Use on Digital Cameras
It works on all digital cameras with varying ease. On the D200 and D2 series cameras it can give full matrix metering and aperture-preferred auto (A) and manual (M) modes, and encodes the shooting aperture and focal length in the EXIF.
The Nikon 28mm f/3.5 works on the lesser cameras like the D80, D70 and D40, but without any metering - you'll have to use an external meter or guess using the LCD.
Use on Film Cameras
The Nikon 28mm f/3.5 AI is ideal for manual focus cameras like the FA, FE, FM and F2AS.
The F100 and most film cameras offer center weighted metering with this lens, while the F4, F6 and FA are unique among film cameras in offering matrix metering with it.
Top Introduction Performance Recommendations
Name: Nikon calls this the Nikon NIKKOR 28mm f/3.5 AI.
AI: Automatic Aperture Indexing. Unlike earlier non-AI lenses, all you need to do is twist and lock this lens onto your camera. Earlier lenses required manual fiddling to get the prong at f/5.6 to engage a feeler on earlier (pre 19877) bodies.
All this and more explained in greater depth on my Nikon Lens Technology page.
Focal Length: 28mm. On a DX digital camera it gives an angle of view similar to what a 43mm lens would give on a 35mm film camera. See also Crop Factor.
Maximum Aperture: f/3.5.
Optics: 6 elements in 6 groups, multicoated.
Diaphragm: 7 blades stopping down to f/22.
Filter Size: 52mm.
Close Focus: 1' or 0.3 m from the image plane (the back of the camera), marked.
Maximum Reproduction Ratio: 1:7.4
Infrared Focus Index? Yes.
Size: 2.5" diameter x 1.7" extension from flange (63.5 x 43.5mm), rated.
Weight: 8.550oz. (242.4 g), measured, naked.
Hood: HN-2 screw-in, metal.
Top Introduction Specs Recommendations
FOCUS
Focus is exquisite. It's manual-only of course, but like all Nikon AI and AI-s manual-focus lenses, it has the most precise, smooth and silky focus ring you'll ever feel.
There's no play, and you can focus using just one finger! This one-finger focus is a Nikon manual-focus lens hallmark, one of the many reasons Nikon was the overwhelming choice of professional photojournalists in the 1970s and 1980s.
Focus is also very precise because the focus scale is well spread out. The focus scales on newer AI-s and AF 28mm lenses became more compressed, making for faster, but less precise focusing.
Notice that the focus is smooth and light, but that there is no play - nothing jiggles or wiggles. It's solid, and turns with the flick of a single finger. Another hallmark is that the lubricants are of such high quality that the Nikkor AI lenses work in cold weather without gumming up. Crappier lenses fill the slop in their focus mechanisms with stiffer grease, while these Nikon AI lenses are so precisely made that they require very little lubrication, and they don't need lube to cover up slop.
Like other AI manual focus lenses, the infinity focus stop is very carefully calibrated, meaning you may turn it to the stop for perfect focus for astonomical use and distant landscapes.
COLOR FRINGES
(Lateral Chromatic Aberration or LCA)
back to Performance or back to Introduction.
The Nikon 28mm f/3.5 AI has a little more than newer lenses, but tough; this is as good as it got in 1977. You can pay $3,000 for a used Nikon 28mm f/1.4 AF and not get much better results.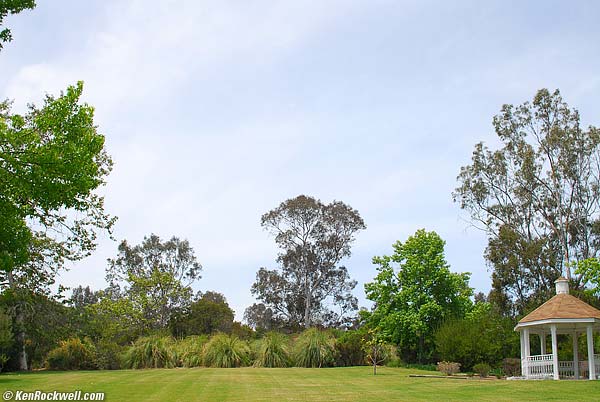 Full Image. The crops below are taken from this image at 100%
| | |
| --- | --- |
| | |
| | |
I see no differences from my other Nikon lenses. Any visible differences below come from exposure variations, not color transmission or coatings.
back to Performance or back to Introduction.
This is my biggest love for these lenses: the construction quality is exquisite. I've admired it since the 1970s! Nikons AI and AI-s lenses are as good as any lens maker ever has done. Even Leica hasn't made lenses this good: Leica still hasn't upgraded to rubber focus rings.
Exterior: Metal, enameled.
Filter Threads: Metal.
Focus Ring: Ribbed rubber set in metal.
Markings: Engraved and filled.
Switches: None.
Mount: Metal.
Internals: Metal.
Diaphragm: Perfectly even and heptagonal.
Noises when shaken: Just a little bit of clicking from the diaphragm. This is normal and nowhere near as noisy as a zoom lens.
Made in: Japan (engraved on bottom).
DISTORTION back to Performance or back to Introduction.
Plug these numbers into Photoshop CS2's lens distortion filter to correct the distortion on a digital camera. Just use +1.5 and you'll be fine, or note the distance and use these:
| | | | |
| --- | --- | --- | --- |
| 20' (6m) | 10' (1m) | 3' (1m) | 1' (0.3m) |
| +1.25 | +1.5 | +1.5 | +1.5 |
ERGONOMICS back to Performance or back to Introduction.
Great! There is a special ribbed silver ring to grab for easy mounting and unmounting.
EXPOSURE ACCURACY back to Performance or back to Introduction.
Swell. No problems with diaphragm calibration.
USE ON FILM CAMERAS back to Performance or back to Introduction.
No problem. These lenses were intended for film cameras.
USE WITH FILTERS back to Performance or back to Introduction.
No problem vignetting with digital cameras, since these are full-frame film lenses and cover a much larger area than needed for current digital cameras (see Crop Factor).
With film cameras or the future full-frame Nikon digital cameras, be careful if you're using a thick polarizer. You're better off using the old dedicated Nikon polarizer, which has a much larger diameter front to prevent vignetting.
SERIAL NUMBER back to Performance or back to Introduction.
The serial number is engraved and filled with white paint on the front lens ring.
SHARPNESS back to Performance or back to Introduction.
Center sharpness is excellent, even wide open.
On a D200 10 MP digital camera, it gets softer in the corners at f/3.5 if you stick your nose in the images at 100%. It's much better at f/5.6 and better still at f/8. It's wonderful for any real photography.
Sharpness of course falls off due to diffraction at small apertures of f/11 and smaller on digital cameras. Avoid f/16 and f/22 on digital cameras unless you really need them for depth of field. See also How to Get Sharp Pictures.
SUNSTARS back to Performance or back to Introduction.
The seven straight blades of the diaphragm make exquisite fourteen-pointed stars on bright points of light when stopped down.
Top Introduction Specs Performance
In this era of autofocus, my friend Bill sold me this lens, in excellent shape, for $35 since he knew he was never going to use it again. I bought it so I could review it here, and add it to my collection of well made items I'd never use again either.
I'd pass on this lens for digital cameras because modern AF zooms make it much easier to get great results faster. Optically today's AF zooms are as good or better, and offer autofocus and program auto exposure which this manual focus lens can't.
If you're shooting a manual focus film camera, I'd also pass on this 28mm and instead shell out a few extra bucks for the fantastic Nikon 28mm f/2.8 AI-s, which has much less distortion.
That said, this 28mm f/3.5 AI lens is capable of making spectacular images, especially on film cameras. This is a wonderful lens from the era long before plastic lenses and the sloppy junk we accept today, even if the sloppy stuff lets us make great photos faster. The Nikon 28mm f/3.5 AI is a solid work of art that must be held and felt to appreciate.
The optical quality of the Nikon 28mm f/3.8 AI is excellent, and its mechanical quality is incredible. I had to work long and hard to exaggerate any of the optical flaws I show above.
PLUG
If you find this as helpful as a book you might have had to buy or a workshop you may have had to take, feel free to help me continue helping everyone.
Thanks for reading!
Ken
Caveat: The all the ads below come from third parties. I don't see them before they appear on your screen. See more at my Buying Advice page. Personally I get my goodies at Ritz (the store, not the hotel gift shop), Amazon and Adorama.