Home Donate Search Gallery Reviews How-To Books Links Workshops About Contact

June 2014's News RSS Hot Deals
all © 2014 KenRockwell.com. All rights reserved.

Nikon: D810 Df D610 D7100 Canon: 5D Mk III 6D Fuji LEICA All Ryan Katie
Recommended Cameras How to Take Better Pictures random
Twitter Facebook Video Tutorials
30 June 1864, Monday
150th Anniversary of Yo-Semite National Park
The Yo-Semite Grant Act was signed by President Abraham Lincoln on June 30, 1864.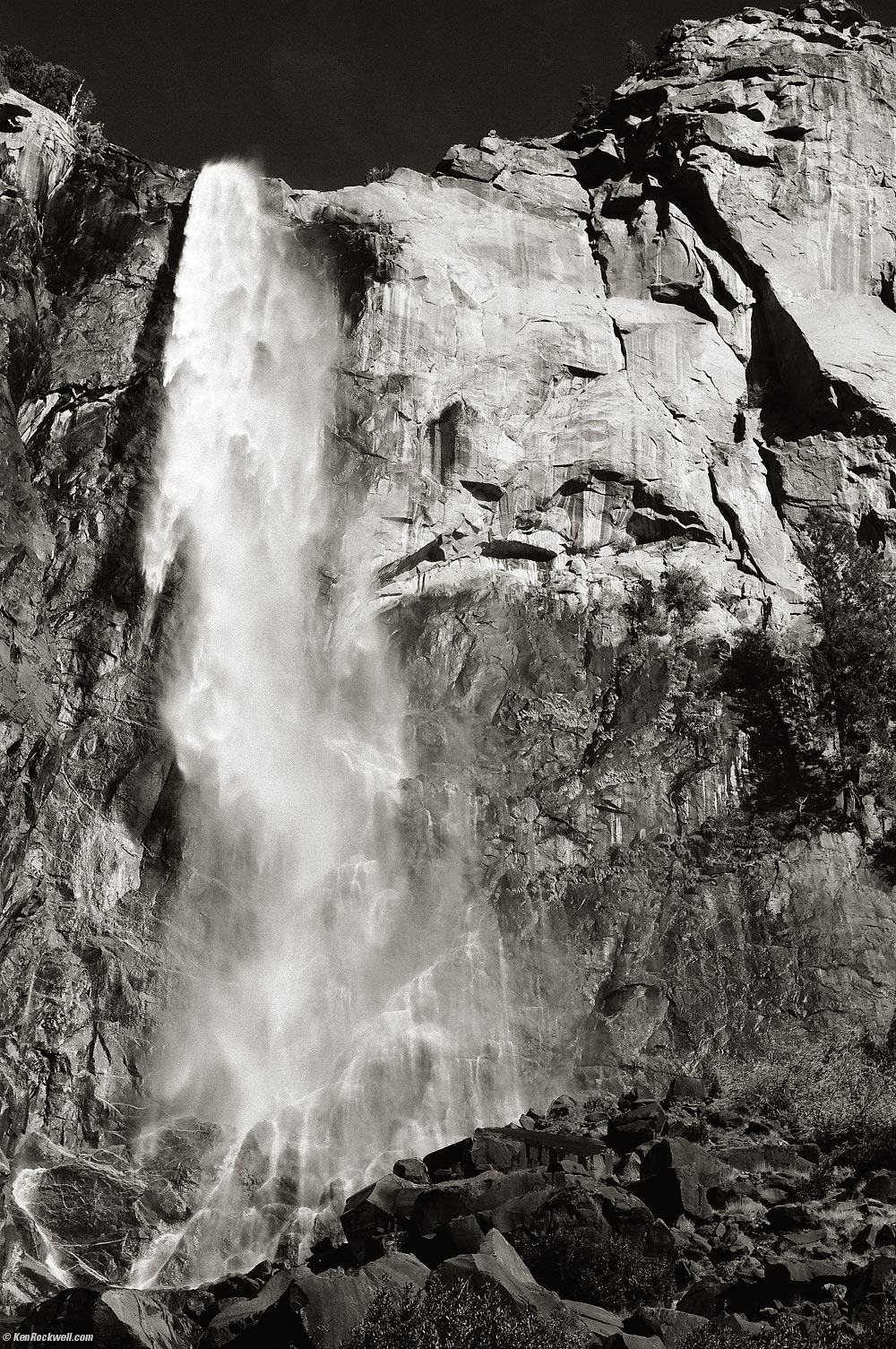 Bridal Veil Falls, Yo-Semite Valley, 16 May 2014, 5:04 PM. bigger. (1955 LEICA M3, 1957 LEICA SUMMICRON 50mm f/2 with near-focussing range, LEICA Orange filter, f/5.6 at 1/50 as read by LEICAMETER MR-4, expired Ilford Pan-F Plus 50, North Coast Photo Services process and scan, Athentech Perfectly Clear, split-toned print.)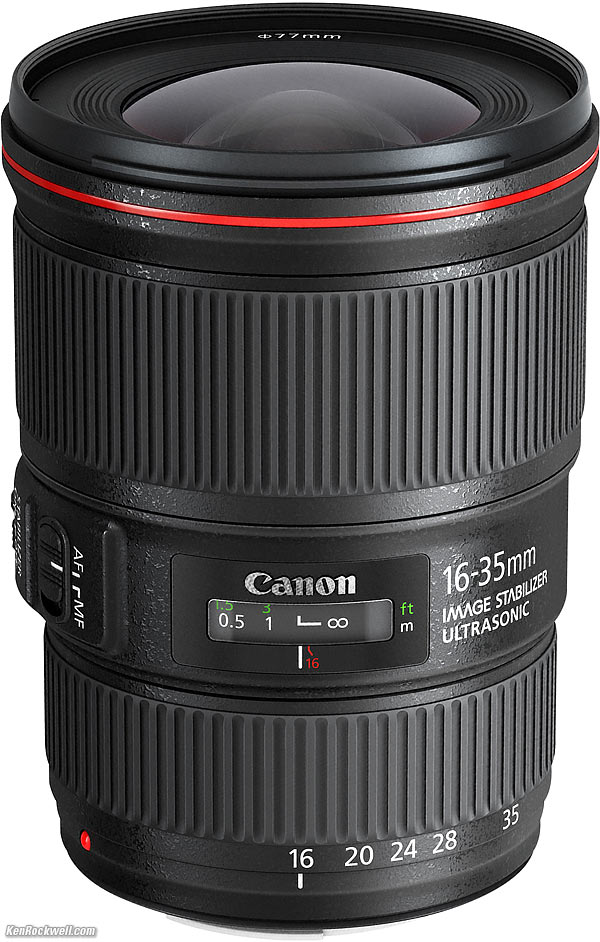 Canon 16-35mm f/4 L IS.
Canon 16-35 IS
My 16-35/4 L IS should arrive late Tuesday, and I'm hoping it should be Canon's sharpest ultrawide ever, replacing both my 17-40/4 L and 16-35/2.8 L II, adding Image Stabilization and selling for a lot less than the 16-35/2.8 L II. We'll see.
Canon WWII Camera

Canon Imperial Japanese Navy camera. bigger.
There's a World War II Canon camera for sale on eBay. I've bought from this seller before; they're great — and if you don't like it, there's a 30-day return policy!
Canon was founded in a garage in 1933 to make a copy of the exotic and frightfully expensive LEICA camera at a price people could afford. It used a NIKKOR lens, since Canon made no lenses at the time and Nikon made no cameras.
These "Kwanon" cameras became very popular because they worked about as well as a real LEICA, and they cost much, much less.
In World War II, Nikon made instruments for mass destruction like large binoculars for navy ships and huge distance-measuring optical rangefinders for battleship artillery and bombsights, while little Canon cranked out cameras like these. Up until the late 1970s, Canon continued to make mostly consumer cameras while Nikon made mostly professional and industrial gear.
Of course as Kwanon became Canon and grew and grew, these original cameras have become collectors' items and are priced likewise — especally the one offered here that was most likely used by our enemy against us. Collectors collect strange things, so here's another one for you.
26 June 2014, Thursday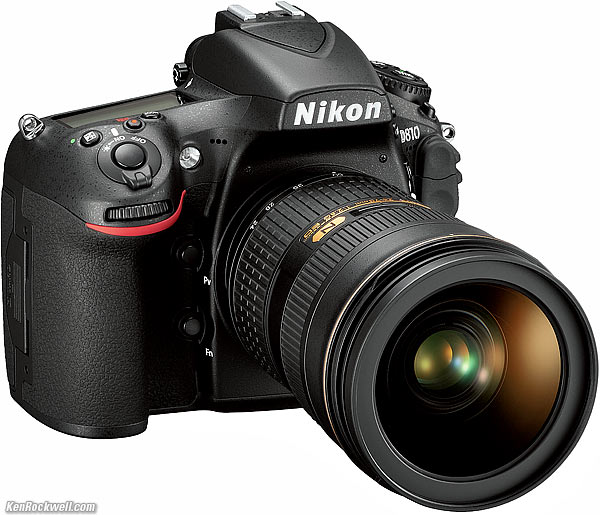 Nikon D810 and 24-70mm f/2.8 G.
NEW: Nikon D810.
More performance than the D800e and enough speed for sports, whoo hoo!
24 June 2014, Tuesday
Updated: Repairs
Where I send my equipment for repair.
Olympic National Park Workshop w/David Muench
Mountain Light workshops is going 21-26 July 2014.
David Muench is arguably the world's greatest living landscape photographer — and has been for fifty years or more.
Check it out and tell them I sent you.
More Atomics
My Kodak Pony 135, Model C, also puts out about 0.6 mR/hr of radiation at the front of its lens.
17 June 2014, Tuesday
Attack of the Sticky Monsters
I was surprised to find that some of my Nikon gear from 10-15 years ago has design flaws by having used some plastics that have gotten sticky.
My F100's rubber grips are now a little sticky. I paid about $1,400 for my F100 in 1999.
The focus ring of my 24-85mm AF-s G that I bought in about 2000 is a bit sticky.
The focus ring of my 12-24mm DX that I bought in 2004 is also a bit sticky, and so is my original first-run made-in-Japan 18-200 VR I bought in 2005. (the 18-200mm VR II is today's model).
You chemists probably know what's going on, but to me, its yucky. I'm unsure how to fix this.
There's nothing wrong with the sticky focus rings, in fact, they are now even grippier!
The fake rubber on my older 1980s F4, N8008s and N4004s are all fine.
Even my 2002 E430 had its steering wheel controls get sticky. No problem, the dealer changed them out, but for some reason, some of the fake soft grippy plastics from about Y2K are awful.
NEW and In-Stock: Neumann TLM 107.
Announced at the October AES convention, Neumann's newest mic is now in-stock.
Half the price of the classic U87, the TLM 107 is a professional studio microphone for serious music and/or voice recording.
It's for making albums, as well as for those of you who need your voiceovers for video and youtube videos to be beyond top-notch. Likewise for DSLR video, it's for serious use and you'll need a balanced-input phantom-powered preamp to use with it. If money is tight, it's better to use a cheap preamp with a marvelous microphone than to use a great preamp with an ordinary mic.
Neumann has been making professional condenser microphones in Germany since 1928. They are the mic everyone else has been copying for decades; the LEICA of microphones if you will.
The TLM 107 is such a superior microphone at such a low price (for what it is), you can't go wrong — if you demand great audio.
It might seem expensive compared to a cheap Chinese copy, but unlike digital cameras, Neumann microphones last essentially forever for a lifetime of great recordings. The U87 has been sold since 1967 and those mics are still belting out hit records today, and classic tube U47s, introduced in 1947, sell used today for far more than they ever sold for new. The U47 is also used every day today for creating today's top hits as well — not bad for a 65-year-old mic. Recording studios pay a mint for original U47s; so I wouldn't worry about the price of a TLM 107 since you'll be using it for decades to come.
If you're just getting into pro recording, be forewarned: mics are just like lenses. You could get just one, but you'll want them all: U47, U87, TLM 107 and dozens of others from Europe's Neumann, Sennheiser, Schoeps and AKG and from America's Manley, Royer, Shure, EV and AEA. The list is nearly endless.
Just like lenses, never get cheap with your mics. Even moreso than your lenses, they will define your sound. With no high voltage on the outer diaphragms, the TLM 107 ought to last forever.
16 June 2014, Monday
NEW: Fuji 18-135mm Weather Resistant XF.
28-200mm equivalent, $899.00.
13 June 2014, Friday the 13th
DEALS:

Nikon WU-1b Wireless Mobile Adapter for D600, Nikon 1 J3, 1 S1, 1 V2, 1 AW1 (Refurbished): $24.95 + Free US Shipping. Expires 30 June 2014 or as supplies last.
Sigma 10-20mm: $385 when you use coupon code 1SIGMASALE at checkout.
Comes in mounts for Nikon, Canon, Sony and Minolta Alpha,
Pentax, and of course Sigma.

Also includes Free US Shipping. Deal Expires Midnight 17 June 2014.
Canon PIXMA MG6320 Wireless All-In-One Printer with Free Photo Album: $59.95 + Free US Shipping. Expires 30 June 2014.


$150 Instant Rebate on these manual focus micro 4/3 cine lenses through 06/30:


SLR Magic 17mm T1.6. Reg: $499.00, Special: $349.00


SLR Magic 25mm T0.95 Hyperprime Cine Lens. Reg: $899.00, Special: $749.00 + free SLR Magic 49mm UV MC Filter.
12 June 2014, Thursday
FREE: Free Streaming Music from Amazon Prime.
I don't mind paying for my music, but now Amazon Prime offers free streaming of all this music - with no ads or interruptions!
You add what you want to your Amazon music library and play it from the cloud on your computer, or on thier mobile app — all free! Lo and behold, the CDs I've bought from Amazon are already there as well.
Personally, nothing beats my CDs played directly out of an iPhone, iPod or iPad since there is no faster and easier way to access a music library than Apple's Music app, but for we Prime members, we just got a million free songs added to our clouds.
NEW: Panasonic Lumix DMC-FZ1000.
4K QFHD 30p video with hybrid 8MP still image post capture
1" 20 MP MOS sensor
LEICA DC 25-400mm (equivalent) f/2.8-4
WiFi for remote control
$898 with free US shipping
DEAL: Pentax K-3 Lens Deals.
Use coupon code PENTAXJUNE, good til about 16 June.


NEW: Sigma DP-2.
A Point & Shoot Camera with an APS-C Foveon sensor and fixed 30mm f/2.8 lens and RAW Image Capture. $999.00 with free US shipping - when it ships.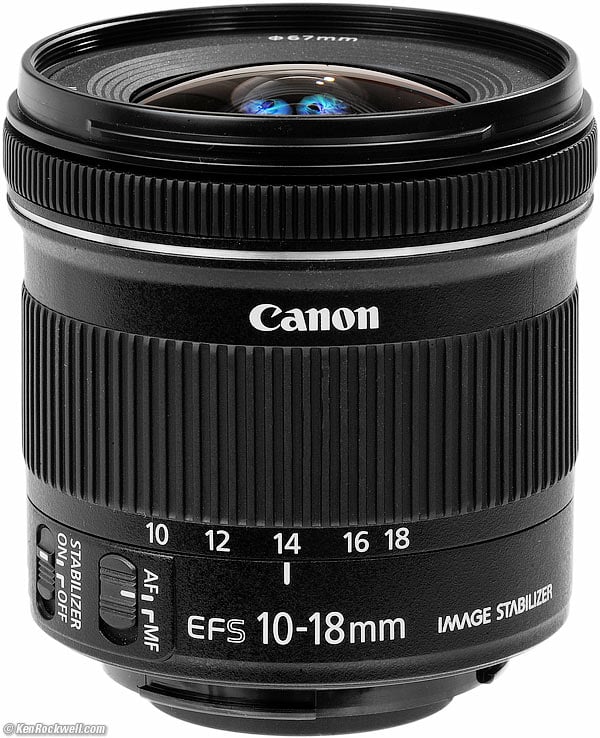 Canon 10-18mm IS STM.
NEW: Canon 10-18mm Review.
Canon's first pixel-to-pixel sharp ultrawide. Bravo!
NEW: Canon 10-18mm IS vs. 16-35mm f/2.8 L II.
The new $300 10-18mm is Canon's sharpest ultrawide ever. I can't wait for the new full-frame 16-35 IS!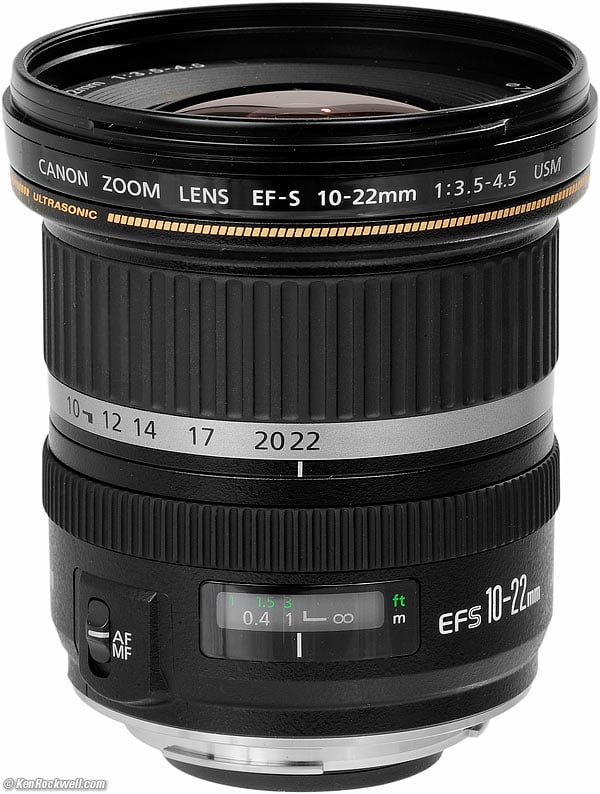 Canon 10-22mm.
NEW: Canon 10-22mm Review.
Not a new page, but I just added a lot to it with a second sample of lens today. The 10-18mm is far superior.
NEW: Fuji X100S vs. Canon 5D Mark III.
Same article from earlier this week, now on its own page so we can find it again.
10 June 2014, Tuesday
DEAL: New Nikon Lens Rebates.
These expire in four days, on Saturday the 14th.
DEAL: Sandisk Specials.
PENTAX DEALS
Free Pentax AF-200FG Flash, Slinger bag and Tiffen Dfx Essentials software with Pentax K-50 camera body and kits. THese all come with free shipping, 4% Adorama rewards, and a free $50 Adorama gift card, whoo hoo!
Pentax K-5 with a free AF-200FG Flash: $696.95 with free US shipping.
DEAL: Free Ricoh GV-1 Viewfinder and 32GB card with Ricoh GR: $696.95 total with free 2-day US shipping and 4% Adorama rewards.
Wacom DEALS

Wacom Intuos5 PTH450 Touch Small Pen Tablet (refurbished): Reg: $169.99, Special: $109.99 with free US shipping. Expires 14 June 2014.


Wacom Refurbished Bamboo Craft Pen & Touch - Refurbished by Wacom USA: Reg. $49.99, Special: $32.99 with free US shipping. Expires 14 June 2014.


Wacom Bamboo Craft Pen & Touch (new): Reg. $79.99 , Special: $49.99 with free US shipping. Expires 14 June 2014.
25 Years of the EOS-1
Canon announced the EOS-1 on 10 June 1989. It's the camera that took the professional market away from Nikon as Canon's first professional autofocus SLR.
When AF first came out, it was a trick feature for amateurs. Nikon ignored AF, and made only clunky amateur cameras.
Canon had an awesomely fast AF system, as well as a couple of pro lenses like 300/2.8 back at the beginning at the 1988 Olympics — but only a consumer AF camera.
In 1989 Canon announced the first pro EOS (AF) camera, and pros flocked to it, while Nikon put its head in the sand. Nikon has never won back the pro market, although today it's pretty much half and half.
The pro EOS cameras are:
EOS-1 (1989, 35mm)
EOS-1N (1994, 35mm)
EOS-1V (2000, 35mm)
EOS-1D (2001, cropped sensor)
EOS-1Ds (2002, full-frame)
EOS-1D Mk II (2004, cropped sensor)
EOS-1Ds Mk II (2004, full-frame)
EOS-1D Mk II N (2005, cropped sensor)
EOS-1D Mk III (2007, cropped sensor)
EOS-1Ds Mk III (2007, full-frame)
EOS-1D Mk IV (2009, cropped sensor)
EOS-1D X (2011, full-frame)
The more you know
My friend Jim just mentioned something classic:
"The more you know about photography, the less gear you need."
How true!
You'll see and hear all sorts of online hobbyists (or even self-proclaimed online "pros" with no real clients that anyone's ever heard of) going off for hours about how you 'need" to shoot raw or buy fancy cameras or whatever, while someone like me who doesn't even consider himself very good, but at least has been doing this for a while, just got a $4,000 check from one of the world's largest pharmaceutical companies to licence merely partial rights to one of my photos.
I shot this photo as a BASIC JPG, on a 6 MP Nikon D40 (their cheapest DSLR over 7 years ago, with its included all-plastic non-VR 18-55mm kit lens.
So tell me again why I need to shoot RAW? Would I have gotten $5,000 if I had used the 17-55mm f/2.8 AF-S instead? I like nice gear as much as the next guy, but for my own pleasure and convenience. The pictures are just as good.
I love lightweight gear. I'm expecting my $299 Canon EF-S 10-18mm IS to arrive tomorrow. It's weightless, and I'm hoping even sharper than the older 10-22mm.
Of course I needed a DSLR for this shot; I needed a DSLR's instant autofocus and reaction time and close-focus ability. Why people get all excited about mirrorless when you can get a real DSLR with the same tiny size and weight for half the price with twice the performance is beyond me. (See the tiny D3300 and SL1, each $600 with a great lens.) Of course if I had an X100S seven years ago the colors would have been much better — but would I have gotten $6,000 for the same picture? I doubt it.
Ever hear the pro's standard answer as to how they made a shot when someone asks silly questions about what lens or setting they used? "f/8 and be there." Being there and actually taking the picture, as opposed to sitting at home talking about it or paralyzed wondering what gear to get, is how people get photos.
I sold this shot because of what was in the picture — not what kind of camera I used. It's only about the subject and what's actually in the picture; it's never about the camera. In this case, the company loved Ryan's smile taking his vaccine. Done.
Be there — and always carry your camera. This is why smaller, lighter DSLRs take better pictures: because you 're more likely to have it with you in a doctor's office and be in a mood to snap photos during a routine vaccination.
09 June 2014, Monday
Photo Contest
The Weather Channel is having a photo contest.
It costs nothing to enter, and you could win a $15,000 top prize and a trip to Atlanta to be on their cable TV channel.
It's open to pros and everyone. Read the rules: it's free to enter and you may enter as much as you want, but they get to use your submitted images for publicity, and if you win, they own the winning images outright.
Good times!
07 June 2014, Saturday
ATOMIC NEWS
Is the LEICA SUMMICRON 50mm radioactive? LEICA has always said NEIN!
Well, I got curious and put the Geiger Counter I keep in my desk in case of emergency next to my lenses to find out.
Whoa!
My screw-mount SUMMICRON 50mm f/2 collapsible lens from 1953 is highly radioactive, nearly sending my meter off the scale when I hold my lens to my Geiger counter, while the same lens in bayonet mount from 1956 isn't radioactive at all.
Both claim to have the same, original SUMMICRON optical system, ("type 1" in street slang).
Now I'm curious if my 1953 SUMMICRON might fog fast film, especially when put away collapsed.
Specifically, held right to the Geiger counter's tube, I measured about 2 millirems per hour, or 20 microsieverts per hour. At this rate, holding the lens to your hand will get you the equivalent of a year's dose of background radiation in about 5 days. So?
Measured with a 39mm LEICA glass filter on the front, the level is attenuated to about 0.6 mR/hr (6 µSv/hr).
From the back of the lens, there's even less. I measure 0.2 mR/hr ( 2 µSv/hr) from rear of the lens.
These lenses use Thorium oxide as a large componant of some of their glass, which has similar optical and crystalline properties to fluorite, also used today for hot lenses. These lenses aren't radioactive on purpose, it's just that the exotic glass was so hot that it literally was!
Want to date your lens? See LEICA Lens Serial Numbers and my Guide to 50mm SUMMICRONs.
Times are tough today and everyone needs their own Geiger counter if they care about their families, but if you don't, the best clue I can see is that the glass of the radioactive lens is very slightly yellow, while the inert lens is clear. (My 1965 SUMMICRON 35mm f/2 is slightly yellow, but also inert.)
In the 50mm SUMMICRONS, you'll have radioactivity below about serial number 1,050,000, and have an inert lens from about serial number 1,060,000 and above. You can't trust anyone; LEICA always denied this. You need your own instrument to measure for yourself, and for your family.
There's no cause for alarm, although this is ten times the radiation that comes off the dial of one of my wristwatches from the same era.
My Kodak Pony 135, Model C, also puts out about 0.6 mR/hr at the front of the lens.
06 June 2014, Friday
NEW: Say Something: The Secret Behind Great Art.


02 June 2014, Monday
WORKING for the DEAL: Canon 70D with 18-55mm and Pro-100 Printer & Paper: $999.99 after rebate.

To get this special deal:
Under "buy together & save," click on "Save up to $184.95 with bundle," then

Select Canon PIXMA PRO-100 Professional Photo Inkjet Printer bundle from pop-up window, then
Click Add to cart. Price at checkout is $1,399.99, and there's a $400 Mail-in Rebate.
What you've done here is added the $250 printer and paper to qualify for the $400 rebate, essentially getting Canon to pay you $150 to take a free printer. Not only that, you can eBay the printer and come out even further ahead, hee hee!
DEALS: ZEISS TUIT Lens Give-Aways.
Save $200 on a Zeiss Touit 2.8/12 or 1.8/32 lens for Sony NEX and Fuji X.
Here's the giveaway: get both lenses together to get an $800 Instant Rebate — which is the price of one of the lenses!
Even if you don't want two, do it and eBay the one you don't want to get yourself the Tuit you do want almost for free.
What Was New in:
Help me help you
I support my growing family through this website, as crazy as it might seem.
If you find this as helpful as a book you might have had to buy or a workshop you may have had to take, feel free to help me continue helping everyone.
If you've gotten your gear through one of my links or helped otherwise, you're family. It's great people like you who allow me to keep adding to this site full-time. Thanks!
If you haven't helped yet, please do, and consider helping me with a gift of $5.00.
The biggest help is when you use any of these links when you get anything, regardless of the country in which you live. It costs you nothing, and is this site's, and thus my family's, biggest source of support. eBay is always a gamble, but all the other places always have the best prices and service, which is why I've used them since before this website existed. I recommend them all personally.
Thanks for reading!
Ken
Home Donate New Search Gallery How-To Books Links Workshops About Contact