Home Donate Search Gallery How-To Books Links Workshops About Contact
June 2010's Updates
all © 2010 KenRockwell.com. All rights reserved.

DEALS:
Ending: Canon Lens Rebates end this Saturday.
Adorama has refurbished Nikon 55-200mm VR lenses on sale for a meager $149.95. It's also a deal new for $225 at Amazon and Adorama.
Canon S90 for $350 at Amazon and Adorama.
Nikon D3X for $7,400 at Amazon and Adorama.
Canon 5D Mark II, brand-new, at Adorama for $2,399 after $100 instant rebate.
Popular Films (select "Sort by Top Rated" for the best results)
Qualified students and teachers can receive huge discounts on everything from Adobe.
Refurbished Nikon D3000 at Adorama for $399.99.
Nikon 50mm f/1.4 at Adorama and at Amazon for $440.
30 June 2010, Wednesday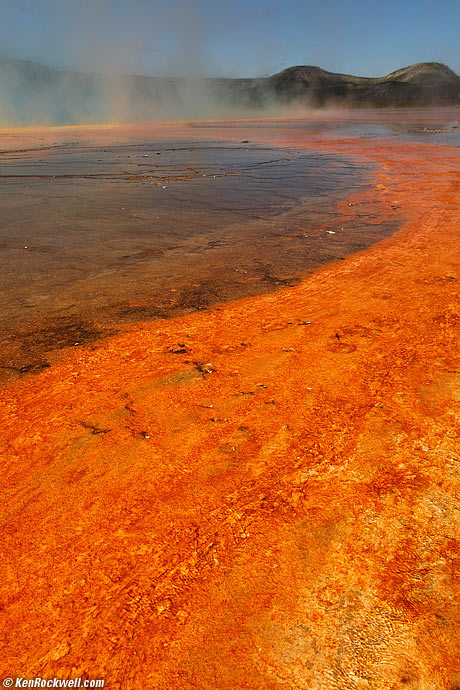 Grand Prismatic Spring.
NEW: Photos from the Canon-in-the-Parks Workshop, Yellowstone National Park (2009).
Here are my snaps from Canon's free photo workshop in Yellowstone last year. They are doing them again this year; click the WORKSHOPS tab, and then select each of the individual park tabs for the schedules.
Canon 800mm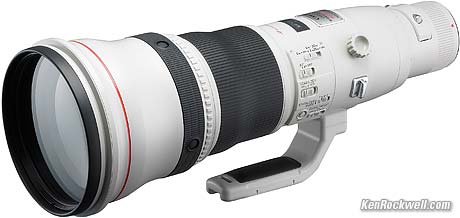 Canon 800mm f/5.6 L IS.
I just added some new details to my Canon 800mm Review, and then my friend Steve Cirone called.
I had forgotten that Steve has an 800mm, as well as just about everything else made by Canon. Has has a case full of Mark IVs, as well as every other Canon camera.
If you're thinking of getting an 800mm and aren't sure, the best thing to do is to come to San Diego and see Steve for a day of instruction, during which Steve lets you use any and all of his gear that you want.
Steve is you go-to guy for private instruction, especially for nature and wildlife photography. Steve is out every day, all day shooting birds and anything that moves. If Steve used a BB gun instead of a camera, the Sierra Club would be ticked.
FREE National Park Photo Workshops
Canon is again sponsoring numerous free photo workshops in many of our most photogenic national parks. (Sadly, that website is in Flash, so it won't work on many mobile devices, just computers.)
To find the workshop schedule for each park, you have to click the WORKSHOPS tab, and then select each of the individual park tabs.
I attended one lead by George Lepp last summer in Yellowstone, and I got some awesome shots which I am now preparing for publication. I hope to share these with you later this week.
These workshops are great! You walk over and sign up, and Canon hands you a free camera, like a 5D Mark II, and a lens or two. Just like the cameras, they're not loaning out the cheap lenses (unless you really want them); if you want to try a 24-70mm f/2.8 L, 300mm f/2.8 IS or 14mm f/2.8 L II, just ask. When I was there, they were loaded with great cameras, and lenses from fisheye to 800mm.
You walk around for a couple of hours with an instructor, and learn everything you'd like. The groups are small; you have plenty of time to ask everything you want and get all the help you need.
Even more fun, Canon had little battery-operated printers there last year, so I made a print to take home right there!
Of course Canon expects their cameras back afterwards. They don't sell any cameras; it's all a free set of workshops with free gear, but no selling. Canon wants to get their great gear in your hands so you can see for yourself how great it works, in a setting where you can actually get some great results. Remember to bring your own memory card.
29 June 2010, Tuesday
Doesn't Matter
I'm astounded, after spending about the past two years using as many crappy old cameras as possible to crank out some decent pix and sharing them with you, that after I shared my snaps from the Central California Coast from last week, only then have a few of you agree that I finally showed that the camera really doesn't matter.
Maybe I'm missing something, but my shots in Hawaii last month, New York City, and California's Central Coast last week were each shot on Canon's and Nikon's very best state-of-the-art cameras: the 5D Mark II and the D3, and each with Canon and Nikon's very best lenses.
Maybe the message really is that "Rockwell, your snaps still suck," but otherwise, I'm confused.
My snaps of Arizona and New Mexico in November 2008 were shot on a 1985 Nikon FA.
I shot California's Volcano Country in April 2009 with a $15 Olympus 35 RC.
I photographed Monterey in June 2009 on a 1980s Minolta CLE and a Canon SD880.
When I shot Yosemite in October 2009 I showed how a 1950s film camera way outperformed Leica's newest LEICA M9.
I used a Canon S90 point-and-shoot as my primary camera to photograph Indian Country in November 2009, New York in January 2010 and Death Valley in January 2010.
I shot Route 66 in February 2010 entirely on 1950s cameras — without any batteries!
I shot California's Gold Country in April 2010 on a Canon S90 and a 1980s film camera.
So none of these showed anything? How about these snaps on a Fuji QuickSnap, a disposable camera that was two years expired?
The problem with using the best gear is that everyone presumes its just the camera, which is why I enjoy using crappy or old cameras.
So for the first time in a couple of years just when I figure no one's getting it, I give up and shoot with state-of-the-art popular DSLRs, then y'all let me know that I finally showed it's not the camera?
Go figure.
Mailbag
A reader in Mumbai, India asks:
1. What pro equipment to use for pro looking pictures?
2. What is the best pro 35mm camera in market as 2010?
3. Future of photography & photographer's role in it?
4. How to make digital pics look like they r shot on film(my personal pref Velvia look)?
5. Safety of camera equipment in monsoon?
6. How to take ugly pictures?
7. Please through some light on underwater photography?
To which I reply:
1.) See What Makes a Pro Camera?
2.) Nikon F6 - or a used F5 for action and sports.
3.) Downhill, and less of a role in it.
Why?
The future is downhill because photography, which is the art of seeing, has been diluted into becoming a hobby for computer people, instead of an art practiced to excite the imagination of others.
Photographers will play less of a role in it, as most pro photographers will no longer be needed because today's cameras do all the technical stuff for which paying photography clients used to have pay someone with basic technical skills. These people with basic tech skills, but little to no vision, used to get by by calling themselves "photographers," even if they were simply camera jockeys who could wrangle a light meter, but had little ability to see the picture in something, or see it from a new angle. Now that anyone can snap a technically decent picture, only those with the ability to see the real image inside something will survive as photographers.
Photography is exactly like sculpture. When you start, you've got a big block of something that means nothing. The artist is the one who sees the final work living inside this big block. The final carving away of the unnecessary bits to release your vision into tangible form is simply the final mechanics, not the art. With photography, you're removing the irrelevant parts, leaving only what matters. It's seeing it in the first place that is photography or sculpture, not the carving or the snapping.
Tomorrow, all we will need are the real photographers with vision, while clients who don't need vision, but merely a decent record photograph, can do it themselves.
We've already seen this in stock. Guys no longer can pull in $30,000 every month through formal stock agencies renting out old slides of people standing in airports holding phones, or holding blank signs, or pointing to globes. Today, everyone can and does snap these same boring images and sells them via microstock online. (Hint: why not photos of hot girls holding phones? Why aren't those images sold as stock?)
Photography is the art of seeing. Photography is showing people things in ways that they didn't see for themselves. Photography is the art of seeing the picture that's already standing in front of you, but that no one else has noticed. Photography is the art of recognizing the hidden beauty in everyday things. Photography is the power of observation.
Photography has never been about cameras. The hard part about photography is seeing something. The trivial part is taking the picture of it once you've seen it.
4.) Shoot on film, and scan the film.
5.) Stay home!
6.) Have ugly friends.
7.) Try a flash, like the Nikon SB-103.
NEW: New DxO modules. (all modules)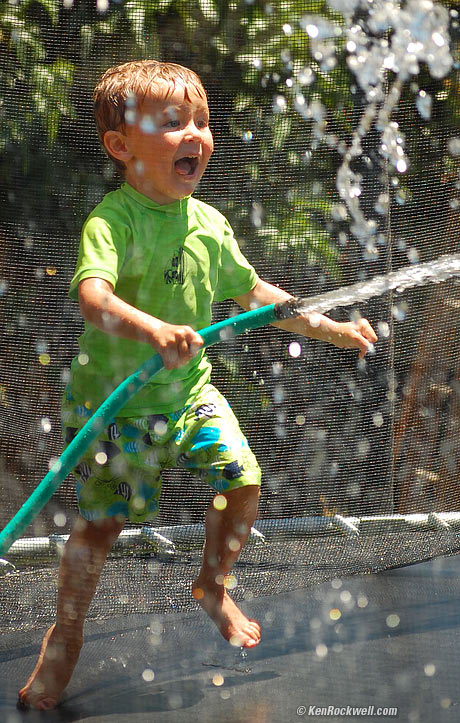 Ryan on Vacation (2009).
NEW: Ryan on Vacation in San Francisco (2009).
These snaps are from last year's trip to San Francisco. I brought my D40, the DX Dream Team, and a tiny Canon SD780 for video.
So many other trips, and new cameras, came up last year that it took me a year to get to publishing these photos. I still need to show you my trip to Yellowstone, NYC and Point Reyes from last summer.
I took the D40 and the Dream Team to show what I could do on a family trip with plastic cameras. If anything, I brought more than I needed; the 35mm f/1.8 DX is really all that's needed for family photos on DX.
Today, the ultracompact and super-high-quality Canon SD780 sells for only $169, a bargain in anyone's book.
After publishing my Nikon D3 snaps from Central California last week, I'll admit that the D40 isn't as clean in low-light as the see-in-the-dark D3. Then again, there is no way I would want to haul my D3 around my neck 18 hours a day as I did with the D40 on a family trip.
NEW: I added new examples for angle-of-view and sunstars to my Nikon 10-24mm Review, which were shot last year in San Francisco.
BAD: iPod Touch new OS4 firmware sucks, on my second-generation iPod Touch, bought in late 2008.
It's awful with the new firmware. I'll probably have to throw it away, unless a newer version fixes it.
Unlike with OS3, the new, free update makes everything run more slowly, and worse, sucks down the battery about five times as fast, even after I set everything to Fetch Manually. Resetting didn't help either.
I so wish I had never updated it; if I could get it back to last week's firmware, I'd be so much happier.
Even the photos don't work as well. For some reason they've reordered themselves on my iPod, meaning the icons I dropped into each gallery, named to come up first and therefore show as an icon in the view of all the photo galleries, doesn't work either. It now sorts by Date Modified, meaning if I edit something, it goes out-of-order until I figure out some way to change the file's create or midified date. Simply resetting the EXIF isn't where the iPod is looking; it's looking at the edited file's save date.
Is there an easier way than resetting my computer's clock and calendar before I save a file from Photoshop? I know someone must know how to do this — or to get the iPod touch (iPhone) to display photos based on file number, not last-edited date.
Now when I look at photos on my iPod Touch, I have to wait for each to come in clearly. Drats, my iPod is now crap with the new firmware. This all worked great with the old firmware.
Poo. On a different blue note, I called a guy with a new iPhone 4, and I could barely understand him. It dropped one word out of every four.
Every organization makes mistakes. What makes a good organization great is how they resolve the problems. I'm hopping Apple will fix this as part of whatever or whenever the next free update. I'll wait a few weeks for this to percolate through Apple, and then I'll ask at the Apple Store, hoping that the Genius will by then know a fix.
Apple doesn't expect us to endure crap, so long as Steve Jobs runs the place. The question is how long will it take to be resolved.
28 June 2010, Monday
World's Best Humanitarian Photojournalism Blog: KarlGrobl.com/blog
NEWS:
ScanCafe adds large-format scanning.
Specifically, Scan Cafe uses Epson 10000 XL scanners and hand-finish each scan for color, scratches, dust and etc.
4 x 5" (and 4 x 6"):
Negatives and positives (transparencies)
Color only
$2.49 per scan
3000 dpi (4000 dpi for $0.09 extra)
50MB file for a finished jpg
TIFF available for $0.19 extra

8" x 10"
Negatives and positives (transparencies)
Color only
Priced at $5.99 per scan
3000 dpi (4000 dpi for $0.09 extra)
200MB file for a finished jpg
TIFF available for $0.19 extra

There're not immediately offering black & white because they're worried about scratches. They usually see lots of scratches in black & white, and their patent-pending wet mount process is not available yet for large format.
They would probably accept black & white submissions with prior arrangement, so long as you're willing to agree to clean up the scratches yourself.
Here's their price list for everything, and here's how to get to the site, and here's where to sign in or register to get started.
26 June 2010, Saturday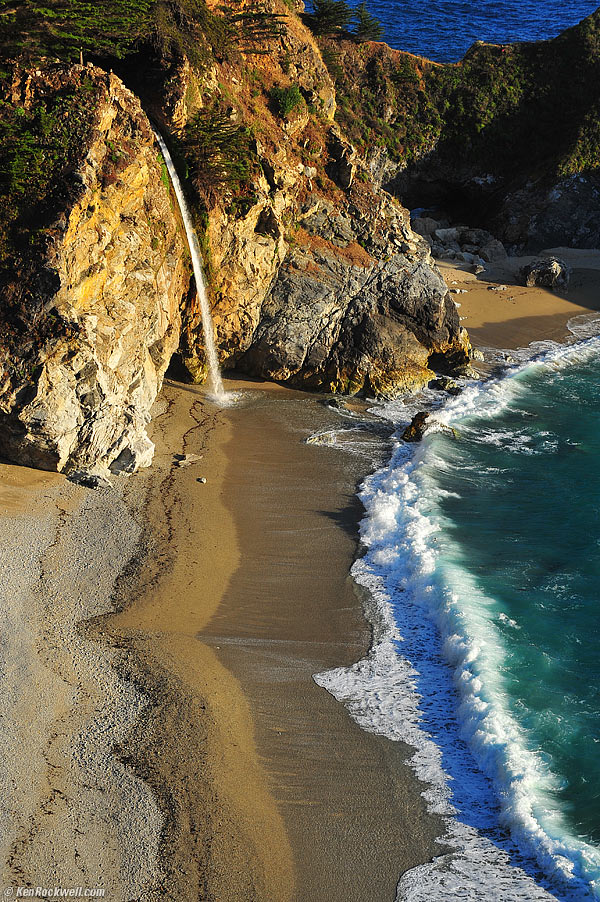 McWay Falls.
NEW GALLERY: California's Central Coast.
What I did last week.
Professional Exposure Mode
I almost always shoot in Professional exposure mode, the "P."
Today's Professional mode was originally called "Program" back in the 1970s by camera marketers, and this name still turns up in in some instruction manuals.
Pro photographers call it Professional mode, since that's what everyone uses. If we need different shutter speeds or apertures, all we do is flick the rear dial to get them.
Calling it Professional mode also helps steer newcomers the right way, since they are often working off old-wives' tales and trying to shoot Manual or Aperture-priority with no good reason.
Pro mode gets us where we need to be faster, with less twiddling as conditions change, than any other exposure mode. Use the other modes as needed, but lead with Pro mode.
25 June 2010, Friday
DEAL: Lowepro SlingShot 300 AW All-Weather Backpack/Sling Bag for 45% off: just $59.95 at Adorama (usually $109.99).
24 June 2010, Thursday
NEW: I added more distortion example photos to my Nikon 16-35mm VR Review, shot last Friday at Montaña de Oro.
Great Art Hits New Highs
See this from Yahoo about the latest auction of some of Ansel's works. (I prefer that the article wouls start as "An historic," versus AP's "A historic...")
Find a Different Point of View
Most of us make the huge mistake of seeing only from eye level. That's the way we walk around, but rarely the best angle from which to make a photo.
The problem with looking from other points of view is that it's much more difficult to climb over things, or to crawl around on the ground, than it is to just walk around.
Worse, if you're in public, people think you're crazy when you shoot from weird angles.
Have a look at the photo atop this article in today's New York Times. It's an interesting shot, showing in an instant guys walking away from a press conference.
Look again. From what position was this shot? Two inches off the ground! Doug Mills was either lying on the ground, or more likely, at least half bent-over holding his camera at arm's length on the ground. How do we know he shot with Canon? Because of the 8-pointed sunstar from a light (or another flash) shining at him. Canon lenses use almost exclusively 8-bladed diaphragms, which beget 8-pointed sunstars. Nikon uses 7- or 9-bladed diaphragms, which beget 14- or 18-pointed sunstars. Nikon doesn't use 8 blades, which are inferior for making exquisite sunstars.
The best shots are usually shot from crazy angles, even if the final result looks perfectly normal. Photos shot from normal eye-level positions are easily the most boring because they rarely show us something in a fresh way.
This is another reason to skip tripods. Tripods lull us into shooting everything at the same boring level. It's even more work to shoot at fresh angles with a tripod.
22 June 2010, Tuesday
Find Your Phone
Presuming you have a dot Mac or Mobile Me account, you can use this new free App to find your iPhone or iPod Touch.
I suspect that this has been around a while, but you need to load, install, setup and activate before you lose your phone so you can find it, or set it to self-destruct remotely.
DEALS
55-200mm VR
Adorama has refurbished Nikon 55-200mm VR lenses on sale for a meager $129.95.
Criminy, the 55-200mm VR is a deal brand-new for $225; the 55-200VR is my favorite telephoto for use n DX cameras.
The 70-300 VR also works great on DX cameras, but as an FX lens, it's more than you need for DX.
For FX, I used the 70-300 VR on both my D3 and F5 this past week, and it rocks.
Canon S90
The S90 is now down to $350 at Amazon and Adorama.
Spy Shots of America's Best New Tripod!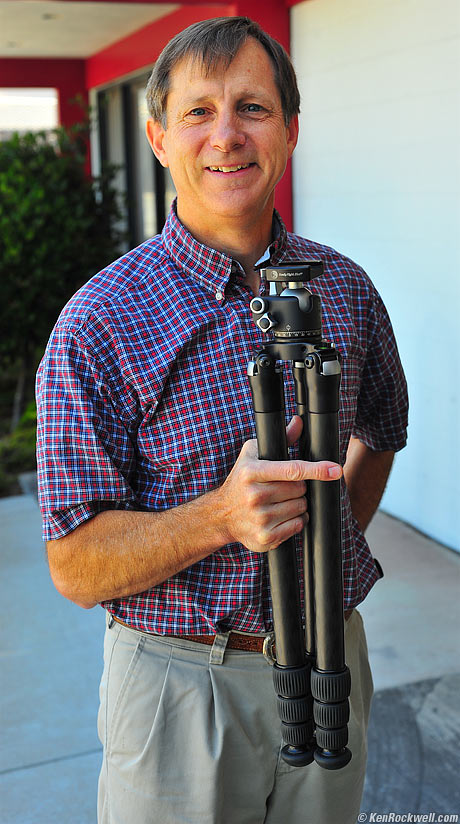 Really Right Stuff owner Joe Johnson and prototype. big.
The best tripod in America, and possibly the world, is soon to be announced from Really Right Stuff. They make these right here in San Luis Obispo, California, which lies along along California's magnificent central coast. They are proudly made entirely of USA-made components.
We were out shooting in San Luis Obispo last week, and saw the Really Right Stuff sign across the street from the donut store, right on the west end of town off the Madonna exit from the 101.
As expected, this is their business office, not a retail outlet. Unexpected, the owner, the mechanical designer, and even the founder's daughter came out to greet us and show us everything.
I had no idea they made anything other than great ball heads and quick releases, and learned that they had introduced a big tripod last year.
This new one, scheduled to be announced in a few weeks, is normal sized.
What makes it special is its impeccable mechanical quality. You have to pick it up to appreciate it, since it looks about the same as every other carbon-fiber tripod, like my 15-year-old Gitzo.
Really Right Stuff doesn't mess around. Everything is CNC machined from solid blocks of metal. Consumer tripods, like Gitzo, Manfrotto and Bogen, use simpler castings, or maybe forgings.
The top of the tripod is unusual because it's designed not to catch your jacket in the leg locks, as does my Gitzo. See how the leg pivot locks are flush and smooth?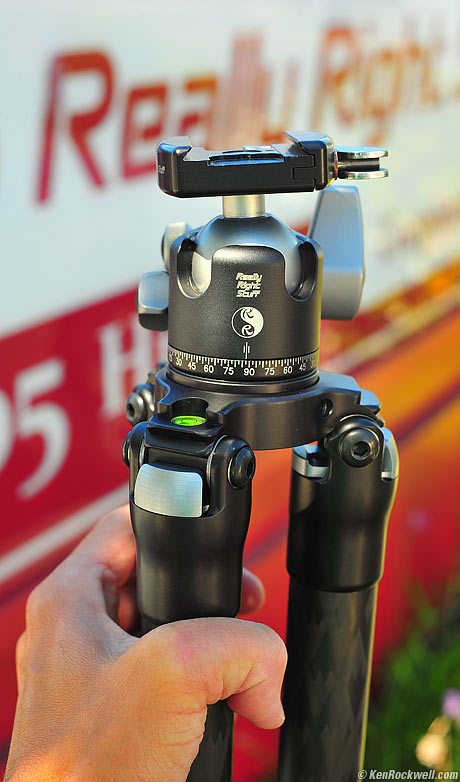 Top of new tripod prototype. bigger. (The head is a separate item.)
These photos are of the world's only existing prototype. The production model will incorporate some improvements, and thus won't look exactly like this.
The new tripod also has some clever mechanics in the leg lock releases to make it more easy to bend the legs in and out.
The head attaches to the legs with Really Right Stuff's clever internal locking ring, which in turn is secured with set screws. The tripod's set screws never get the chance to eat into the head itself.
If you want a center column, you can add one. I also think I saw some way to add a 3/8 thread for mounting any other sort of head.
The leg locks and feet seem fairly familiar. The legs don't rotate.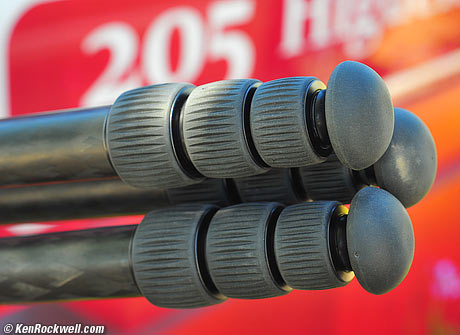 New tripod prototype. bigger.
I have no idea what it will cost. I suspect it should cost more than imports like Gitzo because it's made several levels better. Its CNC construction feels more like the military and aviation devices with which I used to work, than a consumer tripod.
Really Right Stuff also stressed that even though it's normal-sized, that its ultra-tough and precise construction gives it a load rating similar to the next size up from Gitzo and Manfrotto.
Personally, I rarely use tripods, and when I do, it's with film. I was shooting all week on the central coast, and never once used the tripod I brought. I'll be working on getting my images ready for you to see later this week. I brought a Nikon D3 and Nikon F5, and Nikon 16-35mm VR, 50mm f/1.8 and 70-300mm VR. With these lenses and the D3, I shot everything hand-held, especially night shots at 300mm at 1/30 at high ISOs. The D3 and 70-300mm lens are extraordinary for use at night!
The shots above are with the D3 and 50mm f/1.8.
Commotion in the Ocean
Check out this story of a Nikon Coolpix camera that sailed the world (accidentally) in its water housing.
18 June 2010, Friday
Rumor: New Really Right Stuff Tripod
I usually only use tripods for shooting film, since digital's high ISOs and VR render tripods as an anachronism. Likewise, I bought my carbon-fibre Gitzo in 1995, and it works as well today as it did 15 years ago. When you buy the right tripod, it lasts you a lifetime.
Never cheat yourself out of the tripod you deserve, since it outlasts lenses, and certainly will outlast quite a few digital cameras.
This said, Really Right Stuff, whom I've always known as a maker of some of the world's best ball heads and quick-release plates, now makes a magnificent carbon-fibre tripod, right in the USA. It's marvelous, but it's a big thing optimized for huge telephoto lenses.
The rumor is that they'll soon be announcing a smaller, more reasonably sized tripod for normal use. It will be normal-sized, but is so well made that it will bear the weight that normally takes a much bigger tripod.
I expect to have photos of it next week to share, and I suspect it will be announced in a few weeks.
Really Right Stuff makes everything themselves in California, and it's only sold direct from the factory to you; dealers don't carry it.
Yippee!
15 June 2010, Tuesday
Free Zeiss 50mm f/1.4
You can get a free lens, in your choice of Nikon, Canon or M42 screw mount, if you win ZeissImages.com's Photo Contest.
Have at it!
D3 LCD
Ryan insisted I take him to Legoland this morning, so I grabbed my huge Nikon D3 for fun, with an old Tokina AF AT-X 28-70mm f/2.8 that was lying around.
My D3's (foggy) LCD seemed broken, but it's simply that I've gotten used to the Canon 5D Mark II's brilliant LCD that I can crank-up for use outdoors.
The D3 by comparison has merely a normal screen that can't scorch-out the brightness as can the 5D Mark II. The D3's LCD brightness adjustment just tweaks the contrast (gamma), not the overall brightness as does the 5D Mark II.
Big improvement at eBay
I don't know if this will stay this way, but eBay just made a big improvement to their feedback system because now you can click on the number indicating how many negative or neutral feedbacks someone has gotten, and you'll see a listing with details of only the negative or neutral feedbacks.
This is excellent, because positive feedbacks mean nothing on eBay. Even the worst sellers have 99% or more positive feedbacks, and having to sort through them all makes it hard to read the neutral and negative feedbacks, which tell you everything.
Of course reading just the negatives make even the best sellers look horrible, if they do enough volume to get any negative feedbacks, but if you know how to use eBay's feedback system, this helps us read the seller much more quickly.
Since this new feature that lets us see all the dirt more easily is more likely to make us bid just a little less for something a little less often, I'll bet you that eBay will pull this feature eventually.
See also How to Win at eBay.
14 June 2010, Monday
ZeissImages.com
Check out ZeissImages.com, which is a festival of images shot on Zeiss lenses. I'm told that super-geeks can search for images made with specific lenses. Hee hee! What it really needs is a database of all the movies and TV shows shot with ZEISS; that would be impressive because its such a large percentage.
See also my own Zeiss lens reviews.
Lexar 32GB 600x CF Card
I've been shooting everything for the past month and a half on the same Lexar 32GB 600x CF Card.
I've been breaking my own safety suggestions and haven't formatted it for five weeks. Every day I shoot more and download, make a new folder in the 5D Mark II's menu system, and keep on shooting.
At nearly 4FPS from the 5D Mark II, it just keeps sucking it up. I've got 5,000 shots on it, and some HD video, and I still have 19GB free.
I've been doing everything I can to kill this card. I've even killed a SanDisk Extreme IV card reader while downloading from it, I've plugged it into a bunch of different readers and cameras and written to and from it in as many different ways as possible, and I still can't kill it.
What I mean by "kill" it is to have data loss. If you don't format every time you put it back in your camera and every time after you've connected the camera to a computer, you run the slight risk of corrupting something.
I've been trying to break something so I could report it, but all I've broken is a SanDisk reader, that's not supposed to break.
Engaging in irresponsible digital conduct by not reformatting, I've been asking for it, but this magic card just keeps on shooting and downloading like it's nothing. Back in the early days of consumer digital (2002), I'd lose about one shot in every few thousand, and that was playing by the rules. Even today, The LEICA M9 won't even recognize a Kingston SD card I have.
I like this Lexar card!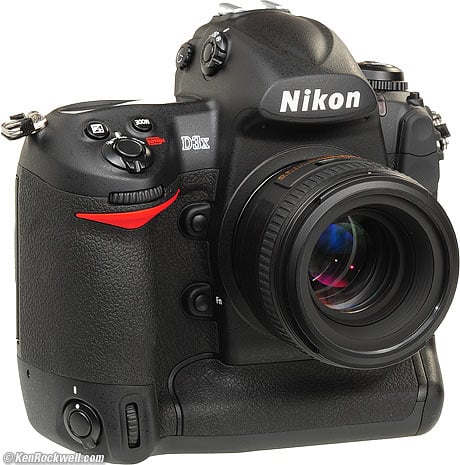 Nikon D3x.
Nikon D3x
I was just looking at some of what I've shot with a Nikon D3x, back from the short period I borrowed one to review. Man, when I have shot with it, it's the best on earth.
I won't buy one because I'm cheap, and because even at $7,400 it's still overpriced, but if you want one, go for it! All my whining about boycotts is just whining. You people loaded with dough ought to get one, if you don't mind the weight.
The biggest difference between other Nikons is simply that the D3x is Nikon's only high-resolution (20MP +) digital camera. The D700 (and it's father, my D3) are spectacular cameras, but with half the resolution, which only makes a difference if you're making prints many feet wide.
Price and weight are important to me, so for wimps like me I prefer the Canon 5D Mark II, but sadly, Canon makes no high performance AF wide angle lenses or zooms that can match the overall system clarity provided with the Nikon 24/1.4, 28/1.4, 16-35mm or 14-24mm. Likewise, my 5D Mark II can't correct any lateral color fringes, which are obvious with Canon's wide lenses, but which the D3, D700 and D3x (and all other current Nikons) correct automatically.
If I wasn't such a tightwad, I'd love to have a D3x, but since I am, I'm still holding out for a D700x or D500x. I don't know that Nikon is even involved with new DSLR design any more; Nikon has introduced no new DSLRs at any time this decade, but Nikon has introduced some superb lenses recently, like the extraordinary 24/1.4.
I'm still not buying a D3x, but if money and decency didn't matter, I'd have two. The best thing to do is buy one, and paint over the logo so no one knows you broke the boycott.
11 June 2010, Friday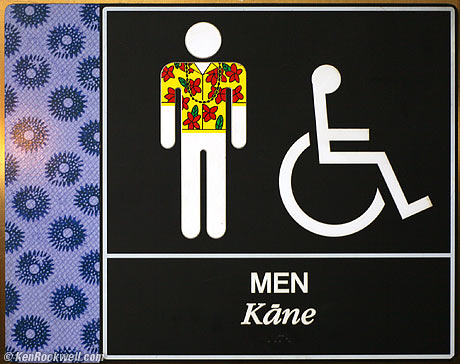 Honolulu.
NEW: Photos from Maui.
I went to Hawaii to shoot, and we brought the family since my wife found a bargain.
Back in 2005 most of you loved the same treatment I gave to another Maui trip, so here you go again. I hope you enjoy it.
This year these are mostly kid pictures, also with explicit details of exactly how I made each photo.
I'm overjoyed with the look of the 5D Mark II with a 220EX for fill-flash, covered with a 1/4 CTO warming gel taped to it. The 1/4 CTO for fill is the secret!
09 June 2010, Wednesday
The Stock Market
I see that some other real website has pointed people to How to Afford Anything.
Seeing this, I just added some more sections, especially advice to avoid the stock market if you're trying to make money. For 99% of us, the stock market is a crock. Did you know that indices are "cooked," so that they look better than the markets they claim to represent?
Man, If I had only known to buy a pallet of Nikon lenses like the 28mm f/1.4, which are worth two to three times today what they were in 1999, unlike the Dow Jones Industrial Average, which is still below where it was over ten years ago.
Stocks are just gambling for the middle class. If you want to make money, invest it in your own business, or buy something of long-term value, like first-quality lenses.
I've been tracking lens prices weekly since 1973. Unlike gambling and the stock market, the good, professional lenses only go up in value.
Apollo XI Launch in Slow-Mo
Here is slow-motion 500 FPS film of the launch from the pad on 16 July 1969. When you shoot at 500 FPS and play-back at a normal rate, you get slow-motion.
I added this film to my Apollo XI coverage from last July, its 40th anniversary.
I also indexed the coverage a little bit (but not much) better so it can be enjoyed outside its original context on this News page last July.
In case anyone thinks landing two Americans on the Moon was a one-time deal on 20 July 1969, we also landed two more Americans on the moon 40 years ago this past November, or on 19 November 1969 with Apollo XII, and we kept on doing it until we got tired of it. We sent a total of twelve Americans on six trips. Anyone else up for it?
This was the high point in Man's history; much as the ancient Greeks and Romans did great things no one else has ever equaled, America accomplished things that may not be exceeded for another thousand years. I sure hope we can outdo ourselves in my lifetime, but even landing on Mars is mostly the same thing. If we can figure out consciousness and life itself, we'll have outdone ourselves, but I'm not holding my breath. The Internet also comes from DARPA in 1969.
See also 10-15 July 1969 (prelaunch countdown), 16-19 July 1969 (launch), 20-22 July 1969 (Lunar landing) and 23-27 July 1969 (triumphant return).
08 June 2010, Tuesday
Watermarking iPhone Photos
Check out this iPhone App which lets you burn watermarks into your images.
Fame: I'm on TV again, this time as part of an interview about Dave Wymans's photo tours.
NEW: Nikon D700 versus Canon 5D Mark II.
Each is the world's best at many things. For the first time, I've tabulated the real-world differences between these two cameras, each of which is the most popular camera today from each brand for serious photographers like us.
NEWS: Mamiya RZ33.
The Mamiya RZ33 is newest version of the pro-standard for decades RZ67, with a rotating mezzo-format digital back.
Mezzo-format means between 35mm and medium format. The RZ67's film format is 56 x 70mm, while the mezzo-format digital sensor of the 33MP RZ33 is only 36 x 48mm, a 1.5x focal length multiplier.
There are almost no true medium-format digital backs. Most are Mezzo-format, like this and the LEICA S2. Even the true medium format backs from Phase One are merely almost 645 size, not 6x6 or 6x7.
Look for it in July.
07 June 2010, Monday
NEW: Bruce Percy eBook: The Visual Sense.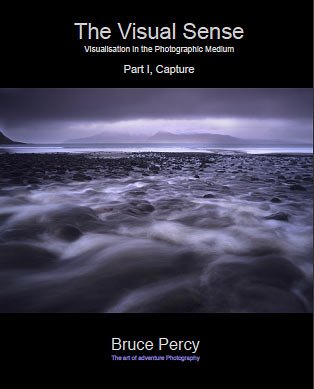 I just finished reading Bruce's latest eBook, and it's a winner.
You can see how great an artist is Bruce Percy at his gallery. Bruce knows how to shoot, which is why what he has to say has such value.
Bruce's latest work covers many of the things about which I've been meaning to write, such as visualization, luminance, interpretation, aspect ratios, motion, voice, engagement, anticipation, isolation, extraction, seeing in 2-D instead of 3-D, and just as important, the many barriers people face in getting to the great images they intended.
Unlike so many books written mostly to confuse us and impress us about how smart the author must be, Bruce's eBook explains all these crazy concepts clearly. It's as if your best friend is suddenly one of the world's best photographic artists, and is giving you the clear, inside scoop in simple English so you can understand it all.
Bruce's "The Visual Sense" is a masterpiece at showing and explaining clearly how to take better nature and landscape pictures. It's a book I wish I had written!
Bruce has created another fantastic, well written and well illustrated eBook. As it sinks in, I think Bruce just wrote one of the best books I've ever read about photography. How about that!
Fathers's day gifts
The biggest sources of support that keep this site and my family going are anytime you use any of my Links to get anything, from underwear to cameras to lawn furniture. Order anything, from any country on Earth, and when you do, it costs you nothing to use my links, and then those places support me and this free website to keep expanding.
Amazon just reminded me that it's also a huge help if you use this link to get gift cards, too. I usually send my family gift cards, and they love it, for every occasion.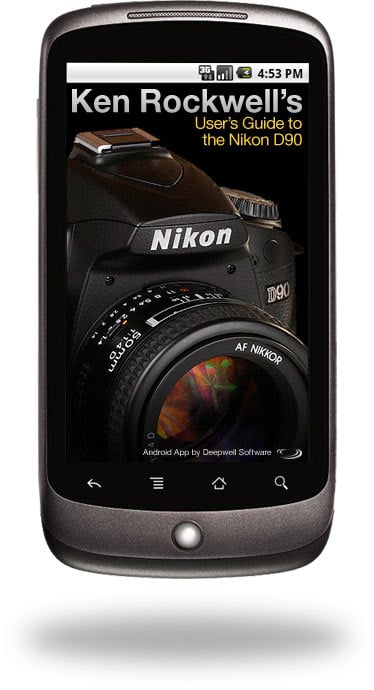 NEW: Nikon D90 Guide for the Android.
Sorry, there's no link. You simply find it at the Market on your phone.
DEAL: The Canon S90 is now only $360 at Amazon and Adorama.
05 June 2010, Saturday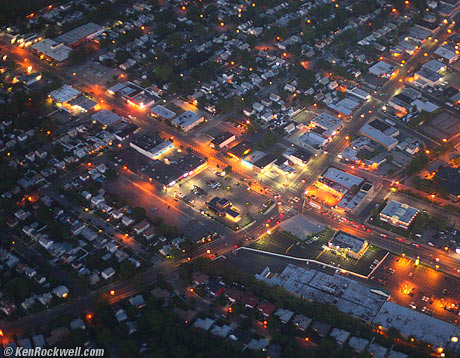 Queens from the Air.
NEW: Photos from New York, May and June 2010.
I was in New York last week and this week for important business. Here are my snaps, with explicit technical insider information, free!
Particularly illuminating is the first page, where I show examples of just how severely natural light changes during the few optimum golden minutes of afternoon light.
I also have even more Technical Details on their own page.
These aren't great works of art, they're my snaps as I wandered around, with explanations of how and why I made each snap.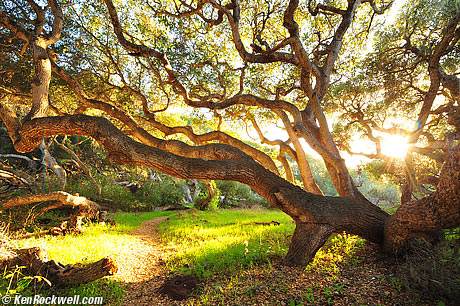 Oak Preserve, Los Osos. (bigger or original 5MB D3 file.)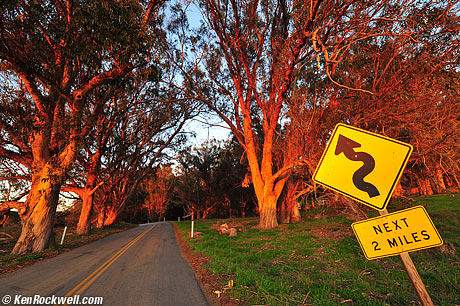 Montaña de Oro.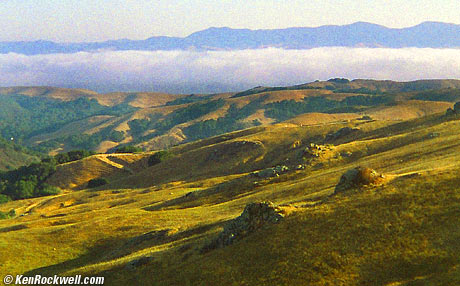 See Canyon, San Luis Obispo. (shot with a disposable!)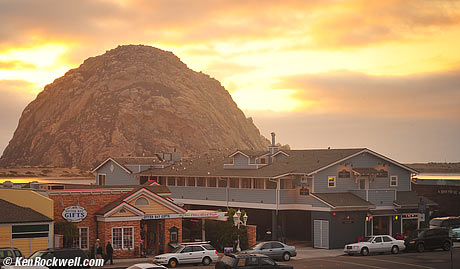 Morro Rock.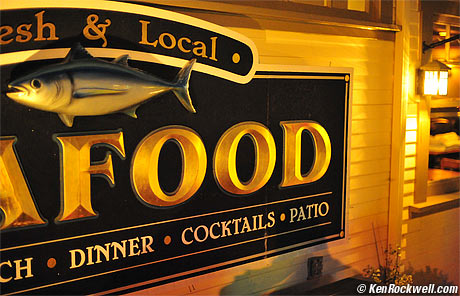 Dorn's, Morro Bay.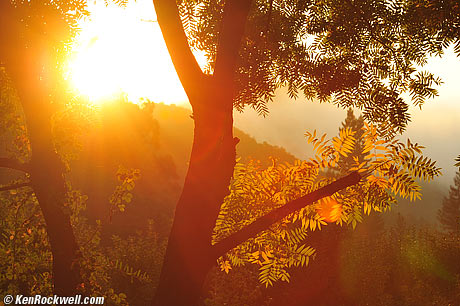 See Canyon at Dawn, San Luis Obispo.
NEW: Photo Excursion Along California's Central Coast!
Whoo hoo! Our incredible photo journey through some of the world's most scenic locations: Big Sur, Cambria, Piedras Blancas, San Luis Obispo, Montaña de Oro and more, is coming along quite brilliantly.
It's in two weeks, Thursday through Monday, 17-21 June, 2010.
This area is among my favorite places in all of creation.
We still have a spot or two open if you'd like to join us.
I hope to see you all there in two weeks!
04 June 2010, Kyra's Birthday
NEW: I added a Sample 1080p/23.98 video file (six seconds, 40MB .MOV) to my Canon 5D Mark II review.
02 June 2010, Wednesday
VR and IS at Fast Shutter Speeds
Some of you have asked about using VR and IS at fast (1/1,000) speeds.
VR and IS work great at these speeds, especially with long lenses where you might actually see some blur. VR systems work mostly in the 0.3-30 Hz range, and at fast speeds, it's these same frequencies of vibration which cause blur with long lenses because they magnify everything.
I added a lot more to VR and IS Systems Explained addressing this concern.
01 June 2010, Tuesday
Nikon 24mm f/1.4 Autofocus
I've heard some of the usual Internet chatter about the Nikon 24mm f/1.4's autofocus accuracy.
Mine works great. I updated and clarified the section on the Nikon 24mm f/1.4's focus performance to expand on this.
Some people will always find some problems with anything, and spread it all over the internet. One tweaker finds a problem no one else does, and the reports of a few tweakers then mushroom into others thinking that there actually is a problem. I've already documented this effect on my page about Apple Reliability and on my page about New-Camera Problems.
Especially with an f/1.4 lens, it requires real skill to get it to focus correctly at f/1.4. Tweakers often make the mistake of shooting slanted targets, which exaggerate any misalignment between the mark on the finder screen and the actual location of the sensitive AF area. With an f/1.4 lens, you'll see problems that could be with your camera that you won't see with an f/2.8 lens, and then you'll blame the lens where maybe it's your camera's fault.
Others expect more than an AF system can do. No AF system is perfect, and some individual samples of cameras and lenses just don't work well together with each other. Sample variations still exist, especially when you're looking too close.
When I see a problem, I either buy a different sample, or tweak the AF fine-tuning adjustment, which is provided on better cameras precisely to rectify this problem.
The Nikon 24mm f/1.4 is an extraordinary lens designed for demanding professionals who know how to work around any potential focus problems. Pro gear is designed for shooters, not online experts.
Don't take this the wrong way. I'm not poking fun of any particular online comments. In fact, I spend next to no time reading anything online — I'm too busy writing — so I don't really know what else is out there. What I am suggesting is that you carefully judge the skill of any writer as a photographer before paying too much attention to any technical ramblings. This is easy: photographers, if they even have a web site, show galleries of the awesome photos they've made, while the great majority of sites handing out technical information are run by well-meaning people with little actual photographic, as opposed to unrelated technical, skill. God bless these computer people who know how to make websites, for they love the hobby as much as we do, but as gearheads as opposed to photographers, they aren't able to put everything into proper perspective as to how to prioritize the many aspects of a lens' performance, and what's simply normal sample variation.
Don't even ask me about the Canon EF 24mm f/1.4 L II, which the once or twice I tried it on my 5D Mark II, gave flakey autofocus results at f/1.4. It probably is much better if I had the time to tweak the 5D Mark II's AF Microadjustment. I intend to give the Canon 24/1.4 II a thorough review one of these days. Using the Nikon 24/1.4 makes me appreciate why I love my Nikons so much: they focus correctly!
With the 5D Mark II, you need to be more picky about which lenses work well on it.
I love the two Nikon 24/1.4s I've used. It rules! Maybe other samples vary.
Now if Nikon could drop it to only 8 ounces (250g), we'd really have something. I've been shooting the Canon 28mm f/1.8 for the past month on my 5D Mark II, and it works great, weighing only 11 oz (310g), compared to the Nikon 24/1.4, which weighs twice as much.
What Was New in:
Help me help you
I support my growing family through this website, as crazy as it might seem.
If you find this as helpful as a book you might have had to buy or a workshop you may have had to take, feel free to help me continue helping everyone.
If you've gotten your gear through one of my links or helped otherwise, you're family. It's great people like you who allow me to keep adding to this site full-time. Thanks!
If you haven't helped yet, please do, and consider helping me with a gift of $5.00.
The biggest help is to use these links to Adorama, Amazon, Calumet, Ritz, J&R and when you get your goodies. It costs you nothing and is a huge help to me. eBay is always a gamble, but all the other places have the best prices and service, which is why I've used them since before this website existed. I recommend them all personally.
Thanks for reading!
Ken
Home Donate New Search Gallery How-To Books Links Workshops About Contact