Home Donate Search Gallery How-To Books Links Workshops About Contact
December 2009's Updates
RSS: live daily
all © 2009 KenRockwell.com. All rights reserved.

31 December 2009, Thursday, New Years' Eve
DEAL: Pentax Optio P70 for $99.99 at Adorama. Not that I've used one, but that's a killer price on a well-spec'd camera.
Outdoor Photographer
I forgot to mention in reference to Outdoor Photographer magazine: among the reasons I love subscribing is the monthly columns from the best outdoor shooters on Earth.
One of the very best landscape shooters of all of history is David Muench, whose work has graced OP, National Geographic and everywhere for over 50 years.
He's often interviewed or featured, and in the current February 2010 issue, there is a first: David Muench has his own column.
It is excellent, however David Muench is so many levels above just about anyone living today that very few of us will get what he's saying.
Pay attention: he speaks important truth. David Muench is one of the very few people who has cranked out the photographic icons the rest of the less creative world keeps attempting to copy.
30 December 2009, Wednesday, Christmas Week
NEW: I was just interviewed in the largest photo magazine in India, Better Photography.
See the interview in the January 2010 issue in print in India, or online here.
29 December 2009, Tuesday, Christmas Week
5D Mk II or D700?
Easy answer:
Landscapes and still images: 5D II (more resolution)
Motion, low light and action: D700 (better AF)
Best Camera for Nature and Landscapes: Mike Brewer asked me my choice for serious outdoor shooting, to be blown up regularly to 20x30" and beyond.
For the past 15 years, the answer has been the same: The Tachihara 4x5."
The best camera for everything, including hand-held? The Mamiya 7.
The best digital camera may be the LEICA M9, but when you open the field, digital is a handicap for serious still images. If I'm serious enough to be shooting with the intent of printing, mounting, matting, glazing and framing, nothing looks as good as film.
Digital is what I shoot for photos of family and friends for Internet use, but not for the really serious stuff.
OP
I love Outdoor Photographer magazine, and have to snicker when, as usual, the latest cover shot is headed "HDR!!" in big letters (February 2010), but actually was shot on Velvia 50 with a grad filter.
Praise be to OP for being honest about all this, and most of us think it funny when all the articles are about digital, but the good stuff and cover shots are shot on film with gear never mentioned in the magazine.
More proof of film's incontrovertible supremacy in the field is that if it had been shot on digital, the shot would have been lost on the bottom of the sea instead of on the cover.
Photographer Joseph Rossbach's low-mounted Nikon got hit by surf and dragged down to Davey Jones' locker forever, right after he had made that shot.
No big deal, since he had already changed rolls and the prize shot was already safe and sound in a Ziploc in his pocket.
If he had settled for digital, his card would still be in the camera at the bottom of the ocean.
National Geographic
While I'm here, you'll often see real (film) cameras on the ON ASSIGNMENT page towards the back of National Geographic magazine.
Last year I saw someone shooting what looked like a LEICA R6 for the article on midwest ghost towns, and on page 150 of the December 2009 issue, you'll see photographer Martin Schoeller holding a Fuji medium-format rangefinder while shooting the article on Tanzania's Madza people.
Film Fantastic
If it's not film, it's not photography.
Sorry if I'm not sponsored by digital camera companies or their ads, and sorry if my only interest is to help you make great shots, so I'm sorry that I don't bleat on about how great digital is even when I don't think so.
Digital is my first choice for people, low-light and action, and film is my first choice for anything worthy of a tripod, or a large print on the wall.
If all I did was post on flickrbook, digital would be OK, but I really prefer the look of Velvia 50 for my sort of stuff. Sorry if my honesty doesn't resonate with people more used to reading the commercial media, which is 99% of the Internet today, and all of the print magazines.
I think I'm the only photo website left from the late 1990's that hasn't been bought out by large corporations, like photo.net (luminal path) and d-preview (amazon).
I must be the only single-person website out today that has anywhere near the readership with which you great people are kind enough to grace me.
That's why I always share what I think, not what sells more digital cameras, however fantastic the 5D Mark II and D700 are as DSLRs for people and nature photos.
NEW: Combat Use of Consumer Cameras in Dusty, Sandy Environments.
A reader about to be deployed to Afghanistan asked if a D40 will survive all the sand. I asked you readers serving over there, and the amazing response is that it works pretty darn well.
DEAL: Adorama has the Lowepro Compact AW bag on sale at half-price, or $69.95.
To Those Who Serve
Every day I give thanks to all of you who make or have made the sacrifices to be out risking your own lives and limbs so that the rest of us can be goofing off at home piddling around on the Internet.
If it wasn't for you great people, we'd have no USA and no peace and quiet in which to enjoy anything. It would be compete mayhem without the police, firemen, Army, Navy, Air Force, Coast Guard, Marines, Force Recon, SEALs, Army Rangers and everyone else with enough courage to put their own safety aside so that the rest of us can relax, especially over Christmas where the rest of us are only partying the whole time.
Thank you.
We see plenty of the Marines here in San Diego. I particularly enjoyed a bumper sticker yesterday:
"God bless our troops. Especially our snipers."
Readers wrote to let me know that those stickers ship with orders from LaRue Tactical.
28 December 2009, Monday, Christmas Week
I was going to throw up some more reviews, but I just re-read Simplicity from last week.
It's better than I thought.
The heck with any more gear reviews today. Simplicity is so critical, along with Composition, that I really need to get cracking on an even more important topic, What Makes a Great Picture.
Until everyone gets simplicity, everything else is foolish.
More gear only makes worse pictures if you can't get it to go.
We're not getting stupider; cameras are adding junk features faster than we can figure them out. Basta (enough)!
When your camera won't take a picture because it's having a hissy fit because it doesn't like the way you set its menus, it's time to look for a new kind of camera.
It's not you or me; it's cameras overloaded with junk features to make them sell better instead of cameras designed to take pictures better.
If you or I can't figure out a camera, or it doesn't work as expected, it's the cameras fault, not ours.
A computer does a million more things than a camera, so why is it easier to figure out and find menu options on my Mac than on a Nikon D700 or Canon 5D Mark II? Because the Apple is far better designed, with careful review of which features are needed, and which are junk.
24 December 2009, Christmas Eve
As the world winds down to observe the birth of the baby Jesus, I offer this as probably one of the only two or three useful things I've written this year, along with Composition, Lighting, and maybe Grads.
For Christmas, I offer the world:
NEW: Simplicity.
Think about this as you're holding your candle and singing Silent Night (Stille Nacht for Leica fans).
Jesus, in adult form, taught the same thing: if you want happiness, sell all your stuff and give it to the poor. You don't need it, and you'll be happier without it.
In photographic terms, Jesus taught us to give all our stuff to others, and use nothing but a Quicksnap. Jesus was right: with a simple camera, you'll concentrate on your subject, not technique, and create better pictures.
Merry Christmas!
23 December 2009, Wednesday
Film so Rules
See what happens when you compare the resolution of actual prints from film to state-of-the-art digital.
Film so rules, so long as you look at real photos (prints), and not simply look at scans from film versus meaningless, unprinted digital files.
Thank you Mr. Puts!
I'll bet his film would look even better if printed at a larger aperture than f/11 on the enlarger; diffraction is probably limiting the resolution from film, and it still totally wiped the M9 off the map. The film wasn't shown in its best light; the grain is soft or invisible in Mr. Puts' examples, but in any case, they prove beyond any shadow of a doubt that even 35mm film outresolves the best in digital, and is cleaner, with no colored artifacts. Any better examples would have put film so far ahead that no one would beleive it.
Heaven help you if you're comparing an ordinary DSLR to film, tried a larger film format, or tried some special high-resolution film. Ilford Delta 100 is among the most common medium-speed B&W films there is. Personally, I have some Ilford Pan F Plus 50 in my bag, which is slower and possibly higher resolution.
NEW: Nikon D5000 Users Guide for iPhone and iPod.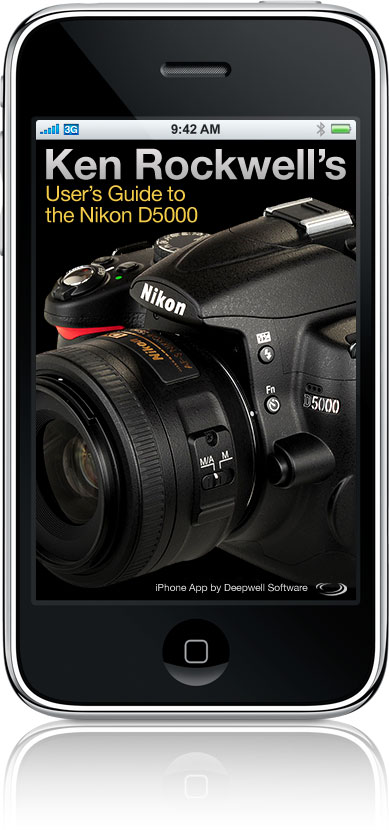 22 December 2009, Tuesday
NEW: Nikon 70-200mm f/2.8 VR II Review.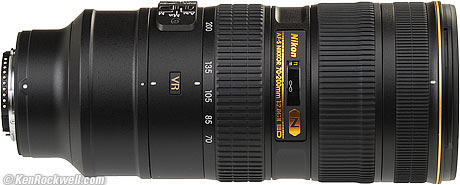 Nikon 70-200mm f/2.8 VR II.
This is an excellent lens; Nikon's best ever, in many small ways, all of which add to every full-time pro needing to buy one.
Rats; I was hoping it was just a cosmetic upgrade, but in fact its a complete redesign with superior performance in every significant way.
Nikon must be crazy. All the previous six versions of f/2.8 tele zooms have been superb, and somehow, Nikon again figured out how to improve everything a little bit more and make everything that was wonderful last month now old and crummy.
Adorama pays top dollar for your used gear, especially the older model 70-200mm VR, if you're moving up. I hear Adorama's been paying about $1,000 cash for the old model in good shape.
21 December 2009, Monday
Nikon D90 deals: The Nikon D90 body, my favorite serious Nikon DX DSLR, is down to $789 at these links to it at Adorama and Amazon. In each case, you have to add it to your cart to see the special price.
If I shot DX for serious work, the D90 would be it.
NEW: The Myth of the Digital Projector.
Did you know that even the best digital projectors still have less than 0.8 megapixels of resolution, and often less than half a megapixel?
If you spend several thousand dollars, you might (or might not) get 1.5MP, and for five or six figures, you can get a whopping 2MP.
Wow. Two megapixels. Less than a digital camera from 1999.
I'm sticking with direct-from-film projection. I get better colors and dynamic range, too.
I couldn't afford professional projectors in the 1990s because they cost thousands of dollars, but today they are almost free.
Keep your eyes peeled at this link to them (all models) at eBay, and you easily can buy professional 250-Watt LEICA PRADOVIT projectors, complete with the best LEICA COLORPLAN-CF lenses, all still in their boxes and mostly unused, for a couple of hundred dollars today.
Even the crappy amateur LEICA projector (P-150) I bought back in 1995 was far better optically than any professional Ektagraphic, and the professional LEICA projectors, bought used, will let you amaze your friends with the slides you shoot on your Nikons (or whatever) today like we poor people never have been able before.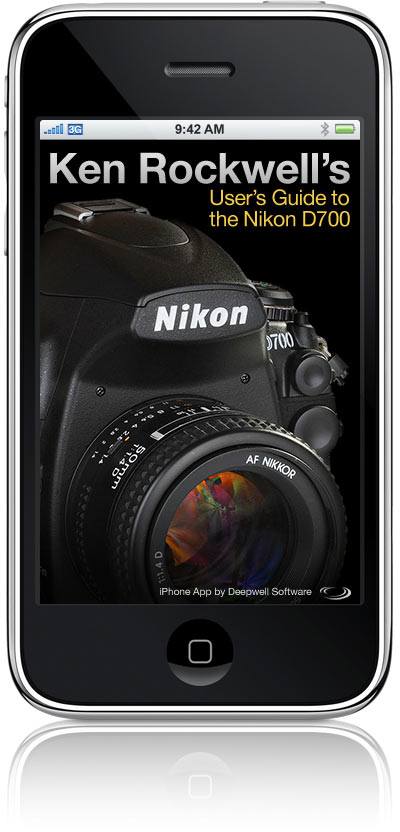 NEW: Nikon D700 User's Guide for iPhone and iPod.
NEW: Nikon D300 User's Guide app for iPhone and iPod.
BOOK: Galen Rowell's Inner Game of Outdoor Photography is an eye-openingly clear book that explains many of the reasons most people don't get the photos they want, and what to do about it. Galen says more in a few pages than most photo books say, period.

The original hardcover edition, which used to sell for about $23, sold out and then people were scalping them for up to $1,000. Wait, and the new soft cover edition should be available in May 2010 at under $20. The paperback has a different cover, but the same page count and size.
Nikon D3X - Rats. A reader send a clipping showing the Nikon D3X for $5,800 at Amazon. I thought maybe it was time for a D3X, but no.
The D3X is still $7,500, even more than the new LEICA M9. Nikon can stuff it.
That's too bad, because I'd dump my D3 for a D3X in a heartbeat when the D3X comes back to the correct price. The D3X, so long as 5FPS is fast enough for you, equals or exceeds the D3 in every way, including high ISO performance. The D3X doesn't let you set stupid-high ISOs for marketing purposes, but as I showed a year ago, the D3X is as good at ISO 3,200, and gets better with more resolution as the ISO drops.
The D3S doesn't do anything for me that my D3 can't do, but I'd love to have a D3X, but not for $7,500 today.
Except for its huge size, the only reason I don't go off each and every day about how great is the D3X is because it's a non-player in the market, priced at almost double what it should be. Why would anyone blow $7,500 when they could get a superior LEICA for less?
When I want technical quality, I still need to drum it into people's head who have been reading too much commercial media: I shoot film.
A $29 Nikon FM and Velvia look far better than anything digital, especially when you project the actual living, breathing life-like film and don't simply look at scans of it on a computer.
18 December 2009, Friday
NEW: The Flashlight Test.
How to see what you don't want to see.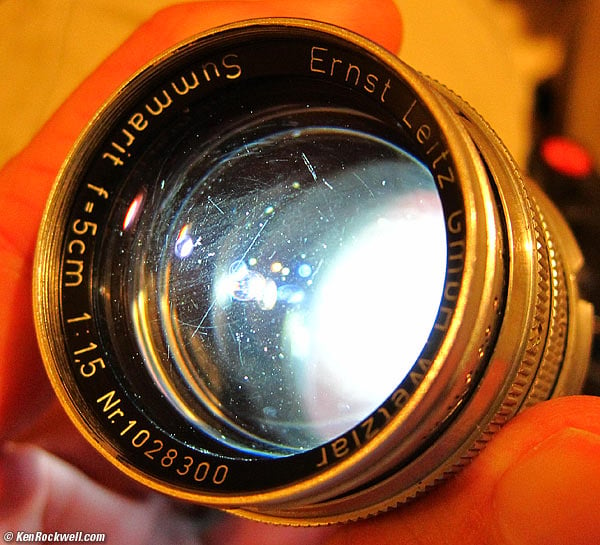 Scratched, hazy lens failing the flashlight test.
CONTEST: Zeiss has a contest open until 15 January 2010.
The theme is Digital Culture, and its open to anyone so long as its shot with anything with a Zeiss lens, be it a camera phone or a Hasselblad. I'd opt for the Contax G2 or 645 and film, but that's just me.
There will be 10 winners.
First prize is your choice of a Zeiss SLR lens, and goes down from there. I didn't see anything about the prize having to be a current production item (I didn't read the rules, either), so if I won, I'd want a 350mm f/4 Tele-Apo-Tessar for the Contax 645, which is a lens too big and expensive for me to want to buy, but if Zeiss is handing them out…
See details at Zeiss' website, and previous winners here.
Nikon F4 help in NYC
Can anyone in New York City give reader Neal Weissman (212) 591-1531 some face-to-face help with the basics of setting up and shooting an F4?
I haven't written a real users guide yet, and Neal would sure like some help. Nikon's instructions are fo no help.
17 December 2009, Thursday
The cure to the LEICA M9?
The LEICA M9 rules the digital roost, except that I seem to be the only one who hates the color balance. To me, its colors look awful compared to Canon, Nikon and film.
Colorist Steve Dent tweaked some RGB curves, which when I drop them onto other images as an adjustment layer in Photoshop, appear miraculous in making my LEICA M9 images pop.

Download this small 256kb PSD file, and drag its curves adjustment layer onto any other LEICA M9 file as opened in Photoshop.
Try it yourself and let me know what you think. It works on any LEICA M9 JPG or DNG files after you've opened them in Photoshop.
Is Steve Dent a colorific genius or what?
Software: I was just talking with travel pro photographer Bob Krist, who pointed me to a clever utility program that can immediately extract the hidden JPG from any raw file. It's called Instant JPG from raw.
I haven't tried it.
It pulls the embedded full-resolution JPG out of a raw-only file fast.
This way you don't have to shoot raw+JPG just to get a JPG, and don't have to spend the time to open a raw file just to get a full-resolution image.
16 December 2009, Wednesday
NEW: Zeiss 21mm f/2.8 Review.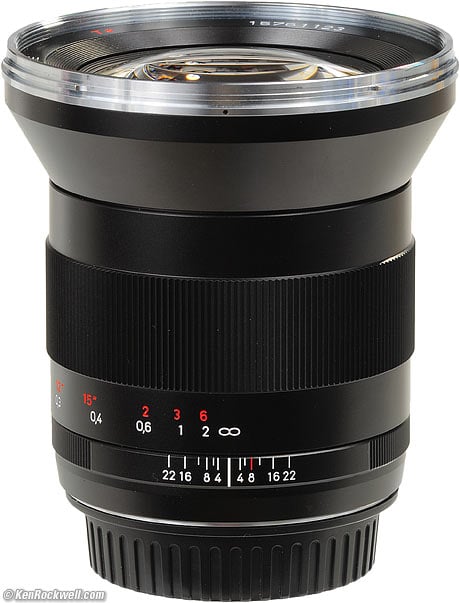 Zeiss Distagon 21mm f/2.8 ZE.
NEW: Zeiss 21mm f/2.8 Compared to Nikon 14-24, Canon 16-35 L II and LEICA 21mm f/2.8 ASPH.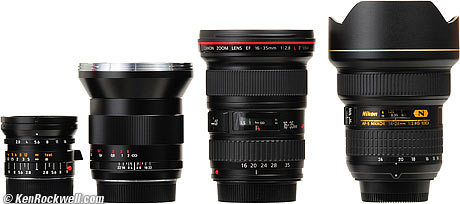 LEICA, Zeiss, Canon and Nikon lenses go at it!
Observed: Peter Dolph shares research showing that the half-life for the value of a DSLR is about two years.
15 December 2009, Tuesday
Ryan's Third Birthday - Yay!
Europe, EU, England and Ireland
Hey guys - B&H just was telling me that when you get your gear from this link to them that they have an automatic calculator that tells you the exact cost for all of shipping, duties and VAT.
It's easy: put things in your cart.
Once in your cart, select your country from the drop-down menu and select your shipping method. It shows you all the options, with shipping time and cost.
Once you've chosen the shipping method, it automatically calculates the VAT and duties, and if you want, shows you the exact breakdown at See Details.
You can pay all this up-front with your order. B&H remits all the VAT and duties as needed, so your gear arrives directly at your door without you having to go pick it up and pay duties separately.
Of course if you're exempt, or want to pay them the old way, just check the "Don't collect" box when you click See Details.
You can see all this before you place your order while you're still in your cart. B&H spent a lot of money getting this to work for these countries.
Yes, anything you get from B&H or Adorama or Amazon or anyone from anywhere on my Links page all helps keep me adding to this site. Thanks!
NEW: Zeiss 18mm f/3.5 Review.
Fits Canon EOS, Nikon and Pentax!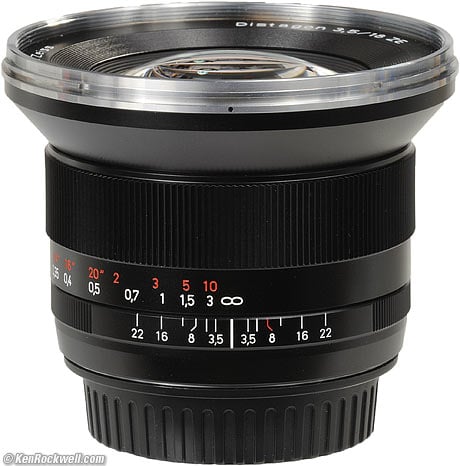 Zeiss 18mm f/3.5 ZE.
This Zeiss, especially on Canon who has no good 18mm lenses for EOS, is a great lens.
The reason I wasn't impressed with the Zeiss 50mm f/1.4 was because it used the same optics as every other Japanese 50/1.4, with mechanics inferior to Nikon's AI-s with which it directly competed at the time.
This 18mm is a world better optically than other 18mm lenses, and far better built than the plastic for which we pay top dollar for Canon EOS. Heck, just look at the size — its an 82mm filter thread.
I'd seriously consider one of these instead of the Canon 16-35mm L II or 17-40mm L for Canon. Für Nikon, I prefer the feel of Nikon's own fixed 18mm lenses, even if the optics probably aren't as good. I didn't have the Zeiss 18mm in Nikon mount for a meaningful comparison.
NEW: Zeiss 18mm f/3.5 Directly Compared to Nikon 14-24mm and Canon 16-35mm L II.
The Zeiss completely creams Canon's best, while Nikon is nearly a no-show in this tournament of the finest in full-frame performance.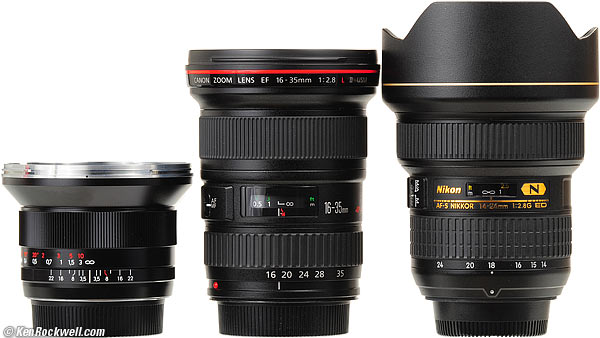 Zeiss 18mm f/3.5 , Canon 16-35mm L II and Nikon 14-24mm. compared.
14 December 2009, Monday
Film Rules - as we all know
Maitre d'Meathenge Guy Prince points us to this example of great photos living on film for over thirty years before being developed.
Christmas Card Labels
I'm feeling pretty smart for a change.
For 30 years I've scratched out my Christmas cards by hand each year, from an assortment of notes in various places.
Whenever I've contemplated using a computer and labels, it's been too darn complicated. Even if I get something going, like with software from Avery, it doesn't work, or prints in the wrong place, or otherwise takes longer to get everything in order than just writing them out. Even if I got the software to work, it required me typing everything into it fresh.
Cue the Mac.
Now that it's been, oh, ten years since I upgraded to a professional computer (Mac) from an amateur one (Windows), something in the back of my head told me that Apple probably solved this decades ago, and it was probably something already in my Mac these past ten years.
I can't tell you how fast and simple it was, and 90% of the work was already done for me. The only 10% I had to do was add addresses for people that weren't already in my Address Book.
Do you have your friends in your Mac's Address Book? You know, the one that syncs magically between your iPod, laptop, desktop computer and iPhone?
Once your friends are in there, all you do is:
1.) Click [ + ] to make a new list, called Christmas.
2.) Drag the people who will receive into that list.
3.) Select everyone in that list.
4.) Hit CMD + P (Print).
5.) Under Printer and Presets, you'll see an option called STYLE.
6.) Select MAILING LABELS.
7.) Under LAYOUT, select the kind of labels you're using, like AVERY 8160. All this stuff is already in your Mac!
8.) Under LABEL, select your font and etc. to get your look. You can even drop-in an image. I use Bernhard Modern, but that's just me.
9.) Stick the labels in your printer, hit PRINT, and I was done on the first try!
The key here is that there was NO learning curve, no wasted labels and no re-dos. It was just DONE.
It works so well and so fast I'm left uncharacteristically speechless. Every label printed perfectly, something I never can get to work right. Not only is every label perfect, but if your chosen type size was too big for any particular label to fit, it automatically chose exactly the right smaller text size to fit and look perfect.
Remember Windows computers where nothing used to fit, things cut off, and you had to spend a week trying to learn a database program to get the right things to print where you wanted them the first time?
With Mac, it just goes. Heck, it just grabbed exactly the correct addresses and printed them perfectly. Done.
You people have already seen my Christmas card photo, so God bless the Internet; you just saved me about six million stamps, and saved the Costco photo department from making 6 million extra prints.
11 December 2009, Friday
Zeiss ZE Lenses for Canon
I just borrowed a Zeiss 21mm f/2.8 ZE and 18mm f/3.5 ZE. Boy, are they solid lenses!
A quick check confirmed that yes, the ZE lenses are way sharper in the corners than the Canon 16-35mm f/2.8L II zoom.
The ZE lenses have full communication with the Canon EOS system. I was using them on the 5D Mk II. You get full exposure control, automation and EXIF data, just like a Canon lens. This is worlds better than screwing with adaptors for the Nikon 14-24mm.
The ZE lenses are for serious still shooting. I'd use the Canon zooms for sports and news, but their optics have not been up to serious nature and landscape work. These manual-focus Zeiss are.
We'll have to see if the ZE lenses on a 5D Mk II can outrun a LEICA. The LEICA M9 has trashed the 5D Mk II before because Canon makes no wide lenses that are as good optically as the Leica or Zeiss lenses, or Nikon's 14-24mm f/2.8. The 5D Mk II has the resolution, but Canon's wide lenses aren't up to the job on the 5D Mk II.
Canon's 24mm and 17mm TS-E lenses are probably better than the 16-35 II and 17-40mm zooms everyone uses, and they offer tilt and shift for serious landscape and architecture work, but I don't have either handy for a comparison. The 17mm TS-E can't use filters. You need Grad NDs if you're doing real landscape work. (You don't use polarizers with ultrawides; the sky doesn't work that way.)
Not bad, considering that the Zeiss lenses are the same price as the Canon.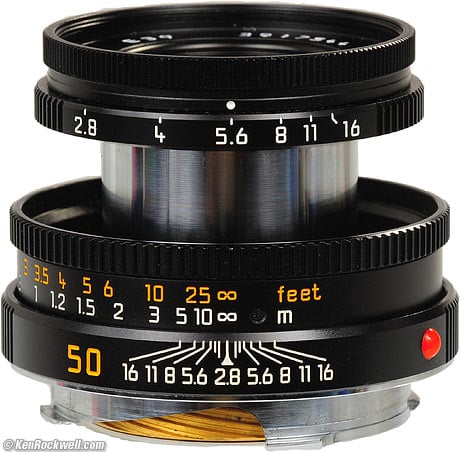 LEICA ELMAR-M 50mm f/2.8.
NEW: LEICA ELMAR-M 50mm f/2.8 Review.
A little smaller than yesterday's 300mm Nikon.
It's funny how people hold on to outdated beliefs for decades after they've become irrelevant.
In the 1930s, LEICAs were expensive, and Nikon only made camera lenses for Canon. Nikon didn't make cameras until the 1940s.
In the 1950s, LEICAs were expensive, and to a lesser extent, so were Nikons, like the Nikon SP.
Today, this 50mm f/2.8 LEICA lens costs about one-tenth as much as the Nikon 300mm below, they both are f/2.8, and the LEICA lens has a ten-times more useful focal length. This LEICA lens, for a lot less money, gives far more resolution on an M9 than that Nikon lens gives on a D3S or a D700.
So which brand is more expensive today?
10 December 2009, Thursday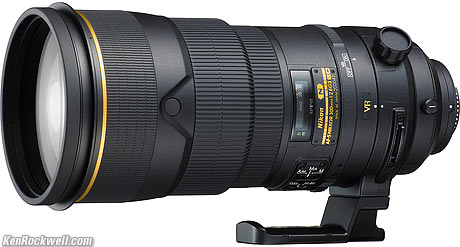 Nikon 300mm f/2.8 VR II.
NEW: Nikon 300mm f/2.8 VR II.
UPDATED: All Nikon 300mm f/2.8 Lenses Compared.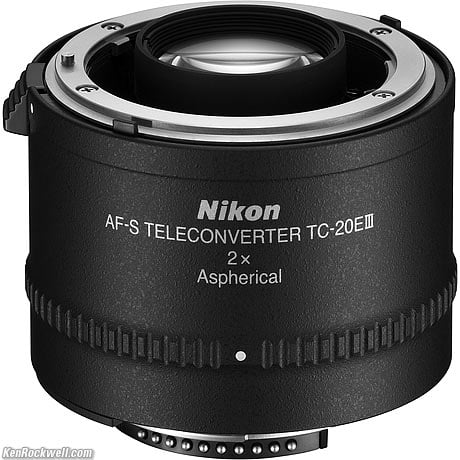 Nikon TC-20E III.
NEW: Nikon TC-20E III.
Color Magic
In an attempt to find the magic formula to get a Digital LEICA M9 to look like scanned Velvia, I added 100MB of more original film scans and DNGs to my Yosemite 2009 galleries.
Specifically, I added film and DNG for the shots of the redwood tree and the Half Dome on the 20th, and film and DNGs for two different shots at Twin Lakes at dawn on the 25th.
I'm hoping someone has the method to make the M9 colors look as good repeatably as I got from a 1954 LEICA M3 shooting Velvia 50 through 50-year-old lenses. A Canon 5D, Nikon D90 or Canon S90 have far better colors, for me anyway, than the M9 as its JPGs pop out.
Something else that the LEICA can't do is handle highlight overload. It just clips as primitive digital cameras did 10 years ago. I would hope you folks would know a way to give it a shoulder from DNG.
I can make any one of these images look decent one-at-a-time. What would be valuable is if you have a tweak that works on every one of those images to make them look all equally great.
I'm a shooter, not a 'shopper, and I know many of you like to play on your computers, so I share these files in case someone comes up with something good. I know some of you know how to do it; I don't.
If you do write, be sure to provide a click-by-click description of exactly what you did, and the software in which you did it. Skip a step, and it's not productive.
Thanks!
Ken
09 December 2009, Wednesday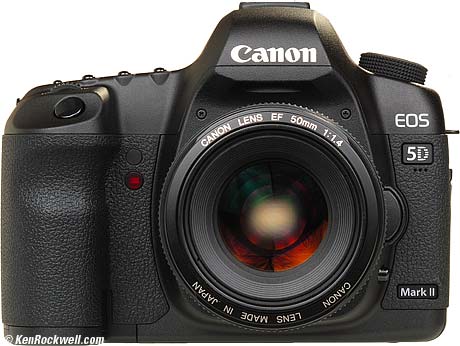 Canon 5D Mark II.
DEAL: Canon 5D Mark II body kit at Adorama!
No one has had any deals on the Canon 5D Mark II body ever since it came out over a year ago. It's that good, heck, it's Canon's best DSLR ever (for nature and landscape), and its not even their most expensive.
Adorama has broken the discount ice with the first deal out there: they're throwing in a SanDisk 16GB Extreme III CF card and an Adorama Slinger bag (a nice bag!) for the same price as everyone else is still asking for just the camera.
While poking around looking for the link to that deal, I found that Adorama also has refurbished Canon 5Ds for $1,800.
The old 5D is also a miraculous camera, still slamming out images better than the Nikon D700 or anything else from Nikon short of the D3X.
When I look at what I cranked out of my old 5D, even I'm impressed, especially looking at its clean original files on my 30" monitor.
OLD: A blast from the past. Somehow this page from ten years ago lost its images and I had to reload them.
These were shot in Steve Cirone's studio. We shot film with strobes, while these snippets are from my Sony Mavica FD-88. shot under the modeling lights.
NEW: Zeiss 28mm f/2.8 ZM Review.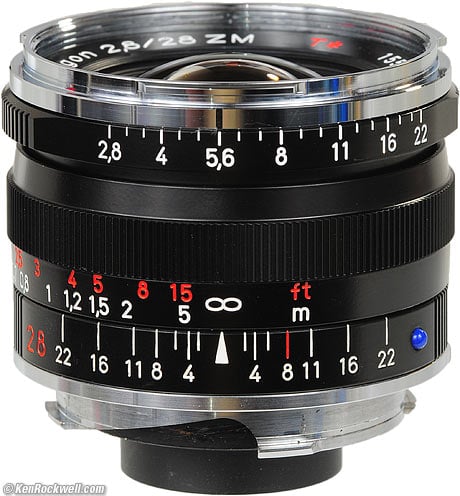 Zeiss 28mm f/2.8 ZM.
A great 28mm lens; as good or better than Leica for half the price.
08 December 2009, Tuesday
Adorama wants your gear!
Adorama just asked me to let you know that they are paying top dollar for your used gear, especially recent lenses like the 70-200mm VR.
Adorama wants your photo, video and lighting gear. Last year they paid out over $20,000,000 buying it!
Market conditions can change overnight, but over the past few months, Adorama tells me that their average pay-out for the 70-200VR has been a solid $1,000. For the old D2x, Adorama has been paying $800, and the D2XS has been fetching $1,000 from Adorama.
Last I looked, other dealers only pay 50% of the selling price. Adorama pays up to 70% of their selling price.
The process starts by clicking here and letting them know what you have. They'll take the information over the phone, fax, email, with an online form, or heck, you can just walk it into their store if you're in New York City.
They'll look at your message, and telephone you with a quote. If it sounds good, and you're in the USA, they'll email you you a free insured UPS shipping label with which to send your gear to them. (They buy from any place on earth, but might not be able to pick up the shipping if you're someplace like the South Pole from which there is no regular UPS pickup.)
Once your gear lands at Adorama, they'll look it over, and phone you again in about two days to discuss how you'd like to get paid. Adorama pays via cold, hard cash or direct deposit into your bank account. Of course you can use it towards a trade-in; the key point is that it's the same amount regardless.
If you don't like the quote or change your mind, no problem, they'll ship your gear back to you for free, too.
Canon SD880
The classic Canon SD880, which peaked at almost $1,000 new as it went out of stock, is available refurbished at Adorama for $250.
I've met people who've bought these refurbs, and loved them. The SD880 sold for around $300 most of its life. It was the hot new product last fall.
The SD880 is awesome. The reason I've shut up about it is because no one could buy them, and at $1,000, it wasn't that awesome. For $250, it's a winner.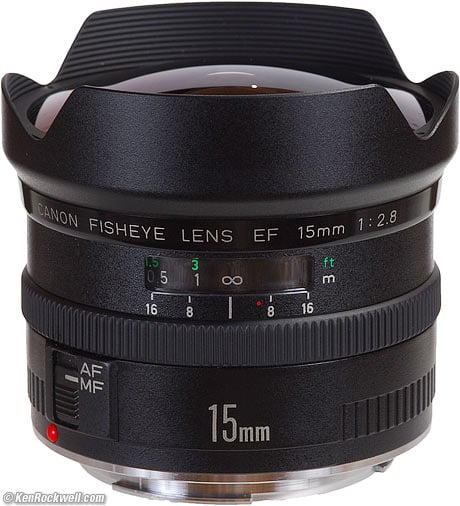 Canon 15mm Fisheye.
NEW: Canon 15mm Fisheye Review.
World's best fisheye. Sorry, Nikon.
LEICA M9 Frenzy!
This one sold for $9,500, and sold as a buy-it-now in a few hours in the middle of the night.
Not bad, and as you can see, he was smart enough to have bought it at Adorama.
Buying Leica futures, like any commodities investing, is a dangerous game for men who can afford to lose a lot of money. At least this month, someone pocketed $2,500 profit before their credit card bill came due. Not bad, but don't expect to be able to repeat this.
I'm unsure if the Nikon D40 will see a demand-driven run-up as the new LEICA M9 and the unobtainable Canon SD880 saw. The D40 will probably go out of production any day, and when it does, there is no way to get 1/500 standard flash sync out of any other new DSLR. Will the D40 sell for $1,250, as the SD880 was selling for $1,000? I don't know.
07 December 2009, Pearl Harbor Day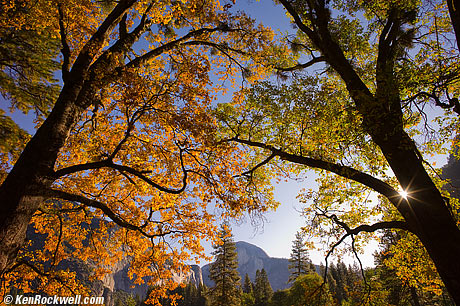 Yosemite, Autumn 2009.
NEW: LEICA M9: Three Sample DNG Files.
You've all seen these as part of my Fall 2009 Yosemite Photos.
Leica asked if I could stick just the good shots on one page so they could link to it from their website, so everyone could see some decent M9 DNG files.
I'm honored, and I'm still casually hoping someone will have a solution to get the crazy colors I prefer out of its DNG files, so I can use the same process.
I prefer crazy-colors, not the serious ones that come out of the M9. The M9 colors remind me of what I see in BMW and Porsche's fancy German-printed magazines. High-quality, but a very different color palette from what I'm used to seeing in America.
Canon 5,200mm Lens
Someone has a 250-pound Canon 5,200mm lens for sale here on eBay.
Japanese Terrorist Attacks Remembrance Day
68th Anniversary.
RIP, thousands of innocent, brave Americans murdered on a bright, sunny Sunday morning in Hawaii in an unprovoked, secret terrorist attack made without any declaration of war.
Nikon was a big player, having made mostly tools for terrorism before and during WWII. Nikon made large military binoculars used on naval ships, long-range rangefinders used on battleships, and bombsights used to murder Americans in the 1940s.
All Canon made back then were cameras.
Poke all the fun you want of other brands, but heck, Leica even ran a Freedom train getting people the heck out of Germany back when things were getting really nasty as far back as the 1930s.
Nikon didn't start making cameras until after the emancipation of Japan and disbandment of most of Nikon's war-making products divisions after WWII. Only then did the few people left at Nikon Nikon have to dream up some peaceful products, and decide to start making cameras, which were the Nikon S series of rangefinders. Nikon skips this less pleasant part of their history on their corporate history site.
One good thing that came out of this is that Nikon's gear started out as military-grade, and went down from there.
We will never forget, and on a more pleasant note,
Merry Christmas from my D40!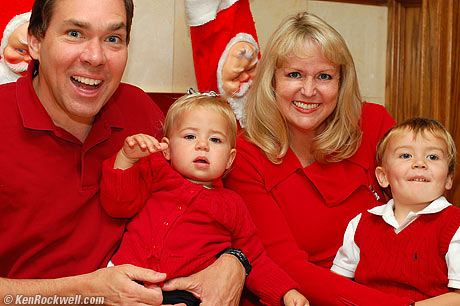 Merry Christmas! merrier.
We've been trying for the past two weeks to get a decent photo with our wiggly baby girl, and they've all been terrible. That's why its taken us two weeks.
This is the best we got, and it's our worst picture ever!
Technically, we had it snapped with my D40, 50mm f/1.4 AF-S (a great portrait lens on DX), and my SB-600 bounced off the ceiling. I taped a white piece of paper on the back of the tilted flash head to bounce jut a little bit of light into our eyes as a kicker. Of course I shot in on JPG.
I chose the D40 because I didn't want to carry any thing heavier, and would need 1/500 sync if we went outdoors. I set the AF system to CLOSEST SUBJECT, so our dad-in-law, Pops, could make the snap by just pointing-nd-shooting.
05 December 2009, Saturday
D40 alive and well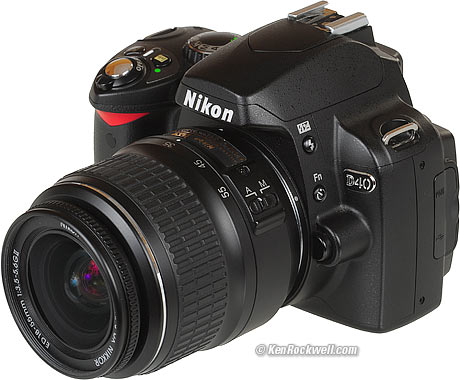 Why do I keep getting email for the past year asking if the D40 has been discontinued?
I just bought another for my wife at Adorama for $439.95, including a free case, 4GB lexar card and Bob Krist DVD. This is the cheapest it's ever been, and it throws in some nice extras, too.
Retail stores try to tell you you can't get it because they make more money up-selling you, but if you want a D40, you can buy all you want at Adorama and Amazon. So what if store X or store Y no longer carries it because they prefer to make more money selling you the crummy D3000?
If you don't use the Internet, where the D40 is plentiful, the D5000 is the next best thing, but it costs more and has slower flash sync.
Do I love the D40? YES! It's still my favorite Nikon DSLR. I only use a D3 in the studio, but if I have to carry it all day, I'm taking my D40 with its superior 1/500 flash sync, perfect for portraits and people pictures.
I love the colors I get from my D40. My LEICA M9 usually gives me crummy colors (I'm still wrestling with it), while the D40 (and Canon S90) always give mouth-watering results.
As I keep recommending, no one needs a D90 or D300; the D40 is all 99% of anyone needs. I keep showing great photos made with point-and-shoots; you don't even want to know what I could do with D40.
If you're shooting DX, the D40 is the way to go. If you shoot professional sports and action, you want a D3 or D3s and nothing less. The D700 is ideal for low-light and nature. The other models just let Nikon fill out all the price points. The D90 is also a spectacular DX camera if you want all the features, but the D40 still does 90% of what matters.
I own a D40 and just bought a second, not a D90. Other cameras are too complicated and I can't figure them out.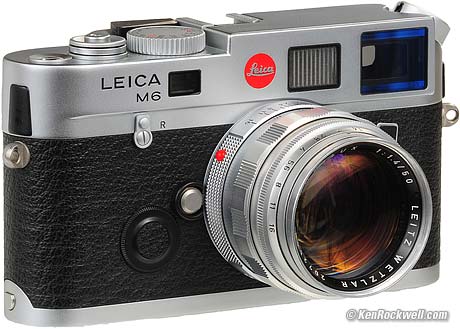 LEICA M6 TTL 0.85 with LEICA SUMMILUX 50mm f/1.4.
NEW: LEICA M6 and M6 TTL Review.
NEW: LEICA Viewfinder Magnifications.
04 December 2009, Friday
Long Live the Contax!
Service people have been trying to scare me away from the Contax G2 and 645 for a while, warning that they are extremely complex internally and there are only limited parts with which to fix them.
It took me half a second to confirm that ToCAD still cheerfully repairs all G2 and 645 cameras and lenses, and estimates that they have enough parts to last them through 2015.
They also estimated that they only had enough parts for the G1 to cover them through 2006, but they're still fixing those, too.
These cameras are repaired in the USA. The made-in-Japan Zeiss Contax lenses are still repaired at the Kyrocera factory at which they were made.
No problem. If my G2 or 645 dies after 2015 and if I can't get it repaired, I simply by another body for a few hundred dollars — about what I paid for my last CF card — and I'm good to go.
NEW: Nikon AF 24mm f/2.8 D Review.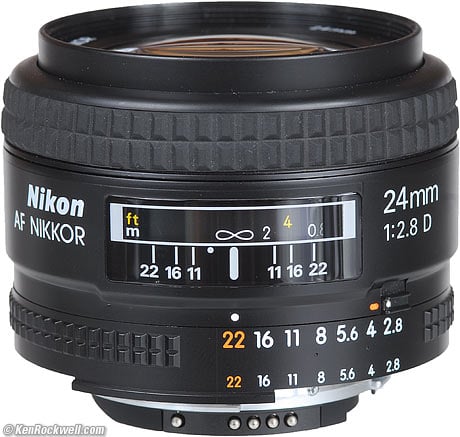 Nikon 24mm f/2.8 AF-D.
An excellent performer, which can replace both the 14-24mm AF-S and 24-70mm AF-S lenses for the seasoned photographer, with improved performance.
03 December 2009, Thursday
Merry Christmas!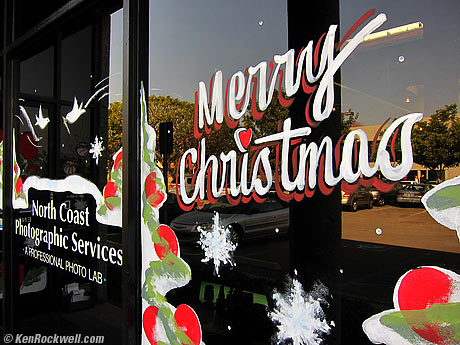 Some of NCPS' Christmas decorations.
Yay! I was happy to see that my local photo lab has decorated for Christmas. Yay! I was dropping off more film this morning.
That reminds me: a couple of months ago, the lab's owner, Richard, showed me some legal copyright infringement notices and the settlement demand he got from Getty Images.
It turns out that Getty found one of their images on NCPS' website. Huh? NCPS is a photo lab, not a photo website. How could this be? NCPS doesn't post any of their own photos, much less let anyone else post theirs.
t turns out that Richard didn't do his website himself. Like almost everyone, he had someone else make it for him. Apparently his webmaker used a part of a Getty image as part of a graphic without a valid usage license, probably thinking "no one will know," and now Richard is the one stuck with the $750 settlement demand from Getty. Richard paid it.
$750 is the fee for the unauthorized use that NCPS' website already had made of the image before they got the note from Getty. He still has to take it down even after the $750. If he wants to continue using it, Getty will talk to him after he ponies up the $750 he already owes them.
The morals of this story?
1.) You photographers know never to copy anything, anywhere on the Internet for any purpose. You know that, but not everyone else does.
2.) People who think "no one will ever find out" are wrong. You'd be amazed at how many weird parts of the world I find my stuff, and then bill accordingly, and I don't even need to use anything TinEye, which finds your images anywhere, automatically.
3.) If you have anyone else do any work on your website, make sure that they know the law. Many art and web design schools teach the wrong thing. I know people whose graphic design professors actually taught them that anything seen on the Internet is free for them to copy and use as graphic design elements. Nope.
Worse, if someone does this for you, you're the one who gets the bill from me or Getty, not your designer.
02 December 2009, Wednesday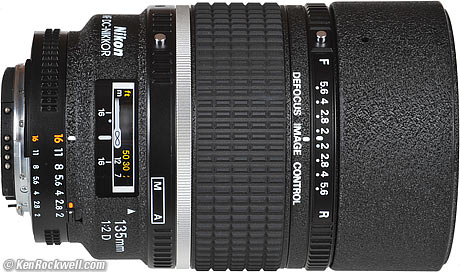 Nikon 135mm f/2 DC.

NEW: Nikon 135mm f/2 DC Review.

This is Nikon's best-ever 135mm lens, and it is extraordinary.

I've been in such awe that it's taken me two years to calm down and finally write about it.

Pros Shoot JPG

They usually don't go on record in the photo press because it sells a lot less software, but you'll see at these links, guys who know what they[re doing and have money to make, like Bob Krist, shoot JPG.

Projectors

When I said "projector" yesterday, I didn't mean a Kodak Carousel.

I gave my three Carousel projectors, two professional Kodak Ektagraphics and my trusty Kodak Carousel 550 that I had since childhood, to the local animal shelter thrift store back in 2004.

Carousel projetors are awful, and they were too darn expensive. Their color balance was too green, caused by their heat-removing system, and you have to go out of your way to get third-party (Schneider etc.) lenses to make them sharp.

In 1995, long before I had ever touched a Leica camera, I got a LEICA P150 projector and COLORPLAN-CF lens, and I was hooked.

Even after the COLORPLAN-CF lens, which cost as much as the projector, still cost a lot less than a crummy Kodak Carousel.

The LEICA HEKTOR-P2 85mm f/2.8 that ships with the P150 is a dog, not much better than Kodak's lenses. As Leicaphiles know, Hektor was the name of The Prophet's dog, and he used that name when approprioate.

The P150 was optically swell, but a toy mechanically. It only cost a couple of hundred dollars new.

Today, you can buy Leica projectors for a song at this link to them at eBay. The professional Leica projectors used to cost thousands and thousands of dollars, but today you can pick them up for a few hundred dollars, way below the cost of ay of those crappy digital projectors. Are you kidding me? Do you think I want to see a bunch of pixels that look like a screen window when I get close to the screen? With a real projector, all I see is more detail as get closer.

01 December 2009, Tuesday

Rockwell's Official Trip Portrait

Dave Wyman shot this one of me while we were on the Great Southwest Trip the other week.

This snap is me capping a Contax 645 while we were on a tour of Monument Valley care of our esteemed Navajo guides.

The Contax 645 is a camera so good I'm avoiding reviewing it.

When I go out and shoot, I grab whatever needs reviewing. I love the Contax 645, so if I ever completed a review, I'd lose my excuse to shoot it. It feels so good!

For you digital shooters, you can get digital backs for it, as well as RealRaw. You can shoot both at the same time by swapping backs!

Digital killed my tripod, but I'm shooting ISO 50 film, which has an effective ISO of 40 after I add the 81A filter through which I usually shoot it. I shoot the 645 hand-held, too. The 645 has no VR, either, so I'm entitled to use a tripod.

I don't use a tripod if I was shooting digital or VR, but I gave up shooting digital for serious field work back in 2008.

I've been earning 100% of my income from digital imaging since the nineteen-eighties! Back in the 1990s, I'd been doing it for ten years, and today, for over twenty.

After over twenty years of full-time paid professional digital imaging (as opposed to weekend wedding shoots), you know what? Digital still doesn't look as good as film done right. (doing film right is the hard part; it's very difficult to get film to look good.) I'm tired of digital, meaning looking at it on a computer or through some crappy 1MP too-blue digital projector when Velvia is the light and the way.

Want to know more? For the past year or two that I've been born-again into film, I've only been looking at my slides on the light table, or scanned to the same digital displays as I look at digital files.

I just fired up a projector last night. Holy Mother, you people have no idea what you're missing. A live piece of Velvia in the projector gate can do things on screen that digital can't even dream of.

Not only does Velvia shot right look like nothing else on-screen, it's so easy. Drop slides into the tray, plug in the projector, and go. You never look like a moron dicking around with a laptop trying to get the projector to recognize it in front of an audience.

Just like lenses, never cheap-out on your tripod. I bought that Gitzo carbon-fiber tripod when it first came out in 1995, and I've never needed to buy anything else. Ditto for that crazy Bogen 3275 (Manfrotto 410) geared precision head; I've been shooting that for 15 years, too. I got them both at the same time, and since the head weighs as much or more than the expensive carbon-fibre legs, I asked myself what was the purpose?

The key to buying Gitzo over Velbon, Slik or other dinky brands is that my Gitzo still flies like new. It's got no wear on it after being hauled all over the world for 15 years.

NEW: The Nikon FX Dream Team.

Nikon's best lenses for FX, which means Nikon's best lenses. Tell Santa now, as many of these lenses are difficult to find in stock.

As I keep telling you, you always should get whatever lenses you want, because unlike camera bodies, lenses stay current for ten years of more, and only go up in value.

For instance, the unequalled Nikon 14-24mm sold for $1,600 in 2008, and now costs $1,830.

The new 50mm f/1.4 AFS, which everyone should have for DX or FX, is now just $445. It dropped since it's no longer on the new 6-month hot list, when we all have to pay full price.

The superb 24-70mm's full list price was $1,699 at introduction in 2007, and now it sells at discount for $100 more, or $1,799.

The fantastic 200mm Micro was $1,340 last year, and now sells for $1,650.

Some of this is inflation, some of this is the fall of the US Dollar against the currencies of countries where people still work at work instead of playing on Facebook all day, and always comes from what even Ansel Adams preached: a good lens is always a great investment for a lifetime.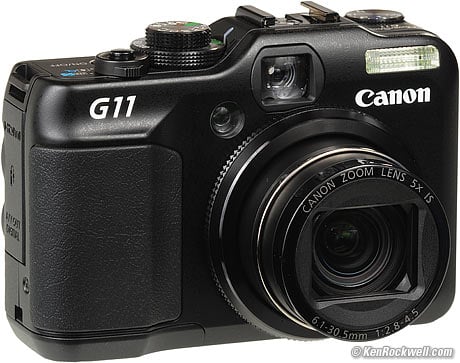 The Canon G11.
NEW: Canon G11 Review.
A great camera, almost as good as the S90.
Either of these gives me much better colors than the M9.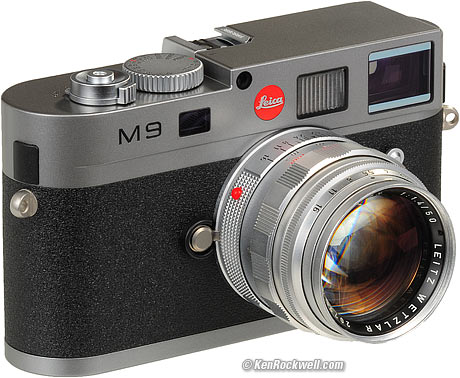 die LEICA M9.
Oh No! NEU: LEICA M9 Rezension in deutscher Sprache.
But yes, it's my LEICA M9 review in German.
If you're not getting my humor here, well, I won't say it.
What Was New in:
The end of September, 2008 (Photokina)
The beginning of September, 2008
December 2007: Loads of details about the Nikon D3, D300, 14-24mm and 24-70mm, much of which still isn't on the individual review pages.
November 2007: First hands-on details about the Nikon D3, D300, 14-24mm and 24-70mm, much of which still isn't on the individual review pages.
August 2007 (Loads of new Nikons and Canons)
2006 November - December (includes birth of Ryan Rockwell)
2006 October - November (includes photos from a trip to NY)
Help me help you top
I support my growing family through this website, as crazy as it might seem.
If you find this as helpful as a book you might have had to buy or a workshop you may have had to take, feel free to help me continue helping everyone.
If you've gotten your gear through one of my links or helped otherwise, you're family. It's great people like you who allow me to keep adding to this site full-time. Thanks!
If you haven't helped yet, please do, and consider helping me with a gift of $5.00.
The biggest help is to use these links to Adorama, Amazon, Calumet, Ritz, J&R and when you get your goodies. It costs you nothing and is a huge help to me. eBay is always a gamble, but all the other places have the best prices and service, which is why I've used them since before this website existed. I recommend them all personally.
Thanks for reading!
Ken
Home Donate New Search Gallery How-To Books Links Workshops About Contact