Home Donate New Search Gallery Reviews How-To Books Links Workshops About Contact
LEICA 50mm f/1.4
SUMMILUX (1961-2004)
© 2013 KenRockwell.com. This page best with Corporate S regular and bold activated.
Intro Specs Performance Compared Recommendations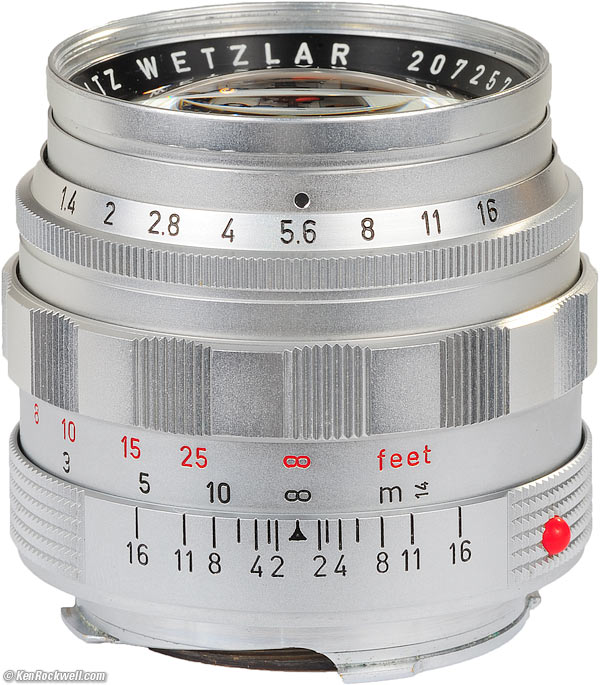 LEICA SUMMILUX 50mm f/1.4, 1961-1968 chrome version (43mm filters, 10.6 oz/301g). enlarge. The same optical design was sold, with different cosmetics, until 2004. You can get them at this link to them at eBay (see How to Win at eBay), you also can get them from Adorama. This free site is supported by your using those, and these links, when you get anything, regardless of the country in which you live. Thanks! Ken.
October 2013 LEICA Reviews LEICA Lens Reviews All Reviews
NEU: LEICA SUMMILUX 50mm f/1.4 ASPH (2004-today)
Introduction top
Intro Specs Performance Compared Recommendations
Compatibility Chronology Pricing
This LEICA SUMMILUX 50mm f/1.4 was LEICA's standard ultrahigh-speed normal lens from 1961 until it was replaced by the LEICA SUMMILUX-M 50mm f/1.4 ASPH in 2004. Even though the newest ASPH version throws a lot of technology at the problem, it's not much better than this lens!
This traditional non-aspherical (spherical) lens was LEICA's, and thus the world's, best for over forty years. Even today, its performance continues to exceed the newest 50mm f/1.4 lenses from Nikon and Canon.
In addition to costing ten times as much as a Nikon or Canon, this lens also gets its performance advantage from the layout of the rangefinder M cameras, which gives lens designers the freedom to place the rear elements much closer to the image plane than with SLR lenses.
All LEICA SUMMILUX 50mm f/1.4 lenses made from 1961 through 2004 have identical optics and coatings.
This 50mm SUMMILUX works great today on every LEICA, including the current M7, MP and M9.
There were three cosmetic variations to suit the fashions of the times.
Avoid the earlier 1959-1961 versions (serial number 1 844 000 and below) which are externally identical to the lens above, but use a different and inferior optical design.
This SUMMILUX helped kill off Nikon's rangefinder cameras in the early 1960s. The performance of this SUMMILUX is worlds better than Nikon's 5cm f/1.4.
Hailed in 1961 as an exotic, special purpose, ultra-high-speed lens with rare-earth glass elements, it made available-light color photography a practical reality.
In 1976 it was described as a normal lens with very large maximum aperture with excellent correction for coma, as well as outstanding contrast rendering with freedom from ghost images from bright light sources, even at its full aperture of f/1.4.
LEICA also explained that the SUMMILUX is designed above all for exposures in poor lighting conditions, especially when shooting into light sources. Because of its large maximum aperture, it offers excellent general performance, suitable for all purposes within its focusing range. LEICA cautioned that it is not, however, designed for use on focusing devices or for reproduction purposes (copy work). I confirmed this: at close range, it has curvature of field which is fine for normal subjects, but poor for copying secret documents.
In 1999, LEICA still praised its extraordinary speed and remarkably neutral color rendition, and that sharpness and contrast are still outstanding at full aperture.
In 2003, LEICA shared that it delivers an exact color differentiation and it is virtually free of coma. LEICA goes on to explain that it is particularly well suited to available light photography with outstanding performance in regards to ghost images from strong light sources inside the frame. LEICA also tells us it has "subtle contrast transition" at full aperture.
Thus we have the story of a master. If you chose this lens today, you have chosen a proven winner.
If you're counting every pixel on an M9, you deserve the newest LEICA SUMMILUX-M 50mm f/1.4 ASPH, which has somewhat superior sharpness. This SUMMILUX has much poorer definition in a band of about 15mm image radius at larger apertures. If ultimate image sharpness is your quest, the LEICA SUMMICRON-M 50mm f/2 is better than any LEICA SUMMILUX.
For actual photography, this is still the best 50mm f/1.4 lens ever made by anyone until LEICA outdid themselves in 2004 with the ASPH version.
Compatibility top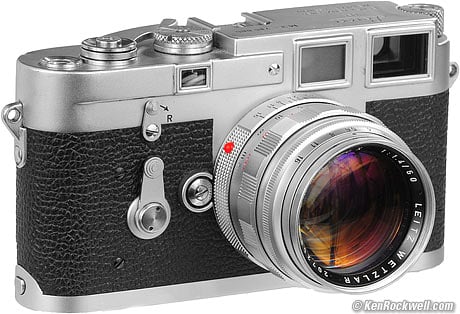 LEICA M3 and SUMMILUX 50mm f/1.4. enlarge.
This SUMMILUX 50mm f/1.4 is the finest 50/1.4 that was available on this planet at any price from 1961 through 2004.
Every version of this SUMMILUX works perfectly on every LEICA M camera.
On the CL, LEICA suggests shooting at f/2.0 or smaller since the CL has a puny rangefinder with limited precision.
If you bought yourself a new M3 in the 1960s when you were first starting your practice just out of medical school, this was the most exotic f/1.4 lens of which you could dream.
It was the absolutely finest 50mm f/1.4 lens available for each of the brand-new M2, M1, M4, M4-P, M5, CL, CLE, LEICA M6 and M7 as each was introduced.
As you bought each new camera, you congratulated yourself on your fine choice of an even finer lens that didn't need to be replaced every time you treated yourself to LEICA's finest new camera. Throughout the 1960s, the 1970s, the 1980s, the 1990s, and again in 2002 with the introduction of the brand-new M7, each time you found yourself a winner since you already owned the best and latest optical design. Its cosmetics may have changed, but not its optics or compatibility.
That's star power.
Today, your dilemma is whether you give your son, now about to graduate himself, the gift of a new LEICA SUMMILUX-M 50mm ASPH which will last him his lifetime, or say screw it, and hand-him-down your old non-ASPH and keep the new ASPH for yourself. This is never a dilemma for the LEICMAN, who simply tosses his old lens to charity and buys two new ASPH: one for him, and one for his son.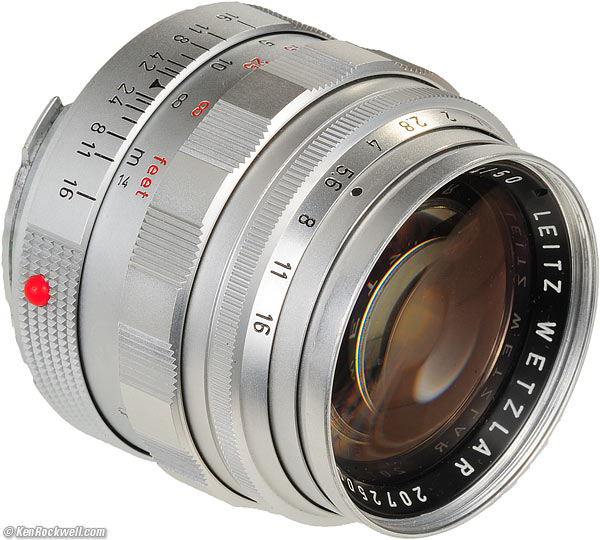 LEICA 50 1.4. enlarge.
Chronology top
Even though the optics are the same from 1961 through 2004, the mechanics and cosmetics went through several changes. Let me show them below.
Gray: Not covered in this review.
1959-1961: SOOME or 11 114

This was LEICA's first 50mm f/1.4 which used an older, inferior optical design. It was only made for a few years.

This version takes 43mm filters, weighs 325g and focuses to 1m.

You can recognize its cross section as different because elements 2 and 3 are cemented and elements 6 and 7 are separate, unlike the later lenses where the first three elements are separate and the last two groups are cemented.

LEICA also made 600 pieces in the older screw mount from 1960-1963; its catalog number was 11 014 or SOWGE.

It is differentiated from the newer optical design below by its serial numbers of 1 844 000 and below.

Some casual users refer to this as "Type 1."

1961-1968: SOOME or 11 114

This is the first cosmetic version of the SUMMILUX 50/1.4 discussed here.

It takes 43mm filters, weighs 301g and focuses to 1m. It takes the crinkle-coat black-and-chrome 12 521 hood.

These are all chrome, except for a special-order 11 113 black version offered in 1962.

It is differentiated from the earlier optical design by serial numbers of 1 844 001 and above.

Some casual users refer to this as "Type 2."

1969 - 1991: 11 114 or 11 113

This version uses the same optics in a black barrel with continuous ribbing around the focus ring.

Just to keep things confusing, the black version started out as part number 11 113, but when black soon became the standard color, it reverted to the standard 11 114 part number.

It takes 43mm filters, weighs 360g. and focuses to 1m. It takes a new black, vented 12 586 hood.

Some casual users refer to this as "Type 2."

1992--2004: 11 868 (black), 11 856 (silver).

This is the newest mechanical version of the same 43-year-old optical design.

It takes 46mm filters and has a built-in telescoping hood.

The black anodized aluminum version weighs only 275g, while the heaviest chromed brass version weighs 380g.

Some casual users refer to this as "Type 3."

2004 - today: 11 891 (black), 11 892 (silver).

The performance and technology of the past 43 years is now eclipsed by the new LEICA SUMMILUX-M 50mm f/1.4 ASPH .

This black ASPH version takes 46mm filters, weighs 335g and has a built-in hood., while the silver verison weighs 460g
Pricing top
These are list prices. Actually selling prices were probably lower by about 10%.
| | | | | | |
| --- | --- | --- | --- | --- | --- |
| Date | Color | Catalog price, adjusted to 2009 | Original catalog price | Hood price (replacement), corrected to 2009 | Original hood (replacement) catalog price |
| 4/62 | Silver | $1,550 | $216 | $41 | $5.70 |
| 4/62 | Black* | $1,700 | $237 | $41 | $5.70 |
| 5/64 | Silver | $1,500 | $216 | | |
| 7/65 | Silver | $1,350 | $196.50 | | |
| 2/66 | Silver | $1,325 | $198 | | |
| 6/68 | Silver | $1,325 | $213 | $65 | $10.50 |
| 6/68 | Black | $1,375 | $222 | $65 | $10.50 |
| 1/69 | Silver | $1,350 | $228 | $70 | $12 |
| 1/69 | Black | $1,500 | $252 | $70 | $12 |
| 11/69 | Black | $1,500 | $255 | | |
| 2/71 | Black | $1,425 | $267 | | |
| 1/72 | Black | $1,650 | $321 | | |
| 11/78 | Black | $2,721 | $822 | | |
| 2/80 | Black | $2,275 | $870 | $175 | $67.26 |
| 7/83 | Black | $2,350 | $1,087.50 | $150 | $67.26 |
| 12/88 | Black | $2,325** | $1,270** | | |
| 12/92 | Black | $2,750** | $1,795** | | |
| 12/98 | Black | $2,500** | $1,895** | | |
| 12/99 | Black | $2,325** | $1,795** | | |
| 12/99 | Silver | $2,455** | $1,895** | | |
| 12/99 | Titanium | $2,585** | $1,995** | | |
| 10/03 | Black | $2,350** | $1,995** | | |
| 2009 | either | typically $1,200 - 2,000 used | | | |
*special order
** retail prices both corrected for inflation in 2009 and at the time at B&H Photo Video in NYC, which are less than catalog prices.
Notice how the SUMMILUX has retained its value for fifty years. If you had the good sense to buy one in 1962 for about $199, today it would be worth nearly ten times what you paid for it, and you would have almost fifty years of great photos to show for it. That's a lot better than the stock market, where you'd have made less money and had nothing to show for it.
Even if with inflation, the SUMMILUX holds it value over the decades, while cranking out jaw-dropping photos all along the way.
Specifications top
Intro Specs Performance Compared Recommendations
Name
LEICA calls this the LEICA SUMMILUX 50mm f/1.4.
SUMMILUX is a trademark for any of LEICA's f/1.4 lenses.
Later, after LEICA introduced SLR cameras, the SUMMILUX for the rangefinder cameras have been called SUMMILUX-M to differentiate them from the SUMMILUX-R lenses for SLRs.
Comparison table of various versions
Gray: Not covered in this review.
| | | | | | |
| --- | --- | --- | --- | --- | --- |
| Name | 50/1.4 | 50/1.4 | 50/1.4 | 50/1.4 | |
| Dates | 1959-1961 | 1961-1968 | 1969-1991 | 1992-2004 | 2004- |
| Catalog Number | SOOME or 11 114 | SOOME or 11 114 | 11 114 | 11 868 (black), 11 856 (silver) | |
| Street name | Type 1 | Type 2 | Type 2 | Type 3 | ASPH |
| Color | Chrome | Chrome | Black | Black, Silver or Champagne titanium | |
| Focus Ring | Fluted | Fluted | Ribbed | Ribbed | Tab and ribbed |
| Optics | 7/5 old | 7/5 | 7/5 | 7/5 | 8/5 ASPH Floating |
| Close focus | 1m | 1m | 1m | 0.7m | 0.7m |
| Filter | 43mm x 0.5mm | 43mm x 0.5mm | 43mm | 46mm | 46mm |
| Front cap | * | * | 14 123* | | |
| Hood | XOOIM aka 12 521G | 12 521G | 12 586 | built-in | built-in |
| Hood cap | 14 036 F | 14 036 | 14 037 | n/a | n/a |
| Rear cap** | 14 051 | 14 051 | 14 051, 14 269 | 14 269 | 14 269 |
| Optional case*** | EKOOL aka 14 566 P | 14 566 | 98 282 (#2) | | |
| Weight | 325g | 301g | 360g | 275/380g | 335g or 460g |
| Weight | 11.5 oz. | 10.6 oz. | 12.7 oz. | 9.7/13.4 oz. | 11.8 or 16.2 oz. |
* Fits directly on lens without hood. A later E43 plastic Klemmdeckel (clip-on cap) Nr. 14 007 (438.668-001-170) was available.
** Any rear M cap of any vintage works on all of these lenses. Each number is what was standard in its era.
*** Holds lens with reversed hood.
Optics top
Cross Section, LEICA SUMMILUX 50 1.4, 1961-2004. enlarge
Design: Dr. Walter Mandler, Dr. Sc. Summa cum laude.
7 elements in 5 groups.
Single-coated in blue and magenta; rear elements in amber.
These single coatings were designed so well that even the newest version uses them instead of multicoating.
Diaphragm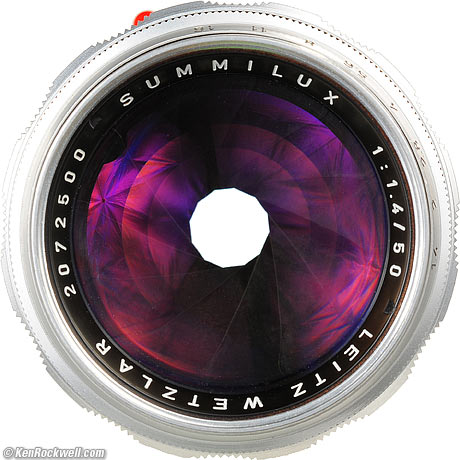 Front, LEICA 50mm f/1.4 SUMMILUX. enlarge.
12 straight blades, all versions.
Stops down to f/16.
Half stop clicks from 2 048 701 (1964) onwards, 1 stop clicks earlier.
Close Focus
1959-1991: 1m (39"), which is a reproduction ratio of 1:17 covering a field of about 410 x 620 mm.
1992-2004: 0.7m, which is a reproduction ratio of 1:11.6 covering a field of about 277 x 416 mm.
Actual Focal Length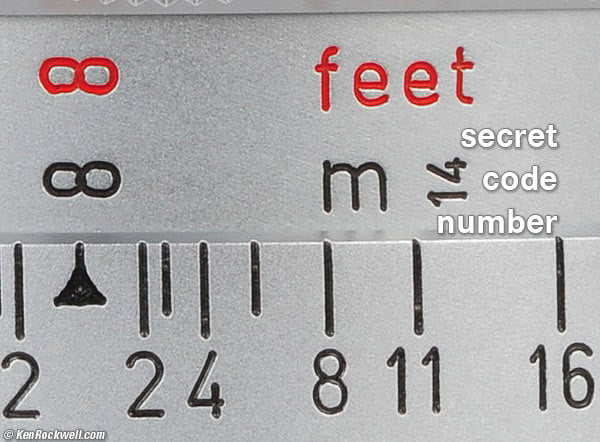 Secret Focal-Length Code Number.
The actual focal length is about 51.4mm.
The exact focal length of each lens is engraved as a two-digit code between the "feet" and "m" engravings. Divide this number by ten and add to 50 to get the actual focal length in millimeters.
For instance, "14" means 51.4mm, 13 means 51.3mm, and 16 means 51.6mm.
"14," or 51.4mm, is the most common, followed by "13," or 51.3mm, and then "16," or 51.6mm.
I have no idea why some 13s are marked in red or black.
(Regardless of the actual focal length, the small sensor of the old M8 only sees an angle of view similar to a 70mm lens.)
Size top
1959 - 1991
46mm extension from flange.
45mm (A45) diameter slip-on filter mount.
Maximum diameter (focus ring): 2.097" (53.31mm), measured (1964 version).
1992 - 2004
46.7mm extension from flange, specified.
54.5mm maximum diameter, specified.
Weight top
1960s chromed brass version, measured:
Lens alone: 10.600 oz (300.6g) measured. 11.6oz (325g) specified.
12 521G Hood (aka XOOIM): 1.235 oz. (35.1g).
45ø hood front cap: 0.127 oz. (3.65g). Locks in with hood clamps.
Rear cap (gray insert inside shiny black plastic): 0.340 oz. (9.6g).
Capped and hooded ensemble: 12.307 oz. (348.9g).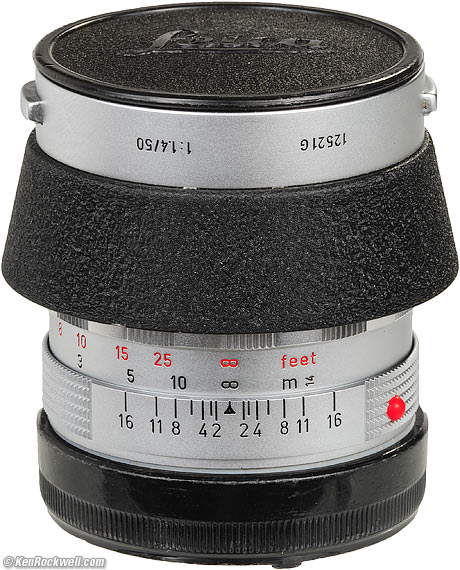 LEICA 50mm f/1.4 SUMMILUX ensemble: 12 521 G hood and caps. enlarge.
Weights for other versions: see table.
Hood top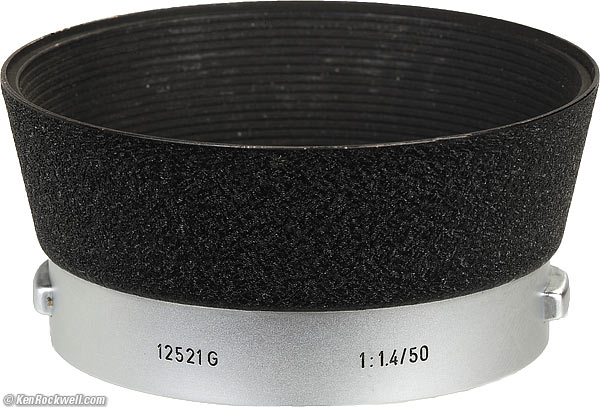 LEICA 12 521 G Hood (1959-1968). enlarge.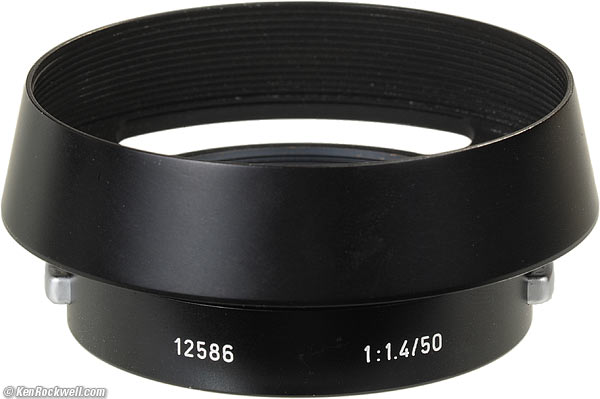 LEICA 12 586 Hood (1969-1991, will take regular 62mm snap-in cap). enlarge.
1959-1968: 12 521 G (XOOIM), trumpet style, chrome.
1969-1991: 12 586, vented, black.
1992-present day: Built-in telescoping.
Hood Discussion
Either hood works on any E43 lens (1959-1991). They both have the same front diameter and depth from the front of the lens, so each shades exactly the same. The difference is that the newer, reverse-conical, all-black vented hood cleverly does not block the finder, while the older non-vented, trumpet-style hood does.
The vents allow the finder to see through the newer hood. The newer hood is slightly larger than the older hood, since the fronts are the same diameter while the newer hood gets larger as it expands towards the rear.
I'd suggest using the newer 12 586 hood on all E43 50mm f/1.4 SUMMILUX, regardless of vintage. If you use this hood, and regular Nikon or Canon 62mm caps fits in the front of the hood, saving you from having to reverse it every time.
Hood caps
12 521 G hood: 14 036 cap.
Edge view, 14 036 hood cap (45ø) for 12 521 G hood.
The 12 521 G hood has a clever 14 036 cap (45ø) which locks into the reversed hood with the same clamps that attach the hood of the lens. To attach and remove this cap, just press the hood's release tabs and it drops right in or out.
Don't loan your SUMMILUX to a lesser photographer, since they have a tendency to presume caps are friction-fit, and will probably force it on or off and break the lip which keeps the cap attached.
12 586 hood: 14 037 cap.
The newer vented 12 586 hood uses a different 14 037 hood cap, which I presume snaps over the reversed hood, as does the 14 033 cap with the smaller 12 585 hood for the 50mm f/2 SUMMICRONs.
The older 14 036 cap works fine on the reversed newer 12 586 hood.
If you can't find the special LEICA hood caps, don't worry. Any standard 62mm snap-in lens cap will snap into the front of the 12586 hood while it's in the shooting position. This is an even faster way to stow and retrieve the lens and hood; you never have to reverse the hood!
Scope of Delivery top
1961: Sanitary polystyrene container with hood and cap.
Later years may have included a leather case instead of the clear bubble, but every version included the hood of time.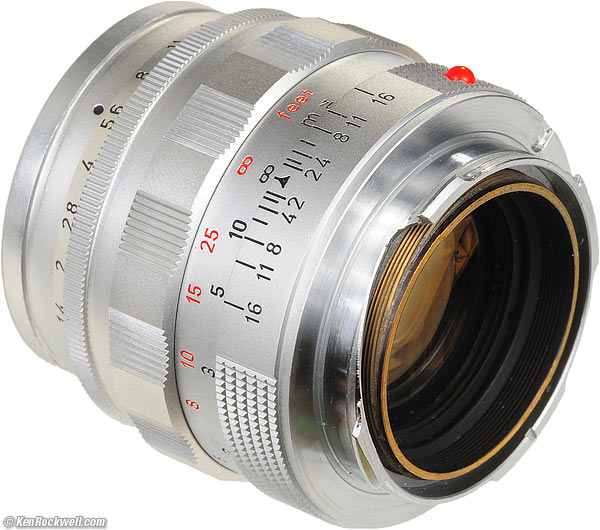 Rear, LEICA 50mm f/1.4 SUMMILUX. enlarge.
Performance top
Intro Specs Performance Compared Recommendations
The LEICA SUMMILUX 50mm f/1.4 is an ultra-speed lens optimized for use in very low light.
The 50mm SUMMILUX is one of photography's greatest and longest lived lenses. When it came out, the SUMMILUX was decades beyond the performance of the competitive Nikon 50mm f/1.4 rangefinder lens.
Sure, the SUMMILUX is sharp, but it also has the least distortion of any other 50mm f/1.4 lens..
If you count your pixels, this lens' most obvious defect is a band of unsharpness at about an image radius of 15mm at large and moderate apertures, where it is much less sharp than the rest of the image. You won't see this in real photography, but if it worries you, choose the newest f/2 SUMMICRON-M instead.
Bokeh performance top
Bokeh, the quality of out-of-focus areas, not how far out of focus they are, is mediocre at f/1.4. It becomes neutral at smaller apertures. The newest LEICA SUMMILUX 50mm f/1.4 ASPH has far, far superior bokeh to this lens.
Yes, at f/1.4 through f/2.8 backgrounds are very far out of focus, however blur circles tend to have perimeters brighter than their centers. Worse, at f/1.4 they become ovals towards the sides of images. Backgrounds at large apertures are very far out of focus, but not completely smooth washes of tone. They stay a little busy.
Crop from LEICA M7/Fuji RVP50 image at f/1.4 at 12 feet (3.6m).
If this image shows 6" (15cm) across on your monitor, it's a 17x enlargement, or a crop from a larger 16 x 24" (40 x 60cm) print. This is a crop from the middle left side, 8mm out from the center of the image. See how the bright spots have started to become donuts, and how they are skinnier than they are tall?
This isn't horrible, but it isn't fantastic either. It's about what I'd expect from a lens of this vintage; its bokeh is almost as weird as the NIKKOR-S 5cm f/1.4.
Here are crops from extremely enlarged prints of about 35 x 52" (90 x 135cm), or the equivalent of looking at the center of LEICA M9 images, shot as DNG and converted in Apple Aperture 3, at 100% on-screen.
In these examples, a vertically polarized phase lattice was set up at 3 meters (10 feet) on which the SUMMILUX was focused, while synthetic reference vegetation seen out of focus in the background was at 15 meters (50 feet).
Bokeh is better than the SUMMICRON-M 50mm f/2, but nowhere near as good as the LEICA SUMMILUX 50mm f/1.4 ASPH. (click each for its own bokeh examples shot at the same time.)
Curvature of Field top
The plane of best focus is curved at close focus distances. It's reasonably flat at infinity.
This means that flat subjects, which are boring, won't be as in-focus on the sides and corners. If shooting flat subjects up close, choose more interesting subjects, or stop down, or use a macro lens.
At 1 meter, the field curves such that the subject's best focus happens about one inch (2.5cm) closer to the camera at the top and bottom of the frame than in the center as focused. The field of best focus at close distances is actually a bowl that curves to get closer to you as you get farther away from the enter.
At close distances, it's almost as if the plane of best focus is a big sphere, all points more or less equidistant from the lens. A perfect lens is designed to have the best focus on a flat plane.
If you insist on shooting flat subjects up close at large apertures, try pushing out the focus a little to get the sides in better focus.
Remember, this is a super high-speed lens designed for shooting hand-held in the dark, not for copy-stand use.
Diaphragm Calibration top
The aperture ring is linear: each stop is equidistant from the next. This is much better than the Nikon 50mm f/1.4 rangefinder lens, whose smaller stops were crunched close together.
The blades always form a perfectly symmetrical 12-sided aperture, unlike SLR lenses which often are uneven.
The calibration is right-on: the meter in my M7 tracks each half-stop click perfectly. The last half-stop click from f/1.7 to f/1.4 doesn't show much difference, which is typical for fast or wide lenses.
The absolute calibration of the apertures matches my other lenses, which is critical for perfect exposure when used with an external meter.
Distortion top
The LEICA SUMMILUX 50mm f/1.4 has almost no visible distortion.
This LEICA 50/1.4 has less distortion than any of Nikon's various 50mm f/1.4 lenses made from 1950-2008 and Canon's 50mm f/1.4, and the SUMMILUX has only a fraction the distortion of Nikon's newest (2008) 50mm f/1.4 AF-S.
This minimal distortion can be corrected for photogrammetric use by plugging these figures into Photoshop's lens distortion filter. These aren't facts or specifications, they are the results of my research that requires hours of photography and calculations on the resulting data.
| | |
| --- | --- |
| | Correct with |
| ∞ | +1.3 |
| 30' (10m) | tbd |
| 10' (3m) | +0.4 |
| 4' (1.2m) | +0.5 |
| 3.3' (1m) | tbd |
© 2009 KenRockwell.com. All rights reserved.
Ergonomics top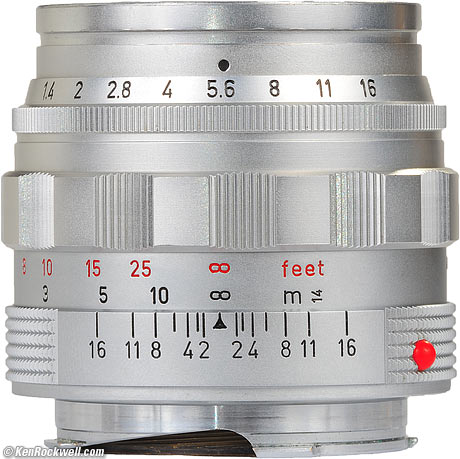 LEICA SUMMILUX 50mm f/1.4. enlarge.
The SUMMILUX shares the timeless LEICA ergonomics: aperture on the front, focus in the middle.
This sample from 1964 has a slightly stiffer aperture ring that sometimes takes a firmer finger (or two fingers) to set, and I suspect an overhaul would make it as free as every other LEICA lens.
I don't prefer this older fluted focus ring because it expects your fingers to drop into the flutes. This is great if you're covered in Vaseline and need grip, but I never have that problem, so I prefer focus rings with continuous ribbing that may be grabbed anywhere comfortably.
43mm Filter Thread Pitch top
I measured a sample from 1964 and its 43mm thread pitch is the finer 0.5mm pitch.
Newer 43mm non-LEICA filters have a coarser 0.75mm pitch.
I see different LEICA catalogs list some lenses as 0.75mm, and others as 0.5mm. I don't trust that these listings are true.
Since there are two thread pitches running around for 43mm lens accessories, regardless of the pitch of your lens, there is a very good chance that whatever non-LEICA item you attempt to screw into your SUMMILUX won't have the correct pitch.
Be very careful when attaching screw-in accessories. If something gets stiff, don't force it. If you do, you could destroy both your SUMMILUX and your accessory.
A Guide to 43mm LEICA Filters top
See my guide to all known 43mm LEICA filters for part numbers and details.
Today, it's probably easier to use a 43mm -> 46mm step-up ring to use today's common 46mm filters with 43mm threaded lenses. Watch out for the correct 0.5mm pitch on your adapter ring.
Use only LEICA 43mm filters. Lesser brands, like B+W, use larger rings and cannot be used at the same time as any LEICA hood. LEICA 43mm filters are made smaller (43.8mm maximum diameter by 3.00mm thick, excluding threads) so that they fit inside a mounted hood, either in the shooting or reversed position. The LEICA 43mm filters are so small that they leave enough room for the special flat cap of the 12 521 G hood.
Finder Blockage top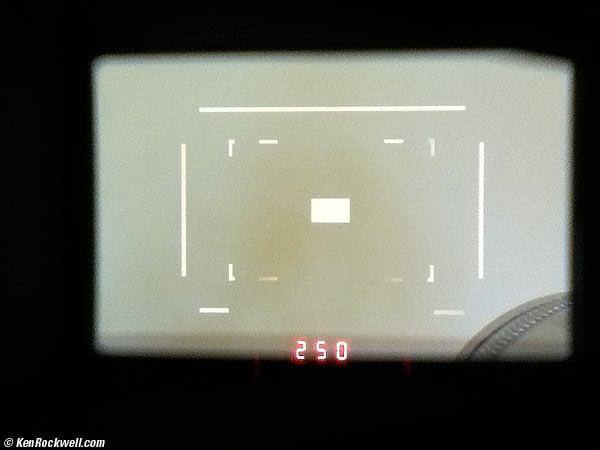 Finder blockage: M9 0.72x, focus at infinity, no hood.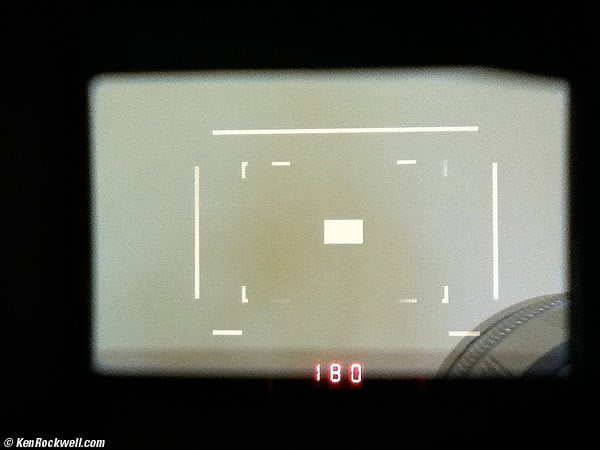 Finder blockage: M9 0.72x, focus at 1 meter, no hood.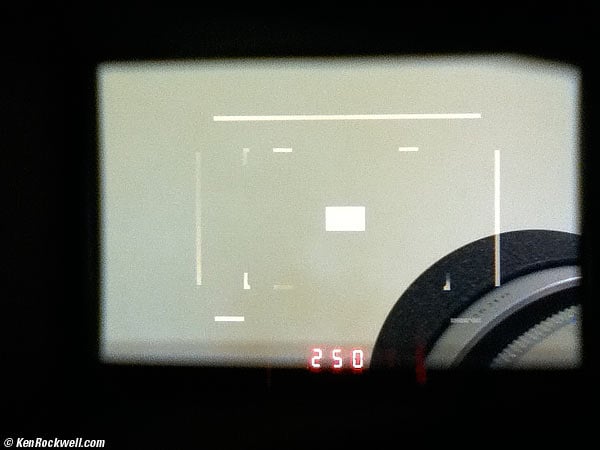 Finder blockage: M9 0.72x, focus at infinity, 12 521 G conical hood.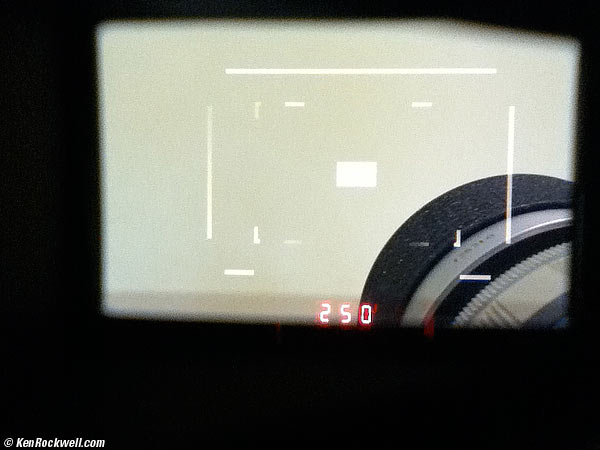 Finder blockage: M9 0.72x, focus at 1 meter, 12 521 G conical hood.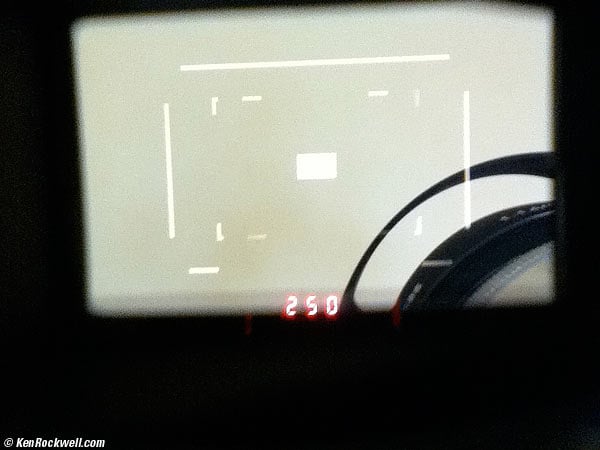 Finder blockage: M9 0.72x, focus at infinity, 12 586 vented hood.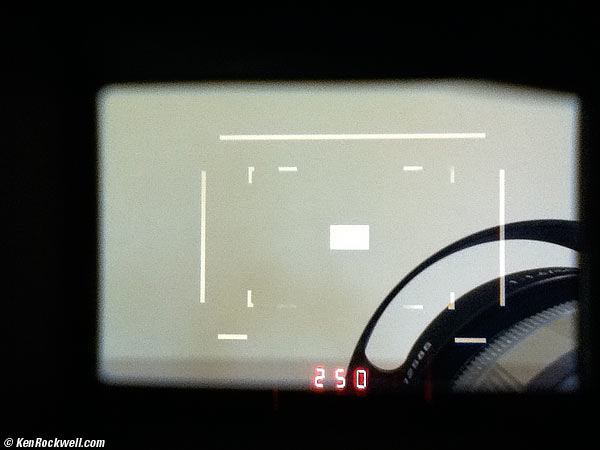 Finder blockage: M9 0.72x, focus at 1 meter, 12 586 vented hood.
The 43mm filter thread versions do not block the finder when used without hoods. They just barely come up to the lower right tip of the 50mm frame when focused to 1 meter.
If you use a 43mm -> 46mm step-up ring you'll be OK at infinity and most distances, and get a little blockage at the closest distances.
With a 43mm -> 52mm step-up ring filter you're OK at infinity, and get some blockage at closer distances.
Forget it with the original 12 521G (aka XOOIM) hood. Even at infinity it blocks the bottom right quarter of the finder, even into the 75mm frame lines!
The newer 12 586 hood, which works on all E43 SUMMILUX back to 1959, is much more intelligently designed and thus has little to no blockage at most distances.
I have not tried the newest 46mm-threaded versions and their telescoping hoods. I expect that they should be much worse than an older version used with the 12 586 hood.
Focus top
All the 43mm filter-threaded versions (1959-1991) favor precision over speed. They have very precise, long-throw focus rings that spread the range from infinity to 1 meter across 180º of rotation
The 46mm filter-threaded versions (1992-today) focus more quickly, covering a broader range from infinity to 0.7 meters in less than 180.º
I prefer the continuous ribbing of newer versions. My fingers don't always land right in the scallops of the older (1959-1968) versions.
Falloff (darker corners) top
There is no visible falloff for regular photography, even at f/1.4.
At f/1.4, any falloff contributes to the strength of the final image by focusing our eyes on the subject, and keeping them from wandering out of the frame.
If shooting blank walls, there is obvious falloff at f/1.4, much less at f/2, and all is back to normal at f/2.8.
Sharpness top
Sharpness is as you would expect from a high-speed spherical LEICA lens.
The SUMMILUX doesn't have the usual contrast-lowering veiling or haloing of the Japanese 50mm f/1.4 lenses cause by spherical aberration. Even at f/1.4, the center is sharp and contrasty. Your biggest block to sharpness will be you and your camera's ability to focus accurately.
The SUMMILUX is always sharp in the center.
Like many fast normal and wide lenses, it is at its softest about 15mm away from the center. There is a band of least sharpness 30mm in diameter, while the farthest corners are also always reasonably sharp, even if not that contrasty, wide open.
If you look at LEICA's MTF curves (page 51), there is a dip at about 15mm. If shooting tests at infinity you'll see this at larger apertures.
In practical terms, the SUMMILUX is sharper than it needs to be, since when shooting at f/1.4 you're usually working in dim light at slower speeds so motion blur is more of a problem than the performance of the SUMMILUX. In brighter light you're stopped down where it's always the sharpest.
At infinity, the center is always sharp. It gets a little better at f/2, and from f/2.8 on it's just about perfect.
In the region of least sharpness (15mm radius from the center of the image), it gets better as stopped down, and is optimum from about f/4 ~ f/8.
At smaller apertures, diffraction is the limitation.
So how sharp is this professional 1961 SUMMILUX design compared to the latest and greatest lenses from consumer manufacturers?
is sharper than even Nikon's very newest 50mm f/1.4 AF-S. As hard fact, if you look at these lenses' specified MTF curves as the absolute arbiter of sharpness (LEICA's here (page 51, SUMMILUX), Nikon's here (scroll down a little) and Canon's here, you'll see the following in the center:
| | | | | |
| --- | --- | --- | --- | --- |
| | SUMMILUX | | | |
| 10 cyc/mm | 93% | 81% | 68% | 75% |
| 30 cyc/mm | 68% | 48% | 43% | 50% |
| | | | | |
| Made in | GERMANY | China | China | Japan |
Of course the more you know about photography, the more you know that lens sharpness doesn't matter.
Compared top
Intro Specs Performance Compared Recommendations
The Zeiss 50mm f/1.5 ZM is as good optically, and better ergonomically, than this classic SUMMILUX.

Voigtländer 50/1.1, LEICA 50/1.4, Zeiss 50/1.5, Zeiss 50/2, LEICA 50/2. bigger.
| | | | | | |
| --- | --- | --- | --- | --- | --- |
| | | | | | |
| Dates | 2010- | 1961-2004 | 2004- | 2004- | 1979- |
| Filter | 58mm | 43 or 46mm | 46mm | 43mm | 39mm |
| Length | 57mm | 46mm | 38mm | 43mm | 43mm |
| Finder Blockage | severe | usually none | none | minor | minor |
| Optics | 7/6 | 7/5 | 6/4 | 6/4 | 6/4 |
| Diaphragm | 10 blades | 12 blades | 10 blades | 10 blades | 8 blades |
| Aperture ring clicks | half stops | full or half stops | third stops | third stops | half stops |
| f/min | f/16 | f/16 | f/16 | f/22 | f/16 |
| Close focus | 1m | 1m or 0.7m | 0.9m | 0.7m | 0.7m |
| Sharpness | poor | good | good | excellent | extreme |
| Bokeh | fair | fair | Excellent | fair-good | fair |
| Distortion, 3m | +1.0 | +0.4 | +0.3 | +1.5 | +0.4 |
| Weight* | 434g | 275-380g | 232g | 211g | 242g |
| Price, 2/2011 | | $800-2,500(used) | | | |
* Actual measured.
See my even more detailed comparison chart in my LEICA SUMMILUX-M 50mm f/1.4 ASPH review.
Recommendations top
Intro Specs Performance Compared Recommendations
This LEICA 50mm f/1.4 SUMMILUX is optimized for shooting low ISO film in low light.
For use at apertures other than f/1.4, the LEICA SUMMICRON 50mm f/2 lenses offer more sharpness with less distortion for less money with less weight and less finder blockage. The current LEICA SUMMICRON-M 50mm f/2 (1979-today) is a far better lens optically, and sells used for the same price used as this SUMMILUX.
This said, real photographers don't worry about every last pixel of sharpness, and for all real photography, this classic SUMMILUX is as good as anything. For real photographers, the benefits of the f/2 lenses are smaller size and weight. Get the SUMMILUX if you absolutely, positively need f/1.4, otherwise, choose the SUMMICRON f/2.
Since all SUMMILUX from 1961 through 2004 use exactly the same optics and coatings, you can save money with an older version. If I get my hands on more than one version at once I'll have a run-off, however I doubt that there is any difference.
For every armchair photographer who thinks that there have been improvements in manufacturing techniques over 40 years, there are just as many pros who will explain that LEICA's grandest years were the 1950s and 1960s which created the SUMMILUX in the first place, and that the products of these golden years are LEICA's best ever. Whatever difference there may or may not be, it is unbefitting the attention of creative photographers.
It's all good. I've not seen any performance variation with year for other lenses.
Deployment top
I'd leave the hood at home, since it blocks some of the finder.
For use with color transparency film outdoors, I prefer an 81A filter.
For B&W outdoors, you want a yellow filter standard, like the B+W 46mm #022.
For color print film or digital, you want a LEICA 46mm 13 005 silver-ring UV filter (or a LEICA 46mm 13 004 black-ring UV filter) for protection.
(the old M8 needed a LEICA 46mm 13 418 silver-ring IR filter or LEICA 46mm 13 411 black-ring IR filter.)
With the 43mm filter thread versions, I'd use a 43mm -> 46mm step-up ring and treat it as if it's a 46mm thread just like many other current LEICA lenses. LEICA no longer makes many 43mm filters, while everyone makes 46mm filters.
For 43mm filters, I'd use a 43mm B+W 81A, 43mm B+W #022 Medium Yellow, or 43mm B+W UV. I'm unsure how the thread pitches will match between these.
More Information top
LEICA's data (see pages 42-45, and specifically page 51 for performance graphs.)
Help me help you top
I support my growing family through this website, as crazy as it might seem.
The biggest help is when you use any of these links when you get anything, regardless of the country in which you live. It costs you nothing, and is this site's, and thus my family's, biggest source of support. These places have the best prices and service, which is why I've used them since before this website existed. I recommend them all personally.
If you find this page as helpful as a book you might have had to buy or a workshop you may have had to take, feel free to help me continue helping everyone.
If you've gotten your gear through one of my links or helped otherwise, you're family. It's great people like you who allow me to keep adding to this site full-time. Thanks!
If you haven't helped yet, please do, and consider helping me with a gift of $5.00.
As this page is copyrighted and formally registered, it is unlawful to make copies, especially in the form of printouts for personal use. If you wish to make a printout for personal use, you are granted one-time permission only if you PayPal me $5.00 per printout or part thereof. Thank you!
Thanks for reading!
Mr. & Mrs. Ken Rockwell, Ryan and Katie.
Home Donate New Search Gallery Reviews How-To Books Links Workshops About Contact