What was new in July 2008 RSS
all © 2008 KenRockwell.com. All rights reserved.

I get my goodies at Ritz, Amazon, Adorama. It helps me
keep adding to this site when you get yours from those links, too.
31 July 2008, Thursday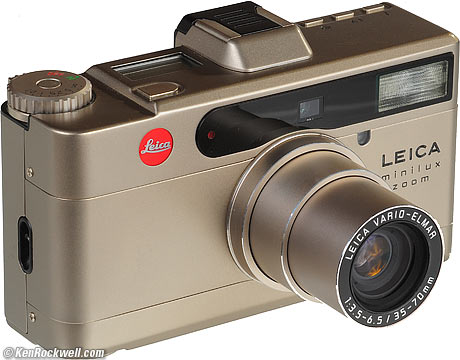 NEW: Leica Minilux Zoom Review. A great camera, but not for taking pictures.
30 July 2008, Wednesday
News: Tamron announces development of an 18-270mm f/3.5-6.3 DX (EF-S) zoom. "Development announcement" means that even Tamron still has no idea how to make one of these. It also means that Tamron is pretty sure they'll figure it out, and give them a year or so and you'll be able to buy it.
Do I care? No; I bought my Nikkor 18-200mm VR back in 2005, which I know is a great lens. If I shot Canon 1.6x cameras I'd be curious, since Canon hasn't caught up here yet.
29 July 2008, Tuesday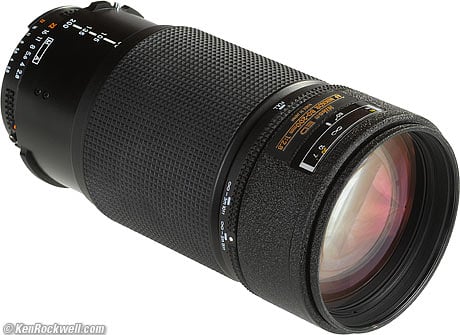 NEW: Nikon 80-200mm f/2.8 AF. Nikon's first pro AF tele zoom tested. This is why I wrote the History article yesterday: so we could all figure out which f/2.8 tele zoom is which.
11:43:05 AM PDT: Mild earthquake felt in San Diego. My wife felt it, and I told her to ignore it as I thought it was just her crappy HP computer printer head banging from side to side. Then it hit again. Like a printer, it was a sharply mild rocking from side to side for a couple of cycles.
At 11:52 PDT, the USGS website has it as a magnitude 5.6, 8 miles below Chino Hills, clocked at 11:42:15, making transit time to San Diego as 50 seconds, or since the shock waves covered 60 miles in 50 seconds, that puts it as traveling at 6,000 FPS or 4,000 MPH. More here.
We only feel these about once every 10 years in San Diego. They all happen out in the desert and places like Chino Hills and Lancaster; all we feel in San Diego are the muted flops of the big ones that happen elsewhere — so far.
For you folks in calmer lands, obviously the fort thing I did was post this and then go see what the USGS had to say about it. Smarter people run out of the house screaming.
A mag 5.6 in a populated area probably means lots of TV news pictures of cans on the floor in supermarkets, and probably no real damage to anything that wasn't falling down already. We'll see; I'm of course just guessing. A mag 4 is nothing, and a mag 7 is a disaster.
As of 12:04 PM PDT, USGS now upgraded it's measurement to 5.8. A 6 is serious. At 12:31PM, USGS put it back at mag 5.4.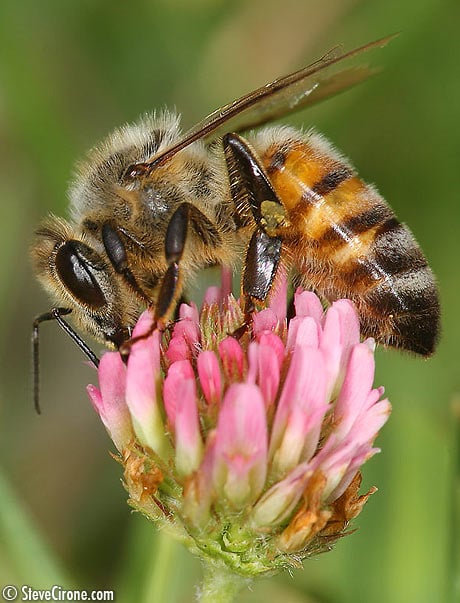 Update: My friend Steve Cirone had so many people try to sign up for last Saturday's workshop that he's holding another one this Saturday, August 2nd in San Diego. Steve is excellent and he limits each to 10 people, so he fills up fast. As he gets better known, it's going to be much tougher to get into his workshops.
See my Workshops page, see Steve's Workshop page, or just phone him at (858) 761-1020 for details. It's just $285 and runs from 7AM till dusk, a long day loaded with shooting.
NEW: 17-35mm f/2.8 AF-S compared to 14-24mm AF-S.
28 July 2008, Monday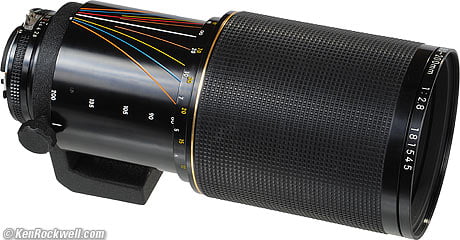 Nikon Ai 80-200mm f/2.8s ED.
NEW: Nikon 80-200mm f/2.8 History. I've finally documented which version is which and does what.
NEW: Canon 1Ds Mk III vs. Canon 5D vs. Nikon D3.
Now that I got some stick time with the 1Ds Mk III, as we all expected, it easily has more fine detail than any other consumer DSLR. Yes, it's $7,850, but it's now readily available from stock, and it's also available refurbished at Adorama for $6,500. The bad part is that it has the same sucky ergonomics as the 5D, and the good news is that it takes the 5D's specular image quality one level better.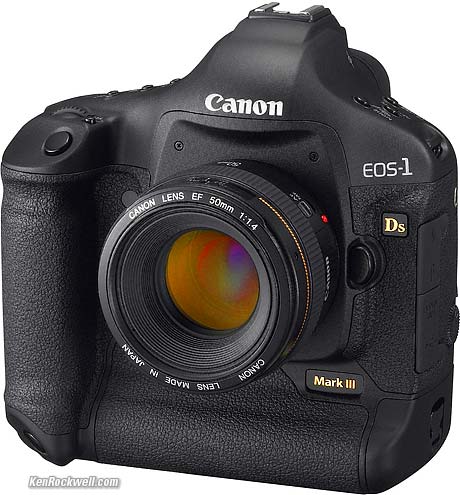 Sort of NEW: Canon 1Ds Mk III Review. Now that I've had my hands on one, I updated my review accordingly.
Rockwell Busted Shooting Canon!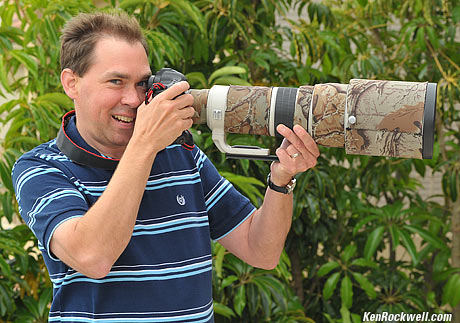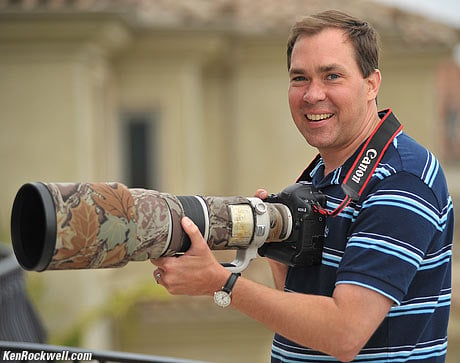 My pals Grobl, Cirone and I got together at Balboa Park yesterday. This is me shooting Steve's rig. Notice how it's so heavy that my shoulders are moved back from my waist trying to balance this thing, a Canon 1Ds Mk III with the Canon 500mm f/4 IS, which by the way, is excellent. I wonder why Steve tapes over the "Canon" logo on his camera, yet uses a strap that says "CANON" in inch-tall letters?
Both shots by Karl on my D3 and a borrowed 1989 Nikon 80-200mm f/2.8 AF I'm reviewing this week.
25 July 2008, Friday
Red Hot Deal: Ritz just scarfed up the very last stock of the Canon 30D. You can get them brand-new on closeout for $699.99, a screaming deal! The 30D has all the Picture Controls I need to make the colors look awesome, so this 30D deal deserves a look from you Canon folks.
Would I get a 30D before I got a Rebel XS or XSi for the same price? YES! The 30D is a class above any of the Rebels. Resolution is meaningless.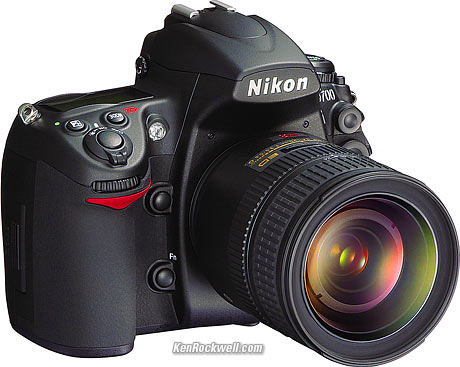 The Nikon D700 Body is in-stock at Ritz
.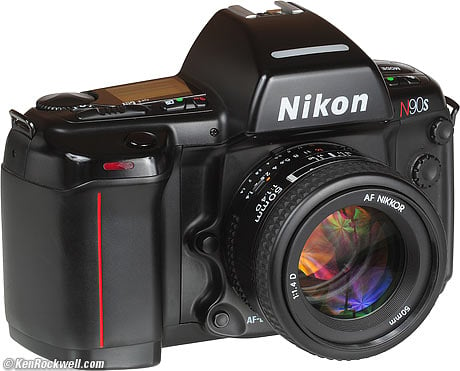 NEW: Nikon N90s Review, Complete with detailed user information. This must be the most complete review on the N90s ever published, and I must be crazy to have done it.
NEW: How to Learn.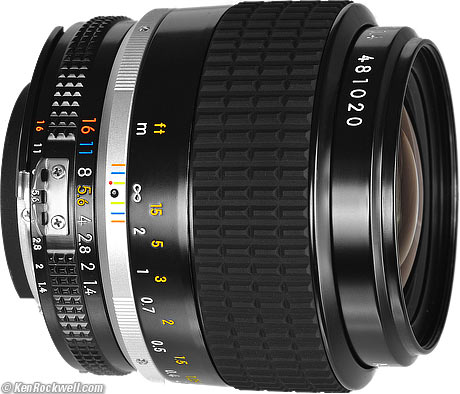 Nikon 35mm f/1.4 AI-s, still available brand new!
Brand-New Nikon Manual Focus AI-s Lenses: Most people don't care, and those who do think Nikon stopped making them in 2006, but believe it or not, Nikon still makes manual-focus AI-s lenses, and you can still buy them brand new. I mentioned this on Thursday, but only tonight figured out how to make that link smart enough to take you to B&H's page with the lenses all sorted out. Heck, here's the page at Nikon USA for the manual lenses.
These lenses all work perfectly, albeit with manual focus, full Matrix metering and EXIF data but only in P and A modes, on the D300, D700, D3 and D200, among others.
Processing in sunny México: A reader from Monterrey writes that the Costco there does the processing and CD scanning from negatives for 29.90MXN (~2.70USD) a roll, all done on Noritsu.
Down there one can buy a 4 pack of Fuji ProPlus 100 for 64MXN, and develop and get a CD with scans for 29.90MXN. The total cost per frame is then 1.28MXN which is 11¢ US. If you want 4x6 prints, you could add those for 1MXN per frame.
This is an even better deal than my Free Full-Frame Digital SLR. Maybe it's time to move south of the border? I haven't tried the processing, but I know the food's great! I wonder about doing it online?
24 July 2008, Thursday
NEW: What is a Pro. More semi-satire.
Nikon Data for Older Products: I was looking for MTFs for older lenses, and found Nikon's data archive of discontinued cameras and lenses in Japanese.
Nikon Manual Focus Lenses: Nikon still makes manual-focus AI-s lenses, and you can still buy them brand new. You can see Nikon's data on them (in Japanese).
Hey, when can we buy the Nikon F7? The D1 was an F5 with digital guts. The F6 is the D2x with a hole for film. The D3's AF and finder is so far beyond the D2x and F6 that I've got my cash here waiting for an F7 based on the D700/D3.
NEW: Talk About Your Salary. What your boss doesn't want you to know.
News: Cell Phones Cause Cancer. Cell phones, and bluetooth devices stuck in your ear, emit microwaves at about 900MHz or 2.5GHz. This is non-ionizing radiation. I've studied these hazards since the 1970s when I worked in radio and TV near transmitters.
The reason we don't have solid numbers on the cancer risks from cell phones is because it is difficult to segment control groups and do genuinely scientific studies from these low-level risks. Research would take the level of funding only a cell-phone or drug company could support (the FDA can't afford this), and cell-phone companies are putting these dollars into marginalizing and flushing any research which proves the direct links between cancer and holding a microwave transmitter rnext to your head.
America works on the golden rule: those with the gold make the rules. It's what keeps America strong. The cell phone companies and the members of the CTIA have the gold, not the FDA, doctors or the AMA.
Remember, a study that can't find a link didn't prove that there is no link. Numerous studies have shown slight increases in risk, but none have shown a decrease in risk, which shows us that cell phone use increases risk.
We know cell-phone radiation causes cancer. What we don't know is by how much.
Risk is funny: if only one out of a million people get brain cancer from using their cell phones, that's 300 Americans who'll get it. 300 strangers might not matter to you, but if you're one of those 300 people, it matters a lot.
In real estate, we call high-voltage power lines, the ones with the big metal towers that look like giant robots, "Cancer Lines." We won't buy a house near them. High voltage lines cause cancer, but to a much smaller extent. High voltage lines emit little to no EMF; they are mostly magnetic fields and only at 60 Hz, not the GigaHertz of microwave cell phones.
22 July 2008, Tuesday
NEW: Nikon D700 manuals are now online.
NEW: Nikon D4.
NEW: Nikon f/0.95 Lenses.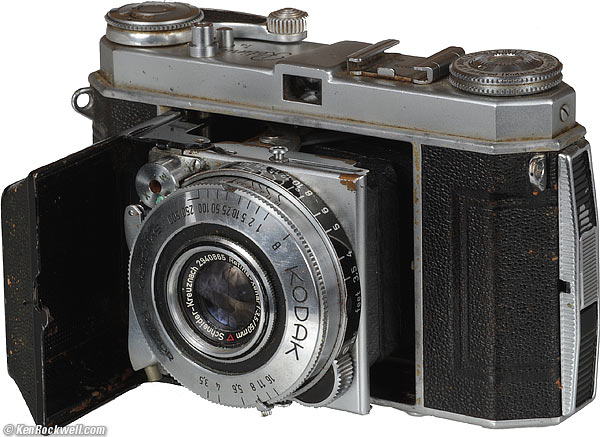 NEW: Kodak Retina 1a. Yes, I can talk about the Nikon D4 and the Retina 1a on the same page. Lets see D-preview do that!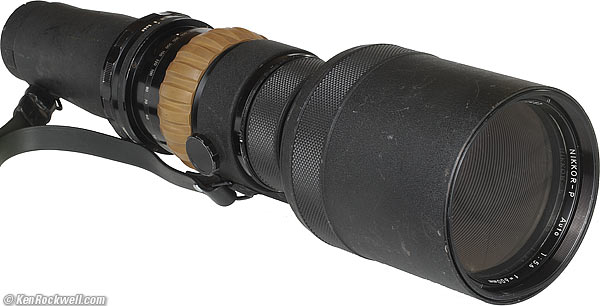 600mm f/5.6 NIKKOR-P and CU-1 Focusing Unit.
NEW: Nikon 600mm f/5.6 NIKKOR-P.
NEW: Nikon CU-1 Focusing Unit.
18 July 2008, Friday
Canon's instant rebates expire tomorrow, the 19th of July. There's no better time to get that 5D you want (it is the world's best digital landscape camera for under $8,000). Then again, the 5D ia almost 3 years old, having been Popular Photography magazine's Camera of the Year in their December 2005 issue, and it's probably due for replacement any day now. Sure, a 5D Mk II will be hot stuff, but it won't likely cost as little as $1,900 like the 5D on rebate, either.
17 July 2008, Thursday
San Diego Locals: Be sure to be at the free Photo Club meeting Thursday night. See you there!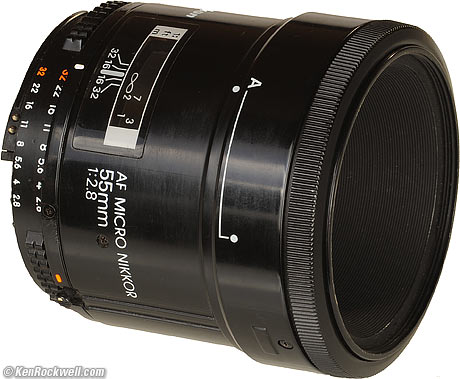 Nikon 55mm f/2.8 AF Micro-NIKKOR.
NEW: Nikon 55mm f/2.8 AF Micro.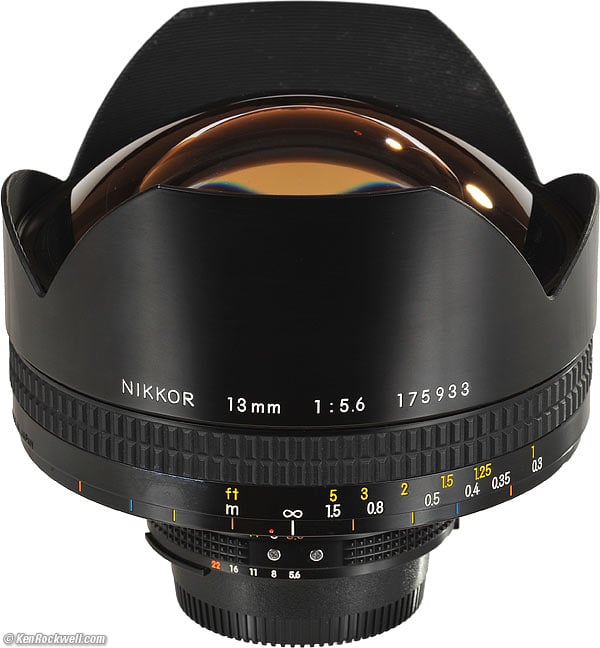 Nikon 13mm f/5.6 AI-s.
NEW: Nikon's 10 Best Lenses.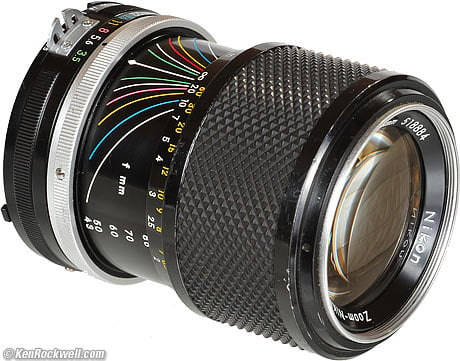 Nikon's Original 43-86mm f/3.5: The lens that single-handedly gave zooms a bad reputation that lasts to this day.
NEW: Nikon's 10 Worst Lenses.
16 July 2008, Wednesday
Vive le Tour: Le Tour de France continues. You can see some great photos here, and this shot in particular shows Nikon's replacement of Canon in pro sports. Remember, the ads you see in magazines are staged shots with all those white lenses.
Canon is still huge in sports, but with Canon out of the pro race right now with no fast full-frame camera, the Nikon D3 is turning up everywhere. It also looks like the Nikon 70-200 VR is on every pro's D3, everywhere. Do I wish I was en France maintenant? Oui!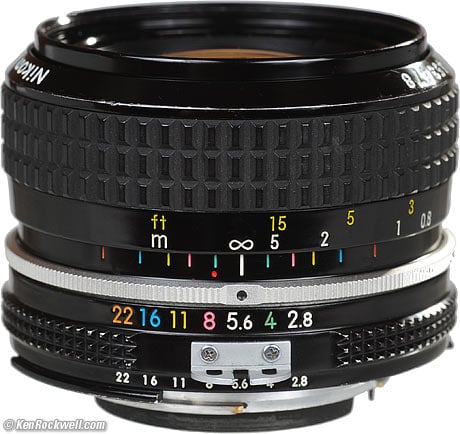 NEW: Nikon 28mm f/2.8 AI Review. Nikon's classic from 1974-1981 is still a great performer on the D3 and D700. Much to my amazement, I discovered that the newer and even better AI-s version is still available brand-new!
le quatorze juillet 2008, Joyeux Jour de la Bastille!
Vive le Tour! For those of you watching le Tour de France, I'm seeing a preponderance of Nikons shooting what used to be Canon's party: pro sports.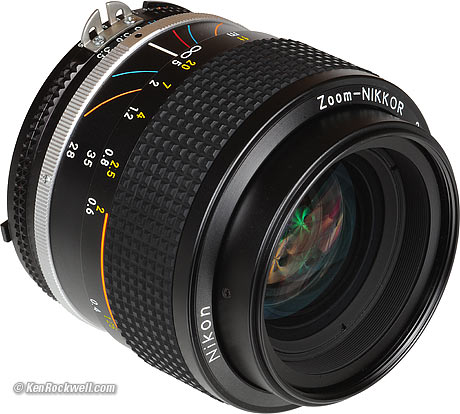 NEW: Nikon 28-50mm AI-s Review. A nice manual-focus FX lens.
13 July 2008, Sunday
Addition: Added examples of coma and sunstars to my Nikon 85mm f/1.4 AI-s review. Darn, now I know why so many people have loved this manual focus lens for so many decades!
11 July 2008, Friday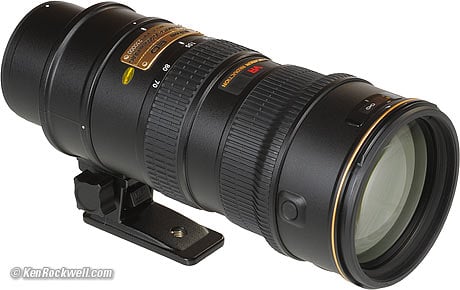 Nikon 70-200mm VR Availability: The 70-200mm VR has always been hard to find in stock, just like its sibling the 17-35mm AF-S. Now that the D700 is out, even more people want them, and being a precision product, Nikon can only make so many.
I don't see its current unavailability as a sign of a new lens coming out, but then again, it's been out for 5 years and Nikon usually replaces its top pro 80-200 zoom about that often. Who knows; I do know Nikon has other lenses in its line that are more in need of updating. For instance, Nikon makes no wide angle AF lenses faster than f/2, having discontinued their last one in 2005, while Canon makes at least three.
Personally, I'm looking forward to a 24mm f/1.4 AF-S, 35mm f/1.4 AF-S, 50mm f/1.2 AF-S and 85mm f/1.2 AF-S more than another 70-200mm. Canon has made all these lenses for a long time for its cameras, but Nikon users can't get jack.
NEW: New-Camera Bugs. Why you should buy your new camera now, not in six months.
Dear RSS Readers: Pardon my simple ways, but even though this site now has over 100,000 people reading it every day, I still have no clue how or why RSS works. As far as my limited understanding goes, all the RSS feed does is send you a duplicate of this page when its updated.
Some people report getting multiple entries and duplicate update alerts.
Enlighten me while I enlighten you: I work on this all day, every day. Whenever you're not seeing updates all day, that means I'm busy actually writing something.
I often will update this page dozens of times a day, since I use Live Edit technology which lets you see what I'm doing on this page as I do it.
Therefore, if I'm hacking away here, you may be seeing not duplicates, but merely each and every minor spelling correction and all the other things that happen on a living, organic, film-based HTML web page like this.
Does this make any sense to you folks concerned about multiple entries?
I don't do the RSS; the thanks for that goes to a great guy named Vince who wrote a quick whatever-it-is that generates the feed for me.
Thanks!
Ken.
NEW: Getting Great High ISO Performance for $120. Using the right lens makes more difference than spending thousands of dollars on a camera used with the wrong lens.
10 July 2008, Thursday
NEW: Nikon D3 vs. D700 vs. Canon 5D. After shooting over 50,000 frames with these, I thought you'd like my usual no-BS opinion. These differences are obvious to me by now.
09 July 2008, Wednesday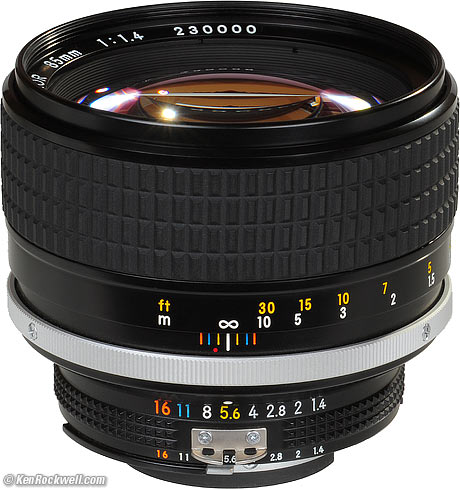 NEW: Nikon 85mm f/1.4 AI-s Review. Nikon's best 85mm f/1.4 ever.
New Canon: We now can order the new Canon Rebel XS at Ritz.
Canon's $300 rebate on the 5D expires in ten days. The 5D is the sharpest DSLR out there, sharper than the $5,000 D3, so I wouldn't dawdle at $1,900. Even if a new 5D comes out in a month, so what; I doubt it will be selling at $1,900.
08 July 2008, Tuesday
Copyright Stuff: See Scott Kelby's always excellent information, now with a to-the-point interview with a real IP attorney. It's nothing new to those of us who know how this works, but most photographers don't get it. Also read Bert Krages' book for a lot more detail than the quick interview.
New Nikon manual focus film cameras: Even though Nikon discontinued their amateur film cameras back in 2006, Nikon only discontinued the middle (amateur) part of the line.
Nikon has never stopped making professional film cameras or professional FX lenses.
Nikon still makes the professional F6. The F6 is the world's best 35mm camera ever made, and excels not only with autofocus lenses, it's also the world's best 35mm camera for use with Nikon's manual focus lenses. The F6 can even be upgraded to use non-AI lenses dating back to 1959, and with manual-focus AI lenses, gives color matrix metering and records EXIF data to CF cards. The F6 is easy to get; B&H has both the USA and gray versions in stock. Think pro film cameras are expensive? The F6 is priced the same as the amateur D300.
Crazier, Nikon still sells the Cosina-made manual-focus FM-10! Cosina also makes almost all of the Zeiss lenses that fit Nikon.
The Nikon FM-10 is a give-away: for $250, you can buy a genuine Nikon USA FM-10 kit, complete with camera, 35-70mm lens and case, all brand-spanking new.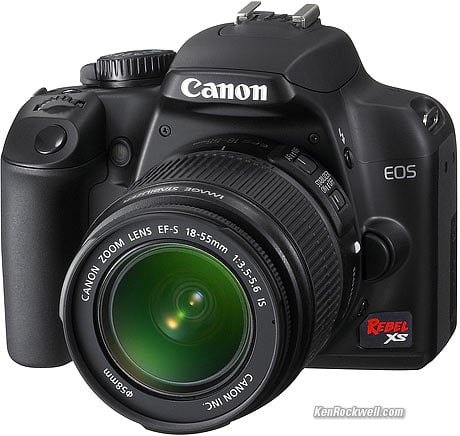 New old news: Canon Rebel XS makes it to the USA.
Nikon, Japan employees: New idea disclosed please to be incorporated in new Nikon product. Arrigato.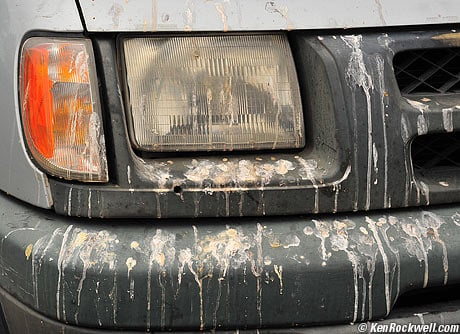 Sharp enough for you? Yuck! (Nikon D3, 85mm f/1.4 AI-s)
07 July 2008, Monday
Where's the 5D Mk II? Wait till the end of August, if not October. Even then, today's 5D is potent camera selling for $1,900 today, so why wait?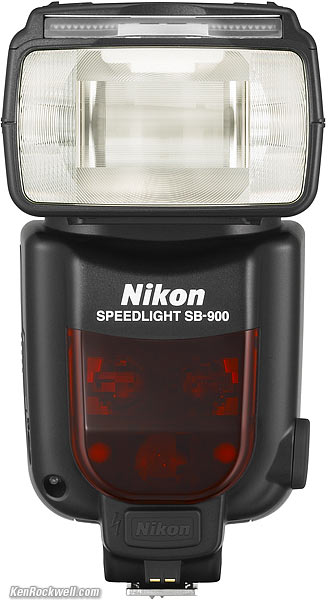 NEW: Nikon SB-900 Flash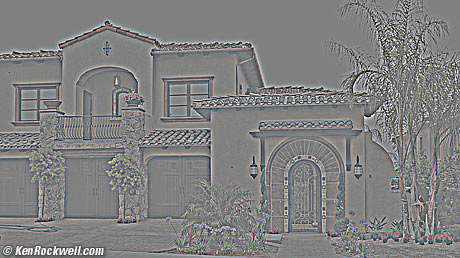 No darks, no lights: an HDR nightmare.
Dynamics: Today on Jack's Big Music Show, an errant spaceship needed to have its batteries charged by music. There were 2 batteries that had to be charged: one charged from loud music, the other only during the soft parts.
This taught kids about dynamic range, a concept all but missing from modern recorded and broadcast music. The music biz is trying to make the loudest CDs, lazy mixers use compressors instead of faders, lazy music writers forget to score properly for changes in instrumentation, and radio has been using dynamic compression since radio was invented to sound louder than the next station.
Now photo hobbyists are also trying to eliminate dynamic range from photos with HDR techniques.
Photos need blacks and whites. If you make super detailed photos, but they're all gray, who cares? See also Dynamic Range and Making a Masterpiece.
Bargain Check: Has anyone else noticed that the kit price ($3,600) of the D700 with 24-120mm VR lens is about $90 more than the price of the D700 and 24-120mm VR sold separately ($3,000 + $510)? There's only one version of this lens, the 24-120 VR, which just happens to use the marketing word "VR II" to describe what sort of VR it uses.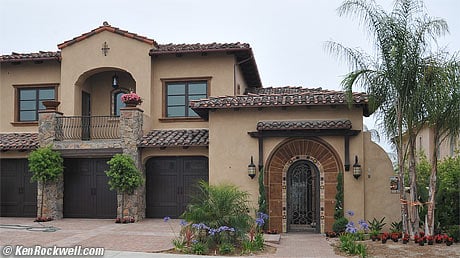 Hotel Sevilla in overcast light. Camera as set from factory.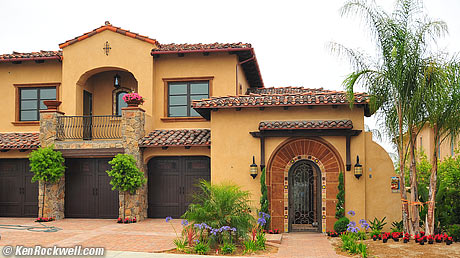 Same hotel, same everything, but different camera settings. White Balance still on Auto, but set to A6 to warm image, Nikon Picture Control set to VIVID to pump colors, saturation set to +3 to pump colors more, and exposure compensation added to lighten to taste.
Preaching: No matter how much I minister and outreach, people still buy pro cameras like the D3 and expect pro results, even if these buyers lack basic, much less pro, photography skills.
People know buying a piano won't make them pianists, so why do people buy cameras and think that great results just happen? (Answer: because camera makers have been profiting by fueling this rumor since the 1800s.)
While deleting the past month's incoming email (I only use email to send, never to receive), I saw a message blink as it went into the trash from an otherwise intelligent guy who sent me all sorts of off-color photos of test charts, and was blaming his $5,000 D3 for his crappy results.
This poor fellow doesn't know how to set his White Balance, which means that no matter what camera he uses, he's going to get crappy results whenever conditions don't just happen to match however the camera came set from Japan.
When people buy an inexpensive camera like a D40, they blame crappy results on the camera, and Nikon smiles as it sells them something more expensive. When people buy expensive cameras, they still blame the camera.
Guess what? It's never the camera. Regardless of your camera, you still need to know the basics of how to use it. Know the basics, and the cheapest Nikon D40 and Canon Canon SD750 can create masterpieces. Forget this, and the $8,000 Canon 1Ds Mk III makes crap. The basics are simple:
1.) Shoot.
2.) Look at LCD.
3.) Is it OK? If yes, you're done. If no, change a setting to get closer to what you want (see A - C below), and repeat from step 1.
That's all there is to it! The more innocent people give up at step 1 or 2, and try to fix it in raw, which doesn't work. The technical side of photography has always been an iterative process. In the old days, we had to go to the photo lab to do step 2.), but it's exactly the same iterative process.
Better technical photographers are those with enough experience to guess the correct settings better on the first try. With film, you had to do this by experience With digital, getting bad results is as much the camera's fault as it is the car's fault if you run out of gas in a car with a perfectly good gas gauge.
If your results suck, all you need to do is:
A.) Tweak the exposure compensation to get lighter or darker pictures.
B.) Play with White Balance to get the colors right.
C.) Play with contrast and saturation to fine-tune.
This is why I keep telling everyone that any camera can take spectacular pictures. Once you know how to use your camera, you can get great results on anything. This is why I keep telling everyone that the D40 is the camera to get unless you have a very, very compelling reason to get something else. The picture quality is the same as a D3, for less than one-tenth the price.
In case you've missed my sermons, here is some reading which everyone needs to know:
04 July 2008, Friday
NEW: How to Create a Masterpiece. This just might be the best thing I've ever written. We'll see; I only said "might" be. I had a good idea this morning.
NEW: Sunstars.
NEW: How to Shoot Fireworks.
03 July 2008, Thursday
NEW: Nikon D700 Lens Suggestions
My brother got busted for speeding in Minnesota.
01 July 2008, Tuesday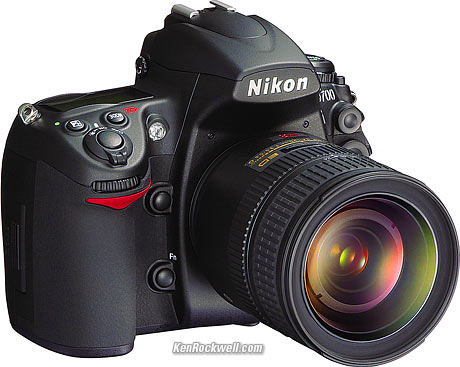 It's Official: New Nikon D700. 12MP FX, $2,999.95, available Late July 2008.
Also, new SB-900 flash and 45mm f/2.8 PC-E and 85mm f/2.8 PC-E.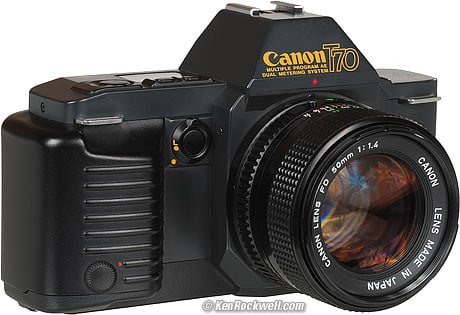 Canon T70 and FD 50mm f/1.4.
NEW: Canon T70 Review.
What Was New in:
December 2007: Loads of details about the Nikon D3, D300, 14-24mm and 24-70mm, much of which still isn't on the individual review pages.
November 2007: First hands-on details about the Nikon D3, D300, 14-24mm and 24-70mm, much of which still isn't on the individual review pages.
August 2007 (Loads of new Nikons and Canons)
2006 November - December (includes birth of Ryan Rockwell)
2006 October - November (includes photos from a trip to NY)