September 2007 Daily News
all © 2007 KenRockwell.com

(The RSS feed stinks - don't trust it)

I get my goodies at Ritz, Amazon, Adorama. It helps me
keep adding to this site when you get yours from those links, too.
Baby Ryan Rockwell. Cute photos with tech data.
NEW: Nikon D3 D300 14-24mm f/2.8 24-70mm f/2.8
Canon 40D 1Ds Mk III 14mm II 18-55mm IS 55-250mm IS
30 September 2007, Sunday
I finally got some stick time with the new Canon 40D during a workshop I volunteered to teach yesterday in San Diego's Laguna Mountains.
I love the quietness and refinement of the 40D over my 5D or 30D. The 40D also handles and feels better, and the 40D's LCD is worlds apart from the crappy excuse for an LCD on my 5D and the 30D.
See everything I learned at the top of my Canon 40D review. I'll compare technical image quality later this week; which as usual, isn't much different than other cameras. The huge difference is in the ergonomics and finesse.
28 September 2007, Friday
NEW: Sending my Canon 5D to Factory Service for Cleaning. PS: This means my 5D's back, so I can run it head-to-head against the 40D. I ran the 40D against the Rebel XTi the other day, and they are pretty much identical as far as static image quality (noise and resolution). More to come.
26 September 2007, Wednesday
NEW: Nikon D3 Lens Suggestions.
NEW: Pushing ISO in Photoshop. How to get ISO settings you can't get on your camera. I had to write this to explain what I did to compare the Canon Rebel XTi to the Canon 40D at ISO 3,200. The XTi is only marked to ISO 1,600, so I had to cheat, and you can too!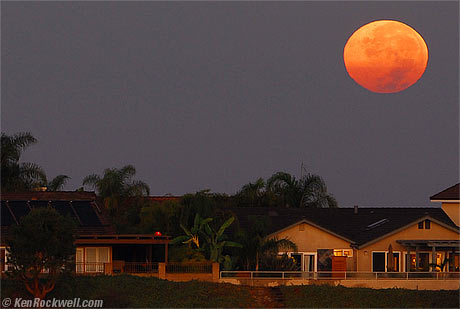 Moonset, suburban Southern California, 6:21 AM PDT.
(D200, 80-400 VR)
NEW: Nikon 600mm f/4 VR.
25 September 2007, Tuesday
Adorama has Refurbished Nikon D50 bodies for $399.95. Personally I much prefer the D40 and would get that, with lens, for $100 more brand new, but if you're as cheap as I am and want autofocus with older AF lenses, go for it. Anytime I've bought factory refurbs they've been fine.
NEW: Canon 40D Color and Contrast Adjustment Range Examples.
(I've already given away the free case. It only lasted a few minutes. Thanks! Ken.)
NEW: Preventing Shutter Lag. Basics of modern photography.
22 September 2007, Saturday
My Canon 40D and 28-135mm lens just arrived. I need to charge the battery and get experimenting. I wasn't expecting it, and just sent my 5D out for cleaning, so it will be at least a week until I can start running drag races between the two.
This is the first time I've ever sent any camera for sensor cleaning. I also sent my SD700, which has been getting full of dust from living in my pocket 24/7. I would only send my cameras to the manufacturer's service facility. I would never let my local camera store or my best friend clean my camera's sensor; I'm paranoid.
Oddly, more fun are the 20-year old Nikon SB20 flash I just got (cost me a whole $53) and Dick in Rancho Mirage just sent me a 24mm and 28-105mm lens for The Ranch to re-test when my D3 arrives. My existing review is from back in 1999 on film. Call me weird, but I'm a Nikon lens junkie as if you hadn't noticed. Thanks Dick, and thanks everyone for your incredible support!
Added a Portuguese translation of How to Make Great Photos and an Italian translation of MTF curves.
I found the Nikon 17-35mm f/2.8 in stock here. The 17-35mm is the wide lens to get for the D3, not usually the 14-24mm for most people.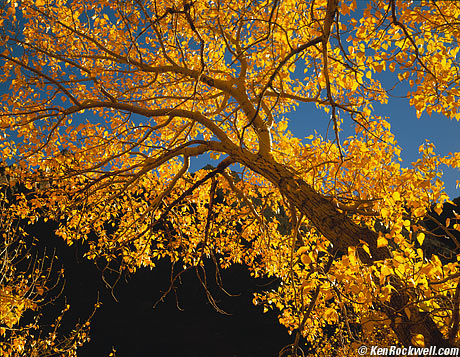 California's Eastern Sierra in October.
Even more fun than a free D200 is shooting in California's Eastern Sierra. I'm helping Dave Wyman teach a workshop there at the end of October. There are still a few spots open.
20 September 2007, Thursday
NEW: Canon 5D Review. For the past year that page has been only a sorry excuse while I was out screwing off shooting with my 5D instead of writing about it.
Added an image of the Nikon L35AF to its existing review. I'm in the process of reviewing the Konica Hexar and the Nikon 35Ti that have arrived at my Retirement Ranch. (These are high quality old compact film cameras.) I don't know about you, but digital cameras are so over. The D3 and D300 were last month's news. Who cares today? Do you really want to blow a few grand every year just to stay current when you can shoot digital with the best cameras of yesteryear, for free?
19 September 2007, Wednesday
NEW: Free Full-Frame Digital SLR. Are you tired of being told you need to blow five Gs every year on the latest digital SLR just to stay in the game? My cheapskatedness may have just saved you from all this madness.
NEW: The Mother of all Nikon Lens Compatibility Charts. This took quite a while to research. The scary part is that I did most of it off the top of my head and only had to stop and try some of the weirder combinations. Many thanks to the great folks who've sent older cameras and lenses to the Rockwell Retirement Ranch, without whom this wouldn't have been possible. Let me know if you find anything incorrect. With something this big something must have slipped someplace.
Old is New: I almost forgot, and just added new links from The Full Frame Advantage to my Zenitar 16mm Fisheye review, where I explicitly show the crappy lens completely obliterating the performance of my Nikon 10.5mm DX fisheye due to diffraction and its different effects on each format.
I just corrected about 30 pages from "Graphlex" to "Graflex." I can't believe no one caught that!
18 September 2007, Tuesday
NEW: Complete re-write, with examples, of my Nikon 16mm f/2.8 AF Fisheye Review. I got lucky: I got a used one just before the D3 was announced. You may want to get yours now before the rush on them happens as people start getting their D3s.
Here's a fun tour of the Nikon D3 plant.
17 September 2007, Monday
Nikon shares D300 sample images here. See also Nikon's D3 example images.
If you compare them at 100% you'll see the D300 images are much softer, but that's because they were shot at such a small aperture (f/16) that diffraction is limiting the D300 images. The D3 images were shot at larger apertures, so it's not entirely a fair example of the superiority of full-frame. Does this mean that the D300 has a weak anti-alias filter Nikon is trying to help with the small aperture? I have no idea.
As far as I know, Nikon hasn't yet entered into final production on either camera; they are still making prototypes. I'm not worrying until I get my real production model in my own hands.
Oh No: Another photo legend passes on. Fred Spira was behind Spiratone, the landmark New York store and catalog operation full of unique photo gadgets. For instance, my Tokina 17mm lens that I bought used in 1983 was actually sold by and branded "Spriratone." Fisheye converters, bizarre filters, 90 degree angle spy lenses and all other weird things were unique to Spiratone.
16 September 2007, Sunday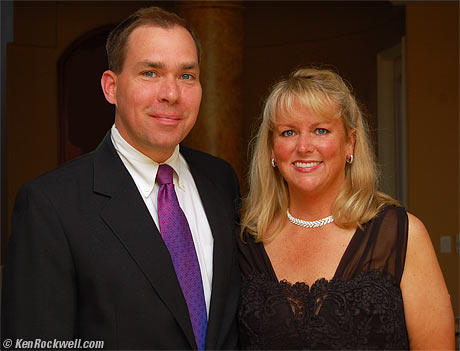 Mr. and Mrs. Ken Rockwell.com
I like this snap, made with my D40, kit 18-55mm II lens and cheap SB-400 flash as we ran out the door. I pointed the SB-400 up at the ceiling. The quality of light and perfect exposure impressed me.
I used my D40, since it's fast and easy, not my bulky D200. The key to this shot is that we were both smiling, and that the bounced SB-400 makes the photo look natural. Any flash pointed right at us would have looked as crappy as any other direct-flash shot.
In my continuing crusade to get people to stop thinking better cameras make better pictures, I added a link to another San Diego pro, Kirsten Gallon, who earns her living using Nikon's two very cheapest lenses, the 18-55mm and 70-300 G.
15 September 2007, Saturday
Nikon shares D3 example images.
Yay! The Nikon 18-200mm VR, after almost two years, is finally in stock at Ritz, Adorama, and elsewhere, and the best news is that no one is gouging that much anymore: everyplace is now asking $749.99, and Adorama also has it in stock, gray market, for only $720. Of course the MSRP has always been $699, and if you did as I suggested back in November 2005 you would have paid only $629 as I did, back before anyone else realized what an incredible lens this is and drove up the street price. It is perfect for the D300. (It's OK but silly to use DX lenses in the D3.)
Yay! My favorite Nikon D40 has gotten less expensive, now just under $500, including its excellent 18-55mm lens. Whoo hoo! Guess which camera I grab every day when I want to go shoot baby pictures? My lightweight, fun-to-use D40.
It may look like I was slacking this week, but I actually was doing a ton of shooting with the items from the Retirement Ranch in order to add to their reviews. I also added improved product shots to a bunch of my under-construction reviews.
I also just got a Nikon 50mm f/1.2 AI-s lens brand-spanking new from stock at Adorama for $429, far less than others pay for used ones on eBay, heh heh. I'm reviewing that, too. I was amazed that I can still buy real Nikkor manual focus lenses off-the-shelf; the serial number on mine says it was made in the past year. The 50mm f/1.2 works on all the digital cameras, too, although you'll have to set the exposure by trial and error on the cheaper ones. The 50mm f/1.2 couples perfectly to the matrix meters of the D3, D300, D200, D2, F6 and FA. As a sneak peak, the 50mm f/1.2 is a traditional spherical design, so it's got low contrast wide open, but hits a sweet spot starting at f/2, at which it's the next sharpest lens at f/2 next to my 28mm f/1.4 AF, and has no distortion on a DX camera at reasonable distances; much less than the Zeiss or Nikon 50mm f/1.4 lenses. Wait till I get my film back for more.
Oh yeah - I've also spent several days developing my Mother of all Nikon Lens Compatibility Charts (still under construction) with the help of all the gear I've gotten at the Retirement Ranch. Since the D3 uses all the old lenses, if you're a cheapskate like me I want to know what works on what. I also owe all of you a formal D3 suggested lenses list. The darn D3 changes everything, meaning I have to go back and re-write all my reviews from saying "all Nikon digital" and "35mm film" to "DX digital" and "FX digital and 35mm film."
I haven't looked at any incoming email since August.
11 September 2007, Tuesday
NEW: The Full-Frame Advantage.
I added many more illustrations and detail to my Nikon 14mm f/2.8D AF (fixed focal length) review.
I just posted a PDF how-to from cinematographer Thomas Kranzle about how to do high-definition time-lapse cinematography using a digital still camera. I posted this on our photo club's website, since Thomas came and gave us a presentation last year. Be sure to see his example reel (click on his site) of what incredible stuff you can do with time-lapse shooting for landscapes and cityscapes.
10 September 2007, Monday
NEW: MTF Curves. You may ignore this abstract technical article. I had to write it to explain one of the aspects of why larger format digital and film cameras are better than smaller format for my upcoming Full Frame Advantage article.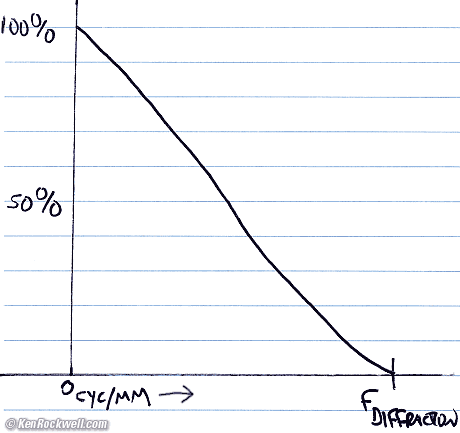 Diffraction MTF curve.
I also added a section with MTF curves to clarify my Diffraction page
Ritz has the Nikon 18-200mm VR in stock again at $749.99. Get them while they're hot. They sell out fast at that price, and are still the very best lens to get for the D300.
Lenses for the D3 are another story, and as you can see, I have to write a lot of supporting articles to get to the meaty ones. I'm working towards writing the lenses for the D3 article, but need also to write my 50-year Nikon system compatibility table. Hint: for the D3, get the 17-35mm f/2.8 AF-S and the 70-200mm VR. If you're on a budget, weird if you're buying a D3, get the 18-35mm f/3.5-4.5 AF and any old used 70-210mm AF. I rarely use mid-range lenses; if so, the new 24-70mm f/2.8 AF-S is a huge one if you want to carry it, if not, my favorite is the 24-85mm AF-S. The new 14-24mm is a great idea, but more of a special purpose lens for we ultrawide junkies.
07 September 2007, Friday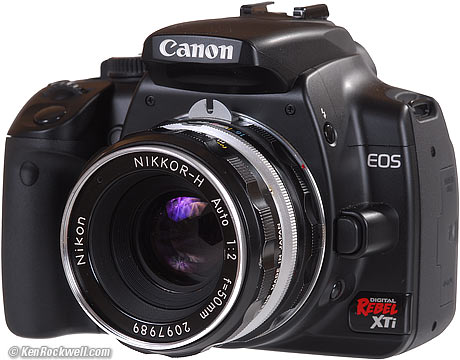 Nikon 50mm Nikkor-H on Canon Rebel XTi. What????
New: Roxsen Nikon - Canon Lens Converter. Thought yesterday's 35-year old lens on a D40 was weird? How about the same old Nikon lens on a Canon body?
06 September 2007, Thursday
NEW: 50mm f/2 Nikkor-H. A 35 year old lens.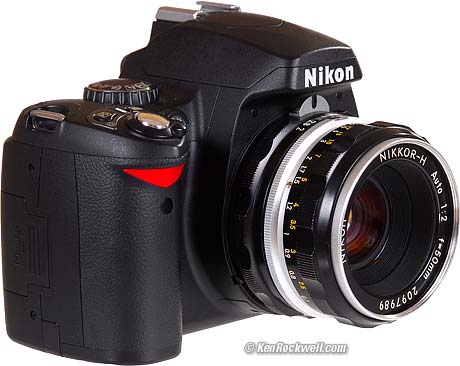 A new Nikon D40 with a 1972 50mm f/2 Nikkor-H. enlarge.
NEW: Nikon System Compatibility. A forty year or more age gap between camera and lens can be completely compatible, in either direction.
Added a section on Compatibility to my dangerous Canon versus Nikon article.
The new Casio EZ-Z1200 arrived at Ritz in black and chrome. I've never used it, but I do have the newest Casio EX-V8 I'm trying, which is the replacement to the EX-V7.
05 September 2007, Wednesday
NEW: History of the Nikon 300mm f/2.8.
NEW: Nikon 300mm f/2.8 ED-IF, a 30 year old classic.
Added a much better product photo to my sparse Nikon 18mm f/3.5 AI-s review.
Adorama has started taking orders for the Nikon D300 and taking orders for the Nikon D3. You now also can order the 400mm f/2.8 VR, the 500mm f/4 VR and the 600mm f/4 VR, as well as the 14-24mm f/2.8G ED, 24-70mm f/2.8G ED and Canon 14mm f/2.8 II.
News: Some folks from Cambridge, UK, tried a new image processing system our local 200" (5.1m) Palomar Observatory telescope, and were able to improve greatly on previous adaptive optic attempts to clarify visible-light images.
Using a system called "Lucky Imaging," they make a rapid series of photographs, and the software picks out the sharpest regions from among the various images and composites them into one much sharper whole. It's called "lucky" because it attempts to capitalize on the fact that with random atmospheric disturbances, every region of the image will have some small percentage of the time during which it's perfectly sharp.
This system doesn't apply to photography, since we photographers don't have issues with heat shimmer and seeing conditions, but it is very important to astronomers and surveillance people because atmospheric shimmering is the biggest limitation to what can be seen from afar.
Apparently the key to the new system is a magic sensor that lets them shoot so fast, made by E2V Technologies of Chelmsford, UK
04 September 2007, Tuesday
NEW: Nikon DX Lens Compatibility
NEW: Nikon FX Cameras
What Was New in:
August 2007 (Loads of new Nikons and Canons)
2006 November - December (includes birth of Ryan Rockwell)
2006 October - November (includes photos from a trip to NY)
Caveat: The ads below come from a third party and I don't see or approve them. They are sent to your screen directly from a third party. They don't come from me or my site. See more at my Buying Advice page. Personally I get my goodies at Ritz, Amazon and Adorama.