August 2007 Daily News
all © 2007 KenRockwell.com

(The RSS feed stinks - don't trust it)

I get my goodies at Ritz, Amazon, Adorama. It helps me
keep adding to this site when you get yours from those links, too.
Baby Ryan Rockwell. Cute photos with tech data.
NEW: Nikon D3 D300 14-24mm f/2.8 24-70mm f/2.8
Canon 40D 1Ds Mk III 14mm II 18-55mm IS 55-250mm IS
31 August 2007, Friday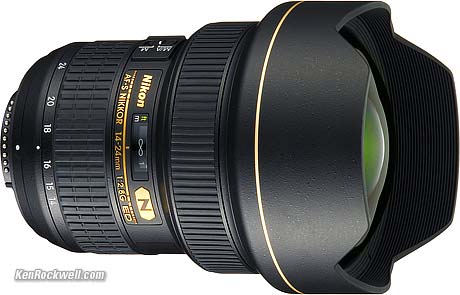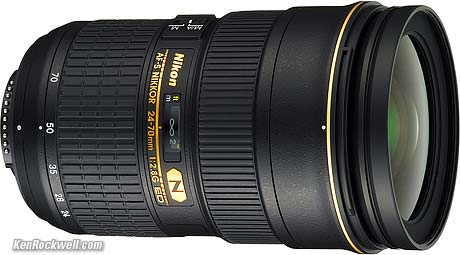 Updated my History of Nikon DSLRs.
New: List of Nikon DX and FX Cameras.
Ritz has already started shipping Canon 40Ds to the people who ordered them last week. This is two weeks ahead of schedule, bravo!
30 August 2007, Thursday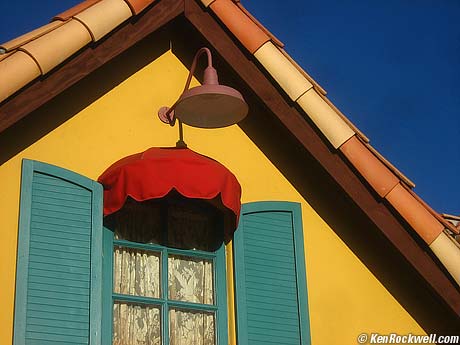 Chain Restaurant, San Diego, California.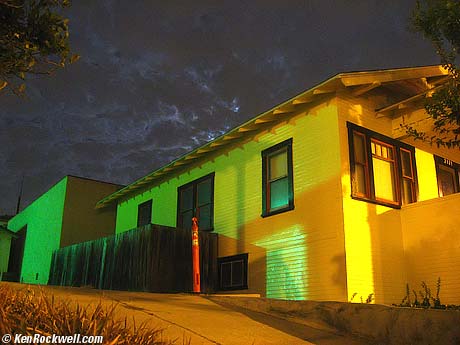 By Chrome by Moonlight, San Diego, California. 10PM 29 August 2007.
Snap from my Canon SD700 (today the SD850 is the improved replacement).
You always need to have a camera with you! I saw the shot of the creepy house with the scary moonrise after I dropped off my film at Chrome photo lab last night. I was stupid enough not to have thrown my real camera in the trunk, but at least my SD700 was in my pocket. I braced it on a ledge for an automatic 1 second exposure at ISO 400.
I knew the left side would turn green, because the left side was lit by a creepy blue mercury vapor light. Those bright bluish ghetto-blaster lights turn green on film and digital because their light is not a rainbow of every color like sunlight. The light of a mercury lamp consists of only several distinct colors which mix to look roughly white to our eyes, but look green to cameras.
The front was lit by an orange sodium light and I knew the gray moon would look bluish in the photo, so even though the scene looked unremarkable to my eye, I knew it would go blue-green-yellow in-camera. Our eyes are insensitive to color in the dark, but cameras see color just like daytime, so shooting at night usually gives very vivid results. I didn't have to tweak the colors in photoshop on either of these; I use Canon's VIVID setting.
29 August 2007, Wednesday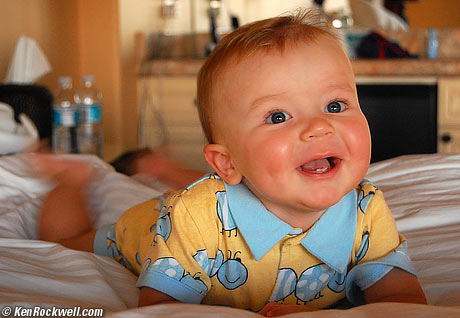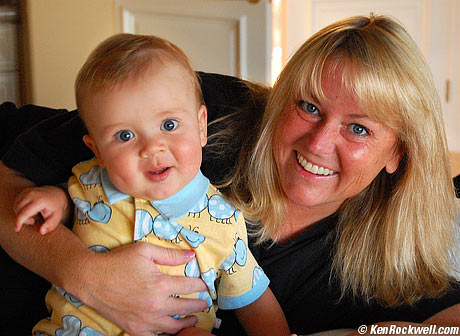 Ryan and Mom.
After having my credit card company phone me to figure out what's going on after I ordered my D3 and D300 from Ritz and my Canon 40D from Adorama, it was nice to pick up my Nikon D40 this morning and make these shots with its excellent and cheap 18-55mm II kit lens. It reminds me that the camera never matters. These shots are made in Auto ISO which set itself to ISO 1,600, shot by window light at 6:45AM. (I also was shooting the dawn with my F6, but I haven't seen the film results yet, either.)
In fact, I have my 5D and D200 sitting right next to my D40, and I grabbed the D40 because it's more fun to use. The 18-55mm focuses so close that it never gets in the way. The 18-200mm VR also focuses close enough, but the 18-55mm is so much lighter it's just more fun since I didn't need VR or the longer focal lengths. In fact, I should have grabbed my old 50mm f/1.8 AF I just got for $40, since these shots are made at 50mm anyway, and my 18-55 is only f/5.6 at 50mm.
I have no idea why people worry themselves silly about pixels and noise. This is shot on a $500, 6MP camera at ISO 1,600. It looks sharp to me, noise is a non-issue, and this in on arguably the dumpiest and cheapest DSLR camera made today. Stop wasting your boss' time researching this on the internet and do some real slacking by coming in late after shooting all morning! Compact pocket cameras have noise issues, but DSLRs, even cheap ones, are wonderful.
People were emailing me asking me why no updates since last weekend. Why? Because I was working all day and night on the new things from Nikon and Canon, and I still haven't gotten to the most interesting item to me, the 14-24mm ultra-ultra wide.
Because I was trying to write, I couldn't waste most of each day as I do helping strangers who send me unsolicited email. I had to waste my entire weekend instead, thus no new writing. Email is a huge time waster for everyone, and takes me away from writing for everyone's benefit.
28 August 2007, Tuesday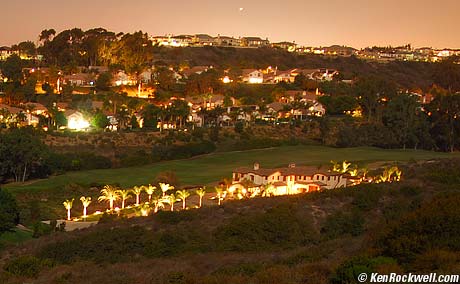 Resort by Moonlight.
Nikon D200, 28mm f/1.4 at f/2 for 20s, ISO 100.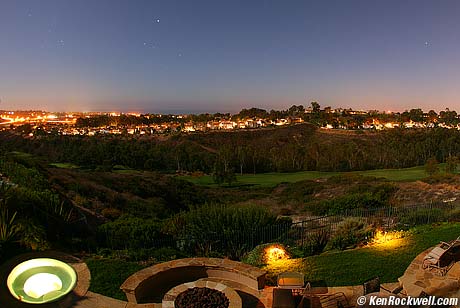 San Diego under Full Moonlight.
Canon 5D, 15mm fisheye, 30 seconds @ f/4, ISO 250
I made these last night at 10PM local time in Sunlight WB. Both are cropped. I got faked out and underexposed a bit; my LCDs obviously look much brighter in the pitch black than they do in daylight. Oddly, both my Nikons and Canon metered in this -2LV full moonligtht just fine, and I then deliberately underexposed from the meters.
I made the same shot on my Nikon F6 at 1.5 minutes, but that's still in the camera. I love the F6's ability to set exposure times of up to an hour in-camera, no cords or other timers needed. I wish my digitals could do this. I set my camera to go, and wandered away to accomplish something else at the same time.
23 August 2007, Thursday
Ritz still has the Nikon 18-200mm VR in stock at $749.99. Get them while they're hot. They sell out fast at that price. Ritz is also taking orders for the D300, and taking orders for the D3, the first I've seen either one offered from a store I'd use myself.
23 August 2007, Thursday
IT'S OFFICIAL: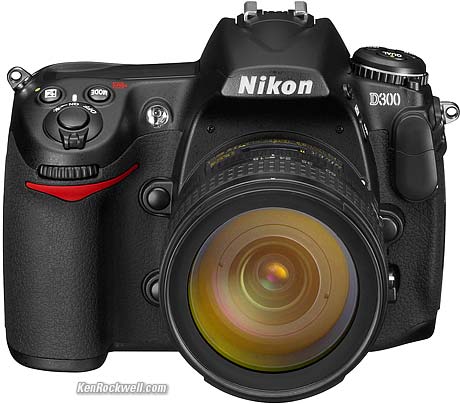 Nikon D300: $1,799, 12MP DX, 6FPS, November 2007.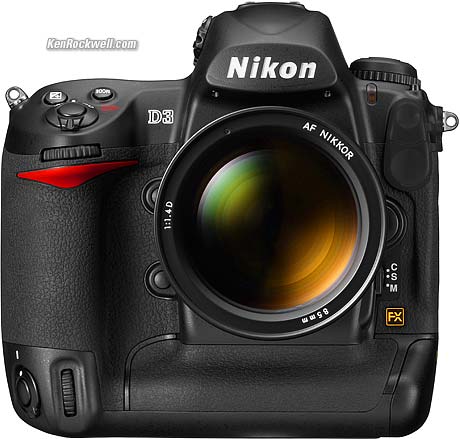 Nikon D3: Full Frame, 9FPS, $4,999, November 2007.
Five new Full-Frame lenses (work on all cameras):
AF-S NIKKOR 14-24mm f/2.8G ED, $1,799.95, November 2007.
AF-S NIKKOR 24-70mm f/2.8G ED, $1,699.95, November 2007.
AF-S NIKKOR 400mm f/2.8G ED VR, $ $8,799.95, November 2007.
AF-S NIKKOR 500mm f/4G ED VR, $7,899.95, November 2007.
AF-S NIKKOR 600mm f/4G ED VR, $9,499.95 , November 2007.
NEW: Secret Canon 55-250mm IS EF-s, not for the USA.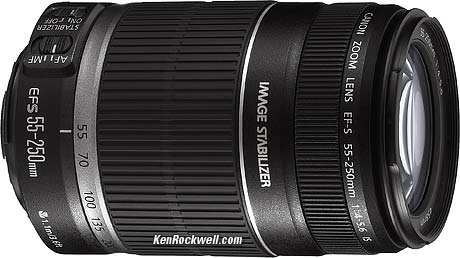 Canon EF-s 55-250mm IS f/4-5.6.
Addition: Added my experiance with my MV-1 Data Reader to my Nikon F6 Review.
22 August 2007, Wednesday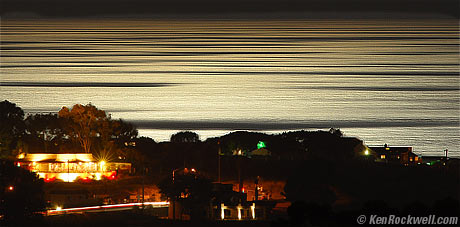 South Ponto by Moonlight, 10:34PM, 21 August 2007
I just picked up a beater 300mm f/2.8 ED-IF AI (manual focus) last night, and made this shot of the moonlight shimmering off the Pacific Ocean looking towards Hawaii. 30 seconds at f/5.6, D200, South Ponto, Carlsbad, San Diego, California.
Ritz has the Nikon 18-200mm VR in stock at $749.99 again.They are also in stock at Adorama, and Adorama's prices have come down, but not as far as Ritz.
Some folks are excited about Sony's 12MP DX CMOS sensor. I'm not: I graduated to full frame digital last year whebn the 5D was on $600 rebate. Even 10MP is just too many pixels crowded into too small a space on a DX/APS-c/1.6x sensor. At these linear resolutions one is taxing the lens too hard.
21 August 2007, Tuesday
Secret: Canon has a secret new lens, the Canon EF-S 55-250mm f/4-5.6 IS, which won't be coming to the USA. Beats me if it will come ever, or if we'll have to get it gray market instead. This is an inexpensive lens, and probably will become one of my first suggestions for people wanting a tele on a budget.
Dreaming: I'm hoping Nikon will open their new product kimono on Wednesday, Thursday or Friday, depending on where you sweep up your rumors. The one rumor circulating, all from the same guy in the orient making it all up, is below. Since it mentions a Nikon-made CCD I doubt it, since Nikon makes no semiconductors. Making CCDs is extremely specialized. Nikon makes some of the chip making hardware, but design and manufacture of CCDs is an entirely different matter.
I'm not making up this stuff, someone else is. It sounds good, so I'll mention it here. For real news, look below for yesterday's megadump from Canon. (Sorry if that didn't sound right.)
D3X: Full frame, 12 or 16MP, 9 FPS. Crop to DX at 11 FPS.
D300: 12MP DX, 6 FPS, 8 FPS w/grip, ISO 200 - 6,400.
Same AF system for both: 51 AF points (really?). 15 are cross sensor. Honestly, using my lovely new used F4, I prefer only one AF sensor to keep all the crap off my viewfinder screen so I can compose.
Live View mode. Off-the-CCD AF in Live View.
Five new lenses:
14-24mm f/2.8 G AF-S (hideously expensive record-breaking, full-frame ultra-wide zoom, NOT a replacement for the 12-24mm DX. If anything, it's a replacement to the hideously expensive 14mm f/2.8 AF I just ordered for myself. If Nikon builds this, I want one.)
24-70mm f/2.8 G AF-S (what? Not VR?)
400mm f/2.8 G AF-S VR
500mm f/4 G AF-S VR
600mm f/4 G AF-S VR
If you've priced the super-teles, the Canons cost a couple of thousand dollars less, so you may as well go Canon since I know you're using these for sports, and Canon will throw in a body for the same price as the Nikon super-teles alone.
Guess what? My 20-year old F4s that i just bought used works perfectly with all these proposed G lenses. Although it won't operate the VR system, the F4 gives super-fast AF, matrix metering, perfect fill-flash and S and P mode automation just fine, thank you.
20 August 2007, Monday
IT'S OFFICIAL: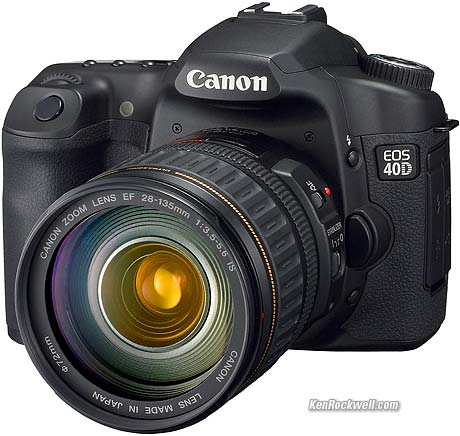 Canon 40D, 6.5FPS, 10MP, 3" LCD, $1,299, September 2007.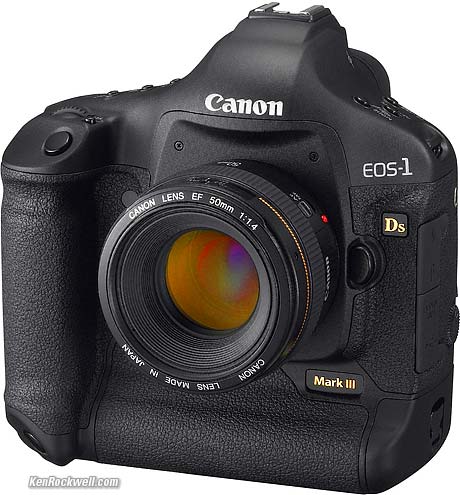 Canon 1Ds Mk III (5FPS, 21MP, 3" LCD, $6,999)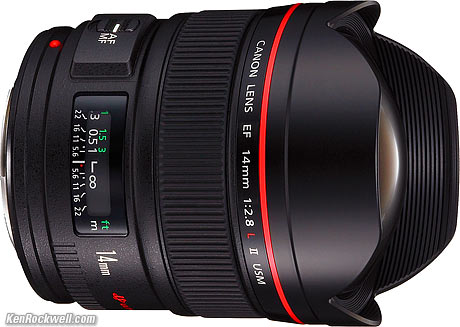 14mm f/2.8L II (October 2007, $2,199.)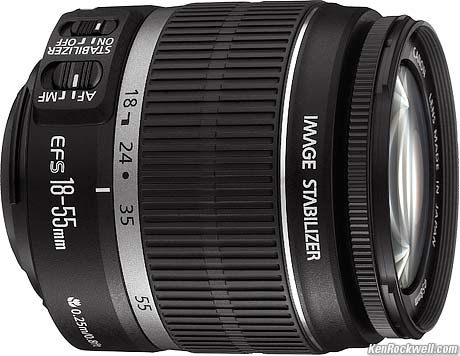 18-55mm EF-S IS (October 2007, $199)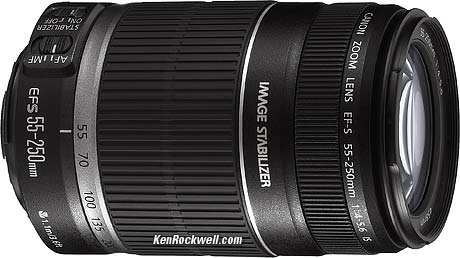 SECRET:Canon 55-250mm EF-s, not for the USA.
Canon also introduced several new compacts:
G9 (12MP, 6x IS, $499).
SD950 (12MP, 3.7x IS, 2.5" LCD, $450) pocket ELPH.
SD870 (8MP, 3.8x wide zoom IS, 3" LCD, $399) pocket ELPH, updates SD800.
SX100 (8MP, 10x IS, 2.5" LCD, $299).
A650 IS (12MP, 6x IS, 2.5" LCD, $399, September).
A720 IS (8MP, 6x IS, $249, September).
8800F Flatbed Scanner, 4,800 DPI, $199.
LiDE90 Flatbed Scanner, 2,400 DPI, $79.
I was hoping so; I got up at 5AM California time based on yesterday's Amazon leak to cover all this throughout the day. Each of my review pages will be growing all day long, starting with the 40D.
19 August 2007, Sunday
NEWS LEAK: As I write this, Amazon put up product info pages, and then took them down. Heh heh. Follow my links above for more. Amazon had the whole enchilada posted for sale.
Rumors also are flying about whatever Nikon has for which we're all waiting, supposedly to announce in Japan on Wednesday. We'll see, and I sure hope any full-frame is a real full frame. Anything with any crop factor other than 1.00x is not full-frame, heck, with the Mamiya ZD out, unless you need speed, I can't see people paying eight Gs anymore for 35mm based DSLRs when you can shoot medium format for the same price.
Personally I'm a wide-angle junkie, so I'm most excited about the new 14mm II from Canon and the rumorered 14-24mm f/2.8 AF-S G from Nikon. I've already bought the older Canon and Nikon 14mm lenses this year which would be replaced by these, but I'm not complaining if the new lenses are as good as newer ultra wides usually are compared to older ultra wides.
My exisiting 5D ought to be great for my budget, and my film Nikons can enjoy the lenses if the D3X is eight Gs.
17 August 2007, Friday
New: Italian translation of Photography is not a Spectator Sport.
Rumors suggest new Nikon DSLRs, lenses and more on 8/20 or 8/23. Wake me when it happens. Canon often hits the same time each year. I wonder what big occasion happens in Japan this time each year, back-to-school?
16 August 2007, Thursday
Observation: I've now heard more than one person suggest that maybe Nikon is limited to a 1.1x or 1.16x sensor instead of a real (1.0x) full-frame sensor because the Nikon F mount isn't as big as Canon's lens mount.
I'm astounded; is anyone really this gullible? Maybe Nikon is pre-viral marketing false truths to quash the big brown turd of derision they'll get if they try to sell us a pathetic runt-sized sensor as if it's an upgrade from a real full frame sensor, but it's probably just another well meaning, but misguided, anonymous bone-head in some chatroom who measured the back of an F-mount lens and discovered that it's smaller than the diagonal of the 35mm frame (42.10mm vs. 43.27mm). So what, the back of a lens doesn't define its image circle. My 300mm f/9 Nikkor 4x5 lens has an image circle of more than a foot (325mm, rated) and the back of the lens is only 31mm in diameter.
Here's the deal: if the Nikon F mount is too small for a 24x36mm sensor, then how have Nikon 24x36mm film cameras worked since 1959? I can assure you that Nikkor lenses easily cover the full 24x36mm frame, especially since I've been shooting film this month.
If you're worried that wide lenses don't work at the far corners full-frame, no problem. My 14mm ultra-ultra wide lens works perfectly on my Canon 5D full-frame. Forget the size of the mount; the rear exit pupil of my 14mm f/2.8 L Canon is 17.69mm and my the rear exit pupil of my Canon 17-40mm is 21.20mm. But wait, chat room lurkers, the rear exit pupils get smaller when stopped down, and these lenses get sharper!
Sorry, I would feel cheated if Nikon introduced a discount sensor as full frame (it costs significantly less to make a sensor just a little bit smaller), but I don't have to. For the same rumored $8,000 price as the nonexistent Nikon D3x, you can buy a far superior (and real) Mamiya ZD and have $1,001 left over. The ZD has a 36 x 48mm sensor which ought to smoke anything real from Canon or imaginary from Nikon, and even at intro only costs the same as the 16MP Canon 1DS Mk II. No need to fart around in the former 35mm format if you can get medium format digital for the same price!
The Mamiya ZD hopefully will do to high-end 35mm-based DSLRs what $1,000 DSLRs did to $1,000 point-and-shoots: annihilate them.
15 August 2007, Wednesday
Observation: I see the Nikon 18-200mm VR in stock at $749.99 at Ritz. Don't dilly-dally if you want one since they sell out fast.
14 August 2007, Tuesday
New: How to Drive Your Camera. Another rant on the basics of white balance and exposure compensation. It's not exactly a brilliant article, but is another way to explain the critical basics of camera adjustment.
Observation: A personal hobby site that lists UPCs based on the entries of strangers now has an entry for a Canon EOS 7D. Maybe this is real, and just as likely, someone simply made it up. That site's a hobby, not any official body, and the site lists whatever people send it. Real UPCs don't get entered into systems until the day something is announced.
13 August 2007, Monday
Observation: A local San Diego camera store told me our local Canon rep told him that Canon's got new stuff to announce at the end of August. Of course Canon often introduces new stuff at the end of August, like the first Digital Rebel in 2003. For all I know this could be a 40D, or could be more point and shoots. No one knows until we know. Honestly I love my 5D, so if you're going Canon, you may as well go full frame, a luxury Nikon doesn't offer us at any price. There's always something new in the future you can't buy today, so don't lose any sleep over it.
11 August 2007, Saturday
Opinion: People ask what I think, as a patent holder myself, about Nikon's patent last year for a new color image sensor configuration. This new sensor uses microlenses to shove light from each sensor area through a smaller hole, and then to split this light into RGB with dichroic mirrors. Dichroic mirrors, used to split colors among three RGB sensors for decades in TV cameras, are very efficient and lose little light.
The advantage of Nikon's invention is the elimination of anti-alias filters, since colors are sampled at the same points.
Sensors made with this patent could be more efficient if the microlenses jamming light through smaller holes are more efficient than today's loss of light through transmissive (lossy) Bayer filters. Dichroic RGB filters don't lose light, they spilt it very efficiently between R, G and B. Lossy colored filters absorb all colors, except for the color they pass. Dichroic filters are mirrors which reflect one color and pass the other colors along untouched.
This patent means nothing to we photographers until someone makes a camera using this sensor, and that won't happen until someone makes sensors using this patent.
Some patents, like mine, were filed because we put this invention into production. Other patents are filed simply so the inventor has rights to them if he ever wants to make them in the future. We don't know, and I don't care as a photographer, until someone has a commercial product to sell me.
I find this very interesting from the scientific standpoint, but not from the practical standpoint. I don't know that arrays of dichroic mirrors can be manufactured in the size we'd want for photography at all, or at a reasonable price. For all I know, Nikon might want to use these in their RGB meters, not at the taking image plane. Since modern SLR final image sensors have pixels only 10 times the size of a wavelength of light, I'm unsure how well any dichroic mirrors could operate. Pocket camera pixels are even tinier, but SLR meter sensor pixels are much bigger. (The Nikon D2, D1, D70, F5 and F6 have 1,005 pixel array RGB meters; the D40, D50 and D80 have 420 pixel RGB meters.)
For all I know, Nikon may already be using this in meters of cameras you and I already own.
09 August 2007, Thursday
News: Leica Summarit-M Lenses. (just a news release; they come out in November).
Film Revival: With the resurrection of Fuji Velvia 50 and me discovering how cheap classic professional film cameras have become, I just bought myself a Nikon F ($75 with lens), a Nikon F3HP and a Nikon F4 (a few hundred dollars each, in their original boxes), and a black Nikon FE for $69. Except for the F which I found in the local classifieds, I got this stuff used at Adorama, from stock.
I paid more to get nice examples of each; you can pay even less to get ones in less fancy condition. Except for the FE, I wanted pretty ones to use as models. I'll be reviewing all this as I use it, along with the Nikon F6 I grabbed as a demo last week, also from stock at Adorama. The F6 still isn't cheap, but Adorama has some factory refurbs for $650 less than they used to sell for new.
Heck, for less than the price of a new D80 I got two of the best Nikons ever made (F3HP and F4). This is ridiculous; I'm sure these will be cranking away long after my D80 has been forgotten. These babies make my D200 feel dinky by comparison. Of course film requires dedication and a lot more work to get decent results compared with the ease of digital, but heck, nothing gives colors like Velvia.
The Nikon F5 is also cheap today, used, but I'm scared of it because it comes in no configuration other than the gargantuan 8-AA battery version. I set up my F3 and F4 without the big macho-man grips so they are reasonably human-sized. I eventually will need to get an F5, just to compare it to the others.
Additions: I added new info on long time and night exposures to my growing Nikon F6 Review, and added some manual metering details to my skeleton of a Nikon F4 Review.
08 August 2007, Wednesday
New: Nikon Body Cap Compatibility. Weird juju here in California; after about 30 years of using Nikons with no issues I discovered and solved a body cap compatibility problem.
06 August 2007, Monday
New Request: The Rockwell Retirement Ranch for Unused Film Gear.
Request: Does anyone have an unused Nikon 14mm f/2.8 film lens? I want get one if you'd like to sell it. There are probably a lot of them out there, since they were introduced along with the original Nikon D1 as the only way to get really wide on digital, but were replaced for digital by the far more practical 12-24mm a few years later. I want to use the 14mm on my F6 film camera.
Discovery: I just spend an hour exploring OnExposure.net. It's loaded with great work and no junk. What makes it special is that its editors cull only the best work; it's not a free-for-all of unedited crap like most other collaboration sites. Look at what's in there, everything in it is a masterpiece! It's a huge inspiration to get out and make great work.
03 August 2007, Friday
Observation: I see Ritz has the new Velvia 50 in stock, and Adorama is taking orders. Yipee! It wasn't on their sites yesterday. I've had to make due with samples so far.
News: latest Canon 40D rumors. Nikon often plants new, unreleased cameras on a real Nikon site internationally and then pulls them down to stir up a buzz, but since these all point back to chat rooms and not a Canon subsidiary, I'll vote for this being a Photoshop concoction.
Survey Results: Yesterday I asked, and a hundred people responded, if anyone else cares about film. YES!!!! Thank God. To my surprise, loads of people still love film as I do, even if it isn't all over the Internet. Why? Same reason I do: transparencies on a light table just look better than digital, even if it is more work. Man, I pull out my old Velvia from 1990, drop it on my light table, and it looks sooooo much better than my 30" monitor. It's got deeper, more vivid colors, and far more contrast because light tables are brighter than monitors, and the film has a real 10,000 : 1 (d=4.0) contrast ratio. Forget the tech mumbo jumbo, just look at it and you'll know what I mean instantly.
Many pros responded that even though they have to do digital for their work due to its speed, that of course they shoot film for themselves.
So yay! I'm in the process of getting a bunch of more old film gear to test along with the new Velvia 50. I got another roll back from my lab today, and it also looks great, with the same perfect yellows as the original Velvia and like nothing else I've ever used.
New Rockwell Retirement Ranch for Unused Film Gear: If you've got old film gear lying around unused and want to donate or sell it cheap to my upcoming Rockwell Retirement Ranch for Unused Film Equipment, let me know. I'll review it and immortalize it on this site for everyone's benefit forever. Some folks have already donated a Nikonos and a Nikon 50mm f/1.4 in the past, so I may as well open up the ranch.
Rumor: Now I hear 15 September for a new Nikon. I'm not holding my breath.
News: The Johnson Space Center and Arizona State University are starting to scan all the Apollo moon flight images, and after three years of scanning will make them all available online for all of us. Yay!
02 August 2007, Thursday
Nikon Full-Frame News: I just got a new Nikon full-frame camera! Its called the Nikon F6; the "F" for Full-frame, and Film. I'm such a full-frame convert, especially for ultra-ultra wide lenses, that I had to since I got tired of waiting for a digital full-frame Nikon.
Canon vs Nikon: According to an article by Machiko Ouchi in today's Photo Trade News, Canon predicts to sell 3,000,000 DSLRs and Nikon forecasts 2,500,000 for 2007. Canon forecasts 24 million p/s and Nikon 10 million. Each had record sales and profits for 2006.
People ask me which I shoot more, Canon or Nikon. I shoot my Canon 5D if I have the time and want quality, and my D40 or D200 if I need fast for fun and journalism. If you want to go to Canon, do it to step up to full-frame quality or to get some serious iron like the 1D Mk III, don't bother just to go sideways to a 30D or Rebel. I way prefer my D40 to Canon's 1.6x cameras.
One of these days I'm going to write about why I love my Canon 5D so much. To keep it to one sentence, it's because the images look so incredible and I can crank the colors up further than I can in my Nikons. I also need to write about the full-frame sharpness advantage, which is why my 5D smokes my D200 for real photos. It comes from not asking the lens to work so hard at higher spatial frequencies. On full-frame we're using lenses at lower cycles-per-millimeter on the MTF curve to do the same thing, and less noise reduction is needed so fewer textures are smudged over.
01 August 2007, Wednesday
NEW: Canon 70-200mm f/4 L IS Review. This is the sharpest zoom I've ever used. Even if it weren't, its ergonomics are so perfect I'd still love it. I just bought one for myself.
NEW: Canon Date Codes.
What Was New in:
2006 November - December (includes birth of Ryan Rockwell)
2006 October - November (includes photos from a trip to NY)
Caveat: The ads below come from a third party and I don't see or approve them. They are sent to your screen directly from a third party. They don't come from me or my site. See more at my Buying Advice page. Personally I get my goodies at Ritz, Amazon and Adorama.