02 November 2006, Thor's day
Penn Station.
New Yorkers have unlimited resourcefulness. Here, in Penn Station, someone has used a plastic bag to hang real paper towels over those stupid wall-mounted hair driers.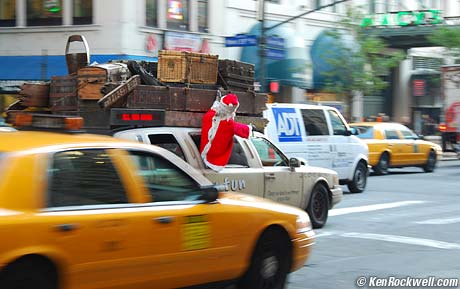 Santa comes to New York.
Santa comes to New York along with the Beverly Hillbillies. He's almost at Macy*s!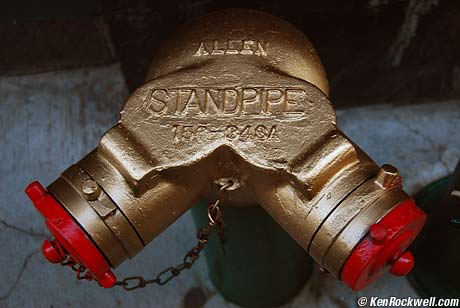 Solid Gold Spigot.
Want to know why NYC is so expensive? The fire spigots are made of solid gold!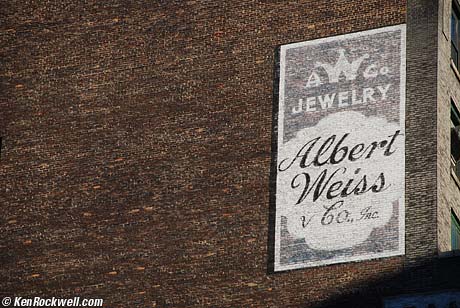 Painted Sign.
These are from the Dutch era - c. 1500s.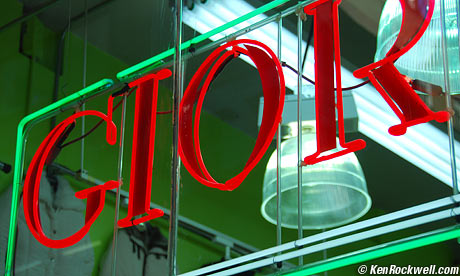 Neon.
The Nikon D80 does great with photos of neon. It doesn't overload to white like earlier digital cameras did.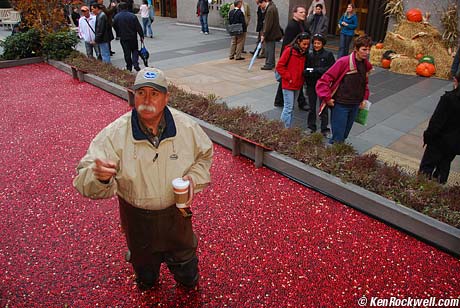 Cranberry Farmer in Rockefeller Center.
Cranberry farmers staged a stand-in in front of NBC in Rockefeller Center. I first got the NBC tour in 1971, for my 9th birthday. I went on to work in TV for many years until I quit in 2004 to do this site for all of you.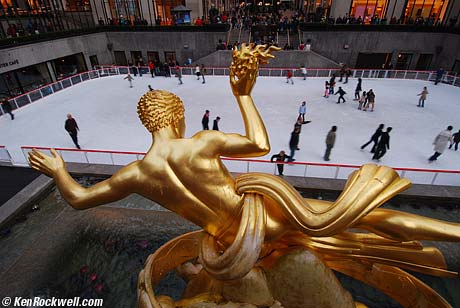 Prometheus.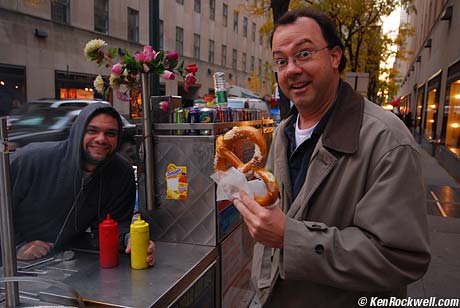 Dr. Rockwell.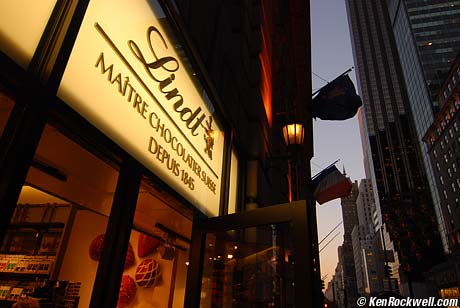 The Lindt Chocolate Store on 5th Avenue.
We spent some time in here and learned about chocolate.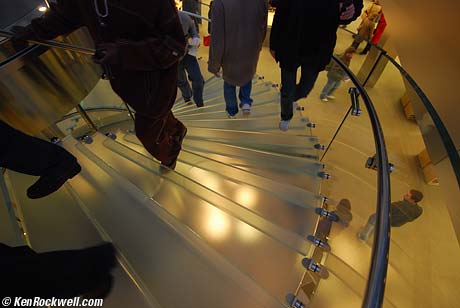 The glass staircase in: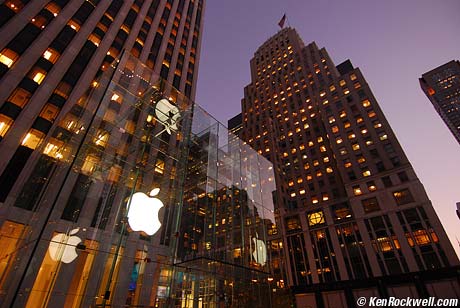 The Apple Store.
See the great glass cube? You walk into the cube, and take the glass staircase down into the store. All these photos and website this week come from my four-year old 12" Apple iBook, the crummiest computer they made back then. Just think what I could do today if I had bought a new computer there!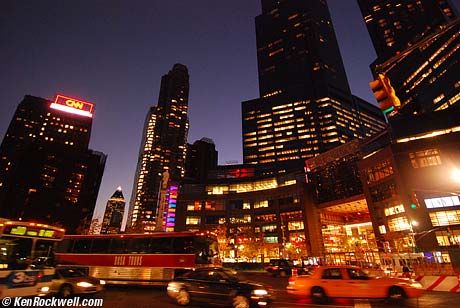 Columbus Circle.
Timing is everything. The sky looks like this for only a few minutes each day. When the time is right, make photos regardless of where you are. We just happened to be in Columbus Circle. The time was better back at the Apple Store (look at the killer sky), but I already had enough to say for those photos.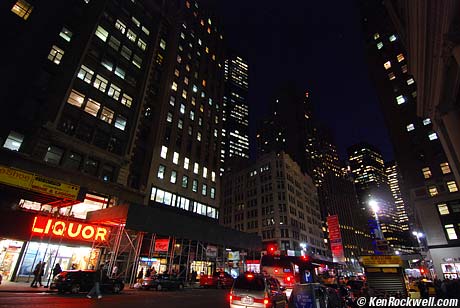 Times Square.
Digital killed the tripod. No need for it anymore; I let the Auto ISO of my D80 handle all these shots, freehand.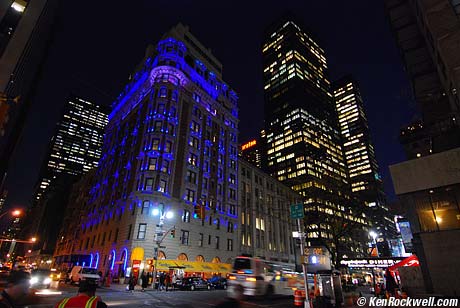 Blue Building.
No Photoshop on any of these shots - they are all exactly as they came from my D80. No time to play with them. The building really is lit in blue.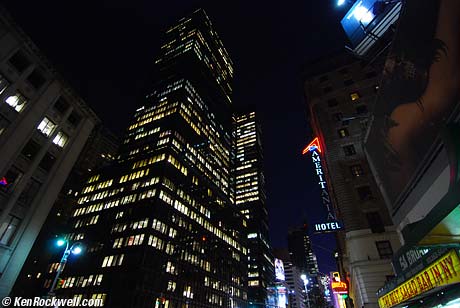 Times Square.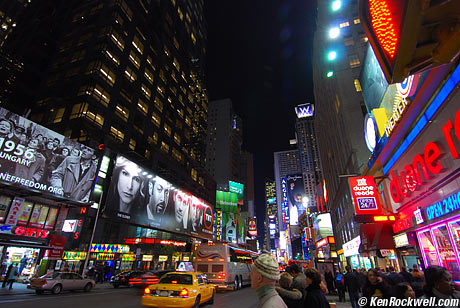 Times Square.
You can't make a bad night shot in Times Square. 12mm lens.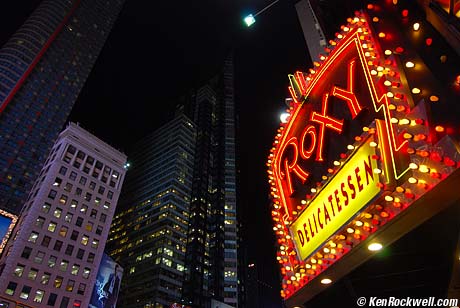 Times Square.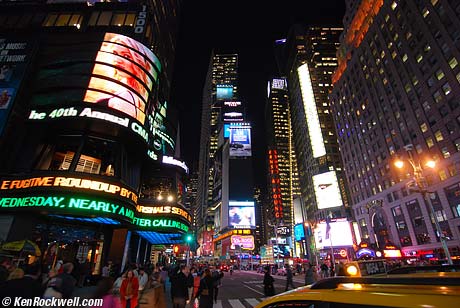 Times Square.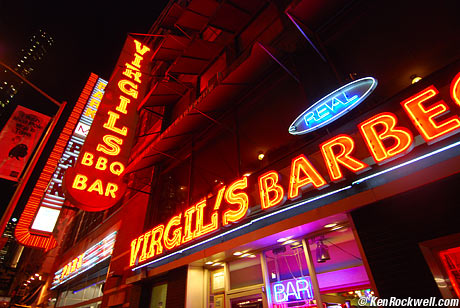 Virgil's BBQ, a great place always.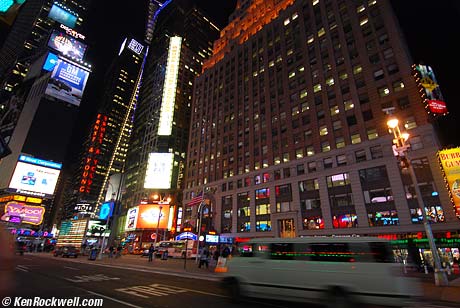 More Times Square.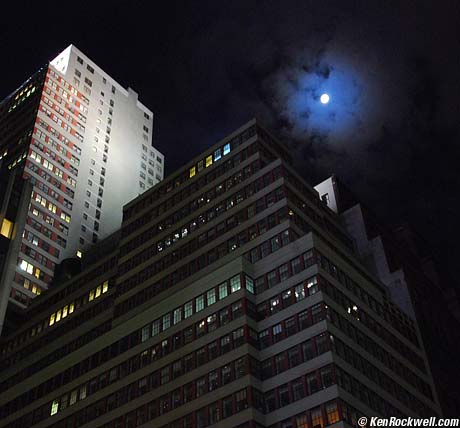 Moonrise, Manhattan. 12-24mm set to 24mm, hand held.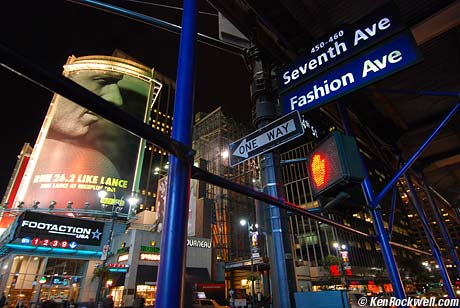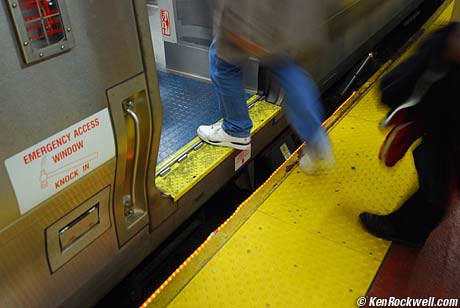 Penn Station LIRR Platform.
See the foot-wide space between the LIRR train and the platform? For some reason someone goofed and ordered new cars (or new platforms) the wrong size! The LIRR now has these huge gaps over which one must step, or fall into the high-voltage (600 Volts at 10,000 Amps) tracks below! NY is a tough town - many people fall into these every day, no kidding, and no one seems to mind or sue.
NYers take these minor issues in stride so we can focus on important issues. Suing is for wimps; everyone screws up now and then so get over it. NY lawyers are too busy with important things like multi-billion-dollar acquisitions and mergers and bringing billions of dollars of American prosperity to call centers in India to have time to mess around with personal injury suits.
01 November 2006, Wednesday
I'm in NY City and went to the press event for the scoop on everything new from Canon and Nikon. It's a bust, just like Photokina: nothing new for the PhotoPlus Expo show! No Canon 40D and no Nikon D60, D3X or D40. I predict we'll have to wait until February for the Canon 40D, but I'm still hoping for a D40 from Nikon in the next few weeks. Remember, I'm just dreaming about this like anyone else who's talking. If I had inside info I'd be sworn to secrecy.
All these shots are from my Nikon D80 and 12-24mm lens.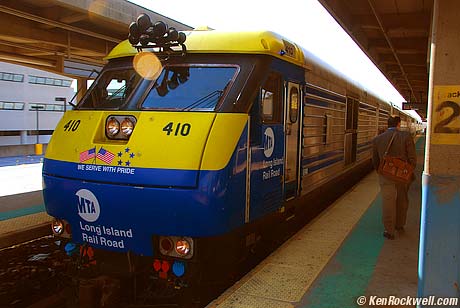 Hicksville, Long Island, Train Station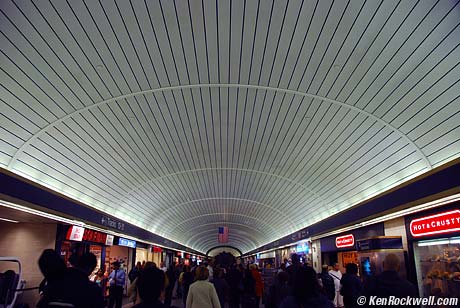 Penn Station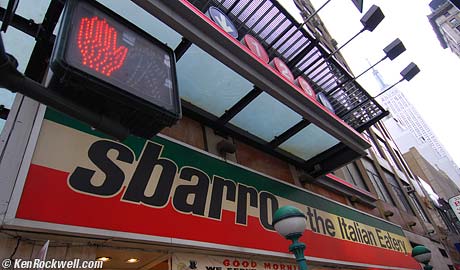 Penn Station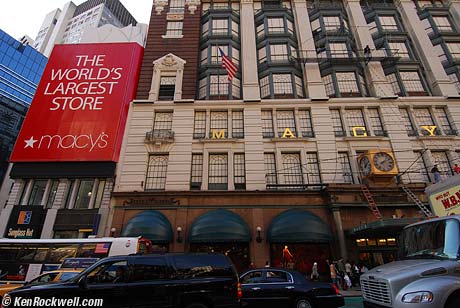 Macy*s, the wife's favorite Store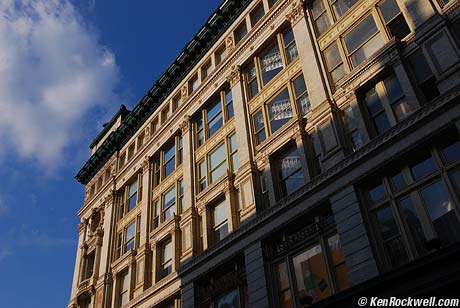 Yellow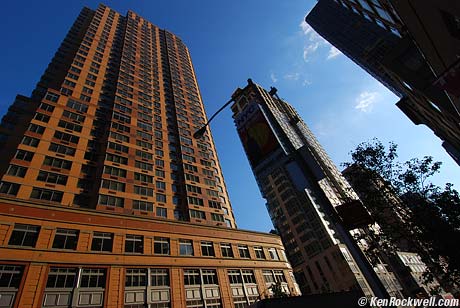 Orange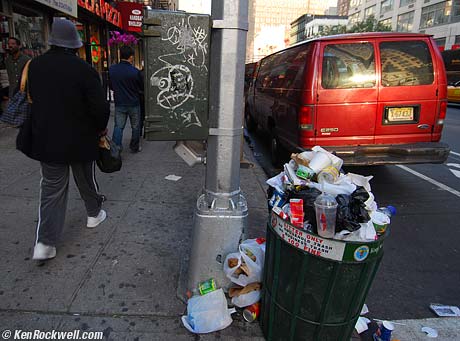 It's not all pretty.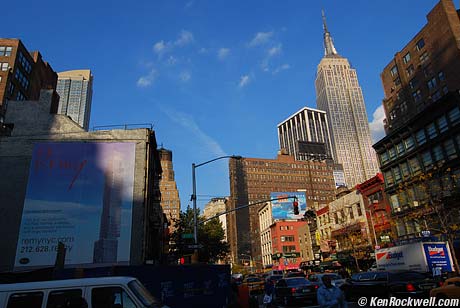 The real New York, New York; not Las Vegas!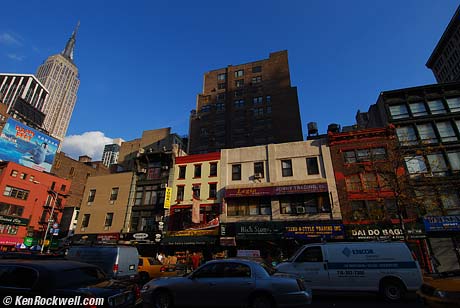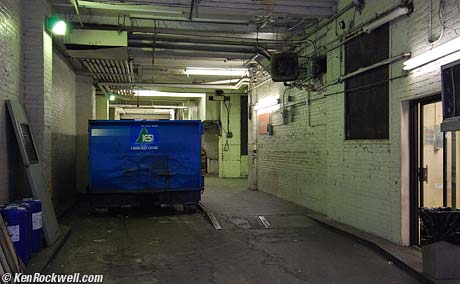 A Building's Rectum.
This is the scary place where waste is accumulated until it is purged. You'll be walking down the street, and smell something nasty, look to the side and eeeww! - you'll be looking right into a building's excretory chamber.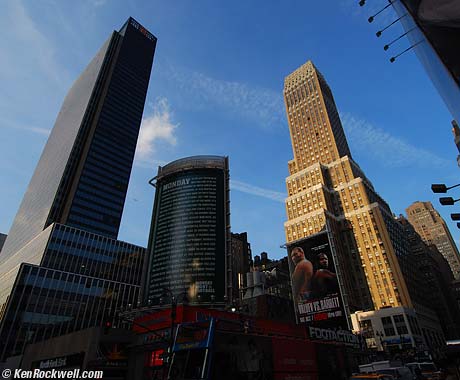 Only tourists look up.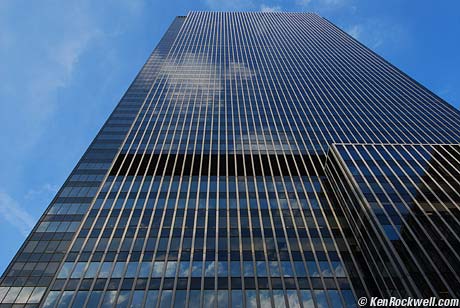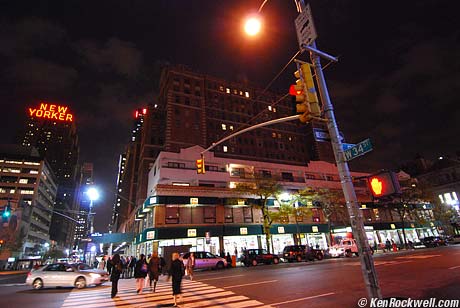 This is hand held while walking! You can see the clouds in the night sky. This is B&H's gigantomongeous retail store on 9th Ave.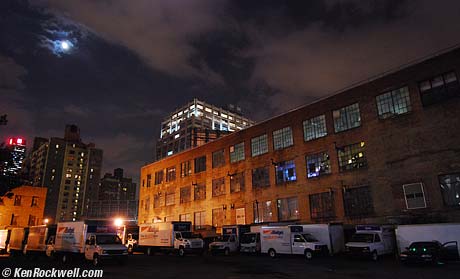 Moonrise, Midtown. Hand-held while walking - fast - in a creepy neighborhood!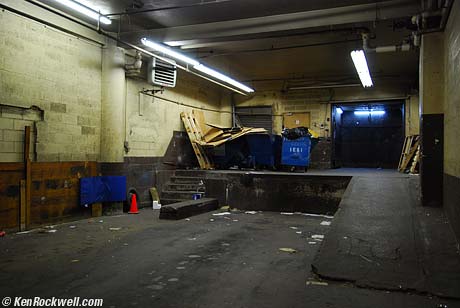 Another building's rectum.
I like this creepy stuff. I moved to sunny California to see cool stuff to photograph. Now I want to move back to NY to shoot all this scary stuff on my view camera. All these shots from my Nikon D80 and 12-24mm lens.
31 October 2006, Halloween
Fall Color Report: I'm on Long Island, NY and it's prime. Here's what I saw out my parent's window (the window out of which I took some of my first pictures as a kid):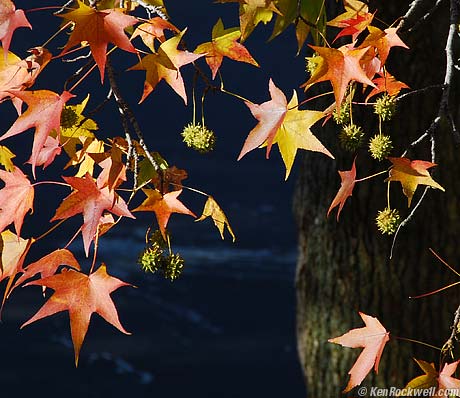 Sweet Gum Tree, Long Island, NY.
Seeing that, I decided to go to a tree museum which would have better backgrounds. There I saw this: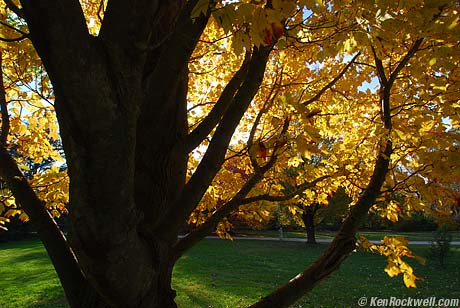 Tree Museum, Long Island, New York, 31 October, 2006, 3PM EST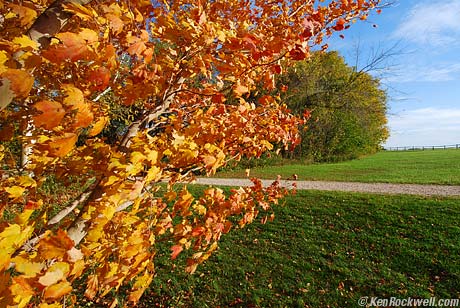 Tree Museum, Long Island, New York, 31 October, 2006, 3PM EST
The museum is the Planting Fields Arboretum in Oyster Bay. You can make the same photos any place with trees on green grass. The tress in front of my folk's house were better, but without nice backgrounds.
Yosemite last week was prime, just that I had to run out to NY without time to get these up. It probably still is great: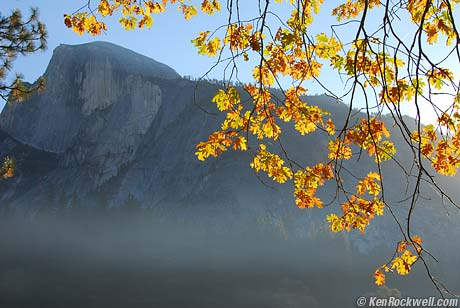 Stoneman Valley, Yosemite National Park, 23 October 2006, 8:46AM PST
29 October 2006, Sunday
NEW: Canon SD800 - Completed Review
28 October 2006, Saturday
27 October 2006, Friday
Working on creating galleries from the photos I shot at the Yosemite Workshop earlier this week.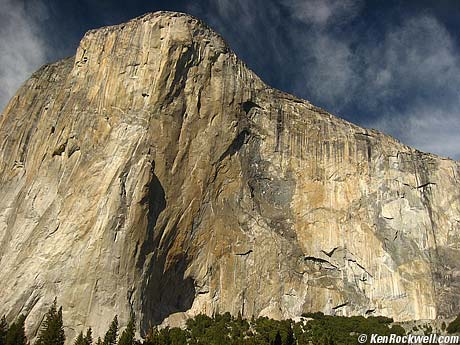 El Capitan from El Capitan Meadow. Made with the Canon SD700 I had in my pocket. This shot is exactly as it came out of my SD700, except for resizing to fit the page.
My FedEx guy just dropped off a Canon SD800, so look for explicit performance details soon now that I have one in my hands.
21 October 2006, Saturday
Added info for free live phone support to my D70 User's Guide and link to video tutorials to my D50 User's Guide.
19 October 2006, Thursday
Updated How to Get the Nikon 18-200mm. It's in stock, at a premium price, here.
Working on 20D and 30D users guides.
17 October 2006, Tuesday
Updated 58mm f/1.2 Noct-Nikkor and 28mm f/1.4 pages.
16 October 2006, Monday
Updated How to Get the Nikon 18-200mm.
Updated D60 dates - now expected to be announced November 2nd, to ship end of December 2006. It will replace the D50.
Updated my Nikon 600mm f/5.6 ED-IF page with photos and added some battery observations to my SD700 page.
14 October 2006, Saturday
NEW: Canon 17-85mm IS
Dear Readers: I put a ton of navigational links inside each of those reviews. Do they help, or do they take up too much space?
Friday the 13th of October, 2006
Added a section on The System at What Makes a Great Camera.
Clarified arbitrary file number reset for the SD700.
NEW: Nikon 18-200mm found in-stock in two places.
NEW: Camera LCD Monitor Comparisons
12 October 2006, Thursday
Working on 20D, 30D and some Canon lens reviews.
09 October 2006, Monday
Updated my D3X predictions to expect it in February, 2007. Nikon said nothing about any of the D3s at Photokina.
06 October 2006, Saturday
My photos from Mercedes Starfest 2006. All these shots made with my SD700 or D80 and 18-200mm or 12-24mm lenses. If you care, the SD700 shots start "IMG_" and the D80 shots start "DSC_" Only one or two shots are with my 12-24mm, the rest are with the 18-200mm.
06 October 2006, Friday
Sunrise, Las Vegas, Nevada, 04 October, 2006.
I'm returning from a week away with a car event in Las Vegas. Here's a snap I made from a parking structure with my SD700 pocket camera at 6 AM on my way out to the track. This goes to show why you always need to have a camera in your pocket, even if you're out racing all day and can't bring a real camera. Click the image for details.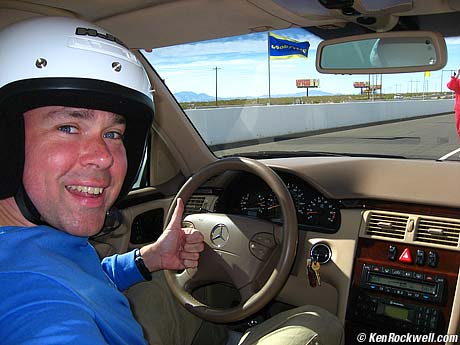 Self Portrait.
Fill flash works pretty well on the SD700, eh? I held my SD700 with my other hand! Click for more about it.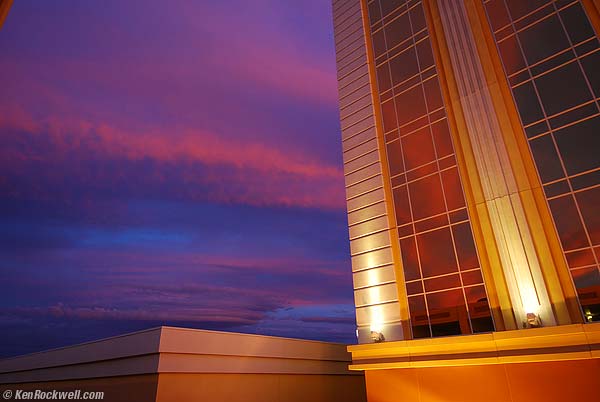 Sunset, Las Vegas, Nevada, 04 October 2006.
This is with my D80 and 12-24mm lens, exactly as it came out of out of my D80. Here's the original 2.3MB file. Getting great color is all about timing and being observant; I snapped this from a parking structure out on my way to an open house at a car dealer.
01 October 2006, Sunday
The usual many small updates to my D80 and other pages.
Older "What's New" Items: