March 2007 News
all © 2007 KenRockwell.com

I get my goodies at Ritz, Amazon, Adorama. It helps me
keep adding to this site when you get yours from those links, too.
New Baby Ryan Rockwell. Cute photos with tech data.
30 March 2007, Friday
My Fujifilm S5 is in my hot little hands. It operates quite differently than my D200, it's much slower and the menus look weird. That's not why you get one. The proof is in the images, and that takes a while to feel.
I added a lot more to the end of my Reliability and Big Secret Defects page.
Stranger than fiction, readers have pointed me to OpenOffice, which is another free improved replacement for the buggy Microsoft Office suite, which also runs on Windows as well as Mac OSX and Linux! Am I the only one who has no tolerance for the fact that MS Office still doesn't redraw pages properly when scrolling through word processor documents? Come on, MS' word processor has been out 20 years: if they wanted to make it work instead of selling needless upgrades, they would have.
29 March 2007, Thursday
NEW: Apple Reliability I got another email from someone afraid about upgrading to Apple based on something he read on the internet, and this was my answer to him.
Started my Fuji S5 review. I was going to link to it as a tease, but it doesn't say much and looks sloppy so far (no example images), so give me a few days to add some real meat.
My readers also suggest OpenOffice. It's a free and improved replacement for MS Office, as is NeoOffice, which I discovered yesterday.
28 March 2007, Wednesday
NEW: Free Microsoft Office! As a Mac user I refuse to put Microsoft products on my computer, even if they were free, because they are buggy and crash my machine. As a professional I have zero tolerance for computer downtime, so I won't touch programs like MS Office or Nikon's Capture since they can screw up my machine, even when not running them.
Not having MS Office made it tough to read some of the .DOC or .XLS files people send me, but I've dealt with it using AppleWorks and Pages.
No More! I read about the free NeoOffice in MacWorld (March 2007, page 72), downloaded it, and it works perfectly! It's free, like my website, developed by generous Mac users to share with others for free, or free-will donations. Whoo hoo! No, it's not really MS office, but it creates, reads and edits the same files.
Even better than most software from anyone, it has a dock icon that stands out from all the other blue ones.
NEW: Check out the (USA) National Wildlife Federation's Photo Contest. Deadline is 01 July 2007.
I added some color photo examples from this weekend to my Casio EX-V7 review.
(an hour ago I mentioned a hot deal on a waist bag overstock, but you folks bought so many that they sold out immediately. They were discontinued and there are no more. A similar bag, also on close-out at 50% off, is this one, which is very similar, but has no waist strap.)
26 March 2007, Monday
This weekend was the first sunshine we've had in a while here in coastal southern California, so I was out playing with the Casio EX-V7 trying to get some decent example shots.
The Fuji S5 is in stock at Adorama, so give me a few days and I'll have my first thoughts and a review posted on the one I ordered from them. I also see their price has dropped to $359 for Nikon's top point-and-shoot, the Nikon P5000, which I have not tried yet.
25 March 2007, Sunday
I loaded DxO's new version 4.2. It screams: it spits out files from my 5D at an average of 9 seconds per file. It also now bangs each of my four 2.5 GHz G5 CPUs at 100% for as long as it takes to process all the files, spinning up my G5's fans and sucking an additional 190W of power out of the wall as it processes.
Guess what? 190 Watts is a quarter-horsepower! Yes, DxO uses a quarter HP while it's processing Images!
24 March 2007, Saturday
NEW: Casio EX-V7 7x zoom credit-card sized pocket camera. It really works!
Added the Canon TX-1 to my PMA Report, since it competes with the EX-V7 for video.
23 March 2007, Friday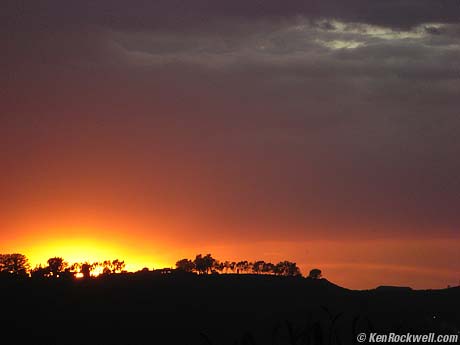 Last Night's Freaky Monsoon Sunset
The sun never really got clear for any length of time the past two days, thwarting my genius plan to compare color of the Casio EX-V7 to my Canon SD700. Good news is from what little I did shoot that the EX-V7 seems greatly improved over earlier Casios, in fact, maybe better than my SD700. We'll see if the sun ever stays out. We southern Californians have little tolerance for clouds, in fact did you know that it only rains at night in San Diego?
The shot above is from the EX-V7 at its longest tele setting, made Thursday night.
22 March 2007, Thursday
First sunshine in a week or two here in coastal San Diego, so I can go test real color rendition of the Casio EX-V7 I've borrowed.
For you motorheads, BMW just announced the M3 V8, at least for Europe.
21 March 2007, Wednesday
I see Adorama's Photo Lab is now offering prints up to 2 x 3 feet (60 x 90 cm) at $19.95, 20x30" at $9.95 and 16 x 20" at $4.95 from our files. I've seen these sizes offered online before, but many of those have only been inkjet prints. These Adorama prints are on real, light-sensitive, Kodak photo materials processed in good-old-fashioned chemicals. The last I checked, these printers cost them $150,000 each.
I'm sure there are other online places doing the same, maybe even on Fuji paper; I haven't researched it since I send my big stuff to Calypso for printing on Fuji's Supergloss pearlescent plastic film, which mimics Cibachrome. Calypso also costs seven times as much ($138 for a 24 x 36" Supergloss), since they are a completely custom lab.
A stock-market analyst reports that Nikon has gone from 9,000 people to 15,000 people at its plant in Thailand in the past year. Nikon makes 80,000 D40s, 90,000 D40x,' and 100,000 D80s there every month. They also make the 18-200mm VR there, but didn't quote numbers (I think it's about three a month).
20 March 2007, Tuesday
I'm most comfortable when people call me an idiot. It means I'm making people think. I enjoy it. Oddly I found this in a slightly different realm, which I think is hilarious. (esta página en Español aqui)
NEW: Sharpening. My secret sauces.
NEW: Microsoft HD Photo. Forget it; it's JPEG 2000 all over again.
18 March 2007, Sunday
NEW: Nikon 55-200mm vs. Nikon 18-200mm VR
17 March 2007, Saturday
Adobe will launch CS3 at 1:30PM PDT, Tuesday, 27 March 2007. It won't ship until later in Spring.
I added lens suggestions for the D40 and D40x.
16 March 2007, Friday
Canon Rebates: Remember to mail them in by Thursday, 22 March 2007. I'm doing mine today; it was the $600 rebate on the 5D that was the offer I couldn't resist, but don't forget to mail them in by next Thursday or Canon wins!
After rummaging around for the form, I found a better rebate form and instant online registration here. Cool - I typed in my name and address and the UPC numbers, and it spit out a form with a bar code to mail in with my box tops and other fluff. (The $600 rebate on the 5D requires buying a lens also covered under rebate, which of course I did and got more rebates!)
15 March 2007, Thursday
San Diego Readers: Be at our free photo club meeting tonight in PB. Details at SDPhotoClub.com. See you there at 7PM!
NEW: Full PMA 2007 Report I've finally added all my sections, including Tamron, Mamiya and Schneider. If you've read any of it yesterday or this past week, my report is now bigger and complete. I put it live for everyone who needed breaking news, even though it wasn't complete before.
NEW: Canon A570 IS
13 March 2007, Tuesday
I hear from people who've gotten the Fuji S5 in-hand that it's fantastic. The S5 is a D200 with a super Fuji sensor, and those who have it tell me the results, especially at ISO 3,200, are extraordinary. I ordered one and ought to have one to comment on myself soon.
I also have a new Canon A570 IS in hand and a Casio EX-V7 on its way to me, so as soon as I complete my PMA 2007 report I can get on these.
12 March 2007, Monday
PMA ended yesterday and I'm working on my PMA 2007 report.
Each year I spent the next 12 months attempting to review everything that came out; wish me luck! Let me know if you've got items you particularly want me to review; that's how I prioritize my time. There are more things out there than I can write about in the depth I do.
Nothing groundbreakingly critical to most Canon or Nikon users came out (no D3X or 40D), so how do the following priorities sound (links are either to my reviews or to places you can order them):
My current hot list is the new Nikon 55-200mm, new Canon 16-35mm F/2.8L II, new Fuji Velvia 50, Fuji S-5 Pro, Sigma 30mm f/1.4, Canon A570 IS, Pentax K10D and the Tokina 10-17mm.
My warm list (great stuff, but I'm guessing of less interest to you all) is the Nikon D40x (new, but the sensor of a D80 in a D40 body and we all know those two cameras and I have extensive reviews of each), Canon 1D Mk III (we all want one, but price probably makes it of more specialized interest), Casio EX-V7, Olympus DSLRs.
My cool list ("cool" meaning less interesting to most of you and also also things I personally find "cool"): Horseman SW617, Leica M8 and the Zeiss Ikon 35mm film rangefinder system and its ultrawide lenses.
As time progresses, items on which I comment on my PMA 2007 page will move to their own review pages. THANKS! Ken.
11 March 2007, Sunday
NEW: Remember to reset all of your digital camera clocks to daylight time in the US!
My Mac and my Casio atomic wristwatch figured it out for themselves. Apple sent all our Macs an automatic update for this weeks ago. I saw the update come through and had no idea what it was until more recently.
People stuck on Windows aside, this is causing some confusion here in sunny San Diego, California. Even sunnier México is going to daylight time at a different time this year (they have enough sun, gracias), so México and San Diego will be on different time zones for a few weeks. This causes difficulty because so many people commute back and forth to live, work, school, play and surf between TJ and San Diego.
I'm back working on my PMA 2007 report.
10 March 2007, Saturday, 6PM PST
I worked on my PMA 2007 report all day. I have more to add later. I'm done for today.
The show runs through tomorrow, Sunday. My report grew from one page to four giant pages today.
09 March 2007, Friday, 7:30 PM PST
I've completed my PMA 2007 report for the day. Tomorrow I'll be adding more and making corrections.
08 March 2007, Thursday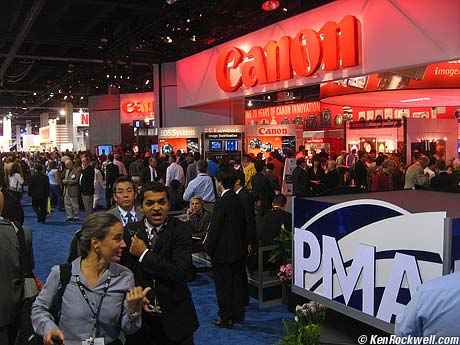 The PMA trade show opens in Las Vegas.
I'm here in Las Vegas covering this show live. See my PMA 2007 page. I'll have more updates tonight.
07 March 2007, Wednesday
I'm at the PMA 2007 convention where I've got my hands on the newest gear from everyone. I played with the Nikon D40x and Nikon 55-200mm VR today, and will see the rest from Canon and the others tonight.
06 March 2007, Tuesday
I'm headed out to the PMA 2007 convention where all the new cameras like the D40x are announced. I'll be there for the rest of the week updating these pages live from the show floor, presuming I can sniff out a decent WiFi signal. I get my hands on this stuff Wednesday before the show starts, and things are often embargoed until Thursday.
I finally got the full information on the Nikon D40x, and since it costs $799 vs $599 for the almost identical D40, I'd say forget the D40x and stick with the D40. It's better to put that money towards an SB-400 flash instead if money matters. I prefer the faster flash sync and higher default ISO of my D40 in any case .
The good news is that the new 55-200mm VR should be a huge improvement over its non-VR predecessor, for not much more money. This gem almost makes up for the $200 whoops on the D40x.
I should have my hands on one, and anything else new, tomorrow night.
Added my repair experience to my Fujinon Techno-Stabi 14x40 stabilized binocular review.
05 March 2007, Monday
BREAKING NEWS: NEW NIKON D40x
NEW: NIKON 55 - 200mm VR
Latest official rumors is the Nikon D3 will be full 1.0x sensor, 19MP, 5FPS, $7,999 MSRP. More possibly later today.
Added more battery info and edited my SB-400 flash page. I love mine, and using rechargeable batteries instead of alkaline extended my battery life almost indefinitely. My first st of alkalines lasted two weeks in December, then one charge of Ni-MH has lasted me almost two months through today, and I make thousands of photos (not all with flash).
01 March 2007, Thursday
NEW: Canon 50mm f/1.2L Review. That leaves me only four more lenses (Canon 14mm f/2.8, 15mm, 24-105mm and 85mm f/1.8) to write up before the show next week. I've been too busy shooting with them to write them up.
I clarified why the 1.1x sensor of the D3X is a rip-off: it cheats me out of the widest of my wide angle lenses, which is the main reason I would buy a D3X: to get wider ultra-wide angles with a 14mm than I can get with my 12-24mm on DX Nikons. (see Crop Factor).
What Was New In:
2006 November - December (includes birth of Ryan Rockwell)
2006 October - November (includes photos from a trip to NY)
Caveat: The ads below come from a third party and I don't see or approve them. They are sent to your screen directly from a third party. They don't come from me or my site. See more at my Buying Advice page. Personally I get my goodies at Ritz, Amazon and Adorama.