PMA 2007 Report
© 2007 KenRockwell.com

I get my goodies at Ritz, Amazon and Adorama. It helps me publish this site when you get yours from those links, too.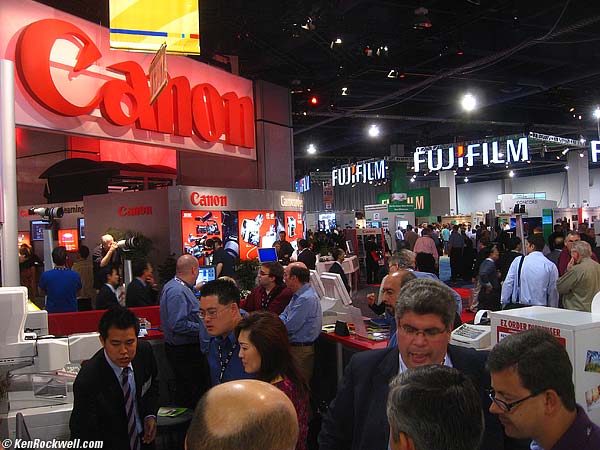 PMA Trade Show, Las Vegas, 08 March 2007
INTRODUCTION
PMA opened Thursday, March 8th, 2007 and ran through Sunday March 11th. This is the show at which most new cameras are introduced each year. For instance, it was at this show that the Nikon D1X and D1H (2001), Nikon D100 (2002), Nikon D70 and Canon 1D Mk II (2004), Canon Rebel XT (2005), Canon 30D (2006) etc. were introduced.
This show is trade-only, meaning it's only open to camera store personnel. Most of the exhibits are boring things that make money for camera stores, which are frames and batteries and machines that print pictures on T-shirts. Photographers are forbidden.
I'm reporting on what's new that could help me make better photos, or broadens the range of conditions over which I can make good photos. I can't possibly cover the numerous new point-and-shoots which are similar to last year's; I'm focusing on what expands the range of our abilities as photographers. All because I say "nothing new" doesn't mean "absolutely nothing new," it means I didn't see anything I noted as intriguing. Everyone had something new.
SUMMARY
1.) The biggest news is old news: Fuji's long awaited S5 Pro has started to ship! The S5 is my beloved Nikon D200 with an improved Fuji super-duper CCD. I ordered one for myself. If it works well and as effectively as my D200, this will upset my D200 as my favorite serious DSLR. (OK, I hate my Canon 5D but love the results it gives me and its ability to use ultra-ultra wide lenses.)
2.) The biggest news to serious photographers is old news from the late 1980s: Fuji is reintroducing real Velvia 50, the film on which almost all serious landscape and nature photography has been shot these past 15 years. The same pros you see in Fuji's ads touting the new Velvia are consistently spied by my friends out hiking the badlands of the Southwest with Velvia 50 in their 4x5 film holders, not Velvia 100.
3.) No Nikon D3X, no Canon 40D and no Canon 7D or 5D Mk II, so no huge news for most people. What's up with this? Everyone knows someone beta testing the 22MP 1Ds Mk III or equivalent Nikon D3X, but neither side showed anything.
Rumor has it that the replacement for Canon's 1Ds Mk II has a new lens mount for a special line of ultra-high resolution lenses, since resolution of many of these cameras is outstripping the ability of the current lenses. I like that rumor, even though I don't believe it.
Intelligence suggests that either side is waiting for the other to go first, since each side is making good money with what's already out there. No 5D replacement makes me feel smarter having bought a 5D last year due to the fat $600 rebate, which usually means a new model coming at end of rebate period.
4.) Out of the realm of casual shooters, Canon's brand new 1D Mk III is the new to-die-for 10 FPS (also 10 MP) camera for sports photographers. It's the first common still camera to break the 100 MP/s barrier (10MP x 10 FPS = 100 MP/s).
5.) Canon's greatly improved new ultra-wide 16-35mm f/2.8 II zoom is much better than its predecessor. I'm an ultra-wide junkie and have this on my hot list to try.
6.) The biggest news from Nikon is the great little and inexpensive 55-200mm VR. The VR in this $249 lens is going to make a big improvement in real sharpness for most people's hand-held tele shots of still objects.
7.) Nikon's D40x is a yawner, just filling in space between the D40 and D80.
Rollei and Zeiss also had some innovations for serious photographers, so read on.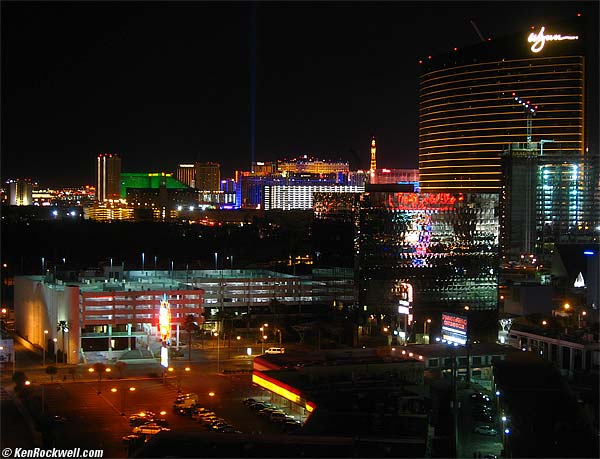 View from my ratty hotel room. (made with my Canon SD700 IS, hand-held)
A - C continues below
ADOBE back to top
Lightroom 1.0 is out.
I'm not excited about Lightroom. I use iView to sort my images, and if I ever find a good one, I use Photoshop to work it over.
CS3 is still unavailable, coming later this spring. I can't afford to mess with beta software, so no comment. I'll be buying CS3 as soon as I can, and new Intel Macs to go with it.
ArcSoft back to top back to Adobe
ArcSoft has a new version of their excellent photo stitching program.
CAMERA ARMOR back to top back to A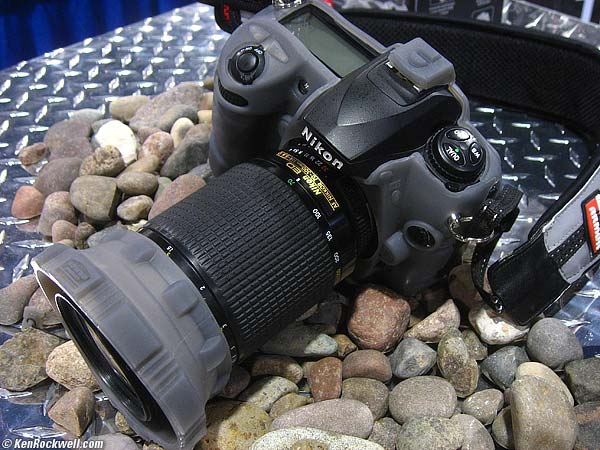 Nikon D200 in Camera Armor
Hah - check this out! These dudes make full-body-condoms for popular Nikon and Canon DSLRs!
They felt pretty tough and all the cutouts were in the right places. I saw them in gray and yucky tie-dyed camo.
BRAUN back to top back to A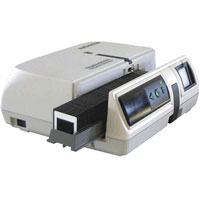 Braun Slidescan 4000
Braun, of Nurnberg, Germany, has a Multimag Slidescan 4000 scanner which scans slides in trays. It accepts six types of trays and can scan up to 100 slides in sequence. It looks like a slide projector and sells for $1,300.
It has ICE dirt removal. USB and Firewire, Mac and PC, 3,600 DPI, 3 x16 bit (48 bit), cold-cathode fluorescent lamp.
Scan time is slow. It's rated as a minute and a half at full resolution, with ICE off. It takes much longer with ICE on, and that's not specified. The plan is to start this and walk away.
This may be the best way to scan a slide collection. Nikon makes a slide adaptor for its scanners, which only holds up to 50 slides and costs much more. I've not tried this Braun so I can't offer any evaluation of utility or scan quality.
CANON back to top back to A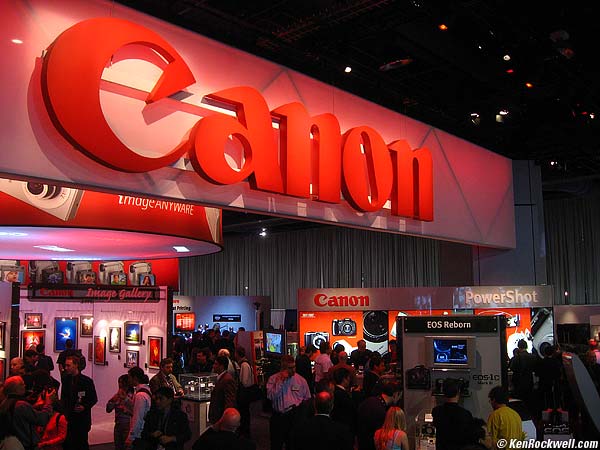 Canon City (only a part)
DSLRs
Canon announced the gasketed magnesium-alloy-body 1D-Mk III. See it's review at the link. It's a 10 FPS ISO 6,400 powerhouse.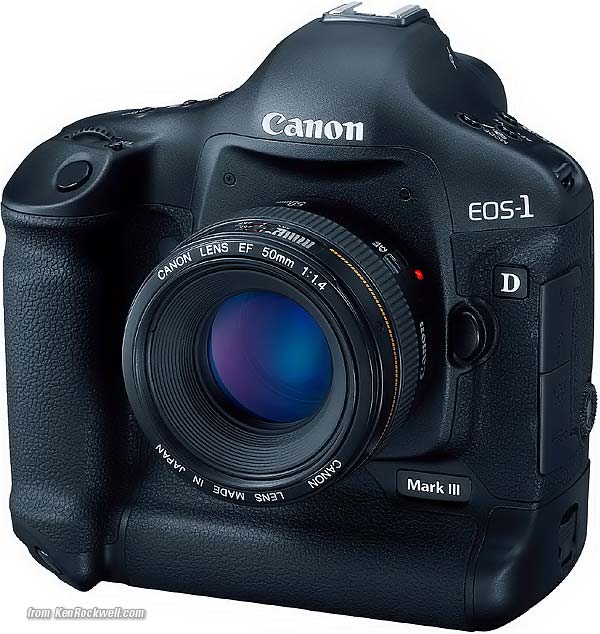 Canon's other SLRs are long overdue for replacement, but not today.
Lenses
Did I say wides? More interesting to me is the new 16-35mm f/2.8L version II. It replaces the original 16-35mm f/2.8L I reviewed recently.
The new one is a little bigger and of course costs more, but has great performance, even in the corners, full-frame, at 16mm and f/2.8, where the limits of 1990s lens design didn't shine for the first version.
The fuzzy corners of the original wide open at 16mm weren't a big deal, but they were ugly if you went looking for it. Many people used to think their 16-35 was defective when they looked too hard, whereas in fact it was designed that way.
Canon 16-35mm f/2.8L II (82mm filter thread)
I shot a little with a prototype of new 16-35mm, and it was much sharper in the far corners, full-frame, at 16mm. Done! Bad news is it's bigger (82mm filter) than the old one, but that's the price you pay if you want insane optical quality at the far edges of the performance spectrum.
Specifications: 16-35mm f/2.8 L II
Optics: 16 elements in 12 groups. Three of these elements are aspherical, two are UD.
Diaphragm: 7 blades (or so I think I saw).
Filter Size: 82mm. Look out: this means it does not work with standard 77mm filters!
Focus: internal (no external movement).
Manual Focus: Instant, just grab the focus ring.
Close Focus: 11" (0.28m).
Zooming: front and rear groups move inside barrel; outside of barrel doesn't move.
Mechanics: Sealed and gasketed.
Size: 3.5" diameter x 4.4" long (88.5 x 111.6mm).
Price and Weight: Adorama's taking orders here at $1,599; I saw no weight or price specified in the press information. That's about $250 more than the old one. From what I saw, the added performance is easily worth $250, if the 82mm filter doesn't throw you.
I have this lens on my hot list of lenses to get in to test, so I'll let you know the excruciating details as soon as I get my hands on a shipping version.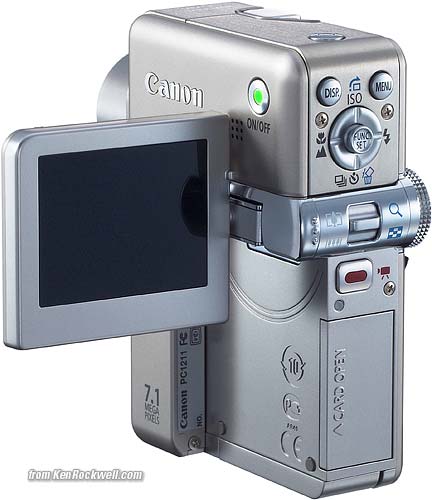 The $499 Canon TX-1 is a 7MP, 10x zoom pocket camera with IS. It's the same size as the tiny ELPH pocket cameras. It needs a fold-out screen which, at only 1.8," seems less convenient for stills than other compact cameras. I like to draw and shoot fast, and the TX-1 has no viewfinder other than the small flip-out LCD. It specializes in stereo movies up to 1,280 x 720 at 30 fps.
The A460 and A550 were announced in January and I have full reviews of them already at those links.
Canon announced several new compacts, but most lack IS so I'm less interested in them than the current SD800 and new A570 IS. See Why IS is Critical.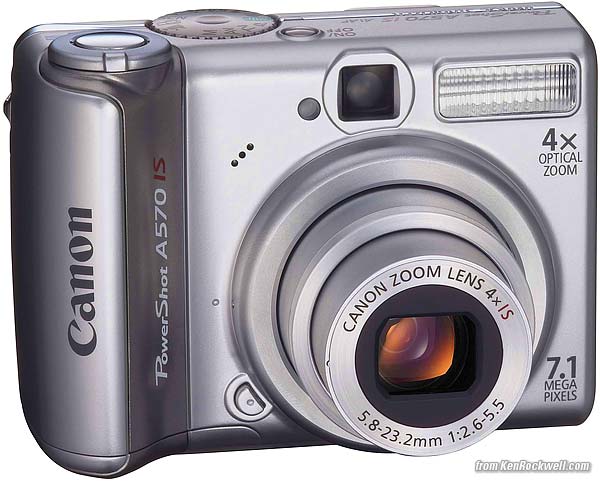 Canon A570 IS: Real Stabilization for $279!
The most interesting new compact this month is the A570 IS. It has image stabilization, to which I'm addicted and without which I wouldn't buy a camera. The A570 IS has 7 MP, a 4x zoom, a 2.5" LCD, runs on AA batteries and has an MSRP of $279.
The G7 remains Canon's top compact; however when I want compact I prefer my tinier SD700 ELPH, with which I made the shots you see on this page other than the PR images. The G7 also has IS.
Accessories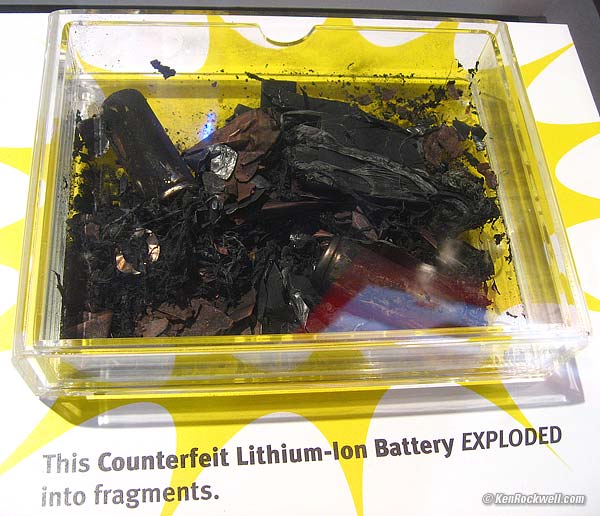 Exploded Li-Ion battery
Here's the funniest part of the Canon booth: an example of an exploded Li-ion battery. The rest of the display showed how to determine a real Canon battery from fake.
A sharp-eyed reader noticed that the yellow-on-white starburst looks a bit like the Nikon logo.
History
Canon was celebrating 20 years of their EOS autofocus SLRs, and 70 years of business. They had 70 years of cameras in museum diorama cases around their booth. Sharp-eyed attendees would have noticed that this 1945 Canon S rangefinder has a Nikkor lens.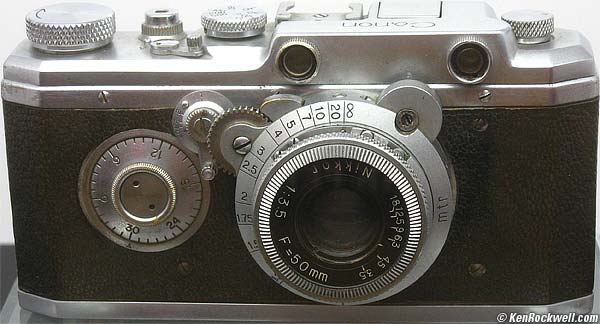 1945 Canon S with 50mm f/3.5 Nikkor lens.
CASIO back to top back to A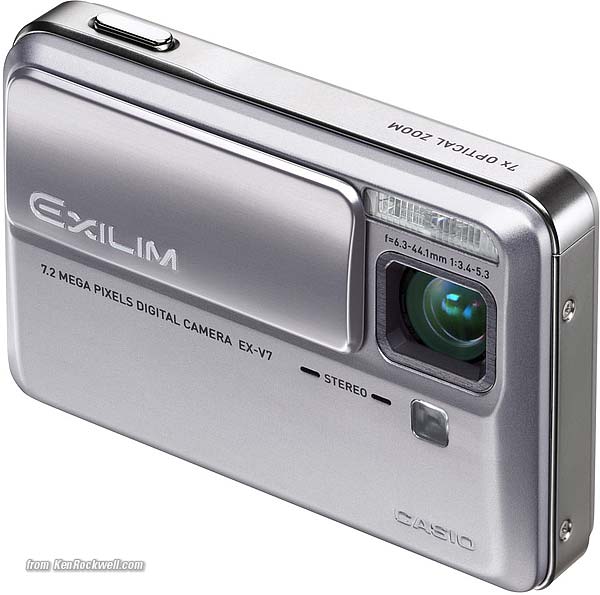 Casio EX-V7
The Casio EX-V7 i s a tiny pocket camera with a 7x optical zoom folded inside the camera and real image stabilization. It's just barely starting to ship; you can order them here for about $399.
Casio introduced other models below this, but heck, if the best only costs $399, why bother with anything else? I remember last year I was impressed with the EX-Z850, for which I paid more for only a 3x zoom and no stabilization!
The EX-V7 turns on and off by sliding the cover, which feels great. It zooms without the usual motor noise, so you can zoom while making videos, which now have stereo sound. It uses an advanced H.264 coder for great movies with small file sizes and long recording times. This format is the best for direct-to-web podcasts. The zoom control seemed to have many more than the usual setting points, allowing more precise zooming.
I'm unsure how the images look. I'm a sucker for the colors I get from my Canon point-and shoots. We'll see; I hope to borrow one of these tomorrow.
PLUG
If this saved you from having to forge credentials and travel to this show yourself, feel free to help me continue helping everyone.
Thanks for reading!
Ken
Caveat: All the ads below come from third parties. I don't see them before they appear on your screen. See more at my Buying Advice page. Personally I get my goodies at Ritz, Amazon and Adorama.