Canon A550
© 2007 KenRockwell.com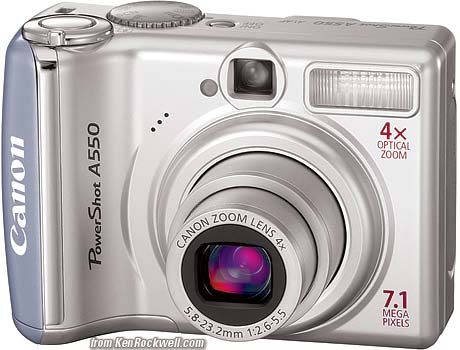 I'd get it here, here or here. It helps me publish this site when you get yours from those links, too.
February 2007, updated July 2007.
Specifications Performance Recommendations
Digital cameras get better every 6 months. In 2002 I paid $5,000 for a Nikon D1H, which had fewer than half the pixels of this $135 point-and-shoot. This $135 A550 takes much sharper pictures!
The Canon A550 is photography's best buy as of July 2007. For about $135 you get a camera capable of making excellent photos. It's got an excellent, sharp 4x optical zoom and 7.1 Megapixels, far more than enough for making great prints at least 12 x 18" (30 x 40 cm).
You can pay more, but you won't get significantly better photos unless you're looking at science lab tests with a very powerful microscope. If you do use that microscope, the A550 is sharper than many more expensive cameras that compromise optical quality in favor of more compact size!
One caveat is if you use a lot of flash. I don't: I usually shoot with available light. The flash takes five or ten seconds to recycle after each shot, which means the A550 locks up blinking at you while this happens. it also sucks down your throw-away batteries fast. If you use a lot of flash, skip this and get an SD700 or SD800 instead, which recycle much more quickly and include rechargeable batteries and chargers.
This inexpensive and excellent 2007 camera replaces the 2006 Canon A530, which replaced several older cameras including my 2003 Canon A70. I was on CBS TV in 2005 with the great photos I made with my lowly 3MP A70!
It's not the camera that make photos, it's the photographer. See Your Camera Doesn't Matter.
Size
The A550 is bigger than the ultra-compact I use, but it fits fine in my jeans pocket. The A550 doesn't disappear in my pocket like a phone or wallet, but it still fits. It's smaller than film cameras were.
Gimmicks vs. Features
The A550 is inexpensive, but it's not cheap. It's made out of the same stuff Canon makes their other cameras. Canon makes excellent stuff. The A550 is worlds apart from the nameless junk for which you can pay more from shopping channels. It feels tight and precise, and the packaging is identical to the packaging, CDs and literature I get when I bought my $3,000 Canon 5D. The A550 is a quality product.
The A550 has everything I use, and more. The only thing missing, compared to my favorite and more expensive SD700, is slimmer size, image stabilization for use in dim light without flash, an included rechargeable Li-Ion battery (the A550 uses regular AAs), and a perfectly fine 2" LCD instead of a 2.5" LCD, and the panoramic stitch assist mode.
Personally I usually use a more expensive Canon point-and-shoot because I want those luxuries. The pictures are the same if you're on a budget.
This A550 works exactly like all the other Canon point-and-shoots. If you own one, then you already know all the menus.
The A550's lens is sharper than some of the more expensive Canons. The A550's lens is very sharp in the corners at the wide setting, where the SD800 gets soft.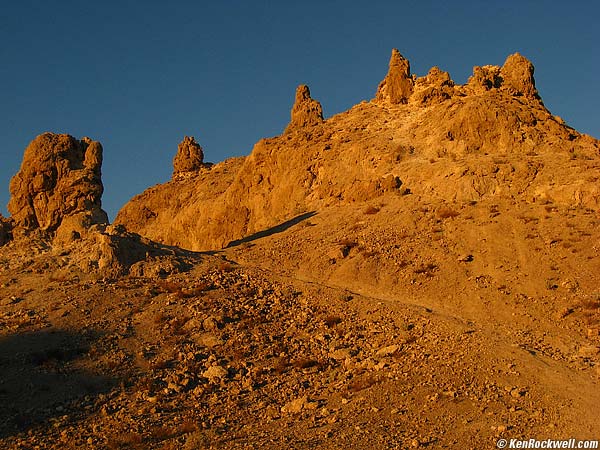 Trona Pinnacles, California. As shot.
Example Shots
I've got examples scattered throughout this review. When I say "Direct from A550"or "as shot" I of course have to resize it and brand it © KenRockwell.com for the Internet. "Direct" means I haven't altered the colors, exposure or anything different than I'd get sticking the JPG file in a printer and printing it.
As you can read at Camera Settings, I'm a big proponent of setting my camera correctly to give perfect images right out of the camera.
I'm not bothering to list the particular settings I used for each shot. Most of them were made at -2/3 exposure compensation, Vivid color mode and Auto, Cloudy or Custom white balance.
If you or I shot this or any camera straight out of the box we usually get crappy results. Every camera needs tweaking to get the results I prefer.
That's why I love inexpensive cameras like this: the A550 has all the image adjustments of big cameras, and these adjustments, not the price of the camera, are what let me make great photos.
OK, not that these examples are all that great. I put the A550 in my pocket during my photo club's February 2007 trip to Death Valley. If you're in San Diego, come join our club.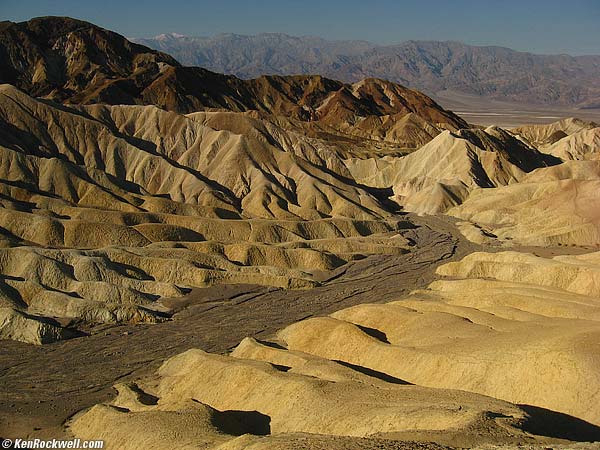 View from Zabriskie Point, Death Valley, California. As shot.
SPECIFICATIONS back to top
LENS: 5.8 - 23.2mm f/2.6 - 5.5. It gives a field of view similar to a 35 - 140mm lens on a 35mm film camera.
IMAGE STABILIZATION: NONE.
AF: 9 zone TTL.
OPTICAL VIEWFINDER: Yes, about 80% coverage.
SHUTTER: 1 - 1/2,00. Goes to 15 seconds in a trick manual mode: press the MENU button while in the exposure compensation menu.
SENSOR: Smaller sized 1/2.5."
IMAGE SIZES: 3,072 x 2,304 pixels native. Also 3,072 x 1,728 (16:9 cropped), 2,592 x 1,944, 2,048 x 1,536, 1,600 x 1,200 and 640 x 480.
JPG DEFAULT DPI: 180 DPI, only significant because I have to set it back to 72 DPI in Photoshop to get my © notice the correct size. Otherwise it's irrelevant unless you're putting text on your images or printing from Photoshop.
FORMATS: JPG, three compression levels. File sizes vary wildly with image complexity. I always use the smallest size, "Normal." The middle, default size is called "Fine" and the largest is called "Superfine." File sizes are optimized to each image, so very detailed images may have file sizes triple the file size of a blank, flat sky image. This is good and normal.
AUDIO FORMAT: WAVE, only as 60 second clips or with video.
VIDEO: 640 x 480, 320 x 240, 160 x 120 at 60, 30 and 15 fps (not all combinations available). Sequential motion JPEG AVI (not the more efficient MPEG).
ISO: 80, 100, 200, 400 and 800. There's also AUTO (up to ISO 200) and AUTO HI (up to ISO 800). Like most compact cameras, the highest ISOs look crappy. Today camera makers no longer use megapixels to sell cameras, they use overcranked ISO specs.
WHITE BALANCE (WB) SETTINGS: Auto, Direct Sun, Cloudy, Tungsten, Fluorescent Warm and Cool, custom manual white card. No shade position, but the custom white card setting is so easy I don't penalize the A550 as I would other cameras.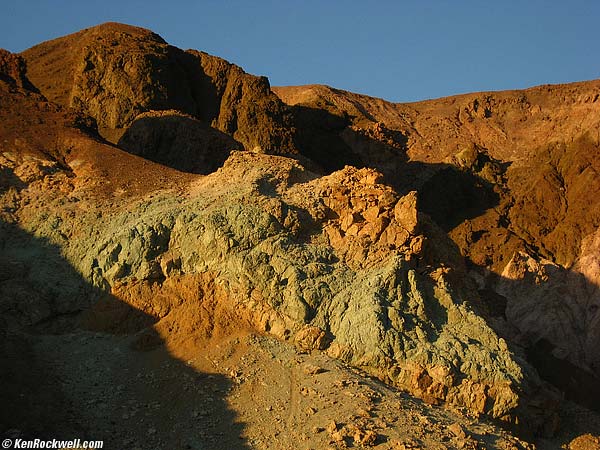 Artist's Pallet, Death Valley, California. Direct from A550.
FRAME RATE: 1.7 FPS rated and tested.
METER: Evaluative, center and spot. I always use the default of Evaluative.
LONG EXPOSURE NR: Automatic if shutter speed is longer than a second. The A550 only goes this long if you set these speeds manually in a trick mode as explained above under Shutter.
LCD SCREEN: 2," 86,000 pixels.
PLAYBACK HISTOGRAM: Black-and-white only (not RGB).
STORAGE: SD or SDHC card up to at least 2 GB.
DATA TRANSFER: Fast: USB 2.0 high-speed, 480 Mb/s peak, rated. Mine transfers 300 shots (300MB) in a minute.
MADE IN: Malaysia.
COLOR: Silver painted plastic. I prefer black, but it's not available.
POWER: Two AA cells of any type, except those crappy "heavy duty" ones sold at dime stores. I use alkalines. Rechargeables work great, probably better than alkalines for heavy use, but if you're shooting that much you probably deserve a fancier camera like the SD800.
SIZE: 3.6 x 2.5 x 1.7" W x H x D, rated, excluding parts. (91 x 64 x 43 mm)
WEIGHT: 7.435 oz. (210.65g), measured with alkaline batteries and memory card but no strap. Rated 5.64 oz (160g) buck naked: no battery or anything.
INCLUDED ACCESSORIES: USB cable, audio/video cable, wrist strap, a useless 16MB Multi Media Card, AA alkaline batteries, software CD, including a great panoramic stitching program.
INTRODUCED: 18 January, 2007 at an MSRP of $199.99.
AVAILABLE: April, 2007.
PERFORMANCE back to top
OVERALL
It works great! Cameras have come a long way in 2007. It's a pleasure to use and gives great images.
Images are super sharp.
Operation is identical to all the other excellent Canon compacts, and the colors are the same with the same very flexible controls. I use the Vivid color mode. The A550 has a custom setting where you can chose your own sharpening, contrast and saturation if the other modes don't have what you want.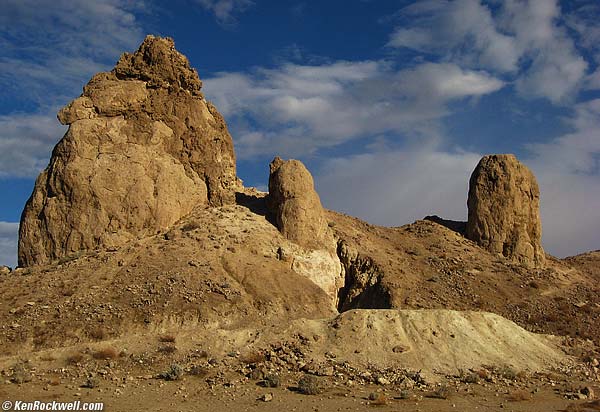 Trona Pinnacles, California, A550. (I tweaked the colors and contrast slightly.)
ERGONOMICS
It handles like most Canons, which is excellent.
Optical Viewfinder
I never use these. It's a little peephole which zooms with the lens. I'm sure it works great; but I prefer the live LCD.
LCD Monitor
The LCD monitor is sharp, sort of color-accurate (better than my $3,000 5D) and bright enough to use outdoors.
Oddly the colors aren't perfect; the actual images don't look as good on my calibrated computer monitor as they do on the A550's screen. If this concerns you, get an SD800 or SD700 instead. The A550's LCD tends to be a tiny bit magenta in mid-tones, while whites and blacks are fine.
It changes its contrast as you look at it from above or below.
Playback
Playback is fast, flexible and easy.
Tap the play/record mode button, instead of the power button, and it wakes up in play mode, not bothering to extend the lens.
Playback data is extensive, even more detailed than my SD700. The A550 shows the shutter speeds and apertures used for each shot, which my SD700 can't. Press the DISPLAY button to cycle through the data screens just like every other Canon.
The A550 only has a fairly useless black-and-white histogram, which can lead to bad results if you trust it while shooting in color. I prefer true RGB color histograms.
Frame Rate
I measure 1.7 FPS (frames per seconds) at full resolution.
It does this free-running while holding the same exposure and focus for each shot. It's not like a DSLR which refocuses for each shot at those rates.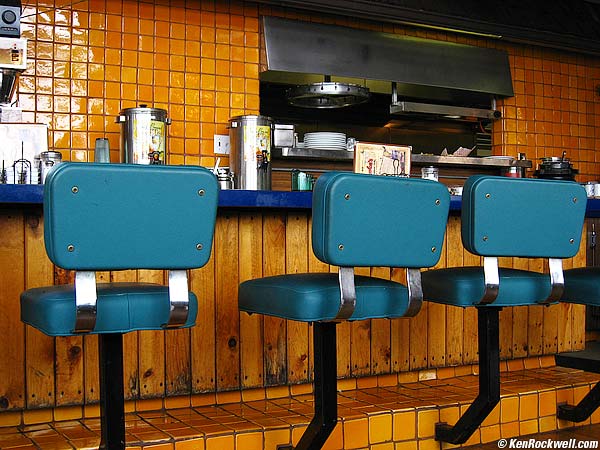 Newton's Diner, Oak Hills, California. Slightly Lightened.
EXPOSURE
Like all my other Canon point-and-shoots, I get the best results setting exposure compensation to -2/3. You do this with the FUNC SET button, click down to +-0, and click two to the left to set -2/3.
TRICK: AE Lock is unmarked. Tap the ISO button with the shutter half-pressed for AE Lock. You'll see AEL on the right of the LCD. It stays locked until you tap the ISO button again, without touching the shutter.
TRICK: Flash Exposure Lock is also unmarked. It works the same way as AE lock if you have the flash ON. You'll see FEL on the right of the LCD.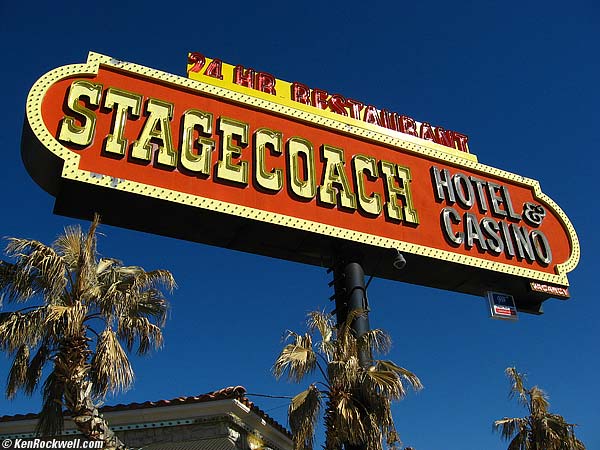 Stagecoach Casino, Beatty, Nevada.
This shot is exactly as shot by the A550, -2/3 exposure compensation, Vivid color mode. Sorry, the palms were all dead from a recent frost.
Color rendition, or how the camera renders the real world, is everything. We artists spend a lot of time worrying about it. After exposure, color is everything to an image. Sharpness and the rest is irrelevant unless your exposure and colors are dead-on.
I found the color rendition a tiny bit green, but only when peered at with a critical eye. Far more important is your ability to know how to adjust your camera. See Camera Adjustments.
I've always preferred the color rendition of my Canon compacts to other brands.
I love vivid colors, and always set my Canons to their Vivid modes. To do this, press FUNC SET, click down three to "off," and click one to the right to "Vivid." Press FUNC SET again to set it.
Color accuracy is irrelevant. Cameras aren't scanners. Cameras are never supposed to duplicate color charts.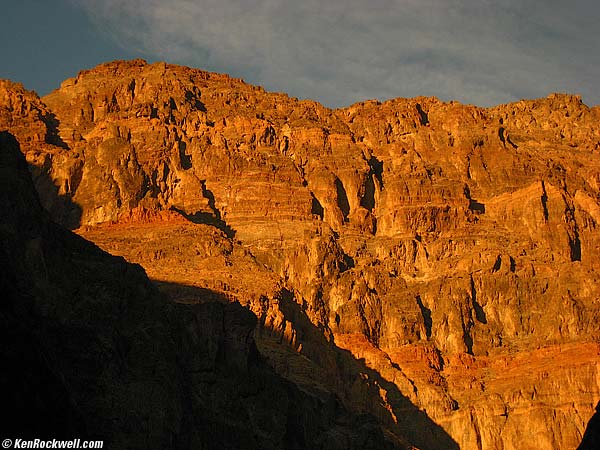 Titus Canyon, Death Valley, California. Shadows delicately lightened, otherwise exactly as shot.
Auto WB (AWB)
Excellent! It's so good I have to learn to stop using the custom manual white balance in mixed artificial light. AWB usually works better, automatically!
Unlike any SLR camera, the auto WB (AWB) of the A550 corrects perfectly under indoor household tungsten and fluorescent lighting.
Custom Manual WB (Gray Card)
This works great, just as is does on the other Canon compacts.
It's super easy to use - much easier than on the Canon SLRs!
It has a huge adjustment range. I can get neutral colors even under high-pressure sodium (HPS) street lights! Those are the ones that look orange-white!
High-Pressure Sodium (salmon orange) Street Light. Each as shot.
Better, as all Canon compacts; it's super easy and fast to point the WB measuring spot at the bright ground under the street light. In this photo, the photo has better colors than the orange light gives to the naked eye! The real scene looks like the first shot.
The range is so huge that you can get weird color filter effects by taking a custom WB from a colored object.
The sensor for the custom WB is jut a small spot out of the image. It's easy to set the custom WB from a small point. I often set it from a cloud in the sky, letting in some blue sky for a resultant warming effect. Slicker still, I shoot a custom WB off my white socks!
LENS
FOCUS
AF is fine. It's always fast and accurate.
It feels like it focuses continuously. There is none of the clicking or hunting of earlier compact digital cameras.
Flare and Ghosts
I don't see any. The shots of the street light are shot through window glass; that's not the A550 glaring.
Here's as bad as it gets: dim red ghosts at quadrants to the source. This sun was too bright for comfort with the naked eye.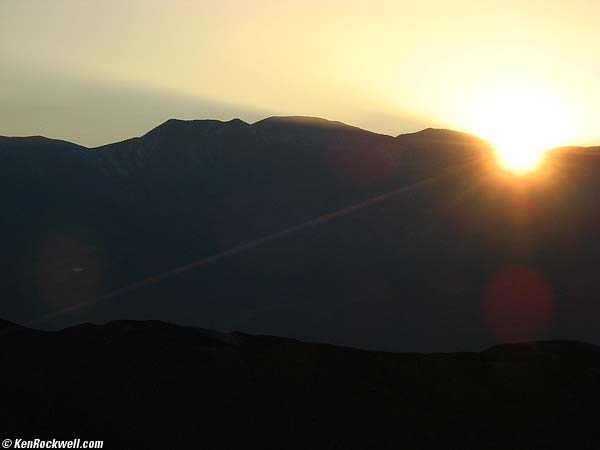 Sunset, Panamint Range from Artists Pallet, Death Valley, California. As shot.
Zoom Settings
Compact zoom cameras like the A550 only zoom in fixed steps. They can't be zoomed to every exact setting, which tends to drive me nuts when trying to frame exactly. Most compact 3x zoom cameras zoom to about 7 different focal lengths and the A550 with a 4x zoom has 8 different settings.
The jumps between zoom settings is greatest between the two widest settings, and is finest at the middle telephoto settings.
Sharpness
It's wonderful. It's as sharp as it can get with a 7MP sensor. See the above full image, and a crop from it at 100% magnification, which would be 30 x 24" (90 x 60 cm) at this screen size. It's sharp!
It's better than some more expensive cameras, like the SD800. The A550 is always sharp, while other cameras like the SD800 are soft in the corners at the wide settings. The super-compact cameras I love trade a little bit of optical quality for super-compact lens size.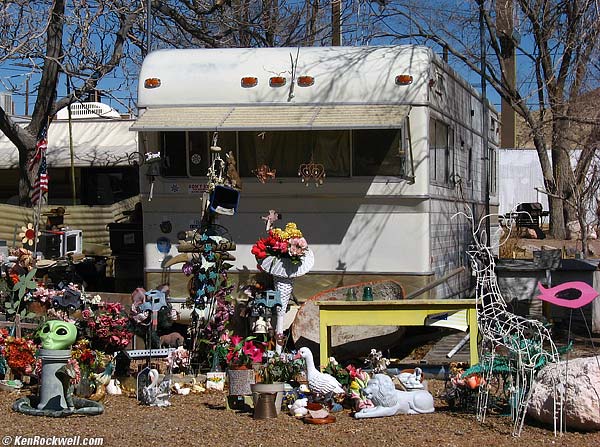 Folk Art Exhibit, Beatty, Nevada. larger version
Minor cropping, slight Photoshop -1 magenta highlight color balance adjustment.
Aliasing (moiré)
I don't see any, but haven't looked specifically for it. The lens is very sharp.
Macro
It's the same as most compacts: it gets ultra-close (about an inch) at the widest setting, and only to a foot at the tele setting. Here's how close it gets at the widest setting in the macro mode: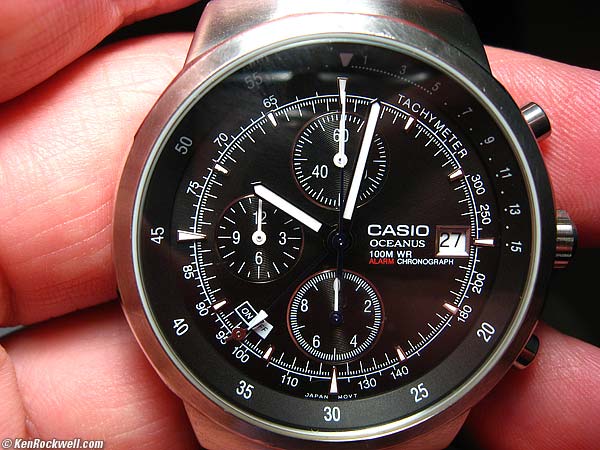 Full image at closest macro setting, wide angle.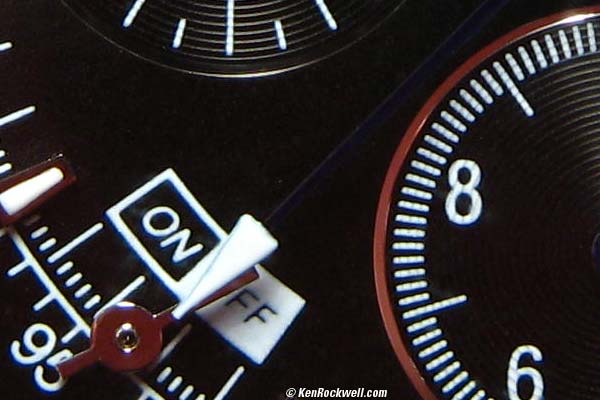 Crop from 100% magnification of above.
This crop is what you'd see if you printed the entire image 31" (90 cm) wide! It looks great. The crop has had no sharpening added.
Caveat
Be sure to take the A550 out of Macro mode for normal use. If you forget, it won't focus to infinity, especially at telephoto.
Distortion
Distortion is better than most compact cameras.
It has typical barrel distortion at the wide end, but none at the tele end. Most compacts get pincushion distortion at the tele end, while the A550 remains perfect.
It's easy to correct in Photoshop CS2's lens distortion filter:
5.8mm (wide): Barrel distortion, use +3.50 in CS2's lens distortion filter.
23.2mm: none!
Use other settings in the middle of the range; I was too lazy to measure them all for you.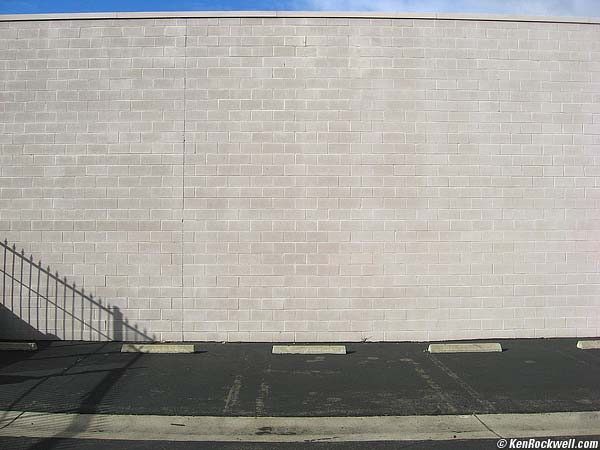 Wall Of Shame, Widest setting. Roll mouse over to see after correction in Photoshop.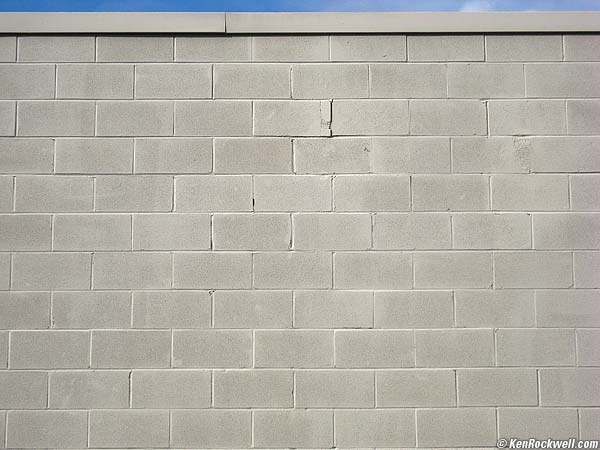 Wall Of Shame, Longest setting: no correction needed.

LCA (Edge Color Fringes)

None, better than most cameras and lenses.

FLASH

Flash performance is typical, with slow recycling.

It takes about five seconds to recycle at normal distances. It will take ten seconds at the maximum range, and three seconds at close distances. Recycling means that the A550 locks up and blinks at you while it's doing this. If you use a lot of flash this will drive you crazy. If so, get the SD700 or SD800 instead, which recycle much more quickly.

I didn't see any difference in recycling times between worn old alkalines and fresh Ni-MH AA cells.

The flash button cycles among AUTO, ON and OFF.

Red Eye (don't use this) and slow synchro are set in the shooting menu.

Fill flash seems OK. I only tried to for one shot.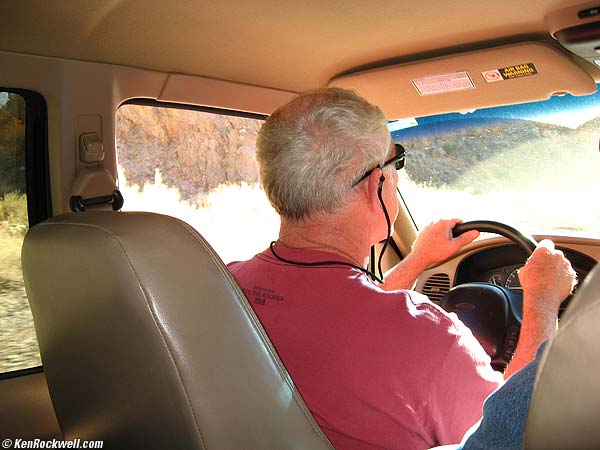 Dale driving us down Titus Canyon, Death Valley, California. A550 with forced fill flash.
Video
Video looks good, although the files are bigger than more complex compression formats used in other cameras. The advantage to the A550 is you won't need any new software to play and share these as you would with the more compact MPEG4 files used by some other cameras.
A file is 18.1 MB for a 10s clip at 640 x 480 @ 30 FPS.
You have 320 x 240 and 160 x 120 image sizes, and 15 and 60 FPS available in various modes. Not all combinations are available.
Panoramas
Darn! I don't see the wonderful panoramic stitching assist mode that =every other Canon compact camera has had for years.
The A550 does include the excellent stitching software.
See my article on Canon Panoramic Photography.
Mechanics
It's mostly plastic, and very good and precise plastic.
The case is silver-painted plastic.
It has plastic buttons.
Everything feels and works great; better than other cameras.
The battery/memory card door is an interlocked hinged affair, typical for Canon and better than my Nikon DSLRS.
The USB and video connectors are behind a plastic flip-out cover.
The tripod socket is plastic. So what; this is a 7.4 ounce camera, fully loaded.
Lens Barrier
The lens barrier is the two little black plastic blades that cover the lens when it's retracted.
I've had this get sticky on other cameras. It is very delicate and I use my cameras a lot.
You're asking a $199 camera to extend and retract it's lens for each shot, while all my $3,000 SLR does is sit there. These things are the weakest point in a compact camera. I've broken many of them.
The A550 I borrowed had a sticky lens barrier. Canon would fix this under warranty, or in my case I'd tap the side of the front of the extended lens to get it to snap open. If you don't, you'd get a black screen or something like this: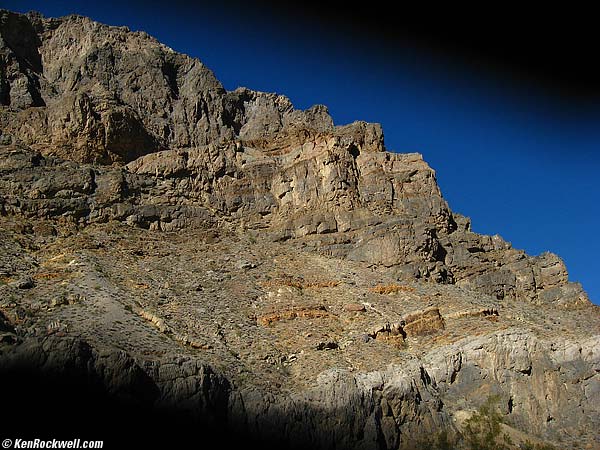 Titus Canyon, Death Valley. Canon A550 with sticky lens barrier.
Data
Transfer Speed
It's fast: USB 2.0. Images come flying out of the A550 as they should.
300 shots at the normal JPG setting at the largest resolution are 300MB. They download in 65 seconds. (Oddly, the Normal JPG setting isn't the default: the default is the Large JPG setting.)
User's Manual
It's the usual fat Canon single-language 121 page manual. I didn't read it all; there are usually quite a few neat tricks these cameras can play for those who read these.
POWER
Battery Life
I got 300 shots on a set of new ordinary Duracell alkalines before the A550 shut off.
I let them rest, and they are still going after 350 shots.
I rarely use the flash, which greatly helps battery life. I made many shots in the Continuous mode, which also saves power. It sucks the batteries down more quickly if you turn the camera on and off for each shot. You'll probably get fewer shots than I did, unless you shoot as I did. I did use the LCD a lot.
I suspect Ni-MH or throw-away AA Lithium will last much longer, but if you're willing to go to that expense or inconvenience or want more shots on a set of batteries, you may as well get a more expensive camera with it's own rechargeable battery. I can get 1,000 shots on a charge of my SD700's battery.
Battery Meter
Just like my other AA-powered Canons, the battery meter is poor. It often warns you about low batteries, even when they are fine. Oddly, it will warn you after you put in a new set after removing a dead set.
Don't worry, keep shooting. My old Canon A70 does the same thing.
High ISO Noise and Grain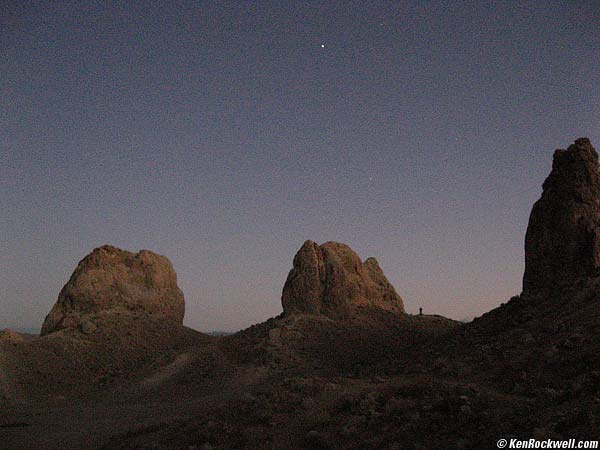 Man with Spear Worshipping Planet, Trona Pinnacles, California.
ISO 800, hand held, 1 second at f/2.6. As shot.
Caveat
I put this last because most people will never find or shoot at these speeds. The A550, like most cameras, never gets to these speeds unless you put it there by hand. Don't worry about these unless you shoot without flash in the dark. Too many chat-room photographers spend all their time worrying about this minor corner of the performance picture.
Introduction
Noise reduction (NR) is used on today's compact cameras to smooth over noise. It's smart enough to leave sharp edges alone, so most people won't notice any blurring. Unfortunately NR smoothes over fine details and textures, and too much NR will leave images looking like cartoons: sharp edges, but little to no texture in between the lines.
This is the biggest reason point-and-shoots don't look as good as DSLRs when enlarged. The NR of the compact cameras, even at ISO 80, is enough to smudge minor textures that are left intact with all DSLRs.
I wish that these compacts would allow setting ISO 25 and ISO 12 to allow us to get much cleaner images in daylight.
It's sad that ISO 50 has been replaced with ISO 80 in the Specs Race for high ISOs.
See my Noise Comparison where I show that compact cameras like this are as noisy at ISO 100 as DSLRs are at ISO 800! To be as clean as a DSLR at ISO 200 will require a compact (small sensor) camera to run at ISO 25.
This A550 has the same noise at various ISOs as my SD700.
Oddly, it's a little softer with a little more NR at ISO 80 than it is at ISO 100. ISO 100 is a little sharper and a little noisier than ISO 80.
ISO 80: As clean as any other compact. Noise is hidden behind NR. It's the same as other compacts, and much worse than any DSLR.
ISO 100: Oddly a little less NR, a little more sharpness and more grain than ISO 80 .
ISO 200: This is the highest ISO that will be called up in the default Auto ISO mode. It's as grainy as every other compact camera at ISO 200.
ISO 400: Grainier, and very useful if you need it.
ISO 800: Noisy (grainy). Use this only if you need to, like hand-holding at night.
RECOMMENDATIONS back to top
As of February 2007, if you want a great camera for a low price, get one! You can pay less and get the A460, but if you're a heavy user like me who uses all the features, I find the A550 much easier to use because it has more buttons.
If you can afford double the price, the more expensive cameras are nicer, but picture quality is the same.
I'd get it here, here or here. It helps me keep adding to this site when you get yours from those links, too.
PLUG
If you find this as helpful as a book you might have had to buy or a workshop you may have had to take, feel free to help me continue helping everyone.
It also helps me keep adding to this site when you get your goodies through these links to Ritz, Amazon and Adorama. I use them and recommend them personally .
Thanks!
Ken
Caveat: The ads below come from a third party and I don't see or approve them. They are sent to your screen directly from a third party. They don't come from me or my site. See more at my Buying Advice page. Personally I get my goodies at Ritz, Amazon and Adorama.