2006 Nov-Dec Updates
all © 2006 KenRockwell.com

I get my goodies at Ritz, Amazon, Adorama. It helps me
keep adding to this site when you get yours from those links, too.
31 December 2006, Sunday
NEW: Nikon D80 User's Guide. Plain-English guide to how I use my Nikon D80. I know you've all been very good this year, so here's my present to you.
That means either of a.) I can go do my weird research again later next week, or b.) get cracking on my D40 User's Guide, which shouldn't take me very long.
A new "What's New" page gets started new tomorrow. Not to worry, this old "What's New" page will be a click away from the new page. I can only make these pages so long before they break.
30 December 2006, Saturday
I think I finished my D80 user's guide. I need to proofread it, typeset it and get it to you here hopefully for New Year's Eve.
NEW: sRGB vs. Adobe RGB. Digital basics, and what I got tired of re-writing in every camera user's guide I write.
Baby Ryan's umbilical cord stump fell off on his two week birthday.
29 December 2006, Friday
Working on the D80 user's guide, yay!
28 December 2006, Thursday
NEW: Comparison: Nikon D200, D80, D70, D50, D40, Canon 5D and XTi. What experience has taught me about which of these cameras to use for what.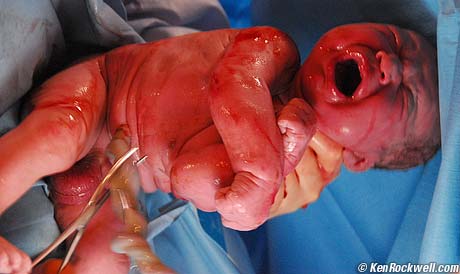 Birth of Ryan: 23 incredible shots in 51 seconds, only with my D200 and 18-200mm VR.
27 December 2006, Wednesday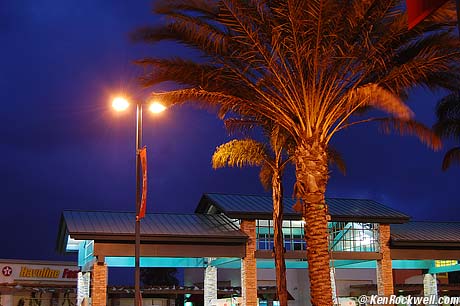 Waiting While Wife Gets Chinese Food. D40, 18-55mm, auto everything.
NEW: Fujinon 14x40 Stabilized Binoculars. What Santa brought me.
I clarified my Nikon 70-300mm VR review. It's the very best lightweight tele zoom ever made by Nikon, just that I have enough tele lenses so personally I didn't find it that exciting. I don't shoot much tele and love ultrawide, so seeing how plasticy it was for its $550 price I returned mine and just ordered a Canon 14mm f/2.8 (I found a refurbished one at Adorama), and a new Canon 15mm Fisheye, since I couldn't resist the rebates to go with my new 5D.
I've been too busy with babies etc. to write a detailed review of my Canon 5D, and let me reiterate that if you're a tripod-using photographer wanting the best quality and don't mind twiddling with settings, the full-frame Canon 5D is cheap enough today, about $2,189 after double rebate, that it's time to step up to full-frame before the rebates expire mid-January. Of course if you wait I suspect they'll be a Canon 7D to replace it in March 2007.
My work is all about wide angles, so for me this is going to be a Godsend. There is no way to get a 14mm equivalent on a Nikon digital camera, since the Nikon 9mm f/2.8 AFS DX is no more than a dream. Yes, you can convert from the 10.5mm fisheye, but it's too color-smeared at the sides to give a seriously good rectilinear conversion. That's why I ordered the Canon Fisheye, heh heh.
Of course I rarely want to mess with the pain of the hokey menus and murky LCD of my 5D, so I use my D40 most of the time and my D200 when I'm serious. I don't believe in tripods. If you do, you'll prefer the 5D. If you don't, get a D40 or D200.
Christmas 2006
23 December 2006, Saturday
Dear Readers: Thanks for the feedback on my 11-lens shootout. Everyone unanimously wanted me to tell what lens did what, without needing the examples. Thanks! Yes, D40, D80 and 5D guides coming, too, as well as a review of what Santa may be bringing me.
NEW: Canon 70-200mm f/2.8L IS. A huge, and spectacularly good, lens.
21 December 2006, Thursday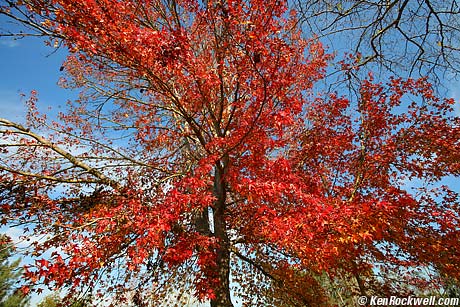 Red Tree, San Diego, California
Fall Color Update: In case you're coming to San Diego for Christmas, we still have lots of red leaves! I made this shot by accident this afternoon testing my new Canon 17-40mm. I loved the 17-40mm I borrowed, so I bought one myself to fatten the rebate on the Canon 5D I bought last month. (Image is exactly as it came from the 5D.)
NEW: Nikon 70-300mm VR full review.
19 December 2006, Tuesday
NEW: Nikon SB-400 full review.
I got my Nikon 70-300mm VR yesterday and am testing it today.
18 December 2006, Monday
I just got my Nikon 70-300mm VR as I'm writing my review of my Nikon SB-400 which arrived Saturday. The SB-400 is a winner.
A quick look in the box of my 70-300mm VR shows it comes with a hood, it's made in Thailand, it feels just like my 18-200mm VR mechanically except it zooms more easily, it has a spectacular 9-bladed round diaphragm, rubber dust gasket on the metal mount and a plastic barrel. It's also got eyeblow. Let me finish my SB-400 flash review and I'll get to testing my 70-300mm in depth later today.
17 December 2006, Sunday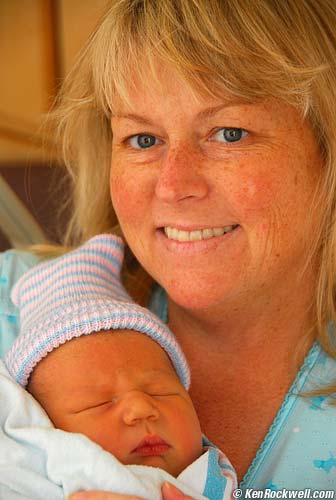 D200 and 18-200mm, new SB-400 flash, bounced.
16 December 2006, Saturday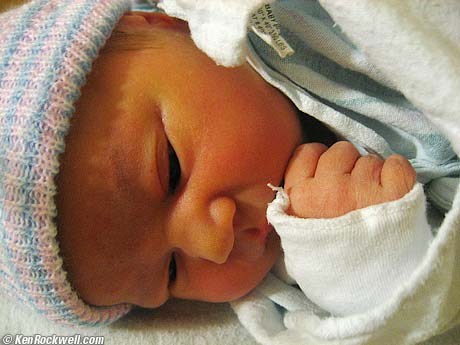 First (day) Birthday. (SD700, macro mode, one dim fluorescent light)
15 December 2006, Friday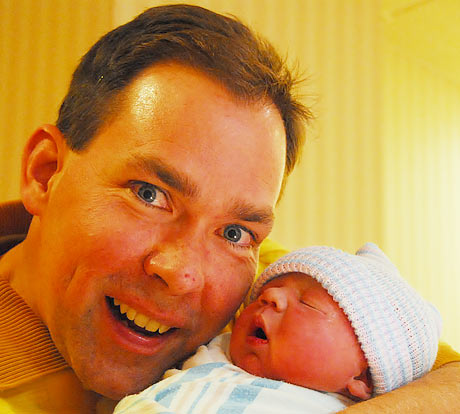 Baby! Born 8:16:30 PM PST.
(Photo by my non-photographer wife with my D200 and 18-200mm, in automatic white-rectangle focus mode. Auto ISO chose 1,600. Except for the weird lighting, focus is perfect and I wish I made shots this good! I'm letting my wife do the photography from now on; I'll just prep my cameras for her.)
14 December 2006, Thursday
NEW: Canon 60mm f/2.8 EF-S Macro.
11 December 2006, Monday
Added an Auto ISO example shot on my Nikon D40 Performance page.
10 December 2006, Sunday
Added a macro example shot from my Nikon D40 on my Nikon 18-55mm II lens page, including the camera-original file.
08 December 2006, Friday
Added a D40 vs. D50/D70 comparison at D40 Recommendations.
Some ask how I can demonstrate that a $150 camera makes the same pictures a $5,000 camera, and in the same breath say that my Canon 5D has better image quality than my Nikon D200. Let me explain.
The differences are that real people look at pictures, while tweakers look at individual pixels. For real people looking at pictures, cameras are the same. The only way to see most of these minute differences is by looking at minutia.
For tweakers, there are great differences at the pixel level, even if invisible in real pictures. For photographers and real people, the important differences are how easy and fast a camera makes it to get a picture as reality slides into the past. You can never go back to remake a lost image.
My Nikons excel in the cold streets of reality and windy deserts of rapidly setting suns peeking out after hours of clouds. My cheap Nikon D40 has Auto ISO and Auto Contrast, huge Color Histograms and a fantastic LCD that gives me workstation accuracy in the field. With it I can catch images that I'd lose fiddling with my 5D and its dim, misleading LCD.
My Canon 5D is better in the lab if you have the time to set the ISO, contrast and more that the Nikons set automatically, and then baby sit its awful, dim LCD which requires me to retire to my computer to evaluate the 5D's images.
Read my classic Dynamic vs. Static Image Quality.
My 5D excels if you're a tripod guy and take the time to set it up, like a view camera. My Nikons excel at getting in, getting the shot, and getting out. If I can take the time I'm astounded by what my 5D can do. If I can't, I get better results with a my D40.
Here's an example excerpted from principle photography from my upcoming wide angle death match. Roll your mouse over to compare Canon to Nikon.
I didn't think anything of contrast when I shot this, with several cameras and many lenses. I thought the light was rather soft.
Looking at the results I realized the light was much harsher than I realized. We had Devil winds which blew out all the dust and the light was much harsher than usual. That's why we use spot meters and the zone system with film: our eyes compensate contrast automatically so we can't see it as our film always does.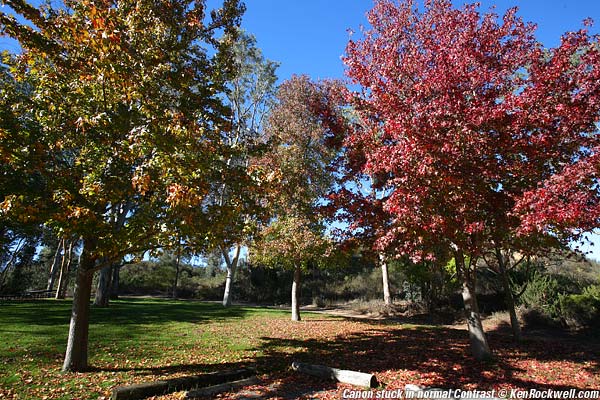 Trees. Roll mouse over for a comparison.
Nikon cameras are smart enough to see this and compensate as our eyes do. It's in Optimize Image: Tone Curves (Nikon's gibberish for contrast). Look in your Nikon DSLR: it defaults at AUTO. Canons have no comprehension of auto contrast; they stay locked into whatever setting you used last. (To Canon's credit they make it very easy to select among several settings.)
While shooting I couldn't see anything on the dim, color-shifted LCD of my 5D. My Nikon's images looked great on its LCD.
When I got back and looked at them on the big screen I realized that the light was very harsh. The shadows on the Canon images went black and the bright reflected highlights from the shiny red leaves washed out to white in many places.
My Nikon D200 was smart enough automatically to see the high contrast and set a lower contrast without me even noticing. The lowered contrast of the Nikon filled the shadows in with color, and let the red tree retain its color in its highlights.
Yes, blown up to five feet wide the 5D smokes the D200 if you're counting pixels, but the picture from the D200 is better. I can't count to 12.7 million.
If I had turned down the contrast on the 5D I could have gotten a much better image, but I couldn't tell until I returned. This is called experience, and a real photographer learns from this for next time. I've only been doing this 40 years and I learn new things every day.
Hopefully this will give you the perspective to understand me showing how this cheap Russian fisheye smokes my new Nikkor fisheye, and why I still prefer my Nikkor:
NEW: Zenitar 16mm f/2.8 Fisheye A pain to use, but if you can deal with it, the technical image quality is better on a full-frame camera than my Nikon 10.5mm is on my Nikons!
NEW: Canon 50mm f/2.5 Macro. Get the Canon 100mm instead.
07 December 2006, Thursday
I had so much up on my Nikon D40 page I had to split it into four pages. The Performance page is still too big and I'm going to have to split that, too.
Adorama's online lab is running a sale on prints: 11x14s (25x35 cm) are $1.99 and 8x10s (20x25cm) for 99 cents on your choice of Kodak Royal or Endura paper. For the 8x10s you'll need a coupon code of PXHOLI810. They're running this sale until the 18th.
06 December 2006, Wednesday
Added some more photo examples and info to my Nikon D40 page.
Added some macro examples to my Nikon 10.5mm fisheye review.
NEW: Canon 70-200mm f/4 L. I made the photos of both these lenses with my Nikon D40 and old 105mm AF Micro lens, which worked great in manual focus.
NEW: Canon 17-40mm f/4 L I prefer this to the 16-35mm L, whose review I completed a few days ago. I hope you enjoy all the details in these reviews.
04 December 2006, Monday
I finally killed the first battery charge in my Nikon D40, after shooting and downloading 1,200 shots. I discovered it dies in an interesting way. I also tested it with my 1990s-era 80-200mm f/2.8 AF-S, with which it works perfectly.
03 December 2006, Sunday
I've added my first ownership impressions, images and tips from my new Nikon D40, which arrived Friday afternoon. I do this while sneaking away from my wife who expects to see me on the weekends, so on Monday I can sit down and add a lot more. Of course, more will appear tonight, heh heh.
02 December 2006, Saturday
NEW: Canon 16-35mm f/2.8 L I hope you enjoy all the details!
01 December 2006, Friday
I got my Nikon D40, which shipped yesterday. As soon as the battery charges and I finish my review of the Canon 16-35mm f/2.8 L I'll get to my new D40. I just posted images of my box and the panel with the details of what I got with my USA version.
In case I forgot to mention it, the Canon 5D full-frame is a steal with the USA rebates. Take the double rebate and it's only $2,199, down from $3,299 a year ago. Static image quality is beyond anything I've seen out of anything else less than $5,000, and maybe better than the D2Xs; I haven't compared them. User interface and the LCD of the 5D are crummy compared even to the $599 (with lens) Nikon D40, and user interface is important to getting vs. missing shots. Time will tell which I prefer.
30 November 2006, Thursday
NEW: 1.3x Canon Crop Factor Cameras and Canon Full Frame Digital Cameras More listings to preserve our sanity as I'm writing about lens performance for all three Canon sensor sizes!
I completely rewrote and added images to clarify my Crop Factor page written yesterday.
I got into all this because Canon's offering deep rebates on the full-frame 5D, so I bought one and the image quality is spectacular.
Baby Name Contest. Wife and I still can't decide on a name for the baby boy, due to drop out next week. Have any suggestions? It ought to go well with Rockwell, so English names are front runners regardless of my wish for Norse ones.
NEW: Canon EF 100mm f/2.8 USM Macro An insanely good lens.
29 November 2006, Wednesday
My D80 page got so long I had to split off the D80 Performance section to its own page. I added an example of neon sign photography, for which the D80 works great.
NEW: Crop Factor Basics that still confuse people.
NEW: 1.6x Canon Crop Factor Cameras A listing to preserve our sanity as I'm writing about lens performance for all three Canon sensor sizes!
28 November 2006, Tuesday
NEW: Is It Worth It? Should you get the latest?
27 November 2006, Monday
NEW: A $150 vs. a $5,000 Camera. Guess what? The photos are the same.
26 November 2006, Sunday
Added two real examples to my White Balance page.
25 November 2006, Saturday
My apologies that my site was slow to dead the past couple of days. I left to be with my family for Thanksgiving at exactly the same time a goof at my hosting company artificially limited my bandwidth to a trickle. Please let me know if there are any more problems and many thanks to those who were able to let me know something was fishy these past few days.
I also saw Nikon's new, tiny SB-400 flash become available, so I ordered one for myself. I'm hoping I can use it and not get a shadow from my 12-24mm lens as I do with the built-in flash. (Wide lenses see so far down they can see the shadow cast by the lens at the bottom middle of the frame.) Right now the main reason I carry an SB-600 is to avoid that shadow, so hopefully the SB-400 will do the same thing and take up a lot less space. I'll let you know whenever mine shows up.
I saw a weird thing happen when I ordered it and my D40 online from Ritz. Everything went fine with my online order, but instead of getting a confirmation page and an email with my order number, all I got when I hit "Finish Checkout" was a return to their main page! Others have seen this same glitch. I had to try a couple of times until my order went through and I got a confirmation.
18 and 19 November 2006, Saturday and Sunday
San Diego: Be sure to see the San Diego Photo Expo, 9-5 on Saturday and 9-4 on Sunday at the Del Mar Fairgrounds. Jeff at the Nikon booth will show you the new Nikon D40 if you ask.
16 November 2006, Thursday
NEW: Nikon D40 released today
NEW: Nikon 18-55mm II released today
NEW: Nikon SB-400 Flash released today
15 November 2006, Wednesday
NEW: Nikon 18-200mm Drop Tests
NEW: Lens Suggestions for 20D, 30D and Rebels
New: Canon 20D Review
14 November 2006, Tuesday
New: Canon 30D Review
13 November 2006, Monday
I added my personal observations to my Nikon vs. Canon page. Am I missing anything?
12 November 2006, Sunday
Don't forget Nikon's Fall-Winter 2006-2007 Rebates for the USA.
11 November 2006, Saturday
New: 2006 Holiday Camera Guide What am I suggesting when my friends and family ask?
New: Canon Rebel XT A bargain today at close-out pricing.
New: Canon A530: Photography's best bargain.
Added some old illustrations to my Nikon 400mm f/2.8 AF-I review.
Enlarged the crummy examples on my Canon Panoramic page. Can you see them all?
Minor updates to D80 vs D200 and D80 Vs D70 and D50 pages.
Made my Black-and-White Toning article a separate page.
10 November 2006, Friday
Added links to Nikons lists of tested and approved cards for all their cameras to my page on CF cards. See Nikon's CF list here and the SD list here. Stick with these and you know it will work perfectly on your Nikon.
New: I added a section on B/W film in Modern Black-and-White Photography
09 November 2006, Thursday
New: I added a section on the Nikon D80 Exposure Fiasco.
New: Modern Exposure Technique A guide for 2007.
New: Nikon D80 vs. D70 and D50 selection guide.
Thanks! Although I've been shooting Nikon, with your generous help I've ordered a Canon 5D (full-frame) and have borrowed the Canon 17-40mm and 16-35mm. I also ordered a Rebel XTi and Canon 10-22mm, so along with my own Nikon 12-24mm and D80/D200 I'll be doing the Mother of all Wide-Angle Comparisons. I also have a Rebel XT and 70-200mm f/4 L here and two Canon macros, so I'll be needing a class in typing to help me get all this written.
I completed the Father of all Wide Zoom comparisons, pitting Nikon and Sigma and Tamron and Tokina, here, earlier this year.
Of course I already have an explicit comparison of all the Nikon, Tokina, Sigma and Tamron digital wide lenses. I've been wanting to see how Canon stacks up to Nikon. I can do this for ultra-wides, since there are so few of them. There are too many normal and tele zooms to make a sane comparison of all of them.
Have no fear, a D80 users guide and report on the D80 exposure issue in the works, too.
07 November 2006, Tuesday
New: Fisheye-Hemi Conversion Plug-In, which for only 5% of the cost of your fisheye lens, finally lets it make useful people photos!
Added a link from my Canon SD800 review to an infra-red version of the SD800 available from LifePixel.
NEW: Modern Black-and-White Photography
Clarified the Nikon D40's introduction date: November 16th, 2006.
06 November 2006, Monday
Still no word on when my Nikon 70-300mm VR will ship. I ordered one myself the day it was announced, and nothing's yet appeared.
Back from New York, I learned why the Nikon 18-200mm is so hard to get, and has been that way for over a year. I updated How to Get a Nikon 18-200mm with this information.
05 November 2006, Sunday
Thanks to your generosity and the recent Canon rebates, I just ordered a Canon 5D so I can review it, but more importantly, so I can start reviewing all the Canon lenses. I'll borrow or buy a smaller sensor camera, like an XTi, as well. Darn Canon for making DSLRs with three different sized sensors!
The full-frame (24 x 36mm) 5D will let me test each Canon lens for film and all formats of digital. It may take me a year or two to get through all the Canon lenses, but for those of you who keep asking me to evaluate everything Canon, it will be worth it. Thank you all!
I have reviews of the 50mm and 100mm Canon Macros (Thank you, Dr. Jim Chen) and the cheap Canon 75-300mm USM on the way. Like all of you, I want to know if the 16-35mm f/2.8 or 17-40mm f/4 is best - that's coming in a month or two after I get all the other reviews written.
I prefer my Nikon DSLRs over Canon, and oddly I prefer my Canon digital Powershot point-and-shoots over the Nikon Coolpix compacts. Image quality is the same in each class; the big difference is in ease of use. It's weird how the Canon point-and-shoots work better than their DSLRs. Try setting a custom white balance on each camera and you'll see. I can't figure out how to use the Coolpix cameras' menus for the life of me.
I'll run a wide-angle smack-down between the 5D with 17-40mm and my D200 and 12-24mm. If the 5D wins, it may start traveling with me. We'll see, heh, an XTi with 10-22mm might be in the running, too. Oddly, the super-quality 17-40mm L needed with the 5D is the same price as the plastic (and good) 10-22mm.
04 November 2006, Saturday
I added a little to my Nikon D40 forecast.
I also added the snapshots below from Thursday's trip to NYC. These are all from my D80 and 12-24mm, all hand-held while walking. No Photoshop, no nothing, no time to fiddle: these are all exactly as they came out of my D80 except for the rare crop. I'll add explanations of how I did this later. Note: Exposure of my D80 is all over the map. I usually had my exposure compensation at -0.7, but had to use anywhere between 0.0 and -1.3! We'll talk about this after I get back from NYC.
In case you may have missed it, I've been all over traveling and lecturing most of October. The wife has grounded me after I get back until her baby boy drops out (we're still soliciting names) and I owe you all a lot of writing, as well as prettier, bigger versions of these snaps and my snaps from Yosemite.
03 November 2006, Friday
Rumors confirm: The new Nikon DSLR is the D40. It's an updated, dumbed-down D50. Expect release on November 16th, 2006.
Older "What's New" Listings and Photos:
2006: October - November: Trip to NY
Caveat: The ads below come from a third party and I don't see or approve them. They are sent to your screen directly from a third party. They don't come from me or my site. See more at my Buying Advice page. Personally I get my goodies at Ritz, Amazon and Adorama.