2006 Holiday Camera Guide
© 2006 KenRockwell.com

I get my goodies at Ritz, Amazon, and Adorama. It helps me keep adding to this site when you get yours from those links, too.
This page is historic. See Current Camera Recomendations.
INTRODUCTION
Friends and family are constantly asking me what camera to buy for normal people who just want great photos.
Here is what I'm suggesting this year, starting from the basics.
Click each camera's link for a detailed review which has links to where I get them myself. Hint: just click each camera for my detailed review, photo examples and suggestions of where I got mine.
I'm emphasizing value. All these are great deals for what they do. It would be easy to pay twice as much for similar cameras that might do less.
Just want great photos?
The Canon A530 is the best buy in photography for 2006. It sells for $150 or less! I had the three-year older model A70 with which I made these shots in Cayman in 2004 and Italy in 2003, and I showed the fantastic 12 x 18" (30 x 40 cm) prints on CBS TV in 2005. The A530 is much better, so for $150, you can't go wrong. You can pay more, but it's unlikely that you'll get any better pictures.
I explain (and show) how this $150 camera really does make the same quality photos as a $5,000 camera on my $150 vs. $5,000 Camera page. I use fancy cameras because they let me work in a broader range of conditions and are easier and faster to use, not because the results are much different.
Yes, Canon makes about a dozen compact cameras. They're all good. So are those from Casio, Fuji, Leica, Nikon, Olympus, Panasonic, Pentax, Sony and etc., but you could go blind trying to compare them all. That's why I wrote this page: this is what I would buy. I prefer the colors I get from the Canons, and I can't figure out how to operate the Nikons. I suggest the A530 because it's very inexpensive, very good and and very flexible. If you want a fancier model, go for it, like the:
Want a camera small enough to keep in your pocket every day?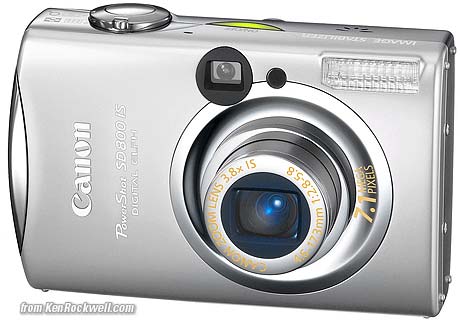 The Canon SD700 and SD800 are my favorite cameras to take everywhere. I keep my SD700 with me at all times. I'll tell you a secret: I have more fun with my SD700 than I do lugging my bigger cameras around, and the image quality is about the same. These little jewels go for about $300 - $350. The SD700 is 6 months older and sells for less. The SD800 is newer and has a wider lens. Get the SD700 if you prefer lower price or the longer lens for head shots, or get the SD800 for wider angles. Either one is far more advanced than anything available last year.
Can these little cameras make decent shots? Here are three snaps, all hand-held and exactly as they came out of my Canon SD700 . (Of course I resized them to fit your page.)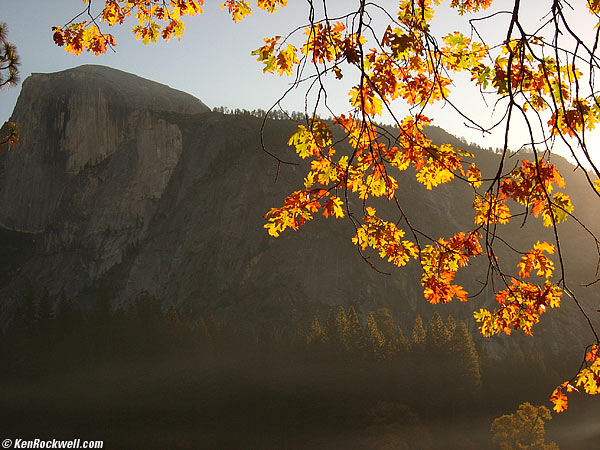 Yosemite Valley.
Details: Stoneman Meadow, Yosemite National Park, California, 23 October 2006, 8:48 AM, -1 stop exposure compensation to keep the dark mountain dark, custom white balance shot off the sky to get the warmer color, auto everything else. Canon SD700 camera.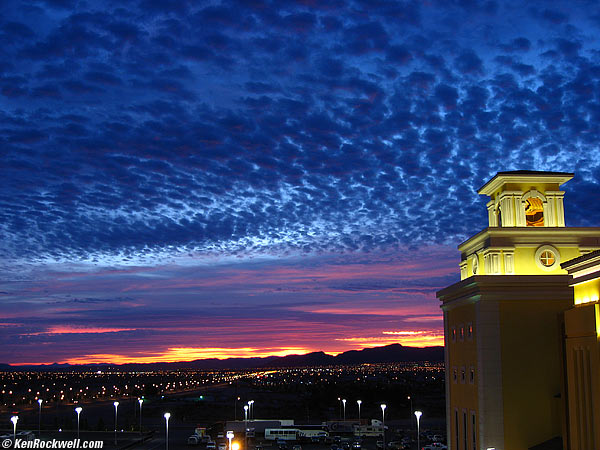 Las Vegas Sunrise.
Details: Shot hand-held from a parking structure, 04 October 2006, 6:21 AM, -2/3 stops exposure compensation (my default), ISO 80, auto everything else. Canon SD700 camera. Click the image for the original file from the camera.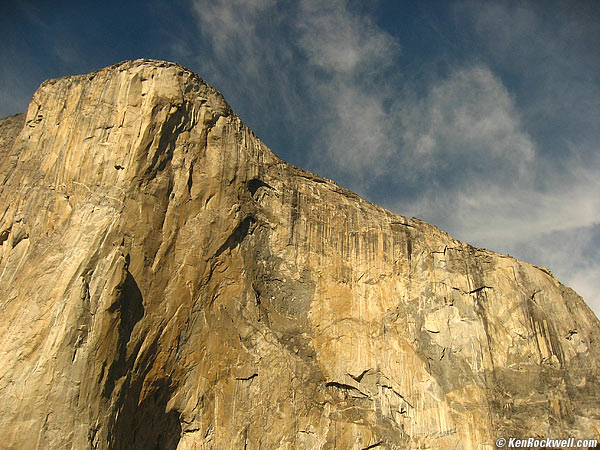 El Capitan, Yosemite National Park.
Details: Shot from El Capitan Valley, Yosemite National Park, California, 23 October 2006, 2:38 PM, manual white balance shot off the sky for a warmer look, polarizing filter held over the front of the lens with one hand while I held my Canon SD700 in the other, auto everything else.
Want to photograph action, moving kids, pets or sports?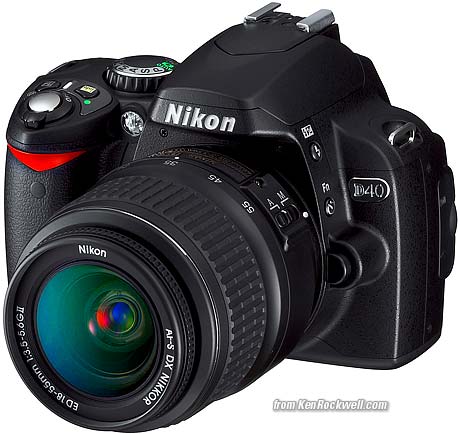 Compact cameras above are great, but they can't focus fast enough to track moving objects. To track moving thing you need a camera like these with lenses that come off. These sorts of cameras can focus fast enough to catch birds in flight, or your kid running down the field. They can track objects as they move across the frame! No camera with a non-removable lens can do that.
I use Nikon myself. I'd suggest getting the brand-new, inexpensive Nikon D40, which comes with a great lens for $599 MSRP. The D40 is the smallest and lightest Nikon DSLR ever made.
If your subjects are far away, you'll want a longer lens to make things look closer, and for that I suggest the excellent new 70-300mm VR, which runs about $550. It focuses very, very fast and has an image stabilizer (VR) for great shots of concerts and plays without flash. A more reasonably priced telephoto that works on the D40 is the Nikon 55-200mm AFS.
Although more expensive than the camera, my favorite lens of all time is my Nikon 18-200mm. This one lens replaces all of those other lenses, but unfortunately it has been very hard to get ever since it was introduced last holiday season! It's that good and that popular. Don't bother with other brands of 18-200mm, there is nothing, not even the new Sigma OS, similar to everything that makes the Nikon 18-200mm so special.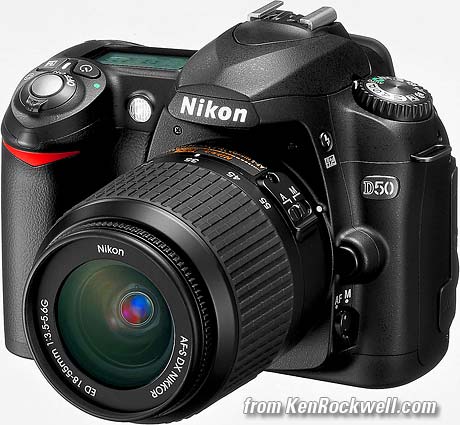 If you can't get the Nikon 18-200mm lens or the 70-300mm VR lens, I suggest getting a close-out price on the older Nikon D50, which can use the much less expensive and readily available Nikon 70-300mm G lens (about $150.) You can get the D50 as a kit with the great (and inexpensive) 18-55mm lens for about $650 (links on the review page), and this will probably drop as the D40 becomes available. The G lens doesn't focus as fast as the VR lens, but it's probably fast enough for kids running around a soccer field.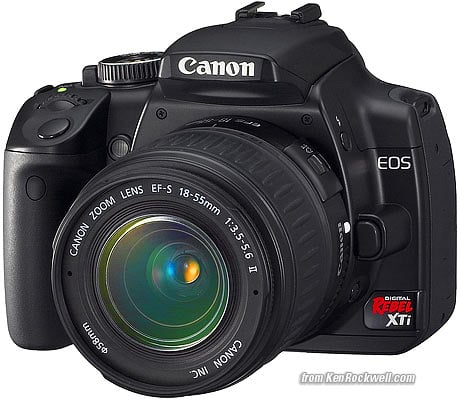 Canon Rebel XTi and Canon Rebel XT
If you prefer Canon, the new Digital Rebel XTi also works great. Get it with its 18-55mm lens, and for longer distances get the Canon 75-300mm USM. Canon, actually no one, make anything equivalent to the Nikon 18-200mm. Avoid the temptation to buy an off-brand copy; I'd stick with the Canon lenses.
Canon's previous model Canon Rebel XT was replaced by this new XTi, so the XT is a bargain at a closeout price this season.
For great photos a reasonable price, get these lenses. You can spend a fortune on lenses if you want, and I'll get to that now.
My absolute favorite lens of all time is the Nikon 18-200mm, however it's hard to get, and more expensive than the D50 itself, so be forewarned. If you can get a Nikon 18-200mm (Nikon only, not the Sigma, Tamron, Quantaray or others) you won't need any of the 18-55 and 70-300mm lenses.
Need to shoot sports, concerts or plays indoors or at night?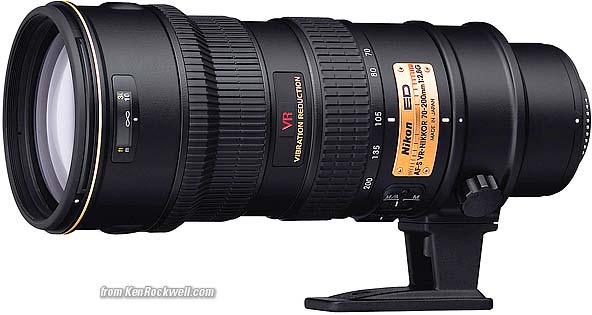 The 70-300mm f/5.6 zooms I just suggested are great in daylight, but when the light fades you may get blurry images caused by motion. Crank the camera's ISO to 1,600 or 3,200, and if it's not getting what you need, you may need a professional f/2.8 lens.
If you want to shoot sports indoors or at night, or plays indoors, you're going to want a professional lens. Your flash won't reach all the way to the field or the stage. These pro lenses let in four times as much light, and focus much faster than the $175 lenses above.
If I shot sports indoors or at night, I'd get either of the professional Nikon 80-200mm f/2.8 (about $800) or 70-200mm f/2.8 VR (about $1,600) lenses. (Personally I own a similar but discontinued 80-200mm f/2.8 AF-S from 1999.) One of these is in every professional news photographer's bag. They are big, heavy and built like tanks. The VR version (and my older AF-S version) work great on every Nikon including the D50 and D40. The AF-D version won't autofocus on a D40, but that's the only incompatibility here.
Want flash with that?
All these cameras have built-in flashes that work great. I wouldn't bother buying a separate external flash. You're off the hook on this one.
The reasons I bought an external flash (SB-600 and now possibly the new, tiny SB-400 for my Nikons) is because
1.) My ultra-wide 12-24mm lens sees such a wide angle that it sometimes sees its own shadow cast by the built-in flash. The bigger flashes sit further forward so the shadows go away.
2.) The built-in flash can take time to get ready and recharge after some shots. The separate flashes are ready to shoot usually instantly after each shot.
Even an expensive external flash isn't going to do much for you shooting sports or plays, and it's extraordinarily rude to use a flash during a concert, play or recital. Even for sports I've been thrown out for using flash: it annoys the players. That's why I use a fast (f/2.8) lens instead.
For Photo Hobbyists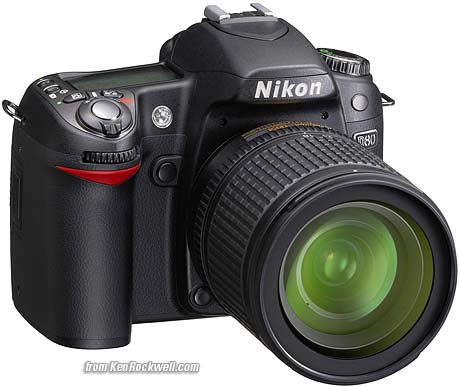 We've already covered all the cameras needed by people who want photos, as opposed to wanting fancy cameras. This page originally was for people like my mom, not for photographers. Since all you photographers ask, and in case you're buying for a photographer, here we go with the rest of this page.
I love my D80. It's a fantastic pro travel camera and the best main camera for serious photo hobbyists
If all you want are photos, get the less expensive cameras above. If this is a gift for a photo hobbyist, get him one of these.
This is a camera, at about $1,100 with the good and basic 18-55mm lens, for the guy who loves to twiddle with his camera. What he really wants is the Nikon 18-200mm lens, but that's in short supply. Don't bother with other brands of 18-200mm, there is nothing, not even the new Sigma OS, similar to everything that makes the Nikon 18-200mm so special.
For normal people, the Canon Rebel XT and Nikon D40 above are just as good for much less money.
For Serious Photographers
We've already covered everything a normal person needs. Even a serious photographer like me ought to have a blast with a jewel of a camera like my Canon SD700.
For serious photographers, meaning someone who uses a camera every day or uses it all day when he does, the camera I use most of the time for my own work is the Nikon D200.
The D200 is heavier than the D80, which is why I use my D80 if I'm spending more time carrying it, and use my D200 if I'm using it all day.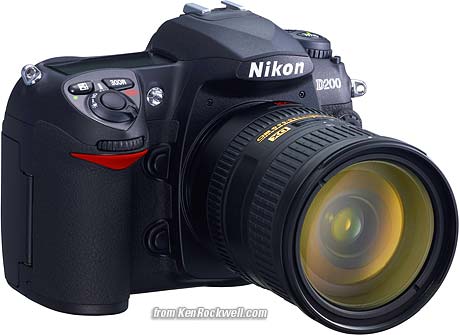 My Nikon D200 (about $1,699) does everything I need. I use my Nikon 18-200mm lens (about $750 - $1,000) most of the time, or my super-wide 12-24mm lens (about $900). When I travel, I wrap my D200 camera and the spare lens in my clothes, throw them in my carry-on bags, and I head out to the airport with all I need.
Now that the Canon 5D has been out a while, it's price has dropped a great deal with rebates. I just bought one for myself. It;'s the highest resolution digital camera available for under $7,000. After rebates, the 5D now goes for around $2,400. It was $3,300 a year ago.
Of course the rest of this site is devoted to all the crazy stuff you can buy, so if you're not on a budget, go to town!
SUMMARY
You can easily spend more. These are what I own, use and recommend to people who ask.
PLUG
If this just saved you $500 or if you find this as helpful as a book you might have had to buy or a workshop you may have had to take, feel free to help me write more.
Thanks for reading!
Ken