The falloff performance improves at the closer distances for which the 60mm marco is optimized.
It's silly to buy a macro lens to shoot wide open at infinity. An ordinary 50mm f/1.8 lens would be better at f/2.8 for this.
FILTERS back to Performance or back to Introduction.
Go ahead, load it up with a stack of old, thick filters. There's no need for any fancy thin ones.
It only peeps through the middle of the filter anyway. Notice how the actual glass is only in the center of the lens; it doesn't extend to the sides of the filter mount. The front element is flush with the filter mount; it doesn't recede into the lens barrel as the Nikon macros do.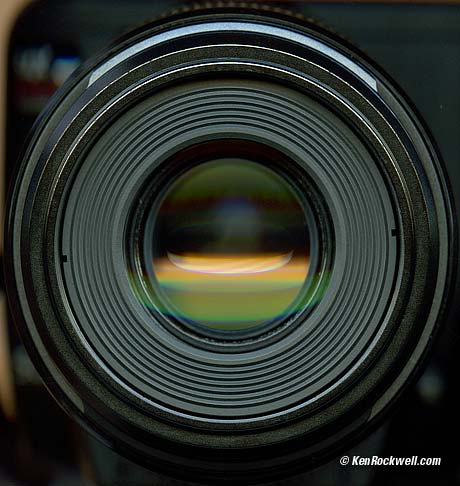 Front of Canon 60mm Macro
FLARE AND GHOSTS back to Performance or back to Introduction.
I can get ghosts if I deliberately point it into the midday sun, which is, of course, stupid.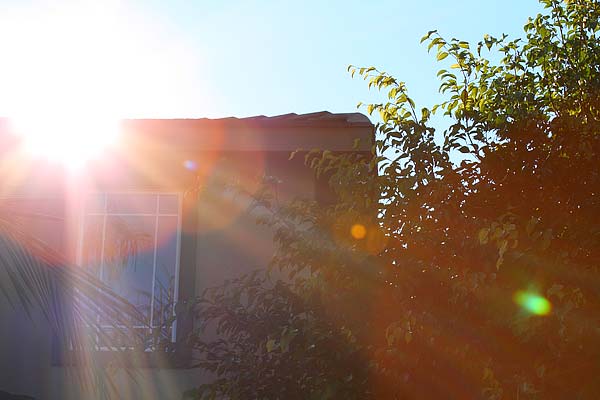 Blind Man's Last Vision, XTi, f/11 at 1/125, ISO 100 (LV14)
I had to work to make an example this bad with manual exposure to give enough exposure to show the ghosts. Left to its own exposure there's no problem, even in this stupid example staring directly at the full disk of the midday sun: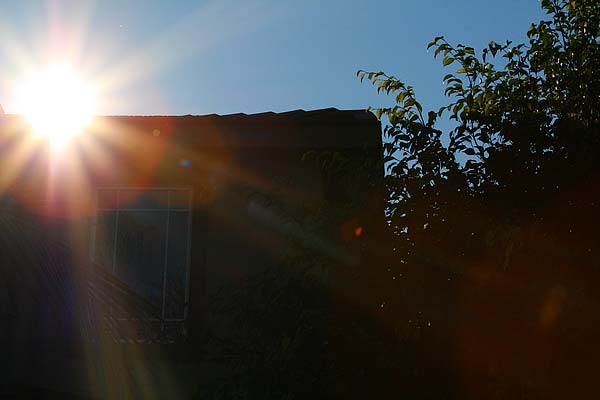 f/16 (LV16-1/3)
I doubt I'd ever get any ghosts for sunset shots. These shots are with a naked lens (no filter).
USE with FLASH back to Performance or back to Introduction.
Built-in flashes are often so close to the camera that some lenses can see far enough down to see their shadow, as cast by the built-in flash.
My XTi's built-in flash works fine, even at 1:1. The top is a little brighter because it's closer, but there's no black moon of death rising from the bottom of the image.
To my amazement, the exposure is as good as always (which is not that great for Canons), even at 1:1 in program mode at f/3.5 and ISO 100. It doesn't wash out as many cameras do this close.
MACRO back to Performance or back to Introduction.
Macro performance is excellent, as I'd expect.
The 60mm macro focuses to life size (1:1), which means an object the size of your sensor (22 x 15mm or 0.87 x 0.60") fills your image.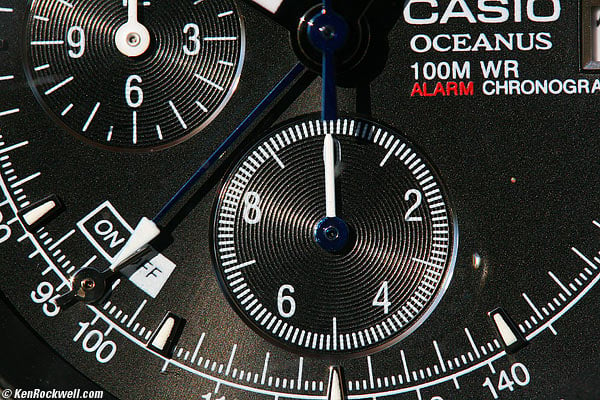 Part of my watch at 1:1, full image.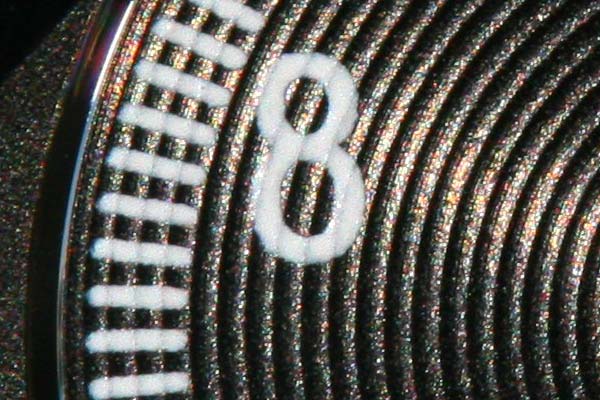 Crop at 100% from center of above, no extra sharpening.
The colored scintillation is the way this watch face is supposed to look, and the color fringes on the full image come from my watch's magnifying crystal.
This blowup is of the lower sub-dial, not the main dial which couldn't fit even full-image. Enlarging the entire image this size will print 39" (1m) wide!
Enough of watches. This doesn't show just how close this gets. Here is a teeny flower, smaller than my fingertip: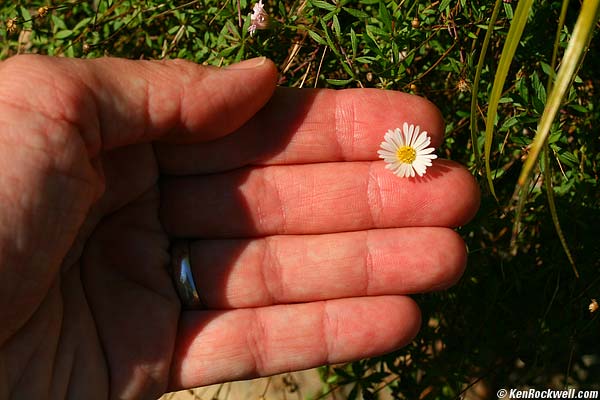 Tiny Flower.
And here it is at the closest focus: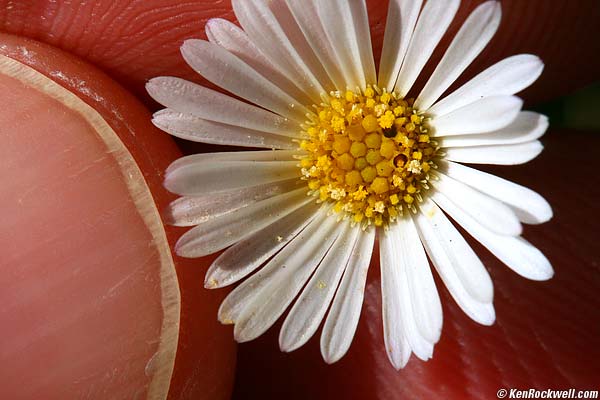 At 1:1, full image. That's the tip of my thumb on the left.
SERIAL NUMBER back to Performance or back to Introduction.
The serial number is laser engraved (black on black) on the outside bottom of the barrel, by the lens mount.
SHARPNESS back to Performance or back to Introduction.
Sharpness is so good I'm not even going to bother with my chart; which would be filled with "Es" (excellent) at every setting. For example, here's a snap at f/2.8: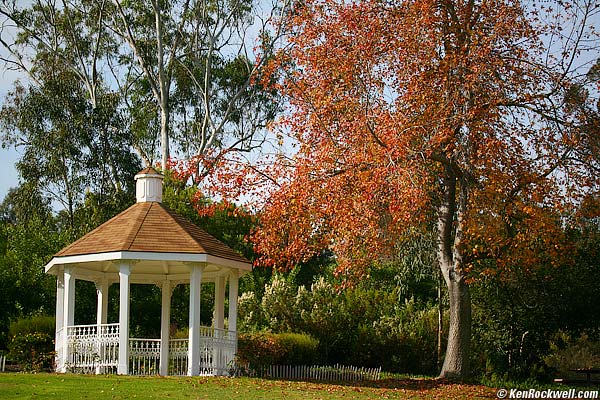 Gazebo, full image. f/2.8 at 1/1,600, ISO 100.
And here's a crop from a 100% crop from the top right far corner: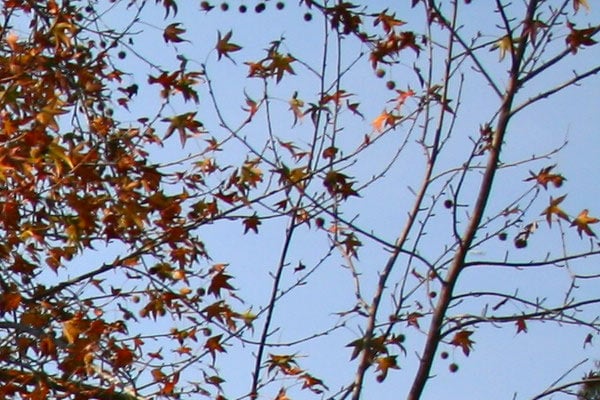 100% crop, Rebel XTi, normal Large JPG (the smaller file), unsharpened.
Your technique will be the only barrier to sharp photos. I have a page on How to Get Sharp Photos.
It gets sharper stopped down, and as you know, few if any lenses are this sharp in their corners wide open.
SUNSTARS back to Performance or back to Introduction.
Its seven bladed diaphragm makes an asymmetrical 14-pointed star: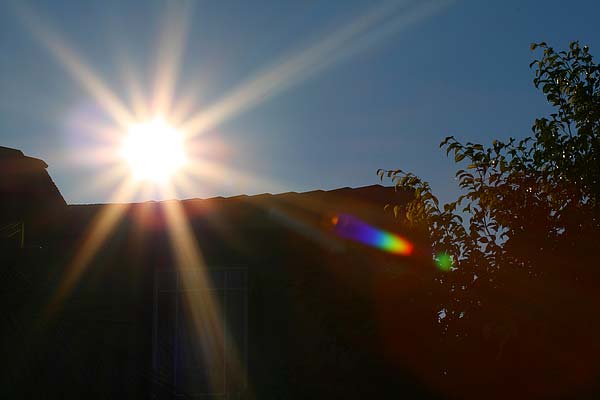 Midday California Sun, f/22 at 1/250, ISO 100 (LV16)
The rainbow was extra. I've not seen that in my other blindness-inducing experiments.
This is the pattern you can expect to form on very bright point light sources in night photography and on specular (chrome) highlights in daylight.
They won't be this big unless you stop down this far and point your camera at the sun, which is stupid.
Recommendations top
Intro Specs Performance Recommendations
This Canon 60mm macro is optically spectacular. It works well and has no downsides, other than being only 60mm and only working on the 1.6x sensor cameras.
This 60mm macro is ideal if you plan to use it for general photography and only on the smaller sensor cameras. If you plan to do a lot of macro, the 100mm makes it much more convenient. If you think you may eventually get a 1D or 5D, only the 100mm (and the old 50mm macro) work on film and 1.3x and full-frame digital cameras.
For serious macro work, the Canon 100mm macro gives more working room to make lighting easier and your subjects more comfortable. The 100mm also gives a more realistic perspective for macro use. The 100mm also works on film, 1.3x and full-frame cameras and only costs about $80 more. If you want a macro lens for macro work, get the 100mm. Unless you're only using this on a copystand, you'll thank me for getting the 100mm macro instead.
This 60mm lens will not work on any film, 1.3x or full-frame digital cameras. For those you need either the 100mm Macro or the old 50mm Macro.
These caveats aside, this 60mm macro has spectacular optical performance and super-close focusing.
Help me help you top
I support my growing family through this website, as crazy as it might seem.
The biggest help is when you use any of these links when you get anything, regardless of the country in which you live. It costs you nothing, and is this site's, and thus my family's, biggest source of support. These places have the best prices and service, which is why I've used them since before this website existed. I recommend them all personally.
If you find this page as helpful as a book you might have had to buy or a workshop you may have had to take, feel free to help me continue helping everyone.
If you've gotten your gear through one of my links or helped otherwise, you're family. It's great people like you who allow me to keep adding to this site full-time. Thanks!
If you haven't helped yet, please do, and consider helping me with a gift of $5.00.
As this page is copyrighted and formally registered, it is unlawful to make copies, especially in the form of printouts for personal use. If you wish to make a printout for personal use, you are granted one-time permission only if you PayPal me $5.00 per printout or part thereof. Thank you!
Thanks for reading!
Mr. & Mrs. Ken Rockwell, Ryan and Katie.
Home Donate New Search Gallery Reviews How-To Books Links Workshops About Contact