USE ON 35mm CAMERAS back to Performance or back to Introduction.
Forget it. It won't mount on them.
It won't work or mount on full-frame or 1.3x sensor digital cameras either.
USE WITH FILTERS back to Performance or back to Introduction.
The 17-55mm IS works great with regular old filters. There is no need for expensive thin mount filters.
Canon cautions only to use the Canon PL-C 77mm II filter. I find it works great with my conventional, old-fashioned Hoya 77mm Circular Polarizer.
I can use two fat, rotating-mount filters (13.7mm thick combined, excluding threads) as wide as 28mm. This includes my conventional Hoya 77mm Circular Polarizer and my Tiffen 0.6 ND rotating grad. There isn't much change as you zoom wider than 28mm; you can zoom out to 17mm and merely crop a little, even with these two stacked filters.
There isn't any change with focused distance.
Here's what you get at 17mm with both a 7mm thick Tiffen 0.9 ND and my 17mm thick Hoya 77mm Circular Polarizer (13.9mm thick combined, excluding threads):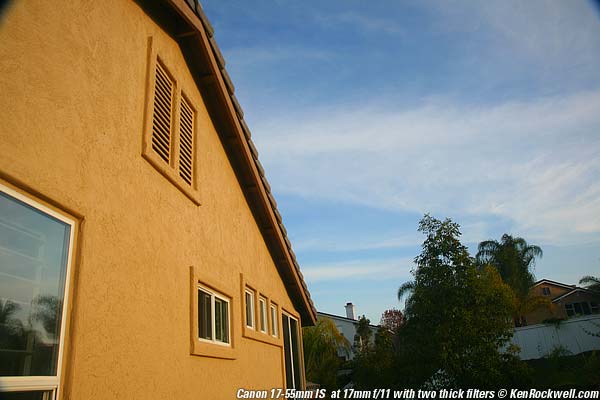 Filter vignetting at 17mm at f/11. Roll mouse over to see it at f/2.8.
Like many lenses, filter vignetting seems worse at larger apertures as the effective image of the black edge of the filter is defocused more and blends further into the image.
This effect doesn't change much until you zoom to 28mm, at which point it goes away.
FLARE AND GHOSTS back to Performance or back to Introduction.
If I point it directly into the blinding (literally) California sun I can get some ghosts. Only an idiot would do what I did to excite these.
These are made with +2/3 exposure compensation to exaggerate the ghosts. The 17mm shot is 1/125 at f/11 and the 43mm shot is 1/250 at f/7.1, all program auto at ISO 100.
If left to its usual exposure setting these would have been much darker, and if I wasn't so stupid as to have pointed the camera directly into the midday sun, these would be invisible.
I doubt these are a problem with sunsets into which you can look comfortably. The sun here was so bright that it was solarizing (going dark) on my retina.
These are with a naked (no filter) lens.
USE with FLASH back to Performance or back to Introduction.
Built-in flashes are often so close to the camera that ultrawide lenses can see far enough down to see their shadow cast by a built-in flash.
Using this lens 17mm with a built-in flash will give you a shadow on the floor at normal indoor distances. You need to shoot at 20mm or longer.
These are examples from my XTi used incorrectly. Zoom in and the dark shadows at the bottom go away.
| | |
| --- | --- |
| | |
| With built-in flash at 17mm. | Camera at 18" (50cm), zoom at 17mm. |
If you get closer, you'll have to shoot at even longer settings. At three feet (1m), stay at 24mm or longer.
At the close focus distance (14" or 35cm) you'll always get the dark moon at the bottom with built-in flash, even at the 55mm setting.
If this becomes a problem, hold the camera upside-down so the shadow goes into the top of the picture where it's less likely to be a problem.
Shoe-mount flashes are far enough forward that the shadows aren't seen by wide lenses.
MACRO back to Performance or back to Introduction.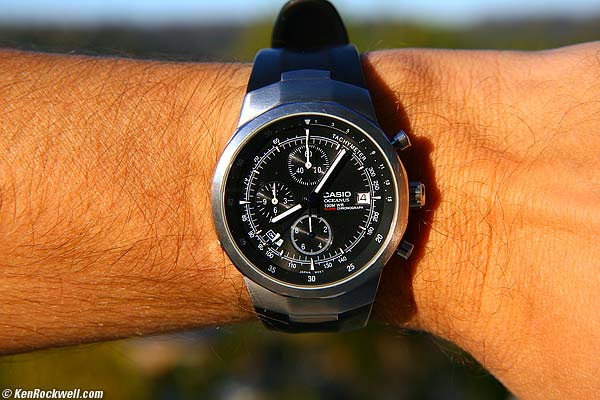 At closest focus at 55mm, full image.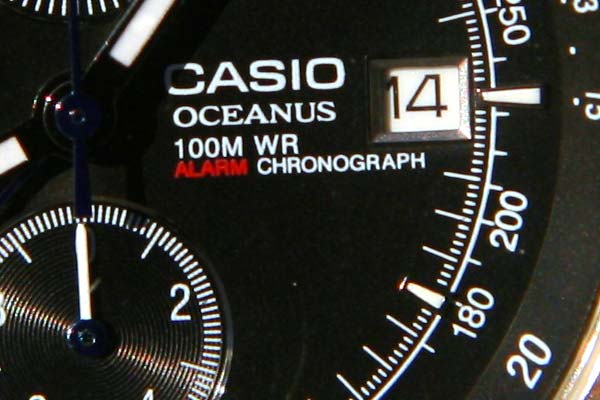 100% crop from above, no extra sharpening.
It doesn't get very close. The 18-55mm EF-S II, for less than one-tenth the price, gets much closer.
SERIAL NUMBER back to Performance or back to Introduction.
The serial number is laser engraved into the plastic (black-on-black) on the outside bottom of the barrel near the mount.
SMELL back to Performance or back to Introduction.
The one I borrowed smelled a little like skanky old grease, if you sniffed its mount and zoomed it to pump out the odor.
This is weird, I've never noticed any other lens smelling. I only noticed it when mounting and unmounting it.
It's not annoying at all, just a little weird, and being a fan of the weird, I figured I'd point it out.
SHARPNESS back to Performance or back to Introduction.
Sharpness for normal use is great. It's hard to evaluate at the largest apertures because focus accuracy issues cloud (literally) the results.
So long as you stop down a stop or two, your technique will be your biggest barrier to sharp photos. I have a page on How to Get Sharp Photos.
Here are my observations on my 10 MP XTi. Letters correspond to center - side - corner. Possible ratings are E - VG - G - F - P. These are subjective. Don't fret over differences between adjacent grades.
Diffraction is usually the sharpness-limiting factor for all lenses, especially digital SLRs, at about f/11 and above. See also How Sharpness Varies with Aperture.
| | | | | |
| --- | --- | --- | --- | --- |
| | f/2.8 | f/4 | f/5.6 | f/8 |
| 17 mm | E* - VG - F | E* - VG - F | E - VG - F | E - VG - G |
| 24 mm | E - VG - F | E - VG - F | E - VG - F | E - VG - F |
| 35 mm | VG* - VG - G | E - VG - G | E - E - VG | E - VG - VG |
| 55 mm | VG* - VG - G | E - VG - G | E - E - VG | E - E - VG |
* Be careful of your autofocus system. If a shot is off, you'll get poor results.
back to Performance or back to Introduction.
The first figure is the percentage of sharp shots I got, hand-held, without IS. The second figure is the percentage of sharp shots I get, hand-held, with IS. "Sharp" means sharp at 100% on my monitor, which is equivalent to a 39" (1m) wide print. For most normal uses you can get away with even slower speeds.
| | | | | | | |
| --- | --- | --- | --- | --- | --- | --- |
| | 1 sec | 1/2 | 1/4 | 1/8 | 1/15 | 1/30 |
| 17mm | 0 / 60% | 0 / 60% | 50 / 100% | 90 / 100% | 90 / 100% | 100 / 100% |
| 28mm | 0 / 0% | 0 / 66% | 0 / 80% | 10 / 80% | 80 / 100% | 100 / 100% |
| 55mm | 0 / 0% | 0 / 0% | 0 / 50% | 0 / 50% | 40 / 80% | 60 / 100% |
As always, IS is great. It lets me make sharp images at 17mm with one-second exposures most of the time! At 28mm I get that at 1/2 second, and at 55mm I get sharp images most of the time at 1/4 second. Canon may have its ways of testing, and my actual use shows I get two real stops of improvement, Your results will vary.
Read Why IS is Important to understand more about what these ratings mean.
TIP: In dim light, fire several shots and pick the sharpest. Blur is a random event, so if you fire enough shots, you'll eventually get a sharp one even at speeds of over 1 second!
TIP: Let the IS stop, which goes on for 2 seconds after releasing shutter, before removing the lens from the camera. .
TIP: Turn IS OFF on a tripod to save power. I didn't see any difference in sharpness.
TIP: Leave IS ON on a monopod.
Canon says IS works even with the EF12-II and EF25-II extension tubes.
Sound
When IS is active, you'll hear a slight hissing if you put your ear to the lens or are in a quiet location.
ZOOMING back to Performance or back to Introduction.
You need to use at least two fingers to rotate the zoom ring. It is difficult to impossible to zoom with only one finger. It's easiest while level, and pointing directly up or down doesn't make it that much more difficult to zoom.
The zoom ring is the front half of the lens. You can't miss it.

Zoom Ring Scale, Canon 17-55mm f/2.8 IS.
The zoom range is reasonably well distributed. The wide end is much easier to use than the very-cramped-together wide end of the Canon 17-85mm IS. This is important: this cramping is the biggest reason I dislike the 17-85mm IS.
Zoom Creep
I had no zoom creep, but with age it may start to creep pointed directly up or down. No big deal, this isn't a lens bought for use on a copy stand.
Focus Shift while Zooming
Focus shifts very little. You can get away with the TV cameraman's trick of zooming in to see focus more easily, focusing manually, and zooming out to where you need it.
Focal Length Encoding Accuracy
The EXIF data agrees exactly at the marked settings of 17, 20, 28 and 55mm. At a marked setting of 35mm the EXIF data reads 33mm.
I have not correlated the accuracy of the markings to the actual focal lengths.
Recommendations top
Intro Specs Performance Recommendations
Is it worth it? See Is It Worth It.
The 18-55mm II lens does 90% of what this 17-55mm IS lens does, for less than 10% of the cost.
Personally I don't use midrange zooms. I use a wide and a tele and forget about the middle, except for party shots. I prefer lightweight zooms when I do use a midrange zoom.
If you're a full-time pro and use this all day, every day, of course it's worth it.
If you're a student for whom cash is tight, then no, it's absolutely not worth it. You'll make the same images with the 18-55mm II kit lens, and have enough cash left over to go on some great trips to make photos you otherwise wouldn't. For you, the less expensive lens will make much better images.
Some lenses, like the 100mm Macro and 17-40mm, autofocus almost perfectly on all my Canons. Others, like this 17-55mm, miss occasionally. I'd suggest checking this carefully before your return period expires to ensure you're happy, since if you can't get good focus at f/2.8 you miss some of the value of this lens.
I'd prefer the 17-85mm IS, for half the price as the 17-55mm IS, for the longer zoom range. The disadvantages of the 17-85mm are much more distortion, and crammed together zoom settings at the wide end.
Personally, I'd stick with the $100 kit lens and save my money if cost is a concern. I'd rather put limited funds into other lenses, like the 10-22mm EF-S. If cost isn't a concern, this is your lens.
But wait! If you want the best images regardless of cost, with the deep rebates as of December 2006 on the full-frame 5D body, you'd be better off going for a 5D and the 24-105mm f/4 IS (untested yet by me, but same price as this 17-55 IS) or any other midrange zoom, like the 28-135mm IS.
This 17-55mm IS fits a niche for folks with some coin to burn, but not enough cash for a 5D, or those who simply prefer the lighter, faster frame rate cameras like the 20D, 30D and upcoming 40D. Just don't sell the farm for this lens, because it isn't as good as spending the same money stepping up to a 5D.
If you've found my research helpful, this free website's biggest source of support is when you use these links, especially this link to it at Adorama, at Amazon or at Ritz, when you get anything, regardless of the country in which you live. Thank you! Ken.
Help me help you top
I support my growing family through this website, as crazy as it might seem.
The biggest help is when you use any of these links to Adorama, Amazon, eBay, Ritz, J&R and ScanCafe when you get anything, regardless of the country in which you live. It costs you nothing, and is this site's, and thus my family's, biggest source of support. These places have the best prices and service, which is why I've used them since before this website existed. I recommend them all personally.
If you find this page as helpful as a book you might have had to buy or a workshop you may have had to take, feel free to help me continue helping everyone.
If you've gotten your gear through one of my links or helped otherwise, you're family. It's great people like you who allow me to keep adding to this site full-time. Thanks!
If you haven't helped yet, please do, and consider helping me with a gift of $5.00.
As this page is copyrighted and formally registered, it is unlawful to make copies, especially in the form of printouts for personal use. If you wish to make a printout for personal use, you are granted one-time permission only if you PayPal me $5.00 per printout or part thereof. Thank you!
Thanks for reading!
Mr. & Mrs. Ken Rockwell, Ryan and Katie.
Home Donate New Search Gallery Reviews How-To Books Links Workshops About Contact