Home Donate New Search Gallery Reviews How-To Books Links Workshops About Contact
Canon 55-250mm IS
EF-S (2007-2011)
© 2013 KenRockwell.com. All rights reserved.
Intro Specs Performance Recommendations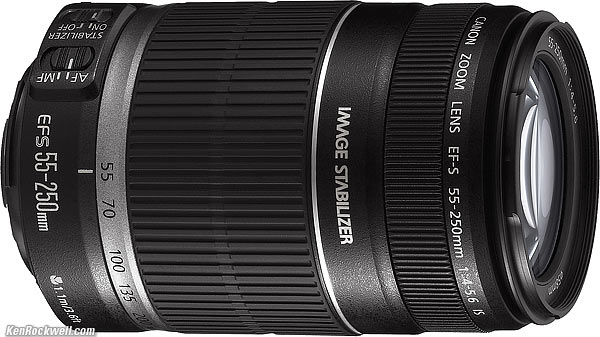 Canon EF-s 55-250mm f/4-5.6 (obsolete, you can get the newest -II version for about $300, works on APS-C cameras only). enlarge.
My biggest source of support for this free website is when you use those or any of these links when you get anything, regardless of the country in which you live. It helps me keep adding to this free website when you get your things through these links — but I receive nothing for my efforts if you buy elsewhere. Thanks for your support! Ken.
November 2013 Canon Reviews Canon Lenses All Reviews
DEAL: Previous model 55-250mm IS, refurbished for $160. Same great optics!
NEW: Replaced by the newer Canon EF-S 55-250mm IS II.
NEWEST: Canon 55-250mm STM.
Introduction top
Intro Specs Performance Recommendations
Canon announced this lens along with the new Canon 40D, on August 20th, 2007. It was the perfect tele zoom for the Rebel XSi, Rebel XTi and budget-minded 40D users.
The Canon 55-250mm EF-s was an inexpensive ($300 - 249 Euros) basic lens which adds image stabilization (IS), which I consider to be mandatory for sharp photos, hand held, at telephoto settings. This is the first Canon tele ever at this price with IS, and it focuses close: 3.6' (1.1m) at all focal lengths.
As an EF-s lens, it will only work on Canon's APS-C cameras. It will not work on 35mm cameras, it will not work on old 1.3x cameras, and it certainly won't work on full-frame digital.
I'm an IS addict, so I think this lens is a great idea for general shooting. I think every basic digital shooter ought to get one of these, especially since it's half the price of the next least expensive Canon 70-300mm IS.
Specifications top
Intro Specs Performance Recommendations
Name
Canon calls this the Canon Zoom Lens EF-S 55-250mm f/4-5.6 IS.
EF: Electronic Focus. All modern Canon lenses focus with a motor in the lens.
-S: Only works on newer, small (1.6x factor) DSLRs, which are the 40D, 30D, 20D, 20Da (astronomical), Digital Rebel XTi, Digital Rebel XT and the original Canon Digital Rebel.
IS: Image Stabilization, which means no tripod needed except at night. See Why IS Matters. Canon claims 4 stops, we'll see.
Focal Length
55-250mm. On the 1.6x cameras for which it is designed, it gives angles of view similar to what a 88-400mm lens would give on a 35mm or full-frame camera. See also Crop Factor.
Optics
12 elements in 10 groups.
A UD glass element to reduce chromatic aberrations (color fringes and halos).
Lead-free glass.
Canon rates the MTF thusly:
Diaphragm
Canon claims circular.
Close Focus
3.6' (1.1m) at all focal lengths.
Maximum Aperture
f/4 - 5.6.
Lens Mount
Appears to be plastic.
Included Accessories
Just caps.
Optional Accessories
ET-60 hood.
LP1019 pouch.
Introduced
August 20, 2007 for ROW, 24 January 2008 for USA.
Price
2008: $280 USA.
2007: $299 USA, 249 Euros.
Performance top
Intro Specs Performance Recommendations
I haven't tried one yet. Prior experience suggests the Canon 55-250mm IS ought to be a winner. I'll let you know when I get my hands on one.
Recommendations top
Intro Specs Performance Recommendations
Get today's newest Canon EF-S 55-250mm IS II instead. This lens is obsolete.
Help me help you top
I support my growing family through this website, as crazy as it might seem.
The biggest help is when you use any of these links when you get anything, regardless of the country in which you live. It costs you nothing, and is this site's, and thus my family's, biggest source of support. These places have the best prices and service, which is why I've used them since before this website existed. I recommend them all personally.
If you find this page as helpful as a book you might have had to buy or a workshop you may have had to take, feel free to help me continue helping everyone.
If you've gotten your gear through one of my links or helped otherwise, you're family. It's great people like you who allow me to keep adding to this site full-time. Thanks!
If you haven't helped yet, please do, and consider helping me with a gift of $5.00.
As this page is copyrighted and formally registered, it is unlawful to make copies, especially in the form of printouts for personal use. If you wish to make a printout for personal use, you are granted one-time permission only if you PayPal me $5.00 per printout or part thereof. Thank you!
Thanks for reading!
Mr. & Mrs. Ken Rockwell, Ryan and Katie.
Home Donate New Search Gallery Reviews How-To Books Links Workshops About Contact