Home Donate New Search Gallery Reviews How-To Books Links Workshops About Contact
Canon 55-250mm STM
EF-S IS (2013-)
Intro Specs Performance Compared Recommendations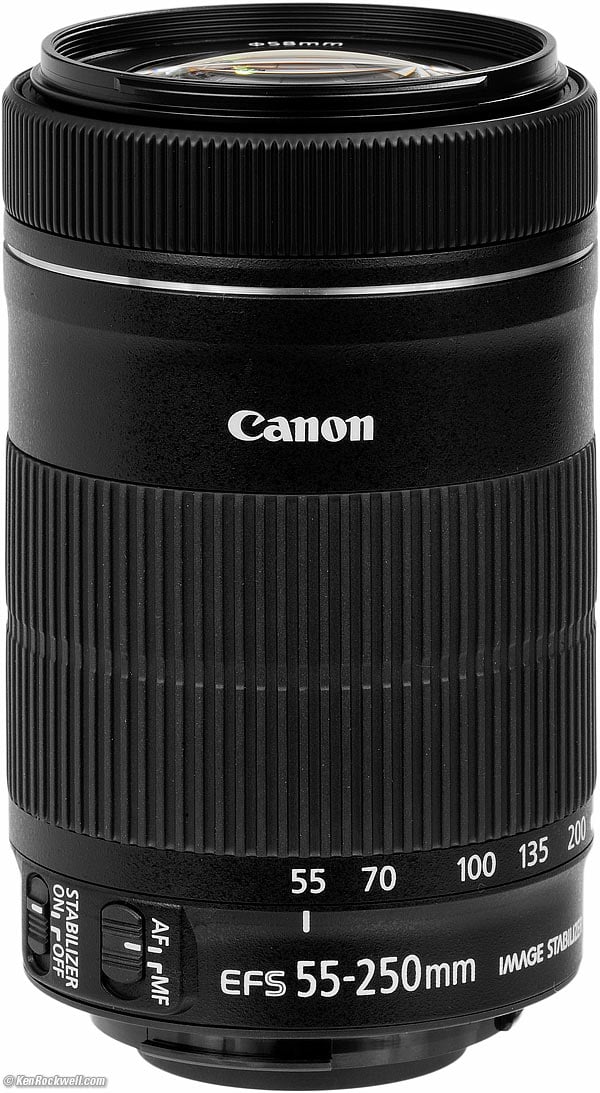 Canon EF-s 55-250mm f/4-5.6 IS STM (58mm filters, 13.3 oz./377g, 2.8'/0.85m close focus, about $349, works on Canon APS-C cameras only). I got mine at at Adorama, and you also can get it at Amazon or at B&H.
My biggest source of support for this free website is when you use those or any of these links when you get anything, regardless of the country in which you live. It helps me keep adding to this free website when you get your things through these links — but I receive nothing for my efforts if you buy elsewhere. Thanks for your support! Ken.
December 2014 Canon Reviews Canon Lenses All Reviews
Introduction top
Intro Specs Performance Compared Recommendations
This Canon 55-250mm IS STM is an inexpensive, lightweight, fast and silent focusing lens that is also very sharp.
The older models of 55-250mm IS and 55-250mm IS II were among Canon's best selling lenses, and this new lens adds instant manual focus override, silent autofocusing and even closer focusing than the older models.
All these Canon 55-250mm lenses super sharp, focus very close, have a perfect telephoto zoom range, has Image Stabilization for sharp hand-held photos in dim light, and are small, light and inexpensive.
You can pay more to get a lens that works better while being rained-on or blasted in a sandstorm while being beaten around by a news photographer, or that works on expensive full-frame cameras, but even if you pay more for something like a 70-200mm f/4 L IS, you'll have a bigger lens to carry around, it won't be any sharper, and it won't have as broad a zoom range, and it won't focus as close. There are many reasons these 55-250s are among Canon's best selling lenses.
The reasons you might want to pay more than twice as much for another lens with a more limited zoom range are if you shoot a 35mm or full-frame camera on which this lens won't work, or if the plastic lens mount isn't tough enough for you. Otherwise, this lens is sharp, light, inexpensive and works great.
Compatibility
As an EF-s lens, it will only work on Canon's APS-C cameras.
It will not work on 35mm cameras, it will not work on old 1.3x cameras, and it certainly won't work on full-frame digital.
Versions
There are a 55-250mm IS and a 55-250mm IS II, which differ from each other only in cosmetics. They used a noisier AF motor and require moving a switch to get back and forth between manual focus.
This newest STM version allows instant manual focus override just by grabbing the ring, focuses silently, and focuses closer.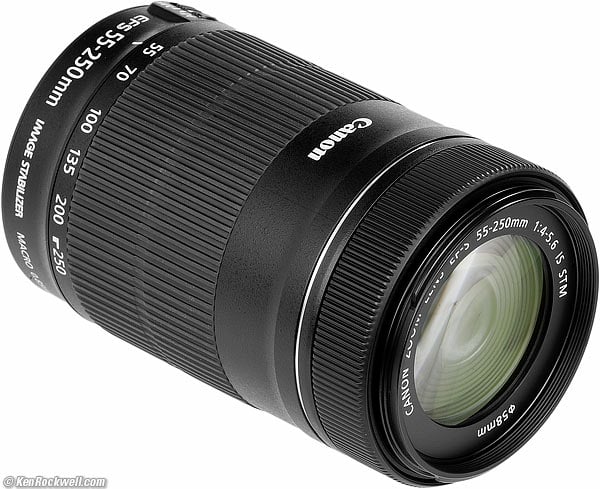 Canon EF-S 55-250mm IS STM. bigger.
Specifications top
Intro Specs Performance Compared Recommendations
Name
Canon calls this the Canon Zoom Lens EF-S 55-250mm f/4-5.6 IS STM.
EF: Electronic Focus. All modern Canon lenses focus with a motor in the lens.
-S: Only works on newer, small (APS-C) DSLRs.
IS: Image Stabilization, which means no tripod needed except at night. See Why IS Matters. Canon claims 3.5 stops.
STM: Stepper (focus) Motor, meaning that AF is fast and silent.
Optics
15 elements in 12 groups.
1 UD glass element to reduce chromatic aberrations (color fringes and halos).
Lead-free glass.
Rear focus.
Pumper zoom; the front extends a lot as zoomed to longer focal lengths, but never rotates with zoom or focus.
Diaphragm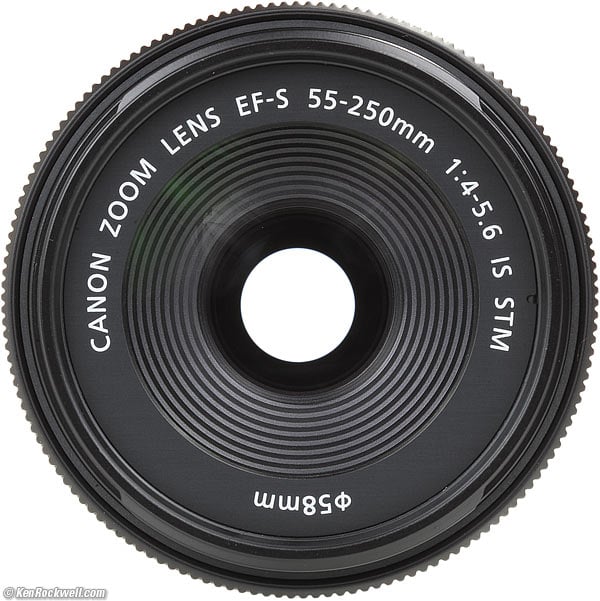 Front, Canon 55-250 IS STM (EF diaphragm not visible).
7 rounded blades.
Stops down to f/22-32.
Optical Image Stabilizer
Rated for up to 3.5 equivalent stops of shake correction.
Close Focus
2.8' (0.85m) at all focal lengths.
Maximum Reproduction Ratio
1:3.4 (0.29x).
Focal Length
55-250mm.
On the APS-C cameras for which it is designed, it gives angles of view similar to what an 88-400mm lens would give on a 35mm or full-frame camera. See also Crop Factor.
Angle of View
27.7º - 6.25º diagonal.
Maximum Aperture
f/4 - 5.6.
Lens Mount
Plastic.
Size
2.8" (70mm) diameter x 4.4" (111.2mm) when set to 55mm.
Gets longer at longer focal length settings.
Weight
13.283 oz. (376.55g) actual measured.
Rated 13.2 oz. (375g).
Included Accessories
Just caps.
Optional Accessories
ET-63 hood.
LP1019 pouch.
Introduced
21 August 2013.
Price, USA
2013 August-November: $349.
2014 December ~ 2016 March: $299.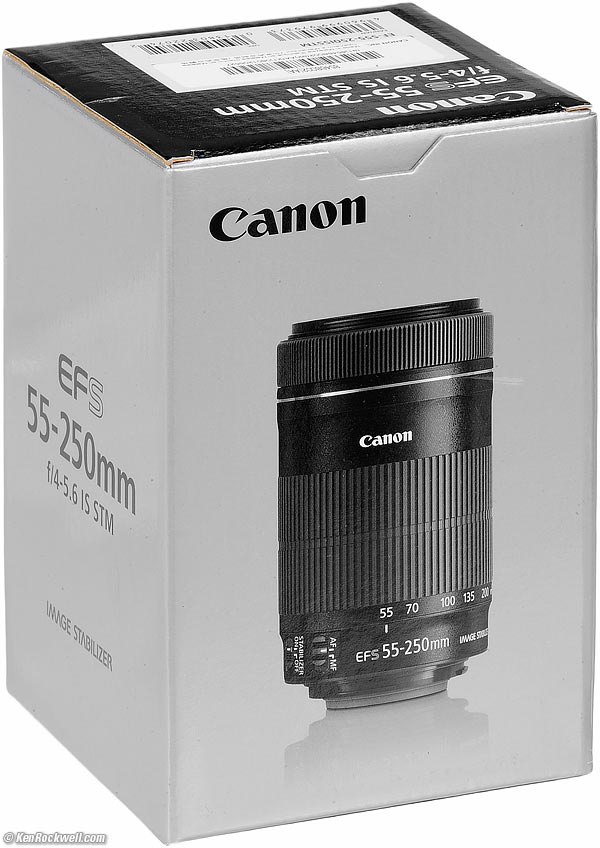 Box, Canon EF-S 55-250mm IS STM.
Performance top
Intro Specs Performance Compared Recommendations
Overall Autofocus Bokeh Breathing Color
Coma Distortion Ergonomics Falloff Filters
Lateral Color Fringes Macro Mechanics Sharpness
Overall performance top
The Canon 55-250mm IS STM is optically superb and handles very well for a mostly plastic lens. The biggest negatives of the previous models were that their focus rings and filter threads rotated during autofocus, and that you had to move a switch for manual-focus override. This new lens fixes all these annoyances.
This is also a kit lens sold with many less expensive Canons, and it's excellent. There is no reason to pay more for a telephoto lens for a Canon APS-C camera.
If you can't get brilliant, sharp and colorful photos with this lens, you're doing something wrong.
Autofocus performance top
Autofocus is fast and silent. By silent, I mean I can't hear it unless I hold my ear closer than a few inches, and I can hear a watch ticking across a room.
With this STM, you can focus in the middle of a concert and no one will notice. (Shooting is another story).
Auto/Manual Switching
Just grab the ring at any time.
The AF/MF switch simply locks out AF in the MF position; MF is always active.
AF Speed
AF is instantaneous at 55mm, and super fast at 250mm.
AF Accuracy and Consistency
I saw no autofocus error.
Manual Focus
Manual focus is 100% electronic focus-by-wire; there is no mechanical connection between the focus ring and the lens' mechanics.
Manual focus is set for precision, not speed. It takes some turning to get focus to move.
Focus while Zooming
Focus is continuously compensated as you zoom, and the camera has to be ON for this to happen.
If you zoom the lens with the camera OFF or asleep, focus won't hold as you zoom. If the camera is awake, focus holds as zoomed because the advanced electronic programs are compensating focus electronically as you turn the mechanical zoom ring.
Bokeh performance top
Bokeh, the quality of out-of-focus areas as opposed to the degree of defocus, is usually pretty good.
For the softest backgrounds, zoom to 250mm, get as close as possible and shoot at f/5.6.
Focus Breathing performance top
Focus breathing (the image changing size as focused) is mostly of interest to cinematographers who don't want the image changing size ("breathing") as the lens is focused among different subjects.
The image from the rear-focusing Canon 55-250mm IS doesn't seem to change as it's focused.
Color Rendition performance top
The color balance of this 55-250 seems the same as my other Canon EF lenses.
Coma performance top
Coma, or saggital coma flare, is when points of light in the corners turn into batwing-shaped blobs. This is often a problem with fast normal or wide lenses.
I see none in this lens; it's super sharp in the corners even wide-open.
Distortion performance top
The Canon 55-250 II has moderate barrel distortion at 55mm, and no visible distortion from 70mm to 200mm.
For more critical use, use these values in Photoshop's Lens Distortion tool to remove the distortion. These aren't facts or specifications, they are the results of my research that requires hours of photography and calculations on the resulting data.
| | | |
| --- | --- | --- |
| | at 10' (3m) | at infinity |
| 55mm | +2.0 | +2.5 |
| 70mm | +1.2 | +1.0 |
| 100mm | ±0.0 | ±0.0 |
| 135mm | -0.5 | -0.5 |
| 200mm | -1.0 | -0.5 |
| 250mm | -1.0 | -1.0 |
© 2013 KenRockwell.com. All rights reserved.
Ergonomics performance top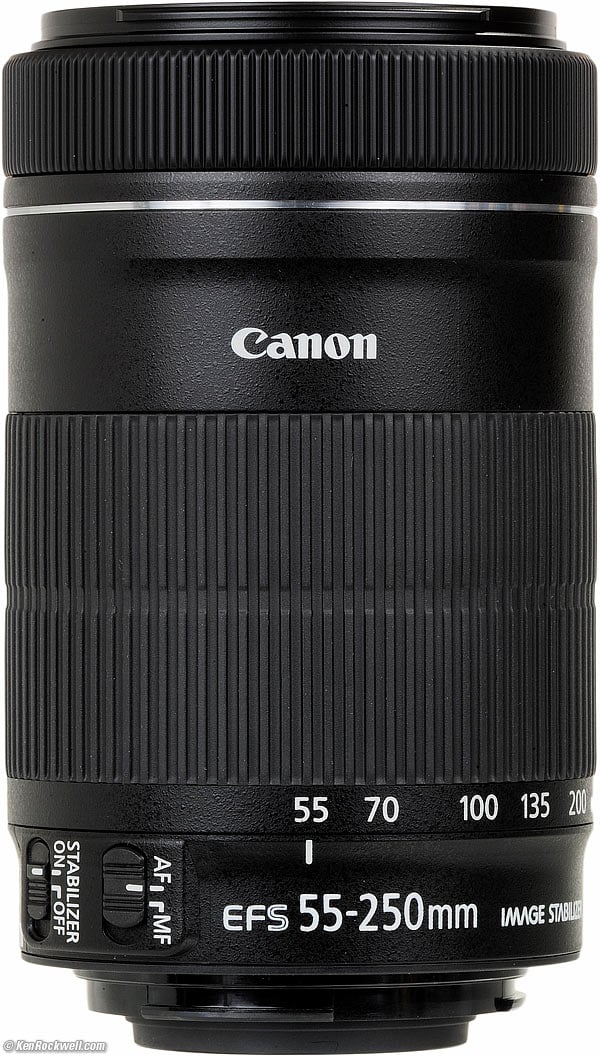 Canon EF-S 55-250mm IS STM.
Ergonomics are swell: most of the lens is the mechanical zoom ring.
Focal lengths are well spaced at about a constant 2 cm/octave.
The AF - MF switch falls right under your thumb, but you don't need it: just turn the ring at any time.
Falloff (darkened corners) performance top
All new Canons since late 2013 have both a lens profile and ability to correct this in-camera, so it's not likely to be an issue.
For users of older cameras, here is the falloff as seen with no corrections, a.k.a. correction for peripheral illumination DISABLED.
Even with no in-camera corrections, falloff isn't visible except wide-open at the long end. If it bothers you with an uncorrected camera, stop down to f/8, and it goes away.
I've greatly exaggerated what little there is by shooting a flat gray target and presenting it against a gray background:
Canon 55-250 IS STM uncorrected falloff
| | | | |
| --- | --- | --- | --- |
| | Wide Open | f/5.6 | f/8 |
| 55mm | | | |
| 100mm | | | |
| 200mm | max. is f/5.6 -> | | |
| 250mm | max. is f/5.6 -> | | |
| | | | |
© 2013 KenRockwell.com. All rights reserved.
Filters, Use with performance top
The plastic 58mm filter threads are big enough that even thick or stacked filters won't cause any vignetting.
Go ahead, use any big, fat thick filter, and you'll still be able to add a second one, too!
It's easy to cross-thread the plastic threads, be careful.
Canon could have used a much smaller thread, but used 58mm for compatibility with other lenses so you don't need to duplicate your filters in different sizes. Therefore, even with several stacked filters you won't get any vignetting.
Lateral Color Fringes performance top
Today's Canon cameras can correct for any that might be here with a lens profile.
Even with older cameras that have no lens profile, I saw no lateral color fringes except for the slightest green-magenta fringes at the 250mm end.
Macro performance top
The 55-250 gets so close that I doubt you'll ever need a dedicated macro lens: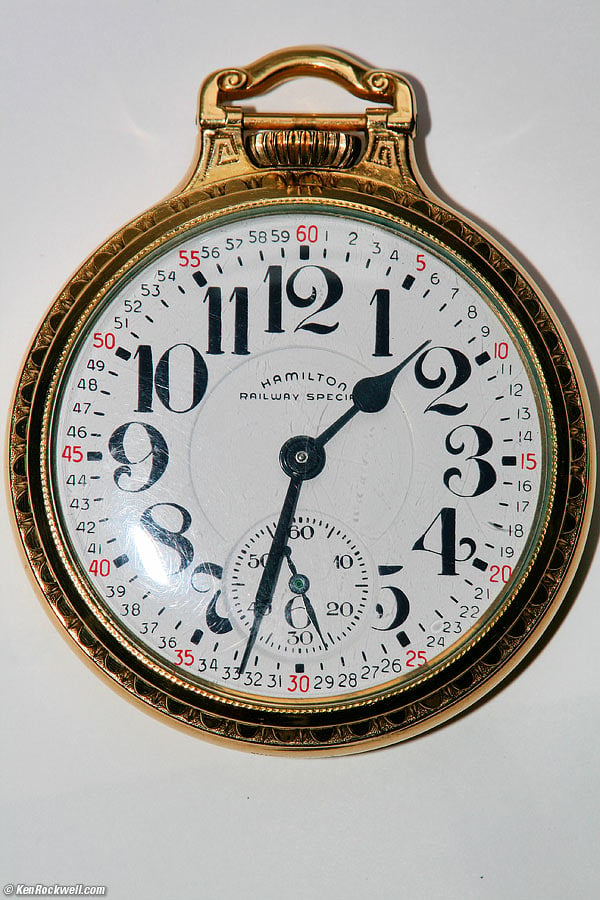 Hamilton 992B Railroad Special pocket watch (size 16) at close-focus distance at 250mm at f/11.
It's super-sharp; here's a crop from the 8MP image at 100%: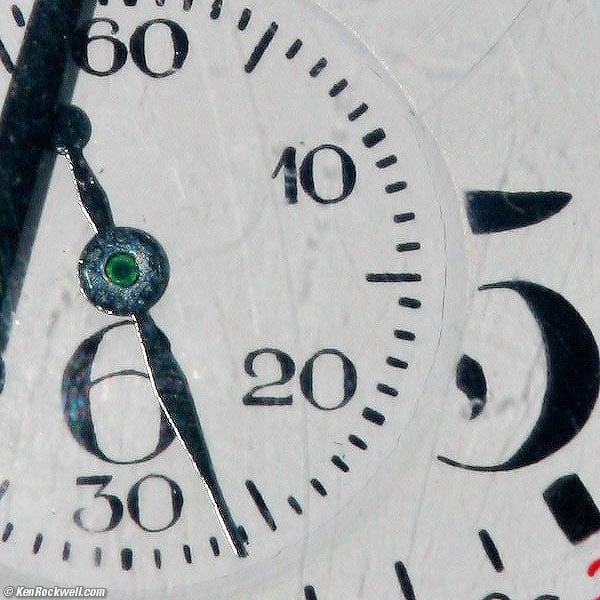 Crop from above image at 100%, shot at f/11. If this is 6" (15cm) wide on your screen, the full image would print at 40 x 25" (100 x 60 cm)!
The sparkles aren't noise; they are the texture of the watch hands, crystal and face!
Mechanics performance top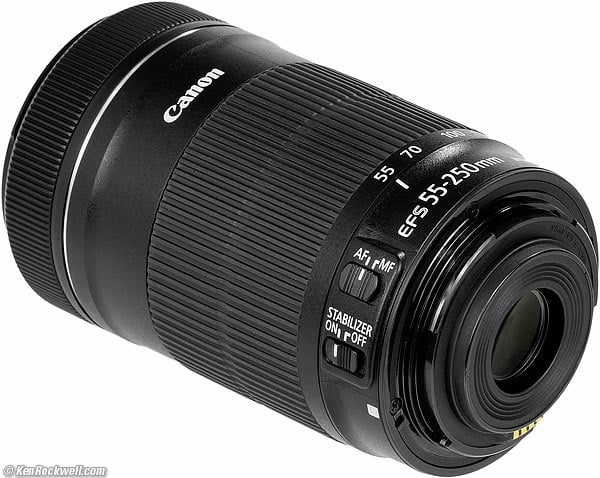 Rear, Canon 55-250 STM. enlarge.
The Canon 55-250 IS is all plastic, except for electrical connections and the glass.
Filter Threads
Plastic.
Hood Bayonet Mount
Plastic.
Identity Ring
Painted on front plastic ring.
Focus Ring
Ribbed plastic.
Zoom Ring
Ribbed rubber over plastic.
Barrel
Plastic.
Moisture seal at mount
No.
Mount
Plastic.
Mounting Index
Painted white square.
Markings
Paint.
Serial Number
Laser engraved into the bottom of the black plastic lens barrel near the mount.
Date Code
None found.
Noises When Shaken
Very mild rattling.
Made in
Malaysia.
Sharpness performance top
Image sharpness depends more on you than your lens, and lens sharpness doesn't mean much to good photographers. It's the least skilled hobbyists who waste the most time blaming fuzzy pictures on their lenses, while real shooters know that few photos ever use all the sharpness of which their lenses are capable due to subject motion and the fact that real subjects are rarely perfectly flat.
This said, this Canon 55-250 is just about perfect. The only way to get anything other than a sharp picture is to have it out of perfect focus, shoot at f/11 or smaller where diffraction softens the image, shoot at higher ISOs where camera noise reduction softens images, or let the camera or subject move.
Hey, sorry to spare you endless boring charts, but with a lens this good, there's nothing to show other than sharp pictures under all conditions — unless you do something stupid.
The biggest detriment to sharpness will be a lack of proper vision and technique, never this lens. I bought mine directly from Adorama. I can't vouch for anything if you buy from a local store or chain where you never really know who's opened and played with your lens before you buy it. I never buy retail; too many risks, so why pay more?
There is no difference in sharpness at any focal length as you stop down to f/11 in any part of the image; it's super sharp all over at every setting.
This 55-250mm lens is just about perfect.
Canon's specified MTF curves:
Image Stabilization performance top
Canon claims 3.5 stops improvement.
I didn't test that specifically, but I do know that the image always locked-down solid in the finder. I've never heard anyone complain about Canon's IS system.
Compared top
Intro Specs Performance Compared Recommendations
Anni

2013-

2011-

2007-2011

2006-

Lens Mount

plastic

plastic

plastic

metal

Works on
Filter thread

58mm plastic

58mm plastic

58mm plastic

67mm metal

Length at 55mm

4.4"

111.2mm

4.3"

108mm

4.3"

108mm

Close focus

2.8'

0.85m

3.6'

1.1m

3.6'

1.1m

Maximum aperture

f/4-5.6

f/4-5.6

f/4-5.6

f/4

Optics

15/12, 1 UD

12/10, 1 UD

12/10, 1 UD

20/15, 1 UD, 1 fluorite

Weight

13.3 oz.

377g

13.8 oz.

391g

13.8 oz.

391g

26.7 oz.

756 g

Price, 11/2013
Price, 12/2014

n/a

Price, 03/2016

n/a
Recommendations top
Intro Specs Performance Compared Recommendations
This inexpensive Canon 55-250mm IS STM offers exceptional optics in an inexpensive package with a greatly improved autofocus system from earlier versions.
The 55-250 STM is perfect for school and family sports shooting.
If you're on a budget, the older model 55-250mm IS is available refurbished for $160. Photos will be just as good, but the AF and manual focus systems aren't as elegant.
Even if IS is a mystery to you, the fact that this lens focuses so closely is another reason I can suggest it so strongly. Canon makes no junk, and hey, if you break the plastic mount and if Canon won't fix it under warranty (try first), you can buy another and still be out far less money than I paid for my one 70-200mm f/4 IS L.
© Ken Rockwell. All rights reserved. Tous droits réservés. Alle Rechte vorbehalten.
Help me help you top
I support my growing family through this website, as crazy as it might seem.
The biggest help is when you use any of these links when you get anything, regardless of the country in which you live. It costs you nothing, and is this site's, and thus my family's, biggest source of support. These places have the best prices and service, which is why I've used them since before this website existed. I recommend them all personally.
If you find this page as helpful as a book you might have had to buy or a workshop you may have had to take, feel free to help me continue helping everyone.
If you've gotten your gear through one of my links or helped otherwise, you're family. It's great people like you who allow me to keep adding to this site full-time. Thanks!
If you haven't helped yet, please do, and consider helping me with a gift of $5.00.
As this page is copyrighted and formally registered, it is unlawful to make copies, especially in the form of printouts for personal use. If you wish to make a printout for personal use, you are granted one-time permission only if you PayPal me $5.00 per printout or part thereof. Thank you!
Thanks for reading!
Mr. & Mrs. Ken Rockwell, Ryan and Katie.
Home Donate New Search Gallery Reviews How-To Books Links Workshops About Contact