July 2007 Daily News
all © 2007 KenRockwell.com


I get my goodies at Ritz, Amazon, Adorama. It helps me
keep adding to this site when you get yours from those links, too.
New Baby Ryan Rockwell. Cute photos with tech data.
31 July 2007, Tuesday
NEW: Canon 70-300mm DO IS Review.
NEW: Fuji Velvia 50 Review. Film is back, and I still need to do more shooting with it to complete the review. There's not that much new in the review other than what you've read earlier on this page; more coming as I get to shoot more Velvia 50.
Observation: I see that Ritz has the Nikon P4 on sale for $179.99. I don't know anything other than it's got VR, 8MP, a 3.5x zoom, a 2.5" screen and that it used to sell for $399 when it was announced in February 2006. Good luck if this is for you.
30 July 2007, Monday
Observation: I just made my 20,000th shot on my Canon 5D in the course of reviewing the IS performance of the Canon 70-300mm DO IS (look for the review later this week)
NEW: French Translation of Infrared Photography.
27July 2007, Friday
Addition: I added a link to Wilson Tsoi's world-class work created with an obsolete $200 Canon A620. It's never about the camera, it's always about your own ability.
NEW: Hungarian Translation of How to Make Great Photos in Crappy Locations.
Addition: I added sections on Fisheye Conversion Quality and Raw Files to my article on DxO Lens Correction Software.
News: Leica offers a free update to v1.3 firmware for the LEICA DIGITAL MODUL-R. It optimizes the coloring on the Digital Modul-R display screen, enhances exposure adjustment and improves compatibility with 4GB SD cards. It also increases general image reproduction and functional features. (Leica's words.) More here.
26 July 2007, Thursday
NEW: Canon 28mm f/1.8 Review.
23 July 2007, Monday
NEW: Artistic Synthesis. Forgive me if these articles aren't about technology, but they are far more important than camera reviews. It took me 15 years to realize this in about 1989, which is why I offer these articles. Up until about 1989 I made mostly crap, and since about then I've been making decent photos. I remember how some students at a Clinton Smith workshop I crashed in Mono Lake were giving looks like "What? I paid to come to a workshop about what lens to use, not this baloney!" while Clinton Smith spoke volumes of genius about photography far more important than what lens to use. If I lose you in these articles, do try to get them or ask for clarification, because they are the way to great pictures, not a new camera.
Re-Write: I re-wrote Photography is not a Spectator Sport since it was bugging me all weekend that it didn't say anything helpful as I intended. It's 70% new material as of this morning.
Observation: Want to see what a real professional's camera looks like? See my friend humanitarian photojournalist Karl Grobl's thrashed Canon 1D Mk II at his new article on camera straps. I think Karl's trying to save weight by wearing off the paint, and as I said in Photography is not a Spectator Sport, you have to get out there to get pictures. Here's Karl's Drop Test of his 1D Mk II, where you can see even better how a pro camera really looks.
21 July 2007, Saturday
Addition: I added numbers for compact cameras to Calculating Angle of View.
20 July 2007, Friday
NEW: Canon SD850 Review.
NEW: Dutch Translation of Photography is not a Spectator Sport.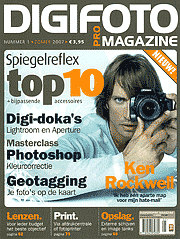 Digifoto Pro Magazine
Interview: Here's the online version of my interview with Digifoto magazine. Since I can't read Dutch, I still have no idea what I said. Whoops - I just realized every Mac computer can translate this for free with a standard program called Sherlock. Done!
18 July 2007, Wednesday
NEW: Photography is not a Spectator Sport.
NEW: Making Photos that Stand Out.
For those of you who want to read about gear, I just got a Canon SD850 on which I'll be reporting as soon as I can get its battery charged.
17 July 2007, Tuesday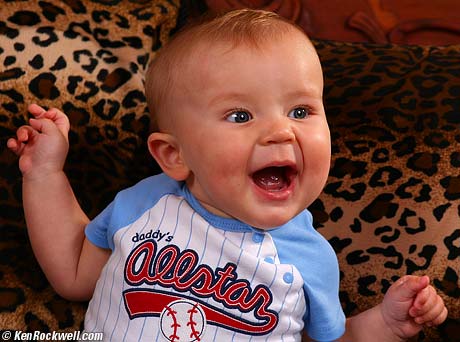 Yay! Daddy finally set up his studio strobes!
NEW: Hungarian Translation of What is Photography?
NEW: German Translation of The Importance of Timing.
Conjecture: Latest Nikon D3X sightings.
Observation: Canon's excellent A550 camera is now selling for only about $135, the best buy in photography.
16 July 2007, Monday
Canon's Instant Spring Rebates end today. There are no forms to mail in; the price you pay is pre-discounted: the dealer deals with the paperwork for us. It's the same as being on sale, with the sale ending today and the prices go back up Tuesday.
$25 off:
28mm f/1.8 (probably much better and less expensive than the 30mm Sigma)
50mm f/1.4
60mm f/2.8 macro
$50 off:
17-40mm f/4L (a bargain; I bought my own last year)
17-55mm f/2.8 IS
70-200mm f/4L
$75 off:
24-70mm f/2.8L
70-200mm f/4L IS (I just ordered one for myself thanks to this rebate)
70-300mm DO IS
180mm f/3.5 macro
400mm f/5.6L
$100 off:
85mm f/1.2L II (The sharpest ultra-speed lens I've ever used)
70-200mm f/2.8L IS (Canon's best pro tele zoom, every pro seems to own one.)
100-400mm L IS (A favorite of nature and safari photographers.)
Discovery: I found the Canon Museum online. They've got pictures and specs of everything they've ever made. For instance, I had no idea that my Canonet G-III 17 QL stood for the "Grade Up" version of the third generation of Canonet.
NEW: Hungarian Translation of of Why Pros Share Everything They Know, now in twenty languages.
15 July 2007, Sunday
NEW: Canon 85mm f/1.8. This is a near perfect lens.
14 July 2007, Saturday (le quatorze juillet)
NEW: Canon 70-210mm f/4. I just got one of Canon's very first AF zoom lenses from 1988. It works great on the newest digital cameras, if you can live without Image Stabilization.
Friday the 13 of July, 2007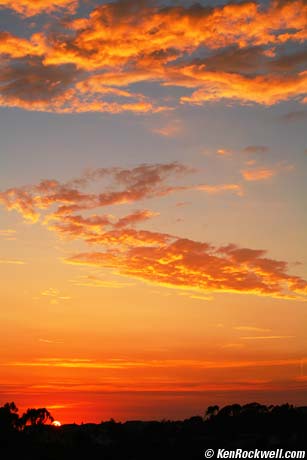 Sunset, 10 minutes ago. (5D, 70-210mm)
Good Luck: Velvia's back! Here's a crappy scan of three 120 format strips. I shot these in the same camera with different backs. I laid the three strips of film, still in their sleeves, on my Epson 4990 scanner to try to show what's the same and and what's different. (I've had Chrome process all my Velvia since 1989; they also do mail order.)
My biggest concern is warm yellows, my favorite color, which were uniquely rendered by traditional Velvia. Warm yellow means yellow with some red in it. A warm yellow hibiscus bloomed at my house, seen here under overcast light with an 81B glass filter to fix white balance.
This is a bad scan, but it shows what little it can to show you what I see on the light table: new Velvia 50's yellows match traditional Velvia. Other films, like Velvia 100 below, render yellows too coolly, even if they may be more accurate.

Velvia, Velvia 50 and Velvia 100 Compared.
(Made with my Horseman SW-612P interchangeble-back, medium format panoramic camera and 90mm f/6.8 Rodenstock Grandagon, 81B filter, f/8 @ 1/30 [f/11 for Velvia 100] in windy, overcast conditions.)
On the light table, the new and old Velvias have the same warm yellow, while Velvia 100 has a cooler yellow. The warmer yellow is why I love traditional Velvia. The old and new Velvia 50 seem identical, within the limits of my ability to swap out magazines as clouds blew around. Also my original Velvia is past-dated, and it tends to go magenta with age. I think I'm seeing a little bit of that here - on my light table what doesn't match is more magenta cast in my old Velvia. I remember 1989 when Velvia first came out: it tended towards green until Fuji really dialed it in.
Don't spend any more time trying to analyze these images other than to note that the warm yellows match and that Velvia 100 is cooler. If you look too hard; you'll be seeing artifacts of my scanning, not what's really on the film in front of me.
dMax also looks identical on my first test rolls. New Velvia 50 has the same inky, vivid blacks as traditional Velvia. This makes it pop on a light table and projected, and also makes it better than many consumer scanners. Velvia 100 has a weaker (less dark) dMax than either of Velvia or Velvia 50.
I of course am shooting more, and my first and most critical tests have passed with flying colors! (pun not intended, but I'll take credit for it anyway.)
News: DxO Optics Pro v4.5 is out, also the profiles for the Nikon 18-200mm VR have been updated and are available for the Nikon D40 and other cameras. What's significant is that it was trivial to update (free) the software and the profiles; much better than the multi-click and hide-and-seek upgrade process for Lightroom 1.1.
Observation: I ran a roll of Velvia through my $5 Olympus Trip 35, and the exposures are remarkably right on. Not bad for a 30 year old batteryless auto exposure camera.
12 July 2007, Thursday
News: I looked at my direct comparisons between Velvia, Velvia 50, and Velvia 100, and the new Velvia 50 appears to be exactly like the original! (Velvia (RVP) without the "50" is the original, Velvia 50 (RVP 50) is the new stuff not quite at stores yet.)
I used a medium format camera with interchangeable backs so I could make the same shot in the same camera at the same settings with different films. If you're nice and if I can find my film templates for my scanner I'll try to do some gang-scanning to show you.
Of course I need to shoot much more, but my first direct comparison shows new and old Velvia looking the same, especially on critical yellows. No other film does what Velvia and Velvia 50 do, which is to make warm colors warmer while leaving other colors alone. I love warm yellows, and Velvia and Velvia 50 make yellows look warm and wonderful. Other films, including Velvia 100, render yellows too cool for my taste, even if they are more accurate.
Velvia and Velvia 50 add warmth to warm colors, while leaving greens and blues alone. This is what gives Velvia its magic look which has made Velvia the world standard for landscape and nature photography for almost two decades.
Thankfully for those whose Velvia stockpiles have run dry, Velvia 50 looks perfect. My real photographer friends, like Alethea Steingisser, are still out backpacking with their Pentax 67s and Velvia. The way I get the colors on most of what you see at my Gallery are because it was shot on Velvia, even if I'm lazy today and shoot too much on digital.
Observation: I made my 15,000th shot today on my Canon SD700.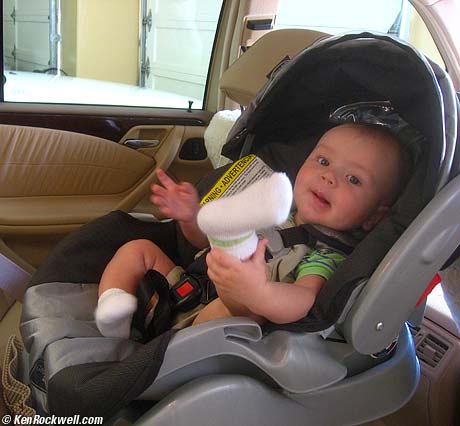 Shot number 15,000 from my Canon SD700.
NEW: Afrikaans Translation of of Why Pros Share Everything They Know, now in nineteen languages.
11 July 2007, Wednesday
News: I was interviewed by the Dutch photo magazine DigiFoto in their current issue. I haven't seen a copy yet.
It's dull here in coastal San Diego, so I'll need to wait for some super-clear days (so the light doesn't change from shot to shot) to compare new Velvia 50 to original Velvia. Lab tests don't count - I shoot outdoors in natural light.
NEW: Ukrainian translation and Indonesian translation of of Why Pros Share Everything They Know, now in eighteen languages. Tell that to the snotty old-timer who still keeps secrets. Secretive guys usually have little to share.
Note: Canon's Instant Spring Rebates expire on Monday, the 16th.
09 July 2007, Monday
New Velvia 50 sitting on top of classic Velvia.
Big News: I have my first samples of new Fuji Velvia 50. I got my free samples at Chrome's Fuji Film day, running through 3PM today in San Diego. Get there and get some samples yourself.
The new Velvia 50 film, which I'll test and hopefully confirm, is supposed to be an exact replacement for the original Velvia.
The way to tell the difference is simple, yet subtle. Velvia (classic) is called simply "Velvia" and coded "RVP." The new Velvia 50 is called "Velvia 50" and "RVP 50." The difference is that original Velvia only came at ISO 50, so "50" is not part of its name or letter code. "50" means the new stuff, no number means the original.
The new boxes say "Velvia 50" in gold ink, while the original boxes said "Velvia" in hot-stamped shiny gold foil (which looks black on my flatbed scan since the light reflected away from it).
Today the Velvia line is:
Velvia (RVP): ISO 50, made 1989 - 2006 (no longer available new). I keep a strategic reserve in my freezer. This is the classic film which has been the standard for landscape photography for a decade or two.
Velvia 100F (RVP 100F): A duller and less warm copy of Velvia with improved speed, grain, reciprocity and archival properties. It's much better for skin, but that's because it doesn't add red to yellows and oranges as Velvia does. This added warmth to warm colors is a technical inaccuracy which gives original Velvia its wonderful look, and was accidentally "fixed" in Velvia 100F. Since Velvia 100F renders yellows more coolly than Velvia, it doesn't replace Velvia. Photography is all about color and tone, not about grain or resolution.
Velvia 100 (RVP 100): This is the good stuff the Japanese held back for themselves for a few years. It's as vivid as Velvia, faster and finer grained and much better for skin. It's better for skin because it doesn't turn warm colors redder as Velvia does, which is why Velvia 100 still doesn't look as good as Velvia for landscapes and still doesn't replace original Velvia.
Velvia 50 (RVP 50): This is today's reintroduction of the original Velvia. It is claimed to have the same look, which to me means those delicious overly warm yellows. Velvia makes warm evening and daybreak sunlight on rocks warmer (better) while leaving the greens and blues alone. You can't replace this effect with a glass filter, but you can simulate it from the other films in Photoshop for printing.
Give me a few days to compare original and new in the same camera with two different medium format backs.
Here's why Velvia was discontinued: Velvia was the last of Fuji's films of the 1980s to use a certain kind of plastic base, the actual "film" on which the chemicals are coated. All Fuji's newer films the past 15 years have used a different, newer plastic base.
When Fuji heard the outcry for the original Velvia, they did the right thing and went back and redesigned the original coatings to work with the new base. As I hear it, the only thing that's changed with Velvia 50 is the plastic backing, not the coatings other than what modifications were needed to get them to stick to the different base.
NEW: Olympus Trip 35. I compare this 30 year old camera I found in a thrift store for $5 to my Canon 5D, heh heh.
07 July 2007, Saturday 7/7/7
NEW: Canon 24-105mm f/4L IS.
Today is most of the world's millennial day of good luck. It only comes once every hundred years. Back in 2005 I considered waiting to get married for today, since it would ensure a lifetime of eternal happiness, but the wife wanted sooner.
NEW: Portuguese Translation of Why Pros Share Everything They Know. We're up to sixteen languages!
Guessing: Nikon's 90th anniversary is 29 July, so maybe it will be time for the D3X or D300? I want a full frame Nikon for super-super wide lenses.
06 July 2007, Friday
NEW: Calculating Angle of View.
NEW: Dutch Translation of Why Pros Share Everything They Know. We're up to fifteen languages for this, too.
05 July 2007, Thursday
NEW: Ukrainian Translation of The Seven Levels of Photographers. We're up to fifteen languages.
News: The U.S. subsidiary of Casio Computer Co., Ltd. announced today that, as of August 1st , they will change their name from Casio, Inc. to Casio America, Inc.
03 July 2007, Tuesday
Observation: I love film! I got back my first roll of Fuji Provia 100 (expired in 2001) from the corroded 17-year-old Nikonos given to me by Daniel, a reader. Dennis at Chrome said "Still shooting film?" as I dropped it off. I picked it up today, and wow! I keep forgetting how great film, even Provia as opposed to Velvia, looks.
I got 37 perfectly exposed, perfectly focused slides from my roll of Provia that expired before the popular digital era began. I have a fridge full of good film, but use the old rolls to see if cameras work.
I talk about digital because more people use it and ask about it because it's so much faster than film. For great results, film still gives my favorite colors. A chrome on a light table makes deep reds, vivid shadows and brilliant highlights that simply don't come from a computer screen or print on paper. Slide film has a dMax of about 3.5, or a 3,000:1 display contrast ratio, or about 12 bits. Velvia has about three times as much (dMax ~ 4.0).
Film and film gear is practically free today. Have you priced a Nikon F100, F5 or FE recently? If you really want quality, go get a steal on a Yashica or Rolliflex TLR or of course a Hasselblad. 4x5" gear, the pinnacle of quality, is also less expensive than buying a new D2Xs or 5D.
For most amateurs, if you're willing to put in the considerable effort of processing film, buy a film camera, pay for film and scanning (now 29¢ a scan at Costco or 65¢ at Chrome), and it still costs less than a DSLR. Not as much instantaneous fun, but more lasting results, especially if you step up to larger film formats. As I said years ago here, if you bought a $5,000 Nikon D1H as I did, today you'd find its state-of-the-art 3MP images almost useless and wish they had been shot on film.
Fuji's new original Velvia is coming and I may get a sample at the end of the week. Whoo hoo!!!!
Observation: See Rob Galbraith for some explicitly good information about the Canon 1D Mk III. He also has more here.
02 July 2007, Monday
News: Version 1.1 of Lightroom is available.
Observation: Pogue's Review of the iPhone seems to sum it all up very well if you're as curious as I am. Apparently, the iPhone only does internet well if you're on WiFi since the AT&T EDGE network stinks, and even if it didn't I the iPhone cannot be used to get my laptop on the internet, so for me I may as well bring my laptop with its larger screen and real keyboard as always to accomplish anything. I'm a heavy Internet user and creator.
What Was New in:
2006 November - December (includes birth of Ryan Rockwell)
2006 October - November (includes photos from a trip to NY)
Caveat: The ads below come from a third party and I don't see or approve them. They are sent to your screen directly from a third party. They don't come from me or my site. See more at my Buying Advice page. Personally I get my goodies at Ritz, Amazon and Adorama.