USE ON FILM CAMERAS back to Performance or back to Introduction.
It works perfectly. Practical digital SLRs were still ten years in the future when this lens was introduced.
USE WITH FILTERS back to Performance or back to Introduction.
Like almost all telephoto lenses, filter thickness doesn't cause vignetting at any setting.
FLARE AND GHOSTS back to Performance or back to Introduction.
It's pretty good. I only see ghosts if I 1.) shoot into light sources, and 2.) leave a black foreground to highlight the ghost, and 3.) overexpose to bring up the ghost.
Ghosts will materialize and evaporate as you zoom in and out. You'll see the ghosts in your finder as you compose, so if you are bothered by one, change the zoom setting.
| | |
| --- | --- |
| | |
| At 210mm at f/8, full-frame 5D | The same, 2-1/3 stops overexposed. |
This is a swell lens for shooting into the light or for sunsets. The image on the left shows natural God beams, not a lens artifact.
MACRO back to Performance or back to Introduction.
Macro performance is decent. Optics are fine, and autofocus is accurate.
These examples are from my full-frame Canon 5D. A 1.6x camera like the 30D or Rebel would get 1.6x closer (see crop factor).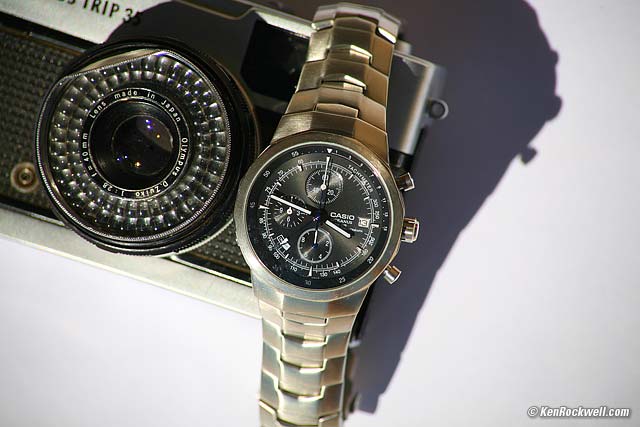 at closest focus (3.9') at 210mm, full image. (note tender care taken with my Olympus)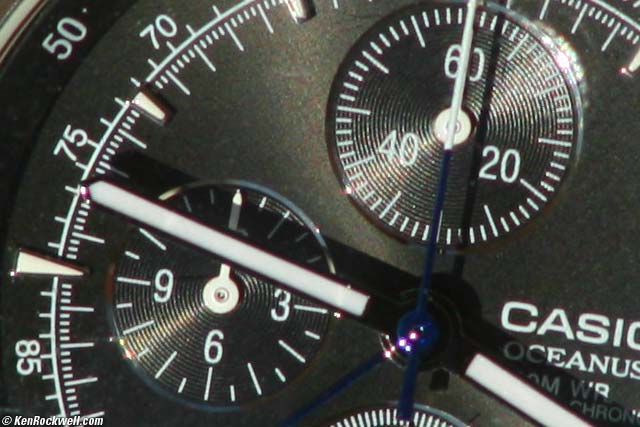 100% crop from above, no extra sharpening.
Since I shot against white, I can see some falloff in the full-frame image. The biggest distraction from image quality is hand jitter since there is no image stabilization. This shot is at f/8 at 1/640, and at this magnification (100%, or a 44" [110cm] wide print) about a third of the shots were blurry from hand motion.
Also note the paper-thin depth of field as every other macro shot. The watch face is in focus, but the hands are not.
back to Performance or back to Introduction.
My 5D chooses faster shutter speeds and larger apertures as I zoom to longer focal lengths. It does this to counteract hand tremor.
SERIAL NUMBER and DATE CODE back to Performance or back to Introduction.
The serial number is engraved into the outside of the plastic barrel, on the bottom near the lens mount flange. It is filled with white paint, making it extremely legible and difficult to remove or alter.
The date code is stamped on the back of the lens in gray ink. Mine reads UC1204, meaning it was made in December 1988. (See Canon Date Codes.)
1988 Canon EF 70-210mm f/4 Date Code.
UC1204: The C means 1988 and 12 is December.
SHARPNESS back to Performance or back to Introduction.
In actual use I see no difference between this old soldier and my brand-new $1,000 Canon 70-200mm f/4 L IS. On test charts the difference is dramatic wide open and in the corners, but not in the middle of the image at normal apertures where we actually use these lenses.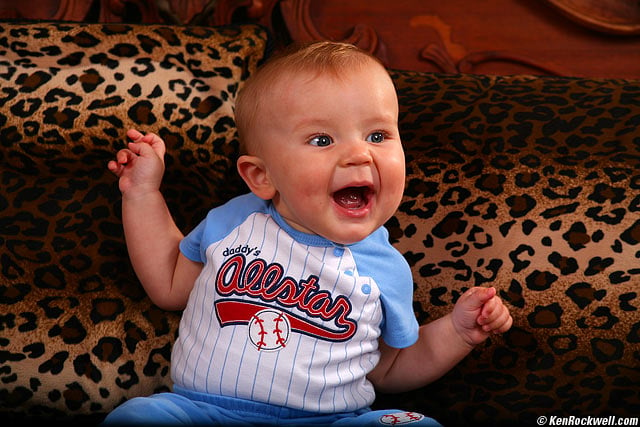 Canon 70-210mm at 120mm and F/8, Canon 5D, ISO 50, full image.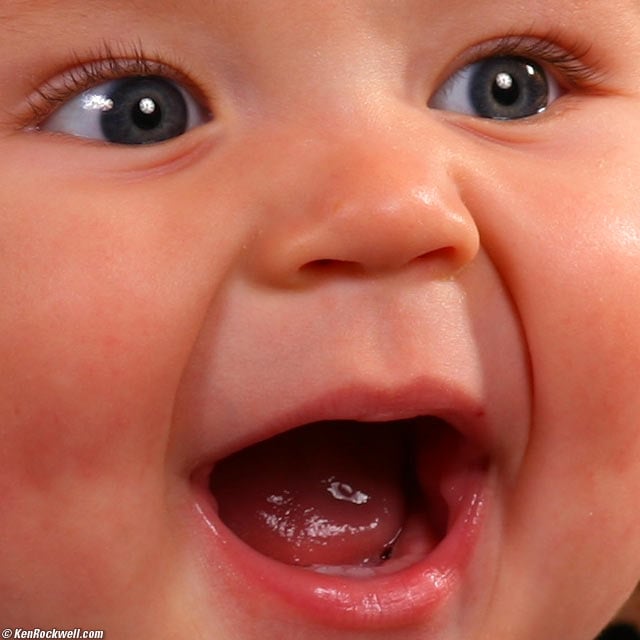 Crop from 100% image, no additional sharpening. Full image would be 44" (110cm) wide at this magnification.
The Canon 70-210mm f/4, like most decent lenses, is sharper than the abilities of most digital cameras. It's trivial to count eyelashes on my 7-month-old baby, and see which umbrellas I used to light him.
Sharpness is great from 70 - 135mm at every aperture. 90% of your image is within the region I call "center" in my table below.
It gets a bit softer at 210mm wide open, as expected. My sample gets very soft at 210mm on the left side.
So long as you stop down a stop or two, your technique, especially hand-holding and shutter release technique, will be your biggest barrier to sharp photos. I have a page on How to Get Sharp Photos.
Here are my observations. Letters correspond to center - side - corner, or center - corner. Possible ratings are E - VG - G - F - P. These are subjective. Don't fret over differences between adjacent grades.
Sharpness on Full Frame 5D:
| | | | | |
| --- | --- | --- | --- | --- |
| | f/4 | f/5.6 | f/8 | f/11 |
| 70 mm | E - F - P | E - F - P | E - G - F | E - E - VG |
| 100mm | E - G - F | E - E - E | E - E - E | E - E - E |
| 135mm | E - E - VG | E - E - VG | E - E - VG | E - E - E |
| 210mm* | F - F - F | VG - VG - G | VG - VG - G | VG - VG - G |
* Rated on the left side; my sample was poor on the right side.
Sharpness on 1.3x 1D Mk II: (center - corner)
| | | | | |
| --- | --- | --- | --- | --- |
| | f/4 | f/5.6 | f/8 | f/11 |
| 70 mm | E - F | E - F | E - G | E - E |
| 100mm | E - G | E - E | E - E | E - E |
| 135mm | E - E | E - E | E - E | E - E |
| 210mm* | F - F | VG - VG | VG - VG | VG - VG |
Sharpness on 1.6x Rebel XTi: (anyplace in frame, predicted. My sample's focus offset limited the sharpness I got. )
| | | | | |
| --- | --- | --- | --- | --- |
| | f/4 | f/5.6 | f/8 | f/11 |
| 70 mm | E | E | E | E |
| 100mm | E | E | E | E |
| 135mm | E | E | E | E |
| 210mm* | F | VG | VG | VG |
Diffraction is usually the sharpness-limiting factor for all lenses, especially digital SLRs, at about f/11 and above. See also How Sharpness Varies with Aperture.
SUNSTARS back to Performance or back to Introduction.
The Canon 70-210mm rarely adds much in the way of starpoints to bright specular highlights. I really had to push it.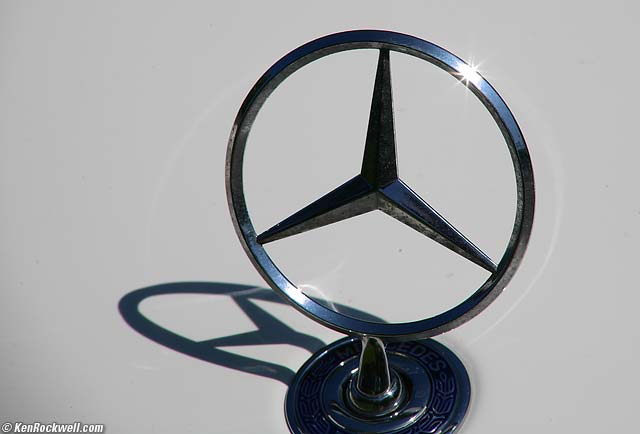 Sunstar on The Star, 210mm at f/16.
The shine of the sun off the metal was quite blinding in person. It's next to impossible to get this effect with this lens. I found the maximum at f/16; it dissipated at larger apertures.
back to Performance or back to Introduction.
The Canon 70-210mm f/4 has NO image stabilization. For curiosity's sake I measured the slowest speeds at which I could hand hold it. Read Why IS is Important to understand what these ratings mean.
There is no IS, making use of the longer focal lengths iffy in anything but the best light.
This chart lists the percentage of perfectly sharp shots I get hand holding. Perfectly sharp means perfectly sharp at 100%. For normal use, you can get away with much slower speeds.
| | | | | | | | |
| --- | --- | --- | --- | --- | --- | --- | --- |
| | 1/8 | 1/15 | 1/30 | 1/60 | 1/125 | 1/250 | 1/500 |
| 70mm | 0 | 2 | 40 | 72 | 100 | 100 | 100 |
| 100mm | 0 | 0 | 33 | 58 | 88 | 100 | 100 |
| 135mm | 0 | 0 | 20 | 40 | 70 | 100 | 100 |
| 200mm | 0 | 0 | 5 | 20 | 50 | 88 | 100 |
Now let's chart the slowest speed to get 50% sharp shots at each focal length.
| | |
| --- | --- |
| | Slowest speed for 50% perfectly sharp shots |
| 70mm | 1/40 |
| 100mm | 1/60 |
| 135mm | 1/80 |
| 200mm | 1/125 |
TIP: In dim light, fire several shots in the continuous shutter mode and pick the sharpest later. Blur is a random event, so if you fire enough shots, you'll eventually get a sharp one even at slow speeds!
ZOOMING back to Performance or back to Introduction.
Zooming is push pull. The good news is that it slides slicker, straighter and smoother than a rail of ball bearings on Astroglide. The bad news is that the Canon 70-210mm f/4 will slide all the way to one stop or the other anytime you point the lens up or down.
More good news is that it is very easy to zoom in and out all day long, and that it's also very easy to select the exact desired cropping or focal length.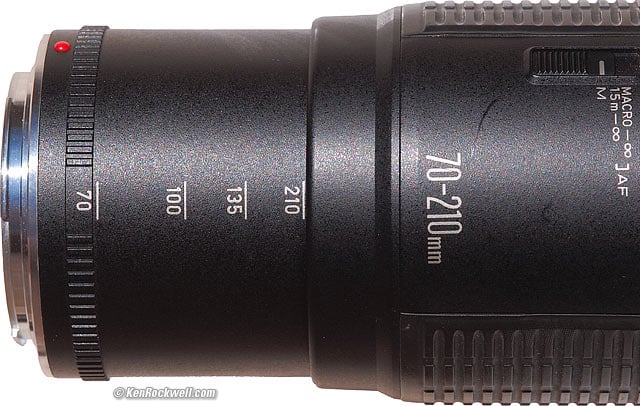 Canon EF 70-210mm f/4 Push-Pull Zoom
I love evenly-spaced focal lengths on the zoom ring, and my Canon 70-210mm f/4 delivers. It is 3 cm/octave at the wide end and 1.65 cm/octave at the long end.
Zoom Creep
This will vary from sample to sample. My 70-210mm slides if if you point it more than about 60 degrees up or down. So long as you have the lens pointing at a more reasonable angle up or down, it stays put.
Focus Shift while Zooming
Focus shifts a bit, so focus after composing and zooming.
Focal Length Encoding Accuracy
The EXIF data agrees exactly with the settings marked on the lens at 70, 100, 135 and 210mm.
I have not correlated the accuracy of the markings with actual focal lengths.
Observed Encoded Focal Lengths
The Canon 70-210mm f/4 encodes focal lengths to about the nearest 5mm.
It's impressive that this 20-year old lens encodes focal lengths perfectly with today's latest digital cameras, since it came out with the very first film autofocus cameras which had no way to record this data.
I've seen 70mm, 75mm, 80mm, 85mm, 90mm, 95mm, 100mm, 107mm, 115mm, 120mm, 125mm, 130mm, 135mm, 140mm, 145mm, 150mm, 153mm, 157mm, 160mm, 165mm, 170mm, 173mm, 177mm, 180mm, 185mm, 190mm, 195mm, 200mm, 205mm and 210mm appear in my EXIF data.
Top Introduction Specs Performance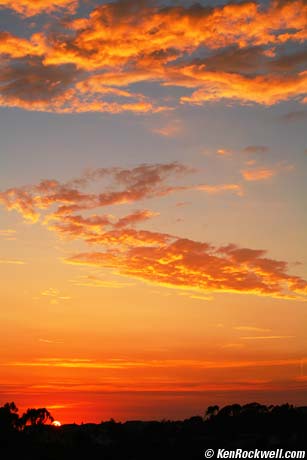 For use on a tripod, or with studio strobes, this lens is great; just stop it down at 210mm if you need the sharpest results.
The reason to pay more today are to get features I consider critical for hand-held use. Features lacking on this classic lens, compared to today's newest and most expensive, are:
1.) Image stabilization, without which it's hard to make sharp images at the long end hand-held without a tripod.
2.) Ability to focus manually simply by grabbing the ring.
3.) I prefer a zoom ring over push-pull zooming.
For $500 more than this used lens you can get a brand-new 70-300mm IS which will add IS (still no instant manual focus) or a 70-200mm f/4L (no IS).
Spend $900 more than this used lens and get the 70-200mm f/4L IS and it will solve all these.
If you have the cash, by all means the newer lenses are better. If not and you can live with these inconveniences, this Canon 70-210mm f/4 lens is as sharp and focuses as close as modern lenses, except at 210mm at f/4. Live it up!
Help me help you top
I support my growing family through this website, as crazy as it might seem.
The biggest help is when you use any of these links when you get anything, regardless of the country in which you live. It costs you nothing, and is this site's, and thus my family's, biggest source of support. These places have the best prices and service, which is why I've used them since before this website existed. I recommend them all personally.
If you find this page as helpful as a book you might have had to buy or a workshop you may have had to take, feel free to help me continue helping everyone.
If you've gotten your gear through one of my links or helped otherwise, you're family. It's great people like you who allow me to keep adding to this site full-time. Thanks!
If you haven't helped yet, please do, and consider helping me with a gift of $5.00.
As this page is copyrighted and formally registered, it is unlawful to make copies, especially in the form of printouts for personal use. If you wish to make a printout for personal use, you are granted one-time permission only if you PayPal me $5.00 per printout or part thereof. Thank you!
Thanks for reading!
Mr. & Mrs. Ken Rockwell, Ryan and Katie.
Home Donate New Search Gallery Reviews How-To Books Links Workshops About Contact