April 2007 News
all © 2007 KenRockwell.com


I get my goodies at Ritz, Amazon, Adorama. It helps me
keep adding to this site when you get yours from those links, too.
New Baby Ryan Rockwell. Cute photos with tech data.
30 April 2007, Monday
NEW: My quick take on Adobe Lightroom.
Today is the last day to get Lightroom for $199. It goes up to $299 tomorrow. I'm writing a fast article on Lightroom vs. Photoshop as you read this.
Added another reader-identified Cibachrome lab below.
28 April 2007, Saturday
Added an Italian version of Why Your Camera Doesn't Matter. (Grazie Mario!)
As I was hoping, readers have referred me to labs that print on Cibachrome, that magnificent pearlescent plastic-based wet-look ultra-glossy material that looks 3D under spotlights. I haven't tried any of these yet.
J. W. Photolabs, North Carolina USA. They claim to offer a 200-year guarantee on the longevity of their prints.
Hance Partners, Arizona, USA.
Weldon Color Lab, Los Angeles, California, USA.
Elevator Digital, Canada, Great White North.
Prints Cibachrome, but only from film (not files): The Lab, Burbank (LA), California. (Heck, I've been there and forgot they did Cibachrome!)
25 April 2007, Wednesday
Ilford puts out a press release that Ilfochrome (Cibachrome) is going to be distributed to camera stores in the USA and Canada by Wynit. Wynit is a distributor of many brands of photo and computer products to smaller and specialty camera stores. You and I will never bump into Wynit; they are middlemen.
Cibachrome is my favorite print material, but I didn't know anyone prints to it from digital files. The best prints on my wall are the optical Cibachrome prints I have from the 1990s from my 4x5 Velvias. Ilford says the Océ Lightjet and Durst Lambda printers can use Cibachrome; I wonder who offers this service? Today I use the less expensive Japanese copy, Fuji Supergloss, printed at Calypso.
ILFORD Imaging Switzerland GmbH is the manufacturer in Marly, Switzerland. They have been a fully owned subsidiary of OJI Paper, Japan, since July 2005.
ILFORD's black and white stuff is owned by Harman Technology Limited. Harman is licensed to use the "ILFORD" name only for traditional black and white silver halide products. Harman also owns the UK factory. Apparently Alfred Harman was the founder of Ilford in 1879 and the biz that bought Ilford's B&W decided to resurrect that name.
Cibachrome is a unique and only archival color optical print media. UNlike every other color process that adds the color dyes in processing, Cibachrome has the dyes in it at manufacturing, and the chemical processing destroys the unwanted dyes. Every other color paper and film is white before processing, while Cibachrome is black. Cibachrome's azo dyes are manufactured into the paper, not added later. That's why Cibachromes are called "Dye Destruction Prints" in museums compared to everything else, including Fuji Supergloss, which are called "Color Chromogenic Prints."
23 April 2007, Monday
Added some fine tuning and clarifications to my Fuji S5 Pro review.
19 April 2007, Thursday
NEW: Fuji Fujifilm S5 complete review with explicit examples. Saturday was just the first page; now there are eight more huge pages.
14 April 2007, Saturday
NEW: Fuji Fujifilm S5. I cheated and am giving you a preview: this page has the basics and summaries. I'm still formatting the example image sections.
I just got my Canon rebate check, in case anyone else is waiting for theirs. I scored $600 for my Canon 5D, $90 for my Canon 17-40mm and $60 for my 15mm fisheye.
Friday the Thirteenth of April, 2007
New: Cheap Pandigital 8" Photo Frame.
Has my RSS feed lost the ads yet?
12 April 2007, Thursday
The price of the incredible Apple 30 inch monitor has dropped to $1,800. I paid $2,500 for mine last year, and would have paid double now that I realize how much time it saves me. It's not like an HDTV: it has the same inch-by-inch sharpness as a laptop screen, just a lot more more of it!
The Apple 30" monitor has 2,560 x 1,600 pixel resolution, while most 63" plasma HDTVs only have sloppy 1,368 x 768 resolution.
11 April 2007, Wednesday
I've had some sun so I'm pounding away on the Fuji S5.
Some readers have noticed that the automated RSS feed someone was kind enough to set up for me seems to have gone sucky. I'm unsure if this is permanent, or what. I'm not smart enough to know how to make a feed which automatically includes whatever is new on this page, so feedburner has been doing a decent job so far. I just sent them $30 to pull off those ads, let's see if that fixes it eventually.
Sadly I updated my Nikon D3X pages to reflect that no one knows anything yet. Hopefully August will see the new Nikons and Canon's replacements for the 5D and 30D.
09 April 2007, Monday
Yay! We have had the first peep of sunshine in weeks here along San Diego, California's coast where I live, so I can finally try the Fujifilm S5 in some daylight. Results so far taking people pictures indoors have been outstanding.
06 April 2007, Friday
Diligently working on the Fuji S5, I've found that its auto WB is the best of any DSLR I've ever used indoors. It corrects for tungsten light indoors perfectly!
Noise is the same as the D200. The S5 overdoes it on NR. The Canon 5D outdoes them both, since the 5D stays sharp and clean at 3200 while the D200 and S5 are much softer trying to smudge over the noise.
05 April 2007, Thursday
Someone asked me what I think of Nikon's announcement that they've set up a 35-person office in China to help them buy parts. "So what?," that's what I think. They moved some purchasing people from Japan closer to the source. It doesn't say they're making cameras in China (they do); it says that they opened an office to help them get parts faster and better. This helps us get better cameras faster and cheaper, but it's not news about which we need to be concerned. Companies do this all the time.
Coastal San Diego has been in overcast most of the past week, so not much has happened with my Fuji S5 tests. I had the trivial lab stuff done the first day, but real shooting is the only thing that really matters.
I've discovered, with just a few snaps, that the S5 does amazing things for skin tones, at least on the people who put up with my incessant picture taking. Also the Fuji S5's auto WB has an uncanny ability to work in crappy, real available light to nail skin tones like nothing I have from Canon or Nikon.
Indoors at home at night, the S5 in AUTO WB gives better results on people than any of my other cameras set to tungsten or even cooler K settings. You can see these past 24 hours comparison snaps at my baby Ryan Rockwell's site. Likewise, indoors under overcast window light the S5 nails skin tones.
Experience will tell if these amazing first results are just luck (often they are - cameras never do the same thing twice in changing light) or a clear confirmation of Fuji's pitch: that the S5 is unrivaled for people photography. Thank God I had a kid; my wife would never put up with this!
04 April 2007, Wednesday
I have DxO chewing on 60 images. It's got my Mac Quad G5's fans blowing like a hurricane, and everything else, like Dreamweaver on which I write this and my browser and email, are humming along as if nothing else is happening. DxO is expanding a bunch of fisheye shots of real estate interiors. I rectify them as a batch, and sort them out after conversion.
Apple now has a EIGHT-core desktop Mac. I'll be buying one, as well as a new laptop, whenever the new OS ships. The good news is that it's only about $1,500 more for all the processors over their regular desktop machine. I bang on my machine all day, every day, so blowing five bills on anything that saves me ten minutes a day pays for itself fast, and of course my Quad G5 I got last year still sells for serious coin used, making the upgrade a no-brainer for me. Of course even my 4-year-old laptop is all I would need if my time didn't cost me so much. The results are the same. See Is It Worth It.
I just learned that Monte Zucker, the world's most famous wedding and portrait photographer, passed away from pancreatic cancer on March 15th at his home in Fort Lauderdale, Florida, USA. He was 77. See more at the Washington Post article. There's a celebration for him in Washington, DC on Sunday, April 22nd, 1-4 PM and I think all are invited. RSVP.
03 April 2007, Tuesday
For those of us who got the leftover Domke Anaconda 10 bags at Adorama, I also ordered a set of dividers to add more dividers.
Rockwell is stumped! (or April spoofed!)
For decades I've been answering every tech question about gear or why an image didn't turn out well, or had a real job where questions ran the gamut from convolutional kernel coefficient bit depths to Rec. 709 vs. Rec. 601 color spaces to clock jitter spectra in serial digital SMPTE-259M 1.485 Gb/s HDTV interfaces, and I've finally been thrown one on which I can't make more than an informed guess.
Check out this mysterious "10" on a new Nikon 18-200mm VR: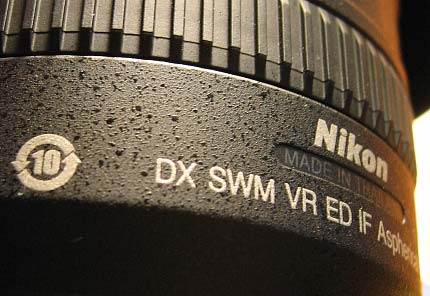 Mystery "10," Nikon 18-200mm VR (photo: Jason Lin)
My guess is that this is a key to materials for recycling, however every other time I've seen plastic recycling keys they have been three clockwise arrows in a triangle, and the number has been much less than 10. Even Der Grüne Punkt runs clockwise; these arrows run up-the-butt backwards.
My 18-200mm doesn't have this. What is it? A message from space? I'm stumped, and it's only about once every five years I can't answer a tech question off the top of my head. What is this thing? A joke, or telling us we can stack up to 10 filters at once, or telling us the mount is only good for 10 mount-dismount cycles?
I love a stumper; l'm on hold with Nikon's 24/7 free tech support and will see if they know. NO! They have no idea either, but are researching it. I may have to call Melville.
Reader Rockwell Schrock (no relation) suggests it may indicate the number of data contacts, which indeed are 10.
Reader Chris Campbell suggests it's an RoHS symbol indicating that the product contains pollutants, such as lead, exceeding allowable standards under Chinese law. He suggests the 10 means that the pollutants will not leak out for at least 10 years under normal use. 10 years is the "Environmentally Friendly Use Period," or EFUP. These labels supposedly are required by Chinese law. Interesting - do the Chinese collect these for destruction after 10 years?
Yes! This is it! Reader Tim Devine points us to the answer, effective 01 March, 2007. It's a China RoHS symbol.
Reader Gary Caple clarifies that the 10 isn't how long the scary chemicals stay inside - the 10 means how many years of useful life the product has before it's trashed. Aha - now we know the service life of this lens! I wonder if new digital cameras will have a 2 inside the backwards circle, since digital cams are good for an average of two years before the big heave-ho. Lenses ought to last longer: I still use my Nikon manual focus lenses I bought in the 1980s.
Others propose 10 means how many years it takes the poisons to leach out. I don't know, and as the sources seem to confirm, no one really knows. It's all a Communist government trying to run things.
02 April 2007, Monday
I've working with my Fuji S5. This will be a tough review to write well. The S5's strengths are the absolutely critical subtleties of tone, contrast and color. My quick S5 images usually look better than my D200 because of color rendition and AWB response. These take a careful eye to appreciate, and my favorite camera result will vary with subject.
It's going to take a lot of shooting to come to a solid consensus, and even more time to figure out how to present the critical issues of how the images look in a way that makes sense on these pages.
What makes a good photo is art and had nothing to do with resolution or high ISO noise. Art can't be tested in a lab. It's like getting a new kind of film: you may love it or hate it, and everyone will have a different opinion. Go take some art classes: color and tone are 99% of everything in a color image. Gesture and composition are your issues; not the camera's.
The fast and easy things to test, like resolution and noise, are the least important. Sadly because these are so easy to compare, the internet is always abuzz about them and many innocent people pay way too much attention to them. Critical things like color rendition (which is not related to accuracy) is critical, and rarely addressed.
On the easy-to-test, but unimportant, things, the S5 has less resolution than my D200, which is easy to see on Star Targets, but not important unless you're shooting the Wall of Shame. Noise is similar between them; I need to shoot more. The S5 has less noise, but achieved through stronger noise reduction which smoothes over textures and not any particular quantum improvement in the sensor. I have to look more: D200 images at ISO 3,200 are sharper and noisier than the S5, which means similar performance. I'll have to see if I can use NR in post to get the two to match! I also shot the D40 and Canon 5D alongside for fun.
The S5 is slow: 1.5 FPS as rated (and confirmed) and only a 6 shot deep buffer which I easily can overflow with test shots. The S5 only hits 3 FPS above ISO 1,000, or with all the magic of highlight handling turned off. Turn off the dynamics to hit 3FPS and you throw away the magic of the S5.
Fast advice so far: The S5 is a specialized camera for people concerned with color, lighting tone, which are absolutely the most important technical elements of photography. The S5 may have the magic to make images much better than my D200 - time will tell.
If speed is more important, get the 5FPS D200 for sports. If you want to shoot resolution targets, get the D200. If you already own a D200, get another, since the S5 works quite differently and I would go crazy with both around my neck at the same time. The colors will not match between them - pick one and stick with it.
For shots with the sun in the sky, get the S5. It excels at natural renditions of the sky around the sun, while other digital cameras create bizarre rings around the sun.
Battery life is similar to the D200, but the batteries aren't interchangeable even though the chargers are.
I've only made a few hundred shots and haven't seen much yet. It takes thousands of shots to get a feel for how something looks over many kinds of conditions. The S5 is a new kind of product, and I want to give it the attention it deserves. My opinions on everything about the S5 will likely change as I get time with it. I publish these fast observations since everyone wants to know what I think. I'm not thinking yet: I need to shoot much more and see what I can get.
01 April 2007, Sunday
NEW: Holy Crap! Google blows the lid off above-top-secret Anal Probe Corporation technology for harvesting user data for their new TiSP "Dark Porcelin" FREE in-home wireless broadband service.
What Was New in:
2006 November - December (includes birth of Ryan Rockwell)
2006 October - November (includes photos from a trip to NY)
Caveat: The ads below come from a third party and I don't see or approve them. They are sent to your screen directly from a third party. They don't come from me or my site. See more at my Buying Advice page. Personally I get my goodies at Ritz, Amazon and Adorama.