March 2008's Updates RSS
all © 2008 KenRockwell.com. All rights reserved.

I get my goodies at Ritz, Amazon, Adorama. It helps me
keep adding to this site when you get yours from those links, too.
Baby Ryan Rockwell. Cute photos with tech data.
NEW: Nikon D3 D60 D300 60mm 24mm PC 16-85mm VR
Canon XSi 1Ds Mk III 14mm II 18-55mm IS 55-250mm IS
Recommended Cameras Nikon Reviews Canon Reviews
29 March 2008, Saturday
Hallelujah! Our photo club went out to see America's greatest living artist, Leonard Knight, at work at Salvation Mountain. See Humanitarian Photojournalist Karl Grobl's presentation. Karl is a lot faster than I am, my photos are still in my camera.
28 March 2008, Friday
New: Complete re-write of my Nikon 16-85mm VR Review, now that I've had one for a couple of weeks. My Comparison Between the 16-85mm and 18-200mm has also grown.
Addition: Added the Nikon N70 (F70) to my Nikon Lens Compatibility table.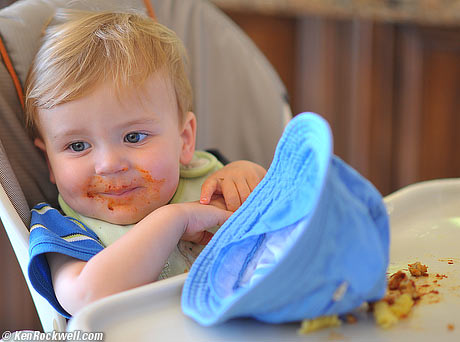 Meatballs for lunch.
Skin tones with D300/D3 picture control set to NEUTRAL and +2 Saturation. This shot with Nikon D3, 135mm f/2 DC, f/2, Program auto and Auto ISO chose 1/250 at f/2 and ISO 560. Window light, Auto WB set to A2.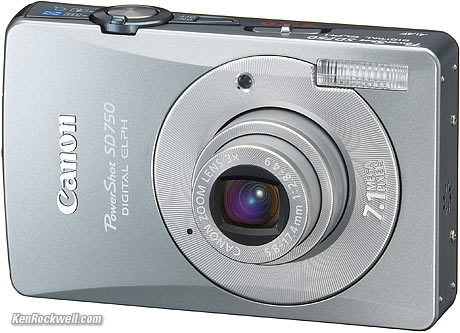 Canon SD750.
Camera Bargain: I just noticed that Canon's super-quality SD750, which has a titanium case, fantastic image quality, an excellent lens, and a huge 3" screen that fills the back of the camera, is selling today for only $170!
I'd get it at Amazon, Adorama or Ritz. It was a deal last year at $230, and almost free today. It's a deal because it's a mature model and heavily discounted. It doesn't have IS, but other than that, I see no reason to pay more for a compact camera today. Its images are remarkably smooth, better than the other compacts I've been using.
eBay's fraudulent marketplace continues to thrive: These are such a staple of the eBay experience that I'm not going to cover them anymore. They are simple to spot:
1.) Expensive Nikon or Canon items, usually long fast lenses, worth about $2,000 - $3,000, offered with a too-good-to-be-true buy-it-now price of $1,100 (sometimes $1,200 or $1,400).
2.) Several of the same items with the same pictures are offered at once.
3.) Seller ostensibly in Canada, 100% feedback, feedback score between 10 and 49, previously selling clothing items.
4.) Only accepts payment as checks, money orders, or sometimes AMEX and Western Union, but not PayPal. (eBay owns PayPal and attempts to police it.)
Since even I could probably write a program to pick these out automatically, I'm surprised eBay hasn't. I suspect all of these are made with hijacked accounts hand-picked to fit the Canadian, 100% FB, 10-49 score profile.
Sadly, as of just 7AM this morning, I see five people have already been had, looking at the completed listings. The scammer now keeps the buyers' IDs private, to prevent folks who know better from sending messages to the buyers letting them know they've been had before they send a check.
27 March 2008, Thursday
Nikon 300mm f/2 for Sale: One turned up in B&H's used department. It's cheap: only ten grand. They usually sell for about $25 grand to the motion picture industry, but B&H's seems fairly worn. I believe B&H takes returns if you don't like it, so not to worry. This is an f/2.0, the world's fastest 300mm ever made, and a beast at 16 pounds (7kg) and over 7" (18cm ) in diameter. You probably could start a fire with this thing using only the light of the full moon, so be careful!
These manual focus lenses couple perfectly to the meters of the D300, D3, D200 and D2 series when you enter "300mm" and "f/2" in the menus for matrix metering, aperture-priority and manual exposure and full EXIF data.
A 6mm f/2.8 AIS 220 degree fisheye just closed on eBay at $26 grand last night, but none of us trusts the seller (read their feedback - those of us from NY have known for decades to steer clear of the guys selling the 6mm), so those of us who watched it didn't dare bid. I'll be curious to know if the winning bidder actually gets what he expects. If any of you folks have a 6mm, I'd love to review it for history's sake.
No, fair readers, I'm not about to blow five-figures myself on any lenses. Remember, I was comparing a $35 Vivitar Series 1 to the Nikon 16-85mm yesterday in my bokeh shoot-out.
Update: I just pulled all the comparative shopping ads from the bottom of all of my pages. It took me a few hours to go through and change them all. It still sure beats the alternative of having a real job. Those ads were no longer relevant.
I also think the animated ads at the top of some pages are annoying and irrelevant, but since I'm the only one who seems to be annoyed by them, they stay for now. I took off the "available from these stores" listings at the bottoms of many pages, since I had no control over what stores got listed.
The Google Ads on the right side of the page stay because they're relevant, although I also have no control over what ads you see there (they're placed automatically to your computer directly from Google).
I don't really know what I'm doing when it comes to the technical side of HTML and scripts, so let me know if anything's not working, which would mean I broke something!
THANKS! Hope you enjoy the fewer ads.
26 March 2008, Wednesday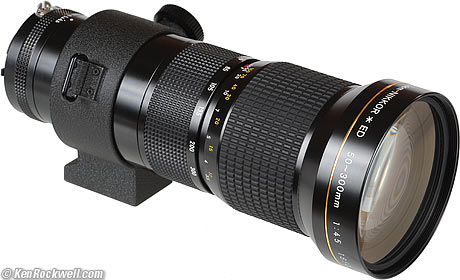 Nikon 50-300mm f/4.5 ED.
D3 lens first look: The 50-300mm f/4.5 ED works great on the D3, unlike the older non-ED version, which sucks. I thought the 70-300mm VR would easily outdo this older, but very expensive, manual-focus lens, but now it's going to be a close race some day in the future to compare them. Many thanks, too, to all you readers who loan and otherwise grant me access to all this crazy stuff so I can review it!
NEW: Nikon 85mm Lens Bokeh Comparison. I started comparing the 16-85mm VR and 18-200mm VR, and threw in a total of nine lenses to see what happens.
25 March 2008, Tuesday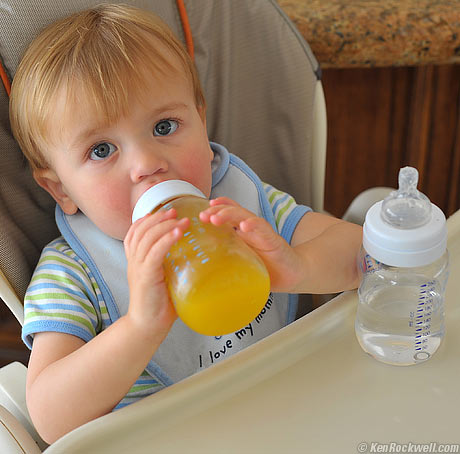 Baby Ryan sucking away. Note great creamy skin tones with Nikon D300/D3 picture control set to NEUTRAL and +2 saturation. (Nikon D3, 50mm f/1.8D AF, f/2.8 at 1/125, Auto ISO chose ISO 200, Auto A2 WB, window light.)
24 March 2008, Monday
Addition: Added examples of widest angles-of-view to my Nikon 16-85mm VR vs. 18-200mm VR Comparison.
23 March 2008, Easter Sunday
Happy Easter!
22 March 2008, Saturday
NEW: Direct Comparison: Nikon 16-85mm VR vs. 18-200mm VR. I still owe you some more example shots, but having had both of them in my hot little hands for a direct comparison, it's easy to figure out which lens does what best.
Software Recall: Adobe recalls Lightroom v 1.4.
21 March 2008, Friday
Vorsichtig behandeln! Is that really German for "handle with care?" " behandeln," as in " be handlin' '" seems too obviously funny a word to be for real.
Old is new: Nikon always used to advertise how all their Nikkor lenses, even the cheapest, would always be compatible with today's and future cameras, especially for things like having diaphragms that can flap fast enough to keep up with professional motor drive cameras. Nikon tried to scare people into thinking that off-brands wouldn't work well at high speeds.
I haven't tried any off-brands at 11 FPS on the D3, but I did just fire up a Nikkor-S Auto 5.8cm f/1.4 from 1961, and it works perfectly at 11FPS. It's so old it only has distances marked in feet, not meters. So there. Let's hope the 24mm PC-E works as well, but beats me why anyone would shoot a PC lens that fast.
In case you're curious, the optics of the 58mm are very blurry at f/1.4 anywhere except the center, and by f/4 it's super sharp. It has a good degree of barrel distortion. If you have yours AI converted, you can use it to create stunning images on a D3.
20 March 2008, Thursday
Nikon 24mm f/3.5 PC-E Prospective Purchasers: I have one on loan, as well as a copy of the classic 28mm f/3.5 PC. If you're an owner of the new 24mm PC-E, or seriously considering buying one, please let me know what you'd find especially helpful for me to test and compare. Thanks! Ken.
19 March 2008, Wednesday
D300 and D3 Picture Controls Observation: Calming down and taking my newest Nikons out of VIVID mode, it seems like the NEUTRAL mode is ideal for people photos, maybe as nice as the Fuji S5.
I've been getting great kid shots at NEUTRAL and +1 or +2 saturation. People in my family render a nice creamy pink, not orangy-yellow as they do in the VIVID modes.
We need Nikon to add a new rear dial to let us choose among Picture Control presets, since I need to swap among them as I point my camera at my kid or a palm tree. My Casio credit-card cameras and the Canon DSLRs all have this ability.
The funny thing is I discovered this while first using the NEUTRAL mode for taming contrast for night outdoor shots. (The D3 and 14-24mm bury the tripods people used with film; I can shoot buildings at night hand-held no problem.) The next morning I still had the camera in NEUTRAL from the last night by mistake, and wow, people looked great. Nikon needs to include wrangling Picture Controls back to our personal default with Nikon's green-button reset command. (Casio credit-card cameras allow us to choose what gets reset, and what doesn't, in reset.)
15 March 2008, Saturday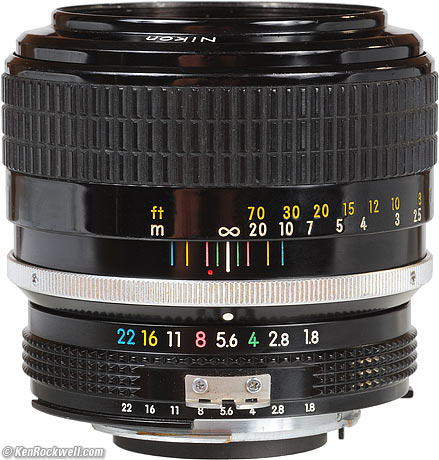 Nikon 85mm f/1.8 (AI updated).
85mm f/1.8 (manual focus) on D3: People go on and on about this lens, and maybe it was hot stuff back in the 1970s on film, but it's nothing special and not better than the 85mm f/1.8 AF on the D3 today.
This old lens never shipped as an AI lens, so it's useless on most cameras today unless you've had it updated to AI somewhere along the way.
I'll compare them, but the newer 85mm f/2 AI-s seems to be Nikon's best 85mm, at least on my D3, even sharper than the 85mm f/1.4 AF.
Oddly, the old manual focus 85mm f/1.8 sells used for about what the AF version sells for new! This old 85mm f/1.8 is very sharp by f/4, but not that exciting wide open in the corners. It's decent enough in the center, but heck, Distortion is negligible pincushion (corrects at 10' (3m) with -0.5 in PS CS2) and bokeh is poor. Only slightly related to bokeh, the manual focus 85mm f/1.8 has only a primitive six-bladed diaphragm while the AF version has a splendid 9-bladed diaphragm.
Addition: Added a section on battery calibration to my Nikon D3 Review. After several months and 21,000 shots, mine asked to be calibrated.
14 March 2008, Friday
Great Photo Made with a Crappy Camera: See another one of Bruce Percy's masterworks, made with a Canon EOS650, worth under $100 today.
Fisheye Availability News: You now can get the Sunex 5.6mm circular fisheye here (for Nikon), here (for Canon) and you can get the dedicated rotator head here. You used only to be able to get it directly from the manufacturer.
Truth: Another artist shares that he prefers the results from crudely cheap Chinese-made print film shot in his Nikon FM to the compromised look of contemporary digital SLRs. See it at Gone City. See the guy's other stuff: he's an artist, not just another equipment fetishist.
New Canon Pocket Cameras: SD890 IS, SD790 IS and SD770 IS. Any of these three is welcome in my pocket any day. The SD890 has 5x zoom and they all have IS.
13 March 2008, Thursday
Observation #1: Kinko's founder Paul Orfalea linked to my article How to Afford Anything from his personal blog article Rainy Day Role Models. I agree with him that even I don't agree with everything I said either! Reading Paul Orfalea's Blog I find it loaded with great stuff – much better than what I write. Check it out.
Observation #2: I ticked-off some guy in Canada with my classic Your Camera Doesn't Matter article, which has resonated with such deep truths worldwide that it is now available in fourteen languages.
I guess that guy's never seen a good photo made with a bad camera, so I guess he doesn't see many photos except those made by equipment fans. I know I've seen tons of stunning images made with crappy cameras, and linked to some, which settles that one. I've also seen far more really crappy photos made with great equipment, in fact, I've made thousands of the crappy ones myself with great gear!
Most websites make money by aiding and abetting the sale of expensive cameras, while I'm honest enough to admit that expensive cameras are merely for the convenience of the photographer. (Sure, it helps when you get gear through my links, but I've always done well enough to be honest enough to tell you to save your money. In fact, I just pulled the ads off the top of this page yesterday.)
I made one of my favorite snaps with a broken camera that was finally returned to the dealer and destroyed after several failed repair attempts. The focus was off, yet I knew how to compensate for it so I have a three-dimensional 30 x 40" print hanging on my wall from the broken 6x7cm camera. That print was entered into a juried exhibition at Los Angeles' Gallery at 777, and won first place. The Gallery at 777 usually had an exhibit of original Adams works hung when there was nothing else showing.
If someone can't make a good photo with a bad camera, it's because they're a bad photographer, not because it's a bad camera. Potty-mouth language doesn't change anything. I make thousands of awful shots with great gear, but even I crank out a nice one with a crappy camera now and then.
Remember Artie Morris' challenge when another bird photographer saw Artie with his big lens and muttered "he gets the good shots because he has all the gear!" Artie heard that, and offered to swap cameras for the day and have a third party select who made the best shot, and whoever made the best shot got to keep all the gear! The guy went away.
NEW: Rodenstock 45mm f/4.5 APO-Grandagon Review. This is a professional lens used on panoramic cameras by professionals; it's not an SLR lens. Used on 6x12cm film, it's trivial to make 100 MegaPixel images (300MB scans) at just 3,200 DPI.
Observation: FedEx is great: I just shipped a lens to Australia on Monday afternoon, and by 5AM my time today (before dawn), Wednesday, the recipient let me know it was through customs and already in his hands!
12 March 2008, Wednesday
NEW: PMA 2008 Full Report. This report has been up since January, and I finally finished it with additional details. The next big announcements, like maybe a replacement to the Canon 5D, won't likely be until August 19th.
Addition: Added a cutaway photo of the Nikon 14-24mm lens to its review.
Addition: Added cutaway photos of the Nikon D3 and 14-24mm lens to my D3 review.
NEW: Nikon 45mm f/2.8 PC-E Prototype.
NEW: Nikon 85mm f/2.8 PC-E Prototype.
NEW: A new classic emerges: You can now order the Sigma 200-500mm f/2.8 for Canon, Nikon and Sigma cameras. It costs only 25 grand. It is built to order.
Formal Nikon D3 Stress and Environmental Tests: Noted photographic scientist and Brooks graduate Joseph Nicholas Spina does what even I'm too chicken to do, and does what every American ought to do, which is to get out there and test the limits of our gear instead of just reading about it.
Joey isn't afraid to see what his D3 can take - and it takes a licking and comes up clicking!
Serious professional photographers need to perform these same tests on our own samples of gear to be sure that our gear isn't going to die when we need it most. I'm just too chicken, although I do clean my viewfinders and sensors with a small shop-vac. Weekend amateurs may be OK just taking out new gear and hoping it works, but pros need to know that their gear will be there to perform when called to serve.
What about the D300? As I've mentioned before, my D3 arrived the week after my D300. Which would you grab first anytime you wanted to shoot? All because I usually grab the D3 doesn't mean I'm pooping on the D300, au contraire, as I also keep explaining, the D300 is 95% of the D3 for 36% of the price. 95% of everything I mention about the D3 applies 100% to the D300, especially for Picture Control and ADR settings - the two cameras do the same thing and make images that look the same. In fact, the pages of my D3 review that mention these two areas point directly to the D300 pages!
Operation, menus and settings of the D300 and D3 are identical. A quick read of Nikon's instruction manuals shows us that. As far as using them is concerned, they are the same camera.
The only real differences between the D300 and D3 aren't that important, unless you're an ultra-wide junkie like me and shoot at 14mm all the time, which doesn't exist in the DX world. You'd need the 9mm DX lens to get the same wicked look and angle-of-view on a D300.
I do intend to write a simple, to-the-point D300 users guide as I've done for the other cameras. Writing users guides is no fun for me, and remember, no one's paying me to write all this. If I hawked books for living that's one thing, but almost no one enjoying my honor-system user's guides to the D40/x, D80 and D200 ever drops anything in my tip jar. I have to support my family somehow.
Another excuse for not spending as much time specifically on the D300 is that the FX format is the future for all us serious amateurs and certainly all pros. It will be several years until we all take FX cameras for granted. I've been doing this site since the 1990s, before practical DSLRs even existed, so I've seen everything I've written become obsolete before. I'm writing for the future – today! All my tests of old FX lenses, which are largely irrelevant in DX, will become as serious as a heart attack when we all get the FX cameras we deserve in the fall of 2009.
11 March 2008, Tuesday
New Software: Has anyone tried iWatermark? It's software to let you add your © notice to images easily. I do mine as a Photoshop action, so haven't tried it yet.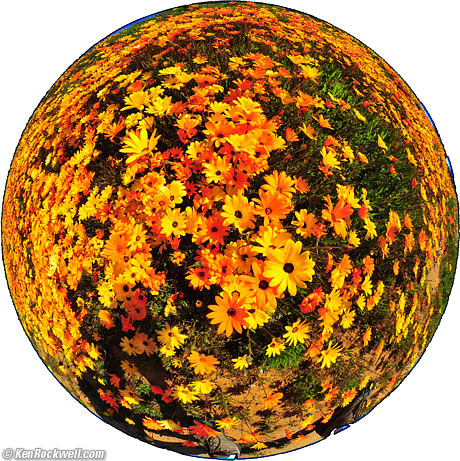 A world of streetside wildflowers in San Diego. (Nikon D3, Nikon 8mm f/2.8 AI)
Wildflower Report: San Diego is going off all over, from the ocean to the deserts. More active people head to the deserts, but I find far more and bigger flowers along our streets. Flowers are everywhere weeds grow.
Mustard and poppies are everywhere, especially mustard in Camp Pendleton along I-5. Anza Borrego is going crazy.
Santa Barbara is still not blown yet, and central and northern coastal California, like Montaña de Oro, still hasn't sprung.
Feel free to travel for hours, but the last time I trekked all over, I passed the best poppies at the end of my street. Just look around; you can't miss them.
Addition: A section about the caps of the Nikon 14-24mm.
10 March 2008, Monday
Fluff: Seeing the latest Photoshop creations made by putting the FX badge from a D3 and typing "D400" on a photo of a D300, I've added a Nikon D400 speculation page.
09 March 2008, Sunday
Remember to reset the clock in every single one of your digital and date-imprinting film cameras. I have a section on how to reset your Nikon 35Ti.
05 March 2008, Wednesday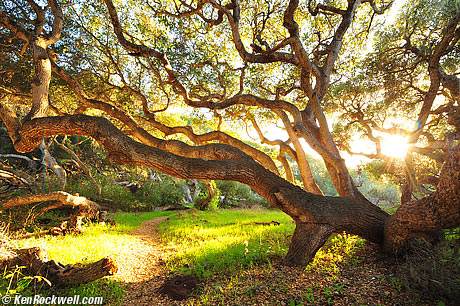 Oaks, California.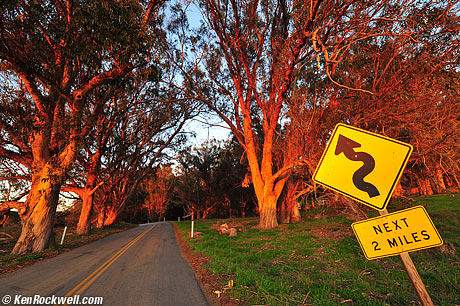 Eucalypti, California.
Both: Nikon D3, Nikkor 14-24mm f/2.8 at 14mm.
04 March 2008, Tuesday
NEW: Vivitar 70-210mm Series 1 Review.
Addition: I added some details to my review of the Sunex 5.6mm Fisheye.
03 March 2008, Monday
Observation: Nikon Inc. (aka Nikon USA) redid their website. It now opens with Flashturbation, it's too wide to fit a standard 800-pixel browser window and it loads very slowly. Some told me that it looks better than before, but oddly, I find the same information, just a change in style.
Whatever; when I want the real information, I go directly to Nikon Corporation's English website in Japan. (Nikon Corporation is the manufacturer in Japan; Nikon, Inc. is a local distributor of Nikon products in the USA.)
A Letter from Ansel: I was flipping through my email this morning, and saw an "Ansel" in the "from" field Hmm, interesting. On opening it, it was just junk, HA HA on me!
D3 Long Zoom Lens Comparison: Comparing the Nikon 70-300mm VR, 80-400mm VR, 75-300mm AF and 100-300mm f/5.6 AI-s, they are pretty much the same sharpness-wise. There is often more variation from one corner to the next in the same lens than there is from lens-to-lens.
That caveat offered, at 100mm it's too close to call. At 300mm, the 80-400mm VR is the best, followed by the other three.
What does this tell us? Easy: for action, get the fast-focusing 70-300mm VR, and for careful landscapes, get the 80-400VR for its slight sharpness edge at the long end and extended range. Don't lose any sleep over this, even the older lenses are fine if you have one. Just don't use the old 50-300mm – it sucks.
In order to see these differences I have to scale a mountain on a very clear and heat-shimmer free day to fill my entire frame with detail, all at infinity. Unless you do this, even shooting brick walls usually does more to test your ability to create a precise, perpendicular set-up than testing the lenses themselves.
02 March 2008, Sunday
I just turned over 20,000 shots on my D3. And what lens did I have on it when I did? I'm busted!!!!! It was the classic third-party lens of all time, the Vivitar VMC 70-210mm f/3.5 Series 1 Macro Focusing Auto Zoom. I had just picked one up, complete with original Series 1 logo cap, for a whopping $35. Guess what? It still works great. I got it to run in my upcoming death match among all tele zooms, including even the original manual focus Nikon 80-200 f/2.8, the Tokina AT-X 80-200 f/2.8 manual focus, all the AF Nikons and whatever else baby Ryan drags home.
What's with all the crappy lenses? Simple - when I'm really shooting, I'm probably using my 14-24mm. I'm getting all the old stuff to test and archive out of curiosity for this website.
What Was New in:
December 2007: Loads of details about the Nikon D3, D300, 14-24mm and 24-70mm, much of which still isn't on the individual review pages.
November 2007: First hands-on details about the Nikon D3, D300, 14-24mm and 24-70mm, much of which still isn't on the individual review pages.
August 2007 (Loads of new Nikons and Canons)
2006 November - December (includes birth of Ryan Rockwell)
2006 October - November (includes photos from a trip to NY)