December 2007's Updates
all © 2007 KenRockwell.com

(The RSS feed stinks - don't trust it)

I get my goodies at Ritz, Amazon, Adorama. It helps me
keep adding to this site when you get yours from those links, too.
Baby Ryan Rockwell. Cute photos with tech data.
31 December 2007, New Year's Eve
D3 Observation: I just opened Nikon's 20 x 30" (50 x 80cm) D3 poster wrapped along with my Jan 2008 copy of just about every American photo magazine.
It's a huge folded poster of motorcycle racing made with the 14-24mm lens and the Nikon D3 at ISO 6,400. I can't give you poster prints on your screen, so go see one of these. It shows you why you might want a D3. It's a huge print, made in failing light but still sharp and clear. It's also another great example of why you want a 14mm lens: to jam your viewer's head someplace it probably doesn't belong. This rubbing-the-viewers-nose-in-it is the whole point of ultrawide lenses: to get too close!
This shot is obviously staged, since it's got the camera on the active track surface right where where the riders probably would track if they weren't models posing for this shot.
Nikon knows what they're doing. This ad is bigger than landscape and portrait photographers usually print, it's sharp, it's clean, it stopped the action, it's shot at some insane ISO in no light (which emphasizes the sparks), and its shot way too close for comfort with too wide a lens. Again, like the hockey shot, with one photo it shows something which no other camera but the D3 can do today.
Here's a video on how they did it. Nikon also has some info about this shot on its website, but it's mostly Flashturbation and I gave up trying to see anything.
Neither the D300 or D2Hs or D2Xs or anything else from Nikon or Canon can do this. None of these other cameras are this clean or sharp at ISO 6,400, and there are no lenses, even third party, that go this wide with DX, 1.3x or 1.6x digital. Bravo, Nikon.
New Rumor: Nikon 16-85mm f/3.5-5.6 VR. I expect it will be announced formally on January 31st, 2008.
It ought to fill in the line between the budget 18-55mm VR and legendary 18-200mm VR at about $400 US. It offers the same full-time manual focus ability as the 18-70mm, 18-135mm and 18-200mm VR. The 16-85mm VR spaces the focal lengths perfectly along the zoom ring, as does the 18-200mm VR, so it doesn't cramp all the wide settings together as does the old 18-70mm.
As a quick recap, my two favorite DX lenses are the 18-55mm kit lens and the 18-200mm VR. I dislike the 18-70mm because it cramps the wide angles too close together on the zoom ring and I dislike the 18-135mm because it's too expensive and lacks the VR it needs to be useful at 135mm. This rumored new 16-85mm VR appears to fit the bill right between my two favorites with an even handier zoom range, so if it does become a real lens, wonderful!
Of course this could just be a prototype or hoax that will never see the light of day. In any case, someone in Thailand is getting fired. It looks real to me.
For those of you who read Thai, we'd love to know what it says. Thanks!
25 December 2007, Tuesday
Merry Christmas from Mr. and Mrs. Ken Rockwell and Baby Ryan!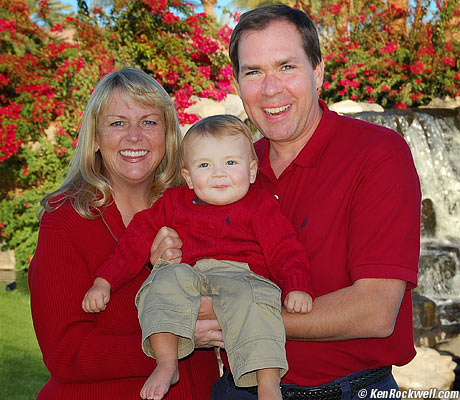 (Shot with my D40 and SB-400, direct, while we were shaded under a palm)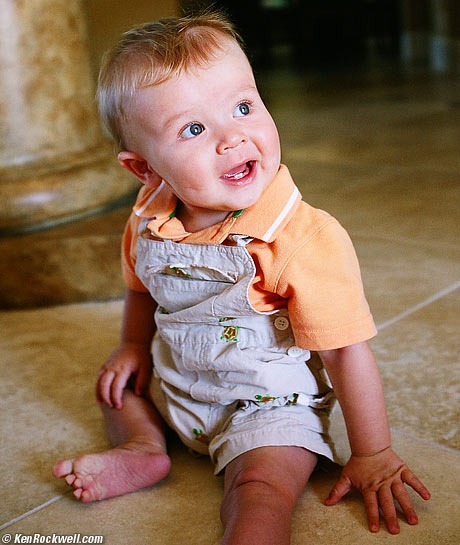 We included this print with every card we mailed. It was shot with a Konica Hexar Silver on Fuji 400 negative film, which was developed, scanned and printed at Costco.
22 December 2007, Saturday
NEW: Nikon D3 NEF vs. JPG Comparison. The NEF, as opened in NX, is a little sharper than the JPG, but the BASIC JPG looks the same to me after a little added sharpening. Have a look, try it yourself and see if you see the same thing.
Added product photos to my small Nikon 70-180mm Review and my Nikon 50mm f/1.8 D AF Review, as well as added performance ont he D3 to the 50mm review.
21 December 2007, Friday
NEW: Nikon Capture v 1.3 comments.
Observation: Nikon D300 body in stock at $1,799.95.
N75: I just shot with an N75 for the first time (no film back from it yet). It's a very competent film camera, sadly no one paid much attention because it was introduced in February 2003; a year after the D100 and a year before the D70. The N75 is very impressive considering it is a weightless, inexpensive plastic wonder. It has a depth-of-field preview, full VR, flash, AF and AFS compatibility and just about every feature one might want in a film backup.
Canon 14mm II vs Nikon 14-24mm on a Canon 1Ds Mk III: I haven't tried this, but crazier people who've hacked converters to let Nikon G lenses work, with aperture control, on Canon bodies, have confirmed what the manufacturers' MTF charts suggest: The Nikon 14-24mm easily is much sharper than Canon's newest fixed 14mm II on the 1Ds Mk III.
I've compared the older Canon 14mm on a 5D vs the 14-24mm on a D3, and the 14-24mm won. Sadly, Nikon makes no camera with enough resolution to take full advantage of the 14-24mm - yet.
Fun Link: Mark Peters at LetsGoDigital has a fun write-up of a shark eating his D80.
20 December 2007, Thursday

NEW: Nikon Pro Normal Zoom Comparison. Thirty years of Nikon's most expensive zooms run head-to-head, wheel-to-wheel, mano a mano! This has taken me almost two weeks as my first real science project with my D3 after those stupid sharpness and noise tests.
Hey - enough with the lenses, how about more camera testing? I'm up to over 7,000 shots on my D3 in the ten day's I've had it. As I keep telling y'all, and as the few pros who own them tell me, too, the D3 and D300 just work. They get out of your way and let you make great shots, so what more is there to say? The people asking me to write more are those who don't have theirs yet; those who do are out shooting!
Yes, I'll be adding more and more and more about the D300 and D3, but the real things to know are that they just work and make better images than I've made before. All the details in the world won't tell you that.
Explanation: Unfortunately there still is a huge chasm between my Velvia slides and being able to do anything with them today. I love my F6 and the slides I get from it, but I can't retain their quality for anything other than the light box or projection since I have no drum scanner, still a five-figure purchase as far as I know.
For printing, I'd prefer to print from a digital camera file over a scan from my $3,000, but still amateur, Minolta Multi-Pro, otherwise, I'd still need an expensive scan to get what's actually on my slides. I also prefer to shoot 120 and 4x5 formats in film, which also need a better scanner than I have.
19 December 2007, Wednesday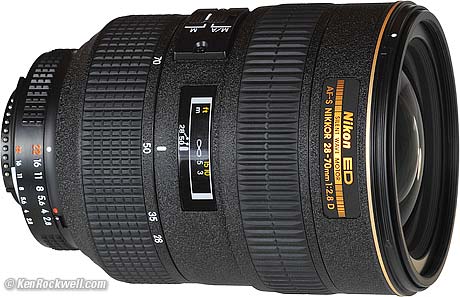 NEW: Nikon 28-70mm f/2.8 AF-S Review. OK, not exactly 100% new, but completely re-written and re-illustrated.
18 December 2007, Tuesday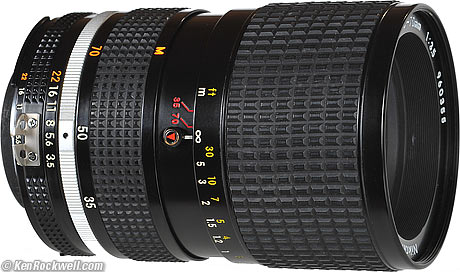 NEW: Nikon 35-70mm f/3.5 AI-s Review. I had to write this review first so I can link to it in my upcoming 30-year pro normal zoom comparison test to see exactly where the new 24-70mm AF-S stands. This 35-70mm f/3.5 AI-s was Nikon's top professional normal zoom in the 1980s, and sold for the same price accounting for inflation.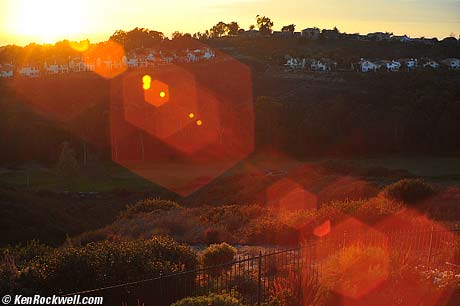 How bad it was! Ghosts everywhere!!! (D3, 43-86mm f/3.5 F at f/8)
15 December 2007, Saturday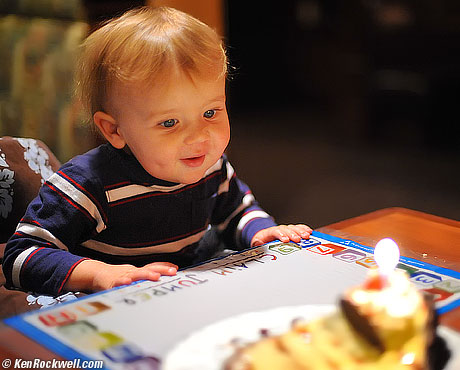 Ryan's First Birthday! (Nikon D3, 50mm f/1.4 AF-D, ISO 3,200, 1/125 at f/1.4 (manual exposure), available light. Manual White Balance set off a napkin, STANDARD and +2 saturation picture control.)
The D3 works, yeah! ISO 3,200 at f/1.4 at 1/125 is LV 3, which is about the same as a street scene at night. It's the same as f/16 at one minute on Fuji Velvia 50 on a 4x5!
14 December 2007, Friday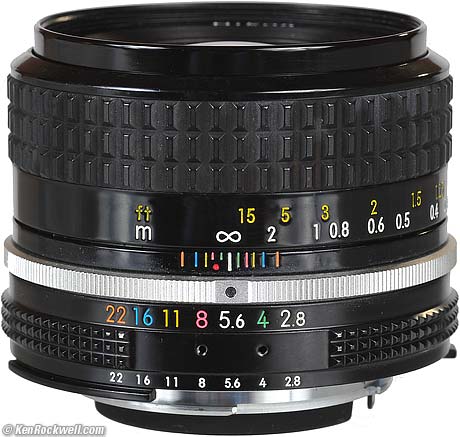 NEW: Nikon 35mm f/2.8 AI Review. I got one of these yesterday for $25. It works exceptionally well on my D3! Oddly exposure seems to be a stop under (easily compensated), and otherwise, it's sharp and devoid of lateral color and distortion. Heh heh, I'm going to sneak this in to the upcoming Nikon Pro Normal Zoom Shootout to see what happens.
Believe it or not, I have to complete each of these reviews before I do the huge Pro Zoom Shootout so I have someplace to link. I'll be sneaking in this lens to compete at 35mm with the $1,800 lenses, heh heh.
13 December 2007, Thursday

30 Years of Nikon Pro Normal Zooms - live comparison coming!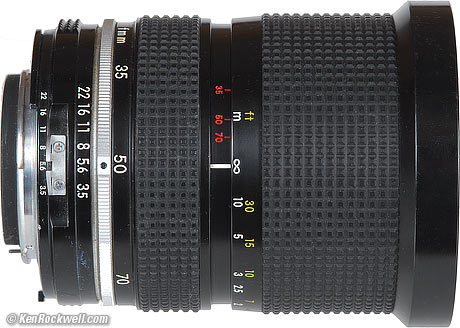 NEW: Nikon 35-70mm f/3.5 AI Review. Call me crazy, but here's a review of a thirty-year old lens on the D3. I had to write it so I had someplace to which to link for my upcoming Nikon Professional Normal Zoom shootout. I rounded up and I shot every Nikon professional normal zoom made in the past thirty years for a comparison. I'll be publishing it as soon as I complete my 35-70mm f/3.5 AI-s review after lunch.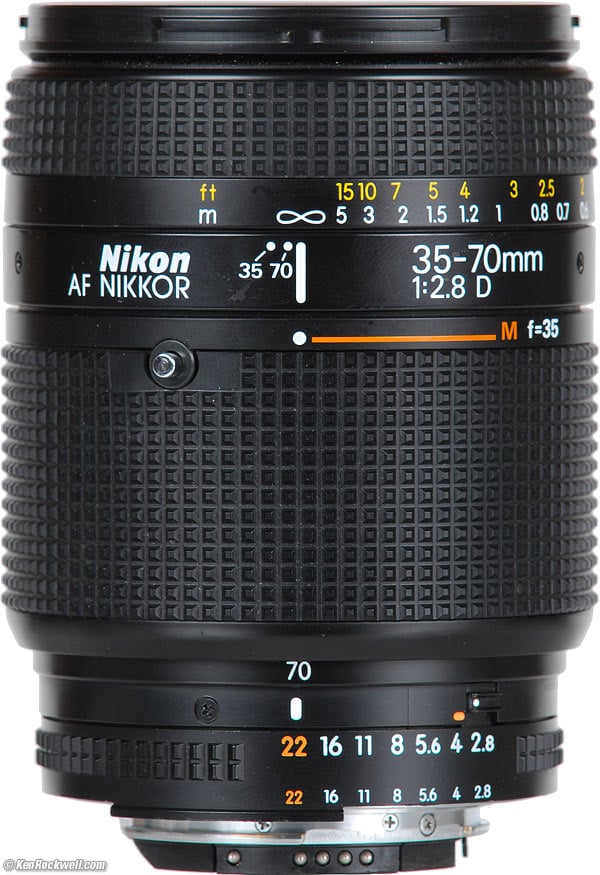 Nikon AF Zoom-Nikkor 35-70mm f/2.8D.
NEW: Nikon 35-70mm f/2.8 AF-D Review. I just completely re-wrote and re-illustrated this page for use on the D3. The 35-70mm has essentially the same optical quality as the 24-70 AFS for real photography, but in a package small enough and light enough for me to want to carry it around my neck. The 35-70mm will also save you more than one-thousand dollars compared to either the 28-70mm or 24-70mm AFS lenses , and the 35-70mm is still available new.
12 December 2007, Wednesday
D3 Suggested Lenses: I slightly updated this page.
SIGMA Acronym Decoded: Pardon my weird sense of humor, but reader Julian just observed that SIGMA, for which I thought stood SIGnificant MALfunction, actually is an acronym for Significantly Inferior Glass Made for Amateurs. I have nothing against Sigma's glass; it's just that I've never had a Sigma lens in my hand that made me feel confident that it wouldn't fall apart on me; I prefer used Nikon lenses for the same price any day.
11 December 2007, Tuesday
News: Ansel Adams and Steve Jobs of Apple were inducted into the California Hall of Fame on December 5th.
10 December 2007, Monday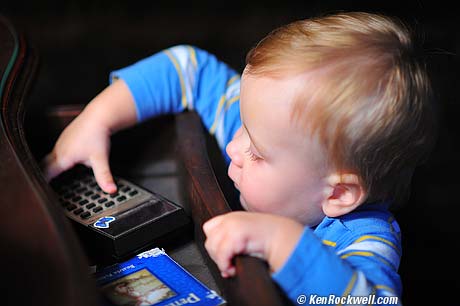 Ryan grabs dad's TI-30 engineering calculator. Oh No!
Holy cow: I was intrigued that my kid is intrigued by the calculator I keep in my nightstand to work out engineering issues that arise at night (busted: I'm a geek!), but look at the skin tone, made under a 100W household bulb! I used the Nikon D3, the 135mm f/2.0 AF DC, Auto ISO chose ISO 720, program auto 1/125 at f/2, and shot a WB off something neutral; maybe the tan carpet. STANDARD and +3 saturation.
07 December 2007, Pearl Harbor Day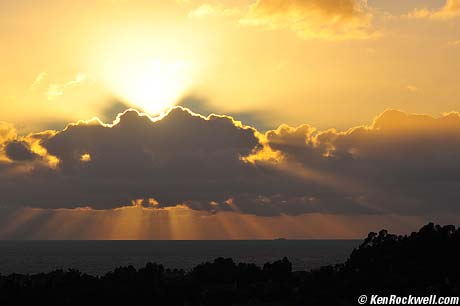 Sunset. 135mm DC on D3, normal ADR, f/11 at 1/500, ISO 200.
NEW: Complete re-write, re-illustration and recharacterization of the Nikon 18-35mm AF-D Review for use on the D3.
NEW: Complete re-write, re-illustration and recharacterization of the 1990s Nikon 20-35mm f/2.8 AF-D Review for the D3. Don't ask me why; I just happened to have one in my hand and wrote it up. Maybe I'm just scared of my new 14-24mm, but the real reason is I intend to do a lot more depth for the 14-24mm and I have no sunshine today to share the real examples you deserve.
NEW: Nikon D3 vs Canon 5D at High ISOs with the same Nikon Lens! I shot each from ISO 200 to ISO 25,000 with the exact same Nikon lens. The 5D is still a little sharper at low ISOs in JPG, but the 5D gets softer and noisier than the D3 at high speeds.
NEW: Nik Dfine 2.0 Noise Reduction Software. This was easy to write, since I just made examples in the comparison above. Nik software is made in San Diego.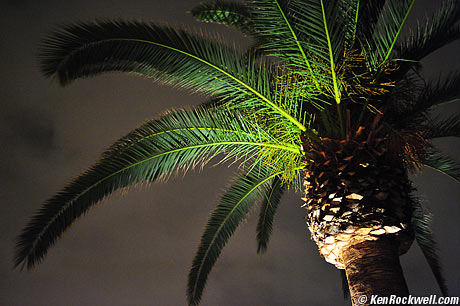 Night Palm. D3, 20-35mm f/2.8 AF-D at 35mm, f/2.8 at 1/6 seconds, Auto ISO chose ISO 6,400, no stinking tripod, exactly as shot.
06 December 2007, Thursday
D3 Battery: My D3 battery meter is at 60% after 1,200 shots, still predicting 3,000 shots per charge.
NEW: Nikon D3 File Format Comparison. I shot TIFF vs JPG Basic Optimal Quality. Sharpness is the same in the 35.4 MB TIFF as it is in the 1.4 MB JPG.
Esteemed Readers: As you read this, I'm spending another day shooting stuffed monkey pictures to compare the D3, D300, D200 and Canon 5D for noise. Look for results later.
This is boring, but you ask.
After I finish this, I need to start running all the lenses on the D3. What lenses do you need me to test first, or are other D3 and D300 aspects more pressing? Let me know, because there is far more to test than time for one man to complete it.
When I complete the boring indoor stuff, I hope to bail for a week to really give these cameras the chance to make some real pictures.
The reasons the D3 and D300 impress me aren't the stupid things like sharpness and noise. No one sees this unless they are looking too close. (OK, the D3 does set new world standards for low-light, high-ISO operation, but most people just use flash.)
What sells photos are color and tone, and the D3 and D300 have the ability to make far more vivid colors than any previous Nikon. Bright colors sell.
Likewise, these two cameras have an uncanny ability to handle bright, broad highlights without wigging-out and making weird color shifts as previous cameras have done. That is why these two cameras can make photos visibly better to real people, the people who buy and appreciate our photos.
You have to set each of these options in the menus:
Bold Colors:
Adaptive Dynamic Range:
05 December 2007, Wednesday
New: Preliminary Nikon D3 Sharpness Comparison.
New: The Internet has created a new level of photographer, the Online Expert.
04 December 2007, Tuesday
NEW: Nikon D3 High ISO Comparison. First shots; sloppy but say enough.
Should I ditch working on my D3 review tomorrow? A big winter swell is headed this way!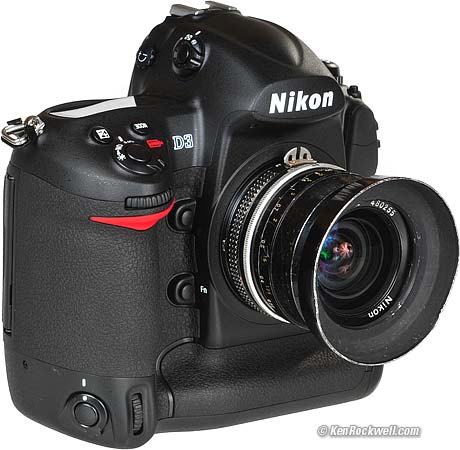 The Nikon D3, and a 100% compatible AI-converted 24mm Combat Lens.
Hey, the D3 is a professional's camera, and some pros have to rough it up to get their jobs done.
News: My Nikon D3 just arrived at noon, California time. I ordered mine like everyone else from my links, but did it the very first moment I could. The D300 seems to be shipping well, but the D3 probably will be a longer wait if you waited to order. If you want one; order now; since the guys I use don't charge credit cards until it ships.
As soon as the battery charges, my first order of business is to shoot a comparison against the D300 (and maybe D200 and Canon 5D if I'm feeling energetic) at a normal and a high ISO, and show the results at 100%.
New: How to Upgrade Your Hard Drive.
That was easy! I just upgraded my hard drive, since I had filled my old one.
I replaced it transferred everything over in just a few minutes, no re-installation needed. You're all reading this site from it today. This is trivial on Apple. It's probably difficult on Windows.
This is another reason I avoid shooting raw. I just blew over $1,000 on two new Firewire 800 hard disks for rotating backup, and had to add a bigger hard drive in my desktop Mac. This cost me $1,500, just to store my JPGs. If I'd been shooting raw all these years, I'd not only be into it for thousands of dollars more, I wouldn't be able to fit my life's work on one hard drive, which would complicate my daily backups, costing me more time which therefore is even more money.
I also bought my wife a new iMac for her birthday. She's overjoyed with it, since it replaces her horrible Dell POS. I got her the cheapest, base-model 20" version and it is extraordinary. (It will run Windows, too, as if we cared.) Heck, it's so fast, simple and sleek I want one to replace my hulking Quad G5 and 30" screen! The iMac is just about silent, with no fan and just the silent whirr of a premium low-SPL hard drive spinning. She has no idea what she can do on her iMac; she's so happy that it does her eMail and Internet without crashing, or even having to wait to turn on, that she now knows why pros use Mac.
02 December 2007, Sunday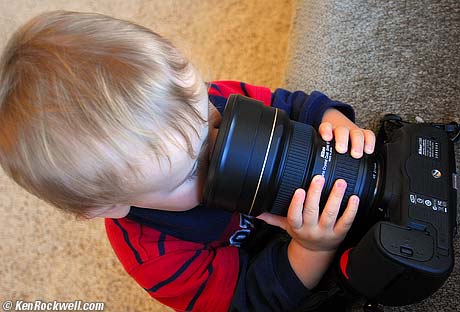 Baby Ryan checks out daddy's new Nikon D300 and gigantic 14-24mm lens. (photographed with daddy's old Nikon D200 and reasonably sized 12-24mm DX lens. Daddy was comparing the two lenses on the two cameras. Results: the 14-24mm is better than the 12-24mm DX wide open in the corners, but I still wouldn't recommend it for anyone sane for DX cameras; the 14-24mm is too darn heavy and the 12-24mm is as good for reasonable use.)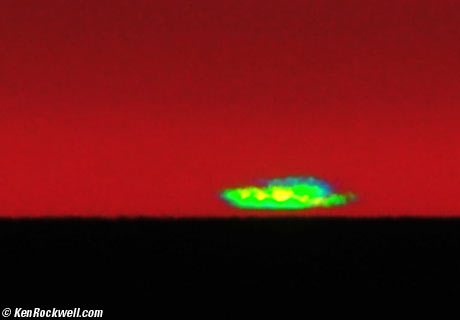 Live: The Green Flash, San Diego, California, 16:43:29 PST (00:43:29 UTC next day). Nikon D300, 80-400mm VR at 400mm, f/16 @ 1/500 (manual exposure, manual focus) , ISO 100. Crop at 100% from much larger image.
01 December 2007, Saturday Night
New: More Nikon D300 Example Photos (Sunset at Tower 29).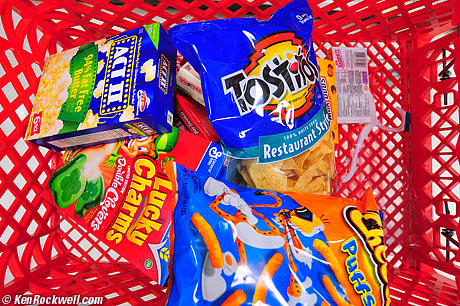 Loud enough color for you? This is made under store lighting, with the D300's color cranked to extreme, and shown exactly as shot in JPG.
My 14-24mm f/2.8 AFS arrived yesterday, and optically it is perfect on my D300. I'm not saying "perfect" like I call my wife perfect; I'm saying the 14-24mm is so optically perfect its as if Nikon suddenly exempted itself from the laws of optics which have fettered us for the past 150 years.
What Was New in:
November 2007: First hands-on details about the Nikon D3, D300, 14-24mm and 24-70mm, much of which still isn't on the individual review pages.
August 2007 (Loads of new Nikons and Canons)
2006 November - December (includes birth of Ryan Rockwell)
2006 October - November (includes photos from a trip to NY)
Caveat: The ads below come from a third party and I don't see or approve them. They are sent to your screen directly from a third party. They don't come from me or my site. See more at my Buying Advice page. Personally I get my goodies at Ritz, Amazon and Adorama.