January 2008's Updates
all © 2008 KenRockwell.com

new RSS feed!

I get my goodies at Ritz, Amazon, Adorama. It helps me
keep adding to this site when you get yours from those links, too.
Baby Ryan Rockwell. Cute photos with tech data.
NEW: Nikon D3 D300 14-24mm 24-70mm 18-55mm VR
Canon XSi 1Ds Mk III 14mm II 18-55mm IS 55-250mm IS
Nikon Pro Normal Zoom Comparison
30 January 2008, Wednesday (My birthday - Yay!)
AHA!! The Nikon D3 is is stock here as of 10 AM January 30th, 2008 - get it while you can! That's a great store; I'd order one if I didn't already have mine.
29 January 2008, Tuesday (My Dad's birthday)
NEW: Nikon D60.
28 January 2008, Monday
NEW: Nikon D60.
D3 Sucking: I tried my Shop-Vac on my D3, and it both cleaned out the finder as it's done before, as well as sucked out some dust from the sensor. Don't do this yourself, since you could suck out the mirror or the shutter.
NEW: Complete re-write of my Nikon 300mm f/4.5 AI-s Review. This lens hasn't been taken seriously by pros since the introduction of the 300mm f/2.8 ED-IF in 1977, but lo and behold, this old AI-s lens works stunningly well on the D3.
Hoax or News? Chat-roomers are making up Nikon D60 rumors. We'll see. Nikon will be announcing whatever's new for spring on Thursday, and I ought to get a peek Wednesday night.
Photos: I'm back from the Route 66 Workshop. Now I need to pop up some snaps for you all. Great news: as if it hasn't been obvious, I haven't actually shot anything for real since I got my D300 or D3. They arrived over the holidays and all I did was slack for the past two months.
Now that I got the D3 out and shot it, I really appreciate how well the 14-24mm and the D3 work. Since the 14-24mm is sharp and has no falloff even wide open, and that the D3 looks great even at ISO 6,400, it really eliminates any need for a tripod except for serious work at night. I can get into restricted, unlit areas, shoot like crazy, and I get astounding results. I didn't have to stop down the 14-24mm as I did my Canon EF 14mm f/2.8L (original formula) last year.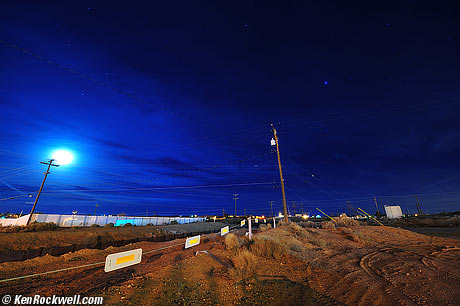 Moonrise, Barstow, California. Nikon D3, Nikkor 14-24mm at f/5.6, 30 sec. at ISO 400, 'pod, WB set on a preset I use indoors in my home (recalled from memory). Exactly as shot. The small dots in the sky are called stars.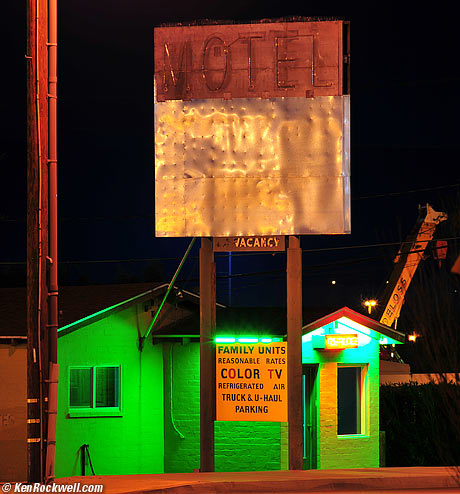 Green Motel, Barstow, California. Nikon D3, Nikkor 300mm f/4.5 AI-s (the cheap old one, not ED and not AF) at f/11, 8 sec. at ISO 200, 'pod, WB set on a preset I use indoors in my home (recalled from memory). Exactly as shot (slight crop from vertical).
The D3 fixes any lateral color fringes the cheap, non-ED 300mm might have.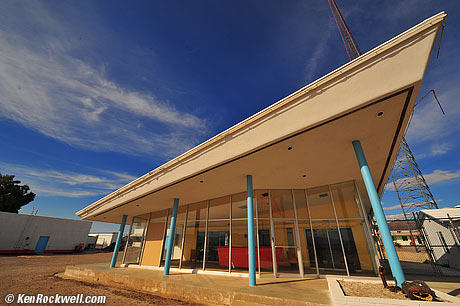 Spaceport. Nikon D3, Nikkor 14-24mm at 14mm, Auto-A4 WB. Exactly as shot.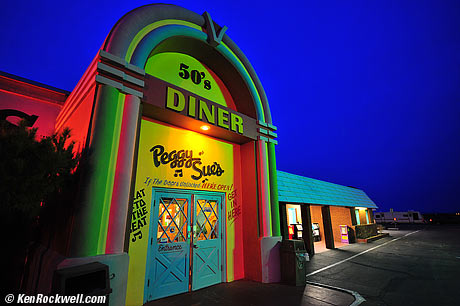 Peggy Sue's. Nikon D3, Nikkor 14-24mm at 17mm, f/2.8 @ 1/15, Auto-A4 WB, auto ISO chose ISO 1,400. Exactly as shot.
OK, maybe the 14-24mm has a little falloff wide open, but far less than other lenses. I wish it had more falloff which would have added more emphasis and darkened the sky.
Once I got used to carrying it, as I suspected, the 14-24mm covers the ideal range for an ultra-wide loving guy like me. I was usually on the 14mm stop, but not always.
I love ultra-ultra wides. I hope Nikon introduces the Nikon AF-S Nikkor 12mm f/2.8D ED-IF (non-fisheye) later this week at PMA; we'll see.
25 January 2008, Friday
NEW: Complete re-write of my Nikon D3 Review. I took all my notes these past two months and put them together so they make far more sense than the old review. It now should be far, far more helpful than the klunky old review and random comments splattered all over these "What's New" pages. This re-write took me the past week or two; I hope you appreciate it. I'm at over 12,500 shots on my D3, so I finally have the feel of it. Honestly: the great thing about the D3 is that it felt this good the first day I picked it up.
24 January 2008, Thursday
Holy Cow! (I was a little less polite with my language when I first saw this this morning at dawn.) I saw a full 180 degree double rainbow, and had the right camera and lens in hand to capture the whole thing! Of course this was a life-changing experiance not fully told in the 460 pixel wide image here.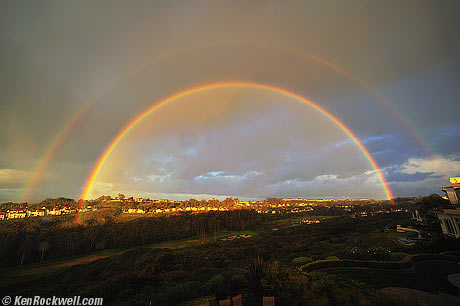 Double Rainbow. Nikon D3, Nikkor 13mm f/5.6 at f/11.
The Full Frame Advantage: Double Rainbow, full-frame, 13mm ultra-ultra-ultra wide lens. Even a 14mm couldn't catch both ends of the second rainbow. On DX all I could get was the brighter inner rainbow:
Only one rainbow. D200, 12-24mm at 12mm.
23 January 2008, Wednesday
NEW: Nikon D300 versus Nikon D3. What do you get for three times the price? Hopefully this shows how close the two are, which is why almost everything I've been saying about the D3 applies to the D300.
Hot used lens bargain is back again! There's a Canon 1,200mm f/5.6 EF autofocus (fully compatible with all Canon EOS cameras) for sale here, at a bargain price. (It had shown out of stock yesterday - I guess someone bought it, and wasn't strong enough to carry it out of the store.) I trust that dealer and have used them many times in case you're wondering about their validity. You can read about the lens at Canon's Site or Wikipedia.
Making it an even better bargain is that it takes inexpensive 48mm drop-in filters.
The 1,200mm was a build-to-order lens introduced in 1993 at 9,800,000 yen ($90,000). With inflation, that is the same as $131,000 today, making the used lens a bargain. It weighs just over 36 pounds (16.5 kg). The reason you want one is speed: at f/5.6 it is many f/stops faster than any other way you can get to 1,200mm, and you can use it with teleconverters, too!
21 January 2008, Monday
Housekeeping: I'm pulling the past two months of personal D3 observations, which have been sprinkled all over these "What's New" pages, and editing them into sensible order for my upcoming completely re-written D3 Review.
D40 in Cold Weather: A reader in Minnesota, USA writes that his D40 works perfectly, albeit with a slightly slow-motion LCD, in -15F (-25C) temperatures for at least 30 minutes. He says it sure beats film, which would crack in that cold.
Marketing Poop: In case anyone was wondering, the very top resolution of any HDTV format, both for Hollywood production as well as distribution, is only 2MP: 1,920 x 1,080. Even the dual-link 4:4:4 system in Hollywood is still 1,920 x 1,080, but without the chroma subsampling.
Talking about digital still cameras as "HD" is silly - they were there in 1999. Seen Digital Cinema? That's also still just the same 2k 2MP resolution. Digital cinema may hit 4k, but we'll see. Personally, for a moving image, I've seen it all in Hollywood and 2k is just fine for me to enjoy the film.
I haven't yet written my off-topic guide to HDTV, but in case you're wondering: 1.) It's all about color. Plasma is bad, LCDs are pretty bad, DLPs are better, and yes, the very best reference standard used in Hollywood to master everything is the good old-fashioned CRT. 2.) Resolution doesn't matter: at home, any conventional DVD looks better on an HD display than almost anything broadcast and everything on cable due to the nasty data compression used. Just get any $39 DVD player with a progressive output and watch real Hollywood movie DVDs and you're all set. Don't fret HD DVD vs Blu-Ray; each looks the same, and in fact, a good Hollywood movie transfer in regular 525 DVD (aka 480i) looks about as good as HD for any real drama.
I'm not kidding: working in Hollywood I've been in telecine bays where both versions are up on $30,000 Sony CRT monitors next to each other, and it's almost impossible to see the difference with real drama. It's trivial with a static test pattern, but not real movies.
Sadly we can't calibrate home video displays as precisely as we take for granted with thing like Spyders: video displays lack the adjustments, and plasma and LCD displays lack the z-axis precision (bits) to display a subtle enough range of colors. Plasmas, even the best, often posterize subtle and dark shades.
19 January 2008, Saturday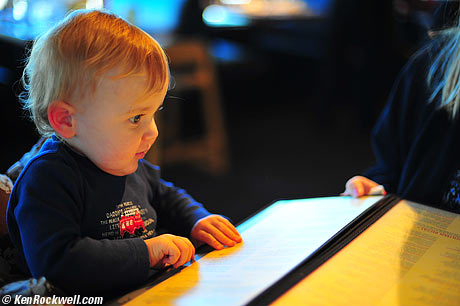 Ryan reading the menu. (Nikon D3, 50mm f/1.4 AF-D,1/125 at f/1.4, auto everything, Auto ISO chose ISO 280.)
If you saw the 100% image, you'd see how the Nikon D3 simply nailed perfect f/1.4 focus on the near eye, as it usually does.
The D3 automatically found the eye in the AUTO AF select mode (white rectangle), and just did it in the AF-C mode. This is one of the things that makes the D3 very special: I just point, and not only (when set-up properly) does it set the ISO and exposure, it also locates the subject in the frame and focuses on it without me having to select it or recompose! There's no way I could catch a kid doing these things any other way.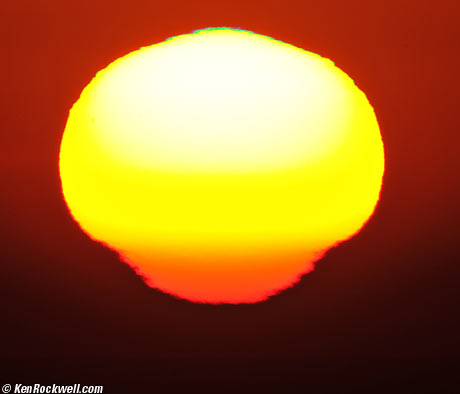 Green Flash loitering on top of solar orb.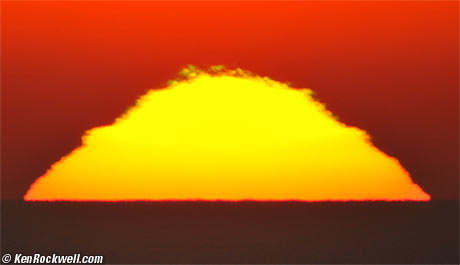 Green Flames on top of orb.
Both: Nikon D3, Celestron 8, minor cropping. We didn't get a green flash tonight even though we had blinding clarity all day. This shows from where the green flash would come if it were stronger. When everything orange plops into the water, all that's left for a moment is the green on top.
18 January 2008, Friday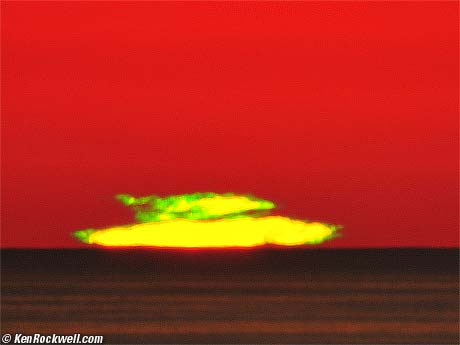 The Green Flash, Sort of. Nikon D3, Celestron 8, f/10, 1/250, ISO 200, cropped.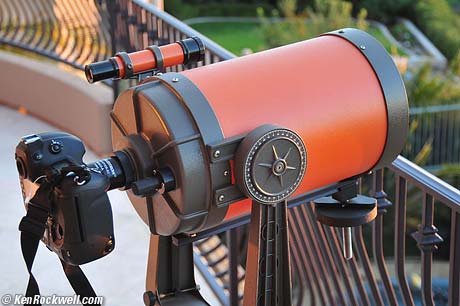 Celestron 8 (2,000mm f/10, circa 1970) and D3.
The flash didn't really happen, but with a real scope I easily could see the brewing, billowing green fringes off the yellow center, with all that was left at the last instant being the green. On a better day, we'll get a lot more green.
I paid $500 for this old C-8 from about 1970. These original orange-tube C-8s came in wonderful alt-azimuth fork mounts. Just set them on a solid table and they are better than a Wimberly mount, since they have fine-motion controls. Add a Losmandy counterweight system and a T-mount and you're set.
The C-8 is diffraction and seeing-limited in the center, but curvature of field is serious in the corners of the D3. It should be much better on a DX camera like a D300. I need to try the 0.63x reducer to see if it really flattens the field as claimed, which I don't think covers FX.
If I've lost you in jargon, you can get all this and advice at a good telescope store like OPT here in San Diego, and also get most of it at Adorama.
Show Review: Steve Cirone's show last night was one of the best photo shows I've seen. Not only is Steve among the best bird photographers in the world today, but he's a fantastic speaker. Not only is Steve to the point with practical advice on how to get great bird shots, he's funny, too! Most other photo lectures are boring, but have good photos. Even if you didn't like birds or photography, Steve's talks are a crack-up.
Every well-known bird photographer has his own look. Art Morris' shots are mostly record shots (no action other than flight). Art Wolf's work is often close-in with birds interacting with other birds. Steve's work stands out because his work shows birds actually doing things like eating and catching prey. Steve shows us sequences of shorebirds gulping down shrimp or pandering the ladies for sex.
Steve spends all his time shooting; I'm trying to get him to do a website so you can see what you missed. He showed us birds doing things which no one has ever caught before.
17 January 2008, Thursday
Current Events: Fidel Prefers Nikon.
16 January 2008, Wednesday
Dogma: I thought of yet another analogy between cameras and picture quality.
Someone asked "If I got a camera with only 6 or 7 MP, can I make good pictures with it?"
That reminds me about the guy who breaks a wrist and asks his doctor: "Doctor, will I be able to play the piano after this heals?" The doctor replies "Absolutely, no problem!" The man laughs, and points out that that's great, because he never could play the piano before!
Buying a Bösendorfer doesn't mean you can play the piano. Buying a great camera doesn't mean you can create compelling photographs. Good pianists can play on anything and a good photographer can make great images with a disposable camera.
As we all saw in The Blues Brothers, give Brother Ray a keyboard with a sticky action and he'll play so movingly that the whole town will be up and dancing.
Cameras don't take pictures, photographers do. Cameras are just another artist's tool.
14 January 2008, Monday
Observation: Nikon D300 in stock at $1,799.99.
Computer News: Apple introduces the word's thinnest notebook computer. The rumors were right. The new MacBook Air has an optional 64GB solid state hard drive.
The Macbook Air has the slowest processors, smallest hard drives (only 80GB or 64GB, same as my over-four-year-old iBook, and I can update my iBook!), and only a maximum of half the RAM of any other MacBook (2GB fixed vs 4GB optional in the others). The cheapest plastic MacBook probably outperforms the Air, at least for us heavy users.
The MacBook Air has no Firewire port or optical drive, making it less useful to me as a photographer because I need to up- and down-load scads of image files as I create them in the field. I use professional San Disk Extreme IV cards and readers, which use Firewire, so I can download industrial quantities of files as I shoot. (Raw shooters beware of USB.)
The Air seems like a dainty girly-man (or business-man) laptop for taking boring notes rather than the modern creative tool and data cruncher I need as a photographer.
The Air is a huge step forward in teeny laptops, far better than an iPod Touch, but still not for all-day creative users. Looks like it's a new MacBook, in white plastic, for me. I prefer durable plastic cases over pretty metal ones, although I do want the lit keyboard and Firewire 800 of the MacBook pro.
The MacBook Air is the same size as a 13" MacBook which costs less and outperforms the Air. The Air is thinner and weighs 2 pounds less.
Canon Instant Lens Rebates (no mail or UPCs needed) extended through Sunday, 17 February, 2008. These are great rebates on some great lenses. They are magic: the price is lowered through Sunday with no need for filling out any forms or cutting out any UPCs. Prices are so good that I just ordered myself a 16-35mm II and 100mm Macro. Lenses are always a better long-term buy than cameras.
Observation of another observation: Photoshop God Scott Kelby sees the Nikon D3 at NFL games. I suspect that as fast as Nikon can ship D3s that we'll be seeing them everywhere. They just GO! For some weird reason, Scott's page takes forever to load on my machine.
12 January 2008, Saturday
Old: I put my Nikon Capture v 1.3 comments on its own page.
Housekeeping: I completely reorganized the D300 Review to make a lot more sense. I had to split it into several pages because Dreamweaver 8 was no longer able to draw the entire page, so I couldn't edit it anymore! I will now collect all the information I had on these "What's New" pages about the D300 and put them into the real review pages so we can find them all.
11 January 2008, Friday
Nikon 50mm f/2 H AI Conversion Successful! I bought an AI conversion kit, which is simply a modern AI aperture ring. It was trivial to unscrew the mount, swap the old ring for new, and now my 50mm f/2 Nikkor-H from 1972 is fully compatible with matrix metering, auto exposure and full EXIF data on my D3. How's that for Nikon preserving long-term investment value in its lenses? Of course I found an old conversion kit; I don't think Nikon sells them any more. Nikon did until the 1980s, when everyone who was paying attention should have had their old lenses converted.
NEW: Nikon D300 and D3 Picture Control Settings. How to get wild colors, or sucky dull colors if you prefer those, too. Free examples included at no extra charge!
Nikon D3 Durability: I've had mine 5 weeks, and just past 10,000 shots. It works the same as always, just as my D70 does after 25,000 shots. No big deal.
NEW: Nikon 20mm f/3.5 AI Review. One of Nikon's two smallest ultra-wide lenses ever. The review has been up for years, and I just completely re-wrote and re-illustrated it for use on the D3.
10 January 2008, Thursday
A Day of Mourning.
Herbert Keppler passed Friday night, January 4th, 2008. I've been reading his columns every month since 1973. His columns have been in every issue of Popular Photography since 1987, and in Modern Photography since 1950.
Maybe most of you don't realize it when you read his pieces about his Minolta cameras and general musings every month, but Herbert Keppler was a guy who's been writing about photography every month since before coupled rangefinders. He's been writing about it since back when 5x7" view cameras were among the most popular amateur cameras, and when what we call "medium format" (120) was dismissed as "miniature photography!"
We've lost one of our greatest people. I've met Herbert Keppler a few times over the past years, but more impressive is when I used to scour back issues of Modern Photography and read his articles from the 1960s and 1950s. This impressed me deeply, even decades ago, realizing that Herbert Keppler has seen everything we take for granted back when it first came out. Nikon's first SLR in 1959? Big deal, Herbert Keppler had already been writing about their rangefinders for years before. If you want to read something with perspective, Herbert Keppler is it.
Herbert Keppler was never a has-been. He wrote every month, and came into the Pop Photo offices every day. I met him again just last year. Look at your current copy of Pop Photo: he's in the masthead as Vice President/Senior Counselor. Look at a 1950's copy of Modern Photography, and he's in every masthead as well. That's staying power: Herbert Keppler has been writing for 12 years before the Rolling Stones started.
I'm saddened and also surprised. Since Herbert Keppler, as of last week, was still a vibrant part of the fabric of photo writing, I never expected him to pass so suddenly. I hope he's already written next month's column. Maybe I'm crazy, but I would think that all of us who write about photography look up to him as if he were our dad.
See also here.
NEW: Nikon 135mm f/3.5 AI Review. Flawless optics and mechanics for cheap; perfect for D3 users on a weird budget.
Observation: The Nikon 18-200mm VR, the best lens for the D300, is down to $680, and in stock. Yay!
09 January 2008, Wednesday
Additions: Added some new ideas to How to Afford Anything: I forgot to add that I've never used a car to commute to my office jobs, and that the poor man pays twice when he finally gets what he needed in the first place. Simply taking your bike to work more than saves enough to buy every new pro camera Nikon has ever announced for over 50 years!
08 January 2008, Tuesday
Fungus Defeated! Per the suggestion of Berrie Smith, one of the world's foremost Nikon repairmen, I used Windex to remove fungus from the rear element a 135mm f/3.5 AI-s I bought cheap. It worked great! I had to remove the rear element to clean it on both sides. I used a special tool to remove and reinstall it. I wouldn't have tried this at home, except that I only paid $37 for the lens in the first place.
Dangerous Addition: Added a section on Marrying Smart to How to Afford Anything.
Safe Addition: Added illustrations and distortion calculations to my Nikon 35mm f/2 AI-s Review.
Canon A2E Observation: This is Canon's most popular serious amateur 35mm camera from the 1990s. I was just given one for The Ranch, and I'm really impressed at the speed of the AF system and the blinding brightness of the finder. My f/4 zoom with a 2x non-name teleconverter makes f/8, and the A2E still focuses very fast and has a bright finder. None of my Nikons can do that! Yes, the A2E would work perfectly with the 1,200mm, and so would the 5D, 40D and Rebels, in case anyone sends ma a 1,200mm.
07 January 2008, Monday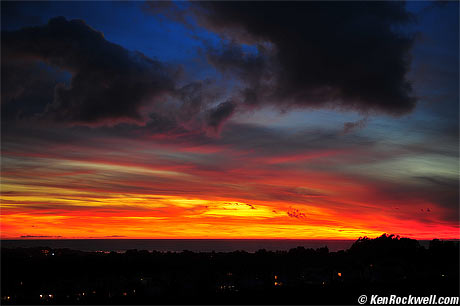 Dimensional Sunset. (Nikon D3, 24-70mm at 50mm, 1/30 at f/2.8, auto everything, as shot, VIVID +3 saturation.)
Amazon is now taking orders for the Nikon 14-24mm, at what looks like $125 less than I paid for mine.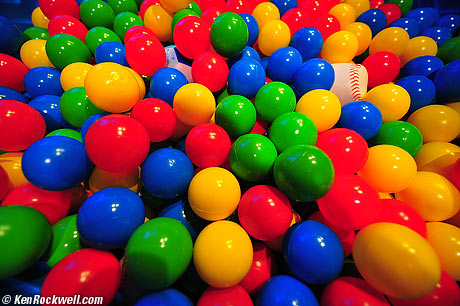 Got Balls? (Nikon D3, 14-24mm at 14mm, 1/15 at f/2.8, auto everything, Auto ISO chose ISO 800, exactly as shot in dim tungsten light in Auto -A2 WB, VIVID +3 saturation.)
Fun Video: Squirrel Obstacle Course. What does this have to do with photography? NOTHING, except that this hot tip came from the wife of the renowned international humanitarian photojournalist Karl Grobl.
05 January 2008, Saturday
Nikon Tele Zoom Observation: I just ran the distortion signatures of the hulking 80-200mm f/2.8 AI-s (review coming), 80-200mm f/4.5 AI (review coming), 80-200mm f/4 AI-s (review coming), 80-400mm VR (review a little updated for the D3) and 80-200mm f/2.8 AF-S (review a little updated for the D3) through the cranker, and lo and behold, they all have almost identical distortion at each focal length! They run from about +3.5 barrel at 80mm to -1.2 pincushion at 200mm, and all match at each setting. Weird, but so much for trying to find a distortion King.
Rumor: People tell me the D40x has dried up. Good riddance; I prefer the D40 for much less money anyway.
If anything new is coming, it will be announced on 31 January 2008.
Nikon 16-85mm f/3.5-5.6 VR Rumor: A reader who actually looked at the images closer than I did noticed that they were exactly the same as his 18-200mm, with some 'shopped markings.
04 January 2008, Friday
NEW: How to Afford Anything. Want to know how I afford my toys? Here's how!
Canon 1D Mk III AF-System Update and Upgrade: My pal Steve Cirone is a pro bird photographer. He's the guy out wiggling around in the wetsuit chasing after birds every dawn and sunset.
Steve has one or two Canon 1D Mk IIIs, and their AF system has been worse than his EOS-IV film cameras. The 1D Mk III can track a bird in flight when it's easy, like against a blank sky, but that's about it.
Steve just bought the new improved 1D Mk III, and it now is a zillion times better. He says it works fabulously and can track anything, so long as you can drop one of the AF sensors on top of the subject once. The new D Mk III (?N)can track flying birds against backgrounds which have little contrast from the bird. He avoids the 45-pont free-for-all mode, since it tends to grab obvious wing tips versus the bird's eyes, so that's why he uses the tracking mode where you drop one box on the target.
Steve tells me the way to identify the new version, which has a new mirror box assembly in addition to new firmware, is by a small blue stick-on dot next to the bar code on the box. Steve says these have been out since November 1st.
Steve says his 1D Mk III is good to ISO 2400, and at ISO 3200 starts to get noise in the shadows. One day soon we're going to get together and shoot off the D3 vs the 1D Mk III (n).
Steve's going to send in his original 1D Mk III which he says Canon will update the mirror box for free.
I have no idea about any official word from Canon; this is from my pal Steve.
03 January 2008, Thursday
Observation: Don't let this happen to your photography. As read in National Geographic Magazine, November 2007, page 125 in an article on hunting: "...we're seeing a new generation of hunters... Half the time, they don't even know what they're shooting—they're so obsessed with the latest gun, the latest camo pattern."
Which reminds me: One day last month I decided not to renew my $12/year subscription to Condé-Nast Traveler magazine. Years ago I got it for useful travel information and cutting-edge travel photography each month from the likes of McDuff Everton and Annie Leibovitz, but for the past few years the magazine has just gotten too stupid and too fat with ads for useless products. The photography is still excellent, but most of the magazine is macro shots of poorly designed watch faces.
Later that same day I got junk mail pandering a $12/year subscription to National Geographic Magazine. Duh, so I wanted to see good photography, and I had $12 I wasn't sending to Condé-Nast.
Have you read National Geographic Magazine lately, or just seen it as a tag-line from every ex-photographer pitching cameras and photo workshops? Get the magazine, it's loaded with extraordinarily well reproduced and innovative photography, and yes, every issue usually has a slow-sync flash, blurry-background interior shot.
Not only is the photography everything we expect it to be, but unlike other magazines and TV which have gotten stupider with time to suit their markets, National Geographic is still largely educational. I learn a lot in each issue. I worked in TV for decades, but haven't watched it at home since the 1970s since it's mostly for dummies. I do read. (Funny thing when I would mention "People who watch TV are idiots" when I worked in TV. My colleagues agreed; they never watched whatever garbage it was they were getting paid to make, in fact, they would be surprised when friends would chide them for whatever garbage their network broadcast, and their response would be "We did what??"!)
National Geographic scammed me, too. I mailed them their $12 check, got the magazine, and then got a nasty-gram demanding the $3.95 that was hidden in the fine print for postage and handling. No worries, I love the magazine. I'm unsure where you can get it for $12 + $3.95 unless you wait for junk-mail come-ons. Aha: a reader adds that you can get it direct for $15 here.
Like many people, seeing how each issue is a work of art, I can't throw them away. I'll bring them to Photo Club meetings and give them away.
02 January 2008, Wednesday
NEW: Nikon D3 vs Hasselblad H3D-22. Thanks Paul Reklaitis!
New Product: Nikon G to Canon EOS Adapter. Weird but true, this crazy adapter lets you actuate the diaphragm of G lenses, like Nikon's latest extraordinary 14-24mm, for use on Canon. Used on the Canon 1Ds Mk III , you can get better images than you can from anything from Nikon. Weird but true!
Observation: I noticed Ritz has the new Nikon 18-55mm VR in stock here for a whopping $200.
Apple Praise: Throughout all of 2007, I had not one problem with my Apple Quad G5 on which I do this site, my photography, and everything.
I beat on it for at least 10 hours a day, every single day, and all it's done is work, work work, without as much as a burp. Not a crash, not a slowdown, no reloading operating systems or programs, no nothing other than my expected and scheduled upkeep, like Apple's free automated software updates.
I usually have 12 programs running at a time, and throw as many things at it at once as I can. For all of 2007, I tried, and could not kill my Mac, no matter how hard I tried. It won. No matter what I did, it never got in the way or slowed me down.
Improved Canon 5D: My Canon 5D, bought around November 2006 when Canon was giving a $600 rebate and with a serial number beginning with 1, has the worst, dimmest and most off-color LCD I've ever used, just like the 30D. I hear that the latest 5Ds have an improved LCD, with serial numbers beginning with 2. I sure hope so! Yay!

Apple Rebate Scam: I almost got hoodwinked by Apple. I bought my wife a new iMac at Thanksgiving. Telesales sold me an extra $100 Canon printer I didn't need or want since they had a $100 rebate, when bought with the iMac. I asked, and the rebate is good through 21 January 2008.
Today, my first day back in my office since I bought the iMac, I filled out the online rebate form, and discovered that Apple has added a new clause to ensure even fewer people will ever get the rebate to which they are entitled.
The new clause, buried in fine print (carefully hidden inside "Claims Procedures" under the Ts & Cs) and not stated when I made my purchase, requires your rebate submission to be within 30 days of purchase, regardless of the rebate period.
Not about to be scammed that easily, I spent another half-hour investigating, and Apple told me that there is a 15-day grace period in addition to the 30 days, so I ought to be OK.
What do we learn from this? 1.) Never buy something based on a mail-in rebate, and 2.) if you need to submit a rebate to Apple, do it NOW.
Apple usually doesn't try to take advantage of customers with these old ZRP-goal (zero rebate payout) schemes. Someone at Apple needs to renovate their system as Canon has done. I understand the need for live UPCs to reduce fraud from the losers who have all day to think of ways to scam Apple, but the 30-day sucker period is obviously nothing more than a way to get closer to the ZRP goal. Apple is usually much better than this, and I hope someone else helps point this out to them. I need to ask the folks I know associated with California's State Attorney General's Office if this is something heinous enough to make their radar.
Excellent Canon Instant Rebates: Ironically, while Apple tried to scam me while buying a Canon printer, Canon itself does rebates properly. Canon's rebates, valid through Sunday, January 13th, 2008, simply drop the price at the time of purchase with nothing more to do. Canon has a slew of excellent lenses on rebate, and I may just buy myself the excellent 16-35mm II and 100mm Macro for myself. I borrowed the ones I reviewed.
If you're a Canon film or full-frame Shooter, I strongly suggest the 17-40mm L and 70-200mm f/4 IS, also on rebate and which I bought for myself during previous rebates. The newest 70-200 f/4 IS is as good as the much older f/2.8 IS at f/4, but weighs and costs only a fraction as much. The 17-40mm is as good as the 16-35mm II, but I'm a sucker for the significant extra view of 16mm vs 17mm.
NEW: PDF Version of my Nikon D70 and D70s Users Guide. Thanks Ron Zaeijen!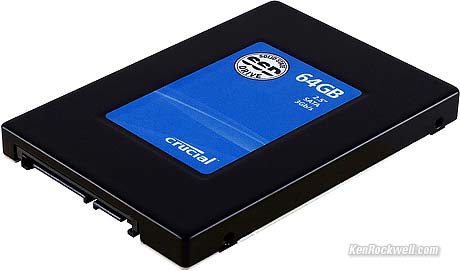 64 GB 2.5" Solid-State Drive.
CES News: Lexar today announced two new solid state drives (SSDs). These can be used to replace traditional hard drives. They come in 32GB and 64GB capacities in 2.5" 3GB/s SATA enclosures.
SSDs use the same memory as CF cards to replace the spinning mechanical platters in traditional hard drives. SSDs are far more durable, use less power and are claimed to have better overall system performance than traditional hard disk drives. I don't know if they are any faster or slower in actual use.
SSDs have no spin-up time, seek time, or rotational latency, so laptops should boot and load Photoshop faster.
· Less than 2W active power consumption
· 1,500G shock for 0.5msec
· 20G vibration 20-2000Hz
· 2 million MTBF. Lexar didn't specify 2 million of what, I'll presume hours.
· Access time less than 1ms
· 82g weight
· Silent operation – it's just chips, silly!
· Hot-swappable design
· 5-year limited warranty
$799.99 for 32GB, $1,499.99 for 64GB model. Expected to ship in early
February 2008.
My interest in these is hoping that their introduction foretells the coming of the long-rumored ultra-compact Apple Mac laptop expected at Macworld in two weeks.
01 January 2008, New Year's Day
Felice Anno Nuovo!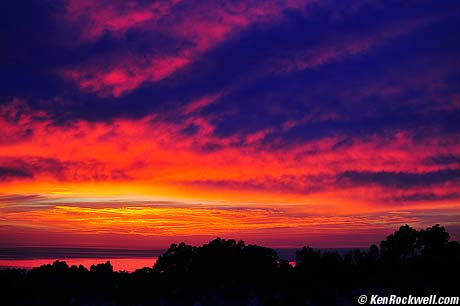 Sunset, New Year's Day. See the wild blues? I set tungsten WB on the D3, since the reds were already wild enough. Of course I was in VIVID and +3 saturation.

New Rumor: Nikon 16-85mm f/3.5-5.6 VR. Sharp-eyed readers tell me that site is the biggest used-equipment website in Thailand. It said that the lens was sold at 10,000 Thai baht ($300 US) as new from Patumwan Bangkok in person, but with no contact information. It was dated 24 Dec 2007.

What Was New in:

December 2007: Loads of details about the Nikon D3, D300, 14-24mm and 24-70mm, much of which still isn't on the individual review pages.

November 2007: First hands-on details about the Nikon D3, D300, 14-24mm and 24-70mm, much of which still isn't on the individual review pages.

August 2007 (Loads of new Nikons and Canons)

2006 November - December (includes birth of Ryan Rockwell)

2006 October - November (includes photos from a trip to NY)