February 2008's Updates
all © 2008 KenRockwell.com

new RSS feed!

I get my goodies at Ritz, Amazon, Adorama. It helps me
keep adding to this site when you get yours from those links, too.
Baby Ryan Rockwell. Cute photos with tech data.
NEW: Nikon D3 D60 D300 60mm 24mm PC 16-85mm VR
Canon XSi 1Ds Mk III 14mm II 18-55mm IS 55-250mm IS
Recommended Cameras Nikon Reviews Canon Reviews
29 February 2008, Friday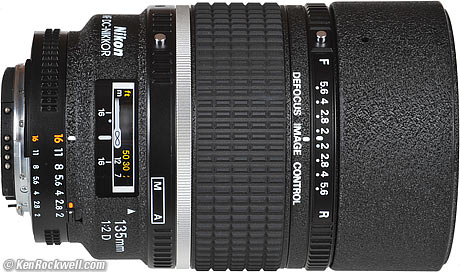 NEW: Portrait Lenses. An age-old question finally answered.
New Link: Just added Joel Zak to my Links page. He has extraordinary color on his website.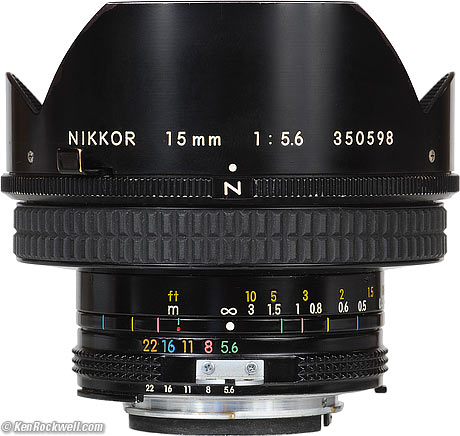 Nikon 15mm f/5.6 AI.
NEW: Nikon 15mm f/5.6 Review. Have I gone crazy? NO! I've been this way all along! This is a 30-year-old exotic lens that is almost impossible to find. It works extremely well on the D3.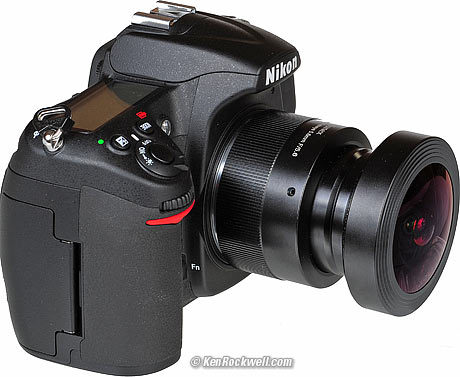 Sunex 5.6mm on a D300.
NEW: Sunex 5.6mm Fisheye Review. This was the most interesting new product I saw at PMA 2008. It is the best under-$1,000 circular fisheye I've used, and in some ways better than $2,000 circular fisheyes. It's simply a newer and smarter design.
28 February 2008, Thursday
The Nikon D60 is in stock here.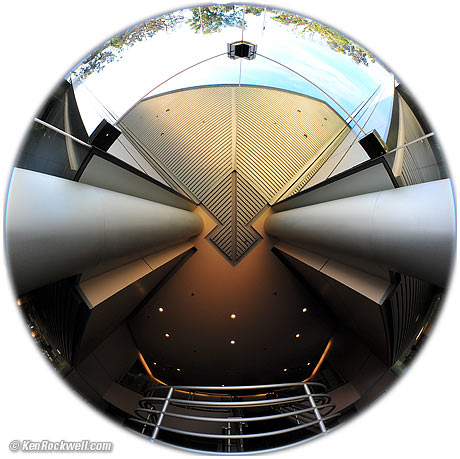 Fun with fisheyes: I just got to try the Sunex 5.6mm fisheye, and it on a D300 works just about as well as the exotic Nikon 8mm f/2.8 on a D3.

27 February 2008, Wednesday

4x5" Cameras Still Rule the Roost: For serious photographers who need quality, versatility and convenience, 4x5" has been the king for decades. I often point out that while Outdoor Photographer magazine does almost nothing but push the new digital products of its advertisers, their showcase and cover shots are usually made on 4x5" cameras.

This morning while reading my March 2008 copy of Popular Photography, loaded with tests of the D3, 14-24mm lens and a zillion other forgettable digital products-of-the-week, their back page photo of a model with wild hair was shot on 4x5. The neighbors heard me yell "YES!" This wasn't just a landscape, it was a live model shot by David Yellen.

I think Outdoor Photographer has heard me catch them on this, since in the February 2008 issue they've conveniently forgotten to credit David Muench's bristlecone pine cover shot as being shot on 4x5.

If you can afford to blow a couple of grand every year to stay in the digital game with the latest digital camera, don't let me stop you, but in case you're curious, I'm still using the same 4x5" camera I bought back in 1992. It is a used Linhof Technika IV, made in 1956, which I think is what David Muench is still using.

For under $2,000 you can get a complete 4x5" camera setup which, included in the $2,000, will give 100 MP digital images, and you won't need to buy a new one next year.

4x5" is a very handy format. I've traveled the globe carrying mine, and most of my Gallery has been shot on 4x5 Velvia. (Of course as of this morning I'm already past 19,000 shots on my D3.)

People really crazy for quality shoot 8x10" and larger today. I mean, seriously, if you're going to waste your time carrying a tripod, the least you can do is put something worthwhile on top of it. When I praise the virtues of small, light cameras, its because I hand-hold them. It's silly to carry a tripod and then shoot just a DSLR on it.

Here are tips on hacking a D40 for metering with manual-focus lenses.

25 February 2008, Monday

New Link: I added a link to Mike Ellis' superb Hawaiian underwater photography at my Links page. I rarely add links unless they are to sites with great photos and are easy to browse. Most sites, even if they have good photos, are too much of a pain guessing where to see pictures. Mike's site is loaded with colorful Hawaiian shots, and it's got the photos right where we can see them. I wish all sites were this good; too many people get carried away and the photos wind up hidden behind pointless mystery navigation.

24 February 2008, Sunday

NEW: I'm interviewed about optical filters for digital photography by Popular Photography's Editor-at-Large Jason Schneider. It's published in several trade magazines and is also on Tiffen's website for posterity.

23 February 2008, Saturday

Nikon 70-300mm VR on D3: Sharpness is pretty good, just a little better than the 40-year old 105mm f/2.5 NIKKOR-P below. It's sharp at all settings, except a little softer in the corners wide-open at 70mm. The distortion is typical for a 4x tele zoom.

Nikkor-P 105mm f/2.5 on D3: Not to be confused with the 1971-2005 105mm f/2.5, this earliest 5-element, 3-group version from 1959-1971 works swell. It has no distortion, has easy 1-finger focus and it's much shorter and lighter than the current 105mm f/2.5 lenses. My sample is softer on the right side at large (f/2.5) apertures. Close focus: 4 feet/1.2m.

300mm f/4.5 NIKKOR-H versus 300mm f/2.8 ED-IF AI on D3: As I suspected, they are just as sharp. The NIKKOR-H is single-coated in amber, so color balance is slightly cooler than modern lenses like the multicoated f/2.8 ED. On the D3, which corrects any lateral color,they are just as sharp; one's ability to focus is more significant than any difference between lenses.

22 February 2008, Friday

New RSS Feed. Thanks Vince!

300mm f/4.5 NIKKOR-H on D3: Wonderful! Even this old lens, made from 1969 - 1974, works great on the D3. It's sharp corner-to-corner wide open; sharp enough that in D3 images I can read large street signs 3/4 mile away and see the positions of the wings of birds flying in flocks 2 miles away! (Warning: the older and identical-looking 300mm f/4.5 NIKKOR-P sucks. The only way to tell them apart, besides the horrendous lateral color fringing of the -P, is to read the lens barrel.)

It's easy to focus and has no lateral color fringes. Bokeh is nicer than most Nikkor lenses, however there can be colored fringes on the outsides of out-of-focus highlights: green behind the subject, and magenta in front of the subject. Distortion is invisible without instruments; use -0.5 to correct in PS CS2's lens distortion filter at infinity and -0.2 at 15 feet (5m). Falloff (darker corners) are only very mild wide open, and gone by f/5.6.

The built-in tripod sockets are perfectly balanced for the D3, but unless you have a 'pod with a small head, the D3's battery bulge will probably bang into your 'pod head. No problem; I did the nasty and put the D3 on a tripod directly.

Considering that the image quality of this 1971 lens, with the automatic lateral color fringe correction of the D3 (and D300), is about the same as the 300mm f/2.8 models, these are bargains at about $100 used! Be sure that any lens you get has been updated to AI; as originally shipped, the 300mm NIKKOR-H lenses won't mount properly on modern cameras.

21 February 2008, Thursday

D40 deal at Adorama: Fans are writing that they are loving the $399 refurbished-by-Nikon D40 kits. I've never used one of these, but the people who've scored them are loving them. Personally, as a guy who uses his gear to the limit, I'd pay 25% more for a brand-new one, but for most normal people for whom the D40 is intended, I'd not worry about what might or might not be if I'm already $100 ahead with a refurb. I bought my 400mm f/2.8 AF-I as a refurb 10 years ago, and it still works great while saving me $4,500.

I added a section on Nikon D3 Cold Weather Performance to my Nikon D3 Review.

Photo Club Meeting in San Diego tonight, all about moonlit landscape photography. Be there.

20 February 2008, Wednesday

Total Lunar Eclipse Wednesday Night.

People are writing to tell me that Amazon has been reneging (canceling confirmed orders) on some of the great D40 deals people ordered last week. Weird; Amazon claims they goofed.

In any case, I guess I was right in noting that it was a great deal!

One reader was lucky enough to have had Amazon ship only his D40, but not the extra VR lens, so they shipped his D40 with all the discounts that applied to everything and cancelled the rest, sending him his D40 kit for only about $357. Others who ordered as soon as I mentioned it did get everything as expected at the killer price, for instance, one reader wrote to say he got the D40, 18-55mm lens, 55-200mm VR, spare battery, and the remote control for $585 dollars shipped. You just never know.

I've never found any business more upstanding than Amazon. I won't flog them for having made the first mistake about which anyone has ever told me in ten years of me being a customer. They've never screwed up any of my orders.

I'm still smiling after having paid $600 for my D40 when it first came out, and I just paid full new price for a 55-200mm VR to review in more detail yesterday. No deals for me either.

19 February 2008, Tuesday

Added more to the recommendations section of The Future of FX and DX formats addressing lens strategies today to address the potential of an affordable FX camera tomorrow.

eBay fraud continues. The same sets of presumably bogus items are now appearing at another presumably hijacked account.

It's fun to note how they always hijack an account with between 20 - 50 positive feedbacks in Canada, carefully chosen to breed confidence, and also carefully chosen to be foreign so it carefully falls out out of jurisdiction of most, maybe all, law enforcement organizations.

Claiming to be in Canada may breed some sort of confidence from Americans thinking that it's just another friendly, beer and hockey-loving Canuck brother selling his gear, however the people hijacking these accounts could be anywhere. It's probably not a friendly "come on up for free-healthcare" Canadian at all, but a leather-jacketed thug in Eastern Europe, Detroit or Tobago collecting the Western Unions from his local kiosk.

It's also fun to note that the backgrounds are all totally different in the photos, and that the buy-it-now prices are all about the same, regardless of the items offered.

The item descriptions were all copied from real listings, so they read just like it's one of us selling unused gear - but its not!

Accounts are hijacked when the perps harvest people's account information from phishing.

18 February 2008, Monday

NEW: NEW: Light Falloff Comparison of Every Nikon 20mm Lens Ever Made.

I see the D300 in stock today at Ritz and B&H. I think Adorama also has it in, although their site seems a little confused about it. Now finding the D3 is another story...

D40 metering with manual focus lenses: Yes, a crafty reader sent me one he hacked to do this and it works, but no, he doesn't have any plans (yet) to sell the thing. It was an electronic and hardware hack; he's a machinist.

15 February 2008, Friday

eBay fraud warning: I still see the same Nikon 300mm F2.8 AF-S II ED-IF Lens and other items continuing to appear on eBay with low ($1,100) buy-it-now prices from hijacked accounts in Canada, taking only checks and money orders. Beware! I keep seeing the same photos of the same phony items popping up just about daily.

D3 Lens Dalliance: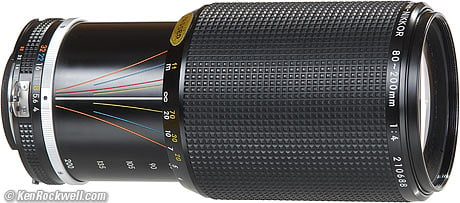 The Prince of Nikon's tele zooms, the 80-200mm f/4 AI-s, works flawlessly on the D3. Its the sharpest, closest focusing, has a 9-blade diaphragm, and is the best of the best manual focus tele zooms. It beats me why these are so cheap today. You have to work hard to pay more than $100 for these second hand; they are the deal of deals.
This f/4 is the Prince; the King is the f/2.8 AI-s manual focus, which costs ten times as much used, and does pretty much the same thing on the D3.
---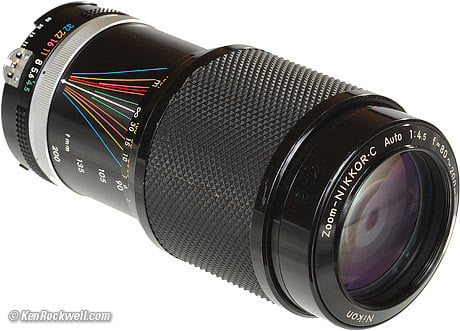 1974 Nikkor-C 80-200mm f/4.5
The 1973-1975 80-200mm f/4.5 Nikkor-C is excellent, sharp from corner-to-corner at every aperture with no lateral color fringes on the D3, as expected, just like the newest 80-200mm lenses. The funny part is how cheaply you can pick these up today, since these are among Nikon's sharpest lenses.
Distortion is the least of any Nikon 80-200 zoom. Plug these figures into Photoshop CS2's lens distortion filter to correct the distortion. .
| | |
| --- | --- |
| | |
| 80mm | +2.5 |
| 105mm | +0.1 |
| 135mm | -0.4 |
| 200mm | -1.7 |
© 2008 KenRockwell.com
---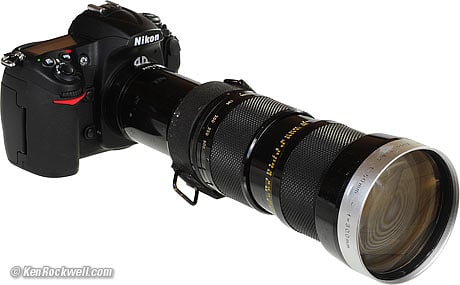 1968 Nikon 50-300mm f/4.5 on a D300.
The 50-300 f/4.5 F from 1968 is awful on the D3. (I only used my D300 as a model for scale.) The 50-300mm is OK at middle apertures at middle focal lengths, but awful in the sides and corners at 50mm and awful everywhere at 300mm. At 105mm and 135mm at f/11 it works very well. At 300mm, there are more lateral color fringes than at a Pride parade. Heaven only knows why they are worth as much as the $200 people typically pay for them, considering how far better any of the Nikkor 80-200mm lenses are for about $50- 100 used. The 50-300mm lenses were scaldingly expensive in 1968, about half as much as a new Corvette.
Distortion is as hefty as the 50-300mm. Here are the figures to plug into Photoshop CS2's lens distortion filter to correct the distortion.
| | |
| --- | --- |
| | |
| 50mm | +4.7 |
| 85mm | -2.0 |
| 105mm | -3.0 |
| 135mm | -3.4 |
| 200mm | -4.0 |
| 300mm | -5.0 |
© 2008 KenRockwell.com
---
I rounded up and compared all known Nikkor 20mm lenses, fixed and zoom, auto and manual focus on the D3 and D300 (big report coming). There are nine different ones. They all were about the same in sharpness, from 1967's 20mm f/3.5 UD through the current 17-35mm AFS. The only lens that stood out is the 14-24mm AFS, which is clearly much sharper and has far less darkening in the corners. All were about the same at f/11; the differences are only visible in the full-frame corners at large (f/2.8) apertures. Moral: run what you brung; the results are the same.
The great $100 D40 and lens rebate has shown up here, too. These rebates have been at the very best dealers, although it's a little odd how this instant rebate just pops up in places.
Another reader writes that he works in a store that's offering the same rebates, and he hears that Nikon's only offering them through tomorrow, Saturday, the 16th.
14 February 2008, Thursday
NEW: The Future of FX and DX formats.
Yesterday's super Amazon deal may or may not be there anymore.
13 February 2008, Wednesday
Added sections on digital zoom and a weirdness I saw in the shots remaining indicator to my D3 review.
Fat Nikon Instant Rebates at Amazon: Amazon is giving $100 instant rebates if you buy any of these three cameras:
D40 with 18-55mm lens
D40x with 18-55mm lens
D80 with 18-135mm lens
and any of these three extra lenses:
55-200mm ($73 after $100 instant rebate)
55-200mm VR ($112 after $100 instant rebate)
70-300mm VR ($353 after $100 instant rebate).
Any combination of these cameras and lenses will get the same $100 off, but the D40 is the killer deal of killer deals because 1.) the D40 is the best deal today anyway, and 2.) Amazon is offering even deeper discounts on the D40 if you get an extra battery at the same time by going to this link for the D40, and scrolling down to the "Buy Both and Save" link to add the second battery. The price comes to only about $460, which is less than the camera alone!
A reader just wrote that he got a D40 kit (18-55mm lens, battery, charger, etc.), a spare battery, a two 2 GB cards, two Tiffen 52mm UV filters, an ML-L3 wireless remote and the 55-200mm VR, all for a total of about $677, and all sold directly by Amazon.
There were a total of about $175 worth of "extra savings" and "promotion" deducted as line items on his receipt at checkout (not before).
Readers tell me to get the deal that they have to add the items to their cart, and that the savings are deducted as separate line items at checkout. Be sure to select Amazon as the seller if you have the option, otherwise the deal won't be there.
Another reader was overjoyed to have gotten a D40 kit and the 55-200 VR lens for $572. Heck, I was happy to pay $600 back in 2006 to get a D40 kit alone.
I've seen the shipping availability change each time I go to the page; keep trying if you don't like the predicted availability.
12 February 2008, Tuesday
NEW: Nikon 60mm f/2.8 AF-D Review. I reviewed the newer, more expensive 60mm AF-S last week. I realized I had nothing on the earlier version, so here you go. Hint: this first version is excellent. If you're on a budget and don't need autofocus on the D40, D40x or D60, get the older one.
11 February 2008, Monday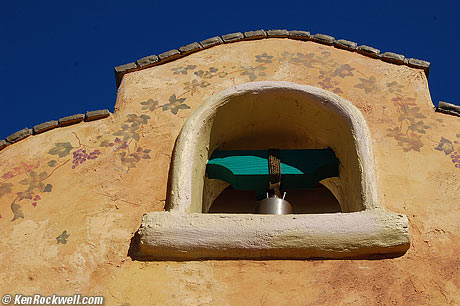 Shot on D40 and 18-55mm kit lens. original file.
Hot Nikon D40 deal: Click this link for the D40 at Amazon, but scroll down to the "Buy Both and Save" link to add a second battery, and the price comes to only about $460, which is less than the camera alone!
By the way, after wearing my D3 everywhere these past two months and having made 17,000 shots on it, I took my D40 out this weekend with the family. It's not as fast as the D3, but honestly, the photos and functionality are just about as good.
The example above is exactly as-shot, straight out of my D40, and as the EXIF shows, is the 14,656th shot made on it.
I can't believe some readers: instead of looking at the picture, some people look at the dust. OK, after 15,000 shots and a zillion lens changes there is a speck or two of dust; I find it easier to spot it in Photoshop, if not, I'd suck out my D40 with my Shop-Vac (don't do this yourselves).
Since you people asked, I jammed a Shop-Vac into the lens mount with my D40 open on bulb. So long as I don't suck out my shutter, a distinct possibility, this is all I have to do to clean my sensors: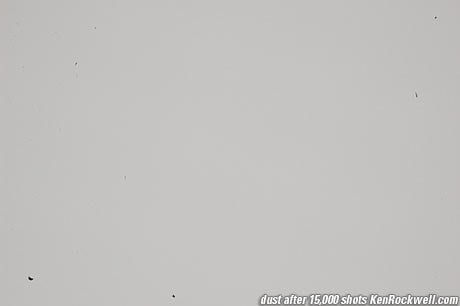 D40 dust at f/22. Roll mouse over to clean.
Edits: I updated the weekly point-and-shoot section of Recommended Cameras.
08 February 2008, Friday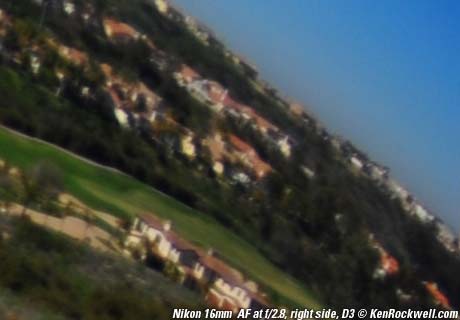 Roll mouse over to see crops from right sides of 100% images.
Fisheye Shootout: On full-frame, I shot three different 16mm Nikon fisheye designs on the D3 against the Canon 15mm on the 5D.
I shot the current Nikon AF-D 16mm f/2.8 fisheye, older AI-s 16mm f/2.8 and oldest 16mm f/3.5 on the Nikon D3.
On the 5D, I shot Canon's current 15mm f/2.8 EF.
The Nikon 16mm f/2.8 AI-s is clearly inferior to all others. It's softer at the sides at larger and middle apertures. It's fine for most uses, but if you like to waste time splitting pixels, it sucks hard.
The oldest 16mm f/3.5 is the best on Nikon. The current Nikon AF-D 16mm f/2.8 AI-s is almost as good at smaller apertures.
Sorry, Nikon fans: the least expensive lens on the least expensive camera is clearly superior. The images from my 5D and Canon EF 15mm f/2.8 are worlds, no, universes, sharper at the largest apertures. The 5D is always sharper in the center due to the 5D simply being sharper than the Nikon D3, while the corners at f/2.8 are very soft in the Nikon and worlds sharper in the 5D.
Of course an intelligent person won't shoot at f/2.8 in daylight, but if you must, the Canon is far superior to Nikon.
The illustration shows the vast difference at f/2.8 between the D3 and 16mm AF, and the 5D and 15mm EF. The Nikon 16mm f/3.5 was a little better and the 16mm AI-s was far, far worse, but the Canon easily beat them all. The Canon was superior even at normal apertures.
At least the colors from the D3, at VIVID and +3 Saturation, are slightly wilder than the Canon at +4 Saturation.
Cheap Music Idea: I'm sitting here updating my Recommended Cameras for spring in light of what I saw at PMA, thoroughly enjoying a brilliant piano performance by Ekaterina Murina of the usual Beethoven sonatas. I then noticed that it's coming from a $5 discount CD. I thought this was a $20 Philips or other top-dollar CD, but in fact it's coming from one of those you find near the check-out in the supermarket. It's $5 at Amazon on a Sony Infinity Digital CD, and shipping is free if you joined Amazon Prime as I did. For you audiopiles (sic), I think this disc was recommended to me years ago as a great example of what Sony was doing with 20-bit to 16-bit noise shaping.
I added Nikon Product Numbers to most current lenses and flashes to their respective pages.
I also addend a ton of new photos of baby Ryan.
07 February 2008, Thursday
Patent News: This has become of my most recent US Patent application. It's a genius idea to allow display wide-dynamic range data on a rasterized (ie, LCD) display.
eBay fraud: An agent from the FBI wrote me and suggests you all report this to the Internet Crime Complaint Center. The FBI also has information on the sorts of things they are investigating at Operation Cyber Sweep.
06 February 2008, Wednesday
Lens First Impression on D3: The manual-focus 28-50mm f/3.5 AI-s feels great on the D3. It's moderately soft in the corners wide open, and really sharp in the center and stopped down to f/11. There is no distortion at 50mm and in the great macro range, and moderate barrel distortion at 28mm. It focuses, zooms and handles really well on the D3. Resistance to flare and ghosting is excellent, and colors and images look great.
Lens First Impression on D3: The 35mm f/2.5 Series E (manual focus) feels a bit dinky, as if it's got plastic focus helicoids (it just might.) It's a little too small to feel perfect. It has very little distortion. It has a little bit of ghosting. It's got slightly low resolution but great contrast wide open, and looks decent stopped down. At today's give-away prices, I'd get the far superior 35mm f/2.8 Nikkor AI instead.
Lens First Impression on D3: The Nikkor 28mm f/2.8 AI is really good, one of Nikon's best. I'll compare it to the newer 28mm f/2.8 AI-s later, but for now, this older 7-element design (1974-1981) is far better than any third-party 28mm lens, probably second only to the 28mm f/1.4 AF-D and 28mm f/2.8 AI-s. This old AI lens has no distortion at any distance, possible better than the AI-s at close range, and the AI has very little light falloff, even at f/2.8. Flare isn't so great, but then again, my sample has a smashed filter ring and marks on the glass! Even my smashed one has the most perfect focus feel ever - a flick of a fingertip is all you need for perfect, play-free focus. If you can find a bargain on this AI lens, and I know you can, go for it.
NEW: Added explicit falloff test results on the D3 in FX mode to my existing Nikon 24-85mm AF-s review.
eBay Fraud Warning: Look out for legitimate-looking buy-it-now auctions from Canada, only taking AMEX and checks and money orders for the Nikon 200mm f/2 VR, 300mm f/2.8 AFS-II and D200/18-200mm VR etc. at ridiculously low prices (about $1,000 US). I almost got taken myself last week, but thankfully eBay pulled the auction before I sent a check.
The sad part is after publishing this story, that other readers have written who actually have been ripped off by this very same scammer last year. A reader in law enforcement suggested that people should report these things to the Internet Crime Complaint Center.
The same criminal has been reposting these as fast as eBay can pull them down. This guy has been breaking into perfectly OK accounts and setting up shop, hoping to collect a few Western Unions before eBay catches each break-in and closes it. The perp breaks into another account and starts again, with the same items. It caught my eye today when I saw the same items offered from ostensibly a different seller, also in Canada and only taking anything other than PayPal.
Of course I got an official email from eBay after the auctions were pulled, apologizing for the screw-up and letting me know all was now AOK, and to make up for the inconvenience, eBay was offering a full buyer's protection on the purchase so I could pay in confidence. Of course that very real looking email was a spoof (an email which looks perfect, but really total fake sent by the criminal himself), and later the "seller" emailed me letting me know all was AOK, and that if I used Western Union that since his sister worked there it would save us the fees and I could get the item immediately.
Of course this guy has none of the items for sale, just images copied from elsewhere.
This is called "hijacking," and happens when a criminal breaks into an account of a legitimate user with a great feedback record, and starts selling things he doesn't have. You'll notice the same item listed several times.
I'm working on an article about how to use eBay, which I've been using to get hold of many of the older Nikon lenses to test both on the D3, so they'll all be tested for use on any upcoming full-frame consumer Nikon DSLRs. I got a lens delivered yesterday I got from eBay that had an undisclosed smashed filter ring, but overall, if you don't mind gambling (about 1 out of every 10 items I've gotten is defective), you can do OK. eBay is always a gamble, but that article's coming later, after I get to reviewing the cool stuff I saw at PMA last week.
I reported this all to eBay over a week ago, and the scammer was still operating later that day at the same hijacked account. Better that you all know about it and not get taken, or then again, maybe someone in The Great White North really does have a new $4,000 200mm f/2 VR for sale for $1,050. What a deal - it was $1,100 last week when a different Canadian's account was hijacked.
Another key to smelling something fishy is looking at the completed auctions of these users. You'll see historically that these accounts are not from people who sell cameras; in fact, one hijacked account was of a person who spoke Canadian French, not English.
Of course this is just my opinion. Maybe I'm wrong and these same auctions aren't the fraudulent ones with the same pictures and MO that eBay removed over a week ago. If you really do get a $4,000 200mm f/2 VR for $1,000, I'll gladly pay you $2,000 for it.
With all respect to eBay, they did pull the phony auction I won within minutes of its ending. I was impressed. Hopefully the other people who've fallen for this fare as well as I did, and don't fall for the spoofed emails they'll get from the scammer.
RULE 1: If some hot new digital camera or lens is priced more than a few percent below Adorama or Amazon, you're going to get screwed. (No problem if it's more; Ritz and Calumet usually charge close to full price.)
RULE 2: NEVER, EVER SEND ANYONE (except your family) WESTERN UNION!!!!!!
Speaking of scams, I just got an junk email advertising the D300 from Express Cameras for $749. Sure. Don't do it! See How to Buy Photo Gear for more.
05 February 2008, Tuesday
There's a new page up about the Canon 1,200mm f/5.6 EF autofocus (fully compatible with all Canon EOS cameras), which is for sale here, at a bargain price.
New Photo Contests: Milk-Bone's 100th Anniversary and the National Wildlife Federation's (NWF) annual contest. Deadlines are 18 September 2008 for Milk-Bone, and 01 July 2008 for the NWF. Milk-Bone ought to be fun, and the NWF is serious. The NWF not only has loads of real prizes, more importantly, the NWF winners are usually the most extraordinary photos I see each year.
New D3 Second-Card Slot Tip
If you don't plan to use the second slot, at least plug it with an old, low-capacity card you were going to throw away.
This way, if you forget to insert your regular card or it fails, you'll still be shooting.
04 February 2008, Monday
New: Ukrainian translation of What is Art?
Adorama has a special on 20x30" (50 x 76cm) prints: $10 each. Use code PXSB10 at checkout, good through the 5th (tomorrow).
Sony did NOT announce the coming of the Nikon D3X with Sony's announcement of a 22MP 24 x 36mm sensor. Sony and others have always made sensors like that; back in 1992 I was an application engineer for Sony CCDs, and Sony already had 6 MP 24 x 36mm sensors in the catalog back then. All because it's in the databook doesn't mean anyone will put it in a camera, or that Sony even can make the sensor if anyone ordered it.
The Nikon D3 uses a chip designed by Nikon and made by we don't know who.
I expect the D3X in a year, but Sony's announcement is irrelevant. If the D3X arrives in a year, it's using a sensor that already exists, not one as new as that Sony.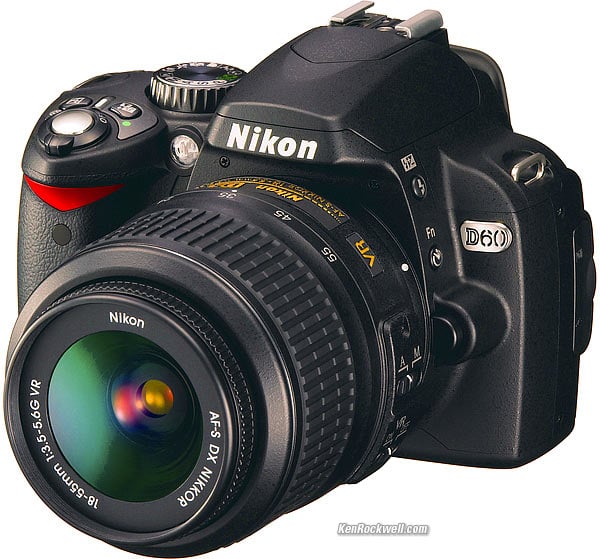 New: Nikon D60
PMA 2008 Report, including Nikon D60 and the new lenses. Live updates each day, and much more on Monday, February 4th. I've had my hands all over this new stuff since Wednesday and Thursday and have updates in all my new Nikon reviews referenced in my PMA report.
Since everything is new, keep looking at the PMA page to see what's been added. As I add reviews, product names become links to those reviews. As I learn, each review is in a continuous state of rewriting each day.
Everything is new this week.
What Was New in:
December 2007: Loads of details about the Nikon D3, D300, 14-24mm and 24-70mm, much of which still isn't on the individual review pages.
November 2007: First hands-on details about the Nikon D3, D300, 14-24mm and 24-70mm, much of which still isn't on the individual review pages.
August 2007 (Loads of new Nikons and Canons)
2006 November - December (includes birth of Ryan Rockwell)
2006 October - November (includes photos from a trip to NY)