PMA 2008 Report
© 2008 KenRockwell.com. All rights reserved.

I get my goodies at Ritz, Amazon, Adorama. It helps me keep
adding to this site when you get yours from those links, too.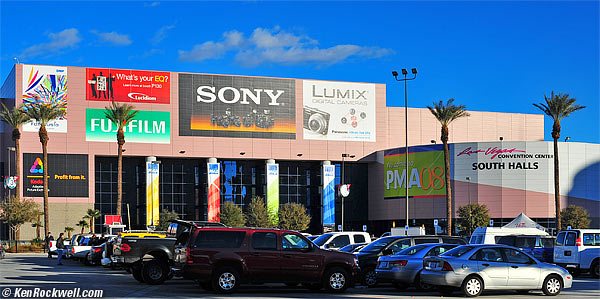 PMA 2008 at the Las Vegas Convention Center.
What is PMA?
PMA is the trade group that represents camera stores. Its annual to-the-trade-only show is attended by camera store owners and workers. End-user photographers (that's us) are forbidden. That's OK, since most of the show is the boring stuff that actually makes stores much more money than cameras: frames, processing equipment, photo-imprinted mugs and keychains.
The show has a couple of huge booths from the people you and I find interesting, and rows and rows and rows of T-shirt imprinting machines and photo envelopes.
This is the annual show at which all the new cameras for spring are introduced. In 2007, the 1D Mk III was introduced there. In 2006, the Canon 30D was announced. In 2004, Nikon announced the D70 at PMA, and so on and so on.
If it doesn't come out at this show, it won't come out until August 20th.
The mot interesting new lens I saw is the Sunex 5.6mm fisheye, and the most interesting camera is the Fuji folding 6x7cm rangefinder prototype. Sorry, but the newest Nikon cameras of interest (D3 and D300) were last year's news. Nikon did show a new 24mm PC lens, but since Canon has made the same thing for years, I wasn't overly excited by it.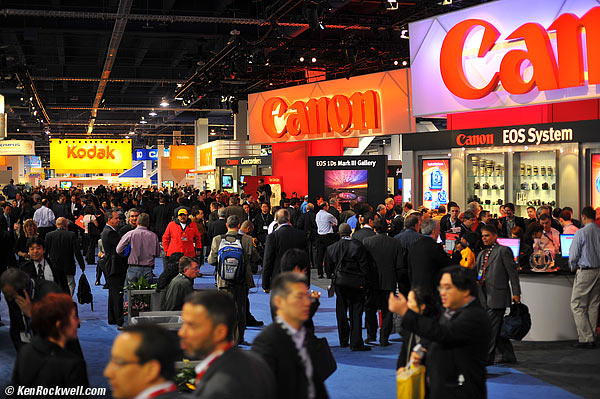 On the floor of PMA 2008. Nikon is about a half mile further in. Fuji had a bigger booth than Canon on the other side of this aisle.
Overall top
This was the most boring PMA in years. Maybe this means that digital is starting to mature. There weren't even any naked girls, as Samsung had last year.
Nikon's biggest thing is the forgettable D60 and interesting 24mm tilt-shift lens, and Canon re-did the world's largest-selling SLR, the Digital Rebel. The Rebel and D60 are important to the bottom lines of Canon and Nikon so they can afford to make the fun stuff for us photographers, but the D60 and XSi themselves are boring.
The most exciting thing was a totally new fisheye from Sunex, a specialist in fisheyes for automotive and industrial applications.
Otherwise, The best cameras out there are still the 2005-vintage Canon 5D, and last year's Nikon D3 and D300.
B+W top
B+W was happily celebrating over 60 years of making filters in Germany. They merged with Schneider in 1985.
Canon top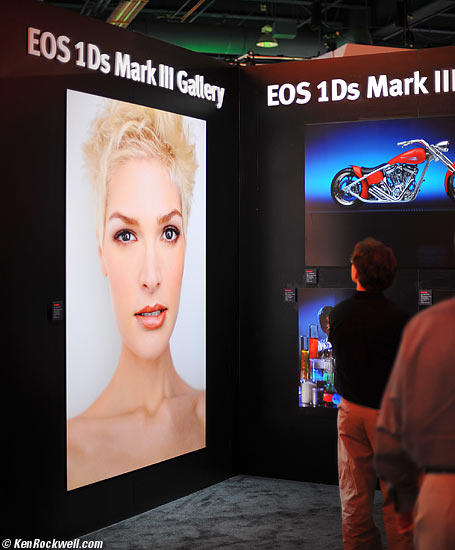 Huge prints in the Canon Booth.
Canon had the most impressive images at the show. They had humongous prints shot on the 1Ds Mk III, which looked great. The cooler part is that these bigger-than-life prints were made on Canon printers! These images look good as photos of photos in my shot above; you should have seen them in person! See the guy I left in for scale? See the tiny placards next to each image? THose are normal sized placards; the prints are about ten feet tall.
Confirmed: No replacement for the Canon 5D. The 5D is long overdue for replacement, but since my 5D gives sharper results than my Nikon D3; I love it. My only complaints about my 5D are its hideous LCD and klunky user interface. The 5D's image results are extraordinary, and at about $2,100 today versus $3,200 at introduction or $5,000 for a Nikon D3, the 5D is a winner for every serious landscape, nature and portrait photographer.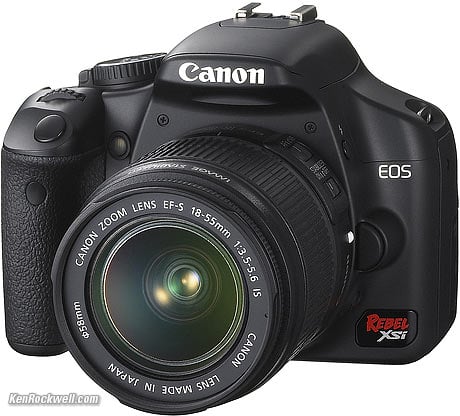 NEW: Canon Rebel XSi (EOS 450D in Europe)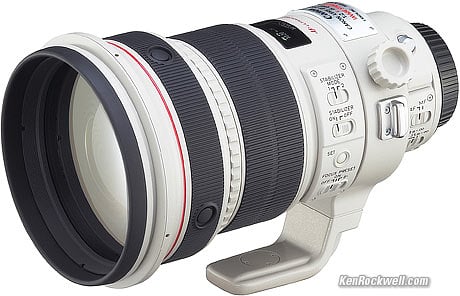 NEW: Canon EF 200mm f/2L IS USM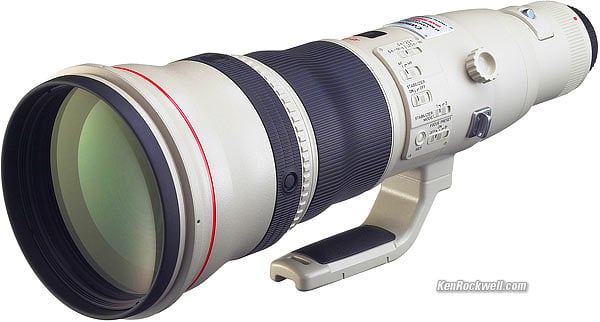 NEW: Canon EF 800mm f/5.6L IS USM

top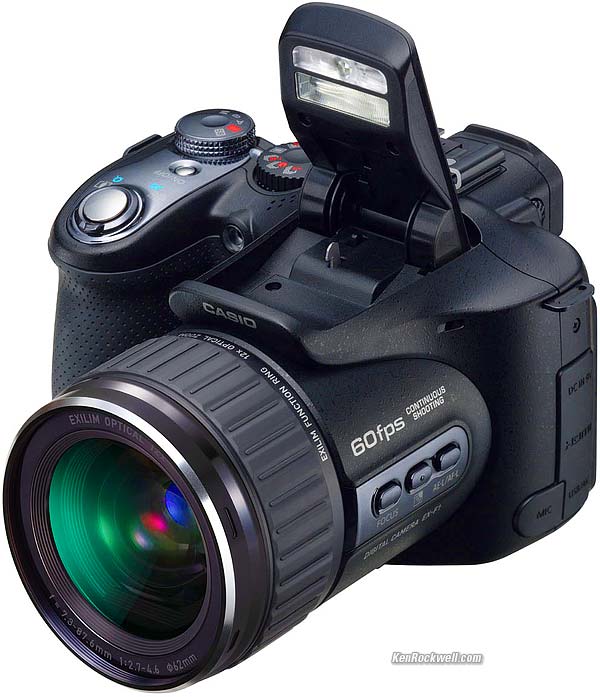 Casio showed a unique ultra-high-speed camera, the $1,000 EX-F1. See its own Casio EX-F1 review page.
Casio appears to have discontinued my favorite pocket-sized, stabilized, 7x zoom, stereo movie-making Casio EX-V8, and replaced it with even thinner versions of cameras with more mainstream levels of performance. The EX-S10 claims to be the world's smallest and thinnest 10 MP camera. All the other Casio pocket cameras are new: in true Japanese fashion, everything was throw out and Casio's model line is 100% new.
All the new Casios ought to be available in March.
Delkin top
Delkin showed a battery charger with interchangeable inserts. It allows charging two of just about any brand and model of camera battery - at the same time. The charger ins universal. The inserts are unique to each battery and sold separately.
You could buy all the inserts you want, and carry only one charger for just about every kind of battery you have: DSLR and compact, Canon and Nikon and etc.
DxO top
DxO makes the software I use to correct lens aberrations, as well as optimize shadows and highlights.
DxO told me that version 5.0.4 of Optics Pro will be out on Feb. 7th,2008, and will address numerous issues as well as initiate support for the Nikon D3.
Fuji top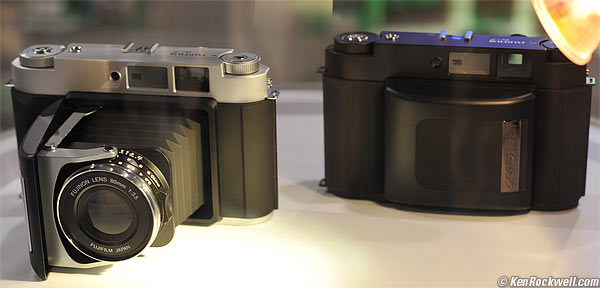 Fuji 6x7cm folding rangefinder prototypes.
The most interesting cameras at the show were the prototypes of a potential new folding 6x7 rangefinder from Fuji. Fuji was showing these to see if there is enough interest to bother making them, and what color people prefer. I said YES!!!! and that I actually shoot with my cameras, so I prefer black. Personally I think the Mamiya 7 system is a lot more practical, but it still won't fit in a big pocket as these and the Plaubel 67 will.
Odd was that they had thumbwheel film advance, not a fast-winding lever. Thumbwheels went out in the 1940s because you have to take the camera from your eye, hold it in front of you and use two hands to wind it with several twists of your thumb and forefinger.
These cameras have aperture-priority auto exposure, and the same brilliant exposure compensation adjustment as the modern Zeiss Ikon: you move the "A" against a +/- scale.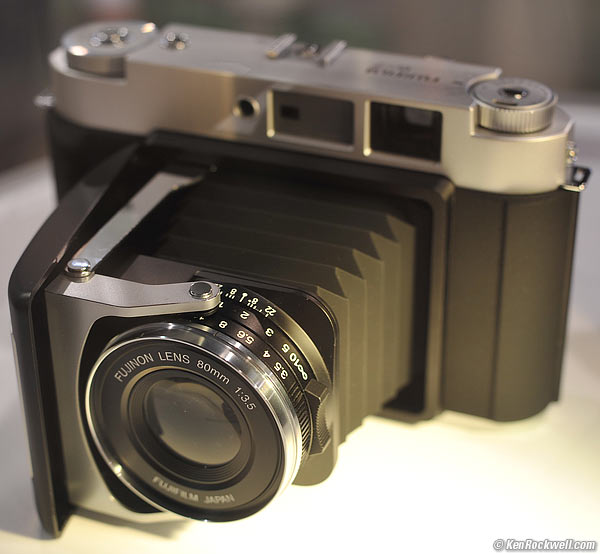 Fuji 6x7cm rangefinder prototype.
Proposed specifications are:
Camera Type: Folding.
Focus: Coupled rangefinder.
Film: 120 and 220, 10 or 20 6x7cm exposures.
Shutter: Electronically controlled in-lens leaf shutter.
Exposure: Aperture priority and manual.
Horseman top
Horseman showed the SW617 camera, and digital backs thereto.
Leica top
Leica still has no full-frame digital camera. For full-frame, you're still looking at the M7. When I looked at the M7, I realized I could get the Zeiss Ikon for a fraction of the price and that the Zeiss Ikon had a better exposure compensation system, and then I realized I could get a superior Nikon F6 for the same price as the Zeiss Ikon, so I bought an F6, the world's best 35mm camera. Sorry for the digression, Leicaphiles.
Leica supposedly is offering people who buy the M8 today a guaranteed upgrade tomorrow, if Leica announce an upgrade in the near future. This is to keep sales of the old M8 cranking. I haven't seen any confirmation.
Leica does have a new, quieter shutter and a tougher glass LCD cover for the M8. For people with an old M8, Leica in March will, in order, offer people upgrade certificates. These upgrades won't start happening until August 2008, presuming you have your papers in order. I have no idea if they are charging for this.
It will be fun to see how Leica do in digital, as they are still attempting to peddle their non-full-frame manual focus digital camera as something other than a modern disposable. Seeing how well they do selling new cameras to fanatics based on 1950s mechanics with 1970s electronics, I bet they'll do OK. If Leica users weren't nuts, I doubt that they could keep this up very long. Digital rhymes with disposable for a reason, at least for traditional consumer products.
Leica also showed their new line of cheaper Summarit-M lenses: a ho-hum line of 35, 50, 75 and 90mm lenses.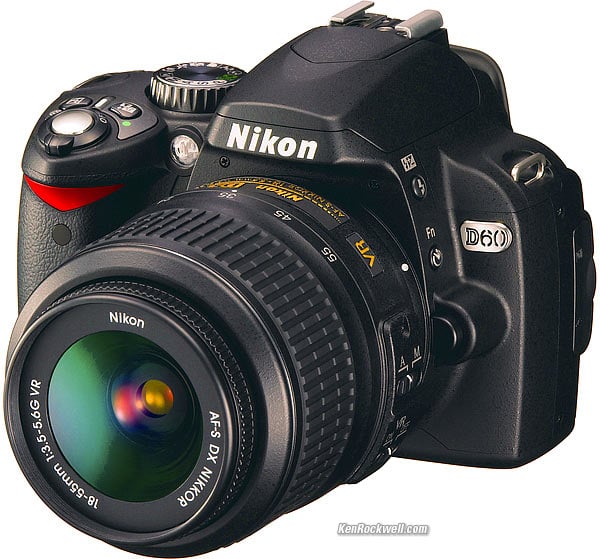 NEW: Nikon D60.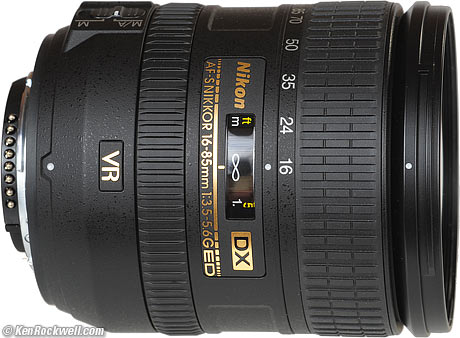 NEW: Nikon 16-85mm f/3.5-5.6 VR.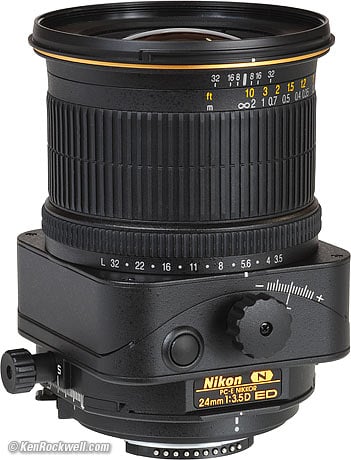 NEW: 24mm Perspective-Control lens.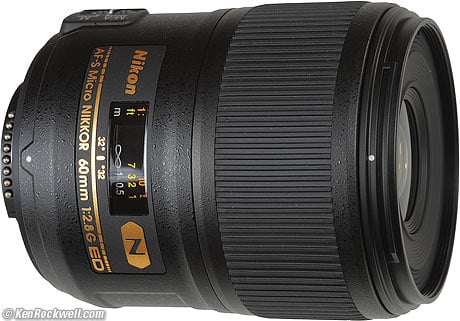 NEW: 60mm f/2.8 AF-S Macro lens.
News: "Super ED" glass in 200mm f/2 VR.
The full-line photo catalog, now called "DigiGuide," for the ambiguous "Winter 2008," lists the Coolscan 9000, 5000 and V scanners and the immaculate F6 and gritty FM10 film cameras. It lists only AF lenses.
Nikon's most recent lens catalog handed out was dated October 2006. There is a big blank space where the 18mm f/2.8D used to be. AI-s manual-focus lenses listed as current are the 20mm f/2.8, 24mm f/2.8, 28mm f/2.8, 35mm f/1.4, 50mm f/1.2, 50mm f/1.4, 55mm f/2.8 micro and 105mm f/2.8 micro. The printed catalog skipped the 400, 500 and 600mm VR lenses announced last summer.
Confirmed: No new fast lenses.
Confirmed: No new SPX, SDX or SFX digital rangefinder cameras in DX or FX-format, respectively. The S- in the model designations is an homage to Nikon's first cameras, the S-series rangefinders. These new digital rangefinder cameras are expected to use both F-mount and new, smaller S-EX mount lenses optimized for rangefinder use. By rangefinder I mean non-reflex; focus will be automatic, but removing the mirror box and prism and replacing it with a new instant-update live-view LCD allows great miniaturization with the same image quality as SLRs, along with TTL viewing and focus. The S-EX mount may or may not be compatible with the original rangefinder lens mount - no one knows. The good news is that these potential new S-series cameras ought to be innovative tools for working photographers who need improved portability, speed and silence, not silly things like the manual focus M8 or dead Epson digital rangefinder. Again, no word at all on these potential new Nikons were seen at the show.
Speaking of rumors, what idiot made up the rumor that the D3 was only a 90% full-frame (1.1x factor)? Only a moron would have created that rumor, except maybe one of Nikon's competitors seeding the market with that to get people to by other brands of full-frame DSLRs and forget waiting for Nikon. Man, I would have been ticked if the D3 was less than full-frame, since I got it for ultra-ultra wide photography.
Nikon Prototypes: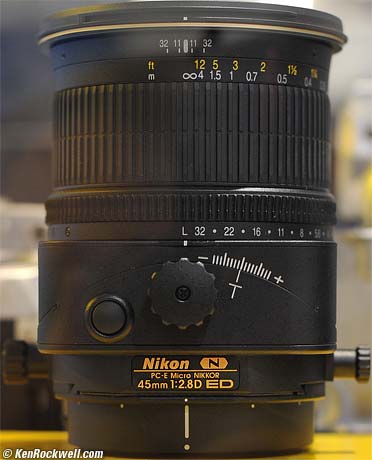 Nikon 45mm f/2.8 PC-E Prototype.
NEW: Nikon 45mm f/2.8 PC-E Prototype.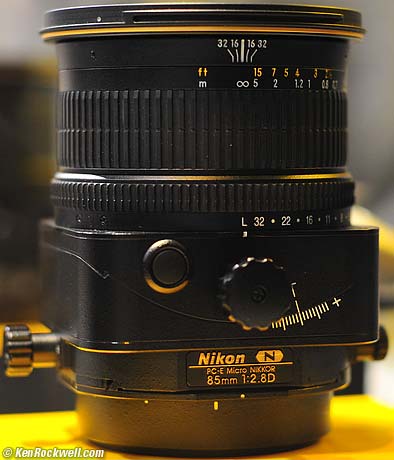 Nikon 85mm f/2.8 PC-E Prototype.
NEW: Nikon 85mm f/2.8 PC-E Prototype.
Olympus top
I saw nothing new specifically at this show in Olympus' SLR line.
I am impressed by Olympus' existing unique ultrafast f/2 zooms, fisheyes and their 7-14mm ultrawide zoom, all for the 4/3 system. Unlike other non-Nikon and non-Canon camera makers, Olympus has a real set of lenses not sourced from third parties.
Pentax top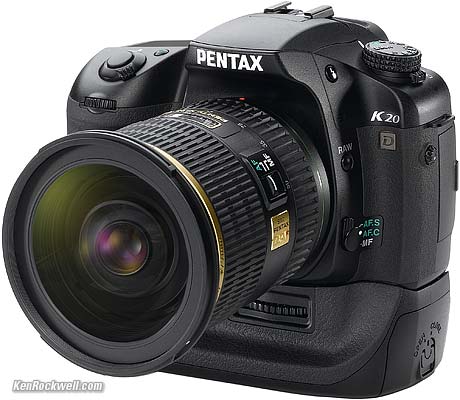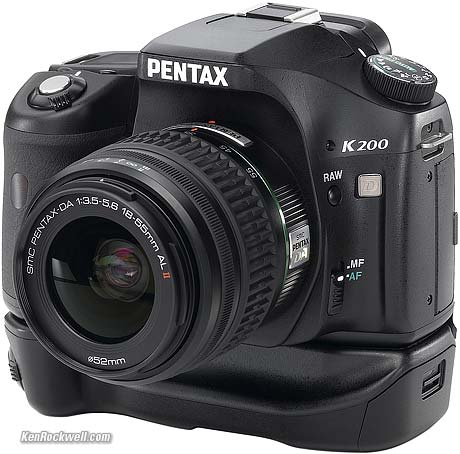 NEW: New Pentax Cameras and Lenses. Pentax just announced the K20D and K200D, as well as five new lenses. The K20D is 14.6 MP, whoop-de-doo.
I tried the new 200mm f/2.8 DA*. It's NICE! Its a solid hunk of internal-focusing alloy precision with a 9-bladed diaphragm.
Likewise, the new 300mm f/4 DA* is a real lens.
Rodenstock top
Rodenstock is now selling filters in addition to their complete line of large-format and professional digital lenses. "Professional digital" means serious five-figure pricetag component studio camera systems, not Nikon or Canon DSLRs.
Rollei top
Rollei showed the usual 6008 AF series and TLR cameras.
SanDisk top
SanDisk is up to 32 GB SDHC cards.
For serious photography, the Extreme IV is still their top card (Similar to Lexar 300x), in sizes to 8 GB
Schneider top
Schneider had its own booth. I saw loads of cutting-edge lenses for large-format and professional digital. By "professional digital" I mean studio gear, not Nikon or Canon DSLRs. I don't recall seeing anything new, but Schneider doesn't need anything new - their line is complete for film and digital.
Sigma top
I have to hand it to Sigma: They had, as usual, the sharpest display images at their booth. Sigma takes advantage of amateurs who use Sigma and make stitched panoramas. Sigma prints them carefully, resulting in far more detailed images than the huge prints at Nikon and Canon booths.
I have a separate review of the Sigma 200-500mm f/2.8.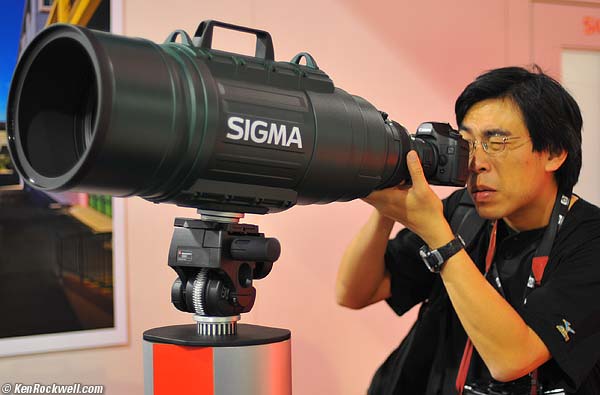 DP1 Compact Camera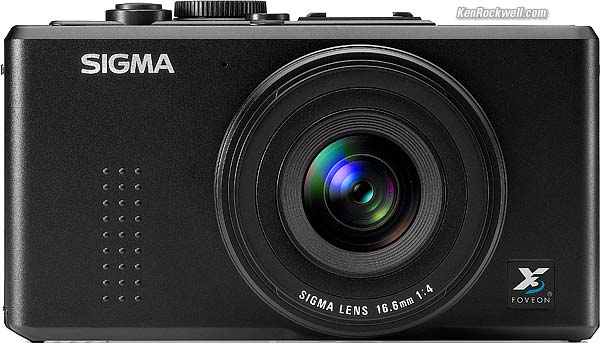 Sigma DP1
Sigma showed the DP1 compact camera, with a fixed 17mm f/4 lens. The DP1 is unique in using a sensor almost as large as a DSLR: 20.7 x 13.8mm. It's only a very good 4.7 MP, but Sigma pitches it as 14 MP. I almost peed in my pants when a salesgirl assured a heckler that to make up for the lack of a zoom or interchangeable lenses, that one could "crop almost indefinitely due to the high sensor quality." Sure.
I do have to credit Sigma in using their own SD14 to shoot some of the press images. Of course others were shot with the Phase One P25. (Nikon's press images of the D3 were shot with the Phase One P45, not a Nikon, for instance.)
12-24mm f/4.5-5.6 for Nikon D3 - FX Digital
What I did see interesting at the Sigma booth was the old 12-24mm f/4.5-5.6, which has always covered both film and FX digital. The sample I tried worked great on my FX D3! It was sharp all the way out to the corners, even at 12mm, and had little distortion and little, if any, falloff of illumination. I need to get one of these to try against my ultrawide Nikkors, since this Sigma goes wider than anything from Nikon, ever. I hear production quality varies wildly, so we'll see.
4.5mm Circular Fisheye
I tried the newest Sigma 4.5mm circular fisheye. It didn't focus reliably with my Nikon D3 or on a D40, so I had set it to manual focus. My Nikon simply usually gave up trying to focus - in the past, Sigma lenses weren't always sharp enough for my Nikon D200 to realize something was in focus.
4.5mma silly focal length for use on Nikon, since the circular image had to be made small enough to fit Canon's smaller 1.6x cameras and Sigma's SLRs with even smaller sensors. Here's what you get on a DX Nikon: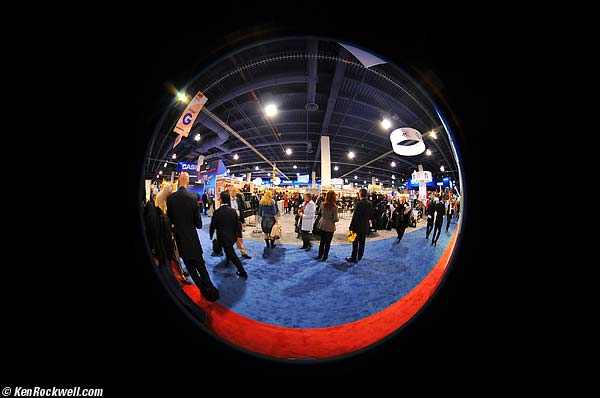 Sigma 4.5mm fisheye image on Nikon DX camera.
Since MSRP is $1,400 on the Sigma 4.5mm, a far better choice, and also half the price, is the superior Sunex 5.6mm lens seen next. Criminy, for $1,400, you can buy a real used Nikon 8mm AI-s circular fisheye for FX and full-frame and get double the angular resolution.
Sunex top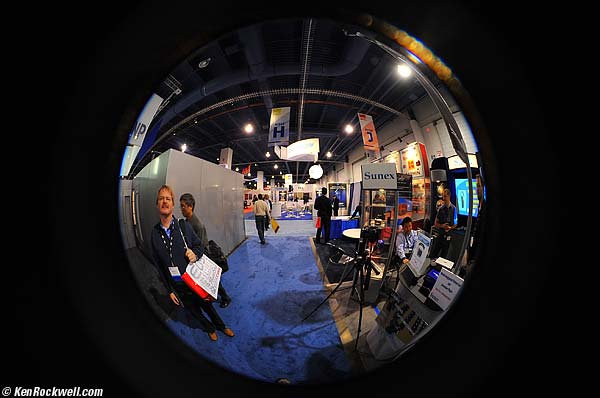 Sunex 5.6mm f/5.6 image on Nikon DX camera. Much bigger than the Sigma image!
The Sunex 5.6mm f/5.6 fixed focus, fixed aperture circular fisheye was the most interesting thing I saw at the show. (The Nikon D3 and D300 were last year's news.) It's $799 and fits either Canon or Nikon. It's a solid metal and glass lens.
See my separate review.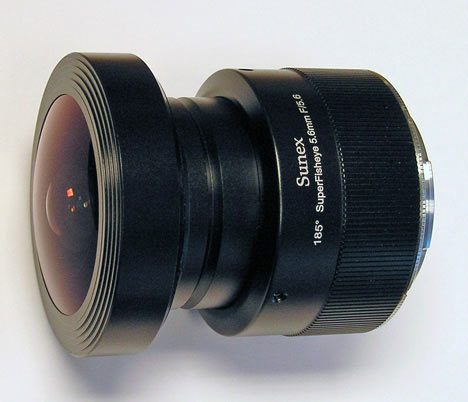 Sunex also introduced rectification (aka dewarping or defishing) software optimized for the specific distortions of the Sunex as well as Nikon, Canon, Sigma and even Peleng fisheyes. It runs as a Photoshop plugin. The software is $99, and comes free with the 5.6mm lens.
Sunex also introduced a new $199 spherical panoramic head for the 5.6mm fisheye.
Tokina top
New from Tokina was the only known copy of the new 11-16mm f/2.8 ultrawide, and the 35mm f/2.8 Macro, both only for DX and 1.6x cameras.
I like Tokina: unlike Tamron and Sigma, Tokina products feel real.
Zeiss top
Last in the alphabet, but first in photography with over 180 years of experience, Carl Zeiss is now shipping seven Cosina-made ZF lenses to fit Nikon SLRs. These are the 25/2.8, 28/2, 35/2, 50/1.4, 50/2 Makro and 85/1.4.
I've tested the Zeiss 50/1.4 exhaustively and found the mechanics inferior to the Nikkor, but at least with similar optics. I look forward to testing the others, especially the wider lenses, which may or may not outperform the Nikkor lenses optically. The Nikkor manual focus lens mechanics are far superior - just feel the focusing.
The Zeiss ZM rangefinder lenses include the 15/2.8, 18/3.5, 21/2.8, 21/4.5, 25/2.8, 28/2.8, 35/2, 50/1.5, 50/2 and 85/2. They fit Leica, and Zeiss' Ikon and Ikon Superwide bodies. The less expensive Superwide lacks a rangefinder or viewfinder, which wouldn't couple to the widest lenses anyway.