Pentax K20D
© 2008 KenRockwell.com. All rights reserved.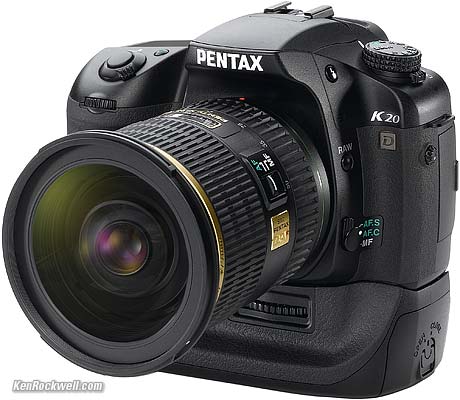 Pentax K20D enlarge
I get my goodies at Ritz, Amazon and Adorama. It helps me keep adding to this site when you get yours from those links, too.
23 January 2008
This is copied from Pentax' PR:

Newly Developed CMOS Image Sensor
The PENTAX K20D features a newly developed CMOS (complementary metal oxide semiconductor) image sensor measuring 23.4 mm x 15.6 mm. In designing the K20D, PENTAX made the significant transition to a higher resolution 14.6 megapixel sensor, rivaling the detail previously only found in images captured with 35mm film. This considerable gain offers 50 percent more resolution than 10 megapixel sensors, and 20 percent more resolution than 12 megapixel sensors. PENTAX Imaging (a leading innovator in the imaging business) collaborated with Samsung Electronics (a market leader in developing and producing semiconductors) in the development of the 14.6 megapixel CMOS Sensor found in the PENTAX K20D Digital SLR. The larger photo diode in the sensor gathers more light in a shorter time and therefore can respond more sensitively. As a result, the K20D is able to achieve higher sensitivity levels (up to 6400 in the expanded ISO mode). Also, there is a more direct light path to the pixels. Coupled with a high-performance imaging engine incorporating PENTAX-original image-processing technologies programmed to yield natural, true-to-life images, the new model assures fine-detailed, rich-gradation images.
PENTAX Original Shake Reduction Mechanism
The K20D is equipped with the PENTAX-developed Shake Reduction mechanism, which reduces camera shake for sharp, blur-free images even under demanding shooting conditions, such as shooting with a telephoto lens, shooting in low light conditions or at night without supplementary flash illumination, or using extended exposures for sunset scenes. This innovative mechanism offers outstanding compensation equivalent to approximately 2.5 to 4 shutter-speed steps. In addition, the lighter image sensor unit and refined data-control algorithm offer improved image stabilization over previous models. PENTAX Shake Reduction is compatible with existing PENTAX interchangeable lenses.*
* Lenses compatible with this mechanism are: PENTAX K-, KA-, KAF- and KAF2-mount lenses, screw-mount lenses (with an adapter); and 645- and 67-system lenses (with an adapter). Some functions may not be applicable with certain lenses.

Large 2.7 Inch Wide-view LCD Monitor
The K20D features a large 2.7 inch color LCD monitor with approximately 230,000* dots resolution. The wide-view design allows the photographer to view the monitor image from approximately 160 degrees both vertically and horizontally. Since it assures effortless image viewing from a diagonal position, it facilitates low- and high-angle shooting using the Live View function.
* One dot equals 3 pixels.
New Live View Function
The K20D features a Live View function that allows users to view an image on the LCD monitor during shooting. This feature is beneficial when the photographer moves his or her eye from the viewfinder in specialized applications, such as low and high-angle shooting, or when perfecting composition. The function also allows users to confirm the Shake-Reduction effect on the monitor while shooting.

High-performance, High-speed PRIME Imaging Engine
The K20D incorporates the PENTAX-original PRIME (Pentax Real IMage Engine). Designed exclusively for PENTAX digital SLR cameras, the engine ensures well-balanced, true-to-life images with faithful color reproduction by efficiently controlling digital signals transmitted by the CMOS image sensor. It also allows complete control over other photographic factors including white balance and the new Custom Image functions. This imaging engine also features a Double Data Rate 2 (DDR2) memory to assure speedy image processing and high-speed data transfer.

Custom Image Function
The K20D is equipped with a new Custom Image function that lets the user select one of the six modes and adjust an image's processing to their preference by automatically adjusting tone, saturation, contrast, and sharpness. These modes include Natural, Bright, Portrait, Landscape, Vibrant, and B&W image modes. The photographer can make further fine-tuned adjustments to each setting. The effect on each of the primary colors is shown in a radar-type display on the LCD panel. The user can easily see the effect of their adjustments by using the digital preview option.

Expanded Dynamic Range Function
The K20D adds a dynamic-range expansion function, which allows the user to expand the dynamic range (or range of gradation reproduction) while retaining the proper contrast to avoid white-washed areas. With an approximately 1EV expansion effect, it assures beautiful, rich-gradation images.


Dust-proof, Water-resistant Construction
The K20D boasts an extremely reliable weather-resistant and dust-proof construction with special seals applied to 72 different parts of the camera body, including the shutter release button and all the switches, levers, dials. This dependable body makes it possible to use the K20D in the rain or dusty locations without worries.

Comprehensive Dust Removal System With Prevention, Removal and Alerting Devices
The K20D features the user-friendly Dust Removal system to prevent dust from sticking to the surface of the CMOS image sensor (or low-pass filter). The PENTAX-original Super Protect (SP) coating, applied to the image sensor surface through vapor deposition of a fluorine compound, effectively prevents dust from sticking to the surface. In the next step, dust that may remain on the surface will be shaken off when the system shifts the image sensor at high speed. Finally, the dust that is shaken off the image sensor falls onto an adhesive strip positioned at the bottom of the unit, eliminating any possibility of the dust returning to the image sensor surface. This upgraded Dust Reduction system also offers a new Dust Alert function, which shows the user exactly where dust may be sticking to the sensor surface.

The K20D also features a versatile exposure system for faithful reproduction of creative intentions:

Hyper Program Function
The K20D's Hyper Program function allows users to instantly switch to the Shutter-Priority or Aperture-Priority AE mode from the Programmed AE mode with a simple turn of the electronic dials on the grip. To return to the Programmed AE mode, simply press the green button positioned next to the shutter release button.
Hyper Manual Function
When shooting in Manual mode, one push of the green button allows the user to instantly set the proper exposure for the subject.
Sensitivity-Priority Mode
The K20D features a unique Sensitivity-Priority (Sv) mode designed to automatically select the optimum combination of aperture and shutter speed for a user-selected sensitivity. The sensitivity can be shifted instantly in 1/2 or 1/3 steps by turning the electronic dial on the back panel.
Shutter/Aperture-Priority Mode
Taking full advantage of the unique capability of digital cameras, which permit automatic shift of sensitivity at any time, the Shutter/Aperture-Priority (TAv) mode automatically selects the most appropriate sensitivity for a user-selected shutter-speed/aperture combination. This mode allows users to experiment with a greater range of photographic expressions with greater ease.

Bright, Clear Viewfinder
Featuring a glass pentaprism, the K20D's viewfinder offers an approximately 95 percent field of view and an approximately 0.95X magnification for easy viewing of the subject and effortless confirmation of focus and composition. Coupled with the acclaimed Natural-Bright-Matte II focusing screen, it delivers a large, bright subject image.

Continuous Shooting at Approximately Three Images Per Second
To trace the movement of an active subject or capture a sequence of the subject's expressions, the K20D offers a continuous shooting mode that allows the photographer to capture as many as 38 images in succession (in JPEG recording format) at a maximum speed of approximately three images (frames) per second. When switched to the new high-speed advance mode, the user may capture up to approximately 115 images at the speed of approximately 21 images per second.*
* The image size is fixed at 1.6 megapixels in the Burst Shooting mode.

High-precision 11-point wide-frame AF
The K20D's sophisticated SAFOX VIII autofocus system features 11 sensor points (with nine cross-type sensors) to automatically focus on the subject with utmost precision, even when it is positioned off center. When the subject is captured in focus, the in-focus sensor point is automatically superimposed in red in the viewfinder for at-a-glance confirmation.

Powerful Rechargeable Batteries
The K20D features large capacity Lithium-ion rechargeable batteries, which can capture approximately 740 images* when fully charged. The dramatically improved battery capacity (over the previous K10D) is the result of a new energy saving design.
* Under testing condition prescribed by PENTAX, when using D-LI50 lithium-ion rechargeable batteries with no flash.

Additional features
· A PC Sync socket for shooting with studio lights. The camera remains weather and dust sealed even when the PC socket cap is removed.
· Choice of 16-segment multi-pattern metering, center-weighted metering and spot metering to accommodate various photographic applications
· Reliable, durable shutter unit assuring more than 100,000 shutter releases
· High-rigidity stainless-steel chassis
· 36 custom functions to personalize camera operations
· Universal-type X-sync socket
· RAW button for single-action image-file switching
· Digital Preview for verifying camera settings
· Optional Battery Grip (D-BG2) for extended shooting sessions
· Nine digital filters to add creative and artistic touches
· In-body RAW data development for image filing in JPEG and TIFF formats
· Compatibility with SDM equipped lenses for quiet, extra-smooth autofocus operation
· PENTAX PHOTO Laboratory 3, RAW data processing software, PENTAX PHOTO Browser 3, browser software and PENTAX REMOTE Assistant 3, camera control software, included on the accompanying CD-ROM

PLUG
If you find this as helpful as a book you might have had to buy or a workshop you may have had to take, feel free to help me continue helping everyone.
Thanks for reading!
Ken